One of blues rock's greatest exponents, Duane Allman's striking and innovative skills have left an unprecedented impact on music history. Often referred to as Skydog due to the impressively high notes he managed to hit, he's known for being one of the players to light the initial spark of Southern Rock, a prominent American genre to this day. His improvisational and spontaneous strumming and picking made him one of the very first guitar heroes of the twentieth century.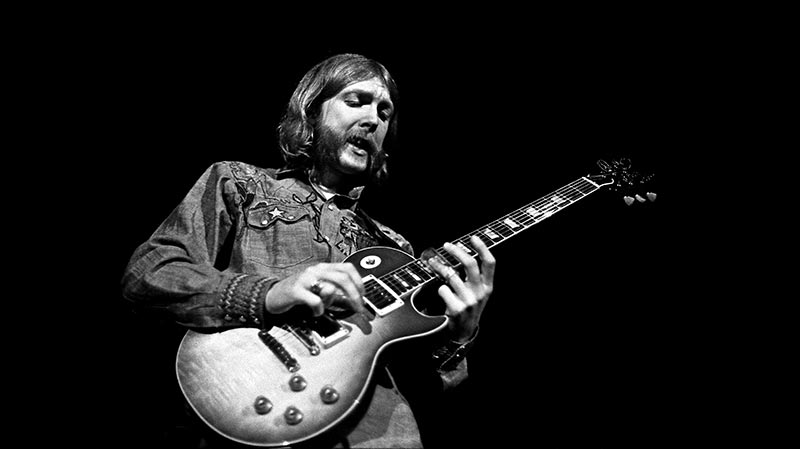 After finding some success as a session guitarist, he joined up with his brother to form a band of their own. And thus the ever emblematic Allman Brothers Band was formed. Preparing to shoot for the stars, the band's short trajectory was put to a halt when Duane Allman was taken away unexpectedly, tragically dying in a motorcycle crash. His legacy remaining intact as the late Allman is still hailed as one of the greatest guitarists to ever live. His raw blues tone still idolized by many to this day, lets take a look at the guitars and gear he used throughout his career.
What Guitar Did Duane Allman Use?
Duane played Gibson Les Paul guitars and is known as one of the original champions of Gibson's second issue of the Les Paul model. Most notably he owned and played 3 Les Paul Standards, a 1957 Goldtop, a 1959 Cherry Sunburst, and a 1958/1959 Dark Burst.
Although he wielded a few Strats and Telecasters during his playing career, his affinity for Gibson's played a large part in the Les Paul guitar model becoming a standard for Southern blues rock music. See the full list of Duane Allman guitars and gear below.
1957 Gibson Les Paul Goldtop

Years Used: 1969 to 1971
Finish: Goldtop
Arguably the most well known Duane Allman guitar, not only in terms of sporting the Les Paul model but also as a champion of the Goldtop staple of Gibson. This guitar was a showstopper when Duane would appear with it on stage, and the tumulus tale of how he got his hands on this particular one is worthy of legendary status, not precisely in the best of ways though. Duane got it through a friend of a friend, Tommy "Crash" Compton, and never gave it back after estranging himself and eventually having Gregg trading his Wurlitzer piano for it.
In the book, A Never-Ending Groove Anathalee Sandlin gave a more detailed version of the story: "Duane had borrowed a '59 gold top Les Paul (note – the Goldtop model was produced only until 1958) from Tommy Compton, who still lives in Decatur, and he didn't want to give it back to Tommy. And Tommy wanted it back. Eventually, it worked around to Gregg trading the Wurlitzer for the guitar. The guitar was worth more than the piano but Tommy had a use for it and was trying to keep Duane from getting busted because Tommy's dad was ready to go after Duane to get the guitar back. So, the piano was sent back to Decatur and Duane kept the guitar. Of course, that guitar would be worth a fortune now, certainly more than the piano is worth."
It's important to note that this borrowed Goldtop Les Paul wasn't the only one Duane wielded in his lifetime and time with the Allman Brothers Band, nevertheless, they were both notable pieces on his catalog until the day of his death.
Both of these guitars shared almost identical specs, both were missing the toggle switch ring and featured PAF cover pickups to their humbuckers.
These guitars became a regular feature both on stage as well as on the only Allman Brothers album to have Duane on guitar, their self-titled debut in 1969. As a main, it would rotate with a few other Les Pauls and a 60s Fender Stratocaster.
1958/1959 Gibson Les Paul Standard "Hot Lanta"

Years Used: 1969
Finish: Tobacco Burst
Reportedly this was Duane's last acquired guitar, it was also his most often photographed one towards the last year of his life, he got it in 1971 from Kurt Linhof, a guitar merchant he met through his friendship with Billy Gibbons from ZZ Top. Only days before Duane bought this guitar from Linhof the tune pegs and headstock had been replaced and upgraded since the previous unknown owner had broken these pieces. In case you're wondering why this guitar was often referred to as "Hot Lanta" it's because Duane used this Les Paul to perform the song since it had all the right features for it, Allman wasn't keen on naming his guitars, as far as popular conception is concerned.
The interesting thing about this guitar is that it was completely reinvented towards an edgier sound in comparison to a Standard Les Paul of the time. Nevertheless, the fact that it belonged to Duane made it an item of interest that would change hands and continue to be re-armed with new specs and pickup orders for a long time.
Following Duane's death, this guitar was also given to his brother Gregg, who would trade it to road manager Twiggs Lyndon in exchange for a 1939 Ford Opera coupe. Twiggs however, had an honorable gesture with Duane's widow, as he re-fretted the guitar and had Allman's name inlaid on it before presenting it to his wife on his grave-site. A few years later the guitar was given to Duane's daughter Galadrielle who remains the sole owner to this day.
1959 Gibson Les Paul Standard

Years Used: 1970 to 1971
Finish: Cherry Burst
According to the legend, Duane Allman was well into Les Pauls by 1970 and it was all he played aside from his acoustic Dove and Aluminum covered guitars, so when he saw and fell in love with this standard cherry burst Les Paul, he decided to trade one of his Goldtops for it under a few conditions. Additional to his original Les Paul, Duane added to the bit $200 in cash, and his Marshall amp head, he only asked for Rick Stine to at least keep the original PAF pickups set up in the guitar.
This guitar saw Duane Allman become a legend and rise to prominent stardom a year before his accidental death, it has a fair number of stories and its lore can be considered as vast as mysterious.
Not only the aesthetics of this Les Paul would become one of the most sought-after finishes, but the Top cherry-burst would now enter the foundation of southern blues-rock as one of the main instruments of the subgenre. But more than its appealing color for the time the PAF pickup cover was removed, making it all the more provocative and iconic at the time. It is important to note, however, that the cherry burst back in the 50s and 60s had lighter red accentuations, it would be more of a fade than the more modern and now classical bright cherry color we know today.
Ever since halfway the 300 show tour, Duane adopted this guitar as his main stage one, it was occasionally swapped for his remaining Goldtop and on occasions a few other lesser-known models, but by all means, almost any found footage of The Allman Brothers Band will find the guitarist wielding this 1959 staple. Most noticeably this was the main guitar Allman used at the Filmore Fest, which was recorded live and later turned into a separate release album, it is the second feature of Duane as a guitarist for his band and it was all embedded with the sound of this Les Paul.
Soon after his death, this guitar was given to Duane's common-law wife Donna Roosman, but she didn't have much interest in it so she passed it to their friend Johnny Marshall in 1971. Marshall kept the Les Paul in fine shape until the couple's daughter turned 21-years of age, Galadrielle Allman is still the legal owner of this six-string, but after seeing she wasn't very keen on maintaining the piece, she gave it to the Rock N' Roll Hall of Fame Museum for safeguarding, its serial number is 9-1988.
A fun fact about this guitar is that it was last taken out of its exhibition place in 2014 when the Allman Brothers Band reunited briefly for their farewell show at the Beacon Theater.
1968 Fender Rosewood Telecaster (Prototype)

Years Used: Unspecified
Finish: Rosewood Natural Finish
By all means, another legendary item in this catalog, this rosewood finished telecaster was used and seen on only one occasion which was the Schaefer Music Festival in New York City, 1970. Duane borrowed this guitar from Delaney Bramlett who had bought it from George Harrison back in 1969 right after the Abbey Road Sessions and shooting the Let It Be movie.
The footage of Duane and his band at the festival is of poor quality, nevertheless, it is extremely rare and considered a gem.
Featuring the standard Telecaster setup of two single-coil pickups, there were only two reasons for its unique status, one was its pure rosewood finish, neck, fingerboard, and headstock. Two, it was owned by George Harrison who by 1970 was already a living legend.
The rosewood Tele remained on Bramlett's hands up until 2005, he decided to put it up for auction, and as a result, it was purchased by Harrison's widow for a reported amount of $470.000,00.
1960s Gibson Les Paul

Years Used: 1969-1971
Finish: TV Yellow/Black
Yet another mythical and enigmatic piece to Duane Allman's catalog, it reported that this Les Paul was a Junior model given the fact that it only had one pickup, yet its shape was as thick as a standard model of the late 60s. Nevertheless, this was one of the guitars that Allman sported during the period of the Allman Brothers Band that is known as the "300 Show Tour" in 1970, earning them a reputation as one of the most bombastic and electric live performers in the United States.
This guitar featured two control knobs and a single pickup on the neck position and with no toggle switch ring.
According to Dickey Betts, this guitar was mostly used as a backup instrument for both him and Duane, nevertheless, this Yellow Les Paul took point when it came to one of the most important gigs in the tour leg. It was also one of the few footage documented guitars in his catalog when the Allman Brothers Band played live at the Whipping Post Love Valley in 1970.
Dickey Betts also referred to this guitar as one that Duane held to very closely towards his final days, as well as a 1959 Les Paul Standard, these two were allegedly his favorites by 71.
Duane Allman's 1950s Fender Telecaster

Years Used: 1967 to 1968
Finish: Cream Finish with Custom Painting
During the disastrous period of Hourglass, Duane Allman was being dragged from his first record deal after the band dismembered after a threatening lawsuit for breaking up under contract. This guitar belonged to Pete Carr who was the bass player of Hourglass, and so the guitarist would borrow this second Telecaster when laying with the band and allegedly, he took it with him back to California to fulfill his contract by recording a solo record.
As for its specs and aesthetics, this Telecaster featured a cream white finish and it featured hand paint on it. Its pickups had the metal cover of the neck position removed. Its full-on maple body and neck were propper to that of a 57/58 season Fender Tele.
This guitar was originally purchased by a friend of the band, Sylvan Wells who was a luthier, and so as requested by Duane, this Tele was set up for the slide and used as a practice piece to the point of annoyance. Reportedly this was the guitar he used to play the very early versions of Statesboro Blues on live occasions with Hourglass in 1968. In perspective, this is an important guitar in the history of blues-rock music and the craft of slide guitar.
1959 Gibson Les Paul Jr.

Years Used: 1961 to 1964/65
Finish: Cherry Red/ Black Pickguard
Although it's not clear if this was his first encounter with the instrument, this early rare model of the Gibson Les Paul was Duane Allman's first-ever electric six-string, one of the very few records of it dates to a letter he wrote to a friend in July of 1961. Its background is somewhat divided, while Duane bragged about paying for it himself, by selling separate parts of an old junked motorbike he'd crashed. Others claim that his mother, purchased it for him, whichever version is true we'll never know for sure.
Introduced in 1954, this almost prototypical version of the Les Paul was very similar to that of a Wilshire, crossbreeding an SG with the curve of the now classical Les Paul. This specific double-cutaway body style was introduced in 1958 as an affordable high-quality guitar, it continued through the first three years of the Les Paul./SG rebranding and redesign and it strived thanks to its convenient pricing. The Jr. mode featured early P-90 pickups, then dubbed as "dog-ears" at the bridge, this was a recycled Standard Les Paul stop tailpiece. Conveniently enough, these guitars would also feature a single-volume knob for a massive delivery in sound quality.
Prior to fame and renown, Duane Allman used this guitar from 1961 to 1965 as it presumed, he allegedly pawned it not only to upgrade but to get some cash to his name by the time he was 17 years of age. Duane would soon found his first band The Escorts in 1965, and his then friend singer-songwriter Delaney Bramlett would purchase Duane's pawned Gibson Les Paul Jr. he shared during an interview about this:
" Well, I went down, and there stood this little red – it's a Les Paul Jr., sittin' there. It's all scrubby looking, you know? […] So I took it back to the hotel. […] I walked in with that little red guitar and he said, "Where'd you get that?" I said, "I found it in a hock shop." He said, "Well, boy, that looks familiar to me! […] Would you look on the back of it? […] Is there a gouge there, looks like a big ol' thumb gouge?" And I raised it up and looked at it and said, "Yeah." (Duane:) "That's where I hocked that bastard […] We were comin' through (laughs) here, and I was broke and I wanted to get high and I wanted to get drunk, but I didn't have no money, and so I hocked that sonofabitch!" And then he says, "That was the first guitar my momma gave me". – Delaney Bramlett.
1960s Gibson ES-330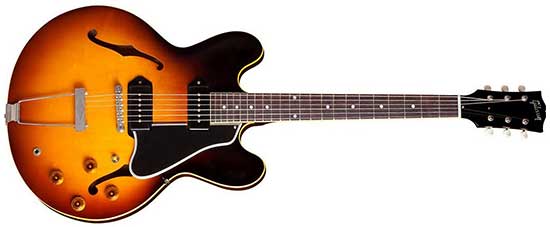 Years Used: 1964 to Unknown
Finish: Two-Tone Tobacco Sunburst
Soon after pawning his first Gibson Jr. model, Duane Allman drifted through some models before settling for his trademarked Les Pauls, it is confirmed by various close sources that among these, there was this Gibson Es-330 that was passed on during the height of the Allman Brothers career. Jim Mathereley claimed that Duane acquired this guitar in 1964 in Florida and took it to Nashville when he was playing with his first act The Escorts, the band would open for the Beach Boys at some point, and soon after their separation, Allman would start his career as a session musician.
During the ate 50s and early 60s, Gibson's issue of the ES-330 was simple enough, a Maple body and top with a Mahogany neck, two P-90 pickups, and a rosewood fingerboard with dot inlays, the latter could vary. The description of the specs vaguely matches the one given by Duane's friend Dave Kyle to Vintage Guitar Magazine in 1997:
" I had an (ES) 345 he wanted. He would've given anything for that guitar. In fact, I let him borrow it on a couple occasions. He had a 330, an old dot (neck). Of course, the 345 had the varitone switch, and Lee took that off of my guitar and copied it on one of his."  – Dave Kyle quote on Remembering Duane Allman for Vintage Guitar Magazine, 1997.
1956/57 Fender Stratocaster

Years Used: 1965 to 1971
Finish: Two-Tone Sunburst
When you think of Duane Allman guitars, Gibson is typically what comes to mind. A mysterious guitar and the first-ever Stratocaster that Duane Allman would own. It was originally purchased by Lee Hazen, a friend of Allman's, who bought this early Fender Strat after graduating high school. Nevertheless, he reportedly traded the guitar to a Joe Blocks in Stanford, Florida who would sell it for less of half its price in his shop.
Hazen told Vintage Guitar Magazine in 1997s "Remembering Duane Allman that he had modified and toyed with his Stratocaster, specifically, Hazen installed a rotatory switch with eleven positions that he wired to the capacitors of the tone control switch. This mod allowed Allman to switch through a vast combination of the three single-coil pickups on the guitar's phase.
This guitar was used vastly in the early years of Allman's career as a session musician along with producer Tony Moon in Nashville's RCA Studio "B". Moon had been recording successful Top 5 albums and decided to hire Allman to get more of a rock sound in his records, Duane saw this opportunity to bring this early Fender to work and make a name for himself.
His friend Dave Kyle confirmed the story of the Hazen original Strat in 1997: "Duane had a Stratocaster that Lee Hazen had modified, and Gregg, I think, was using a Stratocaster, too. But I remember Duane's because it had three little switches that Lee had put in and nobody knew what they were (laughs). I found it really interesting because I was in London at the Hard Rock Cafe and there was "Duane Allman's First Stratocaster" and it wasn't that guitar (laughing)!" – Dave Kyle on "Remembering Duane Allman" for Vintage Guitar Magazine, 1997.
1960s Gibson ES-335

Years Used: 1965 to 1967
Finish: Cherry Red
Based on some heavy guesswork aligned with photographic evidence, this cherry red Gibson ES-335 followed directly Duane's ES-330, it was his main six-string during his time with the Allman Joys in 1965 and his follow-up project, Hourglass which lasted until 1967.
It is presumed that this block inlayed ES-335 came from Duane's friend Dave Kyle, but there is little to no evidence of this. On another hand, this was one of the very first models to become Gibson's blues staple guitar and to feature a Bigsby tremolo on the bridge as well as a pair of humbuckers.
1950s Fender Telecaster

Years Used: 1966 to 1968
Finish: Natural Cream Finish
After a few years switching gear, Duane Allman found this early Fender Telecaster and it quickly became his main guitar for a year or so during the last stages of the Almond Joys and for the entirety of Hourglass. The time this Telecaster enjoyed in the limelight was brief, but enough to become something of a fascinating and legendary ax.
The specs on this Telecaster were a dream for any guitarist, it featured a 56 Tele- then known as a Broadcaster- body, with a 56 Stratocaster neck and headstock piece attached to it. As for the pickups, a pair of Vox V8161 and V840 single coils were the way to go for Duane, thus allowing an extraordinary treble/bass booster and deluxe distortion.
Upon the formation of the Allman Brother's Band in 1968, Duane decided to trade this Tele/Strat for a Gibson J-45 he would give to his brother Gregg. This came off as shocking to everyone close to Duane given the rarity of this piece, not to mention his appreciation for it.
Gregg Allman recalled the occasion in which his brother gave him his first high-end guitar when they decided to form the band: " He [Duane] traded his main road-ax – a '56 Telecaster body with a '53 hogback Stratocaster neck, with some kind of crazy booster on the side – for a Gibson J-45. I couldn't believe he did that for me because he loved that guitar, but he had seen legitimate signs of a successful songwriter in me, and he knew I needed a boost." – Gregg Allman for Guitar World Acoustic.
Nowadays this guitar is owned by Hard Rock Café and is kept at their vault, nevertheless, you can see John 5 taking it for a test drive along with other legendary six-strings.
1966/67 Fender Stratocaster

Years Used: 1968 to Unknown
Finish: Two-Tone Sunburst
During his time in Sheffield Alabama as a session guitarist, Duane Allman used this Stratocaster for some of his more notorious collaborations with artists such as King Curtis and Aretha Franklin. This guitar became a legendary item for the FAME Recording Studios, later renamed Muscle Shoals Studios, however it is not clear if this is the guitar that replaced Duane's Telecaster or if it's the other way around.
This Fender Stratocaster was a one-of-a-kind piece, although it is hard to pinpoint the year of its manufacture, it is speculated that Duane could have changed the neck installment to that of a 67 model based on the transition logo on the headstock. Based on pictures comes the signature of the guitarist, as this Strat originally featured a white pickguard that would be hand-painted black with a scorpion drawing on it, while white bits could be seen through the worn coat of paint. There are also a few minor tweaks Allman made to his pickups to adjust the single-coil position on the middle position, not to mention these were also painted black.
The first evidence and record of Duane using this Stratocaster date back to April 1968 during his time with Hourglass and their short-lived Power of Love tour, which ended up as a fiasco. Shortly after the fallout of his band, Duane started to gravitate towards his more signature Lea Paul models, but not much is known about what happened to this Strat after early 1969.
1930s National Duolian

Years Used: 1969 to 1971
Finish: Nickel Alloy Body and Finish
Purchased at the legendary musical landmark, Manny's Music Shop along with a similar Dobro Woody-Body, Duane played this 1930s Duolian since mid-1969 and into the final two years of his life. These were allegedly his fun and games guitars, as he used to play it on small get-togethers, based on Gregg Allman's and Chris Darrow's recollection. It was acquired during the Allman Brothers Band stop in New York in August of that year, and subsequently, Duane met with Linda Ronstadt, Bernie Leadon, and Chris Darrow at the Chelsea Hotel to show off his new acquisitions.
Harvey Kubernik covered a retrospective piece on Duane's career and interviewed many of his friends, one of the interviews included Chris Darrow, who recollected the time Allman purchased this guitar.
"Duane and I kept in touch over time and after I had left the Dirt Band I began to tour with Linda Ronstadt, John Stewart, and Hoyt Axton. While in Linda's band I usually roomed with Bernie Leadon. While spending a few months in the New York area, we were living at the Chelsea Hotel on 22nd street. One day I got an exciting call on the phone. It was Duane Allman and he had just gotten his first National resonator guitar and he had to show it to us. He had gotten it at Manny's Music, as I recall, and he was bursting with enthusiasm. Both Bernie and I were Dobro players and we all ended up sitting around with him taking turns and talking about tunings and technique. Duane was a natural slide player and learned to play real fast. He used a glass Coricidin bottle as a slide for his playing." – Chris Darrow for Duane Allman's Posthumous Career Retrospective – By Harvey Kubernik
After Duane's passing, this guitar was given to his friend, guitarist Ronnie Wood while the other Wood-Body would be given to Eric Clapton.
1930s Dobro Wood-body

Years Used: 1969 to 1971
Finish: Natural Wooden Finish and Golden Resonator
Bought a few weeks before his full Nickel Duolian, this vintage Dobro acoustic Duane picked up during the Allman Brothers Band stop in Fourth Avenue, Nashville for $350. He bought it from George Gruhn as a collectible piece at the time, this artisanal piece was manufactured by an Illinois-based company called Regal and it was licensed by the resonator brand Dobro.
"I remember selling a Dobro to Duane Allman in 1969. At that time, a fancy Dobro was only $350. And Duane paid me at the rate of $50 every other week. Music was not a lucrative career for him at that time. The part of his career where he had any money was very brief." – George Gruhn for Guitar Aficionado.
Duane's Dobro Wood-Body featured a golden resonator piece instead of the standard nickel piece that could be seen in most similar models even those fabricated by Dobro. This feature improved the sound quality of the blonde Dobro, it led him to use it extensively in the studio to record Please be With Me, Little Martha, and Mean Old World with the Dominos.
Following Duane's passing there are two theories on the whereabouts of this guitar, while some claim that Gregg Allman kept it, others point out that he gave it to Eric Clapton, who was very impressed when he first saw the blonde wooden Dobro.
1960s Gibson Heritage

Years Used: 1969 to 1971
Finish: All Natural
When Galadrielle Allman was asked about her famed father she recalled the one time her father came home with a Gibson Les Paul Goldtop, a Marshall amplifier, and a Gibson acoustic Heritage guitar, in which the two would fool around in brief lessons. This acoustic six-string came along the one formally purchased golden Les Paul sometime around mid-1969, he wrote a recently auctioned letter to Nitty Gritty Dirt Band guitarist Ralph Barr to tell him about it, but his wife received it instead after bumping into Duane.
Although this Gibson Heritage was never reportedly used on any live performances, this guitar was allegedly one that was photographed on a couple of intimate occasions with it in 1971. Many claim that this one was mostly used during his time as a session musician given the year he bought it in, nevertheless it's hard to tell whether this was used on any recordings or not.
1961 Fender Stratocaster

Years Used: 1968 to 1971
Finish: Two-Tone Tobacco Sunburst
A less highlighted piece to Duane Allman's catalog given the fact that he was mainly a Les Paul player, nevertheless this guitar was mainly a replacement for live shows and practice. Allegedly this 1961 Stratocaster was acquired back in 1968 when Duane lived in Sheffield, Alabama by trading some hash for this six-string.  It was previously owned by his friend Johnny D. Wyker, who gave his version of the story on the memoir John Wyker and the Mighty Field of Vision.
"You can believe me when I tell you that that Strat used to be my guitar back in about 1966 or '67'….me and Duane and Eddie Hinton were sharin' a small garage apartment in Sheffield, Alabama…later, Duane asked Eddie to sing with what turned out to be The Allman Brothers Band. Me and Duane were sitting around one night, smoking Duane's hashish and he was playing my Strat – I mean really playing it making magic, he was getting sounds out my guitar that was blowing my mind. It was easy for me to see that Duane had found his Muse and seen his musical matrix, and I was real high and spiritual. Anyway, Duane was smoking on that Strat and I was smoking his hash, and I made an offer to trade him my Strat for the rest of his hash….probably about a 1/2 ounce."
Not much is known of the whereabouts of this guitar, some claim to have seen it on a few Hard Rock Cafes but hard evidence is still needed. Nevertheless, those who were close to Duane recall a joyful guitarist when his hands were on this Fender Stratocaster.
1961 Gibson SG / Les Paul

Years Used: 1971
Finish: Cherry Red
This guitar was an intimate piece in both Duane Allman's and his founded band's catalog, the Gibson SG/Les Paul not only became a rare introduction to Gibson as a brand but it was enhanced by then as one of the most resourceful six-strings in the market with a newly added neck shape. This guitar originally belonged to Dickey Betts who offered it to Duane during the intimate times of the band, reportedly it was used from the early days of the Allman Brothers Band so that both guitarists could play in specific tunings without having to alternate them during performances.
This guitar featured an iconic spec section, it was one of the first Gibson guitars to offer a full-on slim taper mahogany neck bound to a purely mahogany fingerboard and headstock. It was also the first model to have a teardrop pickguard on the Gibson catalog while featuring an innovative pickup section for the time with 61R and 61T humbuckers. This is easily one of my favorite Duane Allman guitars
Duane eventually fell in love with this SG/Les Paul transitionary model, and it would become the main go-to for both the recording and live presentation of the final rendition of The Statesboro Blues. But this only occurred when Dickey grew annoyed of Duane playing through and trying to find the right tuning for his experimental sliding, Betts shared in an interview about this guitar and his memoirs on Duane:
"What happened back then was I had this SG when we started the band, and then I got a Les Paul, my '57, and when Duane wanted to play slide, he would have to re-tune his one guitar every f**** time. And I got tired of it and said, "Here, take this guitar and tune it, and leave it tuned!" and gave him my SG. He loved that guitar."- Dickey Betts in an interview with Gibson
Duane Allman Guitar Strap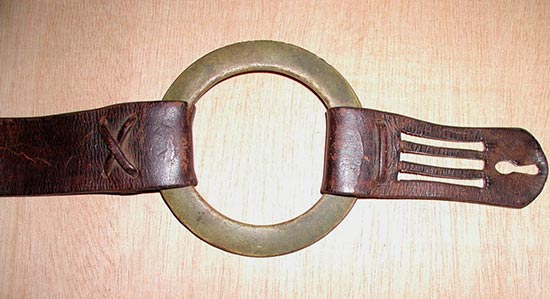 Duane Allman used this icon leather ring strap made by Zebo Leathers on his 1957 Gibson Les Paul Goldtop. After he died in a motorcycle accident in 1971, American bassist Berry Oakley wore the strap as a tribute.
| Make | Model | Color/Finish | Years |
| --- | --- | --- | --- |
| Fender | 1968 Rosewood Telecaster (Prototype) | Rosewood Natural Finish | Unspecified |
| Gibson | 1959 Les Paul Jr. | Cherry Red, Black Pickguard | 1961 to 1964/65 |
| Gibson | 1960s ES-330 | Two-Tone Tobacco Sunburst | 1964 to Unknown |
| Fender | 1956/57 Stratocaster | Two-Tone Sunburst | 1965 to 1971 |
| Gibson | 1960s ES-335 | Cherry Red | 1965 to 1967 |
| Fender | 1950s Telecaster | Natural Cream Finish | 1966 to 1968 |
| Fender | Duane Allman's 1950s Telecaster | Cream Finish with Custom Painting | 1967 to 1968 |
| Fender | 1966/67 Stratocaster | Two-Tone Sunburst | 1968 to Unknown |
| Fender | 1961 Stratocaster | Two-Tone Tobacco Burst | 1968 to 1971 |
| Gibson | Les Paul Goldtop | Goldtop | 1969 to 1971 |
| Gibson | 1958/1959 Les Paul Standard "Hot Lanta" | Tobacco Burst | 1969 |
| Gibson | 1960s Les Paul | TV Yellow/Black | 1969 to 1971 |
| National | 1930s Duolian | Nickel Alloy Body and Finish | 1969 to 1971 |
| Dobro | 1930s Wood-body | Natural Wooden Finish and Resonator | 1969 to 1971 |
| Gibson | 1960s Heritage | Natural | 1969 to 1971 |
| Gibson | 1959 Les Paul Standard | Cherry Burst | 1970 to 1971 |
| Gibson | 1961 SG / Les Paul | Cherry Red | 1971 |
Duane Allman Amps Overview
1960s Fender Deluxe Blackface
Years Used:
1965
This Fender Deluxe amp combo saw Duane's first public shows with the Allman Joys, and The Escorts, around this time his bands performed at high school graduations and smaller venues in suburban areas. Built from 1964 to 1967, these Fender Deluxe amps were a novelty that would bolster just about any guitar at the time, so probably Duane bought it out of the fact that it was a novelty back then.
The Deluxe amp featured a natural hand-wired tube distortion setting and a vast gain setting, although these two features were a standard back then, what made Fender's great was the fact that it offered spring reverb, tube vibrato and rectification, and two channels. It was one of the most successful and iconic combos of the era, leaving no room for doubt on its recent reissue.
Vox Super Beetle
Years Used: 1967 to 1968
During his time with Hourglass in 1967-68, Duane and the band had a set of these Vox Super Beatles, but he hated playing through it as it was made for keyboards and bass. According to their stage manager at the time Larry Steele, Allman preferred to play with whatever spare amplifier the venues had to offer and he would refer to this combo amp as "that piece of sh*t", however, he liked the sound of Gregg's voice through this.
Through his website Steele told the story of his first impression when unloading and setting up the stage for Hourglass: "You won't believe the tone he gets out of this thing!" I was repulsed. "Duane Allman plays through that piece of shit?" I protested. "With all these Super Beatles, he plays through that?" "Yeah, he won't play through the Vox. Those heads are solid solid-state- Larry Steele on his blog- The Early Days. (Jacksonville Rock)
1968 Fender Bassman Silverface Amphead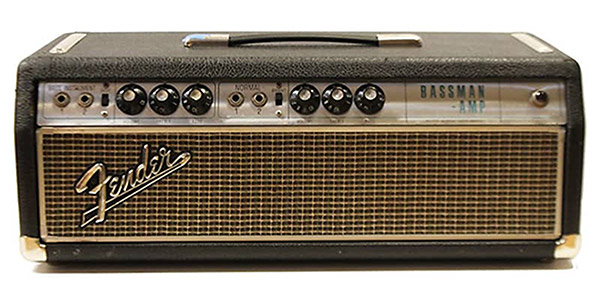 Years Used: 1969 to 1970
Purchased in 1969, this was the first piece of gear rig that Duane got when he started the Allman Brothers Band in Florida's Lipham Music Company. Duane used it as the main rectifier until it was replaced by the Marshall Lead Combo and heads. Once the band included the Marshall sound to their rig, this Fender Silverface became both Dickey Betts' backup.
Marshall Lead 50w Model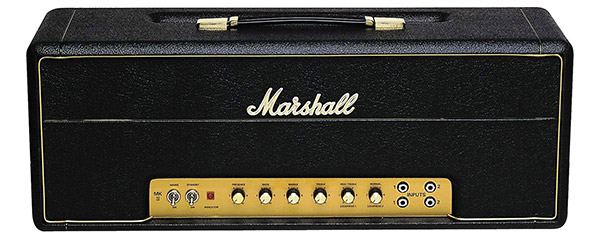 Years Used: 1969 to 1971
Bought along with one of his legendary Les Pauls, this Marshall 1987 quickly became Duane's main guitar speaker, it had such an innovative impact for him and the band, that Dickey subsequently went along and got himself a rather similar model.
This amp took the spotlight around mid-1969 when the band was engaged in the recording process of their debut self-titled album Allman Brothers Band, Duane wrote on a letter directed to Holly Barr, his friend, and wife to Ralph Barr.
This is without a doubt the ultimate Allman brothers amplifier, it remained on Duane's hands until the day of his death, and it was present on his debut as well as almost every show in his career since 1969, sometimes combining the head with a Marshall 50W Bass cabinet. Today the amp remains exhibited at The Big House in Macon, along with the entire letter referenced above.
Duane Allman Pedals Overview
Duane Allman was an organic player, reportedly the only stompbox he ever used was a Fuzz Face during his time as a session musician and into the early years and formation of the Allman Brothers Band. But he did use a few effect boxes that, even though they are similar to pedals, were more like accessories back then.
Conclusion
Just like Hendrix, Duane Allman left an unparalleled impact on his time and genre, even if these two legends were contemporary, each had a unique input on their craft. Innovating slide guitar, and founding a subgenre with massive cultural impact are two of the most shallow accolades under Allman's belt, but it's safe to say that all of his achievements as an influential and legendary guitarist derived from his marriage of contradicting elements.
With an elegant yet raw style, Duane would shift from a massive basic rhythmic player to an artistic traditional lead guitarist. When Allman took the lead, his most magnificent displays came with the single note lines that could seemingly cover an entire range with him only bending to an arresting vibrato, or changing the volume setup on his Les Paul.
Allman's contribution and impact root from an edging vision and ambitious relationship from his instrument, if there's a moral to Duane Alman's life story, is to treat your instrument with the passion and dedication of a formidable lover.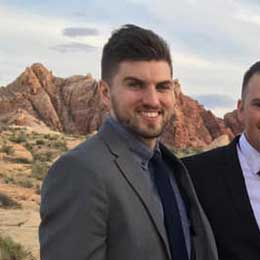 My name is Chris and I've had a passion for music and guitars for as long as I can remember. I started this website with some of my friends who are musicians, music teachers, gear heads, and music enthusiasts so we could provide high-quality guitar and music-related content.
I've been playing guitar since I was 13 years old and am an avid collector. Amps, pedals, guitars, bass, drums, microphones, studio, and recording gear, I love it all.
I was born and raised in Western Pennsylvania. My background is in Electrical Engineering, earning a Bachelor's degree from Youngstown State University. With my engineering experience, I've developed as a designer of guitar amplifiers and effects. A true passion of mine, I've designed, built, and repaired a wide range of guitar amps and electronics. Here at the Guitar Lobby, our aim is to share our passion for Music and gear with the rest of the music community.