The band that changed the world, the group that reinvented guitar music, the couple of Australian guys who made people dance, rock out, have a good time, and more importantly, feel good for more than four decades; there are numerous titles that we could ascribe to AC/DC and the Young brothers, so let's stick with the world's biggest, loudest, and most authentic rock and roll act of all time.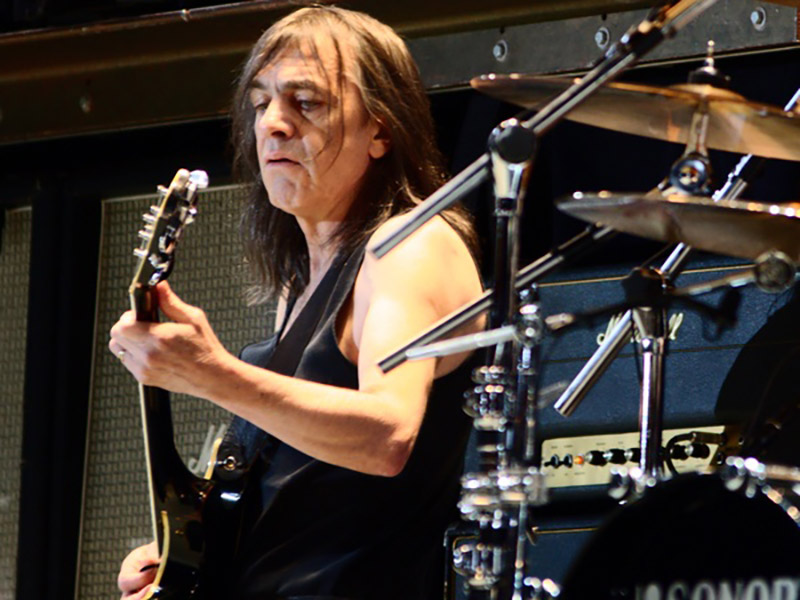 As fans of rock and roll, we owe a lot to Malcolm and Angus Young. We owe rock's longevity, its survival, and relevancy to AC/DC more than anything. This is the group that made a staple out of hard rock even before the term was coined, and crowned the Young brothers as the kings of simplicity. Malcolm and Angus have inspired countless players to pick up a guitar, and they've helped educate multiple generations about what music is supposed to feel like.
What Guitar Did Malcolm Young Use?
Malcolm Young was famous for playing yellow Gretsch 6131 Jet Double Cutaway guitars. He owned and played several of these Gretsch guitars but his first, and most notorious, was a red 1963 Jet Firebird known as "The Beast".
Starting in the 1980s, he had several Gretsch 6131 guitars made with similar specs to his 1963 but switched to his, now iconic, natural/yellow finish with only the bridge pickup installed and empty pickup cavities in the middle & neck positions. See the full list of the guitars he used below.
Gretsch G6131-MY

Finish: Lacquer
Years Used: 1980 to 2014
The process of making one of the most iconic Malcolm Young signature guitars started in the 80s. He participated in the designing stage and reviewed the many prototypes that came to be, but it's unclear how often he actually used this masterpiece. While some claim this was his main backup, others may agree that this was his most reliable six-string, modeled after his first Jet Firebird with a few upgrades.
It was built after the specifications of The Beast, although numerous modifications were made to keep it more relevant to AC/DC's evolving sound throughout the 70s and 80s. This is a solid body double-cutaway guitar with a mahogany body, chambered bracing, a laminated maple top, and a U-shaped mahogany neck.
This guitar saw massive action from studio to live performances, it can be seen in almost every show, and it's arguably Malcolm Young's most reliable instrument, and one of the very first signature models in rock history. It can be heard in almost every AC/DC record and well, in For Those About to Rock, We Salute You, it's an understatement that this guitar fits perfectly the title of the song.
1963 Gretsch Jet Firebird 6131, aka "The Beast"

Finish: Cherry Red
Years used: 1966/1967 to 2014
Malcolm is widely recognized as one of the most accomplished guitar players of all time, mainly because he had a consistent, recognizable sound throughout nearly half a century with AC/DC. While his peers will most certainly tell you that his tone came from his fingers, a lot of it had to do with his iconic line of Gretsch guitars.
His very first guitar was this Gretsch G6131, more popularly known as "The Beast". His brother George was the one who gave it to him. At that time George was playing with The Easybeats alongside Harry Vanda, and it was further down in AC/DC's career that George actually became the producer of the band.
Now, Malcolm was so enamored by this guitar that he was using it for a full decade before he switched over to the infamous White Falcon. Of course, he had a few backups, most of which were stock Gretsch guitars that featured relatively similar specs, but he never relied on them unless the situation demanded him to.
What makes The Beast so special is the fact that it was modified with three pickups – two Filter'Tron magnets on the neck and bridge positions and a Gibson humbucker between them. Even though Malcolm's tone on The Beast was solid and firm from the start, he decided that he didn't need the humbucker and the neck magnet, so only the bridge Filter'Tron remained.
AC/DC videos from 1976 onwards show a beautiful white pickguard that was added so as to cover the holes where the two, now removed, pickups were. As one of the very first pieces of gear to serve in the ranks of AC/DC, this early Firebird was featured in some of the most beloved music videos of the band, noticeably in Jailbreak.
Specs-wise, The Beast featured a mahogany body with a robust maple top, a neck made of mahogany, and a rosewood fretboard. As far as hardware is of concern, it's presumed (according to Gretsch specs) that this guitar featured a Tune-o-matic bridge and stock Gretsch machine heads.
Gretsch White Falcon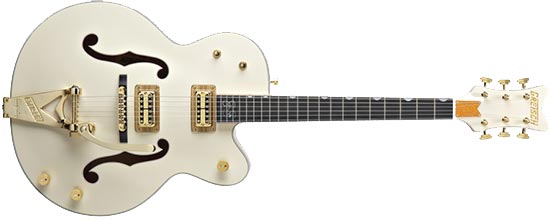 Finish: Olympic White
Years used: 1980 to 1984
Malcolm spent quite a bit of time with The Beast before he discovered the gorgeous hollow body-styled White Falcon. Even though both guitars were made by the same brand, this model is significantly different both sonically and aesthetically.
This remarkable boutique guitar was, sadly, a part of Malcolm's arsenal for a very brief period of time. Namely, he only used it for two years, most notably during the Back in Black tour, as well as for a portion of For Those About to Rock, after which he switched to Jaydee's Firebird.
The White Falcon didn't see much in-studio action, but it did serve its purpose both on rehearsals and many shows during the Back in Black and For Those About to Rock, We Salute You tours, needless to say, it was somehow immortalized for its stage presence. There's also a small detail that made this Falcon a historical piece, the fact that it's the one used for the music video of Back in Black.
Essentially, the White Falcon was more than suitable for Malcolm's bigger-than-life sound, but according to him, someone apart from his guitar technician at the time modified it in a way that no longer appealed to him. After this mild, unspecified modification Malcolm decided to look elsewhere than the Falcon.
Another reason why Malcolm probably switched to a more conventionally designed guitar such as the Jet Firebird is that the White Falcon was absolutely massive. This guitar is nearly twice as heavy in comparison to his typical go-to setup, which probably made him more fatigued during AC/DC's two-hour sets.
The great White Falcon was just recently auctioned, and reportedly, it switched hands often enough before landing at the hands of the Hard Rock Cafe Vault, who are now the current owners. It's worth pointing out however that over the years Malcolm tried a few other Falcons but none of them ever reeled him back to the model.
Like all Gretsch guitars especially vintage ones, this is a very special piece to his catalog indeed. Malcolm's model was a 1959 White Falcon, it has a delicate yet resistant binding that hasn't aged well but it delivers a solid fuzz-filled sound. Currently, it's been restored to its full potential from its rod cover while the body bindings were replaced with precise craftsmanship. This is one of my favorite Malcolm Young guitars.
Jaydee Jet Firebird

Finish: Glossed Lacquer
Years used: 1993
Between the early 80s and early 90s, Malcolm mainly stuck with The Beast. He may have used a few stock Gretsch guitars for rehearsals, but he mainly recorded with his iconic Gretsch. It wasn't until approximately 1993 before he had a custom-made Jet Firebird made by Jaydee's Custom Guitars.
He collaborated with Jaydee CG on the process of creating the initial idea of this custom Firebird. According to some, the process was remarkably fast, as there are only a handful of prototypes that required tweaking.
Even though this brand didn't cause as much traction as Gibson, Fender, or Gretsch for that matter, quite a few hard rock icons used their guitars. Angus, for example, had one, as well as Black Sabbath's Tony Iommi. Jaydee CG was based off in the United Kingdom, and they excelled at manufacturing straightforward, high-spec boutique guitars. We can safely presume that it was the lack of availability in terms of budget and entry-level guitars that didn't break them through.
Be it as it may, Malcolm apparently liked his custom Firebird so much that he even used it for the recording of Big Gun for the soundtrack album compilation Last Action Hero, in 1993. Just like the White Falcon though, he quickly returned to the Beast and other stock Gretsches. other than this there's not much else to say about this short-lived piece.
Gibson LS-6

Finish: Natural Maple
Years used: 1975 to 1983
In some regard, it would be safe to say that Gibson LS-6 was Malcolm's second guitar. According to the timeline, he bought this guitar off Harry Landis in 1975, just a few years ahead of him getting the Gretsch Firebird. However, Malcolm played this modified LS-6 for almost a decade before he got his main one back.
He customized this Gibson with a double cutaway-style design in 1976, which was performed by no other than Martin Birch, but the guitar still had a temporary existence in his rig. Once the Gretsch Firebird came back from repairs, the LS-6 was lumped with his backup gear.
Besides its vast usage on live performances, this guitar saw some heavy action in the studio, and it got its spot on the limelight when it appeared on some music videos, notoriously in Baby Please Don't Go later on it would become his go-to for the song.
As far as specs go, Gibson's LS-6 is a solid body guitar with a set-in neck, sporting a scale length of 24.75 inches, which made it remarkably playable. In fact, it was much easier to handle than the bulky White Falcon. There's a legendary trajectory to this guitar and there's no wondering why it became so heavily associated with Malcolm, in fact, a few years into the 80s he partnered up with Gretsch and used this Gibson to inspire his signature model, the G6131MY.
Table Showing the Guitars Malcolm Young Used at Each Point in His Career
| Make | Model | Color/Finish | Years |
| --- | --- | --- | --- |
| Gretsch | Jet Bird | Cherry Red | 1966 to 2014 |
| Gretsch | G6131MY | Lacquer | Unspecified to 2014 |
| Gibson | LS-6 | Natural Maple | 1975 to 1983 |
| Gretsch | White Falcon | Olympic White | 1980 to 1984 |
| Jaydee | Jet Firebird | Glossed Lacquer | 1993 |
Malcolm Young Amp Overview
1971 Marshall Super Bass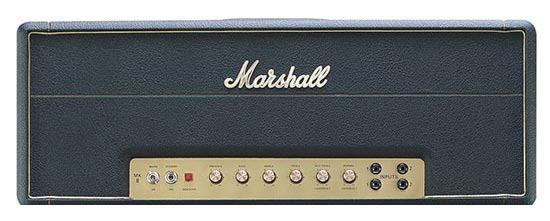 Years Used: 1973 to 2014
The 100-watt powerhouse that is Marshall's 1971 Super Bass was Malcolm's go-to amp. It's safe to say that he found himself musically through this amplifier, as he kept it in his rig throughout the majority of his career in AC/DC.
The 1971 Super Bass became immensely popular as soon as it arrived on the shelves of retailers across America and Europe. Aside from the fact that it's substantially louder than most amps with similar wattage, this amp seemed to fit hard rock and metal guitarists like a silken glove. Its punchy, aggressive tone contrasted its ability to remain pristinely clean when needed. Malcolm maybe knew this at the time he bought it; maybe he didn't, but he certainly recognized and appreciated its outstanding performance.
Marshall's 1971 SB was a vital piece to his rig in both live and studio settings. Of course, he used different settings in both situations, and he also paired it up with other cabinets and later on even other Marshall heads, but this particular model was largely responsible for his tone and timbre.
In a nutshell, the 1971 Super Bass is a straight-ahead amp with four inputs with different sensitivity, an onboard 4-band EQ, two volume knobs, and two switches. Simplicity, power, and reliability were demanded of it, and suffice it to say, 1971 Super Bass did more than provide.
Although very little is known regarding what drew Malcolm to this particular amplifier, it's easy to see why he kept it in his rig for the longest time. Just like its name implies, the entire Super Bass series excels at handling gain and lows flawlessly, which complemented his rhythm tone to the bone.
Malcolm's Marshall 1971 Super Bass was, according to his technician Greg, modified with an additional tube, which rewarded him with extra power in the studio. Obviously, he didn't use this feature for live gigs; after all, he had dozens of cabinets behind his back even at the smallest AC/DC shows.
1963 Marshall JTM 45

Years Used: 1975/76 to 2014
Rock and roll will surely remember the hot summer of 1977 when AC/DC first came to the USA as a support act for Moxy. They started off in Texas and became so big that they broke into enviable charting positions and on some of the most popular radio stations of that time (QPDQ and WAIV).
While we can say the band used Marshall amps for this tour, it's hard to say with certainty which models were used in particular. Malcolm, for one, certainly had his trusty 1971 Super Bass, but according to some, he had also found his second love – the JTM 45.
The first JTM 45 was designed and crafted in 1963, featuring a distinctive all-aluminum chassis that separates it from its successors aesthetically. Specs-wise, most JTM 45 versions feature Celestion speakers and 6L6 valves. The '66 JTM 45 was fairly different, as it features EL34 tubes that power its pre-amp section.
Not many people know the history of 1966 the JTM 45, and it's often confused with JTM 50, which was designed and launched several months later, but still in the same year. You can easily recognize this amp by its white letters. All prior variations of JTM 45s featured yellowish letters while certain later models had red letters instead, which are considered collectibles as they're exceptionally rare.
The confusion behind the timeline when Malcolm used the 1966 JTM 45 is tied to Marshall's branding of this particular piece. Essentially, models that were manufactured during 1963 and 1964 were called 'JTM 45s while amps that came in the period of 1965 to 1966 had different model numbers that had nothing to do with the time of their release. The original JTM 45 was reissued in 1989 and was also used by the band.
Another puzzling piece of information that can easily be dismissed as misleading is that Malcolm used a 1967 JTM 45. This is completely false, at least according to Marshall's terminology, as the production of JTM 45s was halted after 1966. Again, JTM 50s took over, but Malcolm apparently didn't use these amps.
1976 Marshall Super Bass
Years used: 1977 to 1982, 2010
The '76 Super Bass is Malcolm's third guitar amplifier. Essentially, he found all he loved about the '71 Super Bass and JTM 45 in one a bit more versatile and capable package. The differences between the 1976 and 1971 versions were pretty major, and they were certainly groundbreaking for Malcolm's hard and heavy tone.
Notably, the '76 Super Bass was equipped with serial input stages (as opposed to parallel), which allowed the amp to sustain distorted tones better at much higher volumes. Obviously, Malcolm's rhythm relied on all things crunchy and noisy, so this piece of technology helped him step up his game considerably.
The second difference was in the stability of the individual channels. Namely, the serial input stage design helped stabilize and make each channel better-rounded. The Master Volume knob was also tweaked, as it was made to be more responsive.
Ironically enough, Marshall amps that were manufacturing during this time period were slightly quieter than their forebears, but it was soon realized that a guitarist could gain a much stronger, overdriven tone by blasting the volume knob full circle.
This was Malcolm's go-to amp for quite a few years, and following a brief hiatus from American tours, its use was resumed as the main piece on his rig and he continued using it throughout the decades to come.
1967 Marshall Super Lead 100-watt Black Flag
Years used: 1981 to 1985
The Black Flag is a vintage piece of Marshall gear that was supposedly listed in Malcolm's gear. According to some accounts, this amp may have fallen into Malcolm's hands during the 80s, possibly during either Powerage, If you Want Blood or Highway to Hell tours.
The Black Flag looks almost identical to JTM 45, with the only distinguishing feature that could be used to set it apart from other Marshall amps being the built-in leather carry handle with gold-painted hardware. Further, at that point, it was largely similar to most versions of JTM 45 and later on JTM 50 models, although it sounded differently due to a couple of important tweaks.
Now, the first main difference between the Black Flag and some of the Marshall amps Malcolm used up to this point is that '67 Black Flag used GZ34 tubes as opposed to 6L6s and KT66s. These tubes hissed a bit more, but tended to warm up a bit quicker, allowing Malcolm to punch into the soundcheck a bit faster.
Aesthetically, this amp was almost identical to most Marshall amps produced in the following decade, sporting the iconic aluminum chassis and recognizable white letters.
Marshall Bluesbreaker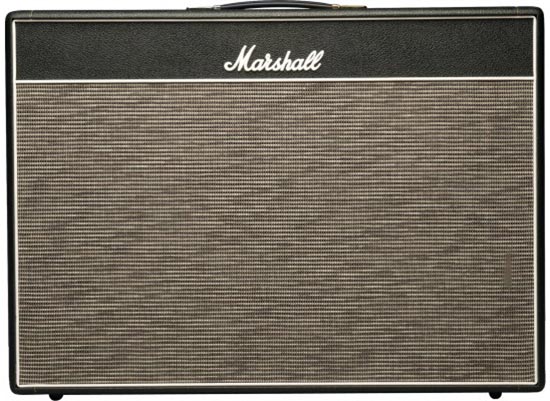 Years Used: around 1980 during in-stores and interviews
The 1962 Bluesbreaker was the amp that broke Eric Clapton while he was playing with John Mayall, so it's easy to see why someone as well-acquainted with gear as Malcolm would take a liking to this little beauty. However, there are only a couple of instances showing him actually playing through a Bluesbreaker.
The first time it can be seen with Mal, was in the footage of the documentary (behind the scenes) related to making the Back in Black album. Both he and Angus used the same Bluesbreaker to demonstrate a couple of riffs from this record, if only for a few minutes.
The second time was much later when he was doing a Gretsch in-store. Now, that photo didn't feature a timestamp, so we can only speculate that this was around either Black Ice or Rock or Bust tours considering his aged appearance.
Marshall 1960BX 4×12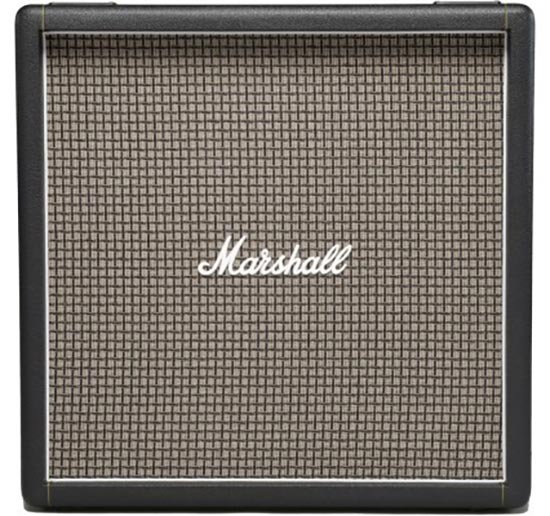 Years Used: Unknown to 2014
His brother, Angus, was a bit pickier when it came to the cabinets, as he was seen with both 160BX and 160AX four-by-twelve stacks. Malcolm, obviously being the rhythm guitar in the band, didn't need as much versatility in his sound, so he stuck with the 1960BX stack.
As most ACDC fans already know, Malcolm rarely moved away from his amps and cabs, coming up to the microphone during live performances only when he needed to sing background vocals alongside Cliff Williams.
These beautiful vintage pieces of gear came supplied with an outfit of G12H speakers and drivers that were beyond formidable. One of the most notable benefits these cabs offer to this day is their unparalleled ability to handle even the grittiest distortion and overdriven notes.
That's presumably the reason why these cabinets were Malcolm's go-to models, as he never really abandoned them.
Diving a bit further into the details as to why the Young brothers loved Marshall's 1960AX and 1960BX cabs so much, you'll discover that these robust workhorses are not only big and strong, but they're also impeccably reliable.
They're fitted with extra-large speakers that could put up with ACDC's tremendous sound with ease, so it's fair to say that they'll fare great with everything and anything in the realms of rock and roll. Their relatively low impedance and high-power handling capabilities are the golden formula behind their top-tier performance.
A bit of trivia for fans: Marshall is still producing, or better said, reissuing 1960BX cabinets with the exact same specs and features. These cabs are widely available on Marshall's websites, as well as on the shelves of most retailers.
Mesa Boogie 4×12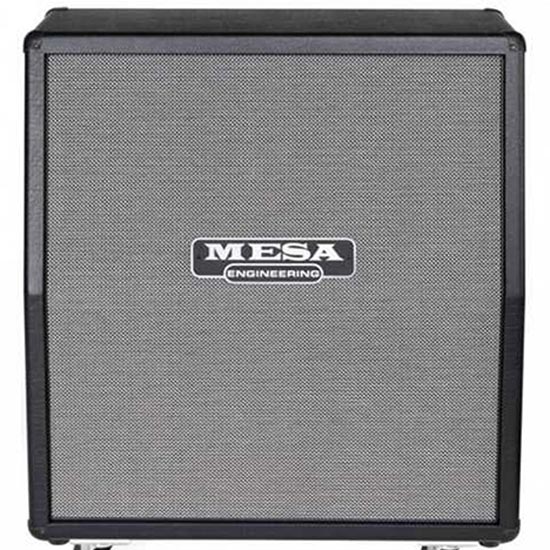 Years Used: 1991 to 1992
AC/DC popularized Marshall cabs like no other band, and most fans probably assume that this brand's 4x12s are the exclusive stacks that this wonderful group has ever used. That assumption was deemed correct up until the band revealed a wall of Mesa Boogies during the Live at Donington live record performance in 1992. During this event Angus's sideshows, his typical array of 1960AX stacks while Malcolm's side is completely encased with MB 4x12s.
Mesa Boogie gear wasn't as popular and trendy as Marshall back in the day, but it wouldn't be fair to say that they were underdogs. Al DiMeola, Angel Vivaldi, Blondie's Chris Stein, the legendary Bruce Springsteen, Gerry Leonard from Bowie's troupe, as well as Dream Theater's John Petrucci were all responsible for bringing this wonderful brand to the map.
Now, back to Malcolm's MB cab stack. Essentially, he was using 4×12 Recto OS Slant Rectifier Cabinets, which were known for their exceptionally versatile soundstage. They were able to manage Malcolm's punchy overdrive without cutting his mids and highs. What made these cabs special is the monitor affect – the speakers were put close to the top as opposed to in the center and inching towards either side.
This helped Malcolm's tone cut through super-loud drums and ground-shattering bass during the Donington show, but it didn't make him louder than Angus or Brian.
Malcolm Young Pedal and Effect Overview
Mooer Pure Boost Pedal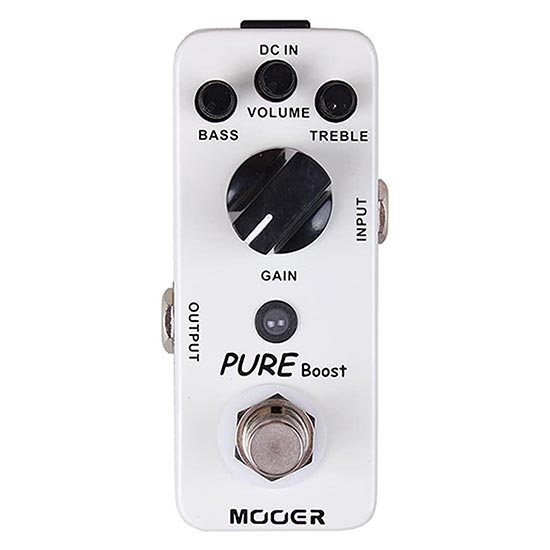 Years used: 2016 during the Rock or Bust touring cycle
Malcolm is arguably one of the most famous guitarists in the hard rock world that almost never used any kind of pedal effects. In fact, the only Rock and Roll icon that's perhaps a bit more renowned for the same quirk is the late Eddie Van Halen.
However, roughly a year before his passing, Malcolm was seen sporting the Pure Boost Pedal on AC/DC's Rock or Bust touring cycle. Of course, he didn't have an actual pedalboard, and he may have not even used it on more than a couple of occasions, but his long-time tech Trace revealed that he in fact did use this pedal during this tour.
We can only assume that Malcolm was persuaded into using a boost pedal in order to add a bit more strength and grit in his tone, as AC/DC's last tour with him was arguably much louder than usual. Furthermore, Moore has been around the market for just over a decade, so it's hard to believe that they've had the kind of relationship Malcolm had with Marshall.
Be it as it may, the Pure Boost pedal is simple and straightforward, which is exactly what he wanted from his tone since day one. It features three volume knobs and a dedicated gain knob, which allowed him to beef up his sound and volume on the fly, whenever the situation demanded him to.
Overall, there's another reason why this pedal may appear as the 'black sheep' in Malcolm's rig, and that's its rock bottom price tag. Namely, Mooer's Pure Boost is a cheap beginner's pedal, so it's not hard to imagine that he picked it up along the way out of necessity.
Malcolm Young's Connectivity and Software
Schaffer Vega Diversity System
Years used: 1980
According to accounts of Malcolm's brother George, who was also producing the band before they connected with Rick Rubin, the Young brothers were using SVDS during the Back in Black recording and touring cycles.
Now, it's not uncommon for bands and guitarists to use wireless guitar systems when they're playing arenas and stadiums, but it's fairly rare to see artists record on such devices.
AC/DC had spent more time playing songs off the Back in Black record than rehearsing it, so the brothers were slightly confused when they realized that their tone was audibly different in the studio setting.
Most accounts indicate that Angus was using Schaffer-Vega's Diversity system, while Malcolm would sport it as a resource occasionally throughout his career. Ever since the initial release and tour of Back in Black this convenient gear installment cemented itself to the sound of the band,
It was George who asked Angus to try to use his live gear instead of his typical recording gear, which made the definite sound of Back in Black as iconic as it is. Namely, the Schaffer-Vega system can also double as a very unique booster with hints of distortion at certain levels, which apparently complemented AC/DC's raw tone wonderfully.
Again, Malcolm was mostly talking about using nothing but his guitar cable during this time, but we shouldn't write off the possibility that he played with his brother's gear, especially given the fact that the SVDS unit was a fairly fresh addition to their arsenal.
The story of the Schaffer-Vega wireless system started with no one other than the famous Rolling Stones. Ken Schaffer, which created the prototype for the SVDS that was later created by Vega Corporation, was traveling with the Stones in '75. The band was using obscure wireless systems, although truth be told, this particular form of technology was only taking roots during this period
The SVDS was a groundbreaking wireless system during the late 70s, but the brand ceased works on it and has since moved on towards the production of satellites. Schaffer-Vega system was based on the so-called 'space diversity' type of method, which made it substantially more reliable and powerful than most contemporary wireless systems of that time.
Furthermore, it was the perfect unit for performances in bigger venues as it was capable of handling even the broadest ranges of frequencies with surgical precision and utmost dependability. Its feedback rejection capabilities were astounding, provided by multiple helical filters.
Another interesting fact regarding Vega's wireless unit is that it offered virtually the same operational range as today's Bluetooth devices. Which is roughly 100 meters/328 feet, presuming that there are no obstacles blocking the way between the transmitter and the receiver.
IK Multimedia Amplitube 2
Years used: 2006 to 2014
AC/DC is not the type of band that will pop up in your mind when you think of digital music recordings and production. They pioneered a vast array of analog technologies and are worldwide famous for doing things the old-school way, but the fact is that they've always kept up with the times and the many advancements in technology.
IK Multimedia's Amplitube is essentially one of the most versatile amp simulators on the market. It would be perfectly safe and accurate to say that this particular plug-in is and has been the staple of digital demoing and home-produced tracks and albums.
It's outfitted with a boutique built-in soundcard, a phenomenal digital-to-analog conversion chip, and what Malcolm probably liked the most about it is the fact that it's also remarkably easy to use.
Malcolm had talked about using Amplitube within his Pro Tools rig, stating that he started relying on it ever since 2003; come 2006, he switched over to the improved Amplitube 2. He used this software to demo numerous tracks from the Black Ice record, and in fact, he noted that Amplitube 2 was used on both Big Jack & Anything Goes from the same album.
Aside from being very easy to use, Amplitube lent itself to Malcolm in terms of brilliantly pre-recorded library of fully analog sounds. He was able to get remarkably close to his original tone by digitally stacking Marshalls and vintage four-by-twelve cabs. It's fair to note that Malcolm wasn't keen on effects other than the ones he can budge out of an amplifier.
Be it as it may, the fact remains that IK Multimedia's flagship plug-in is part of the last decade of his music career. His journey as far as tone searching goes took him in more traditional directions.
Wrap Up
Angus, Brian, and Cliff honored their departed brother with their latest Power Up record, and it would be more than fair to say that his riffs on this album allowed us to savor his spirit once again. The band moved on, and countless aspiring rock artists are still wondering how to get their tone as close to Mal's as possible.
Malcolm Young's fingers and unrelenting grit can't be mimicked or copied, but hopefully, with the right kind of gear, you can get fairly close to his tone. He was famous for sticking to his guns and for relying on his technique more than anything, so his gear is not nearly as flamboyant or diverse as that of his peers.
Malcolm Young only used a handful of Gretsch guitars through a set of Marshall amplifiers and cabinets, and he frequently relied on Lectrosonics wireless systems, so you don't look as far and wide as you shop for your instruments and accessories.
Malcolm Young had a distinctive approach to guitar music, much like Keith Richards, this is a guitarist who relies mostly on creating a space for his mates to take on the spotlight and shine through. Despite him having been more of a rhythmic or second guitarist, Mal delivered some of the most iconic backbones of some of the most beloved hard rock tunes of all time.
At his heart this guitarist is proof enough that less can be more, by all means, a minimalistic player and more precise and cunning than his virtuoso brother Angus might lead us to think of him, AC/DC and Hard Rock as the phenomenon it was wouldn't have been the same without this man.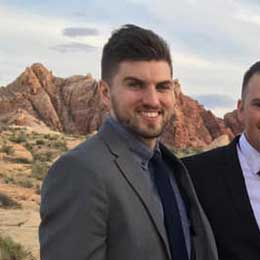 My name is Chris and I've had a passion for music and guitars for as long as I can remember. I started this website with some of my friends who are musicians, music teachers, gear heads, and music enthusiasts so we could provide high-quality guitar and music-related content.
I've been playing guitar since I was 13 years old and am an avid collector. Amps, pedals, guitars, bass, drums, microphones, studio, and recording gear, I love it all.
I was born and raised in Western Pennsylvania. My background is in Electrical Engineering, earning a Bachelor's degree from Youngstown State University. With my engineering experience, I've developed as a designer of guitar amplifiers and effects. A true passion of mine, I've designed, built, and repaired a wide range of guitar amps and electronics. Here at the Guitar Lobby, our aim is to share our passion for Music and gear with the rest of the music community.