Perhaps one of the most underrated guitarists of this generation, California-born Josh Klinghoffer began his music trajectory as a session musician before breaking into the mainstream scene as a consolidated name. Best known for his work with Red Hot Chili Peppers, Josh quickly adapted to the funky beat of the Chili Peppers with a slick and sly flair.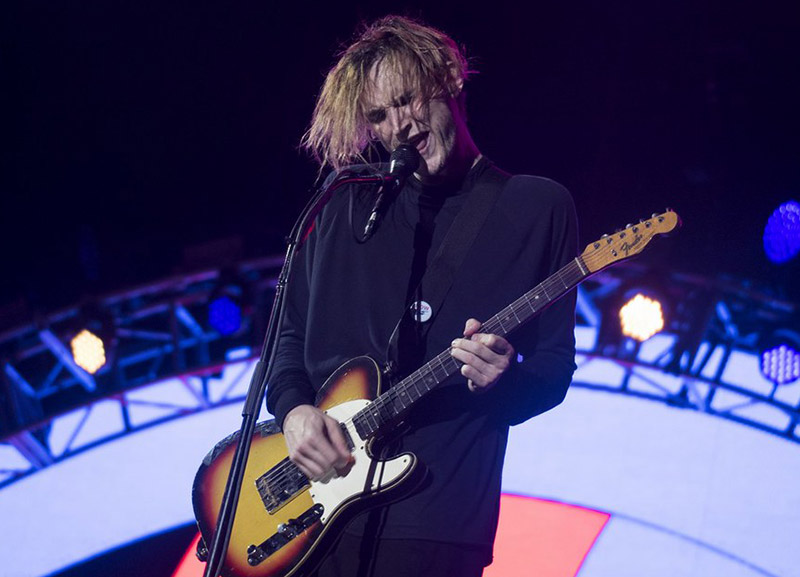 While he became renowned for his work with RHCP when supporting the band during John Frusciante's departure, the guitarist has also been heavily involved with various other musical projects throughout the years. Just to name a few, Klinghoffer has collaborated with a long list of high-profile artists, including PJ Harvey, Beck, The Butthole Surfers, Vincent Gallo, Sparks, and the Golden Shoulders.
What Guitars Does Josh Klinghoffer Play?
Josh is primarily known for playing Fender Stratocaster guitars, the most notorious being his Black 1966 model, aka "Nero". Also noteworthy are his Sunburst Strats as well as a 1966 Fender Telecaster that was gifted to him by John Frusciante. See the full list of his guitars below.
1966 Fender Stratocaster "Nero"

| | |
| --- | --- |
| Finish | Black |
| Years Used | 1997 to Present |
One of Klinghoffer's main and trademarked guitars during his time with the Red Hot Chili Peppers and his early project The Bicycle Thief. It was one of Josh's first high-end guitars to our knowledge, making its debut with his sophomore studio effort along with Bob Forrest, You Come and Go Like a Pop Song in 2001. Josh got himself this American Strat shortly after smashing his first 80s Japanese one at home.
During the years leading to his position as the main guitarist of the Chili Peppers, Josh would often rotate between this particular one and his white Stratocaster. This standard-looking Strat has stuck through with Josh during his most highlighted years. Be it as a session musician, or his collaborations with John Frusciante, this guitar made an appearance in 2004s A Sphere in the Heart of Silence just before just a couple of years prior to becoming RHCP's backup guitarist.
Equipped with original single-coil pickups, chrome hardware, and a synchronized tremolo bridge, this Strat can produce incredibly clean and vibrant tones. Surprisingly, Josh had the neck switched out for a 1968 Stratocaster one instead. Says Ian Sheppard (his guitar tech): "This is his main black Strat, it's called Nero, which is a '66 with a '68 neck. Josh loves to go at it with this. I'm not entirely sure why it's got this different neck on it. If you look carefully, you're almost on the point of losing the E off the side. The neck is actually a little bit too narrow for the pocket."- Ian Sheppard on Klinghoffer's Black Strat
Often enough, Josh can be seen swapping his black strat to his sunburst telecaster, and Strats. Nevertheless, this remains a private, intimate guitar for Klinghoffer, when it was time for any extraordinary sessions with the Chili Peppers and rehearsals, Josh would reportedly stay true to this Strat. For Josh's first feature as the official replacement of Frusciante, in the music video for Rain Dance Maggie, he highlighted this black Strat, as well as in the band's first session on From the Basement.
1963 Fender Stratocaster

| | |
| --- | --- |
| Finish | Worn Sunburst |
| Years Used | 2011 to Present |
Arguably one of Josh's most heavily associated guitars along with his couple of black Starts, this 1963 Stratocaster was given to Josh by Chad Smith as a present upon the release of his first record with the band I'm With You. Reportedly, Josh was so enamored with this guitar that, for some time, it was the only thing he played with. It was named after Chick Hearn, "…an old sportscaster who popularized standard basketball phrases like 'slam dunk' and 'air ball' – he was famous for calling games for the Los Angeles Lakers for many years.
Unlike other Stratocasters, the Sunburst design of this guitar extended all the way to the back of the neck which gave this a rather aesthetic look. Josh loves guitars with a certain uniqueness to them, and the color is no exception. When Josh eventually got this guitar, it became his main go-to for classic Chili Pepper songs prior to his era, especially By the Way and Can't Stop, for example, having belonged to Smith years before, it's only safe to guess that this guitar has some miles and history behind it.
This presumed 63 Strat is one of the first guitars to have rosewood slab fingerboards built along with a flash-coat lacquer finish, sporting a more organic, fresh look. These models would also feature a 2-way selector that has ever since becoming a standard detail to the immortal Stratocaster and its punchy triple single-coil setup.
This main choice for Klinghoffer has been around for quite some time, and it's known to be the show opener for live occasions, in addition to being played in every studio album he's been involved in, including his original soundtrack for the film Bob and the Monster. As a live staple for the Chili Peppers, this Strat can be spotted in pretty much every Intro, and every time he stepped onto the stage to play Can't Stop, Scar Tissue, and Dark Necessities.
1980s Fender Stratocaster

| | |
| --- | --- |
| Finish | Sunburst |
| Years Used | 1995 to Present |
According to Klinghoffer himself, this was his very first guitar, one he bought in 1995 shortly after dropping out of high school. In fact, he got it right across the street from a recycling shop. Later on, this Sunburst Strat became subject to increasing tension at his home during the mid-90s when he would play it during the earliest hours of the morning until he heard his family waking up, he would hide the guitar and go to bed. The reason behind this guitar making a late debut on stage, however, is due to an argument between Josh, his mother, and Grandmother where he lashed out and slammed it against the marble floor of his home in the valley. He threw the remains of this strat in a box and stored them away for many years.
This 1980s Stratocaster is Japanese, and its rendition of the American Strat aimed to offer a new take on the heavy metal sound that swope the 80s. It was one of the few pieces to offer an unusual vibrato bridge piece, one that reportedly drew the attention of a teenaged Josh.
After a decade and a half, Josh came across the smashed guitar and decided to take it to Eric's Repair Shop just before recording I'm With You in 2011, in fact, this was his main studio guitar for most of the recordings in the album. But for Josh, the most memorable and meaningful of his performances with this particular Stratocaster was playing with the Chili Peppers in their Rock N' Roll Hall of Fame induction.
1960s Fender Stratocaster "Dashiell"

| | |
| --- | --- |
| Finish | Sunburst |
| Years Used | 2011 to Present |
Reportedly it was one of the first, if not the first six-string that Klinghoffer got when he became the Chili Peppers main axeman. The story behind it remains a tad bleak, nevertheless, it is speculated that Josh got it from one of Frusciante's and the band's trusted dealers, another legend suggests that this guitar used to belong to Frusciante, but that is just theory's craft.
This Stratocaster features a standard SSS setup, it follows Josh's legendary '59 transitional rosewood neck model, making it a pivotal piece of guitar history and Klinghoffer's catalog. This is an actual 1960 Stratocaster, back when Fender started including maple necks to some of its most remarkable models, back in the day, this feature was a pretty impressive aesthetic upgrade. But beyond aesthetics, this particular six-string was one of the first Fenders to feature the oval C neck, one that changed the game and feels to the guitar field.
Josh played this guitar extensively during 2011's I'm With You tour, it was memorably featured in the Look Around Music video. Additionally, it can be heard in the recording sessions of The Getaway and he usually played it on stage for Goodbye Angels and Around the World. This is another coveted classic used by the likes of Jimi Hendrix and Stevie Ray Vaughan, and Josh being the massive player he is, he just couldn't be left out.
1967 Fender Telecaster Custom

| | |
| --- | --- |
| Finish | Sunburst |
| Years Used | 2008 to Present |
This Sunburst Telecaster is deemed to be one of Klinghoffer's most highlighted guitars, and it can be often seen with him during mid-show performances. For years, it was speculated that John Frusciante gave Josh this guitar upon his 2009 acceptance into the Red Hot Chili Peppers. This seems partially true, however, In Josh's own words: "John didn't directly give it to me, but I borrowed it from our mutual friend, and he knows I have it and use it". There is also word that Josh actually received this guitar while touring with PJ Harvey well before joining the Chili Peppers.
Whatever the story is, it has been a mainstay in his rig up until this day. This beautiful Tele features coveted 1967 Telecaster pickups, a single-cutaway body, and a beautiful Sunburst finish. When John Frusciante was with the Chili Peppers, this '67 served as a backup guitar during the "Californication" and "By The Way" eras.
In terms of specs, the 67 CBS era Telecaster is known for its sweet tones, this is mostly due to the neck pickup, which was famously known for being rather sensitive in its standard position. The 67 is also known for being one of the very first to pioneer the famous Tele twangy tone, one that both Klinghoffer and Frusciante loved for its compatibility with fuzzboxes and other pedals.
As a live staple, Josh considers this to be an all-rounder guitar, he's stated in interviews that this particular guitar is just as effective as his preferred Strats, so it was very usual to see him switching to this six-string whenever his main ones needed re-tuning or anything really. If the fidelity of this Telecaster towards the Chilis or Josh was ever to be questioned: he switched this to his main during the latter half of the I'm With You Tour since his Strats were damaged when being carried during their time in Montreal. No collateral damage occurred, but this proved the 66 Fender as one of the most resilient instruments in Klinghoffer's catalog.
1954 Custom Shop Fender Stratocaster

| | |
| --- | --- |
| Finish | White |
| Years Used | 2004 to Present |
During his early years as a session musician following the first hiatus of Bicycle Thief, Josh found this 1954 Stratocaster to be quite a companion, especially since he would be initiating himself as the Red Hot Chili Peppers' backup guitarist. It was Klinghoffer's main for many years, replacing and rotating it with his black model mainly during the Red Hot Chili Peppers Stadium Arcadium era. Josh got this relic through some contacts, having already befriending his mentor, John Frusciante. This opened the doors for some major gear upgrades during the early half of the 2000s. Reportedly, Klinghoffer approached a few custom shop dealers that happened to have this original 54 Strat, however, there's another lore that points towards the possibility that this is in fact Frusciante's white model, but that theory has been dismissed.
Josh's '54 Custom Shop Strat is another example of a guitar with an extremely thin neck. As we saw with Josh's guitar "Gus", the thin neck provides him with comfortable playability and vintage feel that he really likes. Custom built by Fender Masterbuilder, Jason Smith, this guitar features a very distinctive gold-plated pickguard along with 3 single-coil pickups and a maple neck.
There are only so many live performances where this White Stratocaster can be spotted on the side of the stage complementing Frusciante. Notoriously, Josh was playing this guitar when he became the highlight of the Stadium Arcadium tour during the band's concert in Wembley Stadium.
1974 Fender Stratocaster "Gus"

| | |
| --- | --- |
| Finish | Black |
| Years Used | Unspecified to Present |
Josh has always been interested in guitars with unique characteristics. Take his 1974 Fender Stratocaster for one; this model should have never passed quality-control inspection in the first place. This guitar has an unusually thin neck, which theoretically would imply that some players might find it a bit difficult to get used to. This was not the case for Josh; on the contrary, he was actually attracted to this guitar because of its abnormally thin neck.
Named after King Gustaf of Sweden, this guitar was purchased in Stockholm and serves as the main backup to the 1966 Fender Stratocaster. Surprisingly, this model is one of the first variants of a Stratocaster with a hardtail bridge. This guitar is considered somewhat of a rarity considering hardtail models were not built in nearly the same quantity as the standard tremolo-equipped Stratocaster. Built with 3 standard single-coil pickups, this guitar can really sing.
While "Gus" may be highlighted for its high fidelity to Josh, it never saw the limelight on stage with the Chili Peppers. Nevertheless, it was always on backstage ready for action, and reportedly it was used on a few shreds for 2016s The Getaway album.
1960s Fender Custom Shop Stratocaster "Monty"

| | |
| --- | --- |
| Finish | Shell Pink |
| Years Used | 2015 to Present |
This guitar made rock history, not necessarily in the most positive of ways. Nevertheless, it certainly is one of the highlighted pieces on Josh's catalog given the fact that it was revindicated by its use recording Go Robot in The Getaway. It is known as the infamous Superbowl Strat when the Chili Peppers pre-recorded their playback audio for their performance of Give it Away, which they staged with Bruno Mars for the halftime show.
It is believed that Josh acquired this guitar somehow during the mid-2010s from the Fender Custom shop, it is known to be a replica of his preferred 1960s Stratocasters with a specifically requested Oval C-shaped neck, the ones Klinghoffer is known to love.
There's not much information regarding this pink-shelled Stratocaster, its live use became limited following the halftime show hoax, and while it now belongs to Klinghoffer's private arsenal, reserved for studio use, it made very few live appearances. However, this guitar is expected to become more prominent with Josh's departure from the Chili Peppers, since it can be heard in his 2019 studio release as Pluralone, To Be One With You.
Fender Custom Shop "White Chicken"

| | |
| --- | --- |
| Finish | White |
| Years Used | 2016 to Present |
This is a one-off, custom-made hybrid guitar designed specifically for Josh. It's a cross between a Fender Telecaster and a Gretsch White Penguin. Shaped like a Fender Telecaster, yet the mechanics heavily borrow from a Gretsch White Penguin. It was built at the Fender Custom Shop circa 2015 when Klinghoffer sought to cement his sound in the Chili Peppers, from the moment he got this guitar it became a live staple for Californication. Similar to John Frusciante's White Falcon years ago.
It features a semi-hollow body which is a rarity for a Strat or a Tele. Because this guitar is a combination of sorts, it can switch freely between the tones and sounds of both a Tele and a White Penguin thanks to its distinctive TV jones pickups, in other words, it looks as good as it sounds.
Josh's "White Chicken" guitar was known as his main go-to when playing Californication and Otherside along with the Gretsch White Chicken. He famously used this guitar during the Chili Peppers 2016 Super Bowl 50 concert, and for most of his remaining time with the band until 2019. As a true museum piece, this fat meaty Tele hybrid is one of the most outstanding pieces on Klinghoffer's catalog.
 Gibson ES-335 "Yogi"

| | |
| --- | --- |
| Finish | Walnut |
| Years Used | 2013 to Unspecified |
Josh is the kind of player that will choose a guitar based on how he feels in the moment. As such, "Yogi" has made several appearances during Chili Pepper's live shows especially for the song Universally Speaking. Josh named this guitar "Yogi" because "…it kind of looks like a bear". One of the few non-Strats in Josh's arsenal, this guitar can be heard during what used to be his live cover performances, in this case, he played Neil Young's Everybody Knows This Is Nowhere.
"Yogi" features a semi-solid body with a rounded C-shaped neck and classic 57 humbuckers, an ABR-1 Tune-O-Matic bridge, and an aluminum stop bar tailpiece. This rendition of the 335 is inspired by the tones that set the standard for the 60s in terms of a full-body tone.
This 335 is one of the few non-Fender, non-Strats on Klinghoffer's catalog, but it makes the highlight given that it remained as one of the most constant guitars during live performances. Nowadays, Josh keeps it laying around at home, reportedly it was one of his go-tos during rehearsals with the Chili Peppers when off tour.
1965 Gibson Firebird VII & 1966 Gibson Firebird

| | |
| --- | --- |
| Finish | Sunburst |
| Years Used | 2016 to Present |
During the 2016 tour of The Getaway, Josh got himself two different Gibson Firebirds. The first is a vintage '65 Firebird with a reversed headstock and an attached vibrola piece. The guitar sports 3 humbucker PAF pickups and a two-piece mahogany neck. The other Gibson that Josh used during the Getaway tour is a 1966 12-string Firebird. This one has a much different shape than the other Firebird and contains fewer accessories. The 12 string is considered one of Josh's "crazy guitars", and he sometimes likes to use it if he's feeling particularly excited and daring.
These guitars had a shortlived grandeur at the hands of Klinghoffer, they would come out on stage on rare occasions, mostly when Josh felt like experimenting with them. Nowadays it's speculated that they're kept among his collection pieces.
Gretsch White Penguin

| | |
| --- | --- |
| Finish | White |
| Years Used | Unspecified to Present |
The White Penguin is said to be somewhat of an homage to John Frusciante, who used a White Falcon during the Californication performances for nearly a decade. Josh has claimed to be a big fan of his forbear, so he decided to follow in his footsteps with this particular behemoth of a piece.
The White Penguin is, by all means, an exceptional six-string: It features a white semi-hollow body with a gold plexi pickguard. The neck and body are a one-piece mahogany design with a golden sparkle binding. Equipped with two Dynasonic single-coil pickups, this guitar delivers that classic Gretsch sound that has become a staple in popular rock music, not as low as a White Falcon, but it certainly offers an exceptional middle.
Josh was known to have used this during the I'm With You tour, faithfully reproducing tones from the Californication era. It is with this guitar and his signature White Chicken that Josh could really capture the shimmering high end of songs such as Californication and Otherside. These two guitars would rotate on stage, so it's hard to tell which one Josh preferred.
1974 Fender Starcaster

| | |
| --- | --- |
| Finish | Black |
| Years Used | 2015 to Unspecified |
This particular niche piece in Josh's catalog is a rather interesting one, he became interested in it after hearing Johnny Greenwood playing one of this in Radiohead's From the Basement session. Reportedly he got it from Norman's Rare Guitars shop in Los Angeles, but there's still hard evidence needed to prove this. The Starcaster started to make an appearance during 2016's The Getaway tour.
The thin line, semi-hollow body, gives this guitar an interesting tone; it sounds much different from Josh's usual Fender Stratocasters. The Starcaster was introduced in 1976 when Fender tried to get into the Semi-hollow market, it offered a more all-round sound as opposed to Gibson's ES models. However, only four years in the market, this six-string proved to be rather unpopular due to its uneven mid-low deep sounds and it was discontinued in 1980 only to resurface as a collector's item that propelled its popularity.
Klinghoffer being a fan of oddball guitars, he ventured on to find this niche standard back in 2015, it didn't make many appearances other than a few concerts when the band played the song Encore.
Table Showing Each Guitar Josh Klinghoffer Has Played at Every Point of His Career
| Make | Model | Color/Finish | Years |
| --- | --- | --- | --- |
| Fender | 1976 Stratocaster "Gus" | Black | Unspecified to Present |
| Gretsch | White Penguin | White | Unspecified to Present |
| Fender | 1980s Stratocaster | Sunburst | 1995 to Present |
| Fender | 1966 Stratocaster "Nero" | Black | 1997 to Present |
| Fender | 1954 Custom Shop Stratocaster | White | 2004 to Present |
| Fender | 1967 Telecaster Custom | Sunburst | 2008 to Present |
| Fender | 1963 Stratocaster | Worn Sunburst | 2011 to Present |
| Fender | 1960s Stratocaster "Dashiell" | Sunburst | 2011 to Present |
| Gibson | ES-335 "Yogi" | Walnut | 2013 to Unspecified |
| Fender | 1960s Custom Shop Stratocaster "Monty" | Shell Pink | 2015 to Present |
| Fender | Starcaster | Black | 2015 to Unspecified |
| Fender | Custom Shop "White Chicken" | White | 2016 to Present |
| Gibson | 1965 Firebird VII/1966 Firebird VII | Sunburst | 2016 to Present |
Josh Klinghoffer Amplifier Overview
1970 Marshall Major 200W
Josh has six or seven of these amps including "one white, one red, a purple one, a royal blue one, and others in the standard black." Much like Frusciante, Josh used the Marshall Major amp for the majority of his time in RHCP. According to Ultimate-Guitar's exclusive feature on Josh, "…these amps come stock with three KT88 output valves, two ECC83 preamp valves, and one ECC82 valve." (Josh didn't have original KT88s though, instead, he had the EL34s). The Major is known for its massive amount of headroom and extremely powerful output.
Apparently, Josh "…keeps the volume of [this] amp between 2 and 4" while on stage. Marshall stopped producing these units around 1974 as the supply of KT88 output valves had run out. Josh originally used the Major through a 1972 8×10, 120-Watt cabinet, but decided to switch out the speakers for 40-watt Celestion speakers instead. He was worried that the combined power of the 200-watt amp and the 120-watt cabinet would eventually catch fire. For the record, he certainly was not opposed to the sound! According to Josh's guitar tech, "Josh did say it sounded great [though], haha, but things often sound great just before they catch fire. Destruction sounds amazing."
Sears Silvertone 1485
The Silvertones were probably the most powerful tube amps that Sears were producing at the time. Bands such as The Velvet Underground, Coldplay, and The White Stripes have been known to use this specific unit. This particular model is somewhat rare, with a short production period of only 3 years. (1963-1966). The 1485 comes stock with a built-in reverb control, tremolo, and a footswitch.
The Silvertone cabinet houses six 10-inch Jensen speakers with 10 tubes and 5 rectifiers. This amp and cabinet combo provided Josh with a beautiful mid clarity sound that is apparent in his playing. Like John Frusciante, Josh uses 3 amps which are all on at the same time. The idea is, that each amp plays a different role in creating the overall sound. The gain and volume of each amp are pressed up without reaching distortion to create what Dave Lee (John Frusciante's former guitar tech) calls "supreme punch".
Popular Related Article: Jack White Rig Rundown
Fender Super Six Reverb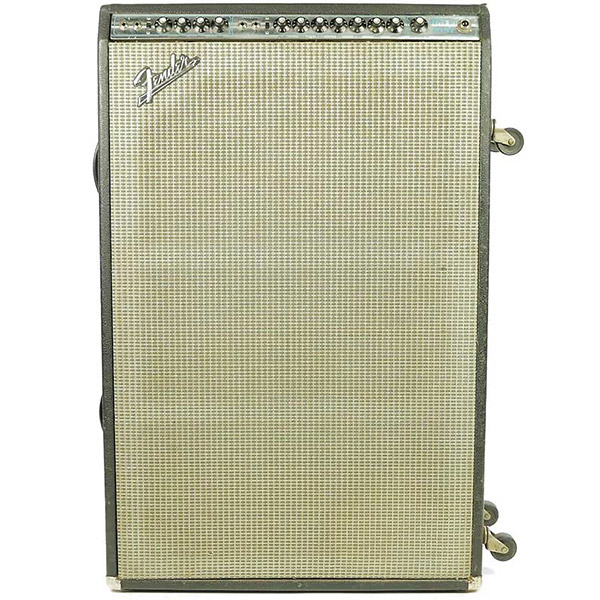 This amp is essentially a 6×10 combo configuration of a 100-Watt Twin Reverb. Manufactured from 1977 to 1979, this features 6 Jensen speakers. According to Josh's guitar tech, this amp is used to provide a subtle reverb effect and fill in the high end alongside the 2 other amps. "In general, tone-wise, the Major is dialed up to be low-end and it's the loudest. It's a pretty simple split. You have a nice mid-sounding Silvertone…. And then the Fender is actually pretty quiet, and just as you would expect pretty light and high-end. It's got a little twinkle to it. But they're all on at all times."
Josh Klinghoffer Pedals and Effects Overview
Ibanez WH-10 Wah
Josh describes this pedal as "the greatest wah [he's] ever heard". It was originally released in the 1980s and was made popular by the likes of John Frusciante. This pedal is capable of producing some nice filter sweeps along with a solid rich tone. The original WH-10 features a feedback op-amp which maintains consistent gain across frequency ranges. The tone on this is smooth and rich. It can most likely be heard during some of Josh's and John's leads on songs like Dani California or on the main riff of She's Only 18 among others.
Now, this pedal is heavily associated with the Red Hot Chili Peppers in such a deep level, that it is known as the RHCP Wah to many.
Pigtronix Polysaturator
The Polysaturator is quite a versatile pedal. It allows Josh to switch between softly overdriven tones to chaotic high gain distortion in a flash. Great for playing leads and eq'ing the frequencies of his distorted sound.
(Josh uses many overdrives and fuzz pedals on his board. To name a few: MXR M133 Micro Amp, a (Keeley Modded) Boss DS-1 Ultra Distortion, a Tube Screamer, an Analog Man Peppermint Fuzz, a Tone Bender (MKIV), DOD Overdrive preamp 250, Marshall Guv'nor, and a Wilson Effects fuzz pedal.)
Boss DD-3 Digital Delay
Josh likes to set this pedal to have clipped repeats. This helps him achieve a sort of glitching sound ala Johnny Greenwood of Radiohead. The DD-3 provides 3 different delay time modes, including feedback and time control. Josh is also able to hold the sound indefinitely via mode control.
Line 6 FM4 Filter Modeler
This is the unit that is responsible for a lot of the sequential noises and synthed out sounds that you can hear during live shows. Josh likes to use the FM4 for different ambient sound textures and experimentation.
It should be noted that Josh has several filter pedals to achieve these kinds of sounds including a Cyber Psychic Parametric Oscillo Filter pedal, a Moogerfooger Low-Pass Filter, a Moogerfooger MF-103 12 Stage Phaser, a Mu-Tron Bi-Phase, a Lo-Tech-N-Fi-Bot Pocket Synth, and probably many others.
Boss CE-2 Chorus Pedal
Josh has a couple of these pedals lying around, one stock, and one heavily modded. The heavily modded one is severely out of tune which according to Josh's guitar tech, produces a "nice wobbly sound reminiscent of a Leslie Speaker". On another hand the classic CE 2 Chorus is a staple of the industry, being deemed by many as the all-purpose Chorus pedal with fitting modular knobs to reach the desired tone.
Boss VB-2 Vibrato
The VB-2 is an interesting pedal. It was only in production for about a year and a half in 1982. It's somewhat rare, but it can produce some unique sounds. The effect has its origins in the Roland Jazz Chorus JC-120 amp and is a mainstay on Josh's pedalboard. Most famously, you can hear Josh using this during live performances of Suck My Kiss accompanied by a very distorted guitar tone. Josh's guitar tech remarks that "it can get quite psychedelic".
Boss RV-5 Digital Reverb
Josh uses this pedal to achieve different spatial (room) effects. The RV-5 offers 6 digital reverbs in stereo form. Reverbs include spring reverb, a high-quality gated reverb, and a modulation control to detune different reverb sounds.
Popular Related Article: Top 17 Red hot Chili Peppers Songs
Wrap Up
With two solo albums and a host of musical contributions, Josh has had quite an extensive musical career. Moreover, his abilities aren't limited to being a guitar virtuoso, as Klinghoffer can also play the bass, drums, keyboard, synthesizer, saxophone, vibraphone, piano and has some killer vocals, as shown here
Josh became acquainted with the Red Hot Chili Peppers sometime around the year 2000. Only 21 at the time, his band "The Bicycle Thief" were already opening for the Chili Peppers during their "Californication" tour. The band was so impressed by his talents that in 2006 they unofficially integrated him into the group during the "Stadium Arcadium" tour as a keyboardist, singer, and additional guitarist. It wasn't until John Frusciante's departure in 2009, that Josh was called on to officially join the band.
Josh left the Red Hot Chili Peppers as a household name in 2019, while nowadays we might be past the age of Guitar Heroes, Klinghoffer is certainly one of the modern-day contenders to become the likes of these emblematic guitarists. While many compare him to his forebears in the Chili Peppers, Josh took his brief mentorship and friendship from Frusciante to bring a next-level game to the project.
By all means, Klinghoffer is a fully developed visionary in his instrument who simply understands a minimalistic yet embracing craftsmanship to the guitar, as an addition to his multi-instrumental talents. Needless to say, there's no room for doubt when looking for the man who saved one of the most important bands of modern history.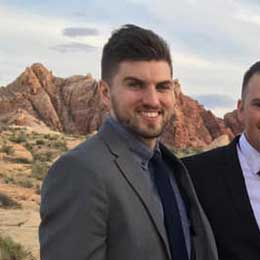 My name is Chris and I've had a passion for music and guitars for as long as I can remember. I started this website with some of my friends who are musicians, music teachers, gear heads, and music enthusiasts so we could provide high-quality guitar and music-related content.
I've been playing guitar since I was 13 years old and am an avid collector. Amps, pedals, guitars, bass, drums, microphones, studio, and recording gear, I love it all.
I was born and raised in Western Pennsylvania. My background is in Electrical Engineering, earning a Bachelor's degree from Youngstown State University. With my engineering experience, I've developed as a designer of guitar amplifiers and effects. A true passion of mine, I've designed, built, and repaired a wide range of guitar amps and electronics. Here at the Guitar Lobby, our aim is to share our passion for Music and gear with the rest of the music community.