There are many reasons why Bob Dylan continues to be one of the most iconic singer-songwriters of all time. While some love his deep lyrics, others can't resist his emotive vocals. But for guitarists, we love how he often uses the simplest guitar chords and easy strumming patterns to create pure songwriting magic!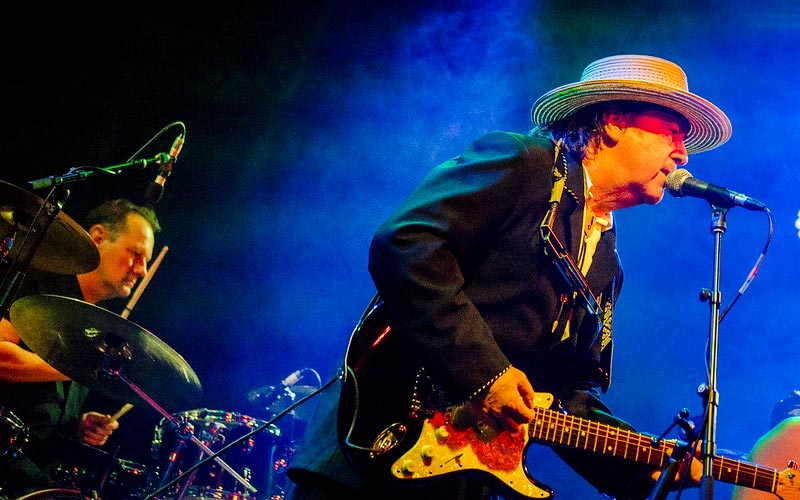 So many of Bob Dylan's songs are super easy to learn and play, making them perfect for guitar novices to master! In this article, we're bringing you a list of 13 easy Bob Dylan guitar songs. All the songs mentioned below use simple chords and are easy to grasp, especially for guitar beginners, and if you're a fan of Bob Dylan there are sure to be songs you know and love.
List of Easy Bob Dylan Songs to Play on Guitar
1. Mr. Tambourine Man
Album: Bringing It All Back Home, 1965
Chords: G, A, D
Tuning: E A D G B E
Bob Dylan's 'Mr. Tambourine Man' from his 1965 album Bringing It All Back Home is a masterclass in how a song can be beautifully complex songwriting yet simple in its execution. A striking blend of dense, mysterious lyrics with infectious, perky melody fueled by jangly guitars leaves a lasting impression on the listener. Furthermore, Dylan has penned the lyrics in such a way that they are pretty open to interpretation. With such imaginative songwriting, it's no wonder the man won a Nobel Prize for literature!
As amazing as it is to the ears, 'Mr. Tambourine Man' is also super fun and easy to play, with a simple G, A, and D chord progression with a capo on the 3rd fret and a pretty straightforward strumming pattern. The song's massive popularity drove many famous musicians into recording their rendition of the folk hit. The most notable version is by an American rock band, The Byrds was also released the same year as the original.
2. Knockin' On Heaven's Door
Album: Pat Garett and Billy the Kid, 1973
Chords: G, C, D, Am
Tuning: E A D G B E
Dylan's original version of Knockin' on Heaven's Door is an excellent example of how even the simplest musical elements can create a touching composition. A few simple chords are all it takes to play this soulful hit! The song's two short verses use just three major chords, G-C-D and a minor chord Am. Once you are through Dylan's version, you could perhaps give its rockier rendition by Guns N' Roses a shot.
Very few songs have enjoyed the same far-reaching appeal as this track.' It became a massive international hit, charting remarkably well in several countries across the globe. Dylan wrote the song for the 1973 movie Pat Garett and Billy, the Kid, where it is played during an emotional death scene. The song got a fresh burst of popularity when hard rock giants Guns N' Roses covered it in 1990. Other notable renditions include versions by Eric Clapton and Randy Crawford. Dylan himself performed the song over 460 times between 1974 and 2003! Knockin' On Heaven's Door is a legendary and one of my personal favorite easy Bob Dylan guitar songs.
3. Visions of Johanna
Album: Blonde on Blonde, 1966
Chords: A, D, E7, E
Tuning: E A D G B E
The next track is almost as iconic as the man himself! According to many fans and critics, 'Visions of Johanna' is Bob Dylan's finest piece of songwriting, and we agree! The song uses only four chords A, D, E7, and E chords in standard tuning with a laidback strumming style, placing it well within reach of beginners.
Dylan pens the enigmatic lyrics in this track using surrealist metaphors and symbolism. The words revolve around a lover's obsession for the unattainable 'Johanna.' It's one of those songs which leave the interpretation up to the listeners. So when it comes to the song's deeper meaning, your guess is as good as mine!
The song faced quite a few roadblocks during recording. In the 1966 New York sessions, Dylan toiled with backing musicians for fourteen takes but somehow couldn't get the sound right. Luckily, a change of place did the trick. The song finally took shape in one of the recording sessions in Nashville. Dylan's superb acoustic strumming and mesmerizing harmonica, along with guitarist Robbie Robertson's haunting electric licks and AI Kooper's organ riffs, make this a sonic feast.
4. Like a Rolling Stone
Album: Highway 61 Revisited, 1965
Chords: Fmaj7/C, Dm7, C, Em, F, G
Tuning: E A D G B E
Guitar novices will love that the song hailed as the greatest composition by Bob Dylan is also quick and easy to learn! With a simple 4/4 rhythm, easy strumming style, and a chord progression that keeps repeating throughout the song, guitar beginners will not have much trouble grasping this track. The song uses familiar chords such as C, Dm7, Em, F, and G to create a powerful and timeless track!
Incredibly, Like a Rolling Stone was almost denied its day in the sun by the guys at Columbia Records. With a six-minute-long runtime and heavy electro-rock sound, 'Like a Rolling Stone' did not fit the bill as a radio-friendly track. Thanks to a copy that got leaked to a popular music club and the phenomenal response that followed, the track made the final cut. From Dylan's sixth album, the song pushed the boundaries of rock like no other, earning itself the top spot on Rolling Stone Magazine's '500 Greatest Songs of All Time' list.
Notwithstanding its duration, 'Like a Rolling Stone' became Dylan's biggest commercial hit inspiring countless covers by famous artists, including Jimi Hendrix, the Rolling Stones, Michael Bolton, and Green Day. In this song, Dylan sneers and sings cynically about a high society debutante. This person, who once had it all, was left to fend for herself after a fallout with her rich friends. Punchy lyrics, impressive electric guitar licks, organ riffs, groovy chorus, and Dylan's youthful vocals all came together to create the most entertaining rock ballad of his career.
5. A Hard Rain's A-Gonna Fall
Album: The Freewheelin' Bob Dylan, 1963
Chords: D, A, G
Tuning: D A D G B E
Using just 3 chords, Dylan's seven-minute-long song captured his fury at the turbulent Cold War period and the Cuban Missile Crisis. With its apocalyptic imagery, passionate vocals, and powerful guitars, 'A Hard Rain's A-Gonna Fall' is arguably one of the most potent protest songs ever recorded! It featured in Dylan's second album, The Freewheelin' Bob Dylan, and became a live staple on his concerts. Singer-songwriter Pattie Smith performed an emotionally overwhelming rendition of the song at the Nobel Prize Award Ceremony in 2016, the year Dylan received the Nobel Prize in Literature.
The song is modeled in a question-and-answer format after the famous 'Lord Randall' ballad. Even though its verse structure is complex, the chords used are only D, A, and G. So if you know how the song goes, it should be pretty easy to play. Every verse has two lines that make up a question which is played in D-G-D chord progression for the first one and D-A for the second line. Following the questions are replies in multiple lines which use a G-A-D chord progression. This is one of my favorite easy Bob Dylan Songs.
6. Blowin' in the Wind
Album: The Freewheelin' Bob Dylan, 1963
Chords: G, C, D
Tuning: E A D G B E
Did you know that it took Dylan only ten minutes to write the song that made him a household name! His 1962 composition 'Blowin' in the Wind' is a soul-touching song with rhetorical lyrics that still resonate with the listeners even decades after its release.
A super simple way to play this song uses just three chords- G, C, D, and a fairly common strumming pattern. However, the original recording uses a capo on the 7th fret and has quite a few embellishments that you can pick up once you are through with the easy version.
From war, freedom, and peace, this evocative composition questions everything before moving to an infectious refrain, 'The answer, my friend, is blowin' in the wind' that one can't help but sing along to. As much as we love Dylan's original, it was folk music trio Peter, Paul, and Mary's showstopping rendition that catapulted this song to new heights. It became a part of the Civil Rights Movement when the trio sang it at Lincoln Memorial on the day Martin Luther King Jr. delivered his famous I Have a Dream speech.
7. Subterranean Homesick Blues
Album: Bringing It All Back Home, 1965
Chords: A, G6, D, E, F#m, G, Asus, Asus4
Tuning: E A D G B E
Packed with twangy electric licks, bluesy harmonies, repetitive chords, and fast vocal delivery, 'Subterranean Homesick Blues' marked the beginning of Dylan's rock 'n' roll journey. Lyrically, it's another politically charged anti-war songwriting jewel from the Nobel Laureate's repertoire that opened to raving reviews. It is reported that the legendary John Lennon found the song so captivating that he did not know how to create something that could top it!
To play this song the way Dylan does, you need to put a capo on the 5th fret and play with all chords in their familiar open positions. If you are looking to play this on an acoustic, check out Dylan's acoustic rendition that features in The Bootleg Series Volumes 1-3 (Rare & Unreleased) 1961-1991. This title track from the 1965 album Bringing It All Back Home also became Dylan's first Top 40 hit in the US, peaking at no. 39 on the Billboard Hot 100. It also earned itself a well-deserved spot on Rolling Stone's 500 Greatest Songs of All Time list.
8. All Along the Watchtower
Album: John Wesley Harding, 1967
Chords: Am, G, F
Tuning: E A D G B E
From his 1967 album, 'All Along the Watchtower' became a frequent feature at his live concerts, with Dylan performing it 2,160 times, more than any of his other songs. As always, the lyrics are where Dylan's song shines. In his classic cryptic style, Dylan writes about a conversation between 'the joker' and 'the thief.' The dialogue is spread out over 12 lines in three short verses.
Dylan's original is quite easy to play as it uses just three chords – Am, G and F all played in open positions. You'll only need a capo on the 4th fret. Everything else is easy to master, the chord progression is repetitive, and the strumming pattern can be nailed without much trouble.
Dylan's original may not have gotten the attention it deserved if it wasn't for Jimi Hendrix's electric-driven rendition. While Dylan's version captivated the audience with its understated style, haunting harmonica, and simple riffs, Hendrix's cover took the song to a whole new level. Breathtaking solos and masterful licks turned it into a timeless electric marvel. We're sure you'll have a super fun time learning to play both versions!
9. You Ain't Going Nowhere
Album: Bob Dylan's Greatest Hits Vol. II album, 1971
Chords: G, Am, C
Tuning: E A D G B E
Dylan wrote some of his most remarkable songs during a self-imposed exile from the public following a motorbike accident. 'You Ain't Going Nowhere' is one such gem. Dylan sings the existential lyrics in laid-back vocals while strumming away gloriously on a 12-string acoustic.
For beginner guitarists who want to add a Dylan song to their repertoire, it can't get any easier than this! This track is incredibly fun to play with no barre chords, capo, or embellishments, just three chords – G, Am, and C. The chord progression is pretty straightforward too. You just need to play each chord for four beats. That's it!
The overall vibe of the song is very country-rock-like! The song was released in 1971 when it became a part of Bob Dylan's Greatest Hits Vol. II album.
Popular Related Article: List of 57 Easy Guitar Songs for Beginners
10. The Times They Are a-Changin'
Album: The Times They Are a-Changin', 1964
Chords: G, Em, Am, C, D, Gmaj7/D, D7
Tuning: E A D G B E
Here's another easy to play composition by Dylan that showcases his literary prowess! Influenced by Irish and Scottish ballads,' The Times They are A-Changin'' is an anthemic call for change. This timeless classic is so potent that it still holds relevance in today's world.
While this song does use a bunch of chords, none of them are hard to nail. The chord progression is pretty simple and repeats itself over and over again as the verses progress. The only thing you'll need to practice patiently is the strumming pattern, get that right, and you'll be able to play the entire song flawlessly.
With its powerful message, the song became highly influential. As a result, some of the biggest names in music released their renditions of this classic – Nina Simone, the Byrds, Peter, Paul and Mary, Tracy Chapman, Billy Joel, Bruce Springsteen, the list is endless!
11. I Shall Be Released
Album: Music From Big Pink (The Band Version)
Chords: A, Bm, C#m, D, E
Tuning: E A D G B E
A raw and emotional tale of feeling trapped before enjoying the sweet release of freedom, Bob Dylan's 'I shall be released' was first officially recorded by the Toronto-Based rock outfit 'The Band' for their debut 1968 album 'Music From Big Pink'. However, Dylan went on to record his own version as well, accompanied by light acoustic picking and his singular, spoken-sung vocal style.
Dylan's version is quite easy to grasp, using a simple strumming style and using familiar chords like A, Bm, D, E and C#m. Once you nail the opening line of the verse, the rest of the song is a cakewalk, since it pretty much uses the exact same progression over and over again!
While some listeners consider the song's lyrics to be literally about someone being released from imprisonment, others find a more metaphorical meaning in his words. And that's the beauty of Dylan's songwriting – he leaves plenty of room for the audience to interpret the meaning the way they'd like to. The song features on the 6th rank in Rolling Stone's list of 100 Greatest Bob Dylan Songs.
12. One More Cup of Coffee
Album: Desire
Chords: Am, G, F, E
Tuning: E A D G B E
This track may not be as wildly famous as the others on this blog, but there is a magnetic appeal in its melody, lyrics, and vocal style that makes it worthy of adding to the list. Plus, it's a treat for beginners to play! The chord progression uses just four of the most common chords – Am, G, F and E, along with a beginner-friendly strumming pattern.
The middle-eastern vibe of the track can be chalked up to the use of the natural minor scale throughout the track and the distinctly Arabesque vocal style. This song is a duet and features the vocals of multi-Grammy-winning singer-songwriter Emmylou Harris, who collaborated a lot with Dylan, especially in the album 'Desire'.
The lyrics are quite enigmatic – with the protagonist confessing his love for someone doesn't reciprocate his feelings. Instead, his love interest lives a nomadic lifestyle with no single place to call home. But just like so many of Dylan's songs, some listeners perceive this song as an ode to living an unconventional life, away from the restrictive norms of society. The track is said to have been written by Dylan when he was attending a Roma Festival in a remote French town.
13. Forever Young
Album: Planet Waves
Chords: C, G, F/C, Am7
Tuning: E A D G B E
Recorded by Dylan in California in 1973, Forever Young is a beautiful song that is also super easy to play on the guitar. The track uses a simple down and up strumming pattern throughout the song and a simple 4 chord progression – C, G, F/C and Am7. There's a reason why this song is so easy to play and listen to – it was originally written as a calming lullaby by Dylan for his eldest child named Jesse!
Once you get into the lyrics, you'll see that the track reveals Dylan's hopes that his son will grow up to be happy and strong. He also prays that luck and god's blessings are always on little one's side. However, to ensure that he didn't sound too emotional, Dylan included two separate versions of 'Forever Young' on his album 'Planet Waves'. While the first one was his original easy acoustic version, the second one was more complex and rock-oriented in its arrangement. A soothing track both in its composition and lyrics, musicians of any skill level would enjoy playing this beauty.
Popular Related Article: List of Easy Acoustic Guitar Songs (with Lesson Videos)
Final Thoughts
It's pretty mindblowing how a solitary man with his guitar and thoughts managed to transform the landscape of American songwriting over time, and even won a Nobel Prize for it! And as you may have realized while reading this blog, the real genius of Bob Dylan lies in how he keeps his compositions astonishingly simple, but at the same time manages to convey incredible emotional depths!
This amazing combination of complex lyrics and simple melodies is a big reason why Bob Dylan's music has awakened the collective consciousness of not just his own generation, but those that have come after him as well. Plus, it's also why thousands of artists couldn't help but want to cover his songs and give them their own artistic spin. We highly recommend exploring all the albums that the songs shared above are featured in…in fact, just check out his entire discography! We are sure that you will find many more gems that are not only beautifully written songs but very easy to replicate on the guitar as well.
But above all, his songs leave behind a familiar feeling in the hearts of his listeners, because when it comes to Bob Dylan, the same song can mean something so personal to each of his listeners.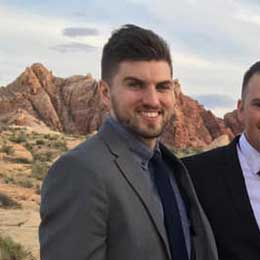 My name is Chris and I've had a passion for music and guitars for as long as I can remember. I started this website with some of my friends who are musicians, music teachers, gear heads, and music enthusiasts so we could provide high-quality guitar and music-related content.
I've been playing guitar since I was 13 years old and am an avid collector. Amps, pedals, guitars, bass, drums, microphones, studio, and recording gear, I love it all.
I was born and raised in Western Pennsylvania. My background is in Electrical Engineering, earning a Bachelor's degree from Youngstown State University. With my engineering experience, I've developed as a designer of guitar amplifiers and effects. A true passion of mine, I've designed, built, and repaired a wide range of guitar amps and electronics. Here at the Guitar Lobby, our aim is to share our passion for Music and gear with the rest of the music community.