An acoustic guitar produces an incredible unadulterated sound that an electric guitar just can't replicate. It is the preferred personal instrument of many artists because of its versatility and amazing natural sounds, which can be impactful in just about any genre but lends itself particularly well to blues and country music.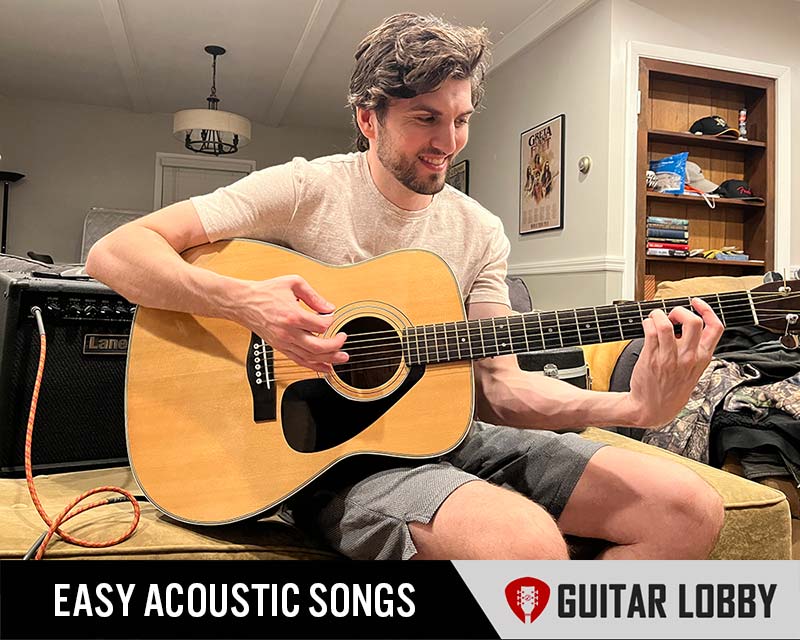 So, if you picked an acoustic guitar as your first musical instrument, congratulations! What is crucial now is to pick the right songs to begin your acoustic guitar journey. Luckily, below I have 50 easy acoustic guitar songs for beginners that are also fun to play!
Here is a List of Easy Songs to Play on Acoustic Guitar
1. Take Me Home, Country Roads By John Denver

If there's one song that best defines the musical ingenuity of John Denver, it would be this 1971 song. It's true that Denver wrote Leaving on a Jet Plane. However, it was Peter, Paul, and Mary who first recorded the song that Denver wrote. When it comes to singing his own song, Take Me Home would be it.
Many guitarists find the chords of this country song very easy. I've seen preschoolers playing their toy guitars to the tune of this song. It shouldn't be that difficult for beginner adult guitarists to learn the few tricks of the song. Learning this song is as important as learning how to ride your bicycle. It's a nice way to begin your guitar playing journey.
2. Sweet Home Alabama By Lynyrd Skynyrd

This is one of the greatest Lynyrd Skynyrd songs of all time, and it's already over 45 years old. It's extremely popular, and you've probably seen a lot of films and commercials using a part of the song. That's how catchy this country rock is. Sweet Home Alabama remains a must-learn for anyone who aspires to become a guitarist.
This song is great for learning to play the guitar using a pick. Using a guitar pick can provide the song with a very different tone compared to using the fingers. It is also a good way to train your fingers to be precise in picking. All in all, Sweet Home Alabama is one of my favorite easy acoustic guitar songs because pretty much everyone knows it, and it's fun to play.
3. Boys 'Round Here By Blake Shelton

Blake Shelton has some of the most amazing songs today. Most of his songs are very easy to play on the guitar, too. Take this 2013 country song, for instance. "Boys 'Round Here" only has two chords, a pretty basic down-strum pattern, and a beat that is very easy to memorize. Now, that's easy.
Want to make this song more colorful? Try playing it with the power chords of both A and D. The resulting A5 and D5 will give you a nice twang that should give the piece a more beautiful sound. You can always stick to the basic strumming, of course. At the very least, this song is going to get you well acquainted with your acoustic guitar.
4. Old Time Rock n' Roll by Bob Seger

You'll fall in love with the memorable guitar riff intro of this song. This 1979 rock and roll song is now considered a standard because of its catchy tune, very appealing groove, and continuing popularity. The song has a very uncanny way of soothing the soul. This is despite its rock and roll roots. Credit goes to the rough-edged vocals of Seger and the amazing display of power-charged instrumentation.
You can get that same feeling, too. Start with the chord basics of the song. You can then move on to the progression and the strumming. To make your lessons worthwhile, I suggest mastering the fingerstyle of this song. It gives the song the depth and color that it needs.
5. Tennessee Whiskey by Chris Stapleton
I love the smooth groove of this song. First-time listeners will often think that the song is blues or even soul. However, Tennessee Whiskey is as country as any other song in that genre. It has a waltzy tempo that's perfect for quiet and lazy afternoons with a bottle of whiskey in hand.
While the chord pair is perfect for grade schoolers, I suggest trying to master the fingerstyle of the intro. This will give you a different tone that is a lot closer to what you'll get if you play the piano. The fingerstyle is a great guitar-playing technique that creates a more beautiful and more defined set of notes. This leads to the song becoming more harmonic and melodic.
6. Heart of Gold by Neil Young

Better learn to play the harmonica or have a friend play along to this 1972 song on your guitar. The rich melodies of the harmonica should greatly complement the wonderful natural sounds of your guitar. And if your friend doesn't have a harmonica or no one in your gang knows how to play one, you can just whistle along.
You'll love the soft acoustic pieces of this Neil Young song. What is great about this song is that the original version used an acoustic guitar. This is in addition to the harmonica that is quite prominent in the intro. As I said, if you don't have a harmonica, then you should be ready to accompany your guitar with a whistle.
7. Born in the USA By Bruce Springsteen

Let's start this list with this 1984 Bruce Springsteen classic. This song incorporated the different electronic textures we have all come to associate with rock and roll in the 1960s. You've got to admire Springsteen for keeping these essential elements at the heart of Born in the USA.
Playing this Springsteen song shouldn't be that difficult. After all, there are only two chords to worry you. The strumming requirement of the song is not also that complicated. The progression of the chords are also easy to pick. The best part is that you get to enjoy learning how to play one of America's most iconic tunes that people still sing or chant today. This should jump-start your acoustic guitar-playing adventures.
Related Popular Article: List of Fun Rocks Songs to Play on Guitar
8. Moves Like Jagger By Maroon 5
People love the throbbing synth of this 2011 song by Maroon 5. It has an excellent combination of electronic drums and fast-paced beats that are a very bold statement. Most people like the whistle-driven melody, which is light and loose. It's very funky, too.
The actual chords for this song are Bm and Em. However, I know some people may have difficulty with the Bm barre chord. If you're one of these folks, you can transpose the chords to Am and Dm. It should be a lot easier to play this way. Focus on the correct strumming pattern to get the groove of the song right.
9. Glory Days by Bruce Springsteen

| | |
| --- | --- |
| Genre | Heartland Rock |
| Chords | E, A, D |
| Tabs | View Glory Days Tabs Here |
Fans of musical oddities will find Glory Days to their liking. Bruce Springsteen wrote this 1982 song using a hodge-podge of ideas. You get a honky-tonk piano, a rinky-dink organ, and an explosive pattern from the tom-toms. You'd also get a kick from the garage-band guitar providing the framework for the song.
This is just the song you need if you want to impress your friends with something that they may have never heard before. Three chords shouldn't be a problem for most people. Paying attention to the song's groove will set you up for the performance. It also has a slow rock tempo that beginner guitarists will find easy to follow. And the strumming technique will never strain your wrists.
10. Achy Breaky Heart by Billy Ray Cyrus

Go to any Western country dance house, and you will still hear them play this 1991 song by Billy Ray Cyrus. The song has a very captivating tune and it would seem as if it was written specifically for the line dance. It would be cruel to think that the song is mediocre. This is a chart-topping song that also happens to be a Hot 100 item.
Fancy hammers-on? You've got to give this song a try. The upbeat tempo is perfect for striking the chords with wild abandon. If you get the two basic chords right, you should still be producing the kind of rock music that Cowboys and Southerners love.
11. La Bamba by Ritchie Valens
Definitely try playing this 1958 rock and roll song on your acoustic guitar. The song may have a folk song origin, but no one can deny its fantastic groove. The song has a great vibe, very upbeat, and fun to play.
Beginner guitarists can learn at least two things from playing this song. First, there's the fingerstyle for the intro. Second, the strumming technique will test your finger and wrist coordination. The fast tempo of this song (144 BPM) is going to have you pushing your strumming skills.
12. You Are My Sunshine by Jimmie Davis
You're not a guitarist if you don't know how to play this American country classic. I'm joking obviously, but this is a song that is as timeless as any masterpiece ever composed. This 1939 song is one of the most recorded and most covered songs. I know of very popular musicians who still play this song during their free time. And if they can find satisfaction in this song, you should, too.
Beginners find the relaxed tempo of the song to be useful. The predictable chord progression and the very simple strumming pattern make this song super fun to play and suitable for beginners. This is a piece that is worth adding to your repertoire of must-play fun guitar songs.
13. I Walk the Line by Johnny Cash
Many of you reading this weren't even born yet when this song hit the Billboard charts in 1956. You can think of the song as a vintage number. However, there's no denying its impact on the careers of many modern musicians. The song has a unique chord progression. Cash drew inspiration from the backward playback of the different guitar runs on his 1950's tape recorder to give the song a very distinct characteristic.
Playing I Walk the Line is as easy as a walk in the park. The strumming techniques don't demand too much focus. You can be as carefree as you like in the playing of the chords. This is a fascinating song worth playing on any acoustic guitar.
Popular Related Article: Easy To Learn Guitar Chords
14. Eleanor Rigby by The Beatles
You'll love playing this song. It's a great tune with an easy-to-memorize strumming pattern. You can practice playing the chords as softly as you want. Or you can work on strumming louder and more aggressively as you might in a live performance-like performance.
This 1966 Beatles song is important because it highlights the continuing transformation of the Liverpool group at the time. No longer were they a mere pop-oriented, rock and roll group. They had already started experimenting with different songs in a studio setting to produce fascinating art rock music.
15. Bad Moon Rising by Creedence Clearwater Revival
The dance-like groove of this 1969 song is perfect for beginner guitarists looking for a fun piece to play at a party or gathering. The song has the perfect combination of country rock elements and swamp rock characteristics. You can also hear hints of blues in the overall structure of the song.
Even if you don't know the lyrics of the song, you'll still find yourself humming to the melodies you create with your acoustic guitar. Don't worry about fingerpicks and complicated fretting patterns. There's none of that in this rock song. Mastering this song in less than 30 minutes is possible for any beginner.
16. Leaving on a Jet Plane by John Denver
Forget Ben Affleck when he sang this song in the Hollywood film Armageddon together with some of his fellow oil driller-turned-earth-saving astronauts. The voice was awful, but you really can't blame A.J. for belting this song. After all, this is a song that has become a staple of many folk and country guitarists. Even seasoned artists still play this 1966 John Denver classic as an important part of their repertoire.
I applaud you if you do decide to also include this in your must-learn and must-play lists. Fretting the chords is never an issue. Strumming is also not a problem. The predictable rhythm lends the song an air of ease that is crucial to building your confidence as a beginner acoustic guitarist.
17. Shake It Off By Taylor Swift
If you're looking for easy songs to play on acoustic guitar, Taylor Swift has a ton of great songs. She is best known for her country-pop style, and that's why many would consider Shake It Off as a breath of fresh air. It gives Swift fans a different taste of what the pop star can offer. This 2014 song has an upbeat vibe that makes it an excellent piece on the dance floor. It is also easy to execute on an acoustic guitar.
With only three chords forming the song, nailing this piece like a rising pop icon should be easy for any beginning guitarist. Do remember that the song's tempo is quite fast. What is more important is to master the correct strumming pattern. It may take a few sessions before you get the pattern to perfection.
Related Popular Article: Easy Pop Songs to Play on Guitar
18. Wild Thing by The Troggs
It's easy to bring the house down if you're going to play Wild Thing. It is an all-time favorite and an all-time great, allowing many musicians to either cover the song or give it their own take. The song combines proto-punk and hard rock elements. It's the perfect piece for anyone who would like to learn more about garage rock. The sensational groove is something worth playing all day long.
Power strums work best in this song by The Troggs. However, I have also seen guitarists who employ toned-down strumming patterns. What's amazing is that the song never loses its charm, regardless of how people play it. It makes for a great piece to include in your guitar-playing journey.
19. I Wanna Be There by Blessid Union of Souls
Listening to this song is like listening to a soft and mellow rock number. One can easily relate to the message of the lyrics. However, it is the overall structure of the song that conveys a warm feeling that is very characteristic of pop rock. I find this song to be perfect for the acoustic guitar. It's ideal for those alone times or when serenading a loved one at a campfire.
People think that I Wanna Be There is difficult to play because it's rock. It isn't. The chords cannot be more complicated than a simple G, C, and D. I have a neighbor whose 6-year old kid can play this song after only listening to it twice.
20. Love Me Do by The Beatles
This is one song you'll want to include in your list of easy acoustic guitar songs. The Liverpool rock band released this song in 1962. It remains a favorite of many artists and musicians. It is also one of the very first songs that Paul McCartney wrote. In fact, McCartney wrote most of Love Me Do between 1958 and 1959. That's a full 3 to 4 years before the Beatles began recording their very first recordings as a band.
Who doesn't like Love Me Do? It has that characteristic beat we've all come to love about the Beatles. The original chords are only G7 and C throughout the song, except for D in the bridge. The strumming is very straightforward, too.
21. Marry You by Bruno Mars
This 2011 pop song launched the career of Mars. The style of music is very reminiscent of the pop songs that our grandmas and grandpas love to swing to in the 60s.
Playing Marry You isn't difficult either. Three simple chords can keep your fingers busy, and the simple strumming pattern will keep your focus on the song. If you want to up the ante, you'd better get acquainted with the song's fingerstyle.
22. Hound Dog by Elvis Presley
Most of us associate Hound Dog with the King of Rock and Roll. While his song may be the most popular, it isn't the only version of this popular song. In fact, there are more than 250 different covers and versions of this 1952 original song by Big Mama Thornton. Another thing you didn't know is that the original was a blues song. Elvis Presley gave it a more contemporary feel by turning the song into a rock and roll legend.
So, when you do play this song on your acoustic guitar, be very mindful of the power strums and the groove. It should feel as solid as a rock star performing on stage instead of a blues master belting in a pub.
23. What's Up by 4 Non Blondes
This was one of the biggest surprises in 1993. What's Up seemingly came out of nowhere. Before other artists could react, radio stations all over the world were already giving substantial airtime to the song. People everywhere are already humming or bobbing their heads to the catchy rhythm. The bar rock blues of the song make a perfect partner for the high-range, breathy, gymnastics vocals.
What's Up is a surprisingly interesting song. Some critics even call it naggingly memorable. Whatever the case, this is one song worth strumming on the acoustic guitar. It has a predictable chord progression and a beat that will not make you dizzy. You and your friends will have plenty of fun playing this song.
24. Bye, Bye Love by The Everly Brothers
With a real feel-good vibe, Bye Bye Love is another great piece for aspiring rock and rollers, country artists, and rockabillies. It was so popular in 1957 that even the Beatles covered the song in 1969.
25. All About That Bass by Meghan Trainor
I have yet to meet someone who doesn't feel moved by the power of bass. And since this song venerates the importance of bass in our modern lives, I found it proper and fitting that I also include this Meghan Trainor song in this list. The tune is catchy, and the bass can drive people crazy. However, it is the simplicity of the chords and the overall song structure that I found just right for absolute beginner guitarists.
While the chords are easy to pick, it would be best to drive them by focusing more on the lower registers of the individual chords. This will give the song its powerful oomph that is almost like having a high-end subwoofer glued next to your acoustic guitar.
26. Three Little Birds by Bob Marley
"Three Little Birds" is one of the most covered numbers of the 20th century. Often, artists today also give the song a more modern 21st-century vibe.
People debate about the origin of the song title, but there is no debating the elegant simplicity of this song. The chords, progression, tonal structure, and rhythm are all very simple to learn and relaxed to play. It somehow gives credence to the notion that there was a spiritual side to the song when Bob Marley recorded it in the late 70s. This is a lovely song to play on the acoustic guitar.
Related Popular Article: Our Favorite Fun Songs to Play on Guitar
27. Hot Legs by Rod Stewart
Hot Legs is a popular song in the late 1970s, having been released in 1977. Many musicologists consider the song as a blistering blues rocker that can go toe-to-toe against the best of The Rolling Stones's top 100.
Whereas many rock songs are tricky to play, Hot Legs is plenty doable for guitarists of any experience or skill level. You can play this song like a pro in a matter of minutes. The chords aren't tricky at all, and the progression is as systematic as any beginner guitarist can hope for.
28. You're in My Heart (The Final Acclaim) by Rod Stewart
Here's another Rod Stewart song that I know you will love playing on your acoustic guitar. Most people think of it as a love song. They may be right because of its sweet melodies. However, this is a pop-rock kind of song that is very pleasant to listen to. Even if you cannot relate to the lyrics, the song's groove is sure to have you snapping your fingers to its beat.
One nice thing about You're in My Heart is that it is a lot easier to play than it seems. There are no barre chords that will strain your fingers. There's no worrying about the strumming pattern, either. This is good rock music that you can have fun playing.
29. Sweet Caroline By Neil Diamond
This is a favorite of the Boston Red Sox and the Carolina Panthers as well as other professional and amateur sports organizations all over the country. The catchy tune is enough to get everyone on their feet and clap to the beat. Its rhythm can have you swaying and feeling good, as if all is right with the world. This is the magic of Sweet Caroline. A phenomenal song straight from 1969 that is still very relevant in the third decade of the 21st century.
Newbies will never have problems playing Sweet Caroline. While the tempo is upbeat, it is not fast enough to confuse the brain. What you'll need to pay attention to is the strumming pattern to get the song's correct rhythm.
30. Twist and Shout by The Beatles
Let's get this straight; The Beatles didn't write Twist and Shout. It was Bert Berns and Phil Medley who wrote the song in 1961. And even before the Beatles covered the song, the Isley Brothers had already covered it in 1962. It wasn't until 1963 that the Beatles covered Twist and Shout in their Please Please Me album. The vibe is very contagious.
31. Songbird By Oasis
Songbird lets you look at the world as a very beautiful place. It is a very simple song but has a message that connects directly to the artists.
Not surprisingly, the simple structure of Songbird also makes it very easy to play. Two major chords and a minor chord are all that your fingers will be busy shuffling. The wrists can also rest easy as the strumming is not that very taxing. This is a good song to play on the acoustic guitar while you're lazing off on your bed.
32. Let It Be by The Beatles
One of the Beatles' most popular songs, "Let It Be," also happened to be the harbinger of the rock group's breakup in 1970. Many people say that Paul McCartney wrote the song as an allusion to the growing rift among the band members. What they don't know is that McCartney wrote the song in memory of his mother who died of cancer.
Notwithstanding the background, the song remains a very popular choice for aspiring musicians and artists. Many have come to give the song a unique take. However, I believe there can only be one Let It Be in the world. And if you can play this on your acoustic guitar, then you're on the right track in your musical career.
Popular Related Article: Full List of Our Recommend Guitar Songs for Beginners (with Tabs)
33. Fallin' By Alicia Keys
This is the perfect beginner acoustic guitar song for those who are fans of rhythm and blues. You could close your eyes whenever playing this song to get a feel for the groove.
The pair of chords progress in a very predictable manner. It also helps that the tempo is of moderate blues. If you decide to play the song with a capo on the 7th fret, you will be playing the Am7 and Em7 chords. This is equivalent to the basic Em and Bm7 chords without the capo. It is an interesting song to learn basic fingerstyle, too.
34. A Horse With No Name by America
If you're looking to learn and master the art of a hammer hook, then A Horse with No Name is for you. America recorded this folk-rock classic in 1971 and released it in the following year. From then on, the song has been a favorite piece in many watering holes.
There's the usual strumming pattern that will get everyone else singing along. And if you fancy a hammer-on, by all means, do it. The song offers enough versatility that you can play it with almost any technique. It is a fun way to both develop your beginner guitarist skills and brush up on those dormant fingering techniques.
35. Stand By Me by Ben E. King
Whenever we talk about rhythm & blues or even soul music, it is almost always necessary that we talk about one of the most influential and iconic bass riffs of the second millennium. The basslines of Stand by Me boom like a huge subwoofer delivering deep punches straight to the soul. The effect is the same even if you play the piece on a guitar.
It goes without saying that your focus on playing this song is mastery of the fingerstyle. If you're not yet ready for that, then your focus should be on the rhythm. Work on this first, and the rest should follow. Don't fret about the guitar chords, as these are for school-age children.
36. Brown Eyed Girl by Van Morrison
It's easy to fall in love with the crazy intro guitar riff of this song. The way the strings are picked produces harmonics that sound a lot like a bandurria or a mandolin. Another way of looking at it is having several acoustic guitars playing the same notes at precisely the same time. You get an earful of beautiful melodies that set you up for a vibrant first verse.
Beginner guitarists should always focus on knocking the intro straight up. This is the song's most recognizable part. Nailing this should make it very easy to complete the song. Strumming isn't that complicated. The progression isn't confusing, either. However, you may need to employ a few fingerstyles to give the song added character.
37. Knockin On Heaven's Door by Bob Dylan
There are two versions of this very popular song. If you're into folk music, then you should always pick Bob Dylan's 1973 original piece. However, fans of hard rock can always go for the more electrifying version of Guns n' Roses that the band recorded in 1990. My suggestion is to pick whichever song you are more confident and comfortable playing.
The Bob Dylan version is perfect for beginners as the tempo is a little bit mellower, and the song doesn't require too many fingerstyles. On the other hand, if your principal aim is to polish your fingerpicking skills, then the Guns n' Roses version is for you. This is a song that is perfect for all guitarists across the skill range.
38. You Belong With Me by Taylor Swift
This is a nice pop song that has a very vibrant rhythm that will have you on your feet in no time. You can find a lot of pop elements throughout the song that give this piece a catchy structure. It is a country pop that has the characteristic love interest theme people have come to associate with Swift's songs. It's the poppy rhythm that is almost infectious. Playing it on the acoustic guitar will have everyone else around you grooving to the beat.
While the song's rhythm is quite fast, beginner guitarists can still play You Belong with Me with relative ease. You only need to acclimatize your wrists in playing the correct sequencing of the downstrums and upstrums of the song.
39. Just The Way You Are by Bruno Mars
There was one song in 2010 that was more controversial than any other song. Just the Way You Are not only won the hearts of many. It also topped the charts in multiple countries. However, there were also many detractors of the song. They say that the lyrics are too sappy. Forget the lyrics. Focus on the beautiful melody instead.
This is exactly what I recommend to people who would like to learn this song on their acoustic guitar. It's easy enough without getting distracted by its cheesy lyrics. At least you'll improve your guitar-playing skills. Focus on the rhythm of the song, the progression of the chords, and its basic strumming to create a beautiful sound from an otherwise corny song.
40. I'm Yours by Jason Mraz
The lyrics are as beautiful as any other sweet love song. The melody is also as fun as any other Jamaican-inspired rhythm. When you combine the two, you get a funky piece. It's a 2005 song that is as beautiful to sing as it is easy to play on the acoustic guitar.
Learn to play this song, and you're ready to make every encounter with your loved one worthwhile. The patterns for strumming the chords are simple, although you can always add a few fingerpicking techniques later. Newbies will like the fact that the song can be transposed to only four easy chords. However, I strongly recommend playing the original chords of the song once you've developed your guitar-playing confidence.
41. More Than Words by Extreme
This is one of the trickiest songs you can ever play. That is if you do decide to play it arpeggio. However, it is worth noting that Extreme wrote this 1990 song specifically for the acoustic guitar. It makes perfect sense that aspiring acoustic guitarists learn to play this song, even if it means playing it using conventional strumming techniques.
Strumming More than Words is easy enough. However, it will not give you the beautiful harmonics that you can get from the song if you play it fingerstyle. That is why I suggest building your confidence in playing the rhythm first. Once you get the hang of it, you should be able to execute the iconic slap-hook of the original song.
42. Talkin' 'Bout A Revolution by Tracy Chapman
Not many people know this song because it did not do well in the US charts. Internationally, however, this 1988 Tracy Chapman song was a huge hit. While it did not top the charts, the song did break into the Top 40 in several countries. The song is also a favorite of different political figures, drawing inspiration from the song's politically aware lyrics.
This is great learning material for fans of the acoustic guitar. You can never complain about the chords, as Chapman kept them as simple as possible. Strumming is as effortless as a downstrum-upstrum combination. It has a casual tempo that is also perfect for those who are still trying to figure out the acoustic guitar.
43. Hand In My Pocket by Alanis Morissette
This is one of the few contemporary songs with a unique lyrical structure. Morissette drew inspiration from a poetry technique to write the lyrics that have become the unofficial anthem of many in the mid-1990s. Musicologists call it rhyme juxtaposition. I'd like to call it an uncanny method of creating a perfect balance between the song's melody and its lyrical message.
This is a song that is sure to have your friends singing and clapping along with your guitar playing. To say that the song's rhythm is infectious is an understatement. It is the driving force of the piece that can only be justified by a well-executed guitar strumming pattern.
44. Perfect by Ed Sheeran
I've yet to attend a wedding reception where they don't play Ed Sheeran's 2017 hit. Perfect is as perfect as the vows that couples make in front of the altar. In terms of its lyrics, the message goes right to the heart. The melody is the vessel that delivers beautiful notes that only a person with a stone-cold heart cannot appreciate.
Perfect is also 'perfect' for absolute newbie guitarists because of its basic four-chord structure. Strumming is the most practical way of delivering the beautiful melody of the song. However, if you're ready for a challenge, I urge you to master the fingerstyle. This is one of the best ways to make the song as harmonically elegant as possible.
45. Wonderful Tonight by Eric Clapton
It is the guitar solo of this 1977 song that is precious. Very few soft rock songs can stir the soul in the way that Wonderful Tonight's fascinating guitar riff can. The key is to get the correct bends and slides that give the song its true harmonic character. It is an easy song that can become the source of many foundational skills in guitar playing.
Mastering the fingerstyle of Wonderful Tonight is tricky. You need flexible fingers and the uncanny ability to fingerpick the right strings. If this is too much for you, then the more familiar strumming technique should be your go-to. Don't worry, as the song will still sound very beautiful.
46. Purple Rain by Prince
You might not agree with Prince's outlandish fashion sense. There's no arguing that this musician is one of the greatest of his generation. Prince is not only outstanding at vocals. He also happens to be a virtuoso of the guitar. It makes perfect sense that we pay homage to this artist's phenomenal showmanship by learning one of his most popular songs: Purple Rain.
This 1984 hit song kicks off with a guitar solo that should be a wonderful introduction for any beginner. Strumming can be as straightforward as you can imagine. It would be very interesting for you to play this on your acoustic guitar. Pay attention to the rhythm of the song, though.
47. House Of The Rising Sun by Animals
Without a doubt, this Animals song is one of the easiest you can ever play on the acoustic guitar. It teaches you a thing or two about how you should play a folk-rock song on a string instrument. There's the characteristic strumming pattern that starts with the bass strings and terminates with the high strings. It's a great sound that will make you want to play the song more often than you initially imagined.
Absolute beginners to the acoustic guitar can always choose to play the song with a more traditional strumming method. This should be fine if you stay faithful to the rhythm of the song. There are many versions and covers of this song. It wouldn't hurt if you could add your own.
48. Passenger Seat by Stephen Speaks
While Passenger Seat was not commercially successful in the US, it is one of the songs that topped the charts in other countries in 1999. It also found success in digital streaming platforms, enjoying a large following that the song did not have when it was released as a single. The song has a very captivating melody that anyone can hum to.
Passenger Seat is an easy piece to play on an acoustic guitar. Beginning guitarists should do well learning the basic strumming techniques. More advanced guitarists can execute several fingerstyles to give the song better harmonics. You can play this song during your alone time or on those special occasions when you must be with your loved one.
49. Let Her Go by Passenger
It's not difficult to see why Let Her Go was such a chart-topper way back in 2012. The lyrics are both melancholic and poetic. The message resonates with almost anyone who has ever experienced the heartbreak of ending a seemingly beautiful relationship. And if you listen intently to the lyrics, you'll somehow feel that the song is about you.
What makes Let Her Go more fascinating is the fact that it is easily playable on the acoustic guitar. This is even though the song is instrumentally diverse. You can do justice to the song by learning the arpeggio technique of playing the notes. And if that is too much to ask, then you can always strum the chords, and the song will still turn out beautiful.
50. All Of Me by John Legend
This song has interesting elements of soul meshed into an R&B rhythm with a love theme for its lyrics. It is a masterpiece, regardless of how people look at it.
Acoustic guitarists will find the chords to be simple enough that even a 5th grader can play the song with his or her eyes closed. You just feel the strings under your fingers and let the groove of the song dictate your finger movements. It's a song that is as lovely to sing to your loved one as it is interesting to play on your guitar.
These songs are not only easy to play. They can be amazing stepping stones in the development of your acoustic guitar-playing skills. So, pick a few at a time. Learn the basics and get ready to play your heart out.
51. Learning to Fly by Tom Petty
Rock legend Tom Petty's 1991 single has all the ingredients of a beginner-friendly acoustic song. It sticks to only four fundamental chords and has the same progression throughout its entirety.
"Learning to Fly's" wistful melody and simplicity of arrangement put the spotlight on its impactful lyrics of hope and perseverance in turbulent times. The song made it to number 28 on the US Billboard Hot 100, spending a total of 14 weeks on the chart.
To play this song, all you need are four chords – C, F, Am, and G in the F-C-Am-G chord progression. If some of you are rolling your eyes at the F chord, don't fret! The way Petty plays, this is not like a full barre chord but in an easier way. This tutorial will show you how to play it.
52. Beautiful People by Ed Sheeran
Released in 2019, "Beautiful People" has become another addition to a virtually endless list of chart-conquering compositions by the global icon Ed Sheeran. It's a groovy 4/4 time signature song with Sheeran and American R&B singer Khalid's distinct vocal styles ricocheting off each other. Sheeran's impactful lyrics hold up a mirror to a world obsessed with high fashion, popularity, and expensive possessions and how superficial it all is.
While the original is a straight-up EDM fare, Sheeran also released a stripped-down rendition without Khalid. Both studio and acoustic versions are super easy for beginners. It has one chord progression that goes through the entire length of the track, and the only chords you'll be dealing with are Am, C, F, and Em. You can either play it with a capo or without one. The tutorial above takes you through both variations.
53. I'm a Believer by The Monkees
Most of you would know this fun song from the first installment of the animated Shrek movie series. The version you hear in it is pop band SmashMouth's cover of the 1966 colossal hit by The Monkees. Written by the legendary Neil Diamond and recorded by The Monkees, "I'm a Believer" became an epitome of bubblegum pop, clocking a whopping 10 million physical copies in sales and ruling the charts for seven consecutive weeks.
With its infectious energy and easy-to-get lyrics, this song can trigger a spontaneous crowd sing-a-long. Don't be surprised if you find quite a few from the audience shaking a leg on the dance floor – it's that catchy! It is also incredibly easy to play and goes in the common and super playable time signature of 4/4. The chords you'll need here are G, C, and D.
54. Livin' on a Prayer by Bon Jovi
In the '80s, the U.S. economy was in a deep recession, and American families were trying hard to make ends meet. So when Bon Jovi released "Livin' on a Prayer" in 1986, it became an instant success. The song's uplifting lyrics about not giving up in the face of adversity strongly resonated with the crowd.
In the financially turbulent '80s, the tragic 9/11 attacks, and more recently during the pandemic, the song has sprung up in one form or another whenever we needed a little bit of hope. In the last couple of years itself, "Livin' on a Prayer" has been a part of a city-wide singalong and covered by the likes of Rihanna and Michelle Williams. While the original is played on an electric, beginners can try the acoustic version that has a simple four-chord progression involving Em, C, D, and G. For those looking for easy acoustic guitar songs that everyone will know and can sing along to, this Bon Jovi classic is a great one.
55. Wonderwall by Oasis
It's been three decades since "Wonderwall" dropped, and it still sounds as fresh as when it was first released. It did a lot of good to British rockers Oasis' popularity by becoming their most recognizable and widely played tune. Interestingly, the song title was a tribute to George Harrison, named after his Wonderwall Music album.
Lyrically, it is a bit of a headscratcher but mainly centered on the narrator wishing for a friend to come and save him from himself. The track also made headlines recently for being the first song from the '90s to clock over a billion streams on Spotify!
In terms of playability, this song is well within of beginners. No barre chords or challenging embellishments to crack here! You'll need a capo on the second fret and work on the strumming pattern, which goes in a 16th-note pattern. Here's a lovely tutorial to get comfortable with the song's chords and slightly tricky strumming pattern.
56. No Woman No Cry by Bob Marley
"No Woman No Cry" is an excellent example of Bob Marley's pure, unadulterated musical talent and songwriting gravitas. A reggae masterpiece that is a blend of honest, emotionally compelling lyrics, a swoon-worthy melody, and Marley's soulful vocals. Lyrically, one would think this song is about heartbreak, but it's Marley telling a woman struggling with life's hardships to stop crying. The "No" is actually "Nuh," which is Jamaican for "don't."
If you haven't heard this song, check out the 1975 live version, which is more memorable than its studio counterpart. The version, recorded at the Lyceum in London, was ranked 37th on Rollin Stone's 500 Greatest Songs of All Time.
Guitar-wise, it's perfect for guitarists of varying skill levels. While beginners can work on mastering the four chord progression – C, G, Am, and F, more advanced players can focus on the dynamics and the groovier single-note lines. If the F chord seems challenging, try the chords with Fmaj7 instead. The linked tutorial will help you get started.
57. Hey Soul Sister by Train
If you ever need an emotional pick-me-up to crank up the mood, play this love song by the American rock band Train! Fair warning, though, despite its insane popularity, "Hey Soul Sister" can end up irking quite a few souls who might find it unimaginative and cheesy. But it'll please most in the audience, that's for sure. Released off the band's fifth studio album, this 2009 single became an instant sensation, fetching the band a Grammy for Best Pop Performance.
The lyrics revolve around the narrator's love for a woman, who he feels is his soul mate despite their differences. You can get through the entire song with an easy chord progression using C, G, Am, and F chords. You'll need a capo on the 4th fret, and if the F barre chord drives you up the wall, try its stepping stone version – Fmaj7.
58. I Have a Dream by ABBA
This quintessential ABBA song was released as the sixth single off their sixth studio album Voulez-Vous. It was the Christmas of 1979, and "I Have a Dream" was all over the airwaves, winning hearts the world over with its message of love and hope. Like most of their music, this song has remained ubiquitous for decades since its release, especially around the festive season. In a deja-vu of sorts, Irish pop group Westlife's cover of the classic also made its way to the top during the 1999 Christmas season, twenty years after the original.
It's an easy song to play with three chords and a capo on the first fret. The trick to making simple, three or four-chord acoustic songs shine is getting the strumming pattern and chord transitions right. The tabs above will tell you which chords to use, while the tutorial will help you sound more natural and fluid.
59. The Scientist by Coldplay
It's not hard to see why Coldplay has such a large, musically diverse fanbase. Their songs are melodic, anthemic, relatable, and genre-spanning – a rarity in the 21st-century pop music landscape. If you want to add Coldplay to your acoustic arsenal, we recommend starting with this beautiful and fairly straightforward single. For the uninitiated, "The Scientist" is a piano-driven track from the band's second album, A Rush of Blood to the Head.
In his signature falsetto, Chris Martin regrets choosing work over his partner and now wants to win her back. The original version goes in an alternate tuning and has advanced chords. But there's a beginner-friendly way that requires a capo on the 5th fret to nail the trickier bits with more ease. Check out this tutorial by a brilliant guitarist who's simplified this amazing track for you.
60. Let Her Cry by Hootie & the Blowfish
Listening back to back to "She Talks to Angels" by The Black Crowes and a bluesy track by Bonnie Raitt was enough to put the Lead singer Darius Rucker of Hootie & the Blowfish in an immersive state to pen down this classic. "Let Her Cry" was released as the second single off the band's perennial Cracked Rearview Mirror, which also happened to be one of the best-selling debut albums of all time.
The band won a Grammy for this touching song that revolves around addiction and heartbreak. It's a great starter song for new guitarists, built around four simple chords of G, D, C, and Em, which is pretty standard among easy acoustic tracks. You can get through the verses with just G, D, and C. The E minor chord only shows up in the chorus.
61. Kiss from a Rose by Seal
British singer-songwriter Seal's highest-charting single is an absolute treat to the ears! His phenomenal vocal prowess and mood-shifting melody are atmospheric, to say the least. "Kiss from a Rose" is one of those songs that you'll find yourself humming long after it's over.
Every component of this song is enigmatic, including the lyrics. Is it about relationships, the afterlife, or drug addiction? No one knows for sure. So far, the singer has never dismissed or accepted any of the interpretations.
True, the track sounds complex, but you can have a crack at the soaring chorus by getting comfortable with just three chords – E major, Cmaj7, and D. If you're a beginner, you can skip the tricky bridge for now and get to it later. Don't forget to place a capo on the 3rd fret before you begin.
62. Champagne Supernova by Oasis
There seems to be an ongoing debate among Oasis-heads over which song captures the band's essence better, Wonderwall or Champagne Supernova? Both are chart-topping singles from the band's seminal (What's the Story) Morning Glory? album. While Wonderwall's singalong and lively vibe made it more mainstream, Champagne Supernova had the band at its musical best.
This psychedelic rock gem slowly transcends into an arena rock anthem with brilliant hooks and captivating melodies. It is definitely trickier than Wonderwall but pretty doable if you break it into parts.
The chord progression stays the same throughout, changing only during the bridge. If you've nailed Wonderwall's 16th strumming pattern, it'll be helpful here. Work on the nuances and dynamics, and you're good to go! This wonderful lesson will help you out get the chords and rhythm right to a T!
63. I Fall Apart by Post Malone
Evocative vocals and heartfelt lyrics echo the pain of a broken heart in this Post Malone song from his 2016 album Stoney. Many of you might know this, but "I Fall Apart" was never meant to be released as a single. Only after a live version went viral, garnering millions of views on Facebook, did it come under the spotlight. It peaked at number 16 on the Billboard Hot 100, becoming the highest charting single of Post Malone's career.
Big on vocals and melodically mellow, this song is a significant departure from the singer's fast-paced hip-hop sound. It's a beautiful acoustic-powered song you'll enjoy playing, regardless of skill level. Use a capo on the 4th fret and master a few easy chord progressions – Am, Em, C, D, and Am, Em, C, Am during the verses. We've got tabs and a fantastic tutorial linked here to help you add this song to your repertoire.
64. Hello by Adele
Adele's record-breaking single "Hello" is a soul-stirring ballad that ruled the charts for ten weeks straight and clocked over a billion YouTube views in a short span of just 84 days. It also won the British singing sensation three Grammys, including the award for Best Record of the Year.
It took the iconic singer six months to put her thoughts into words. It chronicles Adele's journey into the self and has her revisiting her past to seek closure. While emulating Adele's vocal pipes is not for every singer, the guitar parts are relatively simple to learn and use four simple chords found in most pop songs.
Instrumentally, Piano hogs the spotlight, accompanied by guitars and drums, but you can deliver a captivating performance using just an acoustic guitar. If you're in for a challenge, you can try fingerpicking the chords instead of strumming. You'll need a capo on the first fret and work on Em, G, D, C, and Bm.
65. Save Tonight by Eagle-Eye Cherry
"Save Tonight" is a perfect song to play at a pub or when gathered around a campfire. It's got all the essential components of a great crowd-puller – singalong lyrics and an endearing tune. Released in 1997 by the Swedish artist Eagle-Eye Cherry, this classic talks about giving importance to the present and treasuring what you have.
The singer tried to capture the feel-good vibe his parents would try to create with a nice home-cooked family dinner every time his musician dad would have to leave for tours. Musically and lyrically, we love how the song transcends genres. The single dominated pop and rock charts across the globe and won the musician the Rockbjörnen award for "Swedish Song of the Year 1997."
Beginners can pull it off with just four chords – Am, F, C, and G. The only chord that might seem like a bit of a workout is the F chord. You can always replace it with Fmaj7 while you get the hang of the full barre chord. We've got tabs and tutorials right here to help guide you.
66. About a Girl by Nirvana
"About a Girl" is a great Nirvana starter song to learn before tackling their more complex tracks like Love Buzz, Blew, and Lounge Act. It's different from their usual sound, leaning more toward pop than power-chords fuelled grunge.
It was Kurt Cobain's attempt at channeling the legendary English rock band Beatles' pop overtones. A bold move that risked disappointing their grunge-loving fanbase but turned out to be one of the most loved songs from their otherwise grunge-heavy Bleach album.
It's a mid-paced track with a soft, catchy melody with sweet, heartfelt lyrics "about a girl." You can learn the studio track or the acoustic live version performed by the band at the MTV Unplugged gig. The best part is that most of the song uses mainly Em and G chords, with a few additional chords showing up occasionally. The unplugged version uses an alternate tuning of B flat by tuning down half a step. Here's a tutorial that'll teach you the song in regular tuning.
67. Drive by Incubus
The lyrics of this iconic Incubus song are arguably the band's heaviest, motivating listeners to never give up no matter what life throws at them. Part of the band's third 1999 album, Make Yourself, "Drive," plays out like an emotional rollercoaster. It hits hard with the message to never let fear take over our lives. Not surprisingly, the well-written song ended up becoming the band's biggest hit and the most recognizable tune.
If you're looking to add a meaningful song with soft acoustic lines and a mesmerizing solo, then this is it! The original is a bit of a toughie, but there's a beginner-friendly version that sounds slightly different from the recording but will give you a chance to add a timeless classic to your repertoire. Beginners should skip the solo for later and start by tackling the chords and the chord changes.
68. Fifteen by Taylor Swift
Taylor Swift's best-selling Fearless album is packed with easy, beginner-friendly songs, and "Fifteen" is no exception. Some call this coming-of-age song one of Swift's "countriest" compositions, and we agree. It's heavy on acoustic guitars and has deeply personal lyrics that let us into Swift's high school freshman year, touching themes of nostalgia, friendships, and heartbreaks.
To play it like the recording, you'll need to work on getting the chord shapes and chord changes right. You'll mainly be using G, Cadd9, Em, and then back to Cadd9 for the verses. Chorus has a couple of extra chords than what you'll use in the verses. You should be able to nail the overall groove, chord shapes, and strumming pattern with a little bit of practice.
69. Take it Easy by Eagles
True to its name, "Take it Easy" is easy on beginner-level guitar players, allowing you to add an uptempo rocker to your vault without much trouble. It was Eagle's debut single and also responsible for putting the American rock band on the map. The timeless classic is hailed as the song that kickstarted the country rock movement and is touted as one of the songs that shaped rock and roll.
Delicious vocal harmonies, catchy guitar lines, and optimistic lyrics tell people to slow down in life – it's a kicking song that we bet you'll have fun learning. The song mostly uses basic chords except for the trickier intro. The verses involve G, D, and C in G-D-C-G chord progression. Meanwhile, the chorus begins with Em, C, G, Am, C, and back to Em. It's a good idea to start with down strums before working your way up to playing it like the original recording.
70. Southern Cross by Crosby, Stills & Nash
Crosby, Stills, and Nash was a supergroup that produced one masterpiece after another, powered by the combined musical genius of three legends – David Crosby, Stephen Stills, and Graham Nash. In "Southern Cross," Stills' lyrics conjure up the ocean and celestial imagery, chronicling the narrator's journey through the Pacific after suffering a heartache. The "Southern Cross" refers to the Crux constellation that is spotted by the lovelorn sailor during his voyage.
The song was Stills' contribution to the Daylight Again album and had him do the lead vocals, with Nash only joining in the second verse. You'll find Crosby missing in the studio recording, but he's there during all of the live performances of this single. It's a three-chord song where all chords are played open most of the time, making it ideal for beginners. You'll mainly be using the A major, D major, and G major in standard tuning without a capo.
71. Bellyache by Billie Eilish
Billie Eilish has come a long way, from debuting on SoundCloud with the self-reflective"Ocean Eyes" to becoming a global star with a legion of fans. And it's hard to pinpoint which of her amazing qualities work best in her favor. Is it her breathtaking voice, formidable songwriting talent, or her brother Finneas O'Connell's genius production approach? Regardless, Eilish is a trailblazer with a bright future ahead of her.
Okay, time to pause the gushing and get down to picking an easy-to-play acoustic gem from her vault. If you ask me, "Bellyache" is a winner. An electro-pop banger stacked with creepy macabre-themed lyrics set against a catchy melody, cool beats, and a consistent acoustic pattern.
As far as the playing goes, the whole song is just made up of one simple chord progression C-Am-Em one chord. That's it. The fun part is the different strum patterns you'll learn for the exact same chord progression, which I believe is done to keep the guitar parts from sounding too monotonous.
72. 1, 2, 3, 4 by Plain White T's
There's more to Plain White T's than their smash hit "Hey There, Delilah." In their efforts to create a similar tune, they ended up composing "1,2,3,4." It's a soft acoustic rock piece with feel-good lyrics about how falling in love is as easy as counting down when you come across the right one. The catchy love song was released as the second single off the band's Big Bad World album. It ended up doing pretty well on the Billboard Hot 100 charts, swiftly moving up to peak at 38th rank.
If you're planning to impress a special someone, this tune will do the trick. You only have five chord shapes to learn, and the strumming pattern is also pretty straightforward. The only catch for absolute beginners would be to play Bm and Gm barre chords. But a bit of practice should get you there.
73. Wagon Wheel by Darius Rucker
In his solo career, Darius Rucker has produced several endearing tunes. This country rocker is one of them. "Wagon Wheel" was originally composed by the Old Crow Medicine Snow way back in 1973 with some help from the legendary Bob Dylan. It traces a hitchhiker's travels who's on his way to meet his lover. While the string group's version held well on its own, becoming their signature tune, it only got famous after being repackaged into an energetic, upbeat country song by Rucker. Of course, he had Lady Antebellum's awesome vocal harmonies to help him out.
"Wagon Wheel" earned Rucker the award for Best Country Solo Performance at the 2014 Grammys. You can play a beginner-friendly arrangement of this popular tune with four basic chords and a capo on the 2nd fret. This tutorial will break it down for you.
74. Viva La Vida by Coldplay
The Grammy-winning "Viva La Vida" might be one of the easiest guitar songs that Coldplay has in their catalog. And you, too, can add it to your repertoire with just four chords – C, D, G, and Em. There's a Bm barre chord which only shows up once each in the chorus and the outro. There are way too many songs that are made up of these four chords, making them an important building block for new guitarists.
Following its 2008 release, the song drew great reviews from fans and critics alike. It was the first track by the Brit alt-rockers to conquer the charts in the USA as well as their home country. Lyrically, "Viva La Vida" leaves it open for the listeners to draw their own interpretations. Many feel it chronicles the tale of a king who lost his kingdom. It relies heavily on strings and has a chorus you'd want to sing along with.
75. Watermelon Sugar by Harry Styles
Who doesn't love this flirty pop banger by Harry Styles? With its infectious hooks, retro vibe, funk-pop melody, and lyrics that keep you guessing, "Watermelon Sugar" continues to be a goldmine for Styles. It raced all the way to the top of the charts in several countries and won the pop icon a Grammy for Best Pop Solo Performance. Every sonic element of this track screams summer: ecstatic strummed acoustic riffs, brass lines, and a fun mix of horns and drum beats.
If you're a Styles fan or funky pop is your jam, then you'll love playing this one. It's a good thing the song's a four-chord wonder with a Dm7-Am7-C-G chord progression. You can either play it open or learn the trickier barre chord version. The upbeat melody revolves around the A minor pentatonic scale, and perfecting the groovy rhythm will require you to add it to your daily practice routine. Here's a lovely tutorial to help you get started.
76. Simple Man by Lynyrd Skynyrd
Through this heart-melting song, Ronnie Van Zant shares a mother's words of wisdom to lead a simple, honest life. The success of this gritty power ballad was a turning point for Van Zant's songwriting. Being co-written by lead guitarist Gary Rossington, you can expect the guitar work to be memorable. And Rossington doesn't disappoint, gifting us one of the most iconic intros in rock.
"Simple Man" is a brilliant example of the magic a talented guitarist can weave with only a bunch of basic chords. It's true the original has some complex parts that involve arpeggios and alternate tunings, but you can play a simplified arrangement with the help of the tutorial above. If you want your performance to sound closer to the original, tune your acoustic a half step down.
77. Too Good at Goodbyes by Sam Smith
Creating a fitting follow-up to the wildly popular and award-winning "Stay With Me" wouldn't have been easy. But Sam Smith managed to do just that with his "Too Good At Goodbyes." In this tender piano-led piece, Smith croons how suffering so many heartbreaks has made him better at dealing with them. Instrumentally, the piano takes center stage here, but there's a repetitive four-chord progression that's perfect for beginners.
Now, there are two ways to play this tune. You can either skip the capo as in the studio version, but that'll involve tackling barre chords. I recommend placing a capo on the 5th fret and using open chord shapes. This tutorial will show you how to play both arrangements.
78. Sound of Silence by Simon and Garfunkel
The success of "Sound of Silence" was a powerful moment in the lives of the iconic folk duo Simon and Garfunkel. But it didn't come by easily. The original acoustic version of this famous song first featured in the duo's debut album Wednesday Morning, 3 A.M. Sadly, the album didn't get noticed and flopped badly, forcing the two to go their separate ways.
Thankfully, a well-known record producer Tom Wilson gave the original an electric spin and paired it with lavish instrumentation. This remixed version shot up all the way to the top of the Billboard Hot 100 charts, prompting Paul Simon and Art Garfunkel to reunite to give us many more masterpieces, such as "Scarborough Fair/Canticle," "Bridge Over Troubled Water," and "Mrs. Robinson."
I recommend learning the acoustic-based original that was featured in their debut album instead of the remixed version, which requires more than one guitar. The original can be played on a solo acoustic with a bunch of doable chords and a capo on the 6th fret. Fair warning: Simon uses a lot of chord variations to keep things interesting, so listen to the melody a few times before getting started.
79. Never Tear Us Apart by INXS
This INXS track has been ruling the wedding dance scene since its release. And why not? Who wouldn't love a Waltz-y ballad that speaks about two souls destined to be together to play on their wedding? Not to mention Michael Hutchence's searing vocals and dramatic instrumentation, accompanied by strings, synths, and a sax solo, is pure bliss to the ears. It was released as the fourth single off the Aussie rockers' sixth album, Kick, and occupies the 282nd spot on Rolling Stone's "Top 500 Best Songs of All Time" list.
Anyone with a knowledge of basic chords should be able to get this tune under their belt in no time. It goes in standard tuning, and you don't need any capo here – just a couple of simple chord progressions and an easy rock-style riff to learn here.
80. How Long by Charlie Puth
With "How Long," Charlie Puth blended funk and R&B with his out-and-out pop sound. The concoction worked like magic! It was just as infectious as his earlier hit "Attention" but with a slicker vibe and a more mature sound. Now, if you're familiar with Puth's music, you'd know the man loves singing about relationships. In his pitch-perfect voice, he sings about the bitter fallout of a relationship. Besides shining the spotlight on Puth's vocals like never before, the track utilizes a cool bassline and kick drums.
The guitar is simple here, with easy chords and strumming patterns. In case you're up for a challenge, you can try learning the riff, which is tricky but so worth the effort. Check out the detailed video lesson for a chord-by-chord walkthrough.
81. Fake Love by BTS
A wonderful blend of emo hip hop, funk, rap rock, and grunge, "Fake Love" showcases an angsty side to BTS. It thrust them into global stardom, making them the first K-pop group to crack the top 10 on the Billboard Hot 100. They went on to debut at no.1 on the charts with "Dynamite" a few years later.
Its guitar-centricity is why I picked this single over other BTS popular acts. It taps into catchy rhythm guitars, arpeggios, grungy electric riffs – the works. Three easy chords – Bb, C, and Dm will get you through the whole song. You can also learn the riffs that lend the tune its rock vibe.
82. Night Changes by One Direction
"Night Changes" by One Direction has had quite a journey. Despite not being commercially successful when it was released in 2014, it became the boy band's first song to clock 1 billion streams on Spotify. The sweet romantic ballad about carpe diem works its way slowly into your heart and mind and refuses to leave. It's a slow burn.
The song can be played using simple open chords for the most part. There's a key change about 2 minutes 28 seconds into the song from Ab to Bb, after which the chords get a tad tricky but still doable. The good thing is that the song has a steady peace, making it perfect for beginners.
83. Lean on Me by Bill Withers
The inspiration for "Lean on Me" came to Bill Withers early on in his life. Having moved to Los Angeles in 1967 to fulfill his dreams of a successful musical career, he missed home and his community, where everyone had each other's backs. It led him to write a song so powerful and timeless that whenever the world hits a tough patch, the comforting soulful gem comes to the rescue. More recently, it appeared as an all-star tribute to raise funds for COVID-19 relief in Canada.
You can either start with a no-fuss arrangement made up of simple chords – A, D, and E with a capo on the 3rd fret or jump to the four-chord though more complex original. The chords for the original recording are C, Em, F, and G, that'll help you practice walk-up and walk-down transitions.
84. 7 Years by Lukas Graham
This tune quite simply changed the lives of the members of the Danish soul-pop band forever. It went mainstream in the USA and earned them not one but three Grammy nominations! Packed with brain-sticking hooks and an upbeat melody, "7 Years" talks about growing up and getting your priorities right, considering life's breakneck speed.
Instrumentally, it's set against a piano riff, a percussion backbeat, and synths emulating strings. In terms of the guitar, this one might prove to be a bit of a workout for beginners, but it'll add value to anyone serious about improving their acoustic playing. Lots of chord variations here, although the chord shapes aren't all that bad.
85. Jolene by Dolly Parton
Dolly Parton has had a remarkable, accolade-studded career spanning five decades, and this song shows why. In "Jolene," we're treated to the country icon crooning about a woman who had a crush on the country diva's husband, Carl Dean. The upbeat and infectious acoustic-led tune attracted countless covers by music bigwigs like Miley Cyrus and the White Stripes.
It's a tailor-made piece for beginners looking to hone their fingerpicking skills. The pattern employed by Parton is easy to nail. If you're unsure about playing fingerstyle, you can strum the tune instead. The chords you'll use here are Am, C, G, and Em, with a capo on the 4th fret.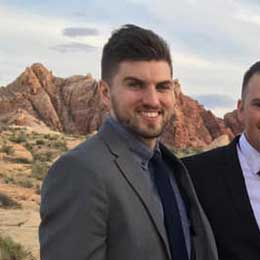 My name is Chris and I've had a passion for music and guitars for as long as I can remember. I started this website with some of my friends who are musicians, music teachers, gear heads, and music enthusiasts so we could provide high-quality guitar and music-related content.
I've been playing guitar since I was 13 years old and am an avid collector. Amps, pedals, guitars, bass, drums, microphones, studio, and recording gear, I love it all.
I was born and raised in Western Pennsylvania. My background is in Electrical Engineering, earning a Bachelor's degree from Youngstown State University. With my engineering experience, I've developed as a designer of guitar amplifiers and effects. A true passion of mine, I've designed, built, and repaired a wide range of guitar amps and electronics. Here at the Guitar Lobby, our aim is to share our passion for Music and gear with the rest of the music community.