In 1967, The Velvet Underground had just released their first eponymous album, "The Velvet Underground & Nico", besides backfiring sales, the studio piece was widely and wildly misunderstood. But this didn't mean it lacked impact or cultural punch, it was a flagship installment for the underdogs, and it's nowadays acclaimed as one of the prototypes of so many subgenres.
It was a prophetical piece for art-rock, punk, and psychedelia, and much of these milestones can be credited to Lou Reed and his straightforward mind. Artists like David Bowie, Brian Eno, The Stooges, and The Talking Heads all using musical ideas inspired by The Velvet Underground. Lou Reed and his bandmates had redefined what music could be.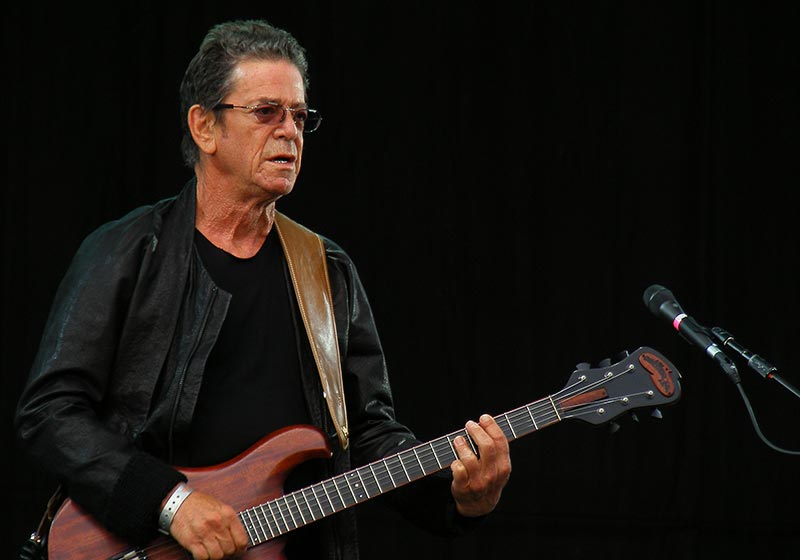 Prior to becoming the music icon and legend he is, Lou had suffered from intense anxiety and panic attacks. He would hide away in his room whenever guests came over and avoided most social interactions. As Lou got older, he was finding it harder to fit society's norms and beliefs. With all these difficulties and hardships at hand, Lou always found refuge in Rock n Roll. The musician learned to play the guitar by listening to the radio and decided to start writing songs. Just like Jennie from his VU song "Rock n' Roll", Lou too, was saved by Rock n' Roll and one could say he returned the favor by shaping it from the underground.
Lou was simply a man in love with sound. Over his career, you can see him constantly searching for new ways to satisfy his musical ambition. Let's take a glimpse into Lou's journey of music and sound.
What Guitars Did Lou Reed Play?
The most iconic guitar played by Lou Reed is his 1964 Gretsch 61122 Country Gentleman. Although he used a wide range of guitars to define different stages of his career, The Gretsch 6122 saw Lou's rise to stardom with the Velvet Underground.
See the full Lou Reed guitars and gear list below.
1964 Gretsch 6122 Chet Atkins Country Gentleman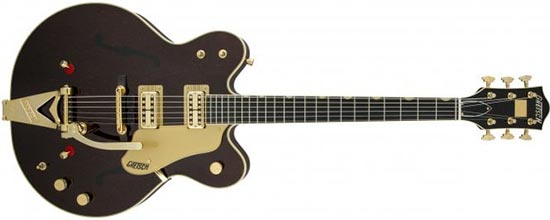 | | |
| --- | --- |
| Finish | Black |
| Years Used | 1964 to 1970 |
The Gretsch Country Gentleman was officially conceived and endorsed by legendary guitarist Chet Atkins and made popular by Beatle George Harrison during The Beatles' 1964 performance on the Ed Sullivan show. It was by far, the Velvet Underground's main guitar, making extensive live appearances with Lou Reed during his rise to niche stardom.
This model comes stock with a Filter'Tron humbucker in the bridge and a Super'Tron humbucker in the neck position. This is fine for some guitarists but apparently, not quite for Lou. With the help of a trusty technician, Lou had the guitar heavily modified with the installation of a vox distortion booster, a tremolo unit, a speed controller, stereo electronics, and extra pickups from his bandmate's Fender Stratocaster. If you're interested in spotting this piece's sound, you can really hear the extra high-end and wailing feedback of the instrument on albums like "The Velvet Underground & Nico" and "White Light/White Heat".
This guitar could also achieve some interesting clean sounds. Listen to the song "Heroin", for example. It is said that Lou plugged straight into the board while recording. Throughout the song, Lou has a smooth sound with a bit of an edge to it; until slowly, the entire song erupts into total and utter chaos.
Lou modified the axe so much that it eventually became unplayable. The natural gain of the axe had decreased, and Lou ruined the piece by trying to fix it. Around the 1970s, it is said that some hanger-around was begging Lou to give him the guitar even though it was pretty much trashed at that point. Lou agreed, and no one has seen this specific model since.
Rick Kelly 'Lou Reed's T' Custom Telecaster

| | |
| --- | --- |
| Finish | Sliver Spangle/Blonde |
| Years Used | 1991 to 2013 |
One of the most heavily associated guitars to Lou Reed. Decades after his tenure with the Velvet Underground, Lou Reed was already a legendary name to look out for, nevertheless, 90s counterculture hailed him as an icon. He'd jump from underground figure to woke icon, and ever since then, it was this symbolic brand of sparkling Telecasters that became inherent to him.
Rick Kelly of Carmine Street Guitars -in New York -built Lou his own brand of Telecasters. Only 3 of these exist in the world! The first one that Kelly built for Lou had a neck built from 100-year-old vintage tonewood and the usual Joe Barden pickups. This guitar can be heard all over the album "Set The Twilight Reeling" and Lou's '95-'96 tour.
The next one sports a 21-fret maple neck, along with Don Mare Handwound pickups and a silver spangle finish. Lou specifically asks Kelly for a huge neck profile; probably one of the thickest guitar necks ever! It is with this model that the patented 'Double D' neck is born.
Lou continued to use the six-string well into the 2000s, which can be heard on live albums such as "The Raven" and "Animal Serenade". From that point on, this Tele would become a regular feature in his live shows up until his passing.
Epiphone Riviera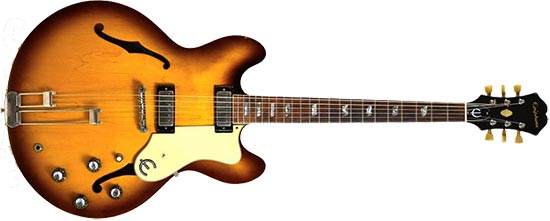 | | |
| --- | --- |
| Finish | Royal Tan |
| Years Used | 1969 to 1972 |
Lou's very early appearances with this Epiphone date back to 1969 when the Velvet Underground were playing a 2-month tenure at the now legendary Max's Kansas City. It was here that Reed would get lyrical ideas for his most famous song "Walk on the Wild Side". Max's was the meeting place for a lot of well-known musical artists of the day, including David Bowie, Marc Bolan, Iggy Pop, and The New York Dolls. It was also a favorite of Andy Warhol and his entourage from The Factory. Reed sings about the fabled back room in his lyrics from "Walk on the Wild Side".
Up until late 1972, Reed was somewhat unknown. His work in The Velvet Underground and his first solo album had largely gone unnoticed. It was his friend David Bowie that helped give him exposure to a larger audience. On July 8th, 1972, Bowie invited Lou up on stage during a benefit concert. Lou, with his Riviera, joined Bowie on three Velvet Underground songs: "White Light/White Heat", "Sweet Jane", and "Waiting For The Man".
Perhaps one of the most famous appearances of the guitar is on the cover of Lou's 1972 album "Transformer". Mick Rock originally snapped the photo on July 14, 1972, during Lou's performance at the King's Cross Cinema in London. It has since gone on to become one of the most recognized and iconic photos in Rock n' Roll history.
Steve Klein Chambered Electric Guitar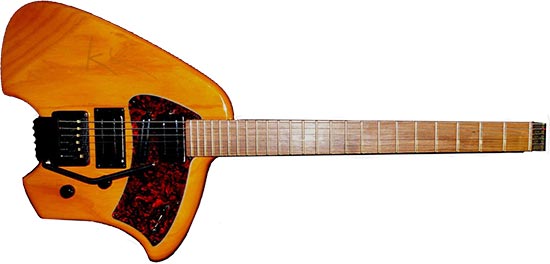 | | |
| --- | --- |
| Finish | Tobaccoburst/ Natural Honey/ Black |
| Years Used | 1985 to 2009 |
Speaking of the reunion tour, Lou's main axe during this time period was the awesome Steve Klein Chambered Guitar. The spruce hollow body and Joe Barden humbucking pickups made it a fantastic choice for songs like "Some Kinda Love" and "I Heard Her Call My Name". (You can especially hear its blistering lead capabilities on the latter). Lou also had a black solid body Klein that was used on songs like "Heroin" and "Waiting For The Man". Simply put, this guitar had amazing versatility. Overall, I'd say it's one of my favorite Lou Reed guitars of all time.
Lou continued to use this guitar well into the 2000s, famously performing a duet of his song "Perfect Day" with the operatic tenor, Pavarotti.
The Guitarman/Dan Armstrong Ampeg Plexiglass Guitar

| | |
| --- | --- |
| Finish | Plexiglass Translucent |
| Years Used | 1979 to 1989 |
In 1979, Lou stepped into the "GuitarMan" shop on 48th street (NYC) to have a custom guitar made for him. Lou was very interested in the process and stops by every few days to oversee its creation. Lou fell in love with the finished product and has a second one built. However, there are bits and pieces of this story that are rather unclear, with many claiming that luthier Dan Armstrong was in fact who manufactured these plexiglass guitars while others simply say that the two partnered up years following the destruction of his original ones.
This model was a true one-of-a-kind piece. Similar to a strat shaped body is completely made of Plexiglass; the pickups are abundant and varied with a DiMarzio PAF pickup in the neck position, a DiMarzio Super Distortion pickup in the bridge position, and a Hex pickup unit (for ARP Avatar/guitar synthesizer) fixed between the rear pickup and the bridge. The Guitarman could produce blistering guitar leads that helped Lou cut through any mix.
Unfortunately, in 1980, during a show in Madrid, Lou destroyed the piece out of frustration over an unruly crowd. According to guitarist Chuck Hammer, the audience had been throwing bottle rockets and roman candles at the band on stage which made Lou very unhappy. "He was the type to stop the show and tell the audience to "shut the f**k up" and sit on the stage edge until they did…" "…He ended up destroying one of the Plexi guitars in a rage over the unruly crowd. After the concert ended, he cried about it in regret. It was the only time I ever saw Lou Reed cry."
It's fair to note that Lou used the last remaining Plexi to record his 1982 album "The Blue Mask".
Fender Custom Shop Danny Gatton Telecaster


| | |
| --- | --- |
| Finish | Honey Blonde/Frost Gold Finish |
| Years Used | 1993 to 2007 |
It's no secret that Lou loved his Teles and you can see him using numerous models throughout the '70s and '80s. As the years went on, Lou started to favor custom-made Teles and had numerous models designed just for him. The first is the Custom Danny Gatton Telecaster and throughout his career, two of them were highlighted, one with a black pickguard and another one with a white one. If you watch footage from The Velvet Underground's 1993 reunion tour, you can see that Lou uses his Klein Chambered guitars for a great portion of that tour. But if you look carefully, you can see that Lou switches it up between the Klein and the custom-made Tele.
Tele's are famous for their crystal-clear tones and super high-end clarity. You can really hear this tele shine on performances such as "Pale Blue Eyes" and "I'll Be Your Mirror". With 2 Joe Barden (Danny Gatton Model) humbucking pickups and a specially shaped maple neck, Lou had an instrument that perfectly fit his playing style and comfort level. Naturally, Lou kept this guitar around for a long time, often appearing with it during his "Ecstasy" tour in 2000 and "NYC Man" tour in 2003.
Lou can also be seen using his frost gold Tele in a 2001 tribute show to John Lennon where he performed the Lennon classic, "Jealous Guy".
Pensa-Suhr Strat-Type

| | |
| --- | --- |
| Finish | Honeyburst |
| Years Used | 1983 to 2008 |
Pensa-Suhr was a piece created by Rudy Pensa and John Suhr. Rudy Pensa was a highly respected luthier and ran the very first "Rudy's Music Shop" in New York City, 1978. Often working with the likes of Mark Knopfler, Eric Clapton, and Peter Frampton, Rudy's had a reputation for building quality gear. Reed, impressed with the craftsmanship of Rudy's guitars, decided to have a custom Pensa-Suhr model built for himself.
This guitar would become a staple for Reed in both his live shows and studio sessions. It can be heard during the mid-'80s on both New Sensations and Mistrial Tours -1984 and 1986, respectively-. Later period albums such as "Set The Twilight Reeling", "Ecstasy", and "The Raven" also feature the sweet tones of the Pensa-Suhr.
Some claim that Lou even used the Pensa-Suhr (along with his custom Schecter strat-types) on the album "New York". This makes sense because if you listen to songs like "Halloween Parade" and "Xmas in February", you can hear a nice twang, reminiscent of the guitar's Joe Barden pickups.
Custom Build Telecaster and Stratocaster Types Schecter Body
| | |
| --- | --- |
| Finish | Red/Blue/Yellow |
| Years Used | 1983 to Unspecified |
Initially immortalized by the 1986 album cover of "Mistrial". For many years, people believed that Lou was holding a red Schecter on the album cover. Many would be surprised to find out that they're wrong. It's actually a customized guitar built by his luthier. So there were many other eccentric guitars that went on to define Lou's sound in the 80s, there's also a notorious Shecter necked Telecaster that featured on several live performances.
The Tele features a Schecter body with a custom-made Fender Stratocaster neck and custom pickups. Two Joe Barden single-coil-sized pickups in the neck and middle position and one humbucking pickup in the bridge position. Lou also had one with a Tele-shaped neck.
Lou nicknamed one of these guitars "Beast", which had 2 DiMarzio FRED pickups (black-colored humbucking pickup), a koa wood body, and a pau ferro/graphite neck.
"The Beast" appeared extensively throughout the '80s, '90s & '00s and it was for a time Reed's main six-string for every occasion. It can be seen on the Legendary Hearts Tour, New Sensations Tour (1984), Live at Farm Aid, Mistrial, New York Album, and Tour Songs for Drella.
Steinberger GL & Synapse Transcale Guitar


| | |
| --- | --- |
| Finish | Red/Black/White |
| Years Used | 1990 to 2012 |
If you were a fan of rock music during the '80s, you probably started to notice some guitar players using a strange headless axe. That, my friends, is most likely a Steinberger guitar. Famously played by artists such as Van Halen, Mike Rutherford, and Allan Holdsworth, Lou picked a few of these up in the early '90s.
Renowned for its playability and comfortable style, Lou was intrigued by its small stature yet menacing sound. With 2 single EMG pickups at the neck and 1 EMG humbucking pickup at the bridge, this thing is a powerhouse. You can famously hear Lou playing a red Steinberger Synapse during his 2010 Glastonbury performance with The Gorillaz. The song "Some Kind of Nature" starts off with Lou feedbacking and sustaining his guitar like crazy to a stunned audience.
Lou used a black finish Synapse Transcale for studio recordings (The Killers, The Gorillaz) and had a white GL that he used throughout the '90s for touring ("Songs for Drella" tour, Letterman '92).
After Lou's passing, the Red Synapse guitar was sold at an auction in 2018.
Bolin NS
| | |
| --- | --- |
| Finish | Gold/Red/Natural |
| Years Used | 1990 to 2013 |
Few have probably heard the name John Bolin before. Bolin Guitars, while not as widely known as Fender or Gibson, is quite an influence on many of the guitar sounds that you hear in rock n' roll today. Artists such as Steve Miller, ZZ Top, and even Joe Perry insist on playing high-quality custom-made guitars built by John Bolin. That Gibson you've seen Billy Gibbons with? It's most likely a custom-made Bolin guitar.
The Bolin NS was one of Lou Reed's favorite guitars. You can see him everywhere with it from his famous Berlin show at St. Ann's Warehouse in 2006 to his 2007 performance at Joe's Pub with Pete Townshend of the Who. But perhaps his most famous usage of this guitar comes from the 50th Birthday celebration concert for David Bowie in 1997. Bowie and Reed jam on songs like "Queen Bitch" (a Bowie tune), "Waiting For The Man", "White Light/White Heat" and "Dirty Blvd."; all of which this guitar handles masterfully without any problems!
This model looks heavy but is actually rather light; only weighing in at about 7 lbs. John Bolin designed the guitar to be as lightweight as possible for comfortable playing and easy transportation. With its special bolt-on neck design to its varying thickness around the body, this thing can sustain and produce a variety of tonal sounds; easily shifting from a Fender Stratocaster to a Gibson Les Paul. For the technically curious, Bolin equipped this guitar with 2 DiMarzio humbucking pickups and a Piezo bridge pickup system.
Lou started using the Bolin NS because it always stayed in tune and provided him the flexibility he needed. "It's the ergonomics of the active controls and the flexibility…" "this [is] a guitar that can do anything. From Tele to acoustic to Gibson to heavy metal and a bunch of original stop-off points as well, this is a guitar that does it all. I have several I used on a world tour".
James Olson Acoustic Guitar
| | |
| --- | --- |
| Finish | Natural |
| Years Used | 1997 |
Here we have yet another custom-built guitar, but this time, it's acoustic. Lou especially loved this guitar because Jim Olsen (the guitar builder) fitted it with a Sunrise pickup as opposed to a Piezo. Many guitar players cannot stand the sound of a piezo pickup and Lou was one of them.
This piece was famously used on the album "Perfect Night Live In London" (1997); one of Lou's most recognized and respected live albums of his career.
Carl Thompson 6 (&7) String Guitars
| | |
| --- | --- |
| Finish | Natural Multicolored Woods |
| Years Used | 1999 to 2012 |
The Carl Thompson guitar. An unknown classic. With over 45 years in the business, Carl has built some pretty remarkable pieces. It's around the mid-2000s that Lou has Carl build him something a little bit different.
Lou asks for an extra-long scale length, 28.5"; compared to the standard 25.5" of a Strat or a Tele. Relative to other guitars, this thing has massive frets. Carl equips the guitar with a "Carl Thompson" Custom bridge. This bridge is innovative; it allows the user to intonate the guitar without the use of extra tools or hardware. He puts a dovetail slot in the bridge to keep the pieces from falling in case of string breakage. He inserts some bone material (which is usually used for the nut) over the wood saddle to prevent the strings from digging into the bridge.
Equipped with an EMG humbucking pickup, ebony fingerboard, and mahogany build, this thing is a solid guitar. The six-string makes several appearances throughout the 2000s and 2010s. It is famously used in 2011, when Lou began to tour with Metallica in support of their collaboratory album "Lulu" (2011). Lou even uses a 7 string Carl Thompson guitar as early as 1999 to record his album "Ecstasy".
Roger Sadowsky Custom Stratocaster
| | |
| --- | --- |
| Finish | 3 Color Sunburst |
| Years Used | 1990 to Unspecified |
In 1990, Lou had another guitar custom made for him by New York great, Roger Sadowsky.
The finished product sports a very distinctive 1960's look, with a 3-color finish, strat-shaped body, maple neck, and Joe Barden humbucking pickups. Lou appeared with this guitar in 1992 during the 30th Anniversary Concert Celebration for Bob Dylan.
A year later, Lou is reunited with his former bandmates, The Velvet Underground, as they play a string of live shows and tour dates. It's on this tour that Lou tunes all his Roger Sadowsky guitar strings to the same pitch. What tuning is this, you may ask? Well, it's actually called "Ostrich Tuning".
"Ostrich Tuning" is a tuning that Lou is credited to have invented. After witnessing another guitarist casually tune all his strings to the same pitch, Lou decided that he loved the sound so much, that he began to incorporate it into his own music. The song "All Tomorrow's Parties" is performed by Lou in Ostrich tuning during the reunion tour.
Lou's Guitars Today
After Lou's passing in 2013, many of his guitars were used as part of the "Lou Reed Drones" installation concerts as a tribute to Lou. "This installation, curated by Reed's former guitar technician Stewart Hurwood, places the instruments in a semi-circular arrangement against a group of amplifiers so that their tuned feedback creates an enveloping drone of harmonics that shifts and changes depending on the audience's location…"
Table Showing Each Guitar Lou Reed Played at Each Point of His Career
| Make | Model | Color/Finish | Years |
| --- | --- | --- | --- |
| Gretsch | 1964 6122 Chet Atkins Country Gentleman | Black | 1964 to 1970 |
| Epiphone | Riviera | Royal Tan | 1969 to 1972 |
| The Guitarman/Dan Armstrong | Ampeg Plexiglass Guitar | Plexiglass Translucent | 1979 to 1989 |
| Pensa-Suhr | Strat-Type | Honeyburst | 1983 to 2008 |
| Custom Build | Telecaster and Stratocaster Types Schecter Body | Red/Blue/Yellow | 1983 to Unspecified |
| Steve Klein | Chambered Electric Guitar | Tobaccoburst/ Natural Honey/ Black | 1985 to 2009 |
| Roger Sadowsky | Custom Stratocaster | 3 Color Sunburst | 1990 to Unspecified |
| Steinberger/Synapse | Transcale Guitar/ GL | Red/Black/White | 1990 to 2012 |
| Bolin | NS | Gold/Red/Natural | 1990 to 2013 |
| Rick Kelly | 'Lou Reed's T' Custom Telecaster | Sliver Spangle/Blonde | 1991 to 2013 |
| Fender | Custom Shop Danny Gatton Telecaster | Honey Blonde/Frost Gold Finish | 1993 to 2007 |
| James Olson | Acoustic | Natural | 1997 |
| Carl Thompson | 6 (&7) String Guitars | Natural Multicolored Woods | 1999 to 2012 |
Lou Reed Amps Overview
Lou certainly knew what he liked in a guitar, but he was also very particular about his guitar amps. Here's a list of some of the amps that were used during Lou's career.
Fender Brownface Deluxe
Lou absolutely loved this amp. He started using it in the mid '60s while he was still in The Velvet Underground. This amp appeared on many recordings throughout the era and can be seen in video footage from Andy Warhol's movie "Up-Tight". Lou played this amp for over 25 years until one day in the mid-'90s, he accidentally blew out the speaker. The Deluxe originally came with an Oxford 12K5 speaker and the following tubes: 5AR4 (1), 6V6's (2), and 12AX7's (3).
Sears Silvertone
If you've ever wondered how the Velvet Underground achieved such dirty and chaotic tones throughout their music, there's a good chance the Silvertone 1484 had something to do with it. Songs such as "Waiting For The Man" and "Run, Run, Run" feature a menacing overdrive that is seldomly replicated by other amps. The amp was most likely connected to a semi-open 2×12 speaker cabinet while having the volume cranked up to the max. Surprisingly, the Silvertone is also capable of producing marvelous cleans, sweet sustains, and a warmth that is suitable for a range of musical genres including Jazz and Country music.
Vox AC100 Super Beatle Amp
The AC100 (prototype of the 1966 Super Beatle Amp) was made to be a loud amp. It was created specifically to help The Beatles overpower screaming crowds. The amp boasted over 100 Watts of pure power and had larger cabinets than its predecessors. It was the 1966 Super Beatle amp that The Velvet Underground would end up using as part of their own endorsement deal with Vox.
Equipped with a mid-range booster and a Tone Bender Fuzz pedal, the Velvets really pushed this amp to new extremes.
Sadly, this amp was allegedly stolen in 1968 when the Velvets were on tour. As a result, an endorsement deal with Sunn amplifiers was agreed upon, which effectively saw the Velvets using Sunn amps during their later period.
Soldano Custom Power Amp
Throughout his career, Lou was a big fan of Soldano amplifiers The Soldano Custom was used to power his twangy guitar tones during the "New York" tour of '89. In combination with a Mesa Boogie 4×12" cabinet, this thing could really captivate the audience. Lou could also be seen pairing the amp with 2 Pete Cornish custom-made (by his guitar tech) 2×12" speaker cabinets.
Soldano Reverb-O-Sonic 50-Watt
Another Soldano amp, but this time, it's a 2×12" combo. If you've ever seen Lou play live during the '90s, then there's a good chance that you've seen him using one of these.
The Soldano Reverb-O-Sonic was the main amp choice while recording the 2000 album "Ecstasy". You can also see him using this amp during many live appearances such as "Words and Music" (2002), "Sessions@AOL" (2002), "Metal Machine Music" w/ Zeitkratzer (2002), and most famously, the "Berlin" concert at St. Ann's Warehouse in 2006.
Soldano 100W Super Lead Overdrive SLO-100
Lou was also known to use this amp while touring in the 2000s. He often paired it with a special speaker cabinet and custom-made effects from his guitar tech, Pete Cornish.
Tone King Continental 2×12
Perhaps one of Lou's favorite amps.In his own words: "I'm a big fan of my Soldanos…" "…But as far as acoustic guitar goes, there's an amp called the Tone King. They look really Fifties-ish. You plug an acoustic guitar into one of those and it's astonishing. When you take an acoustic guitar and plug it into an electric guitar amp, the sound is usually terrible. There's no bottom, or the bottom is exploding. But through the Tone King my acoustic sounded great."
The Continental uses 4 6V6 output tubes and has two preamp channels. It has a built-in tremolo effect with a beautiful tube-driven spring reverb. Lou loved this amp so much that he even got himself a combo version; it can be heard on the live album "The Raven" (2003) and throughout his "NYC Man" tour. (2003)
Lou Reed's Pedals and Effects Overview
Pete Cornish Remote Control Footboard
Lou required multiple effects for his vast catalog of songs. Enter the Pete Cornish Remote Control Footboard. This device allowed Lou (or anyone backstage) to switch between different effects racks with relative ease. Not only that but multiple effects could also be controlled in real-time, allowing for endless possibilities.
Roland SDE3000 Delay & SDE3000A Chorus
The SDE3000 could produce both delay and chorus effects. The unit was completely digital and had multiple controls to choose from including feedback, rate, time, and depth. The '93 reunion tour features some usage of these effects.
Eventide H3000 Harmonizer
In the creator's own words the H3000 is "a multi-effects monster" combining pitch-shifting algorithms, delays, modulation effects, and a powerful reverb. The unit is also capable of pitch shifting completely in stereo, allowing for a dual pitch-shifting effect.
Demeter Tremulator
This pedal was designed to emulate the classic Fender tremolo effect. Pete set this up for Lou in the early 90's to help reproduce some of the early sounds of The Velvet Underground. It became popular precisely because of its effectiveness, especially reproducing the effects heard in "Heroin".
Ibanez SDR-1000 Reverb
A digital reverb, with true stereo capabilities. Separate parameter settings for both left and right channels. Lou played this during the "New York" album tour and again during the Velvet Underground's 1993 reunion. This particular one is known as an anti-pedal, meaning it's not a conventional piece to find in any gig bag due to its massive size.
Lou started using this particular effect in order to get a solid-state and standard reverb modulation for all of his gigs.
Pete Cornish Death Pedal (N.G. Fuzz + NG2)
Originally, this pedal was called "N.G. Fuzz", but Lou loved it so much, that he started referring to it as his "Death Pedal". Even Pete himself (the maker of the pedal) says that it was designed to simulate "Imminent Amp Death".
This pedal operates in 3 stages according to Cornish; the first stage drives the signal with up to +26dB of gain which feeds into the second stage; a Germanium preamp "which overloads smoothly when overdriven." The third stage "simulates a tube amp that has been over biased or has suffered serious output failure; the sound just before the fuse blows".
If you want to hear this thing in action, Lou's former touring guitarist, Aram Bajakian, has a fantastic video on YouTube where he demonstrates Lou's ACTUAL PEDAL with all settings intact.
Pete Cornish Soft Sustain-2
Lou also loved this pedal and referred to it as "the missing sound". An interesting addition to the Soft Sustain-2 is the built-in linear boost, which allowed Lou to add a clean boost to his signal without compromising the sound.
Pete Cornish "Lou Tone II" Tone Boost (Upgraded MKIII in '08)
Capable of frequency selective boosts of up to +70dB. Helped Lou to cut or boost desired frequencies. Truly an amazing way to shape a sound.
Soldano Surf Box
Considered to be one the rarest and most desired effects for guitar players, the Soldano Surf Box contains a beautifully tube-driven reverb with tremolo and vibrato effect capabilities. It is said that only 100 or so of these were ever made. Lou was one of the lucky owners and showcased its awesome capabilities during the mid-'90s.
Wrap Up
Lou Reed is one of Rock N Roll's quintessential singer-songwriters, he made his very own mark by stripping romance from his music and opening up his art to the raw vulnerability of day-to-day moments. Reed was as unconventional as his gear, always a realist throughout his discography, the man never painted a picture with the dramatic tones of mystical imposed forces, he was a simplist at heart who tinged every tune with fear and mundane aspects of life to deliver some of the most genuine songs out there.
His stunning career holds a complex legacy, one that is haunting and remains to be overshadowed by any of his contemporaries. But his simple approach to composition left a print that can be summed in his own words "One Chord is fine, two is pushing it… three chords and you're into jazz". While his guitars might be reminiscent of a classic guitar hero in terms of eccentrics, Reed's time as an icon and as a guitarist can be defined in minimalism, just measured notes and carefully beautifully placed words. The link of soul and guitar have few exponents like this man.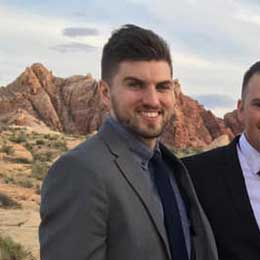 My name is Chris and I've had a passion for music and guitars for as long as I can remember. I started this website with some of my friends who are musicians, music teachers, gear heads, and music enthusiasts so we could provide high-quality guitar and music-related content.
I've been playing guitar since I was 13 years old and am an avid collector. Amps, pedals, guitars, bass, drums, microphones, studio, and recording gear, I love it all.
I was born and raised in Western Pennsylvania. My background is in Electrical Engineering, earning a Bachelor's degree from Youngstown State University. With my engineering experience, I've developed as a designer of guitar amplifiers and effects. A true passion of mine, I've designed, built, and repaired a wide range of guitar amps and electronics. Here at the Guitar Lobby, our aim is to share our passion for Music and gear with the rest of the music community.