Looking for fun to play tracks that'll instantly get the crowd going? You've come to the right place! We've put together a list of the most fun songs to play on guitar for guitarists of all skill levels, from beginners to seasoned veterans.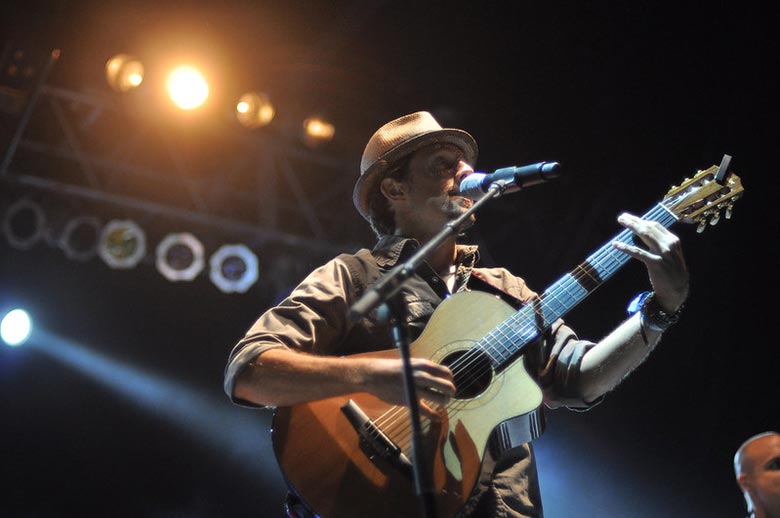 These famous tracks are sure to spice up your guitar repertoire right away. Scroll down to see the whole list!
Here is a List of Fun Guitar Songs
1. I'm Yours by Jason Mraz
Getting started: The following chords are essential to playing I'm Yours. There are Tabs linked below to the simplified version of the song which is fun to play and utilizes mostly the G, D, Em, C. Occasionally you will use a C#dim chord which you can safely drop the 4th fret on the A string note which would leave you with an A7 chord, which some will find easier to play.

"I'm Yours" by Jason Mraz fits the bill of a fun song perfectly – thanks to its groovy, infectious, well-known tune and easy playability. Its rhythm can get slightly tricky for beginners, but you should be able to nail it down with some practice!
There's a simplified version, too, which involves only four basic chords- G, D, Em, and C in an I-V-vi-IV progression. Keen eyes would have already identified this common progression. For those who haven't – it's also called "Axis of Awesome 4 Chords" made popular by a band of the same name. In this track, the progression will flow in G-D-Em-C order throughout except for the bridge, which has an additional chord, A7. That's it! Just add in some palm muting to make your performance sound closer to the original.
2. Wake Me Up When September Ends by Green Day
Getting started: The riff played in the Intro and Verses is the heart and soul of this song. It utilizes individual fretted notes as well as open-string notes and is best played either on an acoustic guitar or with a relatively clean tone dialed in on your electric guitar. When playing the Bridge and Chorus sections of the song, you can engage some nice distortion to strum out the rest of this punk rock classic, but mastering the following riff is an essential starting point to learning this song:

Even though this track has quite deep and heart-wrenching lyrics, "Wake Me Up When September Ends" is an amazing song that's lots of fun to play on the guitar! The song was written by frontman Billie Joe Armstrong about the untimely passing of his father from cancer. Though, the powerful lyrics transcended the original meaning when it became a tribute to the victims of the September 11 attacks.
There are three parts to the song – a captivating flat-picked acoustic intro, a heavier power chords-driven electric section, and a fantastic sounding but easy solo. Skill-wise, this song lies somewhere between beginner to intermediate level and is more suited for those who are slightly familiar with arpeggiated picking, barre chords, and power chords.
3. Sweet Home Alabama By Lynyrd Skynyrd
Getting started: This iconic intro riff is a blast to play and a timeless fan favorite. After learning to fret the right notes, try to focus on timing, rhythm, and picking techniques to give your sound that Southern rock vibe.

This all-time Southern Rock classic by Lynyrd Skynyrd can start a rousing sing-along wherever it is played. Released in 1974 as part of their 2nd album titled 'Second Helping, the song gave them their second hit. The band is known to say that the entire song developed based on the little riff that ended up being their intro riff, which can now be recognized literally anywhere!
The track's chords are quite easy to learn – D, G, F, C, and Cadd9 – which cycle throughout the song. This brings the song easily within the reach of beginner guitarists, who can strum the chords along. In case you're looking for a bit of a challenge, then you can learn how to play the riffs and its country-inspired guitar solo. But whether you're a beginner or an experienced guitarist, this is an evergreen track that you can whip out to spice up a gig or a gathering!
4. Sweet Child O' Mine by Guns N' Roses
Getting started: Another intro riff that will be instantly recognizable to anyone who hears you play and is a natural starting point for learning this song. Once you're able to nail the intro I'm confident you'll be able to tackle the rest of the song's tabs.

I think learning how to play Sweet Child O' Mine has become somewhat of a rite of passage for all budding guitarists. Face it, we've all dreamt of playing the track's iconic opening riff and blistering solo as kids – hoping to look as cool as Slash while doing it! This timeless hit by rock band Guns n' Roses is quite a thrill to play, whether you decide to play it on the electric or the acoustic guitar.
If you're a beginner guitarist, you can learn the song's chords in their open positions and enjoy playing the rhythm guitars themselves. The chords are pretty simple too – C, G, A, D, Em, and Cadd9 with a straightforward strumming pattern throughout the song. However, if you're a more experienced musician, then you will enjoy playing the intro riff, and learn Slash's famous solo! It may take a fair few practice sessions to get the solo perfect, but it'll be worth it.
5. Take Me Home, Country Roads by John Denver
Getting started: You'll need a capo on the second fret to learn along with Marty in the video above. I've also included a link to the full tabs so you can follow along but first, you'll want to master the following chord shapes:

I moved away from my hometown for college – and I clearly remember busting out my guitar to play this beauty on more than one occasion when I missed being back home! This evergreen classic was released by John Denver in 1971 and retains its timeless appeal even today. Beautifully composed and sung by Denver, the song's nature-inspired lyrics and melodic arrangement make it a fantastic song to play, whatever be the occasion!
There is a fair number of chords, but most are familiar patterns played in the open position. If you're a beginner, then you can skip the complex fingerpicking in the opening verse, and just go ahead and strum the chords throughout the song. But if you're a more experienced musician, I highly recommend giving the intro a crack. It's a very fun guitar song to play and most people will recognize it.
6. Stand By Me by Ben E. King

Here's a song for the ages! Ben E. King's 1961 soul classic is arguably one of the most influential compositions of the 20th century and a perfect pick for those just starting their guitar journeys.
But did you know this timeless masterpiece is actually an old gospel hymn? King was relentless in his efforts to recreate the gospel hymn and make it more universal in its appeal. His epic rendition became hugely popular with over 400 hundred cover versions! Some of which are by stellar musicians such as John Lennon, Tracy Chapman, and Otis Redding.
You can get started on this one by placing a capo on the 2nd fret and playing just four beginner-friendly chords- G, Em, C, and D in a steady and repetitive progression. You'll also pick up some simple chord shapes and chord switches along the way that'll fortify your fundamentals. When you play along to the recording, watch out for the accents and bass note changes to nail the rhythm.
7. Smells Like Teen Spirit by Nirvana

It would be no exaggeration to call Kurt Cobain's guitar intro in "Smells Like Teen Spirit" one of the catchiest and most recognizable riffs in the history of rock! This 1991 landmark single made Nirvana a household name and catapulted grunge to the masses. In fact, we doubt there's any ranking list on the planet with the greatest singles of all times that would not have this song sitting pretty in the top few slots. That's how awesome it is!
Fueled by iconic riffs, superb bassline, and smashing vocals, "Smells Like Teen Spirit" is an adrenaline-pumping anthem, through and through. The main riff is built around four power chords strummed in a syncopated sixteenth note by Cobain. Not very hard for beginners to master.
8. (I Can't Get No) Satisfaction by The Rolling Stones

Equal parts fun and naughty, playing 'Satisfaction' by The Rolling Stones can get any party going! This is a timeless hit by the iconic band, and it uses all simple chords to play. You'll be playing only open position chords such as E, A, D B7, G, C, and A7. Nothing complicated – easy to learn, a riot to play! This song by The Rolling Stones is definitely one of the most fun songs to play on guitar.
9. House of the Rising Sun by The Animals

This legendary 19th-century folk staple is a tale of caution about a man whose life has taken a turn for the worse in the city of New Orleans. "The House of the Rising Sun" inspired many versions in fascinatingly different musical styles from Appalachian, rock, blues, country to heavy metal, with the most popular one by the British rock band the Animals released in 1964.
We are talking about the '60s here when not many rock bands would be seen adapting folk tunes. The Animals' version of the classic folk ballad was a rarity and possibly the first folk-rock chart-topper ever. Guitar-wise, it's well within reach of beginners. You'll need Am, C, D, Fmaj7, and open E to get through most of the track's powerful and melodic rhythm. It'll be a good idea to spend a little time polishing your single-string picking pace before you attempt the riff.
10. Up Around the Bend by Creedence Clearwater Revival

The squealing opening guitar riff of "Up Around The Bend" by CCR is so unique that one can recognize it anywhere! And I'm pretty sure you've heard this track in many movies and TV shows – right from The Invincible to "The Wonder Years." This high-spirited song is a lot of fun to play and sing along to, and a great track to close a gig with.
The song uses 5 different chords throughout the duration – D, A, A7, G, and D/F#. All of these chords except for D/F# can be played in their open positions/ The rhythm pattern is also fairly predictable all through, though intermediate level guitarists will enjoy grasping its bendy riff, short but sweet solo and the tasty licks played throughout the song.
11. Crazy Little Thing Called Love by Queen
It took Freddie Mercury all of five to ten minutes to compose the incredibly catchy "Crazy Little Thing Called Love". He composed the song using only a few chords in a straightforward framework as the guitar was not really Mercury's forte. But being the songwriting genius that he was, the result was stunning even in its simplicity.
"Crazy Little Thing Called Love" was Queen's tribute to the King of rock 'n' roll, Elvis Presley, and a fitting one thanks to its exceptional melody and a fun rockabilly rhythm. The song simply oozes oomph! We bet you'll love playing this one, so grab your guitar and strum away!
12. I'll Be There for You by Bon Jovi
Some call it an over-the-top saccharine-fest while others hail it as an unforgettable power ballad. Whichever camp you may belong to, you simply cannot shake the infectious vibe of this Bon Jovi staple once it starts playing!
"I'll Be There For You" is one of the band's signature tracks that raced all the way to the number one spot on the Billboard Hot 100 upon release. It's got all the ingredients of a hit song from Jon Bon Jovi's passionate vocals, Richi Sambora's catchy bluesy riffs to one of the best sing-along choruses in the band's catalog. If you want to learn this amazing song, we've got the tabs right here for you.
13. Blue by The Jayhawks
"Blue" off The Jayhawks' 1995 album, Tomorrow the Green Grass, is one of those songs you would have certainly heard somewhere but have no clue who it's by! It is the alt-country band's best-known song with them at their finest.
The first thing you'll notice about the track is how splendidly the chord progression and overall acoustic arrangement complements Mark Olson and Gary Louris's trademark vocal interplay.
Learning "Blue" will familiarize you with sliding E chord as well as string moving chord shapes. You'll also enjoy playing the fun little riff that shows up right after the chorus. Check out the tabs and get started!
Popular Related Article: Basic Guitar Chords Rundown
14. Girl from Ipanema By Antonio Carlos Jobim
Antonio Carlos Jobim's exquisitely crafted mix of jazz, samba, blues has made "Girl From Ipanema" remarkably ubiquitous. This unforgettable composition from 1965 has attracted plenty of covers, making it the second-most recorded pop song after "Yesterday" by The Beatles.
It's a great choice to dip your toes into the marvelous world of jazz guitar. Every guitarist should know a few jazz chords to add more harmonic flair to your playing, and this song uses quite a few of them.
In this classic Jobim employs claw-style picking in order to create the samba sound. So to play it exactly the way he does, you'll need some fingerpicking training. There are plenty of fingerstyle lessons floating online to help you master that technique.
15. Superman It's Not Easy by Five for Fighting
One of the mellower, somber songs on the list, "Superman (It's Not Easy)" by Five for Fighting never fails to move its listeners. The song became symbolic after the September 11 attacks where it was widely played to honor the victims and heroes of the tragic event.
When you hear it, you'll notice how deeply reflective the lyrics are. They were written by John Ondrasik while going through a low phase in his career.
It is a piano-driven piece but you can easily replicate the tune on a guitar by employing arpeggios which is basically a technique where notes of a chord are played individually, one at a time.
16. Champagne Supernova by Oasis
This seven-minute-long psychedelic track by Oasis is a thrilling joyride to play! From its catchy melody, tasteful instrumentation, and Noel Gallagher's floaty vocals, Champagne Supernova is memorable enough to be the soundtrack to your life. The track starts off with an ethereal feel, and builds up to quite a hard psychedelic rock vibe with a searing solo!
Since the song progressively becomes more demanding on the guitar, it's more suited to intermediate to advanced guitar musicians if you're planning to play it like the original. If not, then you can learn the chords and strum along to the basic rhythm – and it'll sound just as great.
17. The Lion Sleeps Tonight by The Tokens
If you've watched "Friends" (well who hasn't?), then we're sure you heard this song when Ross brings in his monkey, Marcel! Interestingly, the Lion Sleeps Tonight goes way back – the track was originally titled "Mbube" and was written by Solomon Linda, an amazing South African composer, and singer.
While the original track was in Zulu, it was translated and adapted to English and the most popular version of the song remains the one by the English doo-wop band 'The Tokens'. This is a very simple song to play on the guitar since it just uses 3 chords – D, G, and A – throughout the song!
18. We Are the Champions by Queen
Anthemic masterpiece "We Are the Champions" by rock royalty Queen has been touted as the catchiest song in the history of rock by not just fans, critics but scientists as well! That's right, A team of researchers declared the 1977 Queen classic as a song with perfect sing-along quality backed by the right combination of neuroscience, maths, and cognitive psychology.
With lyrics celebrating hard-earned victories and a soaring chorus, "We Are the Champions" became a widely used anthem at various sports events including the 1994 FIFA World Cup. It's as exciting to play as it is to hear.
It's impressive how guitarist Brian employs his signature multi-tracked guitars to subtly build a melody eventually hitting the pedal and overdrives and concluding with an overwhelmingly awesome solo. The linked tabs will help you get this arena rock gem under your belt.
19. Losing My Religion by R.E.M.
It's hard to believe that "Losing My Religion" by R.E.M was released back in the 1990s since the track still sounds so fresh even today! This folk-rock/alt-rock song was the band's highest-charting success and even got them two Grammys. Being an evergreen song for all time, this is a must to learn on the guitar! The verse and chorus share the same chord progression and the rhythm is also the same throughout the song – making it a simple one to get the hang of.
20. King of the Road by Roger Miller
Every time I play "King of the Road," it feels like nothing can go wrong in the world. Released by beloved country singer Roger Miller in 1964, this song is the definition of happy-go-lucky – both in its sunny melody, laidback rhythm, and carefree lyrics! This Grammy-winning song uses simple open-position chords such as A, D, E, Bb, Eb, and F, all played over an easygoing strumming pattern that beginners will find easy to learn.
21. Some Nights by Fun
Using just C, F, and G chords, Some Nights by American indie pop band Fun has created the perfect summer anthem! The song took some time to hit the top 10 charts, but when it did, it stayed at no.3 for weeks on end! This is a great song to learn to play if you're starting out on the guitar, owing to its easy chords and rhythm.
22. To Be with You by Mr. Big
To Be with You by Mr. Big is one of my all-time favorites! its whole easygoing vibe, and cheerful vocals make the track so easy to just play and enjoy anytime, anywhere. While the strumming pattern of the track is very simple, the song does go through a key change and has a bunch of chords at different stages.
This makes it more of an intermediate track. But hey, slow and steady wins the race, and even novices can master this song if they slowly work their way through the tabs!
23. The Needle And The Damage Done by Neil Young
Another drop-dead gorgeous solo with soulful acoustic guitar and incredibly touching, heartfelt vocals! Neil Young recorded "The Needle And The Damage Done" as a tribute to a dear friend and former bandmate who passed away because of a heroin overdose. Young is such an amazing musician; he channeled his pain masterfully into the melody, which really pierces through your heart. Granted, the theme of the song is not "fun," but it's a really rewarding song to learn and play.
This track is a must-learn if you are a singer-guitarist looking for a masterpiece to learn. I'd slot this gem of a track into one more suited for intermediate to advanced guitarists because of its tricky chord progression and right-hand picking pattern.
24. Creep by Radiohead
English alt-rockers Radiohead's debut single "Creep" stands out not just for being their most successful composition and the kind of song that you find yourself going back to again and again. Did you know that when it was first released in 1992, "Creep" was slammed for its self-pitying, depressing vibe and considered unsuitable for airplay? Crazy!
However, the song started "creeping" into the airwaves, and now practically every new guitarist ends up learning this song to start with! The song's slow tempo and repetitive G-B-C-Cm chord progression bring about an ease of play that's perfect for guitar novices. There are some arpeggiated chords in the verses and the last chorus and loud power chords in the first two choruses that can be mastered with a bit of practice.
25. Blackbird by Beatles
Blackbird is perhaps the most alluring song to me personally from the Beatles' discography. Probably that's why it's one of the first Beatles tracks I learned to play on the guitar! Sure the fingerpicking and the "one chord per word" chord changes are tough to master, but this is such a gorgeous gem of a song, that it's totally worth it. Fun fact: Did you know that the steady tap you hear throughout the song? That's actually the sound of Paul Maccartney tapping his shoes to keep time while recording the song!
This song is probably more appropriate for intermediate to advanced guitarists to attempt. The tabs may look intimidating at first, but keep at it – the rhythm pattern is the same throughout, and the chords are easy to shift since they flow up and down the fretboard. However, mastering the chords and rhythm is one thing, but I'd say keep practicing it till you get that sweet, gentle flow and effortlessness in your sound.
26. Hotel California By Eagles
Hotel California is as iconic as it gets! Released by Eagles back in 1977, this 6 and a half minute long song's guitar solo has repeatedly been voted as one of the greatest guitar solos of all time. And over 50 years later, I can safely say that it's still true! Suspenseful, rhythmic, and melodious, Hotel California is a journey all in itself and incredibly fun to play for any guitarist!
If you're a budding guitarist, then you can start by grasping the song's rhythm structure and the basic strumming pattern. The song follows two different sets of chord progressions for the verse and chorus, and these patterns repeat throughout the song. The chords involved are familiar ones – Am, E7, G, D, F, C, and Dm. Guitar novices can just strum entire chords as the intro if they'd like, but if you're a little more experienced, then you'll enjoy picking the chords in the intro like the original. Finally, seasoned veterans will have a gala time attempting (and mastering) the guitar solo…it's so worth it when you show it off to your friends!
27. Wake Me Up by Avicii
Wake Me Up by the incredibly talented late Swedish DJ/producer Avicii (rest in peace, brother) is the highest-charting dance track of the decade. Co-written by the song's vocalist Aloe Blacc and Mike Einzinger, the song is more substantial and soulful compared to your garden-variety dance track – a shift that was richly rewarded in terms of worldwide critical and commercial success. Energetic and infectious, it's a song that lingers on in your mind!
Despite being an EDM song, this song has plenty of organic elements and the guitars can be distinctly heard throughout. The chords progression is pretty easy to grasp as well – with Bm, G, D, A, and F# being used in the melody. While the chords are simple, the tempo of the track is a little fast, so beginners might need some practice to be able to play it at the original tempo. But I'd say, start out slow and focus on playing the chords cleanly, and then slowly build up the speed.
28. Leaving On a Jet Plane by John Denver
All hail the anthem for long-distance couples! Jokes aside, "Leaving On A Jet Plane" is a beautiful, heartfelt song that is super easy to play. Its lyrics are filled with a genuine sense of longing for one's beloved, and the simple but tasteful instrumentation has made it a timeless chart-topper that still resonates with people even today. And did you know that this was the debut track that catapulted John Denver to fame?
Now for the cherry on top – the whole song uses just D, G and C chords! This incredibly easy chord progression brings the song well within the reach of guitar beginners – offering yet another fun, popular track to add to your repertoire.
29. Hey, Soul Sister by Train
Written and released by the rock band Train in 2009 as part of their fifth album, "Hey Soul Sister" is the kind of song that will never fall out of your head once you've heard it. With a solid pop-rock arrangement, great vocals, and catchy phrasing of the verse and chorus, this sunny track can brighten up a dull day. So it's no wonder that it peaked at no. Three at the Billboard 100 chart and got the band a Grammy for the best pop performance by a duo or group.
With just 4 chords – played in open positions – Hey, Soul Sister is not just fun to listen to but to play on the guitar as well! The only chords you need to learn are C, G, Am, F – easy enough, right? The rhythm pattern is also pretty straightforward, and it doesn't stray throughout the song.
30. Blitzkrieg Bop by Ramones
"Ey! Oh! Let's Go!" – this electrifying opening chant at the very beginning of Blitzkrieg Bop has become a rallying cry of sorts in pop culture! An incredibly fun song released by American punk band Ramones, Blitzkrieg Bop was their debut single – and boy, what a debut it was. The song was written by drummer Tommy Ramone and bassist Dee Dee Ramone, and still features on the list of the greatest songs ever written in various publications.
Here's the great part – Blitzkrieg Bop is quite easy to play! The entire track is based on a three-chord pattern consisting of A5, D5, and E5 that repeats throughout its length. A fourth chord (B5) shows up only in two places. The song is composed solely of power chords, which means you only have to use the lowest 3 strings of your guitar and skip the high 3 strings.
31. Here Comes the Sun by The Beatles
I remember being on a holiday up in the mountains when one morning, I decided to plug in my headphones and go on a morning walk with "Here Comes The Sun" playing on loop. I'll never forget that morning walk, all thanks to this gorgeous, fun song by The Beatles! The chords of Here Comes The Sun is simple and all can be played in their open positions.
You'll be playing D, G, A7, E7, F, C, G/B, and Asus4. The strumming is mostly a straightforward 4/4 in a majority of the song, but it does get a little tricky at the tail-end of each chorus – following 11/8 + 4/4 + 7/ 8. Then the time signature gets even more tossed up in the second half. But hey, it's no fun to keep playing easy songs. Give yourself a little challenge! Be patient and internalize the entire song and its rhythm pattern. And you'll find yourself grasping the song soon enough!
32. Oh Pretty Woman by Roy Orbison
Pretty Woman ranks pretty high in my list of fun guitar songs to play! It's not hard to guess why – this bright and love-drenched rock n' roll song by Roy Orbison has a great dance beat coupled with a solid arrangement, to fantastic results. Did you know there were four guitarists present during the recording of this song? But don't worry; you can play all those parts by yourself too!
Although the song's rhythm structure is not difficult, it does have a fair few types of chords used at various stages of the song. That's why I'd say this song would be easier for guitarists at an intermediate stage to learn. Having said that, none of the chords in the song need you to do any finger gymnastics. So with some time, patience and practice, even beginner guitarists can grasp this track.
33. Get Back by The Beatles
A catchy, fun-sounding track that's quite high on energy, Get Back was first released in 1969, but a different mix of the song featured as the closing track on the band's final album "Let It Be." Kind of ironic, isn't it? Having a song called "get back" as the final song of the band's final album? Interestingly, the song's chorus line 'Get Back To Where You Once Belonged' is rumored to have been directed by Paul McCartney towards Yoko Ono.
The track uses only 4 chords throughout its sprightly melody and song structure. You only need to learn how to play A, G, D, A7. The strumming pattern is also pretty straightforward, making it easy for both beginners and seasoned musicians to master pretty quickly.
34. Highway To Hell by AC/DC
Listening to Highway to Hell is already an adrenaline-pumping trip, so imagine just how fun it would be to belt it out on your guitar! This song is a timeless classic by AC/ DC and is THE definitive hard rock song to learn on the guitar, in my book. Bon Scott's devilishly good vocals, together with the incomparable guitar duo of Angus and Malcolm Young spin some old-school magic that persists even today.
The good news is that it can be played by intermediate as well as advanced guitarists! If you're a guitarist who is confidently past the basics, then you will find the rhythm guitars of this song fairly easy to grasp and master. The chords and the rhythm pattern both are straightforward. If you're an advanced guitarist, then you can give the song's tasty guitar solo a crack. It's not too fast in tempo, but it's full of feel and substance!
35. My Best Friend's Girl by The Cars
Oh, to be young and wallowing in a heartbreak! A classic young-rocker track, "My Best Friend's Girl" is an upbeat catchy track by The Cars where the vocalist is lamenting how his ex-girlfriend dated his best friend right after him. Ouch! Despite the heart-achy lyrics, the song has an upbeat 1960's feel to it (thanks to all those handclaps). Released in 1978, it hit no. 3 in the UK and reach no. 35 on the Billboard Top 100 charts.
Given its steady rhythm and bright-sounding, this track is great fun to play for musicians of all skill levels! The chords used – F, Bb, C, D, G, A – are familiar, beginner-friendly chords that are easy to learn. The strumming pattern is not too tricky as well. All in all, a cool, fun track to add to your repertoire.
36. Despacito By Luis Fonsi Ft. Justin Bieber
Despacito is pretty fun and catchy pop/ Spanish rap track by Puerto Rican artist Luis Fonsi, together with Daddy Yankee. The track was already shooting up charts when Justin Bieber ended up listening to it somewhere and decided to do a remix with the original artists. Not surprisingly, this led to the track blowing up, even more, raking in Latin grammy awards and a whopping 7+ billion online views!
The song follows a familiar chord progression heard in Latin pop songs, but it's still refreshing to listen to – given the good production, great vocals, and catchy rap. The chords are quite easy to learn – you only have to keep playing Bm, G, D, and A throughout the song. So once you've got the hang of this chord progression, the song is a breeze.
37. Can't Stop by Red Hot Chili Peppers
The guitar intro to Can't Stop by Red Hot Chilli Peppers is one of the first guitar riffs I ever learned – and I instantly felt twice as cool after playing it! Playing an RHCP song has that effect, after all. Can't stop was released in 2002 on their album "By The Way" (another fun song to learn!), and it hit the no. 1 spot on the Billboard modern rock charts.
The chords to "Can't Stop" are really easy – they're Em, D, Bm, C, and G! The verse has Em, D, Bm, C cycling for every line, while the chorus uses G, D, Bm, and C. The strumming patterns to the verse and chorus might be slightly tricky to get at first, but just like the chord structure, they stay the same till the end of the song. The song gets much easier to play for an intermediate musician.
38. Johnny B Goode By Chuck Berry
There's hardly a music-loving soul around that hasn't heard Johnny B. Goode – it's officially one of the most recognizable tracks in music history! A legendary song that is incredibly fun to play, Johnny B. Goode was released in 1958 and was written and performed by Chuck Berry. His energetic vocals, electrifying guitar, and upbeat tempo took the music world by storm. The song has been covered by several musicians over the decades, perhaps most notably by guitar icon Jimmi Hendrix himself.
If you want to enjoy playing straight-up rock and roll, then you've gotta learn this one. If you're an intermediate to advanced guitarist, you'll find it easy to grasp it. Once you learn the basic chord progression of the track, you can make it as easy or hard as you want by adding your own touch of guitar licks every now and then.
39. Dust in The Wind by Kansas
Dust in The Wind is a brilliant, singular example of how a band can produce a timeless, stunning track using no fancy production! All you need is powerful, honest songwriting and to really play your instrument. This was perhaps the only track by Kansas that hit the top 10 on the US Billboard chart, and boy what a gem of a song it is. With an easygoing fingerpicking pattern and profound lyrics, this track nudges you to live life with gratitude instead of cribbing and complaining about what you don't have.
If you are looking to play fingerstyle on your acoustic guitar, then this song is a must-learn! It's better for experienced guitarists to tackle though, owing to the not-so-basic chords and fingerpicking technique. But the good part is that once you get the hang of the chord progression and the fingerpicking style, it repeats throughout the song. Another reason that makes it worth it is to put in the effort and learn this awesome song.
40. Africa By Toto
Did you know that Toto almost ended up not releasing "Africa"? Yup, legend has it that the band was not too happy with the song and wanted to scrap it. However, their producer insisted they retain it and have faith in the track. Well, the rest is history! The track hit the number 1 spot on the Billboard Top 100 in the US and reached the top 10 in several other countries. Even though it was released in 1982, it still remains a wildly popular and much-loved song.
Africa is an absolute treat to play, thanks to its interesting rhythm patterns that change from the verse and chorus and intelligent instrumentation. The lyrics are a bit vague and hard to decipher, but that's alright. This song may be more suited to intermediate to advanced guitarists. That's because of a couple of reasons. First, the rhythm pattern is a little challenging since it changes in different parts of the song. Plus, the chord progression involves plenty of quick chord changes, which will be difficult for beginners.
41. Twist and Shout by The Beatles
Here's the thing about "Twist and Shout." As quintessential as it may sound of the early Beatles sound, it was actually written by the famous songwriter Bert Berns. What's interesting is that even Berts' original was technically inspired by Ritchie Valens' groovy "La Bamba." So, when the Beatles recorded their cover as the final track in their debut, Please Please Me, they were careful enough to tweak the main guitar riff to make it sound more rock 'n' roll.
What I love the most about this track is the fascinating rhythm and the cool riffs that are an absolute blast to play. You only have a few chords to work with, and that too in a simple chord progression. There's also a fun solo to explore whenever you're ready. The tutorial and tabs will help you learn both easy riffs and the lead parts to add this iconic Beatles tune to your setlist.
42. Sunshine of Your Love by Cream
When the talent of three incredibly gifted musicians collides, what you get is an instant and enduring classic like this one. An unforgettable blend of blues and 60s psychedelic rock, "Sunshine of Your Love" was released in 1967 by Cream – perhaps the first-ever supergroup with Eric Clapton as the lead guitarist, John Bruce anchoring the low end, and Ginger Baker on drums. All three were super successful in their own right.
From the first time you hear it, Clapton's bluesy riff is etched in your mind. Learn it, and you'll have something in your arsenal that'll almost always manage to send the crowd into a frenzy! The tutorial and tabs will break it down for you.
43. Redemption Song by Bob Marley
"Redemption Song" hits differently when you know it was Bob Marley's last recording before his untimely death from cancer. The lyrics were the reggae legend's appeal to listeners to spread peace and find inner freedom; it's almost as if he wanted to sum up years worth of music and musings before passing on.
As an acoustic-led song, it stands out in Marley's usual reggae beats-heavy discography. True, this sparse folksy ballad is emotionally heavy, but you'll enjoy playing it as much as your audience will love listening to it. Making it a part of your repertoire to end your gig and give a perfect peace out to the crowd.
44. Maps by Yeah Yeah Yeahs
Of all the songs released by Yeah Yeah Yeah, their debut single, "Maps," stays with you the most. In this soft rocker with elements of punk, lead vocalist Karen O pours her heart out about her relationship. The vulnerability in Karen O's voice, backed by heavy drums and beautiful guitar riffs, created a masterpiece that crossed the indie circles to woo the mainstream audience. And the acclaim that followed took everyone by surprise, the band included.
With "Maps" hailed as the best love song to emerge from the alternate scene, learning it would widen your repertoire. The intro is a masterclass in fast picking, challenging yet a whole lot of fun. You can learn it right here by watching the video lesson above.
45. Chasing Cars by Snow Patrol
Even years into its 2006 release, this Snow Patrol earworm remained a mainstay at radio stations in several countries. In the UK, "Chasing Cars" was officially named the song that received the most airplay in the 21st century. The catchy melody, soft lead guitar line, and heartwarming crescendo buildup make it a sonic delight.
The guitar riff is repetitive, and the entire song can be played with as few as three basic chords – A, A/G#, and D. The strumming pattern isn't too bad either and stays the same throughput. Don't just take our word for it. Check out the tutorial and see for yourself!
46. Happy by Pharell Williams
What is it about Pharell Williams' "Happy" that makes it so loveable? The upbeat tempo? Danceable energy? That effervescent gospel-tinged chorus? Whatever it is, this is the perfect tune to bust out whenever someone around you is in need of a pick-me-up. Released in 2013 as a soundtrack from the popular animated flick "Despicable Me 2," the catchy single topped the charts and grabbed an Oscar nomination for Best Original Song.
Although the original track doesn't have guitar parts, but you can emulate the arrangement on your guitar. Fair warning – this is not a beginner song, so it's best to attempt it when you advance to the intermediate level. It's important to get the percussive playing and the groove right. The tutorial above will show you how.
47. Seven Nation Army by The White Stripes
A song so ubiquitous that even those who don't know about White Stripes may have heard it at a sporting event. Released in 2003, "Seven Nation Arm" is an adrenaline-boosting fare from start to finish – a perfect arena rock anthem that can get everyone chanting and rooting for their favorite team.
Here's the thing about the song's epic bass riff; it's not played on bass but Jack White's Kay semi-hollow guitar with an octave effect. If you're part of a band, this track should be a part of your repertoire. Learn the power chords and the intro on your electric guitar by clicking on the tutorial above. Make sure you have a distortion or fuzz pedal to nail the tone of White's guitar.
48. Master of Puppets by Metallica
If hard rock or thrash metal is your jam, there's no way you haven't heard this hugely popular record by the legendary Metallica. In fact, "Master of Puppets" is one of those songs that folks who aren't into metal also know. And yes, this is the track you hear Stranger Things character Eddie Munson shredding in the Upside Down to distract the zombie bats!
It's not just one of the greatest metal tracks ever but is also a dream for any guitarist with even the slightest of heavy tendencies. The dual solos and the jaw-dropping fingerpicking will certainly take you to pick up, but you'll have loads of fun along the way.
49. Running Up That Hill by Kate Bush
Here's another song that got a fresh lease of life thanks to Netflix's sci-fi series Stranger Things! And it's safe to say that Kate Bush's "Running Up That Hill" will now be embedded in our minds for a long time to come. The infectious synth-pop track was released in 1985 as the lead single off Bush's fifth studio album, Hounds of Love. It was written by Bush in a single evening and then produced using a Fairlight CMI synth and a drum machine.
The cuckooing synth and the rolling beats create an intro that sounds uncannily like you're, well, running up the hill! So while there isn't any guitar in the original, it's easily adaptable. Here's a fingerstyle tutorial of the song that'll make you fall all the more in love with it (if that's even possible!)
50. Sucker by Jonas Brothers
Next up on the list is an utterly catchy single by the Jonas Brothers that's fun to play on the guitar, solo, or as a band. This minor-key song runs only for three minutes, but every second is oozing with playful lyrics, gorgeous vocals, and a feel-good melody set in a 4/4 time signature. It's undoubtedly a more mature sound from the brothers than we heard from them in their Disney days.
You'll need a capo on the 4th fret to play a simplified version of the tune. The chords you'll be using are Am, C, G, Dm, F, and E. Be sure to add in some palm muting during the verse and chorus to make it sound closer to the original.
51. Wanted Dead or Alive by Bon Jovi
The unlikely combination of glam metal and the Old West made "Wanted Dead or Alive" one of the coolest and most eclectic acts to come out of Bon Jovi's jam room. In fact, after the phenomenal success of "Livin' on a Prayer," this unique power ballad was just what the band needed to fortify their status as one of the best groups in rock music.
The 12-string acoustic guitar opening riff gives a sample of the spine-tingling sonic fest that awaits the listeners. Check out this fantastic tutorial dedicated to the intro guitar parts of the song. You can tackle this first before moving on to the rhythm or vice-versa.
52. Girls Just Want to Have Fun by Cyndi Lauper
What you might not know, though, is that Lauper's "Girl Just Want to Have Fun" is actually a cover of a song written and recorded by Robert Hazard from a male point of view. But not many had heard it until Lauper came along and spun it into an enduring feminist anthem. Since then, her version has been covered by over 30 well-known musicians.
The shift in tone, lyrics-wise, wasn't the only thing that set Lauper's rendition apart from Hazard's. While the original was heavier on the guitars, Lauper's single is more focused on synth. Her version has a super catchy electric riff built around F#. Learn it by clicking on the tutorial above.
53. Don't Worry, Be Happy by Bobby McFerrin
Is there anything as joyous and peppy as Bobby McFerrin's "Don't Worry, Be Happy."? I would go as far as to call it the most feel-good song ever written. From the moment you hear McFerrin's heartwarming whistle, you feel a smile forming at the corner of your lips, and life somehow starts feeling great again.
This magical song became the first a capella to peak at number one on the Billboard Hot 100 charts and swept the 1989 Grammy Awards ceremony. It's super easy to nail down on a guitar, regardless of the level you're at. There are only three chords to this song -G, Am, and C that are used over and over again. Once you perfect the chord switches, all there's left to do is practice the strumming pattern, which is also pretty straightforward.
54. Juice by Lizzo
American rapper Lizzo's Juice is a crowd favorite for the cleverly written lyrics that focus on body positivity and self-love. It's pure pop punk perfection with reverb-heavy guitars, Lizzo's confident voice, and witty lyrics coming together to boost our self-esteem. I, honestly, can't think of many songs that can have that kind of effect on the listeners.
Guitar-wise, if you want to play like the record, there are a bunch of tricky chords and techniques to tackle that put the tracks in the intermediate to advanced level space. However, a capo on the 3rd fret puts all chords in an open position. The tutorial will take you through the guitar parts as in the studio version of the track.
55. Tush by ZZ Top
"Tush" isn't just a fun song to play. It's fun-ny! After all, the fellas' behind it are famous for their quirks, laid-back attitude, and iconic long beards. Not surprisingly, this perfectly in-sync band wrote the song in under five minutes. They first worked out the main riff and composed the entire piece in a flash!
The 12-bar blues marvel is only 2 minutes and 17 seconds long, with every second as mind-blowing and inspiring as the next. I recommend it to guitarists who want to improve their slide guitar skills. Here are tabs and a tutorial to help you get started.
56. Eye of the Tiger by Survivor
There's something about the opening riff of this track that sends the adrenaline off the charts! Recorded for the third installment in the Rocky franchise, "Eye of the Tiger" is an infectious rock banger that guitarists of every skill level will have fun tackling.
The story goes that Sylvester Stallone was scouting for a punchy theme after getting turned down by the English rock band Queen to use their iconic "Another One Bites the Dust." In Survivor's inspiring and fun ballad, Sylvie found the perfect candidate.
The track went topped the charts in many countries and won a Grammy. While absolute beginners can play the riff using just the sixth string, more skilled players can give the power chords and embellishments a shot.
57. Un Poco Loco (Coco)
If there's a Disney soundtrack that's tailor-made for guitar enthusiasts, it's the collection of songs from the Oscar-winning Coco. The charming and thought-provoking animated movie chronicles the adventures of 12-year-old Miguel, who moves between the realms of life and death armed with his uncle's guitar.
While all songs are beautiful, the biggest crowd-puller is "Un Poco Loco." The uplifting melody and humorous lyrics act as somewhat of a comic breather in Coco's tearjerker storyline.
Nailing this tune on the guitar is fun and straightforward. The chords you'll need are G, C, D, E, and A. You can fingerpick the tune or strum it, depending on your skill level. The video lesson above should help you get started.
58. She Loves You by The Beatles
"She Loves You" singlehandedly triggered a seismic crowd obsession with The Fab Four into a full-blown phenomenon called "Beatlemania." It was released in 1963 as a token of gratitude directed at their burgeoning fan base.
As the world's best-selling band's highest-selling single, "She Loves You's" impact on shaping pop-rock is monumental. Musically, it showcased the legendary band's early youth-oriented pop sound.
The "Yeah Yeah Yeah" infectious harmonies and utterly catchy melody in this classic will take the crowd-pleasing factor of your setlist to a whole new level. And it doesn't hurt that this track is perfectly within reach of beginner-level guitarists. Check out the tutorial for an easy arrangement with basic chord shapes and a simple strumming pattern.
59. All the Small Things by Blink 182
Those who grew up in the '90s would recall listening to this wildly popular Blink-182 tune on a loop. Released in 1982, "All the Small Things" was inescapable, raucous, and ridiculously catchy.
The song was written by the band's guitarist Tom DeLonge who intentionally kept the lyrics simple and relatable to grab more airplay. DeLonge's love for punk pioneers, The Ramones, also made him include a na-na-na sing-along chorus.
With all the ingredients of a crowd-puller, it didn't take long for the single to become a bonafide hit. Guitar-wise, the track is made of three simple power chord shapes, spiced up with palm muting and heavy distortion. It's pretty beginner-friendly, though the fast-paced tempo might take some practice to master.
60. Good Times by Chic
Neil Rodgers-fronted Chic was one of the biggest phenomena to hit the '70s disco scene. Their repertoire was teeming with the funkiest tunes geared to get the crowd on the dance floor.
Released off Risque album, "Good Times," appealed to listeners from diverse musical preferences. What else could explain its meteoric rise as one of the most sampled tunes in music history? Especially in genres like New Wave and hip hop.
In fact, the exuberantly cool bassline, funky riffs, and fantastic production made it the last chart-topping disco hit before the anti-disco backlash. It's a perfect song for anyone who wants to emulate Rodgers' signature choppy 16th-note strumming.
61. Rebel, Rebel by David Bowie
This timeless classic is driven by one of the most recognizable guitar riffs in rock that shows up multiple times throughout the song. Touted as a farewell to glam rock, "Rebel Rebel" is considered one of David Bowie's finest works.
The glam rock anthem took shape from his desire to create a blues-rock riff that sounded a bit Rolling Stones-y, designed to stay lodged in the listener's head.
Bowie didn't just want a dance floor anthem but something timeless and sexy.
The insistent riff, stompy beats, and gender-bending lyrics ahead of its time delivered exactly that. While most of the song is easily playable with a few basic chords, the riff might take a bit of practice to master.
62. Cups (When I'm Gone) by Anna Kendricks
Anna Kendricks' memorable audition for Pitch Perfect was behind the genesis of the hugely popular "Cups." Her imaginative take on an upbeat, feel-good song by the British band Lulu and the Lampshades' evoked an overwhelmingly positive reaction from the filmmakers. So much so that they decided to add the fun, cup-clapping ditty to the musical's soundtrack.
What you may not know is that Lulu and the Lampshades' rendition was influenced by an original folk tune by A.P. Carter and the iconic Carter Family group. The band added a heavy dose of catchiness into the Carter Family's song by infusing cup clapping in a 4/4 rhythm.
In terms of playability, "Cups" might just be the most accessible track on this list, thanks to a beginner-appropriate chord makeup with C, F, G, and Dm. Check out the tutorial to know more.
63. You Give Love a Bad Name by Bon Jovi
Killer guitar licks and a mindblowing tapping solo courtesy of Richie Sambora in Bon Jovi's in this song stalks the dreams of every rock-leaning aspiring guitarist. The catchy arena rocker wasn't just the band's first chart-topper but became a defining piece in the '80s glam rock era.
"You Give Love a Bad Name" was the first single off the 1986 Slippery When Wet album. And together with the seminal "Livin' on a Prayer," set the stage for Bon Jovi to become one of the most sensational acts of their generation.
The track is great for those who want to brush up on string bending, tapping, palm muting, and pinch harmonics.
64. Get Lucky by Daft Punk
Another piece where one could sample Nile Rodgers' funky guitar chops. Released by the electronic music duo Daft Punk, "Get Lucky" is a match made in heaven for anyone who loves to dance.
The French duo's retro production, Rodgers' Chic-reminiscent licks, and Pharell Williams' falsetto catapulted the song into the top 10 in the US charts and earned Daft Punk a Grammy.
In terms of difficulty level, this one seems to be more in the easy-to-intermediate league. More skilled guitarists can take a crack at the studio version and trickier chord shapes, Bm7, C, F37, and E, whereas beginners can attempt the tune with open chords by placing a capo on the 2nd fret. Here's a tutorial to walk you through it.
65. Hound Dog by Elvis Presley
The list of fun guitar songs to learn is incomplete without a rollicking Elvis Presley hit.
"Hound Dog" was first recorded by Big Mama Thorton in 1952. And although it was fairly successful, Presley's 1956 rendition made the song a mainstream anthem. It's brighter, faster, grander, and features some pretty groovy guitar parts by the prolific session guitarist Scotty Moore.
You'll get a chance to learn an infectious Habanera-fuelled main riff and two equally awesome solos: a bluesy one and a percussive one. Don't go scouting for tabs and tutorials. We've got them right here.
66. Little Lion Man by Mumford & Sons
A folksy tune with bluegrass instrumentation, quirky lyrics, upbeat vocal harmonies, and a shout-along chorus. Let's just say, in the list of picture-perfect debuts, Mumford & Sons' Grammy-winning "Little Lion Man" is sure to rank pretty high up.
Interestingly, the single's global success took the British folk quartet by surprise, who feared the banjo and profanities would only evoke an opposite reaction.
Guitar-wise, the track goes in an alternate tuning of C-A-C-G-C-E, a variant of open C. But if you want to avoid retuning your guitar, just place a capo on the 5th fret. The chords are accessible, but the fast rhythm might feel like a workout. I recommend gearing up with a thick pick to speed up.
67. Wild Thing by The Troggs
Written by songwriter Chip Taylor, "Wild Thing" was originally recorded by an American rock band, the Wild Ones, but it didn't get famous till The Troggs released their cover.
Their ocarina and primal driving beat-powered rendition struck a chord with the 60's rock-loving crowds and every generation that followed. The colossal success that followed inspired many prominent artists, like Jimi Hendrix, to record their own versions.
A three-chord makeup and a repetitive chord progression put this song in the beginner-friendly terrain. However, more seasoned guitarists can add flair by emulating the iconic ocarina parts on the guitar.
68. Crazy Train by Ozzy Osborne
"Crazy Train" was Ozzy Osborne's debut solo act after leaving the heavy metal band Black Sabbath. Besides the anti-war lyrics and energetic vocals, the single grabbed attention for the jaw-dropping guitar work courtesy of Osborne's guitarist and co-writer Randy Rhoads.
Rhoads' iconic solo inspired a legion of guitarists and made its way into every list and poll as one of the greatest guitar solos ever. In a way, "Crazy Train" gave the world a chance to soak in Rhoads' astounding talent before his untimely death from a plane crash.
As a guitarist, the song will allow you to familiarize yourself with finger-tapping and trills that were signature to Rhoads' iconic playing style. Tune in to the detailed walkthrough above to learn the riffs, solos, and other techniques used in this song.
69. Times Like These by Foo Fighters
There are plenty of fun riffs in Dave Grohl-fronted Foo Fighters' repertoire, but the guitar parts in "Times Like These" are highly addictive.
The entire song is a masterclass in odd time signatures. It kicks off in 8/4 time before flowing into an unusual 7/4 time at the thirteen-second mark. The chorus is in bars of 3 instead of 4.
Besides the tricky time, the key of D Mixolydian, tricky chordings, post-punk guitar lines, and jangly riffs makes this a challenging ride. Here's what you can do to simplify things: Start with the track's acoustic version instead of the studio arrangement. It's more straightforward, especially for a solo guitarist. Here are tabs and a great tutorial to help you out.
70. Wake Up by Rage Against the Machine
Tom Morello is a revolutionary guitarist and songs like "Wake Up" show how just how creative he can get with the instrument. But those who aren't familiar with Morello or the iconic rap-metal band's catalog may have heard this sonically funky and lyrically gritty song in the end credits scene in The Matrix.
A staple in RATM's live performances, they save this poignant eye-opener for last (before the encore). And each time, vocalist Zack de la Rocha gives the crowd goosebumps by replacing the spoken verses with contemporary issues.
You'll have a blast duplicating the intro build-up and funky verse riffs. Remember to tune your guitar down to a drop D tuning before you begin the lesson.
71. Are You Gonna Be My Girl by Jet
Jet didn't have a very long career, and their most successful album came just two years after they started out as a band. But what an album that was! "Are You Gonna Be My Girl" was pure garage rock perfection chock full of energetic gems. The lead single from the album was a smash hit, dominating the radio waves and TV commercials.
Every kid thought Jet was cool, including me. I loved this track's Motown beats and cool guitar riffs, especially the opening lick. For the Aussie garage rockers, it became their highest-charting single on the U.S. Billboard Hot 100. This is an easy song to crack and revolves around A5, D5, C5, E5, and G5 chords. You'll also pick techniques like syncopated strumming and double-stop bending along the way.
72. Bittersweet Symphony by The Verve
This iconic track by the Verve keeps popping up every few years in some form on another. More recently, it featured in the trailer of the hit Netflix drama The Crown. But here's something many of you might not know: the mindblowing riff that made the song famous and put the Brit rockers on the map was, in fact, an orchestral riff sample borrowed from an obscure Rolling Stones track, "The Last Time." Not taking any credit away from the Verve, they transformed the riff by adding a host of instruments, percussion, and drums.
If you love that goosebumps-triggering riff as much as I do, you'll be happy to know that it's totally beginner friendly. You'll need just four chords: E, Esus4, Dsus, and A, to get through the track.
73. Song 2 by Blur
Blur's smash hit "Song 2" started as a joke song, which explains the weird title. As often explained by the frontman Graham Croxon, the idea behind the song was to make an amateurish-sounding track way off their usual style and ask the record label execs to release it. To their pleasant surprise, the record company agreed. The call-and-response woo-hoos and cool riffs won over the crowd and made this grunge-tinged punk rock anthem the band's best-selling single.
Familiarity with power chords would be a big plus in learning this song. The track kicks off with a clean tone and switches to heavy distortion when the rest of the band joins in. You can add this popular tune to your arsenal by checking out the tabs and the tutorial above.
74. Whole Lotta Love by Led Zeppelin
For me, a fun jam is all about accessible chords, an upbeat tempo, and a positive emotions-invoking major key. This iconic Led Zeppelin single checks out on all, and that's why it's a 'whole lotta' fun to play. It's also home to one of the most famous riffs in Jimmy Page's repertoire. The fast-paced distorted riff uses an E5 power chord and four-note individual picking. In fact, the whole song is loaded with techniques that are must-learn for an aspiring rock guitarist.
If you're a beginner, you can keep things simple and park the tricky solo for now. For the rest, you'll still need to know your power chords and palm mutes and should be comfortable tackling a fast rhythm. Check out this wonderful video lesson that breaks down the legendary rocker for you.
75. Hold the Line by Toto
In the 80s, Toto was HUGE, and rightly so. They had the best vocals, clever songwriting, and a knack for blending different genres into masterpieces. Since my dad introduced me to the band, I've been in awe of Steve Lukather's guitar prowess. You can hear it in all its glory in the rock band's breakthrough hit "Hold the Line."
The song's a masterclass in dynamic playing, with softer verses and a pumped-up chorus. Lot's of palm muting and power chords in this one. The riffs are super fun to play, especially the one in the chorus. If you're an intermediate-level guitarist, you'll enjoy Lukather's captivating solo, where he utilizes vibrato, alternate picking, and bends.
76. Bring Me to Life by Evanescence
The thundering success of "Bring Me to Life" put the alt-metal band on the map. Written by Lee, the song tackled the impact of an unhealthy relationship on someone. A theme that dominates most of Lee's early songwriting. It entered the mainstream radar after making it to the soundtrack of the 2003 superhero movie Daredevil.
I love how this track transforms from a dreamy piano-led ballad into a goth-metal fare, complete with cool beats and crunchy guitars. The techniques you'll need to play this are power chords, pinch harmonics, and a fair level of confidence while tackling 16th note strum patterns. Here's a detailed walkthrough to help you learn all the parts.
77. Mission Impossible Theme
I don't think there's a catchier spy theme in the history of movie themes than this one. Composed by Lalo Schifrin, the track has accompanied Tom Cruise's agent Ethan Hunt on death-defying missions since 1996. But here's the interesting part: the track was actually composed by Schifrin in 1967 for a TV series, nearly three decades before the first movie installment came out. And it took him only three minutes to write the iconic piece.
Thankfully, playing this theme on your guitar is not mission impossible. The most simplified way to play the main riff involves only the 3rd fret on the sixth string and 1st and the 3rd fret on the fifth string. However, if you're an intermediate guitarist and want to sound closer to the original, here's a brilliant tutorial that breaks down all the parts for you.
78. Barracuda by Heart
Ann Wilson's powerhouse vocals and her sister Nancy Wilson's galloping riffs have made "Barracuda" a timeless hit. The title and the lyrics were penned by an angry Ann to criticize the self-serving attitude of the record industry, which the band members had experienced firsthand. The angsty song became embedded in our collective consciousness with its infectious melody, driving riffs, and operatic vocals.
If the opening riff sounds familiar to you, you're not alone. As acknowledged by Wilson, it was borrowed. I think it's a bit of Zeppelin with a dash of Black Sabbath. Regardless, the results were amazing and cemented Nancy's status as a trail-blazing female guitarist. The powerful riff uses a galloping rhythm with harmonics. It's also a great track to practice double stops, slides, arpeggio picking, and bends. Everything is fast-paced, so to stay motivated, be sure to start slowly and work your way up.
79. Run to You by Bryan Adams
Canadian singer-songwriter Bryan Adams' Reckless gave him six smash hits. "Run to You" was one of them. To think Adams wanted to leave it off the album and almost didn't record it! The song has everything you could ask of a quintessential Adams hit: catchy melody, edgy lyrics, cool riffs, and the singer's raspy vocals.
In musicianship, I find it a close second to Adams' hit stadium rocker "Summer of 69." From the second the opening arpeggiated riff kicks in, you know you're in for a treat. You'll need a capo on the 2nd fret to play this tune. Oh! And a single coil Strat to nail the tone, if you own or can borrow one.
80. Dream On by Aerosmith
You can recognize some songs right from the first notes, like Aerosmith's 1973 power ballad "Dream On." Although released as a part of the band's debut album in 1973, the melody had been a part of Steven Tyler's childhood when he would hear his Classicaly-trained Dad play the piano. At 14, he had the lyrics ready. With such hard work poured into the song, no wonder it's hailed as the band's most iconic single.
Tyler's different-than-usual, nonetheless dramatic vocals, inspiring lyrics about chasing your dreams, and guitar work, that's a blend of arpeggios and power chords. What's not to love? My best part is the intro which taps into some stretchy chords. This song is also great for perfecting the hybrid picking technique. You can learn it by checking out the tabs and the lesson above.
81. Going to California by Led Zeppelin
Folk-pop icon Joni Mitchell's unique songwriting and acoustic-led tunes had many fans, including Led Zeppelin's frontman Robert Plant and guitarist Jimmy Page. Their fascination with Mitchell's work, especially the 1966 hit "California," inspired the band's folksy acoustic and mandolin-led ballad "Going to California."
Page detunes his guitar to double drop D and employs the Travis Picking, a common folk fingerstyle technique with alternating bass notes while playing this song. While the original is in an alternate tuning, here's an easier version for you to learn that doesn't require you to detune your guitar.
82. The One I Love by R.E.M
Before "The One I Love," R.E.M.'s popularity was limited to college radio. The group had been active since 1980 but went mainstream only after the release of the lead single off their fifth album in 1987. Dark and cryptic lyrics notwithstanding, this was the song that made me fall in love with the band. The track opens with an adrenaline-pumping drum intro and is joined by a simple yet melodic riff. All in all, an awesome tune to impress your friends with that doesn't require a lot of guitar skills to master.
83. Basket Case by Green Day
Do you have time to listen to me whine? If there were an award for the most relatable song off Green Day's discography, "Basket Case" would be a shoo-in. No wonder this Grammy-winning single from Dookie is the most streamed Green Day song on Spotify, with 800 million streams and counting.
It opens with Billy Armstrong and his guitar and stays like that till the first chorus, after which the rest of the band joins in. Guitar-wise, it's all about simple power chords, although the rapid downstroke picking and fast palm mutes might feel like a workout. Here's a tutorial with some useful tips to tackle the tricky bits.
84. Drunken Sailor by The Irish Rovers
Next up on the list is a two-chord sea shanty that's perfect for beginners to practice their strumming skills. The uplifting tune has been around forever, sung by sailors since the 1830s but has become big on social media sites over the last couple of years.
Not just the sailors. As it turns out, this cheerful ditty is also a morale booster for beginner-level guitarists. Although recorded countless times by different musicians, "Drunken Sailor's" most popular version belongs to the Irish Rovers. Two chords – E minor and D major are all you need to get started. Here's a short tutorial to help you out.
85. No One Knows by Queens of the Stone Age
An obvious inclusion on the list because of Josh Homme's powerful, driving, and well-crafted riff. "No One Knows" was a breakout single for the Queens of the Stone Age, who was hardly on the radio before the release of this track. It was also the first single by the band to crack the Billboard Hot 100.
It's my favorite QOTSA track with its catchy chorus, heavy riffage, powerful vocals, and fabulous solo. It goes in C Standard tuning and has plenty of guitar action to make this a worthy addition to every serious guitarist. The main riff is a toughie, and you'll need to work on your palm mutes and strengthen your fourth finger to nail it.
86. Under the Bridge by Red Hot Chili Peppers
With a fingerpicked intro, this mesmerizing, John Frusciante's skyrocketing popularity was inevitable. It's another matter that the sudden fame drove the insanely talented lead guitarist of Red Hot Chili Peppers to quit the band. Released in 1991 off the band's Blood Sugar Sex Magik Album, "Under the Bridge" proved to be a game-changer for the band and remains their highest charting single to date. This was when the band really came into its own as a genre-bending group.
A cool and fun track to add to your arsenal, although I wouldn't recommend it for beginners, as Frusciante uses plenty of techniques and unique chord voicings in this guitar-led masterpiece.
87. Moves Like Jagger by Maroon 5
This Maroon 5 song is hook heaven. It's got all the trappings of an inescapable hit: synth hooks, cool electropop-meets-disco vibe, funky rhythm, and a sassy vocal interplay between the ridiculously talented Christina Aguilera and Adam Levine. No wonder it became one of the best-selling singles of all time. And it doesn't hurt that it's a two-chords song! That's right. Only two chord shapes, Bm and Em7, power this tune, but you'll need some practice working out the fascinating rhythm.
88. Layla by Eric Clapton
Eric Claption's 1970 classic "Layla" struck a chord with listeners for its swoon-worthy melody and the guitar icon's masterful playing. It was penned by Clapton out of his deep attachment to Pattie Boyd – one of many songs that she had inspired in both George Harrison's and Clapton's discography.
It was written as a ballad and fashioned into a catchy rocker with the help of slide guitar legend Duane Allman. With Clapton on guitar duties, you can expect this one to be challenging, especially the timing. But it's totally worth the effort if you want a surefire crowd-puller on your setlist. Check out the tutorial above for an acoustic arrangement of the track.
89. Four Chords by Axis of Awesome
What can be more fun than playing a host of popular tunes with the same four-chord progression? That's what you get to witness in the Axis of Awesome's iconic mashup, "Four Chords." The Aussie comedy band goes through 73 earworms in a five-minute medley.
Now, these tracks may or may not be originally four-chord tracks, but that's the beauty of this song – it shows you a simplified way to play all these amazing songs. They play all the tracks in the key of D major with a D-A-Bm-G chord progression modeled after the fairly common I-V-vi-IV progression. Check out the tutorial to know more.
90. I'm a Believer by The Monkees
"I'm a Believer" has become a permanent part of our lives, especially since it was revived by rock band Smash Mouth for the soundtrack Dreamworks animated film Shrek. The original was, however, released way back in the mid-60s by pop rock band The Monkees. Written by Neil Diamond, the light-hearted ditty became a chart-topping hit and the best-selling single of 1967. It's incredibly easy to play, and for the most part, you'll only be using three chords – G major, C major, and D major.
91. 1, 2, 3, 4 by Plain White T's
Playing this endearing tune on your acoustic is a surefire way to impress your special someone. However, if this song doesn't float your boat, you can stick to Plain White T's ultimate crowd-pleaser, "Hey There, Delilah." The two tracks do share quite a few similarities as acoustic-based tunes with feel-good lyrics about love.
"1,2,3,4" was released as a part of the band's second album Big Bad World and managed to reach the 38th rank on the Billboard Hot 100 2009 charts. Only five chords to learn here and a straightforward and repetitive strumming pattern. There are two barre chords to tackle here- B minor and G minor, which will take some practice for absolute beginners to master. Check out the tutorial for a part-by-part walkthrough of the song.
92. London Calling by The Clash
Formed in 1976, The Clash was at the forefront of the British punk rock movement, evolving into one of the most iconic bands of the '70s and '80s. They didn't shy away from bringing politics into their music and tackling controversial themes. One such example is "London Calling," hailed as their most definitive record.
It's a call-and-response apocalyptic anthem that draws you in with its rich, complex melody and passionate vocals. It also packs an instantly recognizable guitar riff. While there are a lot of guitar layers going on in this track, you can play a relatively easy solo guitar arrangement with the help of the video lesson above.
93. Stir It Up by Bob Marley
After an ominous London Calling, perhaps it's time for something more cheerful. Well, you can count on the Reggae King to lift your spirits up. The catchy, upbeat love song was written by Bob Marley in 1967. Since he wrote it outside of Jamaica, the song fizzled out without attracting mainstream attention. Only when Johnny Nash recorded his rendition did the song come into the spotlight. Marley wasn't too happy about it and re-recorded the song with his band in 1973, which became the definitive version of "Stir It Up." A fun three-chord wonder that will take you no time to master.
94. Feel Good Inc by Gorillaz
Arguably the most popular song from British virtual band Gorillaz, "Feel Good Inc," is a commentary on consumerism and escapism and how love is the only thing that matters. The track cracked the top 10 in several countries and earned the band three Grammy nominations.
Every element of the song is on point. The great songwriting, brilliant vocal delivery with some rapped verses, funky bassline, and strummed acoustic guitars sure leave an indelible mark on the listeners. You'll first need to tune down to E flat tuning to play along with the original. Playing the barre chords and the fast rhythm will take beginners some practice to perfect. Check out the tutorial to learn both the lead as well as strummed parts.
95. Die Young by Kesha
"Die Young" charted in many countries, and it's easy to see why. An out-and-out party anthem with electropop sounds and strummed acoustic guitars, with Kesha's powerhouse voice breathing life into Carpe Diem-esque lyrics. It's also the first song by the popular American singer that features a guitar. She taps into a four-chord progression of C#m-B-E-A to play the tune. I don't think you'll find it too hard if you know your barre chords.
96. Judith by A Perfect Circle
This one is for those who're into heavier jams. "Judith" is touted as the best creation by the band, and I am sure every APC fan agrees. It's powered by fluid riffage that kicks in in the intro and leaves listeners amazed. Together with a sophisticated rhythm and heartbreaking lyrics about Maynard's unwell mother, the song rips into your heart. It's got all the makings of an unforgettable track.
This one might be difficult for beginners to attempt. More seasoned guitarists can tune your guitar a step and a half down to C# Standard tuning and grab a slide to play along with the original.
97. Papercut by Linkin Park
Appearing on Linkin Park's debut album as the opening track, this is among the nu-metal band's most popular singles. This song also happened to be one of Chester Bennington's favorite tracks. Rest in power, Chester.
I love how the hip-hop intro just jumps at you, signaling a delightful sonic ride. Guitar-wise, the track is chock full of melodic riffs and guitar chugs that perfectly mirror the song's central theme of paranoia. A great track to add a bunch of awesome riffs to your arsenal. Don't forget to tune down a half step and then drop the 6th string a whole step down. Your guitar will then be in drop D flat tuning.
98. Stolen Dance by Milky Chance
German pop-rock duo Milky Chance charmed the world with beautiful vocals, soft beats, and a gently strummed melody. With hooks this good, it didn't take long for "Stolen Dance" to become an internet sensation, garnering millions of views in 2013. A certain level of comfort with fingerpicking and barre chords would make it easier to learn the tune. Either way, this tutorial and the tabs linked above should be able to help you get started.
99. I Remember You by Skid Row
The third single off Skid Row's self-titled album galvanized an army of fans for the heavy metal band. But here's the shocker: It was almost left out of it. The band didn't want it, but the management did. Thankfully, they hashed it out, and we got one of Skid Row's best power ballads.
The main acoustic riff has stood the test of time and is often counted amongst famous guitar riffs, and it's no surprise. Nail the riff, and you've got most of the song under your belt. The chords are super simple, but picking the fills will take practice. Check out the tutorial above for some tips.
100. 2 Minutes to Midnight by Iron Maiden
Closing the list with a little something for Maiden fans. The lead single from the legendary heavy metal band's 1984 Powerslave is a powerful piece about the catastrophic effects of war and how such conflicts only benefit rich and morally corrupt politicians.
In its 6 minutes length, the song takes listeners through all signature Maiden trappings with a chorus that hits hard. Contrasting the dark lyrics are guitar riffs that are surprisingly uplifting. With twin guitars at play belting out solos, you might want to invite a fellow guitarist to jam on this one with you.
Final Thoughts:
We hope you enjoy playing these 70 fun guitar songs we picked for you in this blog! There are many more fun tracks that deserve to go on the list, but you can get started with this list and keep building your repertoire with time – the world is your oyster!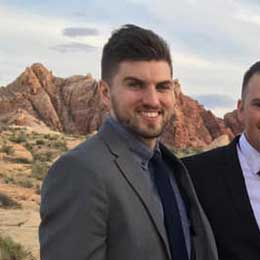 My name is Chris and I've had a passion for music and guitars for as long as I can remember. I started this website with some of my friends who are musicians, music teachers, gear heads, and music enthusiasts so we could provide high-quality guitar and music-related content.
I've been playing guitar since I was 13 years old and am an avid collector. Amps, pedals, guitars, bass, drums, microphones, studio, and recording gear, I love it all.
I was born and raised in Western Pennsylvania. My background is in Electrical Engineering, earning a Bachelor's degree from Youngstown State University. With my engineering experience, I've developed as a designer of guitar amplifiers and effects. A true passion of mine, I've designed, built, and repaired a wide range of guitar amps and electronics. Here at the Guitar Lobby, our aim is to share our passion for Music and gear with the rest of the music community.