During the 1970s on into the 1980s, rock and roll music continued to develop even more stylistic diversity. Previously established genres slowly began diverging, creating a whole new musical landscape. Blues-oriented hard rock and early heavy metal were slowly shifting into more virtuosic territories. Sure, the 1970s had some pretty awesome guitar players, but you could say things were taken to a whole new level by guitarists like Eddie Van Halen and another guitarist responsible for pushing the limits of rock music and all its various subgenres, and Randy Rhoads is as significant, in that regard, as any guitarist whos ever lived.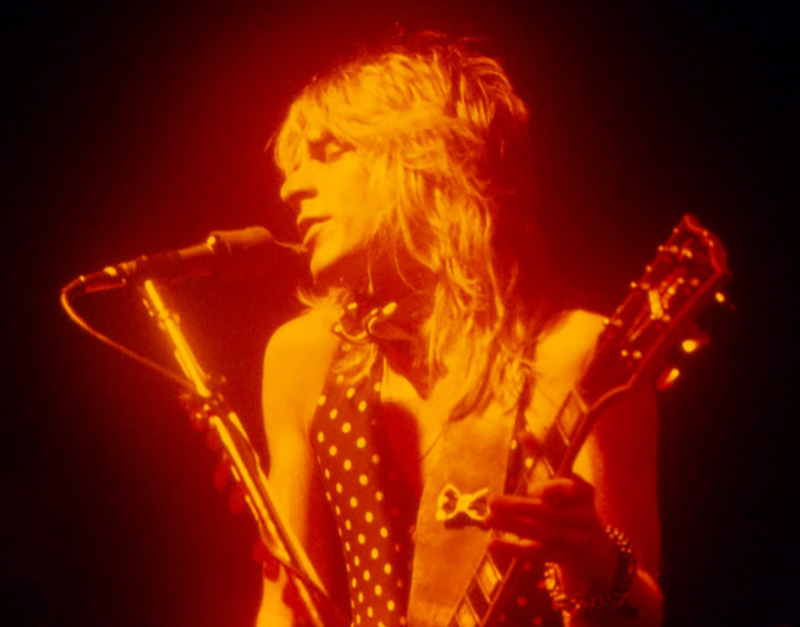 Aside from his amazing playing skills and groundbreaking songwriting, Randy Rhoads also remains remembered for his impeccable and unique guitar tone. In fact, this is yet another standard that he set for the coming generations of guitarists, laying foundations for modern metal as we know it today. In the rest of this article, we'll be looking at the guitars Randy Rhoads used throughout his career.
What Guitars Did Randy Rhoads Use?
Randy Rhoads was best known for playing his alpine white-colored Gibson Les Paul Custom guitar as well as his iconic Flying V style guitars made by Karl Sandoval and Jackson Guitars.
While his Flying Vs were often his instrument of choice, he was simultaneously becoming one of the most associated guitar players of the Gibson Les Paul Custom model. He was also known to have utilized a wide range of other guitars and gear during various points in his career. See the full list below.
1979 Karl Sandoval Flying V

Finish: Black with white polka dots
Years used: From 1979 and onwards
The KS Flying V is probably Randy Rhoads' most famous instrument. Back in the 1970s, it wasn't that easy to find a great luthier who would create a high-quality custom instrument. Luckily for Randy, he got in touch with Karl Sandoval, one of the best luthiers of the era. This was about a few months before the dissolution of Quiet Riot. He met Sandoval through George Lynch while gigging with him in a band called Xciter.
The guitar was based on Randy's own ideas, including the rather unusual design of a 6-in-one headstock. Eventually, the instrument was finished in September of 1979 and it reportedly cost Randy about $740.
This Karl Sandoval Flying V guitar is well-known for its polka-dot finish. Bearing a completely black background, the white dots on it give it a rather unique look, something that Randy was famous for back in the day. Originally, the instrument came with Fender's chrome hardware, but it was later replaced with black parts. As for the pickups, the guitar was equipped with a DiMarzio Distortion Plus in the bridge position, as well as a standard DiMarzio PAF in the neck.
The instrument's headstock also broke off at one point, not long after Randy got it. Nonetheless, a quick and surgically precise reparation was done by Karl Sandoval. Additionally, it is also believed that the guitar got its neck from a particular Danelectro model made back in the 1960s.
This Flying V saw some serious action during live shows. However, there's no official confirmation whether he used it for any studio session. There are some indications that the instrument was used for Ozzy's entire debut record, "Blizzard of Ozz."
1980 Charvel and Jackson Concorde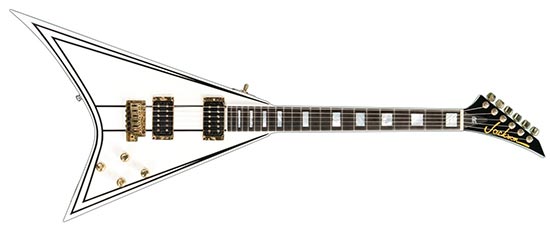 Finish: White with custom black pinstripes
Years used: 1980 to 1982
But not long after getting his hands on the Karl Sandoval Flying V guitar, Randy Rhoads came up with an idea for a brand new instrument. Although once again a Flying V design, this time around, he wanted to do something a bit different. Approaching Charvel's guitar builders, a company which owned Jackson at the time, they've decided on a guitar that was in the works called "The Original Sin." However, Randy gave it a far less dramatic nickname – The "Concorde."
This is a Flying V shape with an asymmetrical body shape, making it look much slicker compared to Gibson's Flying V. What was also exciting about it is the 6-in-line headstock that was designed by Grover Jackson himself. According to him, this was a more "aggressive" take on Gibson's Explorer headstock.
And the neck was also pretty innovative. Made out of Pacific Coast Maple, it featured a fretboard with a composite radius, starting with 12 inches at the nut and going over to 16 inches at the highest fret. This was a pretty groundbreaking design trait for the era, making the guitar a real virtuoso tool. This is easily one of the most iconic Randy Rhoads guitars of all time.
1981 Jackson Concorde "The Rhoads"

Finish: Black
Years used: 1981 to 1982
Although the original Concorde was a pretty awesome instrument, there were some issues with it that Randy wanted to be fixed. Access to higher frets and the instrument's weight were primary issues. So he set out on making the second prototype with Jackson.
After taking the first one for a ride on the road with Ozzy Osbourne, the second guitar came in December of 1981. Although having the same basic design, the guitar had some considerable reworked features. It was painted completely black, which worked well with the golden pickguard and hardware, and its body shape was just a bit sharper. Additionally, it had a fixed tune-o-matic bridge with a "V"-shaped tailpiece and a string-thru design. The original Concorde had the pickup selector switch on the side of the body, while on the second one, we have a regular switch on the front of the body.
The electronics were also different as this guitar came with only three controls instead of the original four. As for the pickups, it came with Seymour Duncan TB-4 in the bridge position and the SH-2 in the neck position.
Jackson worked on four more of such guitars, but, unfortunately, Randy passed away before they were done. Nonetheless, the second prototype served as the basis for a Randy Rhoads model that's still in production in different variants even to this day.
1974 Gibson Les Paul Custom

Finish: Worn-out Alpine White
Years used: 1974 to 1982
Originally bearing a so-called "Alpine white" finish, the instrument literally became yellow-ish over time and it also got some serious wear marks. Nonetheless, this is one of the most important guitars that he ever owned and one of the most historically important guitars of all time.
The guitar was featured in most of Rhoads live appearances with Ozzy, but most iconically this is known as the Crazy Train Guitar, it can also be seen on the Thirty Years After the Blizzard live show from 1981, along with a selection of his favored six-strings.
There have also been some claims about this guitar being a 1972 model, although Gibson has stated that it's a 1974 Les Paul Custom. Randy got it sometime in late 1974 or early 1975 and the instrument saw use while he was in Quiet Riot. Of course, this fine Gibson Les Paul Custom also saw some serious action during Randy's time with Ozzy Osbourne.
The instrument mostly remained unaltered throughout his career, although he did change the pickguard and a few other aesthetic details. On the other hand, it is also believed that he replaced the Schaller tuners. The pickups have remained unchanged, and these are most likely 1974 Super Humbuckers with Alnico III magnets.
Eventually, Gibson did special replicas in 2010, delivering 100 of its copies. All of them featured hand-made "relic" finishes, giving them quite an authentic look.
1957 Gibson Les Paul Custom

Finish: Black
Years used: 1982
Not long before his death, about a few months before the tragic airplane crash, Randy got a 1957 Gibson Les Paul Custom. And it featured pretty much the expected things you'd see on a Les Paul Custom, including body binding, fretboard binding, block pearl inlays, the famous headstock logo, and golden hardware. But, most importantly, the guitar came with three humbucker pickups. These were completely uncovered, so it is plausible that there was some editing done to the instrument, although nothing has ever been confirmed. But other than this, not much is know about the '57 Les Paul Custom that Randy owned.
1965 Harmony Rocket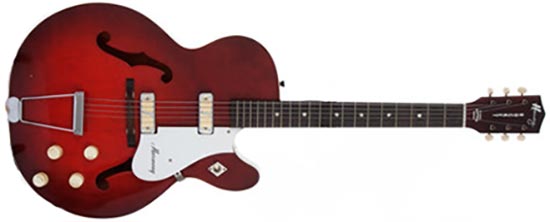 Finish: Dark red burst
Years used: 1966 to 1982
Randy's first-ever electric guitar. This particular one takes us all the way back to the 1960s. Made in 1965, or according to some other sources in 1963, this Harmony Rocket guitar originally belonged to Randy's mother Dolores. The instrument was mostly used by her students in a music school called Musonia. Randy began using it sometime in the late 1960s, which is around the same time when his mother introduced him to teacher Scott Shelly who eventually taught him about the basics.
These single-cutaway hollow-body guitars have become quite a hit among collectors. Although not exactly the best guitars from that era, they are famous due to Randy Rhoads. There are several different models and it is believed that this is the H56. The tremolo bridge and a few other traits give out 1965 as the most plausible year of manufacturing. However, due to the model being somewhat obscure, it's really hard to tell.
Other than that, these came with two DeArmond pickups, a 3-way pickup selector switch, and four control knobs. A lot of their other features resemble standard jazz-oriented archtop guitars.
Randy owned it throughout his whole career and it was eventually placed in Musonia music school. The instrument was stolen in 2019 but was found in a dumpster along with other stolen items just a few days later.
1970s Ovation Tornado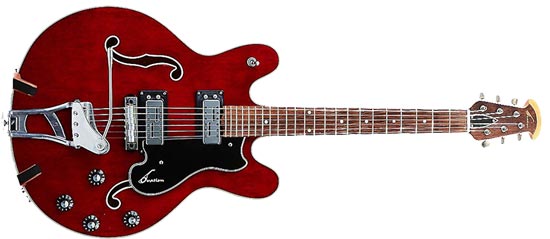 Finish: Red
Years used: 1970 to 1976
It's pretty weird to see something other than an acoustic guitar made by Ovation, but these were pretty good back in the day, although they were pretty underrated. These days, they're usually known among collectors.
Ovation's Tornado model is a double-cutaway hollow-body guitar, kind of resembling Gibson's ES-335 and other similar models. So technically, it's kind of closer to those standard semi hollow-body electric guitars. The headstock is pretty much the same as we have with Ovation guitars today, and the neck is designed for more virtuosic playing. Tornados also came with Schaller pickups and they featured a rather unique bridge design.
Now going back to Randy, he used this instrument while he was a member of a band called Violet Fox where he had rhythm guitar duties. He used it for a while, and some have also assumed that the instrument saw some action in the earliest days of Quiet Riot. However, there are no solid proofs to confirm this. It is unclear what happened to it after the 70s, but it didn't make any features on Quiet Riot, so it's easy to assume it was replaced by some more iconic models.
1960s Gibson SG

Finish: Black (believed to be originally red)
Years used: 1972 to 1975
It's not completely certain, but it's believed that Randy Rhoads traded his Ovation Tornado guitar for a good old Gibson SG. This instrument is believed to be made sometime in the 1960s. And according to only a handful of photos, this seems to be an SG Special model as it bears classic P90 single-coil pickups. Additionally, it is believed that the instrument originally featured a red finish and that Randy painted it black not long after acquiring it. However, this could be a misconception as there are various photos of Randy with a few other Gibson SG guitars.
So, unfortunately, not much is known about this particular instrument. And we could say the same thing about its later whereabouts. Additionally, there's also no other information about these other Gibson SG guitars, or whether they were his instruments at all.
Nonetheless, a Gibson SG Special comes as an obvious choice in that era as it was a cheaper alternative to other Gibson guitars, yet it came with its own qualities. However, some sources claim that he wasn't really fond of the guitar, which could explain why he got rid of it so fast.
Ampeg ADA6 Dan Armstrong

Finish: Transparent
Years used: 1972 to Unspecified
While not much is known how Randy Rhoads got this guitar, he did have Ampeg's ADA6 Dan Armstrong model sometime in the 1970s during his Quiet Riot years. Now, we know what you're thinking – Ampeg manufactured 6-string electric guitars? Well, they actually did, and one of the most interesting lines was the one conceived by luthier Dan Armstrong. This included basses and regular 6-string guitars with transparent bodies made out of acrylic plastic. Although not that widespread, they earned their reputation for having long sustain and being pretty heavy to carry around.
The ADA6 is a relatively simple instrument, featuring two cutaways of equal length. These guitars also came with 24 frets, with the cutaways meeting right at its very end. But at this point, they're pretty obscure and there have been some reissues over the years. With that said, not much is known of the particular instrument that Randy used or where it eventually ended up. This is one of my favorites Randy Rhoads Guitars.
1977 Dean Z

Finish: Sunburst
Years used: 1977 to 1982
Dean guitars really heated things back in the 1970s with their very innovative models. One of them was the Dean Z, which started its production in 1977. Randy was seen using one back in the 1970s, although the exact details of this guitar have mostly been speculated. This was most likely the 1977 model. These guitars feature a body shape that's almost identical to Gibson's good old Explorer. But additionally, they have a "V"-shaped tailpiece, with strings going through the body. Randy's Dean Z featured a sunburst finish that differed compared to the ones you can find on Gibson guitars.
These oldest models are no highly valued among collectors. However, not much is known about Randy's Dean Z and its whereabouts. But he likely used it only for a relatively brief period.
Gibson Firebird V-12 12-String

Finish: Sunburst
Years used: 1980 to 1982
While there's no concrete evidence of Randy Rhoads ever using a 12-string version of Gibson's Firebird guitar, he was seen on multiple photos with it. This is likely his guitar. And it's a somewhat unusual one as you don't exactly often see 12-string versions of Gibson's Firebird.
When Gibson launched the Firebird model back in 1963, there were several variants of it available. However, in 1966 and 1967, they made a 12-string model of one of the Firebird variants, called the V-12. Aside from a fixed bridge, these guitars also came with two mini-sized humbuckers. They also featured mahogany bodies and mahogany necks, along with rosewood fretboards and a standard scale length of 24.75 inches. They're pretty rare and can reach some pretty high prices among collectors. The story goes that there were about 250 of these ever made.
1918 Gibson Army & Navy Special
Finish: Natural
Years used: 1960 to Unspecified
The story goes that Randy Rhoad's first-ever guitar was an old acoustic made by Gibson. However, this instrument takes us all the way back to 1918. It was an old Army & Navy Special model, a relic of the past that his grandfather has previously used.
These instruments are very similar to Gibson L-1 models, although a bit more "basic." There's no truss rod in this instrument, which is typical of such old guitars. But it also has a pretty interesting tailpiece, making it look unlike any of the guitars today.
Unnamed Martin Acoustic Guitar Model

Finish: Unknown, most likely natural
Years used: 1979 to 1980
Ozzy Osbourne's debut album "Blizzard of Ozz," as you probably already know, features an amazing acoustic guitar piece called "Dee." When you hire such an awesome guitar player, how wouldn't you want him to show off his skills with a solo track?
Anyhow, this piece featured a particular Martin acoustic guitar. Now, the problem is that it's never been confirmed which exact model it was, although some have speculated that it was the D-18. Either way, whichever model it was, it sounded pretty great.
Gibson LG-0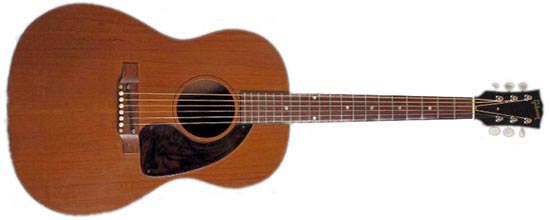 Finish: Natual
Years used: 1972 to 1978
Randy Rhoads is usually not associated with acoustic guitars, although he was able to make them sing unlike any other guitar player of that early shred era of metal music. Sometime in the early 1990s, a photo of Randy holding a Gibson LG-0 guitar surfaced in some of the guitar-oriented magazines. But other than that, not much is known when and where the instrument saw use, but it's still a great addition to Randy's awesome arsenal of instruments.
Table Showing the Guitars Randy Rhoads Used at Each Point of his Career
| Make | Model | Color/Finish | Years |
| --- | --- | --- | --- |
| Gibson | 1918 Army & Navy Special | Natural | 1960 to Unspecified |
| Harmony | 1965 Rocket | Dark red burst | 1966 to 1982 |
| Ovation | Tornado | Red | 1970 to 1976 |
| Gibson | 1960s SG | Black | 1972 to 1975 |
| Gibson | LG-0 | Natural | 1972 to 1978 |
| Ampeg | ADA6 Dan Armstrong | Transparent | 1972 to Unspecified |
| Gibson | 1974 Les Paul Custom | Worn Alpine White | 1974t o 1982 |
| Dean | Dean Z | Two-Tone Sunburst | 1977 to 1982 |
| Martin | Unnamed Acoustic Model | Natural | 1979 to 1982 |
| Karl Sandoval | 1979 Flying V | Black with white polka dots | 1979 to 1982 |
| Gibson | Firebird V-12 12-String | Two-Tone Sunburst | 1980 to 1982 |
| Charvel and Jackson | 1980 Concorde | White with custom black pinstripes | 1980 to 1982 |
| Jackson | Concorde "The Rhoads" | Black | 1981 to 1982 |
| Gibson | Les Paul Custom | Black | 1982 |
Randy Rhoads Amps and Cabinets
Peavey Standard 260
Years used: 1972 to 1979
As far as Randy Rhoad's amplifiers go, he usually kept things pretty simple. But although he's quite often associated with powerful Marshall heads, there was a Peavey model in his collection, the Standard 260. According to official statements from Randy's camp, the amp was used throughout his Quiet Riot years.
Additionally, some have claimed that his Peavey Standard 260 was coupled with cabinets that had Altec speakers in them. Randy used this same brand of speakers when playing through Marshall amp heads during his work with Ozzy. However, it's not known whether these were the same speakers and cabinets for these two settings.
After Randy's passing, the amp was put into the Musonia music school. It was stolen along with other gear in 2019 but was recovered with the rest of the items not long after the theft.
The amp itself comes from the 1970s, most likely from very early on in the decade. The head is intended for both guitars and bass guitars and bears 130 watts of power. These were pretty advanced for their time, especially because they're one of the first solid-state amps on the market. They were pretty loud for solid-state amps as well, but they allowed for a lot of headroom, making the tones really clean even at higher volume levels. They also came with distortion, a 3-band EQ, as well as a very vibrant spring reverb. What's really interesting is that these old amps are pretty cheap, even though they were produced only during the 1970s. Nonetheless, they're an important landmark in the history of the electric guitar.
Marshall 1959 Super Lead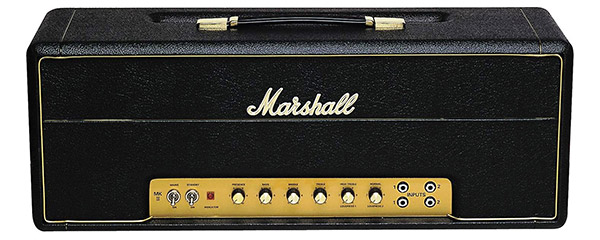 Years used: 1979 to 1982
Joining Ozzy Osbourne's band brought in a lot of changes for Randy. One of the most important ones was a classic Super Lead 1959 Marshall head. After all, how else are you going to play with the greatest sensation in metal music other than through a Marshall stack?
In most cases, Randy had three of these on the stage, all of which were played through classic Marshall cabinets. Overall, these amps were used by plenty of different guitar players, anyone from blues masters like Duane Allman and Dickey Betts, all the way to metal virtuoso masters like Yngwie Malmsteen. These are the classic "Plexi" amps with two channels and 100 watts of output power. They originally featured KT66 tubes in their power amp section, but then switched to the now-classic EL34s in the late 1960s. Randy's amp was probably the one with EL34 tubes.
These are pretty straightforward, featuring standard simple controls. But running your guitar with a simple overdrive pedal creates wonders, which is why they've become so popular and widespread over the years.
According to sources, Randy used the 1970 model as well as Super Lead amps made in 1979. Also, although it's not been officially documented, it's safe to say that he had a few others as well.
Popular Related Article: Duane Allman Guitars List
Marshall 1960A and 1960B Cabinets
Years used: 1979 to 1982
But with Marshall amps also come Marshall cabinets, building the well-known stack formations of amps. For this purpose, he used the classic 1960A and 1960B cabinets, both carrying four 12-inch speakers in them. Compared to the "standard" setting, the main difference is that he had them painted white, giving his rig's a rather unique appearance on stage. These cabinets also had Altec speakers added to them, the 417-8H models. It's not certain whether these are the same Altec speakers or entire cabinets, that he used for the Peavey amp head.
Randy Rhoads Pedals and Effects
MXR M134 Stereo Chorus
Years used: 1980 to 1982
Now glancing over Randy's effects, things were usually pretty simple in this department as well. There weren't that many pedals, and there's some scarce info on what exactly he used during his time with Quiet Riot and Ozzy Osbourne. Nonetheless, it is well known that MXR M134 Stereo Chorus found its way in there, presumably only during the time with Ozzy. After all, he was the sole guitar player in the band and there was supposed to be at least one chorus pedal to make his tone fuller and more "spacious".
MXR M134 was a pretty advanced device for its era, delivering more tone-shaping options compared to even some of the bulkier devices that were popular in the 1970s. A 2-band EQ, basic chorus parameters, as well as a bass filter switch – these are some of the reasons why the pedal remains in production almost unchanged even to this day.
MXR M-104 Distortion Plus
Years used: 1974 to 1982
Going further into his signal chain, Randy seems to have been a huge fan of MXR pedals. With that comes an unavoidable yet very straightforward distortion M-104. This super-compact pedal, also labeled as the "Distortion Plus," came out in the 1970s and changed the way we approach electric guitars forever. It has only two controls, one for volume and one for distortion intensity, but it was more than enough to keep it in production even to this day.
Despite being a distortion pedal, it still has a somewhat milder tone, making it slightly closer to a conventional overdrive with smoother clipping. But this is exactly what makes it a good choice for tube-driven amps, as was the case with Randy. However, we can't say for sure when exactly did it get into his collection. It was most likely what he mostly used during his time with Ozzy as the main dirt box.
Roland FV-2 Volume Pedal
Years used: Unspecified to 1982
Once again, it's really hard to say when and where Randy began using his pedals as his rig was never really been discussed in-depth during his career. For instance, it has been confirmed that Roland's FV-2 Volume Pedal was a part of Randy's signal chain, but it's not certain when. On the other hand, it's safe to assume that it was most active during the professional part of his playing career, which includes Quiet Riot and Ozzy Osbourne's band.
Be that as it may, Roland was one of the first companies that popularized volume pedals among guitar players. This is a completely passive device, meaning that it requires no power, and it's essentially a volume potentiometer in the form of a pedal. Additionally, it comes with a control for the minimum volume level. FV-2 is a pretty sturdy one, and you'll easily find one of these old pedals still functioning properly.
Popular Related Article: Les Claypool Bass Guitars List
MXR M-108 Ten Band EQ
Years used: 1979 to 1980
Another MXR product on this list, the M-108 is a 10-band equalizer pedal, allowing for some serious tone-shaping. It comes with two additional sliders for input gain and output volume levels aside from its ten frequency ranges. Each of the controls allower for up to 12 dB of boost and cut. Unlike most MXR pedals, this particular model is not in production anymore. However, there's an improved version, the M-108S, which has two outputs, making it possible to use it as a stereo device.
As for Randy's use of it, there aren't any sources pointing out him operating this EQ pedal, it was mostly employed by roadies during live performances.
MXR M-118 Analog Delay
Years used: 1980 to 1982
Even to this day, MXR still keeps the bar up high with some of its analog effects. But this journey in finding the best analog tone began all the way back in the 1970s with BBD chips, which are also used today. What is now know as the "Carbon Copy" delay model takes its roots in an old pedal, simply called "Analog Delay" and bearing a designated name M-118. It's a pedal produced and sold between 1976 and 1984, marking a very important jump from tape-based echo effect devices to very compact pedals.
This one came with three basic controls for the delay time, "mix" control for blending unprocessed and processed signals, as well as "regen" which determined the number of repeats. What's unusual for today's standards, M-118 had both input and output jacks on the right side. Additionally, there was also a separate output that would let only the processed signal through the pedal. And being an analog effect, it only allowed for limited delay times, up to 600 milliseconds.
MXR M-117R Flanger
Years used: 1979 to 1982
This was most likely around the time when the "Diary of a Madman" came out, which is when he went on tour with a new rig.
Although a digital device today, the MXR M-117R used to be a fully analog device back in the day. However, its parameter controls, casing, as well as overall design remain pretty much unchanged. In fact, we'd also argue that the pedal's tone has barely changed as well, as you can notice if you test them one against another. Overall, this is a fairly versatile pedal, especially considering its basic essential controls. It can deliver anything from very mild chorus-like sweeps, over wobbly vibratos, and up to crazy jet sounds.
Dunlop GCB95 Cry Baby
Years used: Unspecified to 1982
Being a prominent lead guitar player, it's only obvious that Randy had used a wah pedal. And, to no surprise, it was the classic GCB95 Cry Baby by Dunlop that made it into his signal chain. On the other hand, it's extremely hard to say when exactly this pedal managed to get in there. Sure, it's known that he used it during his Ozzy Osbourne years, as there's more info on his rig from this particular era. However, knowing that the pedal was popular even way back in the 1970s and even the late 1960s, we can assume that he also had it during his time in Quiet Riot.
Other than that, this is the classic Cry Baby pedal as we know it today. Although there have been some changes done to the circuitry over the years, mostly regarding the components used in there, the tone is still pretty much the same on today's Cry Babies as is on the vintage ones.
AMS DMX 15-80 Digital Delay
Years used: 1980 to 1982
Now, one very interesting and exciting piece that Randy used for studio work with Ozzy was the AMS DMX 15-80 Digital Delay. AMS, or Advanced Music Systems, was a company that introduced the use of microprocessors for delay and echo effects. The DMX 15-80 was a huge breakthrough in the late 1970s when it came out, and Randy was one of the first famous musicians to use it in the studio. It was implemented on some of the songs from the two albums that he recorded with Ozzy.
This is a legendary piece, intended as a studio-based rack-mounted unit. It offered so many different delay-shaping options, as well as delay times that were extremely long for that era, technically turning it into a sampler or a looper. Eventually, the device was improved to the point where it included a harmonizer effect, something that was previously unthought-of at that era.
Korg SE 500 Stage Echo
Years used: 1975 to 1982
Another echo device that Randy used during his Ozzy Osbourne years was Korg's SE 500 Stage Echo. Additionally, he also had it during his time with Quiet Riot. However, this one relied on older principles, using tape as a storage and playback medium. The late 1970s still had some tape-based delay effect units, although they didn't last for long since delay pedals and digital rack delays showed up on the market.
Nonetheless, Korg's SE 500 was a pretty advanced and useful unit for the era. You could have added up to 1500 milliseconds of delay time using this piece, which was pretty impressive for a tape delay. But it's not just the features and delay time that made it more attractive, but also the addition of a noise reduction system, making it "squeaky clean" compared to the usual tape delays of the era. Nonetheless, it still had that slightly "wobbly" analog tone, something that tape delays are still praised for.
Roland Space Echo RE-201
Years used: 1973 to 1980
Finally, we get to the legendary Roland's Space Echo RE-201 tape delay. Released in the 1970s, Randy also had it during his Quiet Riot days, using it mostly for live shows. Even to this day, these old units are popular among guitar players, at least those who can dig up and afford one of these. Considering the fact that it had 11 different delay repeat modes, this was a pretty advanced unit for its era.
Wrap Up
Back in the 1970s, Randy started getting some attention with his band Quiet Riot. One thing led to another and the band soon became one of the most important metal acts in the United States at the time. But things slowly started deteriorating and Randy eventually decided to accept the offer to audition for Ozzy Osbourne.
Although Osbourne was just fired from Black Sabbath, he was about to start one of the most prolific musical careers of the 20th century. But, to be fair, none of that would have happened if he didn't hire Randy as his lead guitar player. After a very successful audition, they both started working on Ozzy's debut solo material and it eventually made history.
Unfortunately, the world lost Randy too soon in the tragic plane crash in 1982. But although his run with Ozzy, as well as his career, were pretty short-lasting, Rhoads has left an irreplaceable mark in modern music. Generations of guitar players were inspired by his songwriting and impeccable performances.
Randy Rhoads was, by all means, a visionary player when he first left Quiet Riot for yet another iconic act, he could foresee the direction of popular music at the time. He gave us some of the most iconic riffs and tunes in rock history, when Randy took lead, he would influence musicians around him into a heavy riff-driven structure with a highlight of virtuosity all around. From well-placed standard timing to hyped speed solos Randy can be considered a jack of all trades. With this quality, Rhoads influenced countless subgenres and modern music, from Stone Rock to eventual Thrash Metal, there are only so many divergent that were modeled after his influence on guitar music.
Recent years saw Randy Rhoads introduced to Rolling Stone's 100 Greatest Guitar Players of All Time at the entry of #36, and as an honorary inductee of the Rock N' Roll Hall of Fame. Co-founding Quiet Riot as a teenager was only but a small display of what was yet to come and what this man had to offer, his tenure with Ozzy on the other hand, showed the world a prematurely aged and wiser Rhoads. It is puzzling to think where would Rhoads be at this point if he were still alive.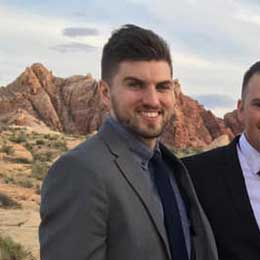 My name is Chris and I've had a passion for music and guitars for as long as I can remember. I started this website with some of my friends who are musicians, music teachers, gear heads, and music enthusiasts so we could provide high-quality guitar and music-related content.
I've been playing guitar since I was 13 years old and am an avid collector. Amps, pedals, guitars, bass, drums, microphones, studio, and recording gear, I love it all.
I was born and raised in Western Pennsylvania. My background is in Electrical Engineering, earning a Bachelor's degree from Youngstown State University. With my engineering experience, I've developed as a designer of guitar amplifiers and effects. A true passion of mine, I've designed, built, and repaired a wide range of guitar amps and electronics. Here at the Guitar Lobby, our aim is to share our passion for Music and gear with the rest of the music community.