Many musicians are attracted to the electric guitar because of lead sections. The instrument's expressive nature and musicians' skills and virtuosity made it one of the most popular instruments on the planet. Even today, hordes of new musicians aspire to be lead guitarists and to master how to play the popular lead sections that inspire them. But this has never been an easy task.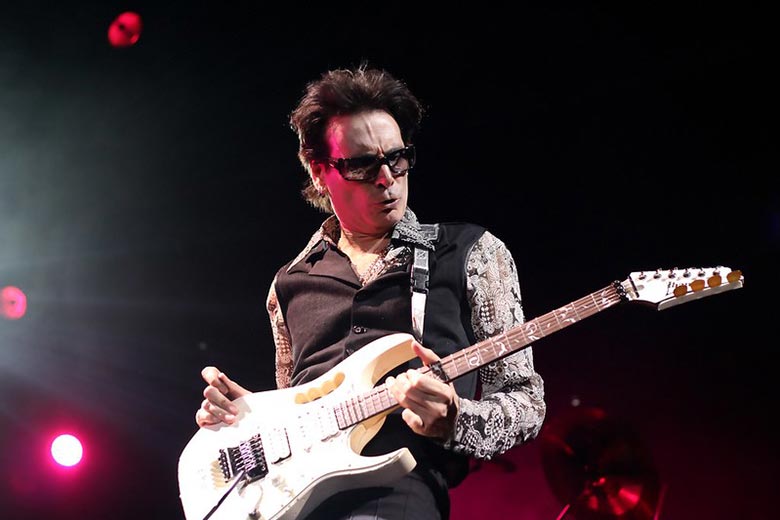 With this in mind, we've decided to go full shred mode and bring you the hardest guitar solos of all time. The list of these lead sections does not only sound awesome but requires years of experience and incredible guitar-playing skills in order to perform properly. Strap yourself in and dare to test your skills with one of these difficult guitar solos.
Here Are the Hardest Guitar Solos Ever
1. Through the Fire and Flames by DragonForce (Herman Li)
When there's talk about difficult guitar solos, DragonForce and their legendary "Through the Fire and Flames" always comes to mind. Power metal might be a style that some people don't take seriously. But when you take a listen to what Herman Li did in this lead section, all critiques of this subgenre are immediately dropped.
The entire song is challenging to perform, mostly due to its tempo. But for the guitar solo, you'll have to be proficient at a few different techniques at high speeds in order to perform it. Additionally, you'll need a guitar with a Floyd Rose or any similar dual-action tremolo bridge. Although there's a lot of single-string tremolo picking, it's so fast and precise and done in combination with palm muting.
With this solo alone, Herman Li changed the game in the world of electric guitar. Released in the mid-2000s, guitar players of all genres are still impressed by his work in the song.
2. Dissimulation by Born of Osiris (Jason Richardson)
Formed back in 2003, Born of Osiris is one of the bands that explored new unconquered musical territories. Combining metalcore with progressive metal, they're one of the artists labeled under the (in)famous "djent" style. For a brief period, the band also featured none other than the almighty Jason Richardson whose name is now synonymous with the term "modern guitar virtuoso."
Although Jason was a member of Born of Osiris for only about a couple of years or so, he recorded one album with the progressive metal band. Titled "The Discovery," it features one song called "Dissimulation" where Jason Richardson showcases his playing skills. The most impressive thing here is that he was only 20 years old when the song was written and recorded. The song's lead section features some mindblowing sweep-picking arpeggios, fast shredding parts, as well as some slower and expressive sections. Although a short one, it has it all!
3. Aviator Feat by Polyphia (Jason Richardson)
Now, knowing how skilled and impressive Jason Richardson is, we couldn't help but include yet another one of his works here. However, we're talking about modern prog rock masters Polyphia, a band that features Timothy Landon Henson and Scott LePage on guitars. Along with Richardson, they delivered some mind-blowing performances in their 2014 song "Aviator" from the "Muse" album.
If you're more into instrumental guitar-oriented stuff with expressive guitar solos played on some brighter-sounding settings, then this is your go-to piece. "Aviator" is filled with lead sections that flow into one another. When you take a listen to "Aviator," you feel as if those solos are so smooth, natural, and effortless. However, the moment you try to play any of the lead parts, you realize how challenging "Aviator" is. To be fair, there's rarely any guitarist today that could play like Richardson or the guys from Polyphia. This song proves it.
4. Spanish Fly by Eddie Van Halen
But if we're discussing the most difficult and challenging guitar solos, we couldn't ever go without Eddie Van Halen. After all, his work has not only inspired a new generation of guitarists in the 1980s but has also completely changed the way how we approach the instrument. Guitarists of all genres praise Eddie for his impeccable technical skills, expressiveness, composing skills, and, above all, his innovativeness.
While most of these lists mention "Eruption" as his most challenging guitar solo, we'd argue that "Spanish Fly" is more difficult. Coming from Van Halen's second album, released in 1979, this is an acoustic piece where Eddie showcases his skills in less than 60 seconds. But even though it's short, "Spanish Fly" is a very enjoyable piece, which just proves how cleverly creative Eddie Van Halen was. All it took was a brief 1-minute-long acoustic guitar session. Overall, this is by far one of the hardest guitar solos ever.
5. In the Name of God by Dream Theater (John Petrucci)
Dream Theater is one of the bands that pushed the boundaries and changed rock and metal music overnight. And with an absolute master of a guitar player like John Petrucci, you can expect to hear some pretty challenging lead sections.
But these are more than just lightning-speed guitar parts. For instance, a song like "In the Name of God" brings one of the most innovative guitar lead sections ever recorded. The solo is a real roller-coaster, including parts where the guitar plays in unison with the keyboards.
While there are most certainly Dream Theater songs that caught more attention, this 14-minute-long progressive metal masterpiece is an underrated gem. If you want a guitar lead section that combines technical greatness and great composition, going perfectly with the full band arrangement, then check out "In the Name of God."
6. Domination by Pantera (Dimebag Darrell)
Even to this day, no metal band could replicate and capture what Pantera did during the 1990s and the 2000s. Rarely do you find a band where a guitarist often takes a spotlight away from the singer. And that's exactly what Dimebag Darell was capable of. His musicianship was unique and you can notice his playing style after only a handful of notes.
Looking at Pantera's discography, "Domination" is a song that takes a very special place. From top to bottom, this is an ultimate metal banger. It has fast thrash-like sections, as well as immensely heavy breakdowns. But, most importantly, there's an absolutely jaw-dropping guitar solo in this song. To put it simply, Dimebag knew how to make his guitar sing, squeal, and scream. And that's exactly what you can hear with this lead section.
But what's really challenging about this solo is finding the right groove. You have to deal with those heavy and just slightly "off" drum beats, all while doing insane legatos and alternate picking parts.
7. Technical Difficulties by Racer X (Paul Gilbert)
We mentioned Eddie Van Halen as a guitar player who inspired a whole new generation of musicians. One of the young new guitarists in the 1980s was Paul Gilbert, known for his work with Racer X and later Mr. Big. But what's really exciting about Gilbert's work is that he managed to take Eddie Van Halen's style to a whole new level, all while he was just a young and enthusiastic musician with his own band.
Going through Race X's discography, nothing really surpasses their classic tune "Technical Difficulties." And just like the song's name so cleverly suggests, this is a very technically demanding piece. You have to deal with the unusual rhythms all while doing insanely fast economy picking and legatos.
Essentially, the entire song is like a guitar solo. It goes up and down, shifting from fast-paced to steady-groove sections. What's more, at one point, Paul Gilbert starts doing these insane tapping parts, pushing the piece into completely new territory. If you're a guitar player looking for a challenge, this is what you'll want to check out.
8. Juice by Steve Vai
Going further down this path of the 1980s shredders, Steve Vai is an unavoidable name if we're talking about challenging guitar solos. After all, he's the guitar player who managed to get his spot in Frank Zappa's band while he was still young. After embarking on his solo career, Steve Vai gave us some of the most important solo guitar works in rock music.
From his vast catalog, we're going to his 1995 EP titled "Alien Love Secrets" and a song called "Juice." This instrumental piece also found its way as a part of the "Formula 1" video game for PlayStation. And it's an incredibly fitting piece for such a game as Vai showcases his speed and precision throughout its length. The song isn't that long, going right under the 4-minute mark. But it's pretty much a guitar solo from start to end. The most challenging part is probably the way Steve Vai implements the tapping technique. It's just insanely difficult to even try and play any of these parts, let alone do them properly from start to finish.\
Popular Related Article: List of the Hardest Guitar Songs (with Lesson Videos)
9. The Mystical Potato Head Groove Thing by Joe Satriani
But there simply wouldn't be Steve Vai without Joe Satriani. Making his name as a guitar teacher, teaching some of the biggest names in the world of rock and metal, Satriani eventually embarked on his solo career. Even to this day, this remains one of the most important moments in the history of our favorite instrument. He even declined to join Deep Purple as a full-time member in order to continue it, which was a risky move back then.
But hearing so many of his great guitar-oriented instrumental pieces, we can understand why he kept doing his own thing. A piece like "The Mystical Potato Head Groove Thing" from 1989's "Flying in a Blue Dream" record is an example of his greatness. Although part of the whole "shred" movement of the 1980s, Satriani used his technical skills for expressive purposes, all to serve the cleverly written piece.
Playing this piece and its lead sections properly takes more than just having great technical skills. "The Mystical Potato Head Groove Thing" is a pretty wild composition and requires you to know where exactly you are at any given moment.
10. Caprici Di Diablo by Yngwie Malmsteen
The relentless fury of Yngwie J. Malmsteen is something that no one can surpass. Taking what Ritchie Blackmore, Jimi Hendrix, and Eddie Van Halen did and combining it with baroque music, Yngwie created a completely new style. What classical virtuoso violinists have been doing to impress their audiences, Malmsteen did with his Fender Stratocaster.
Of course, there's an abundance of impressive work in his catalog. In fact, every single song that Malmsteen ever released has an impressive solo. But one piece that stands out in terms of challenging technical stuff, is "Caprici Di Diablo." This instrumental piece was released later in his career, on his 16th album "Perpetual Flame." And it takes no more than a single listen to realize how immensely difficult to perform this song really is.
From start to finish, this entire piece is one guitar solo. And as it usually goes with his songs, we have a big mash of extremely challenging techniques played one after another. You have arpeggio sweeps, legato, and economy picking all over the place. If you learn how to play this one properly, you'll prove your guitar mastery.
11. Electric Sunrise by Plini
Kind of similar in the overall style to Polyphia, Plini is an absolute modern guitar master Although you can clearly notice metal influence in his playing, his music is much softer and features some elements that would be too "unconventional" for metal music. One such example is "Electric Sunrise" from his debut full-length studio album "Handmade Cities," released in 2016.
Firstly, this instrumental piece is an unusual mash of djent and atmospheric optimistic-sounding prog rock. Secondly, it's filled with some of the most innovative and cleverly written lead parts. But in order to perform them properly, you need to have full control over your guitar.
When it comes to the "Electric Sunrise," we're not talking about those super-fast linear solos. Although there are no extremely fast parts, the solo is very difficult to perform. Sure, you can learn it from tabs and play note for note. But if you don't have the technical skills required to get the nuanced dynamic structure of the song, things will just sound sterile. And that's in addition to the already challenging implementation of techniques, like the fast tapping parts.
12. Libra by Intervals (feat. Plini)
At this point, Intervals works as Aaron Marshall's solo project. It gave him an opportunity to fully explore the new uncharted territories of progressive rock and progressive metal on his own. Additionally, he also got the chance to have Plini as a guest for both his studio and live work. In Marshall's 2017 song "Libra," we got the chance to hear him and Plini sharing lead guitar duties.
The results were mindbending, featuring harmonized parts, heavy down tuned riffs, as well as incredibly challenging lead parts. We could compare this piece with Plini's aforementioned "Electric Sunrise," although there's some noticeable addition of heaviness to it. But other than that, most of the piece is filled with guitar solos, with Plini and Marshall "dueling" most of the time.
13. Jordan by Buckethead
Brian Patrick Carroll is one of the most mysterious figures in the world of guitar. Popularly known as Buckethead, he spent most of his career working as a solo artist. In fact, he's known for releasing an insane amount of music every year, most of it as a part of his "Pike" series. But from his huge body of work, we'll single out "Jordan" as a song that features one of the most challenging guitar solos of all time.
The song was recorded back in 2006 and was made available in "Guitar Hero II." A few years later, it was finally released as his official song through iTunes. But its appearance in the video game made it so famous, eventually inspiring many to try playing guitar for real. It's remembered for its challenging guitar solo, especially the tapping parts. Some sources claim that some of the sections feature 15 notes per second if you play it full speed.
Additionally, these tapping parts are so dissonant and unconventional, making them really hard to memorize. The solo is also filled with lightning-speed picking parts. If you want to learn how to play it, you'll need to have some pretty wicked skills.
14. Wave of Babies by Animals as Leaders
Tosin Abasi is easily one of the most impressive instrumentalists of all time. Starting his band Animals as Leaders back in the 2000s, we got the chance to hear him do some pretty outrageous stuff. In fact, it was so complex that he came up with his own special ergonomic guitar designs that enabled him to perform even better.
Although Animals as Leaders don't have that many albums, all of the material that they released is impressive. There's a lot of stuff to offer in terms of guitar solos. But if we were to choose the most impressive one, then it would definitely be "Wave of Babies."
Aside from Tosin's very unconventional writing practices, the song features some pretty unconventional techniques. This is especially the case with its lead parts which are extremely challenging to perform.
15. Tornado of Souls by Megadeth (Marty Friedman)
Of course, we can't forget Marty Friedman and his game-changing work in Megadeth. Even to this day, plenty of Megadeth fans would like to see him back in the fold. One of his brightest moments in the legendary thrash metal band was on "Tornado of Souls" from the 1990 "Rust in Peace" album.
This metal classic has often been praised for its cleverly conceived complexity as well as Friedman's solo. In fact, Dave Mustaine himself was immediately impressed when he heard it for the first time, openly showing his admiration of Friedman's work. And if Mustaine was so impressed, then the solo has to be one-of-a-kind, right?
Aside from fast parts, the solo in "Tornado of Souls" requires a lot of control over string bending. Every move needs to be surgically precise, whether we're talking about bending or vibratos. What's also really impressive is how Marty Friedman combined and implemented various different picking techniques. But, above all, what's really amazing about the solo is how innovative it is in its composition, combining impressive "shrediness" with genuinely enjoyable melodies.
16. One by Metallica (Kirk Hammett)
While we're on the topic of legendary thrash metal bands, we can't omit Metallica from this list. While they're usually not associated with super-challenging technical stuff, their album "…And Justice for All" shows that they're capable of mingling with progressive metal. As for lead sections, Kirk Hammett's solo to "One" is one of the ultimate tests of skills for guitar players.
From its start to its end, this solo simple doesn't slow down. Kirk immediately jumps into the easily recognizable tapping part. This is then followed by a brief lick that takes us to the highest fret on his instrument, bending the first string to the maximum. After that, he continues shredding through the minor pentatonic scale, using fast picking and legato techniques. There's also an additional dual lead part where Kirk Hammett and James Hetfield play that famous harmonized part.
17. Winter Madness by Wintersun (Jari Mäenpää)
Metal music is full of underrated gems. And we'd argue that Wintersun is one of those bands that never get enough attention. Coming from Finland, the band originally started as a side-project of Ensiferum's Jari Mäenpää. But his singing, writing, and guitar playing skills made him stand out, so it eventually became his primary band.
Looking at Jari's work, we'd single out "Winter Madness" solo as one of his most challenging pieces. Mixing black metal, power metal, and folk metal into his own unique style, he adds a virtuosic solo to the equation. And this exact solo surpasses the skills of some of the biggest established names in the world of guitar.
18. Faith & Decision by Versailles (Hizaki, Teru)
Coming from Japan, Versailles is one of the bands that should appear much more in the metal-oriented media. This progressive metal collective really pushed the limits of modern metal music with their album "Holy Grail." Released in 2011, it features a lengthy piece called "Faith & Decision." From start to finish, the song is filled with some of the most exciting lead sections of the genre. They're all performed by the band's guitar duo, musicians known under their stage names Hizaki and Teru. The mere fact that the piece lasts for almost 17 minutes and that it features a bunch of guitar solos makes things challenging enough on its own. Imagine writing and memorizing so many lead parts for just one song.
19. Dark Matter by Rusty Cooley
Rusty Cooley is the kind of guitar player that relies on pure discipline, thorough practice, and technical precision. In a way, he stayed true to his simple principles all throughout his career. There are no "cutting corners" in Rusty's music. It's all straight-up progressive metal shredfest with him. And, as such a guitar player, he pushed all the limits previously thought impossible to surpass.
To be fair, it's really hard to say which of his solos is the most difficult one. There's so much impressive stuff in his catalog. However, if we were to pick one, then we'd go with "Dark Matter" from his 2003 debut solo album. And there's really no reason to explain why. The song is just filled with some of the most impressive lead work that rarely anyone out there can perform. In order to be able to properly perform any of the lead parts in "Dark Matter," you'll need years and years of experience and impeccable technical skills.
20. No Boundaries by Michael Angelo Batio
While we're at it, Michael Angelo Batio is another guitar player known for his impressive technical skills. Previously known for his work with glam metal band Nitro, Batio embarked on his solo career and became famous for his "Speed Kills" instructional video. And in that release, every guitar player got familiar with "No Boundaries," an instrumental piece with some of the most challenging combinations of techniques ever used in a guitar-focused song.
The song has it all. There's an abundance of alternate and economy-picking parts, all done at some insane speeds. Then Batio jumps into some pretty wicked sweep arpeggios, after which the song speeds up. If you want to perform it the same way as Michael Angelo Batio does, then you'll also have to play with your fretting hand above the neck. Plus, you'll also have to move your hand and alternate by playing above and below the neck. So far, only a selected group of guitarists managed to pull this off properly.
21. Fives by Guthrie Govan
Now, Guthrie Govan is a one-of-a-kind guitar player. He's, in fact, one of the most proficient and versatile guitarists of all time. He's been praised for both his original works and his ability to convincingly imitate anyone's playing style. In short, he's the most potent guitar player that has ever lived so far. He's worked with some of the most interesting artists out there, including Steven Wilson and Hans Zimmer. And you can just imagine how impressive his solo 2006 solo album is.
The fifth track of his "Erotic Cakes" album, titled "Fives," is often presented as his most mindblowing work. Although the entire piece is like a guitar solo, it's not like it's all super-fast stuff in it. However, in order to perform it well, you need to be very expressive with your playing and have full control over the dynamics, vibratos and bends. "Fives" is one of the ultimate tests of one's guitar skills. This is certainly another one of the hardest guitar solos of all time.
22. Perpetual Burn by Jason Becker
The 1980s were the time of great breakthroughs in the world of guitar. One of the players who pushed the boundaries and exploited the instrument in ways previously thought unimaginable. And even though he's currently unable to play any instrument due to Amyotrophic Lateral Sclerosis, he's still found ways to compose music.
Going to his early material, the debut album "Perpetual Burn," its title track shows that Becker was ahead of his time. From start to finish, the piece is a real shredfest. Honestly, hats off to you if you manage to perform it without missing a note.
Popular Related Article: Easy Guitar Solos to Play
23. La Villa Strangiato by Rush (Alex Lifeson)
For this one, we're going all the way back to the late 1970s. Rush is the first band that fearlessly explored these new territories in rock music, delivering some of the most unusual yet very enjoyable pieces known at the time. With that said, the band's guitarist Alex Lifeson inspired new generations of new musicians. One of the pivotal guitar-focused pieces of the 1970s is Rush's "La Villa Strangiato."
The piece comes from their 1978 album "Hemispheres" and is about 9-and-a-half minutes long, consisting of 12 different movements. The guitar parts here are not only some of the most enjoyable of this decade (or of all time), but the piece is still given as an example of what the instrument can do if you're a technically proficient player.
Wrap Up:
The guitar has come a long way since its modern development in the 20th century. What used to be a classical-oriented instrument with nylon strings has eventually turned into a very potent electric instrument used in a plethora of musical styles. Fully defined in the 1950s, retaining its basic design traits to this day, the electric guitar became known for its expressive qualities. And thus, as such, it found its place as the lead instrument.
And not only that, the instrument became a focal point of many musical genres. From Chicago blues to modern progressive metal, the electric guitar has always taken the spotlight, covering sections of songs, or even entire songs, with cleverly written and skillfully performed solos. We hope you enjoyed our overview of the hardest solos to play on guitar. If there are any that we missed that you feel should be on this list, let us know in the comments!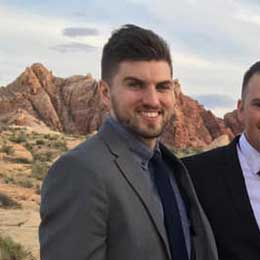 My name is Chris and I've had a passion for music and guitars for as long as I can remember. I started this website with some of my friends who are musicians, music teachers, gear heads, and music enthusiasts so we could provide high-quality guitar and music-related content.
I've been playing guitar since I was 13 years old and am an avid collector. Amps, pedals, guitars, bass, drums, microphones, studio, and recording gear, I love it all.
I was born and raised in Western Pennsylvania. My background is in Electrical Engineering, earning a Bachelor's degree from Youngstown State University. With my engineering experience, I've developed as a designer of guitar amplifiers and effects. A true passion of mine, I've designed, built, and repaired a wide range of guitar amps and electronics. Here at the Guitar Lobby, our aim is to share our passion for Music and gear with the rest of the music community.