Few guitarists in history have had such a long and influential career as Joe Perry. From his immense success with the legendary band Aerosmith, of which he was a founding member, to his various solo projects, Joe Perry has left a massive impact on modern music. Rolling Stone rates him 84th of the 100 greatest guitarists of all time and on top of his elite guitar playing, it's hard to name a better songwriting duo than Joe Perry and Steven Tyler.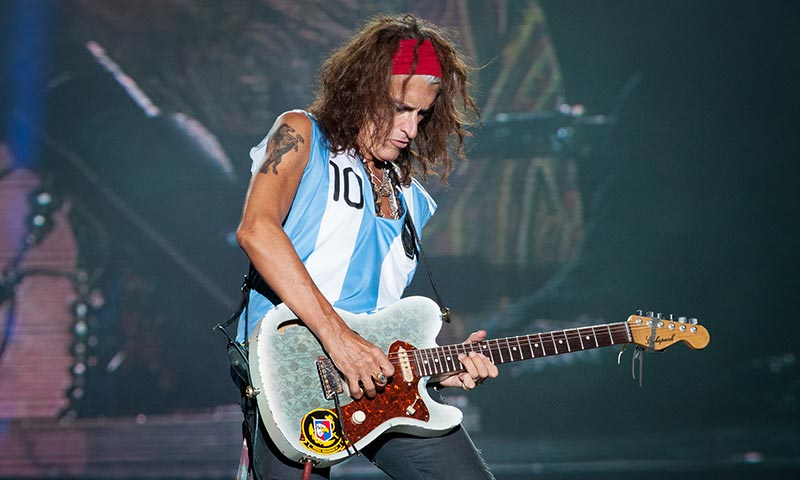 Perry started playing the guitar when he was ten years old, but it wasn't until he discovered The Beatles in the 60s that he really took it seriously. He couldn't believe how cool those guys were, and he wanted some of that action for himself. After taking in other influences like Jimi Hendrix, The Yardbirds, The Who, and The Kinks, he refined his riffs and leads to be the fast and loud Rock n' Roll that Aerosmith fans have loved for decades.
What Guitar Does Joe Perry Play?
Joe Perry plays Gibson Les Paul Standard guitars as his primary instrument and is a long-time devoted player of Gibson guitars. Although he is widely associated with the Les Paul model, Joe has amassed a collection of over 600 guitars throughout his career, including Gibson and Fender models.
See the full list of notable Joe Perry guitars and gear below.
1959 Gibson Les Paul Standard

| | |
| --- | --- |
| Finish | Tobacco Burst |
| Years Used | 1972 to 1981 / 2004 to Present |
For guitarists, there's no guitar more coveted than a 1959 Les Paul. One night, after a show, Joe Perry caught a glimpse of the guitar, loved the way it sounded, and just had to have it. He made a trade with Johnny Thunders of the New York Dolls for the six-string, and it instantly became his primary player for the next decade.
In 1981 (or so he recalls), Perry was a bit strapped for cash and had to sell his beloved guitar for $4500. During its 35-year separation from Perry, the instrument changed hands several times, landing with a few influential musicians including Eric Johnson and Slash.
The minute after he sold it, Joe Perry wished he could get the guitar back. Eric Johnson offered to sell it back to him for what he paid, but Perry had just gotten married, had a kid on the way, and didn't have the money to buy it.
In 1989, Aerosmith just completed their second album "Pump," and Perry was ready to track down his beloved '59 again. Luckily, the search turned out to be much easier than he expected.
While flipping through a Guitar Player magazine, Aerosmith bandmate Brad Whitford saw the iconic Les Paul sitting front and center in a picture showcasing Guns N' Roses guitarist Slash's collection.
Perry continued to ask Slash to buy the guitar but didn't want to annoy him to the point of straining their friendship. On Joe Perry's 50th birthday in 2000, before he jumped on stage with Cheap Trick, someone handed him his old '59 with a note that said, "Slash says, 'Happy Birthday.'" After 35-years apart, the two have been inseparable ever since and made many appearances together in live performances all over the world.
In 2013, Joe Perry worked with the designers at Gibson to create the Joe Perry 1959 Les Paul modeled after his beloved original.
Joe Perry Gibson Goldrush Les Paul

| | |
| --- | --- |
| Finish | Golden |
| Years Used | 2019 to Present |
What Gibson fan isn't fascinated by the classic beauty of a Goldtop Les Paul? Joe Perry is no exception. In 2019, Perry teamed up with the team at Gibson for yet another signature model called the Joe Perry Goldrush Les Paul.
This signature guitar is, once again, based on his favorite 1959 Les Paul. It features the same chunky neck as the original but with several major differences. First, the Goldrush has an Aged Antique Gold finish reminiscent of the Goldtop that makes every Gibson fan green with envy. It also has a two-point spring tremolo system that's hard to find on many other Les Paul models.
The main difference comes in the pickups, or rather, lack thereof. Perry said he doesn't dial in that many different tones with a Les Paul, so why bother with multiple pickups? The Goldrush features a single 498T humbucker with a push/pull coil-splitter to give the guitar that hot Gibson tone and plenty of versatility without adding any unnecessary complexities.
Because it's so easy to dial in the tone, Joe Perry loves to use the Goldrush Les Paul for live shows. You can see it in action at recent shows such as Aerosmith's Deuces Are Wild residency in Las Vegas.
He also frequently uses a black-finished guitar with the same setup. The black version was a prototype built for Perry in 2012 that eventually became the production Goldrush model in 2019.
Gibson B.B. King "Lucille" Custom, aka "Billie"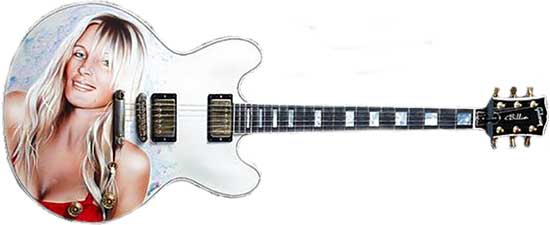 | | |
| --- | --- |
| Finish | White With Custom Graphic |
| Years Used | 1980 to Present |
"Billie" is one of Joe Perry's most recognizable guitars and one of his favorites to bring out on stage. While most Gibson B.B. King "Lucille" models are black, "Billie" is a rare white custom version with no f-holes.
Joe Perry credits much of Aerosmith's reunion in the 80s and continued success to his wife, Billie Perry. To honor his wife, Perry had an artist airbrush his wife's picture on the front of the guitar and her name on the headstock. He said he wanted to put the most beautiful woman he could find on the guitar, so he did! He always joked that if the guitar is beautiful and the woman is beautiful, how could he possibly look bad playing it?
Ironically enough, Billie initially hated the guitar! She didn't want to see herself blown up on 40 and 50-foot screens, so she hid backstage during Aerosmith shows when it made an appearance. Luckily, the guitar has grown on her, and now she's okay seeing herself up on stage.
Joe Perry had made a few changes to the guitar from the factory. He swapped out the electronics to one volume and one tone knob. It has a super clean sound with the volume turned down, but it can also get a great crunch and play heavier stuff too. It's an amazing all-around guitar that can do it all. Joe Perry continues to use it in both the studio and on the stage. This is easily one of the most iconic Joe Perry guitars.
Joe Perry BlackBurst Les Paul

| | |
| --- | --- |
| Finish | BlackBurst |
| Years Used | 1997 to Present |
In 1997, after decades of rocking, Joe Perry got his very first Gibson signature model. The guitar was modeled after his beloved 1959 Les Paul Standard, except he had the bridge pickup custom-wound to suit his preferences. This instrument featured active mid-boost and tone-shaping circuits that you can control with a push/pull pot and a master tone control.
The idea for the electronics modifications came from Perry's guitar tech in Boston. One day, messing around in the shop, he took the circuits out of a wah pedal and put it right into a bass pickup tone pot. When activated with the push/pull pot, it gave the bass that wah-wah sound right from the guitar. Perry loved the idea for its versatility and incorporated it into his first signature model.
The biggest difference between the signature model and his old '59 is the finish. This guitar really stands out with a striking hand-stained, translucent finish that puts a dark color over the guitar's already incredible wood grain. The result became known as BlackBurst.
The Joe Perry BlackBurst Les Paul is no longer in production, but it's still highly sought after, and used models are hard to find.
Joe Perry Gibson Boneyard Les Paul
| | |
| --- | --- |
| Finish | Green Tiger/ Yellow Striped |
| Years Used | 2004 to Present |
On a trip to Nashville, Joe Perry and his family went for a tour of the Gibson factory. During the tour, Joe noticed that his wife went missing. He joked, "I'm always suspicious when she takes off!" so he went around looking for her. As it turned out, she was with the head painter at the Gibson Custom Shop, telling him all about a new stain idea she had.
Joe's wife, Billie Perry, had the stain developed into a completely new Joe Perry Signature Les Paul in secret. She gave the guitar to Joe as a Christmas present, and he couldn't believe how beautiful it looked!
The Joe Perry Boneyard Les Paul is named after Joe Perry's home studio in Boston, which he calls The Boneyard. It features the Billie Perry-developed Green Tiger finish that puts a yellow/green color over the incredible natural grain of the guitar that makes it look like, as you might guess, a tiger.
As for hardware, the model has a Burstbucker 2 pickup in the neck and a Burstbucker 3 in the bridge to give it those super-hot tones. Early models came with a Bigsby tremolo, which Perry typically uses.
Like the earlier BlackBurst, the Joe Perry Boneyard Les Paul is no longer in production, but it remains a popular collector's item for guitar players all over.
Fender Stratocaster

| | |
| --- | --- |
| Finish  | Sunburst Relic |
| Years Used | 2000 to Present |
While Joe Perry certainly has an affinity for Gibson guitars, he's not afraid to mix it up for the sake of tone and playability. Certain songs just require certain guitars.
Back in 2000, he took a left-handed Fender Stratocaster body, added a Warmoth neck, popped in some fat frets, and custom-wound Joe Barden pickups to create his "mongrel" hodgepodge guitar that has become one of his most regular players. You can tell it's loved because of the heavy relic job that countless gigs have put on the instrument.
Despite its rough appearance, this oddball Strat is a guitar that Perry goes back to time and time again because he can always count on it. You can see the guitar in action on many of his most recent shows, including gigs for Aerosmith and his supergroup with Alice Cooper and Johnny Depp, the Hollywood Vampires.
Of course, this isn't the only Strat Joe Perry plays. It's quite common to see him with more standard-looking Stratocasters, among other oddball lefty custom jobs.
Ernie Ball Music Man Silhouette Six-String Bass

| | |
| --- | --- |
| Finish | Black |
| Years Used | 1992 to Present |
Joe Perry has used six-string basses for a lot of his Aerosmith career. His first six-string bass showed up on the 1976 album "Rocks." When he first helped write the album, he used a Fender Bass IV, another six-string bass. Unfortunately, that guitar was eventually stolen and replaced by the Ernie Ball Music Man Silhouette six-string bass.
The Silhouette is essentially a small-scale bass that Perry plays just like a regular guitar. Instead of keeping groovy bass lines, Perry shreds the stage playing lead on songs like Back in the Saddle.
Even though Perry can play solos like it's a regular guitar, the Silhouette is still a bass—making his playing even more impressive! It has .045 to .105 gauge strings, which are much heavier than a standard six-string guitar, and it's tuned a whole step down into G. To top it all off, Perry's Silhouette is outfitted with a Floyd Rose tremolo for even more versatility.
The deeper sound of the bass gives it tons of growl, which is perfect for certain songs. It's hard to find a live show where the six-string bass doesn't make at least one appearance.
B.C. Rich Bich 10, aka "Ruby Slipper"

| | |
| --- | --- |
| Finish | Red Blinged Version |
| Years Used | 1982 to Present |
In the late 1970s and early 1980s, Joe Perry and his Aerosmith bandmate Brad Whitford endorsed B.C. Rich guitars and played several different models throughout their careers. Perry used a few Mockingbird models in various projects, like the cover of Come Together from "Sgt. Pepper's Lonely Hearts Club Band."
While Mockingbirds are good and all, when people think about Joe Perry, they think about his highly customized B.C. Rich Bich 10, which is appropriately named "Ruby Slipper", as the guitar is covered in red decorative gemstones.
Joe Perry's Rich Bich 10 is a ten-string guitar that has double strings for D, G, B, and high E. The double strings are all unison, which gives the notes that nice warble you hear on songs like Livin' on the Edge. The strings are also different gauges, adding to the complexity of the sound. The guitar is almost always tuned to drop-D.
Although it might be a B.C. Rich, the guitar is set up in an almost Gibson-like style with two humbuckers, one volume, and one tone knob. You might see a bunch of other switches and knobs, but they're all disconnected so the tone doesn't accidentally get messed up during a performance.
The spectacular finish is what gives the guitar its name. Originally, it was painted solid red, but Joe Perry loves his out-of-this-world finishes. That's why he had this Rich Bich 10 covered in "bling" from top to bottom. It looks very similar to Dorothy's ruby slippers from "The Wizard of Oz," earning it the nickname Ruby Slipper.
 Dan Armstrong

| | |
| --- | --- |
| Finish | Transparent |
| Years Used | 1977 to Present |
When you think of Joe Perry's guitars, it's hard to skip over his clear Dan Armstrong. It's been one of his primary players since the 1970s and remains in heavy rotation to this day.
The body of the guitar is made of solid, see-through plastic, which gives it quite a unique appearance. The only difference between Joe Perry's Dan Armstrong and the stock guitar you can buy in stores is the pickups. Joe Perry's pickups are all custom-made for his specifications.
While on tour, Joe Perry typically tunes his Dan Armstrong to open-A and puts a bass string on the low-E string to give it that extra growl. You can see this guitar in action on Draw the Line.
Chandler RH-2 Lap Steel
| | |
| --- | --- |
| Finish | Red |
| Years Used | 1987 to Present |
For some songs, you just need that special sound. When it comes to playing Rag Doll, Joe Perry uses a Chandler RH-2 Lap Steel. This lap steel is specially made for Joe Perry and is tuned to an E-chord that he can play slide on.
This guitar is bright red with inlays all the way up the fretboard. Because Joe Perry likes to keep things simple, it has only a single pickup and one tone and one volume knob.
Fender Telecaster
| | |
| --- | --- |
| Finish | Powder Blue |
| Years Used | 1988 to Present |
To get that extra twangy punch that guitar players of all genres need from time to time, Joe Perry turns to a Fender Telecaster. Joe Perry's Tele is straight from the Fender Custom Shop and features a B-bender, so he can bend the B-string by pulling the guitar against the strap.
Other than the B-bender, Joe Perry's Tele is just like something you could get out of the Fender shop. There's no specific song he likes to use the Tele on. It has a versatile sound that can insert itself almost anywhere he wants. He likes to play it on songs like What It Takes. Watch carefully if you want to catch the B-bender in action!
Echopark Blue Rose

| | |
| --- | --- |
| Finish | Blue Rose |
| Years Used | 2013 to Present |
When Aerosmith was recording in the studio, Echopark luthier Gabriel Curie stopped by with a few of his guitars. Joe Perry loved them so much that Curie built a few especially for him.
The Echopark Blue Rose is based on a Fender Telecaster body, but that's about where the similarities end. It has a humbucker pickup in the bridge and a single coil in the neck. Like many of Joe Perry's other guitars, it has only one knob that controls the volume to keep the whole thing as simple as possible. It also has the pickup switch at the top of the pickguard and an upside-down whammy bar on the bridge.
The finish is a light blue with dark blue roses over the whole guitar, giving it a vintage look. The Blue Rose is a semi-hollow, which means the left side of the guitar is hollowed out with an f-hole. Because Joe Perry likes to play loud and proud, he filled the hole up a bit to prevent buzz and feedback.
The Echopark Blue Rose really shines in the studio. Joe Perry uses it quite a bit when recording albums. It has also made several appearances on stage over the years.
Echopark Ghetto Bird

| | |
| --- | --- |
| Finish | Dusk Burst |
| Years Used | 2013 to Present |
The second Echopark guitar in Joe Perry's arsenal is the Ghetto Bird. Its body is modeled after a Gibson Firebird, with a few slight differences. It has the extra chunky neck that Joe Perry loves and a unique Dusk Burst finish, which looks like a flat brown stain that fades to black edges.
The Ghetto Bird has two pickups, a P90, and a Humbucker. The pickups are controlled by one volume and one tone knob, which is something Joe Perry also loves. It's doesn't have all the dials and functions that many guitars have. It's simple, straightforward, and lets the amps do their thing to create the end tone.
Table Showing the Guitars Joe Perry Used at Each Point of His Career
| Make | Model | Color/Finish | Years |
| --- | --- | --- | --- |
| Gibson | 1959 Les Paul Standard | Tobbaco-Burst | 1972-1981/2004-Present |
| Dan Armstrong | Dan Armstrong | Transparent | 1977 – Present |
| Gibson | B.B. King "Lucille" Custom | White With Custom Graphic | 1980-Present |
| B.C Rich | Bich 10 "Ruby Slipper" | Red "Blinged version" | 1982 – Present |
| Chandler | RH-2 Lap Steel | Red | 1987 – present |
| Fender | Telecaster | Powder Blue | 1988 – Present |
| Ernie Ball | Music Man Silhouette Six-String Bass | Black | 1992 – Present |
| Gibson | Joe Perry BlackBurst Les Paul | BlackBurst | 1997 – Present |
| Fender | Stratocaster | Sunburst/Relic | 2000 – Present |
| Gibson | Joe Perry Boneyard Les Paul | Green Tiger/Yellow Striped | 2004 – Present |
| Echopark | Blue Rose | Blue Rose | 2013 – present |
| Echopark | Ghetto Bird | Dusk Burst | 2013 – Present |
| Gibson | Gibson Goldrush Les Paul | Aged Antique Gold | 2019 – Present |
Joe Perry's Amplifier Overview
Marshall Plexi Tube Head
Years Used: 1973 to Present
One of the primary amps pushing Joe Perry's speaker cabinets is two 1959 model Marshall Plexi amp heads. One was built in 1969 with KT-66 tubes, and the other is from 1970 with EL-34s. Before every show, he listens to the amps to determine which one is the primary and which is the backup.
Marshall Major 200W
Years Used: 1973 to Present
Joe Perry is a big fan of Marshall amps, especially for live sound. Most of his Marshall amps are Majors 200W. He uses a few new, a few vintages, and several Marshall Hendrix reissues on the stage.
All in all, he has about 20-feet worth of amps on stage at all times. As his guitar tech explains, all of them are on, but not all of them are mic'd. The cabinets with mics feed the live sound, while the unmic'd amps are used mostly for stage sound.
Marshall JTM-45 Tube Head
Years Used: 1973 to Present
Also stacked up on the stage are three Marshall JTM-45 reissues. They have the EL-34 tubes to send the raw guitar power out into the audience. Like the Plexis, one amp is typically mic'd, and the other two are backups.
The three JTM-45s also act as a custom-built police siren—which we'll get to a bit later. It has its own dedicated 50-watt amp and comes through the speakers. Let's just say, it can make some noise.
Jet City JCA20H 20W Tube Head
Years Used: Unspecified to Present
A 20W tube head might not seem like a lot for a live rock show, but this amp has an important role in live shows: it powers the talkbox!
Joe Perry loves the Jet City JCA20H as a talkbox amp because of its drive and clarity. It gives him the exact sound he needs for songs like Sweet Emotion that require a lot of talkboxes. Like many of the other amps, his JCA20H is also powered by EL-34 tubes.
In the studio where being loud isn't as much of a priority, Joe Perry likes to use his Jet City tube head for just about everything.
Dave Friedman Dirty Sheila Head
Years Used: 1976 to 1999
Joe Perry's Dave Friedman Dirty Sheila head is powered by 5881 tubes and is hooked to 15" speakers. This amp has lots of drive and warmth to it, which is why the 15s do so well. While there's a lot of mix-and-matching when creating Perry's live sound, the Dave Friedman head is almost always a part of the front-of-house sound.
Morris Mo-Joe Custom Shop Amp
Years Used: 1987 to Present
The Morris Mo-Joe was built especially for Joe Perry, hence the "Joe" part of Mo-Joe. It's a head amp with EL-34 tubes built in a Vox style that pushes 10" speakers. Because it's so easy to get a nice, versatile tone from 10s, this amp configuration makes up a good chunk of Joe Perry's sound.
Joe Perry Pedals and Effects
Like most guitar heroes, Joe Perry uses plenty of pedals and effects to achieve his iconic sound. While you might think of Aerosmith as lots of heavy, distorted guitar sounds, Perry actually prefers a much cleaner, boosted sound, rather than heavy distortions.
Joe Perry doesn't like to use the same effects every night. He likes to feel inspired and go wherever the inspiration takes him. While he carries about 200 pedals on the road, there are specific effects that always seem to find their way into his rig. Here are some of his favorites.
TC Electronic Vortex Flanger
Years Used: Unspecified to Present
Joe Perry likes his TC Electric pedals. The Vortex Flanger is a mainstay in his rack drawer that adds a little touch to his playing. This one never gets "cranked up." He leaves it on a mild setting just for some texture.
TC Electronic Flashback Delay
Years Used: 1976 to Present
The TC Electronic Flashback Delay is another staple in Perry's rack drawer. This delay pedal is mostly used for long delays during solos and lead portions.
TC Electronic Hall of Fame Reverb
Years Used: 1976 to Present
A Hall of Fame guitar player needs a Hall of Fame pedal to match! Perry uses the TC Electronics Hall of Fame Reverb in his rack drawer.
According to Perry's guitar tech, the TC Electronics delay and reverb pedals are the only two reverb and delays that haven't been switched out in over two years. Considering how particular Perry is with his sound, that's quite the feat!
Duesenberg Gold Boost
Years Used: 1976 to Present
As mentioned before, Joe Perry isn't a big fan of heavy distortions. Instead, he likes to boost his clean sound and let the amps to the work. After all, what's the point of having all those different amp configurations if you don't use them?
The first booster in Perry's rack is a Duesenberg Gold Cost Boost. This booster is set to about 15dB to give a slight bump to his sound.
Option 5 Destination Bump Boost
Years Used: 1982 to Present
In addition to the Duesenberg, Perry also uses an Option 5 Destination Bump Boost in his rack. This booster is set to 20dB to give his sound a little extra oomph over the Duesenberg. He can switch between the Duesenberg and the Option 5 to get the exact amount of boost he's looking for.
Klon Centaur
Years Used: 1991 to Present
The Klon Centaur is perhaps the most important pedal in Joe Perry's rack. It's an overdrive pedal from the early 90s that adds gain without really altering the guitar tone. For a player like Perry who prefers clean tones but still needs to rock the stadiums, this pedal is a must-have.
Perry and his guitar tech have experimented with many different pedal configurations over the years, but the Klon Centaur always seems to find its way back into the mix. These pedals can be quite hard to find, but Perry carries three of them on tour just to make sure he never has to play a show without it. The Klon has been a huge part of Joe Perry's tone for the past ten years.
Jimi Hendrix Dunlop JH-1 Wah
Years Used: Unspecified to Present
Since it'd be a bit hard for the guitar tech to control the wah pedal from backstage, the Jimi Hendrix Dunlop JH-1 Wah is the first effect on Perry's stage pedalboard. Joe Perry has always liked the Jimi Hendrix wah. Not only is it based on one of his favorite players of all time, but it creates a great wah effect without distorting the tone.
Digitech Whammy
Years Used: 1997 to Unspecified
Perry prefers the old-school Digitech Whammy that's a bit smaller than the modern version of the pedal. According to Perry, the new ones have much better tracking ability, but they're not as "raunchy" as the older ones. There's just something about the tone he can't live without. He uses the whammy to get all sorts of different sounds out of the guitar and uses it on multiple songs.
Electro-Harmonix POG Polyphonic Octave Generator
Years Used: Unspecified to Present
Taking up a big slab on Joe Perry's pedalboard is the older version of the Electro-Harmonix Polyphonic Octave Generator. Since that's quite the mouthful, most people just call it the POG.
Perry uses the POG for pitch-shifting and to add more depth to his tone. The extra benefit of the POG is that it's polyphonic, which means it puts out separate signals for each tone. Since the guitar tone and the pitch-shifted tone come out separately, it eliminates that alien-sounding warble that many monophonic pedals produce. Perry can keep his crisp, clean guitar sound and just add a little extra to the background.
The classic POG has eight sliders to give Perry extremely granular control over multiple octave modes. He can create the exact sound he wants without worrying about distorting the guitar or making it sound artificial.
Perry's POG is attached to another pedal that's essentially a volume pedal and a filter put together. It creates a low pass that lets him roll into the different POG sounds. It adds a lot of texture and lets Perry do a lot of cool things with the tone.
You can see the pedal in action on songs like Legendary Child and Livin' on the Edge, but he likes to switch it up and use it just about anywhere. Perry's guitar tech says he's always using it in different places he's never used it before.
Bradshaw Amp Switcher
Years Used: 2001 to Present
Between the amps, pedals, and effects, there are tons of moving parts Joe Perry needs to control during a live show. To do that, he uses an old Bradshaw Amp Switcher.
The switcher is just a big box on Perry's pedalboard that lets him turn amps on and off and direct his signal with the push of a button. For example, if he needs to use the talkbox for a song like Sweet Emotion, he can hit the "Talk" button with his foot to turn off all the amps in his rig except the one that powers the talkbox.
Backstage, Joe Perry's guitar tech has an identical amp switcher that he can use to adjust the tone if Joe Perry isn't able to get to his in time. If he notices Perry on the other end of the stage, gearing up for a solo, his guitar tech can press the right buttons to give him the tone he needs.
Wrap Up
As a guitarist, Joe Perry became a pop culture icon back in the 80s, he is among the kings of comebacks and managed to introduce three generations into thunderous and glorious Hard Rock, with nothing but his skill and massive swagger whether it's on stage or simply walking down the streets.
He was recently honored by Rolling Stone and the Rock N' Roll Hall of Fame as one of the most influential guitarists in the industry and there's no wondering why. He condenses classic scale playing and few distortion effects to deliver some of the most memorable riffs and structures of contemporary music. His unending array of accolades in music has earned him the title of "the loud Peter Green"-one of his all-time favorite players- and while his skill set has developed over years of discipline, his charm and delivery are indebted to his cool nature.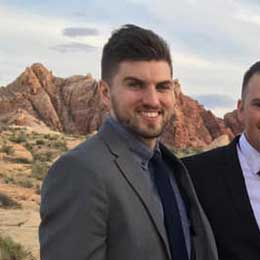 My name is Chris and I've had a passion for music and guitars for as long as I can remember. I started this website with some of my friends who are musicians, music teachers, gear heads, and music enthusiasts so we could provide high-quality guitar and music-related content.
I've been playing guitar since I was 13 years old and am an avid collector. Amps, pedals, guitars, bass, drums, microphones, studio, and recording gear, I love it all.
I was born and raised in Western Pennsylvania. My background is in Electrical Engineering, earning a Bachelor's degree from Youngstown State University. With my engineering experience, I've developed as a designer of guitar amplifiers and effects. A true passion of mine, I've designed, built, and repaired a wide range of guitar amps and electronics. Here at the Guitar Lobby, our aim is to share our passion for Music and gear with the rest of the music community.