Standing out when it comes to guitar players is definitely no easy task. However, Lindsey Buckingham is undoubtedly one of those guitar heroes who still manage to bring something new, something that no one can copy, to the table. His classical guitar take consists of glistering harmonization and frenetic chord progressions with breakdowns that have taken Arena Rock by storm for decades.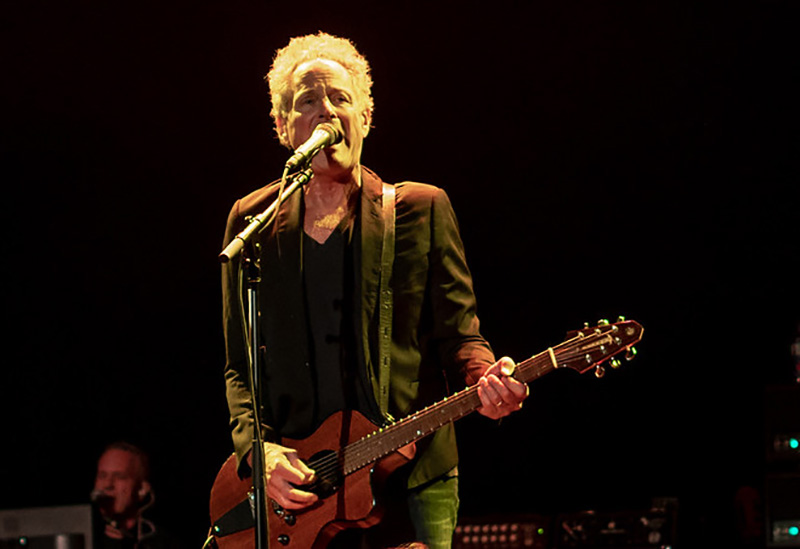 After Peter Green quit the Fleetwood Mac due to mental health reasons, Lindsey Buckingham took over, who in turn, brought legendary vocalist Stevie Nicks along with him. Though the band's lineup has changed, packing a ton of drama every year, Buckingham's musicianship and brilliant sonic attitude are credited with bringing the wave of mysticism that stood the project from the rest. In fact, when he was, once again, fired from Fleetwood Mac in 2018, they had to bring in two guys to replace him. His approach to guitar was completely different from his contemporaries.
What Kind of Guitar Does Lindsey Buckingham Play?
Lindsey Buckingham is most known for playing his iconic Rick Turner Model 1-C-LB guitar. He's also played several other models, and he is very fond of acoustic guitars such as Gibson, Taylor, and other Rick Tuner models.
See the full list below of the most notable Lindsey Buckingham guitars below.
Turner Model 1-C-LB

| | |
| --- | --- |
| Finish | Natural |
| Years Used | 1979 to Present |
Lindsey's collaboration with Rick Turner, the owner of the Renaissance Guitars, goes all the way back to the late 1970s. Following his separation from regular electric guitars, and a disenchanting few years with Gibson Les Pauls as per request of his bandmates, Buckingham needed a six-string as unique as he is in the world of Rock music. The solution was Rick Turner's so-called Model One. This was a time of experimentation in the music and guitar industry. Therefore, doing a solid-body guitar that would serve the function of an acoustic one was enough of a crazy idea to work.
As it's been revealed, Lindsey Buckingham has at least three of these Model One guitars, each in a different tuning. Of course, the guitar found its use both for his work in Fleetwood Mac, as well as his solo career.
The original model is still in use. Even today, Lindsey takes the same old piece made back in the 1970s on the stage for pretty much every show.
According to Lindsey, he needed something between a Strat and a Les Paul, but with some "percussive" vibes to it. Rick Turner's Model One was the solution, combining acoustic and electric guitar elements.
What's really interesting is that this instrument has an odd control on its backside. It controls the angle of the pickup, which gives some rather unusual sonic characteristics. The six-string's overall design is also rather particular as it has a fairly compact body. It's kind of like a single-cutaway guitar, but with its own twist. The bass side of the upper bout is also designed to bring easier access to higher frets.
The model sports 24 frets, an abundance of controls, as well as a vintage-style tailpiece with a bridge that resembles the classic tune-o-matic design.
Gibson Chet Atkins CE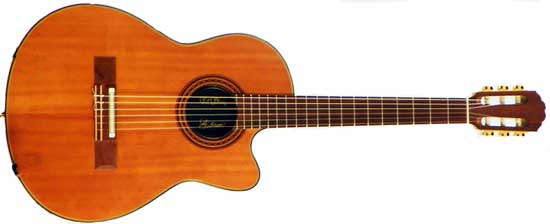 | | |
| --- | --- |
| Finish | Natural |
| Years Used | 1983 to Present |
Lindsey Buckingham is known for his use of acoustic guitars. However, as we mentioned beforehand, it's the nylon-string acoustic guitars that he's so keen on. One such instrument is the legendary Chet Atkins CE model, developed as a collaboration between Gibson and The Country Gentleman himself.
Just like most of Lindsey's gear, things are kind of blurry as to when and where he started using them. However, it's highly likely that he had them since the 1980s and still uses them to this day. Released originally in the early 1980s, the Gibson Chet Atkins was most likely the first instrument of its kind. It was considered as somewhat of a "hybrid" and "CEC" in its name stands for "Cutaway Electric Classical."
Despite being labeled as a "classical" and sometimes even a Spanish guitar, this is actually a solid-body instrument. The main idea was to get that classical-like tone but without any risk of feedback. It was developed by Chet Atkins and Kentucky-based luthier Hascal Haile.
According to Lindsey, he used the piece for the performances of "Big Love" and "Go Insane."
And it's "Go Insane" where we can hear the guitar's full potential. It has the much-appreciated brightness with his picking techniques, all while retaining some of the warmth of nylon strings. Nevertheless, this Gibson niche piece has been a mainstay in his rig for quite some time now and a regular rotatory piece to his Model One Rick Turner guitars.
Taylor 814CE

| | |
| --- | --- |
| Finish | Natural |
| Years Used | 2013 to Present |
If you haven't noticed yet, Lindsey Buckingham is predominantly an acoustic guitar player. Although we can't say for sure when exactly he started using them, he did get into Taylor's classic 814CE guitars sometime in the early 2010s. Even to this day, he has at least a few of these in his collection.
Recent years have seen Lindsey engage on-stage and studio with this particular acoustic six-string, it's often used for Big Love and some guest performances. The 814CE is a cutaway variant of the 814 model. Although it usually comes with Taylor's own Expression System, Lindsey prefers using Fishman Prefix electronics.
This Venetian-cutaway instrument comes with a Sitka Spruce top and Indian rosewood sides and back. However, there's apparently another variant of these in his collection, bearing Sapele wood back and sides.
Rick Turner Renaissance Baritone Guitar

| | |
| --- | --- |
| Finish | Natural |
| Years Used | 2003 to Present |
At the time he acquired this piece, Lindsey Buckingham was already collaborating with guitar builder Rick Turner. One of the most unique instruments that came out of this collab was the Renaissance Baritone guitar.
Although you'd expect a baritone model to have some of those really deep tunings, this one is in open E-flat tuning. Aside from its unusual yet very stylish semi-hollow body design, we can notice a Roland MIDI pickup just behind the bridge. The idea here is not to use it entirely as a synth guitar, but just to add that little something to "beef up" the tone.
The guitar in its original mode comes with the so-called D-TAR pickup system. Designed by Rick Turner himself, it's a piezo pickup underneath the saddle, along with a very powerful 18-volt preamp. This is a bit unconventional for such a six-string. It not only makes the instrument's output signal really loud, but it also adds to the brightness of the tone. This guitar is reportedly one of the most sensitive and responsive six-strings ever built, designed to follow the player's every move. Needless to mention it's rarity, Lindsey is one of the few privileged ones to use it as one of his mains.
The Rennaissance was built based on a traditional troubadour guitar, and since 2003 it has been fighting its place as number one on Buckingham's catalog. Though it might not have the trajectory his Model 1-C has had with him during his tenure with Fleetwood Mac, Lindsey can be seen with it on various occasions while playing with Stevie Nicks.
Furthermore, it is only fair to point out that this Baritone model has highlighted Buckingham's maturity into legendary status. This is one of my personal favorite Lindsey Buckingham guitars of all time.
1974 Gibson Les Paul Custom

| | |
| --- | --- |
| Finish | White |
| Years Used | 1974 to 1978 |
Ironically enough this is one of the most associated guitars to Buckingham's early years with the band. Lindsey's entrance into Fleetwood Mac had a few initial impasses. While he was used to playing Fender Stratocasters, he was supposed to fill in the shoes of Peter Green who used a Gibson Les Paul. In order to get this fatter and more aggressive tone, he caved and had to get one. For this purpose, he got a white Gibson LP Custom. As it usually goes with the 1970s rock music, things get kind of blurry here and it's not certain whether this is a 1974 or a 1975 model.
What is known, however, is that it had a white finish with black binding. It's highly likely that this was a 20th-anniversary Custom model. In later years, he has been seen using a guitar that looks the same, only with different tune pegs and with a slightly different color. This ultimately caused many questions surrounding whether he had modified this particular six-string or if he'd gotten a new similar one.
Nevertheless, the legend suggests that Lindsey was never really fond of this guitar back in the day. Despite being an interesting high-end piece, he just wasn't used to Les Pauls. He only learned to manage himself around it given the demands and high-marks that Green and Fleetwood Mac had set for him. A few years later, however, he would partner up with Rick Turner to get a fitting six-string that would remain undisputed to this day.
Fender Acoustasonic Jazzmaster

| | |
| --- | --- |
| Finish | Tobacco Sunburst |
| Years Used | 2021 to Present |
Being a huge fan of Fender guitars, it was no surprise that Lindsey Buckingham was going to follow the company's latest trends, even in modern times. Fender's Acoustasonic Series did cause somewhat of a controversy, but fans seemed to have accepted them. Looking at their specs and manufacturing, they seem like perfect guitars for Lindsey. In 2021, he got a brand-new Fender Acoustasonic Jazzmaster. The main idea was to have a bright-sounding and "percussive" guitar, all while managing to keep the tone full. To introduce the Acoustasonic Jazzmaster, Lindsey performed an inaugural version of "Never Going Back" as a Fender exclusive.
So far, the instrument hasn't seen a lot of action. But we're expecting him to incorporate it into his live and studio work.
As if it was made especially for Lindsey Buckingham, these instruments are where acoustic meets electric. They come with a very thin yet semi-hollow body with a Sitka spruce top, mahogany body, and a mahogany neck. There's also the standard soundhole, which fits perfectly with the company's famous Jazzmaster body shape.
Now, what's really exciting is that you can use it both as an acoustic and an electric guitar. Sure, you can play it unplugged, and you'll get your normal acoustic tone. However, if you use the piezo pickup for PA systems or specialized amps you'll finally get a magnetic pickup, allowing you to play it like a conventional electric guitar.
Taylor T5-C1

| | |
| --- | --- |
| Finish | Flamed Maple Sunburst |
| Years Used | 2010 to Present |
With Lindsey Buckingham's entrance into the world of Taylor guitars, it was only expected to see him using more than just one model. Another piece that he's used to an extent since the 2010s is Taylor's T5-C1. He had, and probably still has one, with a sunburst finish.
These are probably one of the most interesting and innovative instruments to come out of Taylor's factory. T5-C1 doesn't have your regular soundhole, but rather four cleverly and stylishly conceived soundholes above and below the strings.
This steel-string comes with maple tops (quilted or flamed) while the other materials changed depending on the availability and other factors. Although equipped with a piezo pickup system and bearing the regular electro-acoustic controls, we have a hard time deciding whether this counts as an acoustic or an electric guitar.
Unfortunately, this unique guitar is discontinued. And if you manage to find a used one, they'll be fairly expensive. And it's not a surprise as they're very dynamically responsive and bring some of the best performance qualities you'll find.
Ovation Balladeer

| | |
| --- | --- |
| Finish | Natural |
| Years Used | 1975 to 1984 |
Among his acoustic arsenal, Lindsey reportedly used quite a few Ovation models when experimenting towards a more cemented sound during his early run with Fleetwood Mac. The exact model variant has never been confirmed, but from pictures of that era, it seems that it was the Ovation Balladeer 1621-4.
The earliest documented uses were on Fleetwood Mac's 1975-1976 tour in support of the self-titled album (aka "The White Album"). In particular, Lindsey used it for performances of "Landslide." Later on, he was also seen using this guitar, or a very similar one, during the late 1970s and the early 1980s live performances.
According to some sources, Lindsey got to be very fond of the Ovation sound, recurringly going back to it after playing his Les Pauls for just a little while. Other than that, not much is known about its whereabouts. After all, Lindsey is not exactly remembered as an Ovation guy so this choice might seem a bit odd from today's perspective.
The 1621-4 variant is very similar to the basic Balladeer. The most important difference is a slightly shallower body. These were all made in Connecticut and the production lasted from 1971 to 1990. The piece came with an AA Sitka spruce top and the regular Ovation composite round back. It also featured a walnut bridge and (presumably) the company's own piezo pickup and electronics. However, we wouldn't be surprised if Lindsey did some modifications to it. But we can't really say anything for sure as there's no documented info on it.
Asher Ultratone T Deluxe

| | |
| --- | --- |
| Finish | Natural |
| Years Used | 2002 to 2016 |
Aside from a few photos and videos, there's not much "official" info on Lindsey's use of this guitar. However, he did use an Asher Ultratone T Deluxe, at least for a while. This was most likely during the 2000s and the 2010s.
Glancing at this six-string, we can notice the obvious Telecaster influence. On the other hand, it features a "3 + 3" kind of headstock, somewhat similar to those on PRS guitars, keeping the strings in an almost straight line from the nut to the tuning pegs.
It comes with vintage-oriented open-back machine heads. Rounding up its aesthetics, we can notice black inlays on the body edges. This is a pretty exciting instrument, bearing a Korina body. Although resembling a Telecaster, it's not exactly a copy, but rather a stylishly "morphed" instrument. These are exclusive instruments made by custom orders. With that said, we're not certain which exact pickups did Lindsey Buckingham had placed in these. But we have no doubt that he's put it to good use.
Martin D-18

| | |
| --- | --- |
| Finish | Natural |
| Years Used | 1983 to Present |
According to some of the interviews he gave over the years, Lindsey Buckingham acquired his first Martin D-18 model when he was 19 years old. This six-string is deemed to be the universal model across all genres and the music industry.
It's safe to say that he implemented it as a practice instrument, although we can't really confirm whether it found any real use on any of Fleetwood Mac, it is known that Lindsey employed it in some of his most recent work. Additionally, Lindsey has used a Martin D-18 as a main for the song "Landslide" in quite a few performances.
Martin's D-18 has changed a bit over the years, but its essence remained the same. With the Sitka spruce top and mahogany back and sides, you get a very balanced tone with strong output. This is exactly what made the guitar so popular and diverse, finding its place in many genres.
1975/1976 Gibson Les Paul Custom

| | |
| --- | --- |
| Finish | Black |
| Years Used | 1975 to 1977 |
Being forced into this new sound, Lindsey Buckingham had to go with another Gibson Les Paul to try out a good entry. This was yet another Custom model. This time around though, he used a black 1975, or possibly 1976, Custom that he used for live shows. The model may have also found its way onto studio recordings. However, the only documented proofs show that he had it for live shows.
What is, in fact, known is that he used it for the 1977 tour in support of the "Rumours" album. In particular, he used it for the performances of "Monday Morning." After a while, the instrument was replaced on live shows, but Lindsey still kept it as a backup for the previously mentioned white Gibson Les Paul Custom.
Reportedly, the guitar was kept in his rig until the end of 1977. Among many of the other reasons this particular LP went out of Lindsey's rig, was the fact that he was so often pressured to keep it during the rumors era -additional to the ongoing inner struggles- that at one point he threw this Black Custom guitar at Knicks head. He missed, however, it only resulted in an infuriated Christie McVie slapping Buckingham, followed by the band's separation in 1981. There's not much information about its whereabouts following that year, it was made very clear that Buckingham just wouldn't cope with the Les Paul and this black version saw far less action than his white Custom model.
Gibson EDS-1275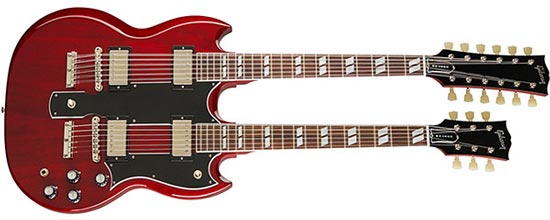 | | |
| --- | --- |
| Finish | Dark Cherry Red |
| Years Used | 1977 |
Once again, we have a Gibson guitar on this list, all while knowing Lindsey's not really a Gibson guy. While not much info was shared on this particular guitar, he was seen with it sometime in 1977. The EDS-1275 was a revolutionary piece for the times and was popularized by Jimmy Page. To our knowledge, Lindsey hasn't ever talked about this guitar, but it's safe to assume that he was kind of forced into using it. After all, Fleetwood Mac expected him to have thick-sounding Gibson.
Although not officially confirmed, it is believed that Lindsey Buckingham used this piece for the recording of "Oh Daddy" and "Gold Dust Woman" from the "Rumours" album. But this was only until the late spring of 1977, after which he found another more suitable 12-string guitar for him.
Alembic Series I 12-String
| | |
| --- | --- |
| Finish | Natural With Light Stripes |
| Years Used | 1977 to 1984 |
Unsatisfied with the results of his Gibson EDS model Lindsey went back to luthier Rick Turner and requested yet another 12-string guitar sometime in 1977. It's safe to assume that he was just uncomfortable using Gibson guitars but wanted to combine the best of two worlds – the "thick" tone of Les Pauls and the playability of Fenders.
The moment Lindsey stopped using his Gibson EDS-1275, the new instrument found its use during the 1977 tour. According to various sources, he implemented it for live renditions of "Oh Daddy." The model still had this same use until the end of the "Tusk" tour in 1980.
It is widely believed that Lindsey had it in an alternate tuning, DGDFAC. While it's highly likely that there was an alternate tuning involved, no one can confirm that it was this exact one. Other than that, not much is known about this particular guitar. We can clearly notice the dark brown finish and the double-cutaway design.
We can notice that the headstock was designed to hold the strings in a straight line. Other than that, not much can be seen in the pictures from that era. And, of course, not much is known about this guitar's whereabouts after 1980.
Rick Turner M-27
| | |
| --- | --- |
| Finish | Brown/Red |
| Years Used | 1982 to Unspecified |
As you can already see from the inventory listed here, Lindsey Buckingham had quite a collaboration with Rick Turner. One of the instruments is the M-27, or the Model 27. Now, although this guitar is most certainly an interesting piece that Lindsey used to great extent, there's not much info on it. Various sources claim that there have been fewer than 10 of these ever made back in the early 1980s.
From the photos, we can see that the guitar has over 24 frets, most likely 27. It also has a double-cutaway body, kind of similar to that of Gibson's double-cutaway Les Paul Junior, only thicker. The only officially documented uses of this instrument were during Lindsey Buckingham's solo tour back in the early 1990s. In particular, he used the instrument for the performance of Fleetwood Mac's "The Chain". But knowing that these guitars were most likely all made back in the early 1980s, it's highly likely that Lindsey had it even back then, although we don't know where it found practical use.
Table Showing Each Guitar Lindsey Buckingham Has Played at Each Point of His Career
| Make | Model | Color/Finish | Years |
| --- | --- | --- | --- |
| Gibson | 1974 Les Paul Custom | White | 1974 to 1978 |
| Ovation | Balladeer | Natural | 1975 to 1984 |
| Gibson | 1975 Les Paul Custom | Black | 1975 to 1977 |
| Gibson | EDS-1275 | Dark Cherry Red | 1977 |
| Alembic | Series I 12-String | Natural With Light Stripes | 1977 to 1984 |
| Rick Turner | Model 1-C-LB | Natural | 1979 to Present |
| Rick Turner | M-27 | Brown/Red | 1982 to Unspecified |
| Gibson | Chet Atkins CE | Natural | 1983 to Present |
| Martin | D-18 | Natural | 1983 to Present |
| Asher | Ultratone T Deluxe | Natural | 2002 to 2016 |
| Rick Turner | Renaissance Baritone Guitar | Natural | 2003 to Present |
| Taylor | T5-C1 | Flamed Maple Sunburst | 2010 to Present |
| Taylor | 814CE | Natural | 2013 to Present |
| Fender | Acoustasonic Jazzmaster | Tobacco Sunburst | 2021 to Present |
Lindsey Buckingham Amplifier Overview
Hiwatt Custom 100 DR103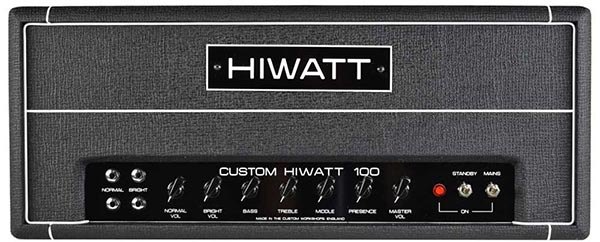 Years Used: During the mid-1970s
Although not much is known about Lindsey's exact use of guitar amplifiers, he did have a Hiwatt Custom 100 head back in the mid-1970s. As the story goes, he had two of these, along with two cabinets, one either serving as a backup or just as an amp with a different setting. Lindsey was occasionally seen with these. But he did have them for a while.
Released back in the early 1970s, Hiwatt Custom 100 heads were pretty revolutionary for their era. Back then, Marshalls were pretty much a standard. However, what the Custom 100 amp offered was a lot more headroom, which allowed for some cleaner tones. In addition, many have claimed that Hiwatt amps just had a stronger and fuller "punch" than Marshalls.
As far as the specs go, the head came with a total of 100 watts of power. This was all enabled through four 12AX7 valves in the preamp and four EL-34 tubes in the power amp.
At this point, they're still highly valued among collectors. Which isn't a surprise with their tone and features. The fact that this same exact model was used by both pop and heavy metal musicians speaks for itself.
Mesa Boogie Dual Rectifier Trem-O-Verb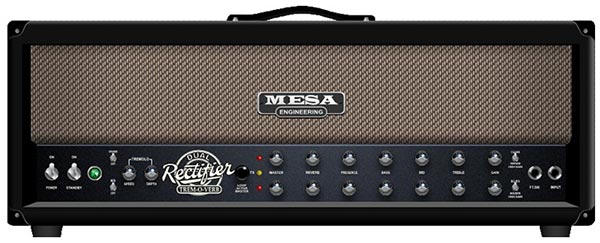 Years Used: Not certain, most likely since the early 2010s to now
Honestly, it's kind of hard to imagine Lindsey Buckingham using Mesa Boogie amplifiers. Although often associated with hard rock and metal players, these are extremely potent tools for pretty much any musical style.
For some time, Lindsey has been using Mesa Boogie's Dual Rectifier Trem-O-Verb. In fact, he always has a couple of them in his rig. These are, of course, for his electric guitar tone, and he switches them back and forth for different presets.
These are 100-watt amp heads with two channels. In some ways, this amplifier is intended as a slightly softer variant to Mesa Boogie's otherwise heavy amps. They're known as fairly flexible amps and have features like dedicated reverb and assignable tremolo effect. Although bearing two channels, you have four modes in total and even the bias select switch.
SWR California Blonde
Years Used: Not certain, most likely from the early 2010s to now
In order to use the full potential of his acoustic guitars, Lindsey Buckingham has SWR California Blonde amps in his rig. Once again, he has a setup that bears two amps. This enables him to switch between two completely different presets easily.
Although a combo amplifier, Lindsey uses it with extension cabs, although we don't know which ones. Either way, these are immensely powerful 200-watt amps with two channels, a single 12-inch speaker, as well as a smaller tweeter for mids and high-ends. They even come with an additional input for a microphone. This one can be used for either vocals or micing an acoustic guitar. What's more, there's even a separate auxiliary input for the second channel, making this amp sort of like a standalone PA system.
Other than that, it has completely independent controls for each of the channels. There's the classic 3-band EQ on each of the channels, as well as input gain controls. The volume and the reverb are controlled through master controls that affect both channels. At the same time, you can control the amount of the effect for each channel.
Of course, the amplifier offers a few other features, but it would take an entire guide to explain it all. All in all, it's a unique and versatile amp that's not that easy to find these days.
1959 Marshall Super Lead

Years Used: The mid-1970s
Lindsey's not the name you'd associate with Marshall amps. But once again, we go back to Lindsey Buckingham's entrance into Fleetwood Mac. As mentioned, it was expected of him to have this classic "thicker" blues-inspired hard rock kind of tone. Back then, Marshall was the brand for this. Sometime in the mid-1970s, presumably, only during 1976, Lindsey had the classic Marshall Super Lead 1959 amp head. Of course, he used this amp paired with the aforementioned Gibson Les Paul guitars.
This is THE Marshall amp model, the magnum opus, something that even today's amp makers are trying to replicate. Introduced back in 1965, it featured 100 watts of power and two channels, each bearing two inputs for low and high gain.
Originally, these came with KT66 valves in the power amp, which was later replaced with EL34 ones. The preamp section comes with classic ECC83 tubes.
Mesa Boogie Mark 1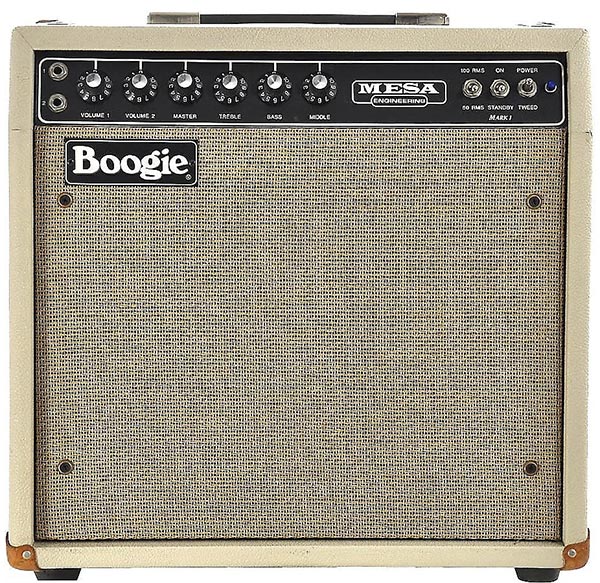 Years Used: The late 1970s to the mid-1990s
While we can't confirm this 100%, it's kind of safe to say that Lindsey wasn't very fond of Marshall amps, just like he wasn't happy about using Gibson Les Paul guitars. But in the early 1970s came a new amp into the spotlight, Mesa Boogie's Mark 1.
This diverse little amp head found its way into Lindsey's rig sometime in 1977, just when the Mark 1 got its improved variant. It was a new amp at the time, but it offered a lot of tone-shaping options compared to what was already present on the market.
Lindsey Buckingham Pedal and Effects Overview
Boss SD-1 Super OverDrive
Years Used: Not certain, most likely throughout most of his career
While Lindsey Buckingham really prefers going with some unconventional custom-made guitars, his pedalboard is the complete opposite. Preferring simpler stuff, he's known for using Boss' classic SD-1 Super OverDrive pedal.
Now, it is known that the pedal has been a part of his signal chain during the 2010s and onwards. However, it's highly likely that he also used it throughout his career. This is one of those straightforward overdrive pedals, bearing only volume, gain, and tone controls. The DS-1 Super OverDrive pedal is known for its "sharp" overdriven tones, which is how Lindsey prefers it.
Boss OD-1 OverDrive
Years Used: 1977 to 1989
During the tour in support of the "Tusk" album, Lindsey Buckingham had the old Boss OD-1 OverDrive pedal. It is said that he kept using it until sometime in the summer of 1980.
This is a rather simple one, featuring only two knobs. There's the volume knob and a drive intensity knob. Boss sold these from 1977 and 1985, and these old original pieces are highly sought-after among vintage gear collectors.
They were pretty revolutionary for the times. This was due to two reasons. Firstly, they differed from then-standard fuzz pedals. And secondly, the produced asymmetrical clipping, which gave a rather unique overdriven tone.
Boss DD-3 Digital Delay
Years Used: 2010s
Once again, we have a pedal that was seen in his rig during the 2010s. But knowing that Boss' DD-3 is a legendary simple digital delay pedal that's been on the market for a long time, we wouldn't be surprised if he used it for decades now.
What is known is that Lindsey uses the Boss DD-3 for both his acoustic and electric rigs. Both setups are pretty simple, especially the electric one where he uses only DD-3 and SD-1.
This is yet another example of a classic pedal by Boss, one of their longest-lasting products. It allows for delay times up to 800 milliseconds, effects level (or mix) control, feedback control, as well as the famous "hold" mode.
Boss RC-30 Loop Station
Years Used: 2010 to Unspecified
For his acoustic rig, Lindsey has the Boss DD-3 Digital Delay paired with the RC-30 Loop Station. This is a discontinued model, but it still works wonders for many players around the world.
It comes with the "dual pedal" kind of design. Aside from the very impressive total recording time of three hours, it even comes with built-in effects, as well as an XLR input jack with a phantom power feature.
Voodoo Lab Pedal Switcher
Years Used: Seen using during the 2010s
During the past decade and more, Lindsey began using the Voodoo Lab Pedal Switcher. Sure, this is not an effect, but it allows him to switch between different amps. It's a pretty straightforward and useful device, bearing only four switches, along with loops on the backside.
Wrap Up 
While Buckingham might not be the most highlighted of Rock guitarists, he is certainly one of the most virtuosic ones when it comes to style and approach. Typically playing his nylon-stringed guitars, he blends a traditional approach that pairs up perfectly with a classic rock sound. What made Buckingham the outstanding axeman he is today was the fact that he brought to the game what he learned in his youth with the banjo and translated it all to the hitmaking machine Fleetwood Mac became.
In his own words, "You do what you can to get the sound you want" and one way or another Lindsey managed to bring a new sonic essence to Mac, one that gave it a drastic spin to the blues-infused origins provided by his closest peer and forebear Peter Green.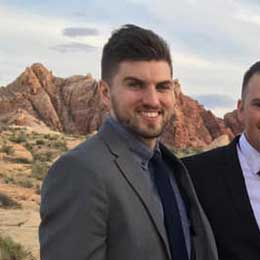 My name is Chris and I've had a passion for music and guitars for as long as I can remember. I started this website with some of my friends who are musicians, music teachers, gear heads, and music enthusiasts so we could provide high-quality guitar and music-related content.
I've been playing guitar since I was 13 years old and am an avid collector. Amps, pedals, guitars, bass, drums, microphones, studio, and recording gear, I love it all.
I was born and raised in Western Pennsylvania. My background is in Electrical Engineering, earning a Bachelor's degree from Youngstown State University. With my engineering experience, I've developed as a designer of guitar amplifiers and effects. A true passion of mine, I've designed, built, and repaired a wide range of guitar amps and electronics. Here at the Guitar Lobby, our aim is to share our passion for Music and gear with the rest of the music community.