While it's difficult to say exactly when heavy metal music was born, as it is often debated, but the general starting point is sometime in the late 1960s with young, innovative, and energetic guitar players leading the way with their incredibly loud guitar amps and, for those times, even unbearably distorted guitar tones. From a relatively small number of bands that were brave enough to step into these waters, Black Sabbath is almost always singled out as one of the pioneering groups that started it all.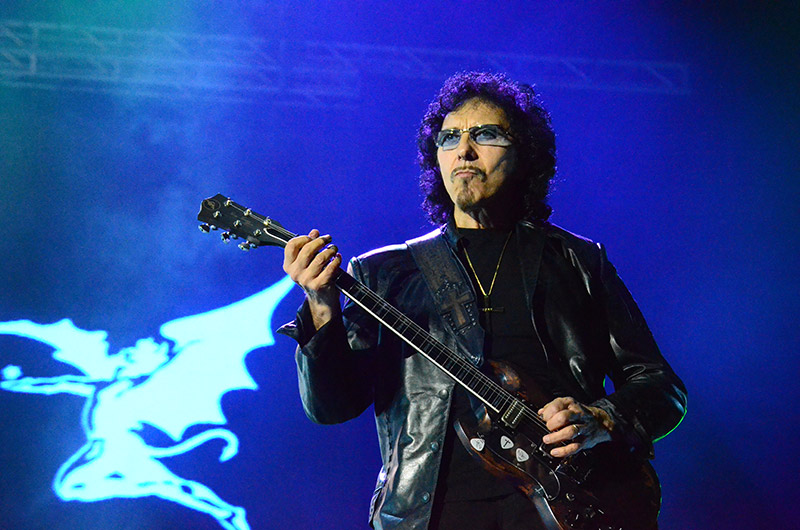 Sure, there were artists and bands like Jimi Hendrix, Led Zeppelin, Cream, and Vanilla Fudge that experimented with heavier riffs and unusual song structures in the 1960s. However, Black Sabbath was the first to release an entire album of heavy metal songs. And leading the way was none other than guitarist Tony Iommi.
What Guitar Does Tony Iommi Play?
Tony Iommi's main guitar is a 1964 Gibson SG Special known as "Monkey", although he is also known to play several other SG models made by Gibson as well as custom-builds by John Birch and John Diggins.
Iommi has also owned and played a wide range of other guitars and gear throughout his career. See the full list of notable Tony Iommi guitars below.
1964 Gibson SG Special, aka "Monkey"

Finish: Cherry Red
Years used: 1963 to 2000
And here's the real deal, the guitar that defined Tony Iommi's work. Iommi got this instrument a trade-off for his right-handed SG Special. Ironically enough, this left-handed SG was owned by a guy who played it right-handed, strung upside down. It soon became Tony's main guitar.
This instrument came with the P90 pickups, which remained on it for only a short period. Iommi took it to famous luthier John Birch who replaced the neck pickup for his "Simplux" model and re-wound the guitar's stock P90 in the bridge position. Additional work was done on its finish, and Birch also added a "zero" fret right after the nut, rounding it all up with the famous monkey sticker, automatically giving it its famous nickname.
Although it served him well for a few albums, Iommi put the "Monkey" SG aside. He was not keen on taking it out on the road so he retired it after a while. The guitar is currently residing in New York City's Hard Rock Cafe.
John Birch SG Custom
Finish: Black
Years used: 1975 to Present
Tony was really fond of his "Monkey" Gibson SG. So much that he always kept it in sight, taking it with him in hotel rooms on tour. Due to being afraid that it might get stolen, he decided to "retire" this fine SG and hired luthier John Birch, who already modified the "Monkey", to make him a custom guitar. The guitar was built back in 1975 and Iommi used it on "Technical Ecstasy" and "Never Say Die", as well as the two Ronnie James Dio era albums in the early 1980s. Of course, this SG has also seen a lot of action on tours from 1975 to the early 1980s.
Aside from its black finish, the instrument had the now-famous cross inlays on its ebony fretboard. This was also accompanied by a stainless steel pickguard that gave this instrument a futuristic yet very balanced and tasteful appearance. Three main improvements that came with this instrument were John Birch's legendary Magnum pickups, a Schaller bridge (which was pretty innovative at the time), as well as the inclusion of 24 frets. This is one of my favorite Tony Iommi guitars of all time.
Jaydee SG, aka "The Old Boy", aka "No. 1"
Finish: Custom/Brown the result of a few errors
Years used: 1977  to Present
John Diggins, a man who used to work for John Birch, began making his own SG for Iommi on the side in 1975 under the Jaydee moniker. Due to starting his work as Iommi's guitar tech, he didn't really have time to finalize the instrument, leaving its aesthetic features somewhat "raw". And just like Birch's SG, this one saw some significant improvements compared to standard Gibson SGs at the time. This included 24 frets, cross inlays on the fretboard, and a Schaller bridge.
But compared to the previous one, this Jaydee SG had a transparent plexiglass pickguard, some pretty weird-looking potentiometer caps, and a rather unusual finish. The finish and its unusual shade of brown are the results of a rushed building process and some improper handling. Firstly, Diggins made the instrument on his kitchen counter without using tools and methods to do it properly, all while hurrying to have it done before going out on tour with Sabbath. And, additionally, the guitar was left in a car during a hot day in South America.
Nonetheless, the guitar became one of Iommi's instruments and is known under two nicknames, "No. 1" or, more famously, "The Old Boy". The neck pickup was a John Birch Magnum model, while the bridge position featured a custom-made humbucker by Diggins. And just like most of Tony's guitars that he took on the road, the bridge pickup is completely disconnected from the tone control, giving it a stronger and clearer output.
1981 Jaydee SG Custom
Finish: Maroon with brown stripes
Years used: 1981 to 2012
After liking what he has pulled off with "The Old Boy", Tony recruited Diggins for yet another SG. Bearing different aesthetic features, this new guitar was built and finished in 1981 and it served as a backup for "The Old Boy".
Aside from the classic SG-style body, the headstock had a different design, two double-rail humbucker pickups (most likely made by Digging), a locking nut, and an advanced bridge, presumably a Kahler model. The finish was maroon with light and dark brown stripes going right down the middle of the body. There was also another one, identical with all the features, but with a black finish and what seems to be a stainless steel pickguard. Both of these instruments were sold through RockStarGuitars.com to unknown buyers in the 21st century.
In fact, Iommi had a few other Jaydee SG guitars, even a 7-string one, all of which were sold through the aforementioned website. Not much is known about these guitars or whether they saw some action in live shows.
'60s Fender Stratocaster
Finish: White, originally Sunburst
Years used: 1966 to Unspecified
Isn't it kind of weird to see an actual Fender Stratocaster on a list of Tony Iommi's instruments? What's more, this was a Strat made sometime in the first half of the 1960s, meaning that it came with a rosewood fingerboard, which made this run of Strats special.
This instrument originally had a classic sunburst finish. And, what's really interesting is that this was an actual left-handed guitar, something that was hard to find in a place like Birmingham back in the 1960s. Due to his early-career accident, Iommi modified the guitar by lowering the frets and adjusting the action. Along with these modifications also came a new paint job, with Iommi giving it a white finish.
With their record deal already signed, Sabbath entered the studio with Iommi taking this Strat as his main guitar. Unfortunately, one of its pickups malfunctioned. Back in those days, it wasn't easy to find someone who would repair it, so Tony took his backup instrument to finish the job. Only "Wicked World" from the band's self-titled debut album was recorded on this Strat.
Popular Related Article: A full rundown of Jimmy Page Guitars and Gear
1960s Gibson SG Special
Finish: Unknown, most likely Red
Years used: 1967 to 1970
Although some information on this other SG Special and the legendary "Monkey" SG is conflicting, it's been confirmed that Iommi had two of these models. When the Strat malfunctioned, he took up his spare SG to get the job done. Whether this was the "Monkey" or this other, right-handed, SG remains uncertain.
Either way, it's known that Iommi traded this right-handed SG Special for the left-handed one. It is, however, still uncertain whether the trade-off happened before or after the recording of Black Sabbath's debut. Not much is known about this particular SG Special, but it most likely had two P-90 pickups.
Early 1960s Gibson Les Paul Custom (or SG Custom)
Finish: White
Years used: 1972 to 1983
While we can see old footage of Iommi using this triple-humbucker white SG, the instrument was used only for a brief period. Sharp guitar-loving eyes were able to pin this instrument's manufacturing year to either 1962 or 1963. Depending on the year of production, the guitar was marketed either as a Les Paul Custom or an SG Custom model.
These old instruments came with three humbucker pickups, a 3-way selector switch, and four standard knobs. They were also equipped with an ABR-1 tune-o-matic bridge and an old school vibrato tailpiece, made either by Gibson or Bigsby.
Aside from some TV appearances, Iommi used it for a few live shows back in 1970. Some sources claim that the instrument also found its way on the "Paranoid" album, although this has never been officially confirmed.
1960s Watkins Rapier 22
Finish: Unknown
Years used: 1964 to 1970
And now we go all the way back to the very beginning of Tony's playing career. According to his own words, the first guitar that he owned was a Watkins Rapier 22. The main reason why he got it is that it was the only guitar he knew about that was available as a left-handed instrument at the time.
The Rapier 22 model featured two single-coil pickups and Watkins' special Hi-Lo vibrato bridge. Although bearing a Stratocaster shape, these had a Gibson-style pickup selector switch.
And not much is known about this instrument or what its finish was. Tony just confirmed that he owned one of these back in the day.  Some have suggested that it was red, since Iommi has been a huge fan of Hank Marvin and The Shadows since his childhood, and Marvin had a red Stratocaster. But it seems that we'll never know for sure.
Popular Related Article: Kurt Cobain Guitars and Gear List
Early 1960s Burns Trisonic
Finish: Unknown
Years used: 1964 to 1981
It's hard to have any definitive info on stuff that went on with Iommi back in the early and mid-1960s since there's not much photographic evidence of him using any particular guitars. But one particular guitar that we know he used was an unidentified Burns Trisonic guitar made back in the first half of the 1960s. Joining his first serious band called The Rockin' Chevrolets, this one was an important investment into his musical career. It's not certain what he did with the guitar later on, but he used it for a brief period during the 1960s.
Early 1990s Gibson SG Standard
Finish: Black
Years used: 1990
But his decades-long love for Gibson's SG guitars continued on throughout the decades. At the beginning of the 1990s, he once again teamed up with the legendary company for a special custom-made guitar that was built by master luthier J.T. Riboloff. Basing it on the company's Custom SG guitar models, J.T. Riboloff added some important features to it, like 24 frets and a two-way Floyd Rose tremolo bridge. The pickups are presumed to be by Gibson as well, but there aren't many additional details on them. With this said, it's also not known whether the instrument is still in Iommi's possession. But he did use it for live shows, most popularly for "Mob Rules" where he uses the tremolo bridge at some parts of the song.
B.C. Rich Mockingbird
Finish: Black
Years used: 1982 to Present
During the 1980s, Iommi felt like experimenting and trying out some new guitars. One of them was a B.C. Rich Mockingbird. However, not much is known about this exact instrument and whether it saw any action on live shows or studio sessions.
B.C. Rich Ironbird Pro
Finish: Black
Years used: 1983 to Present
However, there's another unexpected guitar that Iommi used during the 1980s that's more known compared to the Mockingbird. The instrument in question is B.C. Rich's sharp-looking Ironbird Pro. Die-hard Black Sabbath fans know it from Iommi's "Star Licks Master Series" video lesson from the early 1980s. Although not many details about this guitar are known, we can safely presume that Tony and B.C. Rich were discussing a potential endorsement deal.
We can see that the instrument has those easily-recognizable Iommi's cross inlays. Additionally, the fretboard is scalloped, a modification that was done by B.C. Rich's master builder Neal Moser. With this said, this Ironbird Pro has some of those classic "shredder" traits, including a Kahler, a built-in preamp, and DiMarzio pickups. Just like a lot of his old guitars, this one was sold through RockStarGuitars.com.
Popular Related Article: A Closer Look at James Hetfield Guitars and Gear
Steinberger GM4T
Finish: Black
Years used: 1983 to Present
Going deeper into Iommi's lesser-known and unusual guitars, he actually has a Steinberger GM4T. He was seen using the instrument on live shows during the late 1980s when covering "Apache" by The Shadows. Iommi also revealed that the same model, and most likely this same exact guitar, was used for his solo work and Sabbath's final album "13" from 2013. And this is a classic Steinberger with the "headless" design and tuning machines integrated into the bridge. Since there's no proof of this Steinberger being sold, it's safe to guess that he still owns it.
Washburn EC29
Finish: Blue with custom details
Years used: 1988 to 2011
The inner sleeve of Sabbath's infamous "Forbidden" album lists Washburn guitars as part of Iommi's rig for its recording sessions. While the exact model hasn't been revealed in the sleeve, it is known that Tony had Washburn's EC29. This one looks like a classic "shred" Super-Strat kind of guitar, with what looks like a Floyd Rose bridge, one humbucker in the bridge position, and one slanted single-coil in the middle. Meanwhile, the fretboard extends past the 24th fret, although it narrows down and focuses only on higher strings. It's been confirmed that Iommi sold it. This is another one of the coolest Tony Iommi guitars ever.
Hamer Phantom
Finish: Black
Years used: 1994 to Present
There was one Hamer Phantom in Iommi's collection and he later sold it through the same rock memorabilia collectors that we mentioned above. Not much is known about this Super-Strat guitar. From the looks of it, this is most likely the Phantom A7 model, the same kind used by Judas Priest's Glenn Tipton back in the '80s. Aside from a pretty weird pickup formation, the instrument also functioned as a synth controller.
Popular Related Article: Rundown of  Jack White Guitars and Gear
Patrick Eggle Artist Prototype
Finish: Natural Brown
Years used: Mid-1990s
At some point in the 1990s, Tony Iommi teamed up with Patrick Eggle for a special prototype model. The body shape was kind of a blend between the classic Strat and PRS shapes. After a while, Iommi acquired at least two more of these. The original prototype features a standard tune-o-matic bridge with a stopbar tailpiece, as well as dot inlays on the fretboard. There's also another black one with cross inlays and the same kind of bridge, while the third one was black with cross inlays and had an unidentified tremolo bridge. All three of these are now in possession of unnamed collectors.
Patrick Eggle Tony Iommi Artist
Finish: Black
Years used: Mid to late 1990s
With the SG body shape being part of his image, Iommi ordered four SG-styled guitars from Patrick Eggle back in the mid-1990s. These had pretty much the same specs and were used for both live shows and studio sessions. Just like previous Eggle guitars, these also had double-rail humbuckers. These were also all built with cross inlays in the fretboard and some pretty ergonomic indents at the body's cutaways. They also have the same type of tremolo bridges, presumably made by Kahler.
1997 Gibson SG Tony Iommi Prototype
Finish: Cherry Red
Years used: 1997 to Present
There's always at least one guitar in a famous guitar player's inventory that's somewhat shrouded in mystery. This time around, we're looking at a Gibson SG Tony Iommi Custom Shop prototype made in 1997. Bearing a cherry red finish, 24 frets, custom pickups, and cross inlays, it saw action during Sabbath's reunion gigs. It was a regular part of his live shows until July 24, 2010, when it was stolen after a Ronnie James Dio tribute show.  There hasn't been much info since then and it's not been confirmed whether he got it back. There was at least one more custom Gibson SGs made around the same time. One was sold in 2012 through RockStarGuitars.com in 2012.
St. Moritz SG "Monkey" Replica
Finish: Cherry Red
Years used: 2010s
To honor the old guitar's legacy, Iommi hired luthier Lou Moritz to do a custom replica of the legendary "Monkey" Gibson SG. The instrument bears striking resemblance to the original one, and Iommi revealed that he used it on Black Sabbath's "13" album.
Popular Related Article: Complete List of Tom Morello Guitars and Gear
Gibson Barney Kessel
Finish: Sunburst
Years used: 1988 to Unspecified
While it's really hard to imagine Iommi holding a hollow-body guitar, he did have Gibson's Barney Kessel model at some point. There's one photo, most likely from the 1980s, that shows Iommi with a part of his guitar collection in an unnamed studio. According to some estimates, the instrument was manufactured sometime in the first half of the 1960s. Other than that, there's not much info on this particular instrument and whether Tony ever used it in the studio.
Guild Bluesbird Custom
Finish: Salmon Pink
Years used: 1982 to Present
The aforementioned photo also includes a pretty rare Guild Bluesbird Custom guitar with two single-coil pickups. It comes with a "salmon pink" finish and it was allegedly used for studio recordings in the 1980s and the 1990s. The guitar was sold to an unknown collector.
Gibson Les Paul Junior
Finish: Vintage 2-tone Sunburst
Years used: 1980s (presumably)
Another guitar revealed on that photo was a simple Gibson Les Paul Junior guitar, featuring just one P90 pickup in the bridge position. Aside from having a vintage sunburst finish and a white pickguard, nothing else is known about this guitar.
Gibson ES-175
Finish: Black
Years used: 2010s
Of course, it would be hard to go into all of the guitars that Iommi had used over the years. However, there's one more that we could confirm and that's Gibson's ES-175. This is a hollow-body jazz-oriented instrument with two humbuckers, a tune-o-matic bridge on a wooden base, and a unique vintage-looking tailpiece. There's one video of him playing the guitar back in 2018. Other than that, there's not been any info on whether he used it for any studio sessions.
Table Showing the Guitars Tony Iommi Used at Each Point in His Career
| Make | Model | Color/Finish | Years |
| --- | --- | --- | --- |
| Gibson | 1965 SG Special, aka "Monkey" | Red | Late 1960s-2000s |
| John Birch | SG Custom | Black | 1975-Present |
| Jaydee | SG, aka "The Old Boy", aka "No. 1" | Custom (Brown) | Late 1970s-Present |
| Jaydee | 1981 SG Custom | Sunburst | 1981-Present |
| Fender | 1960s Stratocaster | White | Late 1960s |
| Gibson | 1960s SG Special | Red | Late 1960s |
| Gibson | 1962 or 1963 Les Paul Custom (SG Custom) | White | Early 1970s |
| Watkins | 1960s Rapier 22 | Unknown | Early 1960s |
| Burns | 1960s Trisonic | Unknown | 1960s |
| Gibson | 1990s SG Standard | Black | 1990s |
| B.C. Rich | Mockingbird | Black | 1980s |
| B.C. Rich | Ironbird Pro | Black | 1980s |
| Steinberger | GM4T | Black | 1980s |
| Washburn | EC29 | Blue | 1980s-1990s |
| Hamer | Phantom | Black | 1990s-2000s |
| Hofner | President | Sunburst | 1950s and 1960s |
| Patrick Eggle | Artist Prototype | Natural Brown | 1990s |
| Patrick Eggle | Tony Iommi Artist | Black | 1990s |
| Gibson | 1997 SG Tony Iommi Prototype | Cherry Red | 1997-Early 2010s |
| St. Moritz | SG "Monkey" Replica | Cherry Red | 2010s |
| Gibson | Barney Kessel | Sunburst | 1980s |
| Guild | Bluesbird Custom | Salmon Pink | 1980s-1990s |
| Gibson | Les Paul Junior | Vintage 2-tone sunburst | 1980s |
| Gibson | ES-175 | Black | 2010s |
Tony Iommi Gear and Amps
Laney LA 100 BL
Years used: 1960s to 1970s
Aside from SG guitars, Tony Iommi is often associated with Laney amps. From Sabbath's earliest days, these have been his top choice. For the band's first two albums, Iommi used Laney's LA 100 BL, which is popularly known as "pre-Supergroup" among Iommi's fans. These original models are quite rare and are highly valued among collectors. They also came with EL34 power tubes and standard ECC83 preamp tubes. This combo is known for producing that classic "British" tone with pronounced mids.
Laney Supergroup
Years used: 1970s to late 1980s
While there's no definitive info on which he used first, it's widely known that Iommi also used Laney's Supergroup amp. The story goes that he got his hands on one of these after the recording of Sabbath's first two albums. He then used it all throughout the 1970s and the 1980s.
Marshall 50-Watt Plexi JMP
Years used: 1962
Although Iommi is mostly remembered for his extensive use of Laney amps, there have been some Marshall heads in his arsenal as well. Right around the time when Black Sabbath was originally formed, and up to the moment before entering the studio to record their first album, Tony used a good old 50-watt Marshall Plexi JMP. The particular amp head is assumed to have been made back in 1968. These reach some pretty high prices these days and are still very popular among collectors.
This absolute beast of an amp comes with circuitry that's loaded with EL34 power amp tubes, as well as standard ECC83 tubes in the preamp. The tone is pretty mid-oriented and can sound pretty heavy even with lower-gain settings because of it. Anything from blues and up to doom metal, this amp can handle it.
Marshall Super Lead 1959
Years used: 1983
But, of course, this wasn't the only time period when Iommi went with Marshall amps. Right around the time when the band went through its very first significant lineup change, he went with a Marshal Super Lead 1959 amp. With Ronnie James Dio as the new voice, another "risky" move was taken to switch over to this amp.
However, both decisions turned out to work in the band's favor. With the help of producer Martin Birch, the guitar tone on the record was next to perfect. But there's a catch – this Marshall was modified by John "Dawk" Stillwell who pretty much reinvented its circuit and added an additional tube to it, as well as a master gain control.
Vox AC30
Years used: 1973 to 1983
Right after the release of the Sabbath's 6th album, 1975's "Sabotage," things got a bit weird within the band. Iommi almost entirely took control over the "Technical Ecstasy" sessions, trying to move the band in a new artistic direction. This also included the use of the legendary Vox AC30 amp, which was most famously used by Brian May of Queen.
Although a classic British amp, the tone is focused a bit more on the high-ends and high-mids. This gives somewhat of a "wooly" or a "fuzzy" tone, which is what we can notice on some of the parts of the "Technical Ecstasy" record. There were some pretty great changes done to the model itself over the years, but we're safe to assume that Iommi used a model that featured the now-standard ECC83 tubes in the preamp and EL84s within the power amp circuitry.
Laney GH 100 TI
Years used:  1990s to Present
Of course, Iommi always came back to his "true love," the Laney amps. Back in the early 1990s, the company made a specially-designed model for Tony called GH 100 TI. Although he occasionally used other amps as well since the early 1990s and (which we'll get to soon), this one remains his main weapon of choice.
This is an all-tube 100-watt amp head with three individual channels, as well as 5 stages of gain. Aside from this, Laney did their best to tweak and fine-tune the circuitry so that the amp could carry out some high-gain tones, all while keeping things very tight and under control. Aside from the standard ECC83 preamp tubes, the power section is equipped with EL34s. According to the company's official info, the amp is designed to work the best with their GS412LA and GS412LS speaker cabinets.
ENGL Powerball
Years used: Late 2000s
Going further into some unexpected amps (meaning that it's not Laney) in Tony's collection, he actually used Engl's Powerball head. Featuring 100-watts of power, it found use on "The Devil You Know" album, released under the Heaven & Hell moniker, featuring "Mob Rules" and "Dehumanizer" lineup.
Once again, we have some of the basic tone characteristics here that Tony loves, with its tone mostly focusing on those powerful mids. Additionally, it's packed with so many controls, allowing different ways to shape your tone. What's more, Powerball has four individual channels, allowing for some very nuanced types of distorted tones.
Marshall 2554
Years used: Mid 1990s
Back in 1996, Iommi went on to record an entire album with Glenn Hughes, best known for his work with Deep Purple in Mk. 3 and Mk. 4 lineups. Released under the name "The 1996 DEP Sessions" in 2004, Iommi also used Marshall's 2554, along with Vox AC30 and his Laney GH 100 TI.
The 2554 model is a combo amp that's actually pretty rare. What's more, even Jim Marshall himself named it one of the best amps of all time. It's a relatively small amp considering its output power of 50 watts, bearing only one 12-inch speaker.
However, there's no further info on whether Tony used this same model for any other recordings.
Marshall JCM 800
Years used: Mid-2000s
Another Marshall on the list, Iommi had a JCM 800 model for the recording of his "Fused" solo album, also featuring Glenn Hughes on the vocals. However, this was pretty much just an addition to his Laney GH 100 TI, Laney TT 100, and Vox AC30, and was even modified by Paul Reed Smith.
Although "Fused" is the only album where it was officially confirmed that Tony used Marshall JCM 800, there's some info flying around stating that he had it on other albums as well. It wouldn't be a surprise, but before there's any official confirmation by the Iron Man himself, we can't be certain of it.
Additionally, there's also no info on what exactly are the modifications done to the amp. But knowing Iommi and his tone, it's safe to assume that Paul Reed Smith meddled with gain to make it closer to Iommi's desired tone.
Marshall 9001 Tube Preamp
Years used: 1980s to 2008
Although not exactly a fully functional amplifier, Marshall's 9001 is a tube-driven preamp that Tony used in combination with a Marshall's power amp (which we'll get to soon). Although exact details aren't known, it's assumed that it was part of Tony's rig throughout the late 1980s and up to the early 1990s.
This preamp came with three standard 12AX7 tubes and could easily be used to go straight into a mixer and still get a pretty realistic guitar amp tone. Featuring three channels, you could do some serious tone-shaping with its onboard 4-band EQ. Of course, the preamp works in stereo and it's intended to be paired with some of Marshall's stereo power amps.
It's also equipped with an effects loop, with individual send and return volume level knobs, nominal level switch, and even a toggle switch that turns the cabinet emulation on and off. You could also use its "mix" knob that determines the level of the effects that you put in the loop.
Marshall 9005 Tube Power Amp
Years used: 1982 to 1994
Along with the preamp came Marshall's tube-driven power amp, the company's 9005 model. Interestingly enough, aside from its four EL34 power tubes, the power amp also had four 12AX7 preamp tubes as well.
Being a stereo device, it features two individual 50-watt channels, a total of 100 watts. Additionally, there was also a power soak switch, reducing the output of individual channels down to 25 watts. Tony's standard rig in this period featured two 9001 preamps, one of which was a backup unit, as well as three 9005 power amps.
Other than this, it was pretty simple, which is expected of a power amplifier. There was a power switch, two individual standby switches for both channels, as well as volume and presence knobs for individual channels.
Tony Iommi Pedals and Effects
Dallas Rangemaster Treble Booster
Years used: 1970 to 1999
Believe it or not, the main secret behind Iommi's tone in the 1970s was actually one pretty simple effect unit. And it's not even a pedal, but rather a treble booster called the Dallas Rangemaster Treble Booster. It was a relatively popular device among some hard rock players of the late 1960s and the early 1970s, giving that additional drive that pushed Marshall and other amps over the limits into some "organic" distortion territories. And although it had only an on and off switch and one knob, the Treble Booster achieved great results.
But in the early Black Sabbath days, Iommi had his unit modified by an unnamed tech, which significantly changed his tone. Some argue that it was essentially turned into a full-range booster, but the exact specs were never known.
Although it was the main secret behind his doomy tone, Iommi's Rangemaster was accidentally thrown away by John Stillwell who was his new tech preparing gear for the "Heaven and Hell" album sessions. Needless to say, Tony was not exactly happy about it.
Tycobrahe Parapedal Wah
Years used: 1973 to Present
Aside from his very thick and doomy distorted tone, Iommi is also well-known for his unique wah sound. While it's not certain when he got it, or whether he used it throughout Sabbath's entire career, it's known that the Tycobrache Parapedal wah saw heavy use throughout the years. There are some theories that he used certain replicas of it. However, it's known that he still has some original circuitries laying low in his inventory.
These pedals are super-rare and are highly valued among vintage-loving collectors. Tycobrahe was founded in 1969 and it lasted for a while. Iommi got one of these after the recording of Black Sabbath's eponymous debut record. Featuring a rather unusual circuitry with two frequency peaks, you won't find any wah pedal that sounds like it. It even features a "dive bomb" feature for some extra punch when the heel part of the pedal is pressed. Just take a listen to some of his live solos, especially in the final days of Sabbath, and you'll get why it's so special.
Analogman Beano Boost
Years used: 2000 to Present
While Tony usually kept his effects chain relatively simple, there have been plenty of different pedals that passed through it. Unfortunately, things aren't always clear on what and when he used, mostly because Iommi rarely ever openly discussed his pedals (and other gear aside from guitars for that matter) for some reason. One of the confirmed pedals is Analog Man Beano Boost.
Analog Man is one of the most famous "boutique" pedal makers, and you even have to wait for months to get on the waiting list for the King of Tone distortion. As for their Beano Boost, Tony got it sometime in 2001 to compensate for the long-lost Dallas Rangemaster Treble Boost. This was actually the first example ever made, and the pedal was later available for regular customers as well.
Analog Man Beano is pretty simple, featuring only a simple footswitch that turns it on and off, the boost knob, and a switch that lets you focus more on certain frequencies. It's essentially a full-range clean boost with its own "coloration" of the tone. And this is exactly what a true tube lover needs to push their amps over the limits.
Line 6 MM4
Years used: Late 2000s
For Heaven & Hell tours in the late 2000s, Tony Iommi went with Line 6 MM4 Modulation Modeller. As far as we know, this pedal was later sold through Reverb.com to an unknown collector.
The MM4 is actually a pretty advanced Modulation pedal, allowing for some very detailed and unique-sounding effects. Aside from having four individual footswitches for user-made presets, there were 16 individual modulation effects to choose from. All of these responded differently and there's even a "tweak" knob that controls specific parameters of different effects.
What's more, it comes with an expression pedal jack. This means that you can pair it with an expression pedal and actively control different effect parameters in real-time as you play.
DOD FX35 Octoplus
Years used: 2002 Present
While it's still not known during which exact period Tony used it, there's photographic evidence proving DOD FX35 Octoplus was a part of his signal chain, at least for a while. On the other hand, it seems that the pedal didn't find much use for live shows and studio sessions.
This is a fairly simple octave effect, offering three controls – tone, bottom octave level, and the direct signal level. These were manufactured through the 1980s and the 1990s, but they are not that hard to find these days and have their modest following among some collectors.
Although DOD pedals had some bad rep, they were actually pretty great. What's more, even older examples produced way back in the 1980s are still pretty cheap, which is a surprise for a vintage analog effect pedal.
Ibanez Tube Screamer TS9/808, Modified by Analog Man
Years used: 2000 to Unspecified
There was Ibanez's Tube Screamer pedal that found its way into Tony's signal chain during the late 2000s. But as it usually goes with a huge portion of Tony's gear, this pedal was modified as well. Unfortunately, there aren't many details as to what these exact modifications were. The guys from Analog Man are well-known for their modifications of old Ibanez Tube Screamer pedals, making them closer to those older pedals produced back in the 1980s.
Due to their popularity, Analog Man requires you to fill out a form before you can even send your pedal to them. Taking a listen to Tony's tone during his Heaven & Hell tours, it's obvious why the whole process takes so much.
MXR M101 Phase 90
Years used: 1993 to 2005
In a few photos of Tony's different signal chains over the years, people also noticed MXR M101 Phase 90. This is a classic pedal done exactly the same as the old original models. However, it's not yet known whether Iommi used the old vintage one or some of the later-produced models.
Nonetheless, this is a classic effect pedal found in plenty of guitar players' pedalboard, both amateurs, and professionals. What's so appealing about it is that it features only one knob that controls the speed of the effect, while its classic tone captures the hearts of guitarists of all genres.
Jim Dunlop Rotovibe Chorus and Vibrato
Years used: 2002
Going back to Tony's "Fused" album, he had a collection of some pretty unexpected pedals there, including Dunlop's Rotovibe Chorus and Vibrato. You can definitely hear that it was used all throughout the record.
At a first glance, the pedal looks exactly like the standard Dunlop's Cry Baby wah. The rocking part of the pedal controls the speed of either chorus or vibrato, and there's even a knob on the right side of its casing that determines the depth of the effect. Choosing between chorus and vibrato is pretty easy as there's a toggle switch that's also located on the right side of the pedal's casing.
Wrap Up
Suffering a terrible accident where he lost tips of his middle and ring fretting-hand fingers, nothing could have stopped him from pursuing a career as a musician. But although this is often pointed out as the main reason behind starting heavy metal, it was actually his riffs, accompanied by complementing bass lines by Geezer Butler, drum beats by Bill Ward, and wailing yet dark vocals by Ozzy Osbourne that laid foundations of what we know today as one of the most sinister and even controversial musical styles of all time.
Creating his own custom prosthetics, Iommi pushed the boundaries of guitar playing and songwriting in the late 1960s and the 1970s. Throughout the coming decades, Black Sabbath came through many lineup and stylistic changes, but Iommi's tone, playing, and songwriting practices were always easily recognizable. Needless to say, he inspired countless generations of musicians, even shocking musicians of all backgrounds, some even criticizing his overly evil-sounding pieces. But it's not uncommon to hear his influence in almost every rock or metal riff that we could hear from the 1970s and onward.
While we're at it, we can easily say that no guitarist out there was able to fully replicate his tone. It was as if he had a secret formula that always seemed to work. Sure, there have been many different instruments, amps, and effects involved in this dark-sounding mixture, but the resulting tone always reminded us that it was Iommi playing the instrument. Not counting his techniques, we'll be unraveling the secrets behind his guitar tone over the years by exploring guitars, pedals, amps, and other equipment he used in his incredibly prolific career.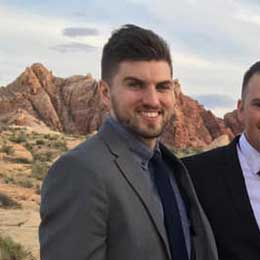 My name is Chris and I've had a passion for music and guitars for as long as I can remember. I started this website with some of my friends who are musicians, music teachers, gear heads, and music enthusiasts so we could provide high-quality guitar and music-related content.
I've been playing guitar since I was 13 years old and am an avid collector. Amps, pedals, guitars, bass, drums, microphones, studio, and recording gear, I love it all.
I was born and raised in Western Pennsylvania. My background is in Electrical Engineering, earning a Bachelor's degree from Youngstown State University. With my engineering experience, I've developed as a designer of guitar amplifiers and effects. A true passion of mine, I've designed, built, and repaired a wide range of guitar amps and electronics. Here at the Guitar Lobby, our aim is to share our passion for Music and gear with the rest of the music community.