Noel Gallagher may rate himself as an "average" guitarist, but his stellar career begs to differ. From humble beginnings rehearsing with his little brother Liam in Manchester, to breaking every record in the UK with Oasis, and moving on to the experimental rock of his solo band High Flying Birds, Noel Gallagher has always coupled genius songwriting with effective guitar playing.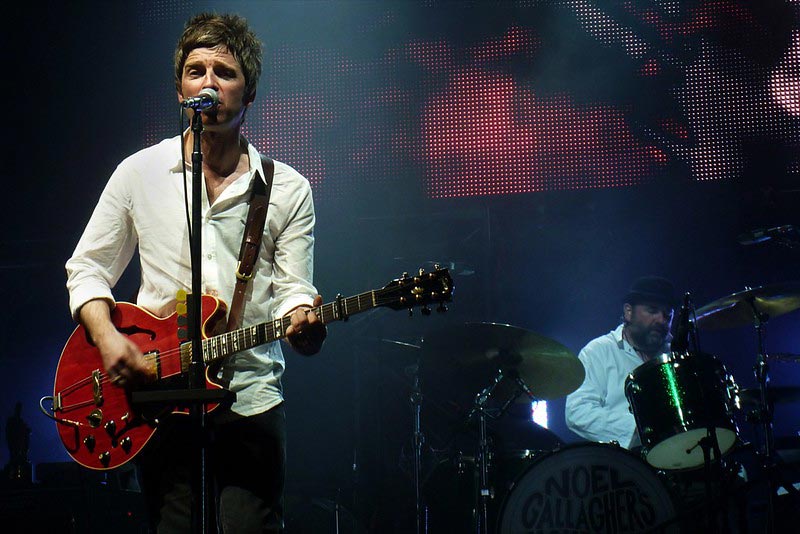 Like many players, Gallagher loves collecting gear, however, he prefers not to tinker with his instruments. His guitars tend to be stock, containing only the hardware and electronics they were born with. This remains a feature of his instruments to this day. Unlike many guitarists, Noel freely switches between electric and acoustic instruments. While Oasis' live show was little more than football hooligans with Marshall stacks, Noel always preferred to write songs on a well-chosen acoustic and often used acoustic guitars to provide layers to Oasis albums. Their biggest song, "Wonderwall", is perhaps the best example of this.
What Guitars Does Noel Gallagher Play?
Noel Gallagher is most known for playing his 1960s Gibson ES-335 electric guitar along with his Gibson J-150 acoustic guitar. His J-150 became inherent to Gallagher after the release of Little by Little, which led to a partnership with Gibson to make his very own signature line of the model.
He has also collected and displayed a massive arsenal of other guitars over the years. See the full list of the most notable Noel Gallagher guitars below.
1960 Gibson ES-355

| | |
| --- | --- |
| Finish | Cherry Red |
| Years Used | 1997 to Present |
This big red Gibson is Noel Gallagher's favorite guitar to this day and safe to say his mainstay in his rig and association. He first bought it in 1997, when Oasis had mountains of money rolling in, and Gallagher describes the four thousand pounds this guitar cost in '97 as "the best 4,000 pounds I've ever spent".
Noel Gallagher's 355 has an ebony fretboard with mother of pearl block inlays over a mahogany neck. The body, like Noel's Epiphone hollow-bodies, is laminated maple, with a Bigsby vibrato and six-position Varitone switch. It has two stock Gibson humbuckers to provide the roar and authority of Oasis' arena-filling anthems, a black pickguard, and the Gibson split diamond headstock inlay.
This is the only electric guitar to feature across both major eras of Noel Gallagher's career. It was played at every Oasis concert, and every Oasis album, from 1997 onwards. When Oasis split up in the late 2000s, Noel started a solo band and took his songs to the studio. The 355 was, according to Noel, "the basis for everything" on his debut solo album, and it went on tour with him as well.
Gallagher's love for this 355 is well documented, but perhaps best summarised by Noel Gallagher himself, who told Premier Guitar that "I put it second to my wife only because I can have sex with her. If I could have sex with that guitar, I'm not sure which I'd choose."
Gibson J-150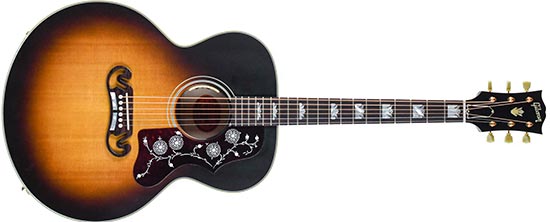 | | |
| --- | --- |
| Finish | Sunburst |
| Years Used | 2002 to Present |
Upgrading from his Epiphone EJ-200 to its upmarket older brother, Noel used this large-bodied Gibson heavily throughout the later Oasis years, making its first appearance with the video for "Little By Little".
Noel's J-150 is adorned with an Adidas sticker, a testament to his love of trainers. Gallagher is quoted as saying "since I gave up being a professional drug user, I've always got to be addicted to buying something and Adidas trainers have become my vice." Plenty of guitar purists would balk at the prospect of defacing a high-end Gibson acoustic with a sneaker sticker, but not Noel Gallagher.
The J-150 made plenty of appearances on stage with Oasis, most notably at the River Plate stadium in Argentina. However, it
Some believe that this guitar was the one that broke Oasis up! In dressing-room dust-up many call the "Paris Altercation", Noel and his brother Liam were, as was typical of the pair, arguing. They were about to headline the Rock en Seine festival in France. Supposedly, this was an argument over the younger Gallagher advertising his clothing brand, Pretty Green, in the Oasis tour program. The argument escalated quickly into a fruit-throwing match when Liam Gallagher emerged wielding a guitar "like an axe". Noel, discussing the incident, said "it's a real unnecessarily violent act and he's swinging this guitar around. He nearly took my face off with it. And it ended up on the floor and I put it out of its misery." –
He left the band that moment, and the assembled Oasis fans waiting to see the band perform were left waiting.
The J-150 disappeared from Noel's performances and videos, superseded by his Martin D-28. Some wondered if this gorgeous old guitar had been the one that, in breaking, broke Oasis. However, Noel played this old guitar at Coachella in 2012, and the identity of the deceased instrument remains a mystery.
Epiphone Union Jack Nashville Sheraton

| | |
| --- | --- |
| Finish | Union Jack |
| Years Used | 1996 to 2004/ Present |
When Oasis took to the stage at Maine Road, hallowed home ground of their beloved Manchester City football club, the opening strains of "Acquiesce" rang through the stands courtesy of this one-of-a-kind hollow body.
In '96, Oasis was the undisputed hottest band in Britain. The boys from Manchester were at the forefront of the Cool Britannia movement, and Noel Gallagher, the group's songwriter and leader, needed a guitar to match the hype.
Although money was rolling in thanks to the massive hits on Morning Glory, Noel maintained his soft spot for Epiphone guitars. The Union Jack model was a 1993 Epiphone Sheraton made in Nashville, USA, a far more expensive and luxurious option than he previously was able to afford. It had mini humbuckers and a frequensator tailpiece. Noel had it refinished at Nightingale Guitars of Denmark Street, London sometime before the Maine Road gig.
Noel actually owned two of the Nashville Sheratons, which were produced in a limited run of only 250 guitars. They were the most luxurious offering in the Epiphone range at the time, with gold hardware, rosewood fretboard, and block-and-triangle inlays. Both the neck and body of these guitars were made from laminated maple, with a solid center block. Fully hollow electric guitars tended to generate unwanted feedback and had less sustain than those with the center block. This assisted in achieving Noel Gallagher's monstrous distorted tone, with minimal feedback beyond what he was employing deliberately.
Today, one of Noel's original Union Jack resides in the Experience Music Project in Liverpool, England, just over half an hour by train from Maine Road. It's important to point out, however, that his impact with this Union Jack six-string got Epiphone to engrave his name on the pickguard of some special reissues of the model. These guitars would later become his first signature line, known as the Epiphone Supernova,
Nevertheless, rumor has it that Noel still owns one of these special Union Jack Epiphones in his private collection.
1993 Epiphone USA Sheraton

| | |
| --- | --- |
| Finish | Tobacco Burst |
| Years Used | 1996 to 1997 |
Noel's other Sheraton is a more understated instrument. With identical specs to the Union Jack model, this guitar saw more frequent use than its twin. Noel Gallagher played this guitar at Oasis' biggest ever gig, at Knebworth Park. He used it for "Slide Away", as can be seen in the video below:
Noel also played this Sheraton on the following tour, in support of Oasis' third album, Be Here Now. It may also have been used during the recording of Morning Glory, according to a 2011 interview. Recording notes from that album mention an unspecified "Epiphone Semi", which may well have been either this guitar or the Riviera.
Gibson Flying V

| | |
| --- | --- |
| Finish | Black/White |
| Years Used | 1994 to 1997 |
Probably the most radical guitar Noel Gallagher ever owned, many Oasis fans would be surprised to learn that Noel actually played two different Flying Vs through the nineties.
The first was yet another loan from Smiths guitarist Johnny Marr. Noel used this black V, from 1989, to record "Cigarettes and Alcohol". This is the guitar pictured above, which has what looks like an aftermarket pickup in the bridge position. The double cream bridge pickup may be a DiMarzio Super Distortion, which was a popular pickup choice among hard rockers, albeit rarer in the indie circles the Smiths moved in.
Noel never played this guitar live, and presumably returned it to its owner following the recording of Definitely Maybe. He later used a different Flying V in the music video for "D'You Know What I Mean", the lead single from Oasis' third album, Be Here Now. This was a 1997 model, without the open pickups of the former one. Noel never played the latter guitar live. The "D'You Know What I Mean" Flying V is currently in the possession of Brian Garcia, who purports to own the world's largest Oasis collection.
Epiphone Les Paul Standard

| | |
| --- | --- |
| Finish | Cherry Sunburst |
| Years Used | 1992 to 1994 |
While this particular guitar had a short-lived blaze of glory in the hands of Noel, it became one of his most memorable pieces, one that to many, even got to symbolize the humble beginnings of the Gallagher brothers. Before Oasis was the biggest band in the world, they were five broke kids from Manchester. As the English say, Noel Gallagher was "skint". Priced out of purchasing a Gibson (for now), the cheaper Epiphone model was all Noel Gallagher could afford with what he had made as a construction worker.
This cherry-burst Epiphone Les Paul was Noel Gallagher's main electric guitar from Oasis' formation, through the recording of their seminal debut album Definitely Maybe. It graced every Oasis live gig until around 1994 when Smiths guitarist and fellow Mancunian Johnny Marr started lending Noel instruments from his own collection.
According to Johnny Marr, who visited Noel Gallagher at home before Oasis hit the big time, "Noel proudly showed me his two most valuable possessions; an Epiphone guitar and a large fish tank". This Epiphone LP model can be seen in the music video for Oasis' debut single, "Supersonic" where it was immortalized.
Noels' Epiphone Les Paul retained all its stock appointments throughout its career. It had a rosewood fretboard with trapezoid inlays, a flame cherry burst finish, and tulip-shaped plastic tuning heads. Noel kept the cream pickguard on his Les Paul.
Noel's Epiphone Les Paul was probably built in either Japan or Korea, as most Epiphones were through the 80s and early 90s. In 1994, Noel gave this guitar to a friend, with whom it presumably remains.
1960 Gibson Les Paul

| | |
| --- | --- |
| Finish | Cherry Burst |
| Years Used | 1994 |
Noel Gallagher's first seriously high-quality guitar was this, the 1960 Gibson Les Paul Standard. Supposedly, sometime before the recording of Definitely Maybe, Johnny Marr went to see Oasis at a club. Oasis were far from the fame and fortune they would later enjoy, playing to few punters, if any, and Gallagher was still on welfare. Supposedly, Gallagher's mainstay Epiphone Les Paul constantly went out of tune, with Marr quipping that "You could go get a pint and come back, and he'd still be tuning".
Upon the suggestion, from rock star Johnny Marr, that he buy a new guitar to replace the Epiphone, the stone-broke Noel Gallagher scoffed. Noel may have been in a cool band, but he wasn't making any money. Marr acquiesced and lent Gallagher this beautiful vintage instrument from his own collection.
1958, 1959, and 1960 are universally considered to be the golden years of Gibson Les Paul production. Guitars from this era, according to Forbes, easily command prices in excess of $500,000.00. This particular Les Paul was a piece of rock history, once owned by The Who's Pete Townshend, another of Oasis' major influences. Noel's 1960 Les Paul had, by 1994, faded to a muted burst, and had stock Gibson PAF humbucking pickups. It featured a mahogany body with a maple cap, with the wood grain highly visible under the finish. Its neck, too, was mahogany, with a slimmer profile common to Gibson Les Pauls from the 1960s onwards.
Shortly following his acquisition of this gorgeous vintage instrument, Oasis' fortunes turned, and the band's popularity exploded. Noel wrote "Live Forever", one of the band's most enduring anthems, on this Les Paul, and it appeared in the single's accompanying video.
Unfortunately, Noel's time with this guitar was short-lived. Ever the football hooligan, Noel weaponized this slab of mahogany on tour in 1994. Supposedly, a member of the audience at a gig in Newcastle leaped on stage to attack Noel's brother Liam. Noel refused to stand by and watch his little brother under assault. He swung at the attacker with the 1960 Les Paul, which did as much damage to the instrument as the assailant.
Gallagher went back to Johnny Marr, contrite and apologetic. Gallagher was without a quality instrument and he'd just damaged his meal ticket. He asked Marr for another and was promptly lent yet another Les Paul, this time in black.
Marr's response? A handwritten note that read:
"This one's well heavy. And if you take a big swing with this one you'll take the f*cker out!"
1972 Gibson Les Paul Custom

| | |
| --- | --- |
| Finish | Black |
| Years Used | 1994 to 1995 |
If your friend told you he'd broken your vintage guitar, most of us wouldn't lend him yet another, more expensive instrument. But that's exactly what Johnny Marr did for his friend Noel Gallagher. This was a black Les Paul Custom, on which Marr had written much of the Smiths' album The Queen is Dead.
Noel played this guitar extensively through Oasis' touring in support of Definitely Maybe, including throughout the band's first US tour. It appeared on stage at the band's infamous showcase at the Whiskey A Go-Go, where Oasis performed while high on crystal meth, but this experience only bolstered Noel's creativity to write some of the most iconic tunes under his name.
Noel's Les Paul Custom was manufactured in 1972 and featured an ebony fretboard with block inlays. It had a cream pickguard, pickup rings, and binding. It featured a pearl split-diamond inlay in the headstock. Noel replaced the bridge on this guitar and added the pickguard, but this seems to be the extent of his adjustments, apart from the Oasis sticker. 1972 Les Paul Customs had solid mahogany "sandwich" bodies, with a 3-piece maple top. Gibson used three pieces of mahogany for the neck,
This guitar has a mysterious extra switch between the volume and tone controls, visible in this photo. This toggle was on the guitar when it was in Johnny Marr's hands, as can be seen in this photo from 1986. It may have been a coil tap, allowing Marr to switch one of the two coils in the selected humbucking pickup off, approximating the tone of a single-coil guitar.
At some point, Noel emblazoned this guitar with an Oasis sticker on the pickguard, as can be seen in the official video for "Whatever".
Noel reportedly used this guitar in the recording sessions for their sophomore album, (What's the Story) Morning Glory? and it remains in his possession to this day.
1970s Epiphone Riviera

| | |
| --- | --- |
| Finish | Wine Red |
| Years Used | 1994 to 1996 |
Around the time that Oasis were recording Definitely Maybe, Noel and fellow Oasis guitarist Paul "Bonehead" Arthurs started playing hollow-bodied Epiphone Riviera guitars.
Unlike the cheap Gibson copies Noel had used previously, these were serious, professional-quality instruments. Epiphone's own hollow-body line was so successful that Epiphone's main competitor, Gibson, bought them out in 1957. The Riviera is one of Epiphone's own designs, and as such, they tend to be of higher quality than other Epiphone guitars.
Noel's Riviera, unlike most other Rivieras, has full-sized humbucking pickups. These were unique to the Rivieras produced in Japan during the 1970s. It's possible that Gallagher picked this guitar up in Japan while he was on tour, either with Inspiral Carpets or Oasis, as they were only released to the Japanese domestic market.
Noel's Riviera had a rosewood fretboard and maple body and was one of Noel's mainstay guitars throughout the Definitely Maybe and Morning Glory years. This guitar graced many of Oasis' landmark performances, including Earl's Court, playing on the Dave Letterman show, and in the music video for Noel Gallagher's signature song, "Don't Look Back in Anger":
This guitar is immediately identifiable thanks to its deep wine red color, frequentation tailpiece, and full-sized humbucker pickups.
Popular Related Article: Thurston Moore Gear Rig Rundown
Epiphone EJ-200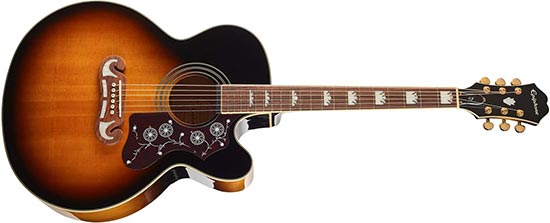 | | |
| --- | --- |
| Finish | Sunburst |
| Years Used | 1994 to 1996 |
Noel Gallagher wrote much of Definitely Maybe and Morning Glory on this Epiphone acoustic. In fact, he continued writing songs with this guitar throughout the remainder of his Oasis years. It made appearances throughout Oasis' '90s heyday, including the below video of Oasis playing "Live Forever" on MTV:
Noel also used this acoustic guitar during the recording of Definitely Maybe. It made its final studio appearance on Morning Glory and appeared during the acoustic section of Oasis' Maine Road gig.
Martin D-28

| | |
| --- | --- |
| Finish | Natural |
| Years Used | 2011 to Present |
According to an interview with Music Radar, Gallagher bought this guitar brand-new from a shop. Noel's D-28 has a Baggs pickup system in it, and it became his go-to acoustic guitar for his work with the High Flying Birds. The Martin was particularly prominent on the first High Flying Birds tour, with Noel particularly enjoying it for his acoustic renditions of Oasis classics like "Supersonic".
Noel's Martin D-28 is a masterpiece of American acoustic guitar engineering. It has a bone saddle with an ebony bridge and an ebony fretboard with mother-of-pearl inlays. The neck is in a satin finish to assist in the extended chord voicings Noel was using liberally during the early High Flying Birds days. It has a bone nut and a solid spruce top with rosewood sides to provide the warm, articulate tone heard in the above video.
Popular Related Article: What Guitar Does Brian May Play?
Takamine Guitars

| | |
| --- | --- |
| Finish | Natural |
| Years Used | 1994 to 2000 |
Long before he could afford the likes of top-of-the-line Martins, Noel Gallagher used more affordable guitars to play his greatest songs. Japanese brand Takamine was founded in the sixties, but by the late seventies became one of the first companies to introduce electric acoustic guitars to the market. Takamine's affordable, high-quality acoustic instruments were highly prized among touring guitarists for their durability and excellent amplified sound. This made them more appropriate for a hostile touring environment than expensive Gibson or Martin acoustics.
Noel took a Takamine EF325SRC on stage at Earl's Court in 1995 to serenade his assembled fans with an acoustic rendition of "Wonderwall". This same guitar also appeared on the cover of the single for his version of Slade's "Merry Christmas Everybody" and it was one of the most emblematic yet unsung pieces of catalog during the Definitely Maybe Era.
Nash Stratocaster

| | |
| --- | --- |
| Finish | Cream White |
| Years Used | 2012 to Present |
Following the smash success of his debut solo album, Noel Gallagher quickly took to the studio to write the follow-up, Chasing Yesterday. Recorded from 2012-2014, and released in 2015, Chasing Yesterday marked a change in style for Gallagher. To emphasize this, he moved away from the Gibson guitars that he once played so loyally, and switched to Fender-style instruments.
Nash guitars, founded by Bill Nash in 2001, is a boutique guitar manufacturer producing vintage-style instruments based on Fender's classic models. The first Nash guitar Noel used was a cream 1963-style Strat, which Gallagher claims is "all over the record". Noel didn't play this Stratocaster live, but it reappeared in the studio sessions for Who Built the Moon, and it began a love affair with Nash guitars which persists to this day. this is one of my personal favorite Noel Gallagher guitars of all time.
Popular Related Article: Matt Bellamy Guitar Rig Rundown
Table Showing Each Guitar Noel Gallagher Has Played at Each Point of His Career
| Make | Model | Color/Finish | Years |
| --- | --- | --- | --- |
| Epiphone | Les Paul | Cherry Sunburst | 1992 to 1994 |
| Gibson | Les Paul Custom | Black | 1994 to 1995 |
| Gibson | Flying V | Black | 1994 to 1997 |
| Gibson | Gibson Les Paul | Cherry Sunburst | 1994 |
| Epiphone | 1970s Riviera | Wine Red | 1994 to 1996 |
| Takamine | Guitars | Natural | 1994 to 2000 |
| Epiphone | EJ-200 | Sunburst | 1994 to 1996 |
| Epiphone | Union Jack Nashville Sheraton | Union Jack | 1996 to 2004 |
| Epiphone | 1993 USA Sheraton | Tobacco Burst | 1996 to 1997 |
| Gibson | 1960 ES-335 | Cherry Red | 1997 to Present |
| Gibson | J-150 | Sunburst | 2002 to Present |
| Martin | D-28 | Natural | 2011 to Present |
| Nash | Stratocaster | Cream White | 2012 to Present |
Noel Gallagher Amplifier Overview
The core of Oasis' stadium-filling sound was roaring British amplifiers. Noel Gallagher used a broad variety of amps to get his tone, including Marshalls, Voxes, Hiwatts, and Orange amplifiers. Oasis seldom, if ever, performed with anything less than a full stack of tube amps behind them.
More recently, Noel has experimented with cleaner guitar sounds driven by Fender amps, but most fans will always remember the thunderous volume of Oasis' prime years.
Vox AC30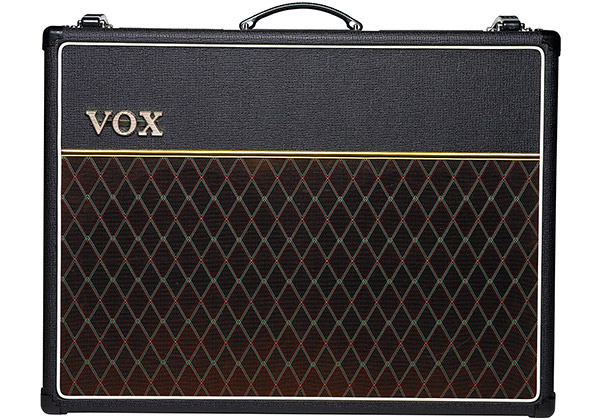 Like his heroes the Beatles before him, Noel Gallagher made great use of the Vox AC30 in Oasis' early years. The AC30 is a loud, jangling clean amplifier with two twelve-inch speakers, not prone to the sort of crushing overdrive that Oasis was famous for. To remedy this, Noel would run a Marshall amp into his Vox, providing distortion and drive without compromising on volume.
By the time of the Morning Glory sessions, Noel was using an early sixties Vox AC30, in conjunction with various other amplifiers.
Noels' affinity for this classic British amp persists to this day. Noel used a different vintage AC30, this time from the eighties, in the recording sessions for his debut solo album back in 2011.
Marshall Valvestate 8080
Noel Gallagher used the Marshall Valvestate during Oasis' early years before the band started touring regularly and needed louder equipment to fill the ever-larger venues they were playing.
Noel may have used the Valvestate to drive his Vox into distortion or used it on its own. It appears in the video for "Shakermaker", a single from Definitely Maybe, below, but by the follow-up tour in support of the album Noel was using larger amps. Noel notoriously used this amp when Oasis made their first appearance at Glastonbury in 1994.
Marshall Bluesbreaker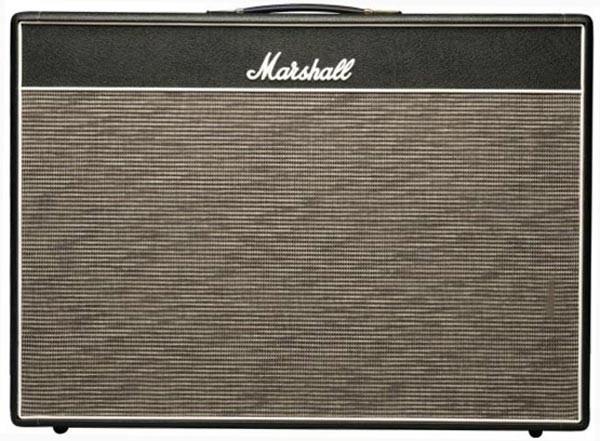 Marshall's Bluesbreaker model was their first combo amp, containing both a speaker and the amplifier in one package. The Bluesbreaker, popularized by Eric Clapton, launched the sound of brash, British blues-rock in the sixties. The Bluesbreaker offered the sound of a Marshall Super Lead in a combo amp, ideal for touring musicians or those who couldn't afford a full-sized Marshall stack.
Noel Gallagher used the Bluesbreaker to record Morning Glory, but by the album's release, he was playing through full-sized Marshall stacks.
Orange Overdrive OR120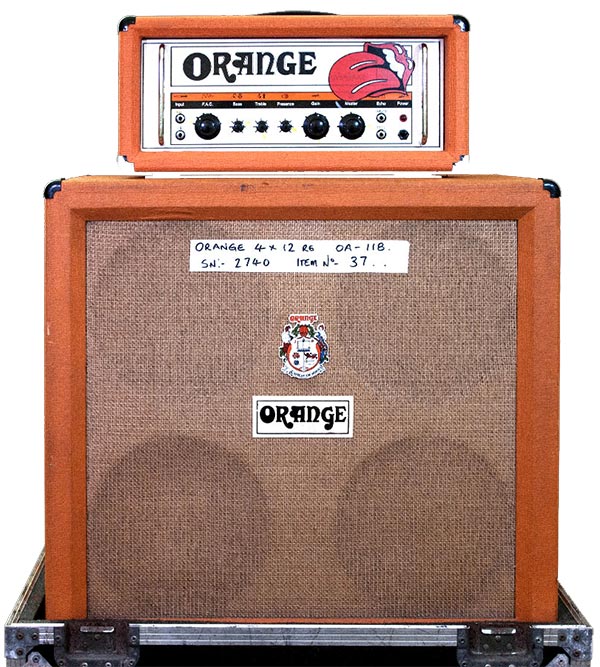 When Oasis took to the studio to record Morning Glory, Noel was spoilt for choice with amplifiers. One amp that took his fancy enough to take on tour was the Orange Overdrive OR120, which provided the mushier distorted sound on "Some Might Say".
Marshall JCM 900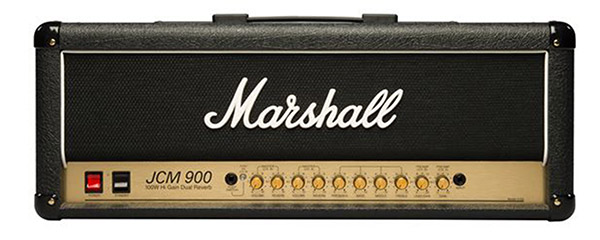 Noel Gallagher reportedly picked up his Marshall stack around the time Oasis started recording Definitely Maybe. Certainly, in live performances from1994.
The JCM 900 was a continuation of Marshall's core Super Lead range, updated for the 1990s. With more gain on tap than ever before, the 900 series was an attempt to appeal to players producing heavier and heavier music. The JCM 900 was a feature of metal and hard rock acts, as well as the grunge bands that would define the era, but Noel Gallagher took this template and made it his own. The JCM 900 achieves its inbuilt distorted tone by including diode clipping in the preamp circuit, mimicking the role of the distortion pedals (such as the Ibanez Tube Screamer) that shredders were using throughout the 80s.
Noel Gallagher used his massive 100-watt Marshall stacks throughout the 90s, including during the recording of Morning Glory. They were the core of his recorded tone up until Standing on the Shoulder of Giants.
Hiwatt Custom 100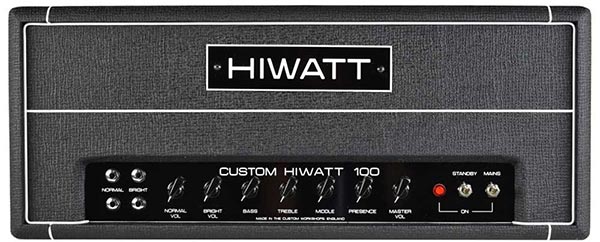 As Noel's music matured, so too did his taste in amplifiers. Gone were the barn-burning Marshall stacks of his youth, and lower-powered smaller amps started appearing in his rig. In fact, Noel told Premier Guitar that "once you hit 35, you just can't use a Marshall stack anymore. It's against the law—if you play one, then you're a f*cking asshole."
Noel Gallagher started using Hiwatt amps in the studio during Oasis' later years, telling Premier Guitar in 2015 that he'd been doing so for "for the last 10 years". While his love of Marshalls came and went, Noel stuck to his Hiwatt amps, continuing to use them well into the High Flying Birds era.
Hiwatt amps, like Marshalls, were first developed in England during the 1960s rock and roll boom. They tend to have a cleaner sound than Marshalls, but later models from the 80s onwards feature a built-in overdrive circuit.
Noel Gallagher's Hiwatts appeared on his first two solo albums, and on the accompanying tours. Hiwatt even built Noel a custom vertical cabinet to take on tour, with two twelve-inch speakers built-in.
Fender Blues Jr
As seen in the picture above, to signal the new era in his career, Noel Gallagher started playing Fender amplifiers when he debuted his new solo band, the High Flying Birds. He primarily used the Blues Jr at home before taking it on tour, and the little Fender combo has remained a steadfast piece of Gallagher's rig ever since. Noel often uses the Blues Junior in his wall of amps, as seen in the live video below:
Gallagher has not confirmed whether he played this amp in the studio. He has been forthright with his use of other Fender amps, so it's likely this is reserved for live playing and home practice.
Fender Blackface Deluxe
Noel used a Blackface Deluxe to record guitars on his debut solo album, Noel Gallagher's High Flying Birds. This amp did not appear on the supporting tour.
Noel's Blackface is a 1964 model. These used 12AX7 tubes in the preamp, with a built-in tremolo effect. Fender amps have a far cleaner, more neutral sound than Marshalls do, and lack the early overdrive of Marshall amps.
Fender Silverface Princeton
Noel's love affair with Fender amps continued as he started producing increasingly experimental solo music.
For his most recent solo album, Who Built the Moon, his amp of choice was a "brand new Fender silverface Princeton". Noel Gallagher's Princeton, freshly acquired sometime before 2017, was likely a reissue of the 1968 model. Like the Fender Deluxe, the Princeton is an extremely clean amp. This sparkling, clean sound can be heard all over the guitar parts on Who Built the Moon, particularly on "Black and White Sunshine".
While the Princeton was first used on Who Built the Moon, Noel flirted with a Princeton during recording for Oasis' fourth album, Standing on the Shoulder of Giants.
Noel Gallagher Pedals and Effects
Noel Gallagher eschewed guitar pedals during the early Oasis years. He preferred the natural drive of a cranked Marshall, stating that "I used to just turn up the amps as full as I could get them". However, beginning with Oasis' fourth album, Standing on the Shoulder of Giants, he started experimenting with effects pedals, and would eventually use a broad palate of stompboxes to achieve his tones.
From the humble Tube Screamer to boutique pedals from Catalinbread and Strymon, this is a close look at the pedals Noel Gallagher used to expand and experiment with his guitar sound. A view of his guitar pedals circa 2015 can be seen in the picture below:
Ibanez Tube Screamer S808/ TS9
From Standing on the Shoulder of Giants onwards, Noel's choice of distortion pedal was the Ibanez Tube Screamer. This iconic pedal from Japanese manufacturers Ibanez has graced the stages of countless guitar heroes, including Adrian Smith, Stevie Ray Vaughn, and Gary Moore. The Tube Screamer, like much of Noel's other gear, is more associated with hard rock and metal than Britpop, but Noel Gallagher persisted in his loyalty to this little green box nonetheless.
The Tube Screamer comes in two main variants, the TS808 and TS9. Noel used the TS9 live around 2000, and it can be seen at the end of "My Generation" from Oasis' Jools Holland. Noel switched to the TS808 around 2011, using it on his board for the first High Flying Birds tour.
Strymon TimeLine
Noel told Music Rader in 2011 that he was partial to Strymon's TimeLine, a high-end delay pedal in high demand. Noel, aware of this, bought two.
Strymon uses a mixture of analog circuitry and digital signal processing to produce boutique guitar pedals modeled on famous guitar tones. Noel Gallagher claims that his sounds "exactly like Pink Floyd".
SIB Electronics Blue Echodrive Pedal
Noel Gallagher uses this overdrive pedal from SIB electronics to push his Fender amps into overdrive. He uses it in "set and forget" mode, always-on, to boost his amplifiers. This hand-built analog delay comes with a tube preamp and highly customizable delay settings. It's likely that this effect is mostly for its preamp, as Noel's Strymon provides much of his delay sound.
Catalinbread Echorec
As seen in this photo, Noel Gallagher was using the Echorec from boutique pedal builders Catalinbread around 2015. This pedal was built to mimic the sound of Pink Floyd's legendary Pompeii performance. Noel likely uses this specific tone sparingly throughout the High Flying Birds live set.
Audio Kitchen The Big Trees
Noel told Music Radar in 2015 that he was partial to Audio Kitchen's Big Trees clean boost. Gallagher said of the Big Trees that "it's like a signal enhancer or something, and it's f*cking great. It's on every single take of guitar" on Chasing Yesterday.
The Big Trees from Audio Kitchen is, rather than a simple clean boost, a tiny valve amplifier in a pedal-sized enclosure. Although it has both clean and dirty modes available, Noel clearly uses it to improve his clean tone, adding warmth and clarity to his sound.
Boss SL-20 Slicer
The Boss Slicer is possibly the weirdest pedal in Noel Gallagher's rig. He's been using it since at least 2015, according to Premier Guitar. The Slicer is a highly digitized stompbox that turns Noel's guitar signal into a rhythmic pattern, a la the 80s synths used on the Mancunian house music Gallagher grew up listening to. It may be the tremolo pedal Gallagher referred to in a 2011 interview (although that is probably the TR-2 detailed below), or he could use it for more elaborate synth-style effects as heard on Who Built the Moon.
Boss Tremolo
Noel told Music Radar in 2011 that he was using a solitary tremolo pedal on his board. In this photo, from Noel's pedalboard builder, he's using a Boss TR-2 tremolo.
The tremolo provides an old-school stuttering sound that Noel Gallagher likely uses for the rare electric lead parts he played live on this tour.
The PN-2, unlike the TN-2, has stereo output. This probably appealed to Noel, who was by this time using multiple amplifiers on stage to get his massive live sound.
ZVEX Vexter Box of Rock
Yet another amp disguised as a pedal, the ZVEX Box of Rock is a distortion pedal designed to mimic the "everything on 10" setting of a Marshall Super Lead. In other words, it's a pedal that Noel uses to do what it once took his entire 100-watt Marshall stack to accomplish.
The Box of Rock appeared on Noel's pedalboard on the 2016 tour. This was likely to force his clean Fender-heavy setup to mimic the Marshall sound with which Gallagher rocked the world through the 90s. This tour saw Noel performing fewer hard rock numbers, but it can be heard during "Lock all the Doors" during this performance.
Wrap Up
Born in Manchester to Irish immigrant parents, Noel Gallagher was a troublemaking teen. He was expelled from school at fifteen and spent much of his teen years hanging out with violent Manchester City football hooligans. When he was put on probation at fourteen for robbing a corner store, Gallagher taught himself to play guitar and discovered The Smiths. Upon hearing "This Charming Man", Gallagher made it his mission in life to "be Johnny Marr". A failed audition as lead vocalist for Inspiral Carpets led him to work for the band as a roadie, which took the young Gallagher around the world.
Upon returning to Manchester, Noel discovered that his younger brother Liam had joined a local band called The Rain. Noel quickly joined the band, taking complete creative control over the group, supposedly telling his brother upon hearing them play "Let me write your songs and I'll take you to superstardom, or else you'll rot here in Manchester". Under Noel's leadership, this ragtag bunch of hooligans renamed themselves Oasis.
There may be no more enduring image of 90s British culture, and the moment where Oasis ruled the world than Noel Gallagher and his Union Jack guitar. Standing before record-breaking audiences, unleashing anthem after anthem, Noel and his six-stringed weapons could do no wrong.
Noel, despite ostensibly being Oasis' lead guitarist, eschewed the heroics and pyrotechnics of previous generations. Influenced more by Lindsay Buckingham or Johnny Marr than Eddie Van Halen, Noel's guitar playing prioritized well-chosen notes outlining chords and melodies over fancy technique. To power his generation-defining songs, Noel's choice of guitars leaned more towards volume and gravity than the slim-necked speed demons favored by most 90s guitarists.
Noel Gallagher's guitar sound throughout the Oasis years was as big, bold, and brash as the band themselves. Informed by the sheer volume and attitude of punk rock and Britain's classic rock gods, Noel adopted a powerful, overdriven guitar tone that provided the grunt and push of Oasis' classic songs. In a time when modern rock charts were preoccupied with grunge and metal, Noel wrote guitar-fuelled anthems of optimism, driven by working-class outrage and his immigrant parents' desire for a brighter tomorrow.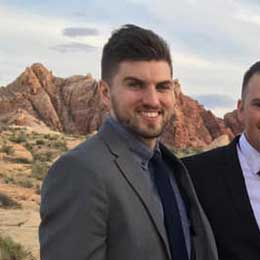 My name is Chris and I've had a passion for music and guitars for as long as I can remember. I started this website with some of my friends who are musicians, music teachers, gear heads, and music enthusiasts so we could provide high-quality guitar and music-related content.
I've been playing guitar since I was 13 years old and am an avid collector. Amps, pedals, guitars, bass, drums, microphones, studio, and recording gear, I love it all.
I was born and raised in Western Pennsylvania. My background is in Electrical Engineering, earning a Bachelor's degree from Youngstown State University. With my engineering experience, I've developed as a designer of guitar amplifiers and effects. A true passion of mine, I've designed, built, and repaired a wide range of guitar amps and electronics. Here at the Guitar Lobby, our aim is to share our passion for Music and gear with the rest of the music community.