As guitarists grow more comfortable with their playing, there comes a point when alternative tunings can open up a whole new world of sonic possibilities, and Open E is perhaps one of the most powerful sounding alternate tunings out there. Open E tuning has been used by several legendary guitarists in their songwriting with stunning results!
In this article, we are going to share with you an easy guide on how to tune your guitar to Open E, why it's fun to play around with this tuning, as well as share the 20 best songs that can be played in an Open E tuning. So let's jump right in!
What is Open E Tuning?
Simply put, an Open E tuning means that all 6 of your strings are tuned to the notes of the E major chord. So in this tuning, if you strum all the open strings, it will end up sounding like the E major chord.
And you can get the Open E tuning by changing the tuning of the 5th, 4th, and 3rd string of your guitar in the manner mentioned in the illustration below: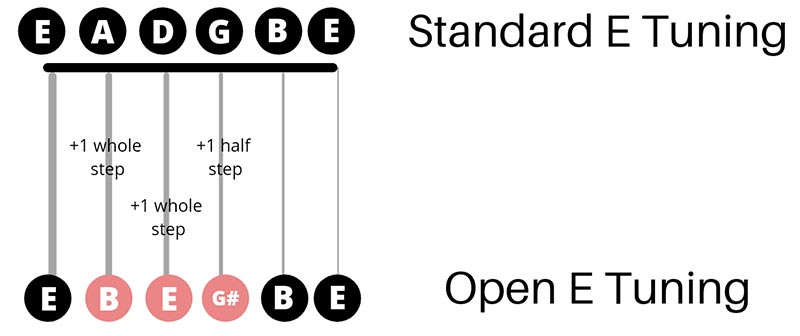 As you can see in the graphic above, we are doing the following:
Tuning the A (5th) string up by a whole step to a B
Tuning the D (4th) string up by a whole step to an E
Tuning the G (3rd) string up by half a step to a G# (also called Ab)
By doing this, we change the intervallic distance between the strings that we're usually used to. This changes the way your fretboard and chords would usually sound, thus opening up a stunning new world of chord shapes and melodies for you to play with!
How Do I Tune My Guitar To Open E?
Now that you have an idea of what Open E tuning is, let's move onto how you should go about tuning your guitar from standard tuning to Open E tuning.
Helpful Tip: Do keep a guitar tuner handy when changing the tuning of your guitar, to ensure that your new alternate tuning is accurate.
First, and foremost, let's see what a standard tuning looks like. The diagram below lists out the tuning of each string from the 6th to the 1st string (left to right):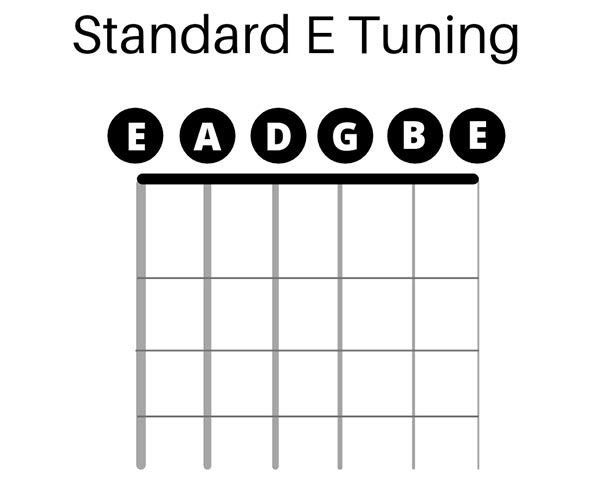 Step-By-Step Tuning Guide for Open E Tuning:
6th (E) String (lowest string): This string stays exactly as it is in standard tuning. No retuning needed.
5th (A) String: Pluck this string, and turn the string's tuning peg away from you to raise its pitch. Keep plucking the string and turning the peg up till you have reached the B note.
4th (D) String: Similarly, pluck the 4th string and tune it up to one full whole step, till you reach the E note.
3rd (G) String: Finally, pluck the 3rd string and tune it up from G to G# – which is half a step.
2nd (B) String: This string stays exactly as it is in standard tuning. No retuning needed.
1st (e) String (highest string): This string stays exactly as it is in standard tuning. No retuning needed.
Once you're done with tuning the strings as shared above, you will be left with your 6 strings in the tuning shown in the diagram below: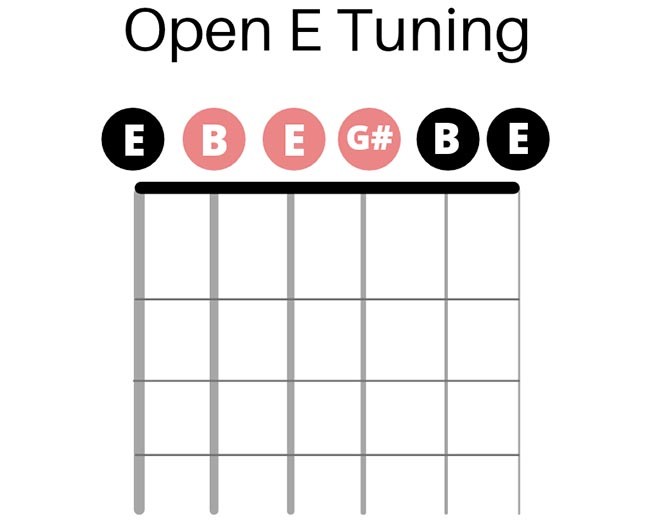 Why Should You Learn Open E Tuning?
There are a couple of fantastic reasons for guitarists to learn how to tune and play in Open E tuning:
It gives you the freedom to play major chords at several points across the fretboard simply by barring your finger across a single fret. This quality makes the Open E tuning very popular with slide guitar players.
Thanks to the open E tuning, you can play interesting chord variations and leverage the ringing open strings to create unique soundscapes for your song.
Open E tuning allows you to play the harmonics on the 5th, 7th as well as 12th frets for those heavenly-sounding major chords.
It changes things up! If you're going through songwriter's block, then switching to an Open E tuning may be just what you need to get those ideas flowing again. The refreshingly different chord voicings and harmonics are the stuff that inspired songs are made of.
What to Keep In Mind Before Tuning Your Guitar In Open E:
Tune slowly: As you can see, you'll be tuning three of your strings to notes that are higher than the standard tuning. That's why you should tune-up by turning the pegs nice and slowly to avoid breaking your strings.
Good Tuner: Use a good quality tuner – it could be a reliable guitar tuning app or a physical tuner as well that you can attach to the headstock. Consider Lighter Gauge: Since this tuning increased the overall string tension, you may find it slightly uncomfortable to play on a regular basis. So if you're thinking of playing in Open E time and again, then you could consider switching to a slightly lighter gauge of strings.
Look Out For Neck Tension: When you change from a standard to an alternate tuning like the Open E, it creates a definite tension in the guitar neck. As a result, you might have to check and recheck the tuning every now and then until the guitar neck is fully settled into the new tension.
List of 20 Songs in Open E Tuning
Now that we're all tuned up, let's start playing! If you've wondered what songs are in Open E tuning, this guide below has all the answers. Scroll down for 20 amazing songs in open E tuning, along with their chords:
1. She Talks to Angels by Black Crowes
Tabs: View Tabs on Ultimate Guitar here
Chris Robinson and his brother Rich of The Black Crowes penned this iconic song describing a person they knew from their early days of playing at Atlanta clubs. "She Talks to Angels" was released by the rock band in their debut album Shake Your Money Maker in 1990. The single with its alternate Open E tuning became so popular that it catapulted all the way to number one on the US Album Rock Tracks chart. Brimming with lyrics that are both humorous and dark, this rock ballad won the hearts of whoever heard it.
"She Talks to Angels" was later covered by some really popular bands, including the American rock band Shinedown and the heavy metal band Lamb of God. As teeming with techniques such as hammer-ons, slides, and pull-offs, this song can get a bit tricky play. When you do decide to take it on, tune your guitar to open E first to make it sound like an E chord when all strings are played open.
2. Gimme Shelter by The Rolling Stones
Tabs: View Gimme Shelter by The Rolling Stones Tabs on Ultimate Guitar here
Saddened by the Vietnam War, serial killings, political assassinations, Mick Jagger and Keith Richards of The Rolling Stones decided to vent their pain through the lyrics of "Gimme Shelter." Featured in Rolling Stone magazine's 500 Greatest Songs of All Time, the track's apocalyptic vibe, Jagger's aching voice, and Richards' blues style licks made for a spine-tingling experience. But the most sensational part comes when session singer Merry Clayton adds even more depth to the lyrics with her heart-wrenching vocals.
When it comes to guitar playing, Keith Richards delivers superb bluesy licks and layered melodies in Open E tuning. To play this song, one needs to have a good grasp of the E major scale. We suggest you start there as Richard's chords and shapes will become clearer then. Open E tuning also makes it easier to make swift changes from open strings to fifth fret chords as the song's guitar demands. These rapid transitions would be challenging to carry out in Standard tuning.
3. Just Got Paid by ZZ Top
Tabs: View Just Got Paid by ZZ Top Tabs on Guitar Alliance here
It would be fair to call "Just Got Paid" more of a radio hit as it was never released as a single or made it to any of the charts. What started as an attempt to master one of Fleetwood Mac's song's guitar riffs by ZZ top's guitarist Billy Gibbons resulted in this amazingly grooving song!
This song has some pretty impressive guitar playing by Billy Gibbons, who blends hard rock riffing with bluesy melodies. As is popular with blues guitarists, both lead and rhythm have been played in Open E tuning. This type of tuning usually gets more favored in blues because of E major's prominence as key for this genre. In the Lead portions of this track, you will notice that Gibbons has used a slide. Those of you who want to explore playing in Open E tuning and slide technique should definitely give this fun song a go.
4. Rocky Mountain Way by Joe Walsh
Tabs: View Rocky Mountain Way by Joe Walsh Tabs on Songsterr here
A rock guitar classic, "Rocky Mountain Way," has inspired a generation of guitarists to learn and master the slide technique. With a bluesy chord arrangement and plenty of slides, it is hardly a surprise that Joe Walsh went for the open E tuning. Like Duane Allman, Walsh prefers to tune his guitar to open E for easy play slide licks. Tuning in open E allows for smooth playing of major chords all across the fretboard by just barring your finger on any one fret.
"Rocky Mountain Way" was jointly written by all members of Walsh's band Barnstorm and released in 1973. The song grabbed attention for using the fascinating guitar talk box, which lent a distinctive tone and futuristic edge to Walsh's blues stomp. To sum up, in terms of guitar playing, there are three parts to this adventurous rock song. The rhythm bit, the slide, and talkbox solo. While new learners can easily pick up the rhythm part and its chordal riff, the slide and talkbox solo require more proficiency and heaps of practice.
5. Statesboro Blues by The Allman Brothers Band
Tabs: View Statesboro Blues by The Allman Brothers Band Tabs on Ultimate Guitar here
Originally written and recorded by Blind Willie McTell in 1928, "Statesboro Blues" became an influential Piedmont blues composition that inspired many covers since its release. The 1970s saw a renewed interest in the song when it featured as the opening track of The Allman Brothers Band's At Fillmore East album. Their rendition brilliantly showcases Duane Allman's virtuoso guitar playing, so much so that it was ranked number nine on Rolling Stone's "100 Greatest Guitar Songs of All-time".
The fantastic slide riffs by Duane Allman are truly gush-worthy. Slide blues sounds impressive in Open E tuning, and that's the tuning Allman uses in "Statesboro Blues." With higher string tension, greater sustain, and more efficient motion, the bottleneck slide plays better in Open E tuning than in standard one. Tragically, just a few months after the song's release, Duane Allman died in a bike crash, and the world lost a great guitarist.
6. No Expectations by The Rolling Stones
Tabs: View No Expectations by The Rolling Stones Tabs on Ultimate Guitar here
You'll see the Rolling Stones frequently popping up in a list of songs with open tunings. Well, they were, after all, Keith Richards's favorite tunings, and he loved experimenting with them. You will hear open G tuning in most of their songs, but some of them have been played in open E as well. In 1968, the band released a slow, bluesy ballad, "No expectations" most remembered for multi-instrumentalist Brian Jones' shimmering slide performance on the acoustic. Jones's slide could be best described as hypnotic and haunting that enraptured the audience.
Brain Jones sadly passed away a short while later in 1969, and the single took a new meaning as his last dazzling performance. To get started on the slide part of the song, you'll have to first tune your guitar to open E from low to high: E-B-E-G#-B-E. You could also try picking up Richards' open-tuned rhythm that beautifully captured the lonely vibe of the lyrics.
7. Crawling In The Dark by Hoobastank
Tabs: View Crawling In The Dark by Hoobastank Tabs on Ultimate Guitar here
Here's an amazing nu-metal single in open E-tuning by the American rock band Hoobastank to expand your guitar repertoire. The band's breakthrough debut single, "Crawling In The Dark," climbed the charts, peaking at number 4 on UK Rock and Metal and number 3 on Billboard US Alternative Airplay. The popular track was featured on several video games, a Mountain dew ad commercial, and the soundtrack of The Fast and the Furious.
The song is relatively easy to play except for the verse, which could get a bit tricky. The Intro bit has a delay effect in it. As we mentioned earlier, the song uses the alternate tuning of open E. It's pretty evident that the band's guitarist Dan Estrin strongly favors this tuning as he uses it in several tracks in both their first and second album.
8. Stay With Me by Faces
Tabs: View You Can't Always Get What You WaStay With Me by Faces Tabs on Songsterr here
One of the reasons the Faces' classic "Stay With Me" sounds so enigmatic is the open E tuning used by guitarist Ronnie Wood. The tuning gives heaps of unison-note clang, making the tone and Wood's signature rig incredibly resonant. This mindblowing track was penned by Rod Stewart and Ronnie Wood and released in 1971. The music is bouncy and feverish, accentuated by Wood's epic licks and crunchy tone.
The song's open E tuning is quite similar to playing in open G but with a thicker tone. To get started on the intro, you'll have to tune it right, then hit the 12th, 10th and 5th frets that are the E, D, and A chords. The best part about open E tuning is that you just need your index finger to cover all six strings and make each chord. There's another superb technique called the 'berry finger wag' employed by Wood in Stay with me in the intro, which you might want to look up. We recommend you listen closely to the original to work out the up and down strokes and finger accents.
9. You Can't Always Get What You Want by The Rolling Stones
Tabs: View You Can't Always Get What You Want by The Rolling Stones Tabs on Ultimate Guitar here
Another masterpiece from one of the most iconic rock bands of all time! The studio version of this song is played with the guitar tuned in Open E with a capo on the 8th fret. This is a relatively easy song to learn with only a couple chords to learn and a simple strumming pattern. Fun to play and everyone you play for is sure to immediately recognize this iconic tune.
10. The Headmaster Ritual by The Smiths
Tabs: View The Headmaster Ritual by The Smiths Tabs on Ultimate Guitar here
An intense song that draws attention to corporal punishment's ills, "The Headmaster Ritual," was penned by Morrissey from the English rock band the Smiths about his unhappy school days. It is said that the band's guitarist Johnny Marr took nearly two years to figure out the guitar part for the song. Marr and Morrissey wanted the guitar to be as powerful, and in sync with the emotions the words carried. And we must say that the results were well worth the wait.
From the band's most popular album, Meat is Murder, "The Headmaster Ritual" is revered for anti-corporal punishment message and some epic guitar playing by Marr. The song had multiple electric and acoustic layers and was tuned to open E. Apparently, in the studio version, Marr used a capo on 2nd fret in an open D tuning, but in most of the live and solo acts, he can be seen using a guitar that is tuned to open E.
Popular Related Article: Our favorite Songs in Open D Tuning
11. Headlong Flight by Rush
Tabs: View Headlong Flight by Rush Tabs on Songsterr here
Seven minutes of adrenaline RUSH best describes this explosive single by the Canadian rock band. According to critics and fans, this song was a fantastic blend of the band's old-school edginess and their more recent melodic rock avatar. "Headlong Flight" is a testament that even after a career spanning decades, the band is still on top of their sonic game. The song is a part of Rush's nineteenth and final album, Clockwork Angels, which debuted at number one in Canada and number two on the Billboard 200.
The track erupts with magnetic bass lines by Geddy Lee and hard-charging drum cadence from Neil Peart. Their spell-binding unison is later joined by some heavy-duty riffing by guitarist Alex Lifeson. With three different lead paths, there's a lot of great guitar work in this one. However, the most awesome lead of the three is done in open E-tuning, which is an interesting choice as this song doesn't feature any slide guitar. Nevertheless, it works brilliantly as the chord playing feels more organic in this particular tuning.
12. Midnight in Harlem by Derek Trucks
Tabs: View Midnight in Harlem by Derek Trucks Tabs on Ultimate Guitar here
Hailed as the Master of slide guitar, Derek Trucks' prowess in the technique is nothing short of legendary. And like his childhood idol and guitar legend Duane Allman, Trucks sticks to open E-tuning for most of his slides and riffs. Some say that Trucks has hardly ever been heard or spotted playing anything in standard tuning! Although strongly favored by slide guitar players, this tuning not the easiest to play in as the string tension is incredibly high.
"Midnight Harlem" is played in open E-tuning with a finger-picking style throughout. The song was released by Tedeschi Trucks Band made up of Dereck Trucks and his equally talented wife, multiple Grammy Award nominee singer, and guitarist Susan Tedeschi. This song was the duo's first official release and a part of their album Revelator. The hit album won the Grammy for Best Blues Album in 2012.
13. Prodigal Son by The Rolling Stones
Tabs: View Prodigal Son by The Rolling Stones Tabs on Ultimate Guitar here
Here's another entry for one of the most iconic and best-selling rock bands of all time, The Rolling Stones. Originally written by the versatile Robert Wilkins, who did Delta Blues back in the 1920s-30s, "Prodigal son" was covered by The Rolling Stones in their 1968 album Beggars Banquet. The song is based on a parable of a loving father's reaction to the return of a wayward but repentant son. The message revolves around the power of forgiveness.
A traditional blues stripped-down style song, "Prodigal Son" is driven by amazing acoustic tunes by Keith Richards and Jagger's incredible vocals. We can hear Brian Jones on harmonica and Charlie Watts doing a light, steady beat on the drums, perfectly accompanying Richards and Jagger's performance. "Prodigal Son" is another excellent example of magic Keith Richards can do with an acoustic in an alternate tuning, as in this case in open E.
14. Little Martha By Allman Brothers Band
Tabs: View Little Martha By Allman Brothers Band Tabs on Ultimate Guitar here
We have a treat for fingerstyle guitar enthusiasts, a terrific fingerpicking performance by the guitar legend Duane Allman in the track "Little Martha." Labeled "the most perfect guitar song ever written" by famous guitarist Leo Kottke, "Little Martha" features a brilliant fingerstyle acoustic duet by Allman and Dickey Betts. The song was the final studio track of the band for the album Eat a Peach and was recorded just a few weeks before Allman's fatal motorcycle crash in 1971.
If it is Allman, it would most often be either an open E or open G tuning. In the case of "Little Martha," both six strings are played in open E. The story behind the song's origin is as riveting as Allman's performance. We've read that during one of his stays at a Holiday Inn hotel, the iconic guitarist had a dream of Jimi Hendrix teaching him how to play this song using a sink faucet as a fretboard! Allman later recalled the melody at one of the sessions for Eat a Peach, and that's how "Little Martha" was born.
15. We Just Disagree by Dave Mason
Tabs: View We Just Disagree by Dave Mason Tabs on Ultimate Guitar here
This poignant track performed by English singer-guitarist Dave Mason and written by Jim Kreuger was released in 1977 as part of Dave's solo album, Let it Flow. The track's Open E tuning coupled with Krueger's 12 string strumming creates an open, resonant overall feel for the song's vocals to play out over. Add to that the deep, emotional lyrics and the vocal harmony sung through the track – and you get a magical song that's timeless in its beauty.
The profound song talks about a couple that has decided to part ways and not blame each other for what went wrong. They just disagreed! It's an evergreen track that would be a great addition to any guitarist's repertoire.
Popular Related Article: Our Favorite Songs in Drop D Tuning
16. Jumpin' Jack Flash by The Rolling Stones
Tabs: View Jumpin' Jack Flash by The Rolling Stones Tabs on Ultimate Guitar here
Another massive hit that uses Open E tuning, "Jumpin Jack Flash," is the Stones at their rock'n'roll best. The song was such a rage that it ended up becoming the band's most performed song, played over 1,100 times live! This fantastic single has inspired covers by several influential musicians like Aretha Franklin, Tina Turner, and Leon Russell. The highly energetic song was released as a non-album single in 1968, showcasing the legendary band's return to their signature bluesy style.
The band's guitarist Keith Richards, also called the Human Riff, delivers a wicked main riff in this song. With "Jumpin' Jack Flash," aspiring guitarists can work on their power chords, strumming patterns, and try their hand at one of Richards' most memorable riffs. To play this Stones classic, you will need to tune your guitar to Open E or E B E G# B E from the sixth string.
17. Say It To Me Now by Glen Hansard
Tabs: View Say It To Me Now by Glen Hansard Tabs on Ultimate Guitar here
This emotionally charged track has been written and performed by Glen Hansard, and was featured in the movie 'Once', which starred Hansard himself. Talk about multi-talented! This song is a brilliant example of the resonance and openness that the Open E tuning can lend to a song.
Not only do the ringing open strings create a subtle melody during the softly-sung verses, but ring out loud and proud during the emphatic and powerful chorus as well. We highly suggest adding this track to your list of go-to's – it's got simple chords but leaves an unforgettable impression in the mind of the listener – not to mention, being a real treat to play and sing!
18. Big Yellow Taxi by Joni Mitchell (Live Version)
Tabs: View Big Yellow Taxi by Joni Mitchell Tabs on Ultimate Guitar here
It was nine-time Grammy winner Joni Mitchell's first trip to Hawaii that inspired her '70s hit composition, "Big Yellow Taxi." In one of the interviews, she spoke about her disappointment at seeing the beautiful and green island transforming into a commercialized tourist destination. The song eloquently touches upon Mitchell's environmental, political as well as personal concerns. The timelessness of this classic can be gauged from the fact that it has been covered by over 400 artists, including Amy Grant, Bob Dylan, and Counting Crows.
Though Mitchell's original recording has open D tuning, her more popular live version is tuned to an open E. Called playful and full of life by Billboard, the live version was recorded in 1974, four years after the release of the original. "Big Yellow Taxi" has a simple chord progression with only three chords used in a very creative way. For the tuning part, Mitchell did it a bit differently. She tuned to open D and used a capo on the second fret. This was mainly done to avoid the higher string tension, which comes with open E-tuning.
19. Bo Diddley by Bo Diddley
Tabs: View Bo Diddley by Bo Diddley Tabs on Ultimate Guitar here
One of the most influential Rock N Roll pioneers, Bo Diddley, was a rhythm man! His distinctive, trademark beat, "the Bo Diddley beat," was extensively used in many of his songs, including the self-titled "Bo Diddley." The 1955 blues-rock and roll song became an instant hit that ruled the charts R&B charts for two weeks as number one and stayed on for a total of 18 weeks. It was the first time people heard African rhythms and patted juba beat in a rock and roll song, and boy did they love it!
Bo Diddley usually played his percussive guitar in an open E tuning, and in this single uses the same. In the track, you will hear his electric guitar amplifying the patted juba and his backup musicians playing the maracas and drums in perfect sync. Those who want to play "Bo Diddley" will need to get acquainted with Diddley's signature rhythm guitar strumming. Nailing this cool beat will be well worth the effort as it is featured in many songs by prominent musicians like Elvis Presley, the Rolling Stones, Guns N' Roses, and the Allman Brothers Band.
20. Hurts Like Heaven by Coldplay (Live version)
Tabs: View Hurts Like Heaven by Coldplay Tabs on Ultimate Guitar here
Powered by some pretty neat guitar playing by Jonny Buckland of the famous British rock band Coldplay, "Hurts Like Heaven" is one of the band's more guitar-centric songs. The song is incredibly foot-tapping with a bright melody, a vibrant, uplifting vibe, and a stellar tone-bending performance by Buckland. From the band's fifth album, Mylo Xyloto, the song was recorded in 2010 and enthralled the audience at the 2011 Rock im Park festival in Germany, where it was first performed.
In one of the live versions of Hurts Like Heaven, Chris martin uses an open E tuning with a capo on the 6th fret, so it goes- E B E G# B e. It is important to note that this kind of tuning could put a lot of stress on your strings due to the high tension. So if you are not comfortable with that, what you can do is tune to D A D F# A d and capo on the 8th fret.
Final Thoughts:
As you can see, Open E tuning has been used by musicians of a wide variety of genres for decades and decades. Be it the blues, rock n' roll, or straight-up pop music, you can hear the resonance and sweetness of Open E tuning in several iconic songs over the years.
We hope this blog on Open E tuning inspires you to try out this interesting and fun alternate tuning and helps you unlock new song ideas to write and play!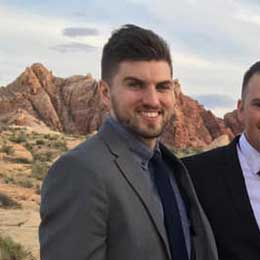 My name is Chris and I've had a passion for music and guitars for as long as I can remember. I started this website with some of my friends who are musicians, music teachers, gear heads, and music enthusiasts so we could provide high-quality guitar and music-related content.
I've been playing guitar since I was 13 years old and am an avid collector. Amps, pedals, guitars, bass, drums, microphones, studio, and recording gear, I love it all.
I was born and raised in Western Pennsylvania. My background is in Electrical Engineering, earning a Bachelor's degree from Youngstown State University. With my engineering experience, I've developed as a designer of guitar amplifiers and effects. A true passion of mine, I've designed, built, and repaired a wide range of guitar amps and electronics. Here at the Guitar Lobby, our aim is to share our passion for Music and gear with the rest of the music community.