As guitarists grow more comfortable with their playing, there comes a point when alternative tunings can open up a whole new world of sonic possibilities, and Open E is perhaps one of the most powerful-sounding alternate tunings out there. Open E tuning has been used by several legendary guitarists in their songwriting with stunning results!
In this article, we are going to share with you an easy guide on how to tune your guitar to Open E, why it's fun to play around with this tuning, as well as share the 20 best songs that can be played in an Open E tuning. So let's jump right in!
What is Open E Tuning?
Simply put, an Open E tuning means that all 6 of your strings are tuned to the notes of the E major chord. So in this tuning, if you strum all the open strings, it will end up sounding like the E major chord.
And you can get the Open E tuning by changing the tuning of the 5th, 4th, and 3rd strings of your guitar in the manner mentioned in the illustration below: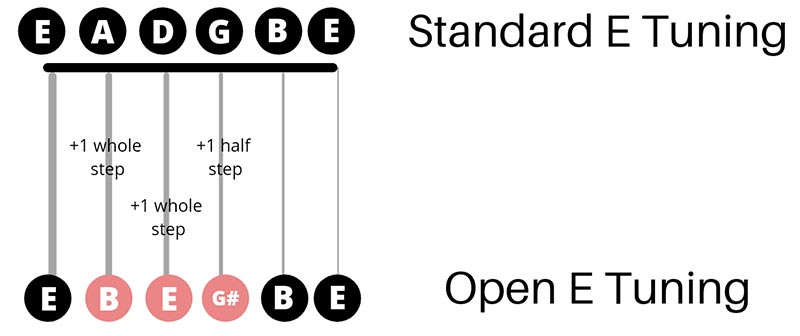 As you can see in the graphic above, we are doing the following:
Tuning the A (5th) string up by a whole step to a B
Tuning the D (4th) string up by a whole step to an E
Tuning the G (3rd) string up by half a step to a G# (also called Ab)
By doing this, we change the intervallic distance between the strings that we're usually used to. This changes the way your fretboard and chords would usually sound, thus opening up a stunning new world of chord shapes and melodies for you to play with!
How Do I Tune My Guitar To Open E?
Now that you have an idea of what Open E tuning is let's move on to how you should go about tuning your guitar from standard tuning to Open E tuning.
Helpful Tip: Do keep a guitar tuner handy when changing the tuning of your guitar to ensure that your new alternate tuning is accurate.
First and foremost, let's see what standard tuning looks like. The diagram below lists out the tuning of each string from the 6th to the 1st string (left to right):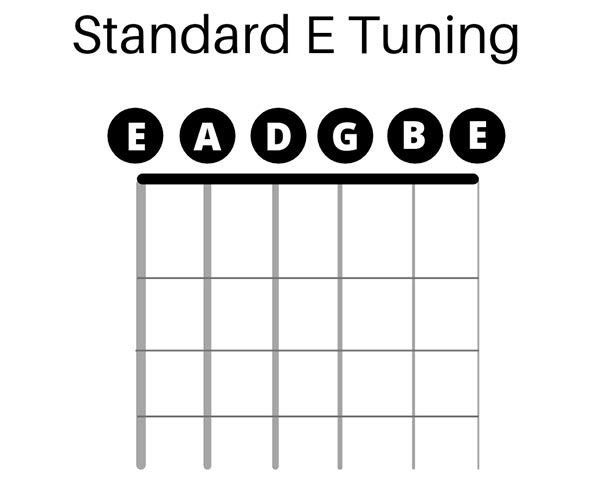 Step-By-Step Tuning Guide for Open E Tuning:
6th (E) String (lowest string): This string stays exactly as it is in standard tuning. No retuning is needed.
5th (A) String: Pluck this string, and turn the string's tuning peg away from you to raise its pitch. Keep plucking the string and turning the peg up till you have reached the B note.
4th (D) String: Similarly, pluck the 4th string and tune it up to one full whole step till you reach the E note.
3rd (G) String: Finally, pluck the 3rd string and tune it up from G to G# – which is half a step.
2nd (B) String: This string stays exactly as it is in standard tuning. No retuning is needed.
1st (e) String (highest string): This string stays exactly as it is in standard tuning. No retuning is needed.
Once you're done with tuning the strings as shared above, you will be left with your 6 strings in the tuning shown in the diagram below: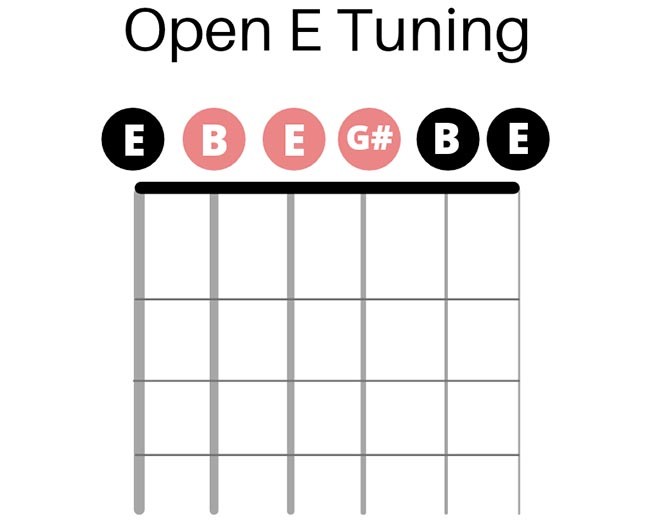 Why Should You Learn Open E Tuning?
There are a couple of fantastic reasons for guitarists to learn how to tune and play in Open E tuning:
It gives you the freedom to play major chords at several points across the fretboard simply by barring your finger across a single fret. This quality makes the Open E tuning very popular with slide guitar players.
Thanks to the open E tuning, you can play interesting chord variations and leverage the ringing open strings to create unique soundscapes for your song.
Open E tuning allows you to play the harmonics on the 5th, 7th as well as 12th frets for those heavenly-sounding major chords.
It changes things up! If you're going through songwriter's block, then switching to an Open E tuning may be just what you need to get those ideas flowing again. The refreshingly different chord voicings and harmonics are the stuff that inspired songs are made of.
What to Keep In Mind Before Tuning Your Guitar In Open E:
Tune slowly: As you can see, you'll be tuning three of your strings to notes that are higher than the standard tuning. That's why you should tune-up by turning the pegs nice and slowly to avoid breaking your strings.
Good Tuner: Use a good quality tuner – it could be a reliable guitar tuning app or a physical tuner as well that you can attach to the headstock. Consider Lighter Gauge: Since this tuning increased the overall string tension, you may find it slightly uncomfortable to play on a regular basis. So if you're thinking of playing in Open E time and again, then you could consider switching to a slightly lighter gauge of strings.
Look Out For Neck Tension: When you change from a standard to an alternate tuning like the Open E, it creates a definite tension in the guitar neck. As a result, you might have to check and recheck the tuning every now and then until the guitar neck is fully settled into the new tension.
List of Songs in Open E Tuning
Now that we're all tuned up let's start playing! If you've wondered what songs are in Open E tuning, this guide below has all the answers. Scroll down for amazing songs in open E tuning, along with their chords:
1. She Talks to Angels by Black Crowes
Tabs: View Tabs on Ultimate Guitar here
Chris Robinson and his brother, Rich of The Black Crowes, penned this iconic song describing a person they knew from their early days of playing at Atlanta clubs. "She Talks to Angels" was released by the rock band in their debut album Shake Your Money Maker in 1990. The single, with its alternate Open E tuning, became so popular that it catapulted all the way to number one on the US Album Rock Tracks chart. Brimming with lyrics that are both humorous and dark, this rock ballad won the hearts of whoever heard it.
"She Talks to Angels" was later covered by some really popular bands, including the American rock band Shinedown and the heavy metal band Lamb of God. As teeming with techniques such as hammer-ons, slides, and pull-offs, this song can get a bit tricky to play. When you do decide to take it on, tune your guitar to open E first to make it sound like an E chord when all strings are played open.
2. Gimme Shelter by The Rolling Stones
Tabs: View Gimme Shelter by The Rolling Stones Tabs on Ultimate Guitar here
Saddened by the Vietnam War, serial killings, and political assassinations, Mick Jagger and Keith Richards of The Rolling Stones decided to vent their pain through the lyrics of "Gimme Shelter." Featured in Rolling Stone magazine's 500 Greatest Songs of All Time, the track's apocalyptic vibe, Jagger's aching voice, and Richards' blues-style licks made for a spine-tingling experience. But the most sensational part comes when session singer Merry Clayton adds even more depth to the lyrics with her heart-wrenching vocals.
When it comes to guitar playing, Keith Richards delivers superb bluesy licks and layered melodies in Open E tuning. To play this song, one needs to have a good grasp of the E major scale. We suggest you start there as Richard's chords and shapes will become clearer then. Open E tuning also makes it easier to make swift changes from open strings to fifth fret chords as the song's guitar demands. These rapid transitions would be challenging to carry out in Standard tuning.
3. Just Got Paid by ZZ Top
Tabs: View Just Got Paid by ZZ Top Tabs on Guitar Alliance here
It would be fair to call "Just Got Paid" more of a radio hit, as it was never released as a single or made it to any of the charts. What started as an attempt to master one of Fleetwood Mac's song's guitar riffs by ZZ top's guitarist Billy Gibbons resulted in this amazingly grooving song!
This song has some pretty impressive guitar playing by Billy Gibbons, who blends hard rock riffing with bluesy melodies. As is popular with blues guitarists, both lead and rhythm have been played in Open E tuning. This type of tuning usually gets more favored in blues because of E major's prominence as key for this genre. In the Lead portions of this track, you will notice that Gibbons has used a slide. Those of you who want to explore playing in Open E tuning and slide technique should definitely give this fun song a go.
4. Rocky Mountain Way by Joe Walsh
Tabs: View Rocky Mountain Way by Joe Walsh Tabs on Songsterr here
A rock guitar classic, "Rocky Mountain Way," has inspired a generation of guitarists to learn and master the slide technique. With a bluesy chord arrangement and plenty of slides, it is hardly a surprise that Joe Walsh went for the open E tuning. Like Duane Allman, Walsh prefers to tune his guitar to open E for easy play slide licks. Tuning in open E allows for smooth playing of major chords all across the fretboard by just barring your finger on any one fret.
"Rocky Mountain Way" was jointly written by all members of Walsh's band Barnstorm and released in 1973. The song grabbed attention for using the fascinating guitar talk box, which lent a distinctive tone and futuristic edge to Walsh's blues stomp. To sum up, in terms of guitar playing, there are three parts to this adventurous rock song. The rhythm bit, the slide, and talkbox solo. While new learners can easily pick up the rhythm part and its chordal riff, the slide and talkbox solo require more proficiency and heaps of practice.
5. Statesboro Blues by The Allman Brothers Band
Tabs: View Statesboro Blues by The Allman Brothers Band Tabs on Ultimate Guitar here
Originally written and recorded by Blind Willie McTell in 1928, "Statesboro Blues" became an influential Piedmont blues composition that inspired many covers since its release. The 1970s saw a renewed interest in the song when it featured as the opening track of The Allman Brothers Band's At Fillmore East album. Their rendition brilliantly showcases Duane Allman's virtuoso guitar playing, so much so that it was ranked number nine on Rolling Stone's "100 Greatest Guitar Songs of All-time".
The fantastic slide riffs by Duane Allman are truly gush-worthy. Slide blues sounds impressive in Open E tuning, and that's the tuning Allman uses in "Statesboro Blues." With higher string tension, greater sustain, and more efficient motion, the bottleneck slide plays better in Open E tuning than in the standard one. Tragically, just a few months after the song's release, Duane Allman died in a bike crash, and the world lost a great guitarist.
6. No Expectations by The Rolling Stones
Tabs: View No Expectations by The Rolling Stones Tabs on Ultimate Guitar here
You'll see the Rolling Stones frequently popping up in a list of songs with open tunings. Well, they were, after all, Keith Richards's favorite tunings, and he loved experimenting with them. You will hear open G tuning in most of their songs, but some of them have been played in open E as well. In 1968, the band released a slow, bluesy ballad, "No Expectations," most remembered for multi-instrumentalist Brian Jones' shimmering slide performance on the acoustic. Jones's slide could be best described as hypnotic and haunting, which enraptured the audience.
Brain Jones sadly passed away a short while later in 1969, and the single took a new meaning as his last dazzling performance. To get started on the slide part of the song, you'll have to first tune your guitar to open E from low to high: E-B-E-G#-B-E. You could also try picking up Richards' open-tuned rhythm that beautifully captured the lonely vibe of the lyrics.
7. Crawling In The Dark by Hoobastank
Tabs: View Crawling In The Dark by Hoobastank Tabs on Ultimate Guitar here
Here's an amazing nu-metal single in open E-tuning by the American rock band Hoobastank to expand your guitar repertoire. The band's breakthrough debut single, "Crawling In The Dark," climbed the charts, peaking at number 4 on UK Rock and Metal and number 3 on Billboard US Alternative Airplay. The popular track was featured on several video games, a Mountain dew ad commercial, and the soundtrack of The Fast and the Furious.
The song is relatively easy to play except for the verse, which could get a bit tricky. The Intro bit has a delay effect in it. As we mentioned earlier, the song uses the alternate tuning of open E. It's pretty evident that the band's guitarist Dan Estrin strongly favors this tuning as he uses it in several tracks in both their first and second album.
8. Stay With Me by Faces
Tabs: View You Can't Always Get What You WaStay With Me by Faces Tabs on Songsterr here
One of the reasons the Faces' classic "Stay With Me" sounds so enigmatic is the open E tuning used by guitarist Ronnie Wood. The tuning gives heaps of unison-note clang, making the tone and Wood's signature rig incredibly resonant. This mindblowing track was penned by Rod Stewart and Ronnie Wood and released in 1971. The music is bouncy and feverish, accentuated by Wood's epic licks and crunchy tone.
The song's open E tuning is quite similar to playing in open G but with a thicker tone. To get started on the intro, you'll have to tune it right, then hit the 12th, 10th and 5th frets which are the E, D, and A chords. The best part about open E tuning is that you just need your index finger to cover all six strings and make each chord. There's another superb technique called the 'berry finger wag' employed by Wood in Stay with Me in the intro, which you might want to look up. We recommend you listen closely to the original to work out the up and down strokes and finger accents.
9. You Can't Always Get What You Want by The Rolling Stones
Tabs: View You Can't Always Get What You Want by The Rolling Stones Tabs on Ultimate Guitar here
Another masterpiece from one of the most iconic rock bands of all time! The studio version of this song is played with the guitar tuned in Open E with a capo on the 8th fret. This is a relatively easy song to learn, with only a couple of chords to learn and a simple strumming pattern. Fun to play, and everyone you play for is sure to immediately recognize this iconic tune.
10. The Headmaster Ritual by The Smiths
Tabs: View The Headmaster Ritual by The Smiths Tabs on Ultimate Guitar here
An intense song that draws attention to corporal punishment's ills, "The Headmaster Ritual," was penned by Morrissey from the English rock band the Smiths about his unhappy school days. It is said that the band's guitarist Johnny Marr took nearly two years to figure out the guitar part for the song. Marr and Morrissey wanted the guitar to be as powerful and in sync with the emotions the words carried. And we must say that the results were well worth the wait.
From the band's most popular album, Meat is Murder, "The Headmaster Ritual" is revered for anti-corporal punishment message and some epic guitar playing by Marr. The song had multiple electric and acoustic layers and was tuned to open E. Apparently, in the studio version, Marr used a capo on the 2nd fret in an open D tuning, but in most of the live and solo acts, he can be seen using a guitar that is tuned to open E.
Popular Related Article: Our favorite Songs in Open D Tuning
11. Headlong Flight by Rush
Tabs: View Headlong Flight by Rush Tabs on Songsterr here
Seven minutes of adrenaline RUSH best describes this explosive single by the Canadian rock band. According to critics and fans, this song was a fantastic blend of the band's old-school edginess and their more recent melodic rock avatar. "Headlong Flight" is a testament that even after a career spanning decades, the band is still on top of their sonic game. The song is part of Rush's nineteenth and final album, Clockwork Angels, which debuted at number one in Canada and number two on the Billboard 200.
The track erupts with magnetic bass lines by Geddy Lee and a hard-charging drum cadence from Neil Peart. Their spell-binding unison is later joined by some heavy-duty riffing by guitarist Alex Lifeson. With three different lead paths, there's a lot of great guitar work in this one. However, the most awesome lead of the three is done in open E-tuning, which is an interesting choice as this song doesn't feature any slide guitar. Nevertheless, it works brilliantly as the chord playing feels more organic in this particular tuning.
12. Midnight in Harlem by Derek Trucks
Tabs: View Midnight in Harlem by Derek Trucks Tabs on Ultimate Guitar here
Hailed as the Master of slide guitar, Derek Trucks' prowess in the technique is nothing short of legendary. And like his childhood idol and guitar legend Duane Allman, Trucks sticks to open E-tuning for most of his slides and riffs. Some say that Derek Trucks has hardly ever been heard or spotted playing anything in standard tuning! Although strongly favored by slide guitar players, this tuning is not the easiest to play in, as the string tension is incredibly high.
"Midnight Harlem" is played in open E-tuning with a finger-picking style throughout. The song was released by Tedeschi Trucks Band, made up of Dereck Trucks and his equally talented wife, multiple Grammy Award nominee singer and guitarist Susan Tedeschi. This song was the duo's first official release and a part of their album Revelator. The hit album won the Grammy for Best Blues Album in 2012.
13. Prodigal Son by The Rolling Stones
Tabs: View Prodigal Son by The Rolling Stones Tabs on Ultimate Guitar here
Here's another entry for one of the most iconic and best-selling rock bands of all time, The Rolling Stones. Originally written by the versatile Robert Wilkins, who did Delta Blues back in the 1920s-30s, "Prodigal Son" was covered by The Rolling Stones in their 1968 album Beggars Banquet. The song is based on a parable of a loving father's reaction to the return of a wayward but repentant son. The message revolves around the power of forgiveness.
A traditional blues stripped-down style song, "Prodigal Son," is driven by amazing acoustic tunes by Keith Richards and Jagger's incredible vocals. We can hear Brian Jones on harmonica and Charlie Watts doing a light, steady beat on the drums, perfectly accompanying Richards and Jagger's performance. "Prodigal Son" is another excellent example of magic Keith Richards can do with an acoustic in an alternate tuning, as in this case in open E.
14. Little Martha By Allman Brothers Band
Tabs: View Little Martha By Allman Brothers Band Tabs on Ultimate Guitar here
We have a treat for fingerstyle guitar enthusiasts, a terrific fingerpicking performance by the guitar legend Duane Allman in the track "Little Martha." Labeled "the most perfect guitar song ever written" by famous guitarist Leo Kottke, "Little Martha" features a brilliant fingerstyle acoustic duet by Allman and Dickey Betts. The song was the final studio track of the band for the album Eat a Peach and was recorded just a few weeks before Allman's fatal motorcycle crash in 1971.
If it is Allman, it would most often be either an open E or open G tuning. In the case of "Little Martha," both six strings are played in open E. The story behind the song's origin is as riveting as Allman's performance. We've read that during one of his stays at a Holiday Inn hotel, the iconic guitarist had a dream of Jimi Hendrix teaching him how to play this song using a sink faucet as a fretboard! Allman later recalled the melody at one of the sessions for Eat a Peach, and that's how "Little Martha" was born.
15. We Just Disagree by Dave Mason
Tabs: View We Just Disagree by Dave Mason Tabs on Ultimate Guitar here
This poignant track, performed by English singer-guitarist Dave Mason and written by Jim Kreuger, was released in 1977 as part of Dave's solo album, Let it Flow. The track's Open E tuning, coupled with Krueger's 12-string strumming, creates an open, resonant overall feel for the song's vocals to play out over. Add to that the deep, emotional lyrics and the vocal harmony sung through the track – and you get a magical song that's timeless in its beauty.
The profound song talks about a couple that has decided to part ways and not blame each other for what went wrong. They just disagreed! It's an evergreen track that would be a great addition to any guitarist's repertoire.
Popular Related Article: Our Favorite Songs in Drop D Tuning
16. Jumpin' Jack Flash by The Rolling Stones
Tabs: View Jumpin' Jack Flash by The Rolling Stones Tabs on Ultimate Guitar here
Another massive hit that uses Open E tuning, "Jumpin Jack Flash," is the Stones at their rock'n'roll best. The song was such a rage that it ended up becoming the band's most performed song, played over 1,100 times live! This fantastic single has inspired covers by several influential musicians like Aretha Franklin, Tina Turner, and Leon Russell. The highly energetic song was released as a non-album single in 1968, showcasing the legendary band's return to their signature bluesy style.
The band's guitarist Keith Richards, also called the Human Riff, delivers a wicked main riff in this song. With "Jumpin' Jack Flash," aspiring guitarists can work on their power chords, strumming patterns, and try their hand at one of Richards' most memorable riffs. To play this Stones classic, you will need to tune your guitar to Open E or E B E G# B E from the sixth string.
17. Say It To Me Now by Glen Hansard
Tabs: View Say It To Me Now by Glen Hansard Tabs on Ultimate Guitar here
This emotionally charged track has been written and performed by Glen Hansard and was featured in the movie "Once," which starred Hansard himself. Talk about multi-talented! This song is a brilliant example of the resonance and openness that the Open E tuning can lend to a song.
Not only do the ringing open strings create a subtle melody during the softly-sung verses, but they ring out loud and proud during the emphatic and powerful chorus as well. We highly suggest adding this track to your list of go-to's – it's got simple chords but leaves an unforgettable impression in the mind of the listener – not to mention being a real treat to play and sing!
18. Big Yellow Taxi by Joni Mitchell (Live Version)
Tabs: View Big Yellow Taxi by Joni Mitchell Tabs on Ultimate Guitar here
It was nine-time Grammy winner Joni Mitchell's first trip to Hawaii that inspired her '70s hit composition, "Big Yellow Taxi." In one of the interviews, she spoke about her disappointment at seeing the beautiful and green island transforming into a commercialized tourist destination. The song eloquently touches upon Mitchell's environmental, political as well as personal concerns. The timelessness of this classic can be gauged from the fact that it has been covered by over 400 artists, including Amy Grant, Bob Dylan, and Counting Crows.
Though Mitchell's original recording has open D tuning, her more popular live version is tuned to an open E. Called "playful and full of life" by Billboard, the live version was recorded in 1974, four years after the release of the original. "Big Yellow Taxi" has a simple chord progression with only three chords used in a very creative way. For the tuning part, Mitchell did it a bit differently. She tuned to open D and used a capo on the second fret. This was mainly done to avoid the higher string tension, which comes with open E-tuning.
19. Bo Diddley by Bo Diddley
Tabs: View Bo Diddley by Bo Diddley Tabs on Ultimate Guitar here
One of the most influential Rock N Roll pioneers, Bo Diddley, was a rhythm man! His distinctive trademark beat, "the Bo Diddley beat," was extensively used in many of his songs, including the self-titled "Bo Diddley." The 1955 blues-rock and roll song became an instant hit that ruled the charts R&B charts for two weeks as number one and stayed on for a total of 18 weeks. It was the first time people heard African rhythms and patted juba beat in a rock and roll song, and boy, did they love it!
Bo Diddley usually played his percussive guitar in an open E tuning, and in this single uses the same. In the track, you will hear his electric guitar amplifying the patted juba and his backup musicians playing the maracas and drums in perfect sync. Those who want to play "Bo Diddley" will need to get acquainted with Diddley's signature rhythm guitar strumming. Nailing this cool beat will be well worth the effort as it is featured in many songs by prominent musicians like Elvis Presley, the Rolling Stones, Guns N' Roses, and the Allman Brothers Band.
20. Hurts Like Heaven by Coldplay (Live version)
Tabs: View Hurts Like Heaven by Coldplay Tabs on Ultimate Guitar here
Powered by some pretty neat guitar playing by Jonny Buckland of the famous British rock band Coldplay, "Hurts Like Heaven" is one of the band's more guitar-centric songs. The song is incredibly foot-tapping with a bright melody, a vibrant, uplifting vibe, and a stellar tone-bending performance by Buckland. From the band's fifth album, Mylo Xyloto, the song was recorded in 2010 and enthralled the audience at the 2011 Rock Im Park festival in Germany, where it was first performed.
In one of the live versions of Hurts Like Heaven, Chris Martin uses an open E tuning with a capo on the 6th fret, so it goes- E B E G# B e. It is important to note that this kind of tuning could put a lot of stress on your strings due to the high tension. So if you are not comfortable with that, what you can do is tune to D A D F# A d and capo on the 8th fret.
21. China Girl by John Mellencamp
Not to be confused with David Bowie and Iggy Pop's "China Girl," the JCM hit from 1982's American Fool album has been a part of the album's 10 million copies sold worldwide. One thing both songs do have in common is critical reception, particularly from Asian-American audiences. Ellie Hisama wrote in a May 1993 edition of the Cambridge University Press that she feels "fairly troubled" by the themes of "one-dimensional" relationships where it's uncertain "whether she (the "China Girl") is content with the relationship." What are your thoughts?
"China Girl" is a pretty simple song to play, so don't be intimidated by the chords or lead progressions when you're looking at the tab or listening to the recordings. Give it a shot and add this song to your Open E Tuning repertoire!
22. Meet Me In The Morning by Bob Dylan
Written to reflect on the emotional turmoil and introspection Dylan was suffering during the dissolution of his marriage, "Meet Me In The Morning" exemplifies the raw depth of bluesy folk music. Dylan performs this song sparingly when playing live shows, making it a rarity to catch the song played in concert.
Listen to the rare live performances to really get a feel for the emotional intensity of Bob Dylan's delivery of "Meet Me In The Morning." Experiment with softening the verses and slowly building up to climactic choruses; this is a deeply vulnerable and emotional song, so go with the flow! Don't be afraid to throw in some string bending and sliding to your own playing to add some soul! This is one of my personal favorite songs in open E tuning of all time because I'm a huge Bob Dylan fan.
23. Waiting On You by Newton Faulkner
Faulkner's playing style is very distinctive, with percussive elements where the guitar strings are drummed on to create rhythms and beats while playing chords and melodies simultaneously. Hand Built By Robots, the album that features "Waiting On You," helped propel Faulkner's career due to the success of the album's singles. As a result, "Waiting On You" was featured in the British TV series Waterloo Road which originally ran from 2006 to 2014.
While Newton Faulkner's percussive guitar playing might be a little intimidating to try to replicate, feel free to experiment with slowly adding it into your playing as you get more comfortable with the song! Until then, pay close attention to the chords used as well as the strumming pattern, which can be played at a fairly moderate pace.
24. Gold by Interference
Written by Interference frontman Fergus O'Farrell, "Gold" gained popularity with new audiences after being featured in the 2007 film Once. "Gold" is a mesmerizing experience with its atmospheric folk-pop sound, hauntingly beautiful overtones, and O'Farrell's soulful vocals. Although he suffered from muscular dystrophy, a degenerative muscle disease, Fergus O'Farrell continued to write and play with Interference until he passed away in 2016.
"Gold" is a great song for players, beginner or intermediate. With simple chord progressions played in Open E for emphasis on comfort and playability, performing "Gold" is accessible to anyone! Focus mainly on keeping the strumming pattern relaxed and in sync with Gold's gentle flow. Transport yourself and your audience to the picturesque emerald hills of Ireland with your playing!
25. Stop Breaking Down by The White
"Stop Breaking Down" was originally written by Delta blues artist Robert Johnson in 1937 under the title "Stop Breakin' Down Blues." The Rolling Stones also recorded their own interpretation of the song in 1972 before The White Stripes recorded theirs for their 1999 self-titled debut album. Numerous other blues artists also recorded their own interpretations of the song, including Buddy Guy and Junior Wells, Baby Boy Warren, and Forest City Joe.
Being originally written by a Delta blues guitarist, you can imagine that even the funky, progressive White Stripes version of the song is played in simple 12-bar blues progressions. E, A and B7 will be your main weapons for this song, but otherwise, you can experiment with adding the main riff back in between chord changes to spice up your playing with that bluesy flavor.
26. Away In Silence by Creed
Scott Stapp wrote "Away In Silence" and released the song on Creed's 2009 album Full Circle. Written for his wife Jaclyn as a memoir of a day in November of 2006 when she almost left him, "Away In Silence" evokes a powerful feeling of introspection, self-discovery, and the struggle to find inner peace amidst life's challenges.
Pay close attention to the subtle details in guitarist Mark Tremonti's playing style when you listen to "Away In Silence." The dynamic flow of the chord progressions masks an intense emotional tapestry that lays the foundation for the song, so get a feel for his style and tap into your inner emotions to really bring life to the song!
27. Golden by My Morning Jacket
"Golden," one of My Morning Jacket's most popular songs, is often praised for its catchy melody and heartfelt lyrics. Featured on the album Z, "Golden" found its way into numerous TV shows and movies, helping to propel it into the playlists of audiences worldwide. The song exudes themes of hope, love, and embracing life's possibilities while blending genres like rock, folk, and country.
Armed with a handful of chords, you can put yourself in Jim James' shoes when you play "Golden." It's a fairly simple song to learn, and playing in Open E tuning just makes it even easier. Just remember to listen to the original studio recording to get a better sense of the rhythm and timing for each chord change.
28. Too Old To Die Young by Brother Dege
Brother Dege's 2010 song "Too Old To Die Young" was released on the album Folk Songs of the American Longhair. Brother Dege drew inspiration from American folk music and Delta blues traditions, giving the song a blusey and rootsy sound that became his signature style. It worked out for him, however; "Too Old To Die Young" was featured in the 2012 movie Django Unchained where it became an anthem for the movie's protagonist.
"Too Old To Die Young" is played with a slide on a resonator guitar, adding a gritty texture that really gives the song its soul. Playing with a slide takes practice and learning control, so if you're new to slide guitar, just take the song slowly and pace yourself when practicing until you're more comfortable. Then you can grab your Bragg hat and wow your next audience!
29. Fiddler's Green by The Tragically Hip
Canadian rock band The Tragically Hip released "Fiddler's Green" in 1992 as part of the Fully Completely album. Vocalist Gord Downie took to penning the song after his young nephew passed away from a heart condition. His nephew had a strong interest in sailing, so Downie titled the song "Fiddler's Green" in reference to the idealized afterlife for sailors where the weather is always fair, the sea is always calm and sailors can find eternal rest.
"Fiddler's Green" primarily follows a simple chord progression throughout the song, so it won't take much for even a beginner guitarist to master the song. So if you're feeling up for a challenge, try incorporating a hybrid picking style in your playing to add some flair to your rendition of the song!
30. Bread and Water by Ryan Bingham
"Bread and Water" is a quintessential Ryan Bingham track, showcasing his gritty and soulful style. Drawing inspiration from his experiences and observations, "Bread and Water" is a raw and heartfelt song that delves into topics like struggle, hardship, and survival. The song blends styles of folk, country, and Americana music and helped establish Bingham's career as a singer-songwriter. Featured in the 2009 movie Crazy Heart, "Bread and Water" earned Bingham 2008's Emerging Artist of the Year award from the Americana Music Association.
There's a fairly simple up/down strumming pattern in the song here, so combined with some basic chords and some smooth timing, I don't think you'll have any issues learning how to play "Bread and Water."
31. Kids by MGMT
"Kids" is classic from the rock supergroup MGMT. Released in 2007 on their debut album Oracular Spectacular, "Kids" became a commercially successful song right away, receiving widespread acclaim and helping to propel the band into the eyes of the world. "Kids" received several awards and nominations, including a Grammy Award and a nomination for Best Pop Performance.
This is a pretty straightforward song to play, so take a listen to the song closely to see where you can add in some unique flair to make your rendition your own! Playing in open E tuning allows you some unique opportunities to add new flair and different chord voicing into your playing for a completely new sound!
32. If You See Her, Say Hello by Jeff Buckley
Jeff Buckley's rendition of Bob Dylan's 1975 classic is a heartfelt and emotionally charged performance, highlighting Buckley's signature soaring vocals and intricate guitar playing while being known as one of Buckley's most notable performances. His acoustic arrangement complements the song's intimate and melancholic atmosphere while paying homage to the poignant ballad style of the original piece.
When you approach learning to play Buckley's rendition of Dylan, you have a wealth of options, from approaching it as a Bob Dylan player, a Jeff Buckley player, or a combination of the two. Either way, try experimenting with fingerpicking for a softer tone, adding texture, and emphasizing certain melodies, or use a slide and take advantage of open E tuning's open chord sound.
33. The Weight by Arehta Franklin
A classic song that was written and released by The Band originally and covered by various artists, all vying to leave their mark on their audiences with their own renditions. Most notably however, might be Aretha Franklin's performance, turning the timeless country rock classic into an R&B power hit. Interesting fact: that sweet, spiritual guitar behind Aretha's ethereal vocals? None other than Duane Allman himself.
Duane Allman was renowned for his slide guitar skills. That said, there's no reason you can't take this song and make it your own as you learn it! Take the three major chords present in the song, E (12th fret), A (5th fret), and B (7th fret), and pay attention to the dynamics and expression in Allman's hybrid picking technique.
34. California by Joni Mitchell
Taken from her 1971 release Blue, "California" is one of Joni Mitchell's most beloved songs. Inspired by a road trip Mitchell took from Maine to California in 1968, the song was written with her intricate fingerpicking style and washes the audience over with its visual and poetic lyrics. Fun fact: the album art for Blue features a self-portrait of Joni Mitchell!
Practice the chord changes and experiment with strumming patterns to really capture the free and open vibe of the song. Once you get comfortable with playing the song in a basic sense, you can explore some of the more advanced fingerpicking techniques that Joni Mitchell is known for!
35. Bella Kiss by John 5
Rob Zombie and Marilyn Manson guitarist John 5 is arguably one of the most creative and impressive guitar maestros alive today. His exceptional guitar skills and his mastery of sweep picking, tapping, and alternate picking have earned him the Revolver Magazine Golden God award for Best Guitarist in 2013.
Unlike most of the songs on this list, "Bella Kiss" focuses more on single-note riffs rather than traditional chords. Because of the intensity of some of the sweeping and tapping sections present in the song, it's more important than ever to take it slow; play along at a much slower pace and build up as you get used to the advanced techniques. Don't be intimidated by the percussive tapping and the open string bending!
36. Stephanie by Buckingham Nicks
Before joining Fleetwood Mac in 1974, Lindsey Buckingham and Stevie Nicks recorded a self-titled album a year prior under the name Buckingham Nicks. They only wrote one album together, and all in all, it wasn't a major success, despite later finding enormous success after Lindsey was asked to join Fleetwood Mac. Buckingham had one condition: that his girlfriend and singer Stevie Nicks could join too.
This is a very dynamic guitar song to tackle, so as usual, take the song nice and slow until you get the riff down comfortably. One thing you could try is playing along to a metronome; start off at about 50% or 75% speed and upping the tempo little by little as you start to get the hang of it.
37. Dirt In My Pocket by Joe Bonamassa
Voted as one of the best modern blues riffs by Guitar World Magazine, "Dirt In My Pocket" by Joe Bonamassa pushes an overdriven slide guitar riff to new heights with Dorian-flavored blues rock. Between the guitar and the hard-hitting drum beat, "Dirt In My Pocket" will be impossible to listen to sitting still.
If you're at all familiar with playing slide guitar, then you'll have no problems pulling off this song. If you're new with a slide or still a little unsteady with one, then no problem! This is a perfect song for a beginner to cut their teeth on! There's one main riff that repeats at various points through the song as well as a slow arpeggio for the verse.
38. All Things Must Pass by George Harrison
"All Things Must Pass" was written by George Harrison during his tenure with The Beatles but wasn't released on any of the band's albums. Harrison eventually released the track in 1970 as the title track of his solo album. Phil Spectre added his signature Wall of Sound production technique to further give Harrison's masterpiece a full and grandiose sound. "All Things Must Pass" is regarded as one of George Harrison's most beloved and iconic compositions and helped Harrison secure the Recording Academy's Lifetime Achievement Award one year after being inducted into the Grammy Hall of Fame in 2014.
There's just a few chords to know to master this classic song. A good song for a beginner guitarist, beginner open E tuning player, or beginner slide player to learn on! Experiment with the song to find your groove!
39. Je M'en Vais by Vianney
"Je M'en Vais" was released as a single in 2016 and became a massive hit in France as well as in French-speaking countries. Featured on Vianney's self-titled 2nd album, "Je M'en Vais," earned Vianney several awards, including the French music award Victories de la Musique. "Je M'en Vais" means "I'm leaving" in French and is a bittersweet and emotional tale of turning away in search of new horizons.
This song plays as you would expect for an acoustic singer-songwriter smash hit. So familiarize yourself with the chords, experiment with your playing style, and search out live recordings to get an in-depth look into Vianney's dynamic and intriguing guitar style!
40. How He Loves Us by Jesus Culture
John Mark McMillan originally released "How He Loves Us" in 2005 after the death of his close personal friend, but it wasn't until 2007 that the song received more widespread popularity after it was covered and released by Christian revivalist organization Jesus Culture in 2007 and released as part of their album We Cry Out. "How He Loves Us" has proven itself as a predominant worship song, being covered by numerous Christian artists and worship bands over the years.
Another song with a basic chord structure that makes it almost effortless for guitarists of any skill level to take on and learn. Familiarize yourself with the handful of chords presented in the song and add this to your repertoire for the next open mic night at your local church! If you're looking for easy worship songs that also happen to be in open E tuning, this is a great option.
41. Scarecrow by Alex and Sierra
After winning The X Factor USA in 2013, indie pop duo Alex & Sierra took off to perform on a promotional tour, gaining a dedicated fanbase along the way. One year later, they would release what would become a song that rocketed them into the limelight; "Scarecrow" received a fair amount of positive acclaim and helped to grow their audience, although it didn't garner as much commercial success as genre-similar that time period.
"Scarecrow" carries itself with a moderately slow tempo, giving it a nature that's easy to play as much as it is easy to listen to. With a gentle rhythm, straightforward chord progression, and warm, melodic sound, "Scarecrow" makes a great addition to any guitarist's songbook.
42. Something In The Air by Thunderclap Newman
British band Thunderclap Newman, under the direction of The Who guitarist Pete Townshend, released "Something In The Air" in 1969 with a strong anti-war message. The counter-cultural overtone of the song resonated with the social/political climate of the late 1960s. "Something In The Air" found its way into a variety of movies and TV shows and, to this day, remains a classic piece of 1960s nostalgia.
"Something In The Air" follows nearly the same chord progression throughout the entire song, making it quite accessible for budding guitarists or performers who sing while playing. The key here, however, is to maintain a consistent strumming pattern and really capture the song's emotion. Throw in some dynamic variations to make the song your own!
43. Perth by Bon Iver
Coming in hot off of Bon Iver's second album, "Perth," leads off with a powerful instrumental section that epitomizes the band's signature blend of folk and experimental elements. The song takes its name from the Australian city and speaks of nostalgia and introspection. The album itself won the Grammy Award for Best Alternative Music Album in 2012 and remains to this day a go-to for longtime fans and new listeners alike.
"Perth" features a very distinctive fingerpicking style, so if you're not feeling up to the task, start off slow or tone down the dynamics of the song to suit your comfort level. Emphasizing certain notes with your rhythm technique will help bring the song to life, so keep that in mind when you learn to play this Bon Iver classic.
44. Lost In The Supermarket by The Clash
Punk rock makes waves with audiences here with a classic tune from British sensation The Clash. Despite the silly title, the song actually delves into deep reflections of guitarist Mick Jones' feelings of isolation and disconnection during his childhood. Diverging slightly from the typical punk rock recipe, "Lost In The Supermarket" incorporates some pop and new wave elements, giving their album London Calling a fusion tone that sets it apart the rest of the scene.
"Lost In The Supermarket" starts with a pretty cool and catchy guitar riff that will be sure to hook you into wanting to learn the rest of the song. The verse and the chorus share the same chord progression, so you can add a little more intensity and energy into the chorus riffs to set it apart from the chorus; only in the bridge does it switch up a bit. Brush up on your palm muting and get ready to get your punk on!
45. The Medic by Foxing
Lots of indie songs on this list, and no indie rock list would be complete without an entry from American indie rock outfit Foxing. Coming out of their 2013 album The Albatross, "The Medic" features emotionally charged lyrics that touch on themes of vulnerability, mental health, and personal growth. Also present is a unique blend of emo influences hiding within a lush mix of atmospheric guitars, dynamic drums, and captivating vocal performances. "The Medic" very quickly became a fan favorite because of how deeply fans connected to the raw portrayal of what it's like personal struggles.
There are intricate fingerpicking sections present in "The Medic," as well as lots of dynamic shifts. You can capture the emotion of these changes in tone by starting off the song soft and calm and slowly adding more emotion and intensity to your playing.
46. Ang Aking Awitin by Side A
In 1998, Filipino band Side A released the song "Ang Aking Awitin," which translates from Tagalog to mean My Song. Even now, "Ang Aking Awitin" remains a beloved song in the Philippines, between Joey Generoso's powerful and emotional singing, deep and romantic ballad style of writing, and place as a classic in OPM (Original Pilipino Music) history. Many Filipinos regard "Ang Aking Awitin" as a nostalgic reminder of the sentimental times of the 1990s.
"Ang Aking Awitin" relies on the piano and other accompanying instruments to carry the weight of the song's emotions, so playing on a single guitar and being able to express the same level of intensity will be a task worth taking on. Take the piano intro and transpose it to guitar; with a hybrid chord/tapping technique if you're feeling adventurous!
47. All The Poor and Powerless by The Digital Age
Another Christian Worship group to "grace" our list, The Digital Age, presents to us "All The Poor and Powerless," a piece from their 2013 debut album Evening: Morning. Each member of the band contributes to writing the song, making it truly a group effort and quickly making the song a popular worship anthem in Christian churches and gatherings.
Really take advantage of the song's status as a worship anthem to incorporate some slow, thoughtful, and emotional playing into your performance. The dynamic and fluctuating intensity in your strumming patterns will really help set your playing apart! Most importantly, play with sincerity and focus on conveying the song's heartfelt message through your guitar playing.
48. Beat The Devil's Tattoo by Black Rebel Motorcycle Club
Black Rebel Motorcycle Club released the title track, "Beat The Devil's Tattoo," a gritty and bluesy rock song on their sixth album back in 2010. This anthemic and energetic track was featured in the game Madden NFL 11 as well as the popular TV show Sons of Anarchy. Although it's a staple of BRMC live shows, the song didn't achieve significant commercial success, yet it still remains one of the band's standout hits and is often cited as a highlight of BRMC's discography.
Beat The Devil's Tattoo is, without a doubt, a high-energy song. Get into the groove and embrace the song's raw energy and in-your-face attitude when you play! During parts of the song, the guitar matches the vocal harmony, so pay attention to cues on dynamics.
49. Shake Your Moneymaker by Fleetwood Mac
A full-fledged Fleetwood Mac classic, this early hit was originally written by another artist entirely, Elmore James, back in 1961. Adding this song to the album helped bring it to Number 5 in the UK Albums Charts. Despite the fact that Fleetwood Mac's rendition of the song is not too well known, it played a significant role in shaping the band's direction and introducing them to a broader audience.
Lindsey Buckingham shows off his slide prowess in the song, so make sure you're ready to tackle the song as played by a master of the open E tuning. Pay attention as well to the rhythm and groove of the song and practice getting into the pocket of the song; know when to stand out ahead and when to step back into the backing rhythm!
50. Sugarcube by Yo La Tengo
"Sugarcube" exemplifies Yo La Tengo's eclectic style of genre fusion, blending indie rock, noise pop, and shoegaze elements into a hyper-catchy yet somewhat lyrically-cryptic piece that continues to influence the shape of the indie rock genre. "Sugarcube" has been featured in a few TV shows and movies and continues to be a favorite among Yo La Tengo fans.
Being able to really master "Sugarcube" on the guitar will require a fair sense of timing as well as the ability to balance between the song's melodic and noisy elements. Familiarize yourself with the chord progressions and how to transition smoothly between them as you learn the song. The song also has a few quieter, more introspective sections, so consider using a softer fingerpicking style during these phrases.
Final Thoughts:
As you can see, Open E tuning has been used by musicians of a wide variety of genres for decades and decades. Be it the blues, rock n' roll, or straight-up pop music; you can hear the resonance and sweetness of Open E tuning in several iconic songs over the years.
We hope this blog on Open E tuning inspires you to try out this interesting and fun alternate tuning and helps you unlock new song ideas to write and play!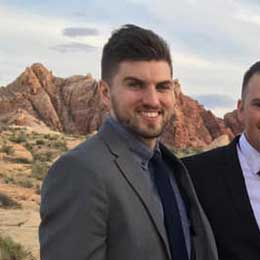 My name is Chris and I've had a passion for music and guitars for as long as I can remember. I started this website with some of my friends who are musicians, music teachers, gear heads, and music enthusiasts so we could provide high-quality guitar and music-related content.
I've been playing guitar since I was 13 years old and am an avid collector. Amps, pedals, guitars, bass, drums, microphones, studio, and recording gear, I love it all.
I was born and raised in Western Pennsylvania. My background is in Electrical Engineering, earning a Bachelor's degree from Youngstown State University. With my engineering experience, I've developed as a designer of guitar amplifiers and effects. A true passion of mine, I've designed, built, and repaired a wide range of guitar amps and electronics. Here at the Guitar Lobby, our aim is to share our passion for Music and gear with the rest of the music community.