Since 1983, rock 'n roll saw a massive resurgence, with hard rock taking over the charts it seemed as if stadium bands were back on track. But it wasn't all about glitter and massive crowds, the 1980s hosted the roots of the alternative phenomenon of the following decades, whilst giving the mainstream scene more than a couple of immortal acts. Springsteen was hailed as a national treasure and Prince gave a good drench of Purple Rain that seemingly marked the union between all music genres and rock 'n roll with a masterful androgynous touch.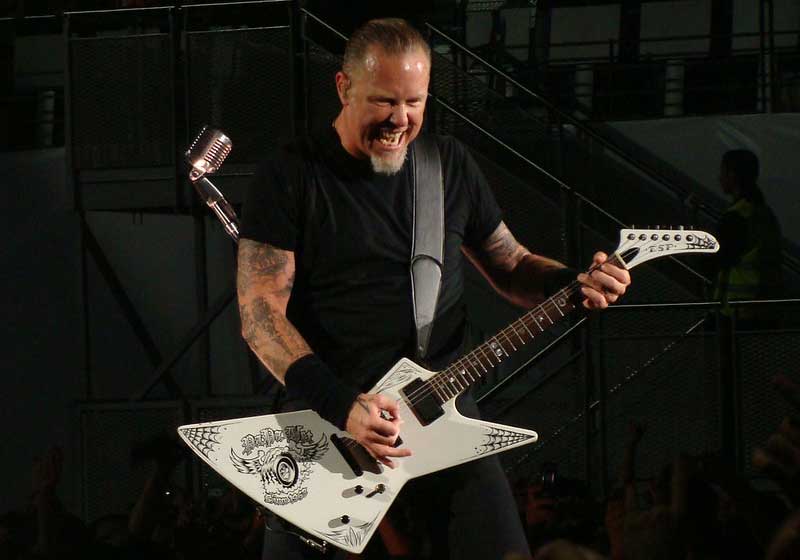 With America hosting noise rock and Britain on another hand affiliated and established shoegazing as a standard that would remain a standard influence up to this date. The post-punk era would come to influence much of the underground and counterculture of the decade, as opposed to much the synth-pop domination of the time, much of what went down during the eighties is seen by music historians as a manifestation of rock 'n roll's always cyclical nature.
In other terms, two decades of guitar music domination will always translate into a decade's hiatus in which rock music will naturally regroup to resurge as to voice generation after generation.
Nevertheless, the eighties brought back the Rockstar figure, and ever since then, the standard has remained pretty much the same. The following bands came to represent an era, based on cult and pop culture status these artists rocked an era until they dropped. Whether it's a vast amount of record sales or a massive cultural impact, these bands represented an outlet to an entire generation regardless of their background or preferences.
Here Are the Best 80s Rock Bands
20. Sonic Youth
The pioneers of noise rock and precursors to much of the alternative rock bands that would follow a decade later, Sonic Youth really brought the independent and underground to the next level by proving what a vintage classic rock guitar could do. Heavily relying on alternative tunings and abused amplifiers to bring a game-changing sound to international recognition, their approach to music was one of mere raw structure and nature that would massively impact New York's underground culture. Much of their merit comes from an always true to nature trajectory even after becoming one of the most renowned acts in Europe in the earlier half of the eighties.
Upon the release of their debut tenure, 1983's Confusion Is Sex, the band met with irregular press attention, it was their abrasive and disastrous live performances in the UK that earned them a solid underground fanbase while cultivating their mediatic presence thanks to rave reviews from NME and Sounds magazine. With a more notorious profile, Sonic Youth delved deeper into experimental guitar-based music, but it wasn't until the release of 1986s EVOL that the band achieved a solidified base between their essential abrasive sound and a more methodical product that would finally earn them a notorious status. New York Times credited the band for "making the most startlingly original guitar-based music since Jimi Hendrix"
By the end of the decade, both Kim Gordon and Thruston Moore had been escalating labels and exposure to media. Keeping an independent essence with an overachieving profile, Sonic Youth went to sign with Enigma Records and Capitol for the distribution of their most iconic tenure Daydream Nation. With flagship single and timeless anthem, Teenage Riot the group finally became one of the most prominent icons for alternative music and one of the main figures of college radio. Daydream Nation marked the band's introduction into mainstream America, with Teen Age Riot landing number twenty on the Billboard Modern Rock Tracks, this was an aperitive for the massive alternative phenomenon of the 1990s.
Years after their prime, Sonic Youth's cult status has been consistently growing, with more artists crediting them as a major influence, acts like Pavement, The Yeah Yeah Yeahs, and The Cribs among many others. Sonic Youth was a crucial act that bolstered and shaped alternative music as we know it, redefining guitar music as we know it while as an example of evolution while staying true to themselves.
19. The Smiths
One of the most influential and crucial bands of the British independent music scene and one of the most undisputedly influential in the area, with an experimental approach fueled by angsty yet remarkable lyricism. The Smiths brought to the game poetic prose along with a jangly pop sound that could smoothly transform into an elemental post-punk cornerstone. With mordant humorous lyricism and their 1960s rock infused into post-punk jangly guitars and structure, The Smiths rejected the mainstream dominance of synth pop, which only bolstered them as underground heroes at the time.
With a number two debut tenure, 1984s The Smiths, captured Britain's tabloids with much concern over alleged controversial subjects. It also brought to the public eye Morrissey's lyricism as a "concerning influence on youngsters" however, it was the follow up non-album single releases like Heaven Knows I'm Miserable now and Suffer Little Children propelled the band's status nationwide, while bringing further controversy.
1987s Meat is Murder on another hand marked the beginning of an era for British music. The album went straight to number one on the UK Album Charts and remained the only one to do so in the band's history, while making a mild buzz in the US reaching the 110th spot in the Billboard 200. However, it established a fascination for the British indie scene in Europe, while also giving the band renown as a politically and socially conscious one trademark that would bolster their notoriety.
With over three decades after the separation of The Smiths their influence remains more latent than ever, regardless of the profiles of each member in recent years. Ian Young described the band's impact on global culture as:
"the band that inspired deeper devotion than any British group since the Beatles"
Despite not being a massive commercial success, The Smiths have been a prevalent driving force and source of inspiration ever since they first popped out of Manchester.
18. The Stone Roses
One of the first bands of true independent nature with a unique mixture of contemporary and classic sounds. The Stone Roses were one of the most influential and determining bands of the Madchester scene. The band came to form in 1983 but it was anything but official until two years later when their first solid line up headlined supporting Last Party's tour when in Manchester. With much underground buzz, the band became a cult phenomenon in their hometown. Their hit flagship single, I Wanna Be Adored was premiered on Piccadilly Radio spawning a larger audience outside of Manchester.
The Stone Roses' 1989 breakthrough and self-titled debut made a small impact until it was bolstered by the individual releases of Made of Stone and She Bangs the Drums, the latter would become the band's first UK top 40 tunes and number one in the Independent Charts. With a growing reputation, The Stone Roses became notorious for their particular blend of psychedelic rock, electronic dance music, and alternative rock. It seemed as though these men created their own genre, hence their appeal and impact, these elements propelled the success of Fool's Gold which would become their official breakthrough tune during that same year.
Following The Stone Roses' entry into a more mainstream scene, they went on to play one of music's history most iconic gigs in Blackpool's Empress Ballroom in front of 4000 people. Following the emblematic show, the band was reviewed by NME as "the biggest band in the world who hasn't begun to show their potential", subsequently they were awarded by the polls as NME's Band of the Year, Best New Band, Album and Single of the Year. With an astonishing legacy, countless British bands have been influenced by the Roses, among them, Arctic Monkeys, Blur, The Mystery Jets and a humble reverence by Noel Gallagher whom stated:
"When I heard 'Sally Cinnamon' for the first time, I knew what my destiny was".
Despite a short-lived time of grandeur, The Stone Roses have managed to become cult and rock 'n roll icons, with a dopey feel, and releasing atmosphere complemented by charismatic and compelling live performances. This is the band responsible for the resurrection of the independent scene in the UK.
Popular Related Article: 10 Best 90s Alternative Bands
17. Poison
Perhaps the main reference for hair metal and glam rock. With power chords introduced to a more structured pop-ish glitter, hard rocking tracks with shredding solos and Brett Michaels' country flair and charisma, Poison became the quintessential bedroom poster band of the decade. The band started out in L.A nightclub circuit struggling with poverty until their debut and breakthrough album Look What the Cat Dragged In, produced massive chart hits Talk Dirty to Me, I want Action and I Won't Forget You.
Following their three consecutive hits the band earned a spot with heavy rotation on MTV, the band's reputation and status as one of the decades greatest skyrocketed with the direct number one hit, Every Rose Has It's Thorne. Leaving behind all the glam glitter, Poison shifted to a more standard performance and hard rocking sound. Dragging success onto the following decade, the band would take a brief hiatus with a more eminent profile, however, it was deemed a nostalgia act during the nineties and early 2000s, nevertheless it's only fair to say that they have become a legendary band.
Poison achieved a prominent status that has now turned into legacy, all that glitter and Unskinny Bop wasn't for nothing. Today the band is one of the few to hold ten top forty singles, and as for now, over thirty million records sold worldwide. All in all, Poison is easily one of the best rock bands of the 80s.
16. Scorpion
Building a standard for melodic balladry and hard rock during the early eighties with their 1980 debut Animal Magnetism and 1982 follow up Blackout. The Hamburg rooted band was one of the first European groups to break America in the eighties. Scorpions earned the title of "rock ambassadors" given to them by MTV, a title they held dearly and maintained with a high profile as one of the founding fathers of hard rock.
Also labeled as heavy metal, Scorpions went on to conquer their age as "heroes of metal" as described by Rolling Stone magazine. Following the popularity of singles No One Like You and Can't Live Without You the band was invited to play in 1983's US Festival in front of 375,000 fans. MTV broadcasted this event live, thus giving the band massive media exposure, earning Scorpions Best Performance on television polls. With a foot in as MTV darlings, Scorpions went on to release their 1984 tenure Love at First Sting with flagship single Rock You Like a Hurricane which later one became to be their signature tunes and one of rock's standards.
After 1984 nothing was the same for the band, they solidified their powerful status regardless of their "occasional butchering of the English language". In fact, their grandeur was at such a peak at the time that they remain as one of the best-selling bands of all time, selling over 100 million records around the world by 1995. Scorpions had a massive cultural impact, being one of the first German bands to conquer the mainstream act all around the world, while also shining a light on Eastern Europe's struggles with their 1990 record Crazy World. When touring to promote the album, its popularity was largely propelled by the power ballad Winds of Change which they even went to perform on the Soviet Union, making them the second western group to perform in the USSR while also criticizing it, talk about cultural impact.
15. Mötley Crue
With a dark, more leathery Kiss element and sex drugs and alcohol as a trademark, Mötley Crue took the world by surprise in the early eighties with the re-submission of their debut Too Fast For Love. With a scandal propelled first tenure, the band stuck after stunting their arrest at Edmonton International Airport for wearing their spiked stage wardrobe deemed as "dangerous weapons", and walking out of it just to play another show. However, these events and hairdo only paved the way for their standard sounding Shout At the Devil, which brought new theatricals and a more visceral live experience than any other act of the time.
Exuberant antics and sex as a focal point the band soon became one of the most notorious ones in the 1980s, with MTV regular singles Shout at The Devil and then cabaret favorite Girls Girls Girls, which peaked as number two on the Billboard Hot charts. Further exposure found the band in more and more scandals as well as a regular act with Ozzy Osbourne during tours, thus establishing the band's status as giants of their era. With a shift towards a biker aesthetic, the band reached number one upon the decade's final years with Dr. Feelgood once again indulging in their now iconic self-destructive habits. Mötley Crue came to a breaking point in their struggle with addiction and finally decided to go their separate ways.
The band left an impact in pop culture, it spawned a lost mediatic fascination for the rockstar lifestyle and delivered one of the all-time selling New York Times biographies. Additional to that Mötley Crue has sold over 100 million albums to date, and that doesn't come without some influence in the hairy eighties, where they managed to set trend after trend for 6 years straight.
Popular Related Article: The Best Red Hot Chili Peppers Songs of All Time
14. Iron Maiden
The quintessential exponent for new wave British metal and one of the most consistent live acts in music history, Iron Maiden spooked and fueled a generation with masterfully crafted depictions of historical and biblical events. Maiden's success came with their then "scandalous performances" remarkably harmonic music, layered with heavy riffs, brilliantly delivered basslines by Steve Harris and Bruce Dickinson's vast vocal range. Iron Maiden created an unparalleled atmosphere that would go on for ages, earning them the status as one of the faces of heavy metal.
Following the almost initial recruitment of Bruce Dickinson, Iron Maiden shifted from a punk-metal merged sound to a solidified heavier and timeless sound with Dickinson taking point. Iron Maiden's 1982 Number of the Beast, introduced the band to the top ten UK Album Charts, peaking at number one while landing top ten spots in various countries thus achieving global success, and massive controversy in America. With singles Run to the Hills and Children of the Dammed setting a signature sound for the band, Maiden broke the mainstream musical scene and became a fascinating act outside of Britain. Followed by equally successful tenures 1983s Piece of Mind and 1984s Powerslave finally introduced Maiden to the status of stadium standard, and the US Billboard 200. These accolades paved the way for further experimentation in future studio albums as well as the evolution to a more hard rock commercial sound, whilst maintaining their always heavy metal essence.
Age defining and timeless tunes, a trademark gore mascot that sparks immediate recognition and remarkable hosting showmanship, after 4 decades in the business Iron Maiden has evolved into an immortal cultural-commercial phenomenon. Maiden's legacy has been acknowledged as one of the most prominent in rock 'n roll history, from already legendary act Metallica to more recent stars Avenge Sevenfold, this band is the indisputable product of virtuosity and cleverness. Ranking as number three in VH1s Top Ten Metal Bands list and number four on MTV's top ten. The presence of the heavy metal maiden remains untouched as they continue to tour on the Legacy of the Beast with over 150 million records sold and more to come. Iron Maiden is one of my favorite bands and is easily one of the best 80s rock bands.
13. Bon Jovi
Formed in 1983, Bon Jovi surely knows how to give the eighties a rocking name. Establishing themselves as one of the most emblematic names of the decade, the band achieved worldwide domination following the release of their third studio album, Slippery When Wet. Daring, young, fun, and bold, Bon Jovi's success came as no surprise given their inviting charm into a more digestible glam metal trademark sound bridging trends into a more pop outlook. Icons for hair and glam, the band's relevance and pop culture significance is one that continues to live on.
Although their debut single, Runaway, was a surprise hit, the band became a household name after the release of You Give Love a Bad Name and Livin' on a Prayer. Reaching international acclaim, Bon Jovi continued to release age defining hits such as Born To Be My Baby and Bad Medicine. With a uniquely charismatic live act that propelled the band's trajectory, the band has been contagiously withstood the test of time. Having been introduced to younger fans through the 2000s hit single, It's My Life, the group garnered audiences of all ages, earning a spot as number thirty-three in the Billboard Hot 100 Chart, thus making themselves noticed after two decades as a prominent presence. The eighties and the phenomenon Bon Jovi left listeners with an untarnished legacy that continues to grow.
Changing up the sound and adjusting themselves with different dynamics that carries the band's unique energy has proven their ability to flirt with various genres. From timeless jams to soft-spoken ballads, Bon Jovi can do anything. The Rock 'n' Roll Hall of Fame stars planned to release an album in May 2020 but was postponed. However, it continues to be something to look forward to.
12. The Pixies
One of the most innovative and influential bands of the nineties saw its absurdist, wild, and abstract alternative surf rock beginnings during the eighties. Back in 1987 labeled as "college rock" The Pixies brought to the table a bizarre pop sensibility with a masterful scent of conceptualism. With Kim Deals predatory bass lines and Black Francis' piercing growling shrieks the Pixies delivered a whole new game to the decade with 1988's debut and now iconic release Surfer Rosa. Their first tenure spawned a new wave of self-produced, "bring in what you've got" element to the early developed, alternative wave that would soon come to a peak in the first half of the nineties. From Nirvana to David Bowie himself, The Pixies left an influential mark on the old guard and new figures of rock 'n roll history.
"I was trying to write the ultimate pop song. I was basically trying to rip off the Pixies. When I heard the Pixies for the first time, I connected with that band so heavily I should have been in that band—or at least in a Pixies cover band. We used their sense of dynamics, being soft and quiet and then loud and hard." – Kurt Cobain
When Surfer Rosa debuted, it received massive airplay in college radio which led the album to become a major success in Europe, earning the Album of the Year award from both Melody Maker and Sounds magazine. America also gave a warm welcome to the tenure, however, it was more muted in the mainstream circuit, as a result, underground and counterculture made The Pixies one of their highest exponents. Nevertheless, The Pixies innovative nature pushed their musical value to depart from their raw yet friendly aggressive sound. Subsequently, their follow up Doolittle featured a cleaner sounding structure with breakthrough singles Monkey Gone to Heaven and Here Comes Your Man, the latter was received as a shockingly pop sounding tune for the band, making them a defining Billboard Top 10 act.
The Pixies are responsible for a popularizing new innovative song structures, a sown seed outside of Seattle, that up to date refuses to take credit for their cultural grandeur. With their aversion to music videos The Pixies have been criticized for sabotaging their own career, nevertheless, their always true to themselves nature has made them one of the industries greatest and an all time favorite. With multiple iconic tunes and Billboard Hits, Where is My Mind, Here Comes Your Man and Gigantic, they have been referred to as the "Psychotic Beatles" and have been credited by Weezer, Radiohead, Smashing Pumpkins, and Nirvana for having a major impact on their music, a band to be thankful for.
11. Bruce Springsteen
A multi-award recipient, Bruce Springsteen, is one of the most iconic and unparalleled American songwriters of the eighties – one that continues to be relevant today. With a desire to surround himself with music after watching an Elvis Presley performance when he was seven, young Bruce Springsteen started picking up his guitar at a young age and has yet to let go of it. Having written decade-defining hits such as Hungry Heart, Born in The U.S.A., and Dancing in The Dark, this artist has brought unforgettable tunes that make the soundtrack of a generation, and an entire country.
Though initially struggling to reach mainstream success, Springsteen became a cultural icon after the release of his 1975 album, Born to Run. Now with a more visible platform, the singer was able to reach mass success during the eighties, accompanying the decade with upbeat and classic songs whilst still leaving room for the more social oriented critiques. Packed with an uniquely distinct raspy voice and multi-instrumental skills, Bruce Springsteen's talents join him in his charismatic and energetic presence on stage.
Releasing his most critically commercially successful album, Born in The U.S.A. in 1984, the artist became a household name and an acclaimed pop culture face. Packed with social commentary, in a recent review by Immortal Reviews, the aforementioned album was described as "a testament to his music: Springsteen made every day a special event with his music, and even today his songs still inspire a sense of hope for today."
Earning himself a nickname through his continuous contagious energy, Bruce 'The Boss' Springsteen remains as one of the most relevant figures in contemporary rock history. His remarkable trajectory has made him a recipient of Golden Globes, a Tony Award, an Oscar, and twenty Grammys, making him an ongoing, acclaimed and unrepeated force in the industry. Loved by critics and audiences alike, Springsteen's legacy is one that will follow music's history, becoming a main influence in numerous singer/songwriters. He is also credited for lifting the country's morale during the aftermath of the Vietnam war, spawning an American feeling of pride that was thought lost. This is an artist that goes beyond charts in measure.
Popular Related Article: The Best American Made Guitars (All Price Ranges)
10. U2
One of the most defining commercially successful bands of music history, the Irish four-piece that remains well and latent today owes much to a remarkable trajectory throughout the eighties that made U2 the household name and live success it is. With their debut Boy in 1980 and War in 1983, the band escalated in regards to status and notoriety until Sunday Bloody Sunday smashed the UK charts as number one. With Bono's charismatic presence and abrasive, powerful vocals, and Edge's masterfully crafted guitars, the band went on to be immortalized as a defining act.
Bolstered by the international airplay of Sunday Bloody Sunday the band was able to set a foot in the mainstream scene, additional to establishing the band's status as a socially conscious one. While promoting War, U2 was recruited for the 1985s Live Aid lineup, which gave them massive media attention and highlighted their live act as one of the most compelling ones during the mid-eighties.
By 1987 U2's reputation as one of the major global acts only escalated with the release of perhaps their most iconic tenure, Joshua Tree. With age defining tracks such as Where the Streets Have No Name, and With or Without You. The band delivered a harder hitting and more emotional solidified sound. This evolution allowed the group to break America, charting as number one in both the Billboard Pop Album and the UK Album charts.
A foreign group that embodies the American spirit while managing to become an all-time favorite, as Forbes magazine described: "Certainly you'd be hard pressed to find any band that has championed or believes in the spirit and culture of America more than U2." With 22 Grammy Awards to their name, -more than any other band – U2 earned a spot as number twenty-two at Rolling Stone's Best Artists of All Time, and have sold an estimate of 150-170 million records, and still counting.
9. Prince
Eclectic, flamboyant and forever influential, multi-instrumentalist, Prince Rogers Nelson captivated eternity since the eighties with a vast array of innovative and iconic albums. Considered one of the most virtuoso guitarists of the decade, he complemented his far reaching falsetto, and high-pitched screaming with a charismatic and enigmatic persona that defined the eighties. Never exclusive to a single genre, Prince integrated a wide range of styles and condensed them into a unique artistic expression that would go on to massively influence rock music for ages to come.
Starting his musical career at the age of nineteen, he signed to Warner Bros. to produce his debut album in 1978, however it wasn't until 1980's Dirty Mind that Prince's impact on music would be noticed. Propelled by the chart and airplay success of its first single Uptown, Dirty Mind would go on to peak at number forty-five on the Billboard 200. Labeled as "dance-punk" and fueled by explicit subjects, this record has earned a spot as one of the greatest of all time. It was however with 1984s Purple Rain that the singer-songwriter really made his mark, selling over 20 million units and earning an Oscar award as the soundtrack for the film with the same name. But it was the somewhat organic and visceral instrumentation that really made Purple Rain a one of a kind record that would pave the way for future and more ambitious tenures such as 1999.
Prince not only bridged classic elements of rock music with R&B, new wave and funk among others, but also inspired authenticity in countless musicians, and continues to do so years after his passing. With over 100 million albums sold during his lifetime and more to come, Prince has been labeled as the American David Bowie as well as the Michael Jackson of rock music. There's no scale to measure the impact of this artist.
8. Def Leppard
The Sheffield based new wave metal and hard rock ambassadors for Britain came together in the late seventies. But it was their remarkable trajectory during the following decade that turned their approach to rock music into anthem writers for the eighties. It wasn't until 1983s Pyromania, with Rock of Ages as flagship single that the band earned the title of America's sweethearts thus earning almost instant recognition as one of the most iconic acts of the decade, hence their 10x certified platinum record.
Following their overseas breakthrough, Def Leppard solidified their status as rock 'n roll icons of ages with their 1987 release Hysteria which conquered both the UK and US at number one in the Billboard 200. With over 20 million copies sold worldwide, this spawned the age of grandeur in the band's career. With seven chart-topping hits, Def Leppard was immortalized through perhaps its most iconic tune, Pour Some Sugar On Me.
Def Leppard is not only one of the highest exponents of hard rock, but it also bridged heavy metal trends and shredded guitars to a wider audience. It is also one of the most resilient bands that's ever existed, Rick Allen has been an exemplary musician and inspirational figure for most drummers and musicians out there. Their iconic tenures have been labeled as a must for every music loving individual decades after their golden age. With over 120 million records sold worldwide, Def Leppard continues to tour the world to this date, making their presence known and unparalleled.
7. Metallica
Often credited as the founding fathers of thrash metal, and one of the most notorious faces of "the big four". Metallica's paced tempos, heavy instrumentals, and hard-core musicianship has made them one of the most critically and commercially successful acts of the ongoing and past century. Starting up in 1981 Metallica garnered a cult following on the underground circuit of Los Angeles before debuting with the, ahead of its time, 1983 release Kill em All, originally named Metal Up Your Ass. Although the album wasn't a commercial hit, it was widely acclaimed by underground fans, as it laid solid foundations for thrash metal, despite being dubbed as "power metal" by James Hetfield.
Following the departure of Dave Mustaine and fueled rivalry with the newly founded Megadeath. It wasn't until their third studio album that Metallica achieved mainstream success, as of 1986, the band has established enough confidence to go all out with a more matured sound to their composition. Master of Puppets was the bands big break, it was certified gold by November of the same year. With its flagship and only eponymous single, Hetfield and Ulrich's partnership dominated the charts in regards to metal, landing the twenty-ninth spot on the Billboard 200, and catapulting the band to international stardom.
Follow up albums such as And Justice For All, The Good, the Bad & the Live and Metallica all collected massive critical and commercial acclaim while influencing numerous heavy metal bands to this day. The band that shaped metal from its new wave predecessors and contemporaries, Metallica blew a fresh air to the genre and both the nineties and eighties in a genuine true to themselves fashion. 125 million record sales and a straight number one album after, Rolling Stone critics labeled the band as:
"Easily the best, most influential heavy metal band of the '80s, responsible for bringing the music back to Earth".
6. The Police
Smooth, hypnotizing and distinctive, The Police are one of the most innovative bands of the 1980s. Combining elements of reggae, punk and jazz all into a singular, catchy sound, the band is constantly hailed as one of the most important musical groups in rock and roll history. Often credited for condensing reggae into a more commercial format for the decade, while also displaying an astonishing virtuoso composition team that may as well remain unparalleled.
Forming in 1977 and with plans to focus solely on the punk genre, The Police's influences of jazz and reggae came afloat, becoming a unique force all within the power trio: Sting, Stewart Copeland and Andy Summers. Releasing iconic hits like Don't Stand So Close to Me, Spirits in The Material World and Every Breath You Take, the band assured their success and continued legacy all throughout the eighties.
Breaking into the mainstream media with their debut album, Outlandos d' Amour, The Police was already a promising by the end of the 1970s. With Roxanne and So Lonely already in their repertoire, the band became an emblematic guest at CBGB, and every corner of the world, as the group engaged in an unorthodox plan to take over the globe. Following the success of their first album, the power trio saw their peak during the early 1980s, releasing three studio albums, which included their final recording in 1983. It is no surprise why the band garnered such success and media traction as soon as their career began. With Sting's unique and keening vocal, and his unparalleled elegant flair with the bass joined by Summers' smooth, upbeat, hypnotizing guitar, and Copeland's funky, versatile drumming, the power trio are capable of reeling anyone in. This becomes even more evident when looking at the release of Synchronicity, it went straight to number one in both the UK Album Charts and the US Billboard 200.
Though the band had a short trajectory, releasing a total of five albums, the legacy and influence The Police continues to have on musicians is anything but short. Reaching international masses within their first recording, the band proved their worth and impeccable record through those five albums. From upbeat, cheery and can't-get-it-out-of-my-head tunes like So Lonely and De Do Do, De Da Da to more ominous, darker and even sinister songs like Every Breath You Take, The Police is one of the most versatile, unique and exultant bands of music history. A one of a kind act that singlehandedly packed the Shea Stadium in 1983, playing in front of 70.000 people, and sold out four shows in a row at Wembley Arena, The Police conquered every landmark it touched, everything they did seemed in fact magical.
Popular Related Article: The Best Female Rock Stars of All Time
5. Queen
They will always rock, incorporating a variety of layers such as synths, classic unique guitar solos, and further genres with a trademarked hint of opera, Queen has become one of the undeniable faces of popular culture and British music. Originally formed in 1970, Queen was initially known as Smile, but after recruiting Freddie Mercury as their missing puzzle piece, the band shifted towards its iconic artistic and pioneering blend of genres into rock n' roll. With a baroque essence of experimentalism, the band would become UK's single smashing hitmaker and Guinness World Record Holders for the iconic track Bohemian Rhapsody. 
By 1974 Queen had released its second tenure, Queen II, which would mark their official breakthrough into the mainstream scene with hit funky flavored single Another One Bites the Dust busting charts worldwide, the band was propelled into stardom. 1975's Sheer Heart Attack, however, produced the band's most iconic and essential track, Bohemian Rhapsody the hard rock opera ballad that remains as latent today as the day of its release. By the 1980s Queen had become one of the biggest arena rock bands in the world if not the most iconic one, with the release of their 1981 Greatest Hits Collection the band continued to spawn euphoria for every music lover in the world. 
After the passing of Freddie Mercury, the band's status only grew, despite already being living legends, their legacy became paralleled only by their work and accolades. Their hits have had such an impact that their compilation album remains in the UK charts to this very day, as of August 2020 the album has spent 400 weeks in the charts. With 300 million record sales to their name, it is easy to say that their experimental nature and theatricals make them one of the all-time best, as they left their mark in every decade they touched.
4. Van Halen
Energetic, game-changing and as loud as it got in the eighties, Van Halen set a high bar for electric guitar music, with brothers Alex and guitar hero Eddie Van Halen, the band evolved from "homegrown punk" to hard rocking gods of the seventies and the eighties. Formally established in 1974, Van Halen drew attention from major figures in the music industry, among them Gene Simmons who produced their first demo tape just to get turned down from Kiss management. Soon after, 1977 got a taste of Eddie's unique tapping and shredding abilities, something the times hasn't been able to get rid of generations after.
After scouts saw a Christmas performance Warner Bros. Records took in the band, and upon their first release 1978s eponymous debut, Van Halen became an overnight sensation, landing number nineteen on the Billboard Pop Music Charts. Bolstered by the success of instant classics like Runnin with the Devil and Eruption's never heard before tapped solo Van Halen's debut went on in history as one the most successful ones complemented by their live energy and David Lee Roth's exuberant antics as well as his flamboyant charisma, the band conquered the latter half of the seventies before becoming one of the most important bands of the 1980s.
 It was however with 1984 that the band finally managed to make their mark and own an era. With the flagship single Jump which featured anthemic lyricism and a catchy instantly recognizable synthesizer, it reached number one on the US Billboard Pop Charts, and follow up Panama reached number thirteen. 
Van Halen's legacy and contribution to modern music is vast, popularizing of the concert technical contract rider or "fan wish list" is partially credited for their close relationship with their own fandom. Additional to multiple collaborations, the Van Halen brothers have become an eminence in the music industry, and their band project had achieved legendary status, by the 2000s. With 56 million records sold only in America and 85 million reported sales worldwide, the band has reached every corner of the world. This is another one of my all time favorite bands and easily one of the best rock bands of the 80s.
3. Aerosmith
The Bad Boys from Boston, with one of the most notorious guitars, vocals partnerships of history, with blues based hard rock merged into heavy metal tinctures Aerosmith was the living embodiment of America's rock n' roll. Although the band enjoyed considerable fame during the seventies the band had its highs and lows until their iconic comeback in the 1980s with a more than successful re-entry to the mainstream. Their re-vamped recording with RUN DMC of their seventies hit Walk This Way, marked the eighties and introduced the world to rap-rock in many ways, while reviving "America's biggest rock n' roll band", landing number four on the Billboard Hot 100.
Following the band's introduction to a new decade and successful drug rehabilitation, it was their second tenure of the decade, 1987s Permanent Vacation, that finally landed the long-sought success Aerosmith was aching for. With timeless hit singles Rag Doll, Angel and Dude Looks Like a Lady all landing spots in the top twenty spots on Billboard charts, the band was propelled once again after touring with Guns N' Roses. By 1989 Aerosmith regained their driving force and released Pump which featured more commercial smashing hits and chart toppers Janie's Got a Gun, Love in an Elevator and What it Takes.
Aerosmith went to redefine themselves and a decade after the breakthrough in the eighties, with a harder more solidified sound and status as an arena filler this is one of the most notorious bands in rock n' roll history. The band is still around making music, touring and enjoying a hard-earned legacy that spawned over 150 million record sales as of 2019, with the screaming demon as frontman and Joe Perry's eclectic guitar riffs Aerosmith has earned the title many give them as "America's all-time best".
2. Guns N' Roses
Guns N' Roses are easily one of the most easily associated acts to the eighties with countless standard riffs, and the powerful never duplicated vocal range of Axl Rose. This band brought back the blues element while bringing an aggressively melodic nature to define the decade with their smashing first studio release Appetite For Destruction, which would go on to become America's best-selling debut. Followed by an act that would earn them the title of the world's most dangerous band. In terms of sound, Guns stood out from the rest for their feral abrasive sound that englobed most elements of rock 'n roll to the date, Punk energy, blues-based riffs, and the undeniable charisma that would make them into arena rockstars.
Spawning a euphoric enthusiasm for hard rock, Guns N' Roses bridged the paths of pop and the sex, drugs and booze-infused rock 'n roll lifestyle, in a more genuine fashion than previous acts of the decade. Propelled by the performance of their singles Welcome to the Jungle, Paradise City and the only straight number one in the band's history Sweet Child o' Mine, Appetite for Destruction peaked as number one on the Billboard 200 after a year in the market. Followed by all high performing and somewhat controversial tenures, GNR established itself as a remarkable driving force during the first six years of their career and a cultural phenomenon worldwide.
With now legendary status, Guns N' Roses started out as an underground band from the sunset strip circuit and escalated to one of the highest-grossing acts of modern times. With their debut album alone selling over 30 million copies, the group has achieved a vast number of over 150 million record sales since its mainstream breakthrough. Now reunited, GNR's original line-up comeback tour Not in this Lifetime has managed to become the third-highest-grossing concert tour in music history.
1. AC/DC
The kings of comebacks and simplicity, with timeless jams and some of the most iconic riffs in history, AC/DC remain to this date rock music's benchmark after five decades on the rock n' roll train. Initially forming in 1973, the band has been dubbed as hard blues rock, and heavy metal, but the Young brothers and co-founders just call it rock n' roll. After six studio albums with original singer Bon Scott, the band cultivated a solid fanbase while achieving moderate mainstream success with classics like T.N.T, Highway to Hell and Dirty Deeds. But their most iconic tenures and line-up came after the passing of Scott and a brief hiatus.
1980 saw the return and establishment of AC/DC as one of the world's greatest and most genuine acts. Back in Black and its eponymous single started the decade with anthemic lyrics and that one riff that paid tribute to the late frontman and defined rock music ever since. The hard rock landmark emphasized Johnson's powerful shriek complemented by Angus Young's timed, assertive and heavy unique riffs spawning all-time radio hit favorites like Hell Bells and You Shook Me All Night Long. The tenure achieved massive global success, landing number one in the UK Album Charts and number four on the US Billboard 200 where it spent 131 consecutive weeks. With following successful tenures like For Those About To Rock We Salute You adding to the band's profile as well as their closure for the decade Blow Up Your Video. It was AC/DC's natural reactionary force to the periods of art rock and arena bands that made them a defining act throughout the seventies and eighties. Their minimalism is a palpable example that even in music less is more, giving a sense of space and restraint where there wasn't. The band continues to make music today, and with rumors of Johnson rejoining the band following Axl Rose as a replacement, it is exciting to think about what a new AC/DC album would be like.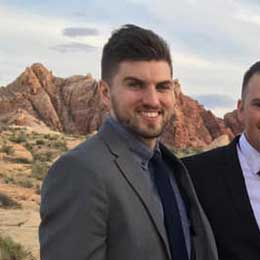 My name is Chris and I've had a passion for music and guitars for as long as I can remember. I started this website with some of my friends who are musicians, music teachers, gear heads, and music enthusiasts so we could provide high-quality guitar and music-related content.
I've been playing guitar since I was 13 years old and am an avid collector. Amps, pedals, guitars, bass, drums, microphones, studio, and recording gear, I love it all.
I was born and raised in Western Pennsylvania. My background is in Electrical Engineering, earning a Bachelor's degree from Youngstown State University. With my engineering experience, I've developed as a designer of guitar amplifiers and effects. A true passion of mine, I've designed, built, and repaired a wide range of guitar amps and electronics. Here at the Guitar Lobby, our aim is to share our passion for Music and gear with the rest of the music community.