Gibson Les Pauls and Fender Stratocasters are two of the most iconic electric guitar designs in history, and they have been dominating the market for more than 60 years. Two guitars share the fact that they have had almost instant success right after their release, and the two electric guitars are still just as popular as they were when they just came out on the guitar market.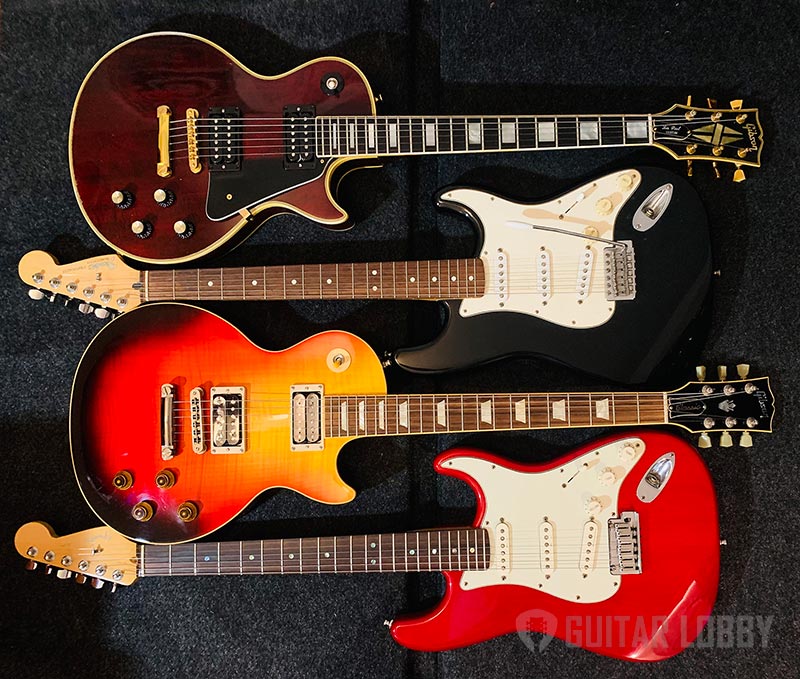 In this article, we are taking a deep dive into both of these legendary guitars and look closely at what makes these guitars great and how to pick the right electric guitar for you. At the end of the day, what matters most is that you find either a Stratocaster or Les Paul that fits your style as well as helps to motivate and inspire you as you express yourself through music.
Les Paul vs Strat – What's the Difference?
Tonally speaking, a Les Paul offers renowned sustain and warm heavy tones that typically lend themselves well to harder rock genres, whereas a Stratocaster is iconic for its bright 'snappy' tones that have become somewhat synonymous with a more grassroots blues tone for electric guitar.
Here is a table showing the main differences.
Key Spec Differences
| | | |
| --- | --- | --- |
| | Gibson Les Paul | Fender Strat |
| Body Shape | Single Cutaway | Double Cutaway |
| Body Wood | Mahogany | Alder |
| Top Wood | Maple | N/A |
| Neck Wood | Mahogany | Maple |
| Fretboard Material | Rosewood | Rosewood or Maple |
| Scale Length | 24.75″ | 25.5″ |
| Bridge Type | Stop bar | Tremolo |
| Pickups | Humbucker | Single Coil |
| Pickup Switching | 3 way | 5 way |
Here is the best YouTube video on Les Paul vs Strat guitars. We'll also go more in detail explaining the differences below.
Gibson Les Paul Key Specs
Over time, the legendary Gibson Les Paul guitars have seen a few design changes, but the most key features of the Les Paul stayed the same. The single most important part of a Gibson Les Paul is the mahogany wood. Every single one of Gibson Les Pauls will come with a mahogany body, and this is because the mahogany provides the signature warm, deep, and resonant Les Paul sound. It's even possible to say that without the mahogany body, it would be hard to call a guitar Gibson Les Paul.
Although Gibson had been in the limelight for many years now, the golden age for Gibson Les Paul would be 1958-1960. The Les Paul guitars that were created during these three years are worth the most amount of money, and they are possibly the most vintage electric guitars in the market. So what makes these Les Pauls so special? The signature '50s key specs includes a jaw-dropping Gold Top finish and a mahogany body with a maple top. In terms of the neck, the late '50s Les Paul has a '50s-style mahogany neck, which is a fat, round neck shape. The neck also comes with rosewood fretboard and trapezoid inlays that make the Les Paul so beautiful.
Another important feature of a Gibson Les Paul is the ABR-1 Bridge, a revolutionary bridge that became the standard bridge for many electric guitars. The ABR-1 bridge serves as a super-stable bridge that allows you to perform bends and vibratos wildly without the intonation changing. Additionally, classic '50s Les Pauls will often have Vintage-style Kluson machine heads.
'60s Gibson Les Paul has slightly different specs, and it's hard to call one better than the other, they are just slightly different. '60s Gibson Les Pauls have a thinner neck profile and a Rosewood fretboard, and this neck profile is called the Slim Taper Mahogany neck. You might not be able to get as thick of a tone compared to the '50s Gibson Les Paul, but the Slim Taper neck profile certainly allows you to play faster and move up and down the neck faster. And another difference is the tuning machines, and the '60s-style Les Paul will come with Grover button machine heads. These offer a slightly different look compared to the vintage-style Kluson machine heads.
Fender Stratocaster Key Specs
Stratocaster has many variations and different versions from different years, but there are key features and specs that make the Fender Stratocaster. The original Stratocaster was adapted from the shape of the Fender P-Bass, in terms of features like the double-cutaway body, contoured solid body to easily access the upper frets and to be a more comfortable guitar while playing. They were also greatly influenced by its older brother Telecaster, and the new add-on feature would be a third pickup – the middle pickup.
The middle pickup of the Stratocaster eventually became one of its signature features, and the middle pickup brought a whole another layer of versatility to the Strat with its 5-way pickup selector switch. And the middle pickup positions (neck-middle, middle, middle-bridge) are the go-to positions for playing funky and RnB rhythm. Along with the middle pickup, Strats will most likely come with Master volume and 2 tone knobs to control the output signal and amount of treble on the neck and middle pickups. Modern-day Stratocasters like Fender American Professional Stratocaster or Fender Player Stratocaster will usually come with a coil-split or an S1 switch on the volume knob, which allows you to access humbucker-esque tones from a Stratocaster.
Another key feature in the Strat is a cavity routed into its back, and on the backside of the Stratocaster, there's a through-body pivoting bridge that houses the 6 guitar strings. It's a revolutionary technology that enabled the tremolo arm to move freely and the masterful design allows the tuning to stay in-tune even after crazy, pitch-bending tremolo effects. Legends like Jimi Hendrix, Ike Turner, and Jeff Beck all vigorously used the tremolo arm on the Stratocaster and brought the rock guitar playing to another dimension.
Fender Stratocasters usually come with an alder or ash body, and both alder and ash provide an amazing base for an impressive amount of resonance, comfort, and playability. Necks of Stratocasters are usually made with maple, and Strats usually have a bolt-on neck for stability and for easy repair and replacement. The most common neck shape is a classic "C", or a "V"-shaped neck For fretboard, Fender Stratocaster comes with maple, rosewood, or pau ferro fretboard. For finishes, you will most likely find either Nitrocellulose lacquer finish (for Vintage and Custom Shop), Urethane, or Polyester finish (modern).
The standard scale length for a Stratocaster is 25-½'', and that scale length is deemed to produce the characteristic Stratocaster sounds and bring out the best resonance from the Stratocaster body.
Les Paul Pickups and Tones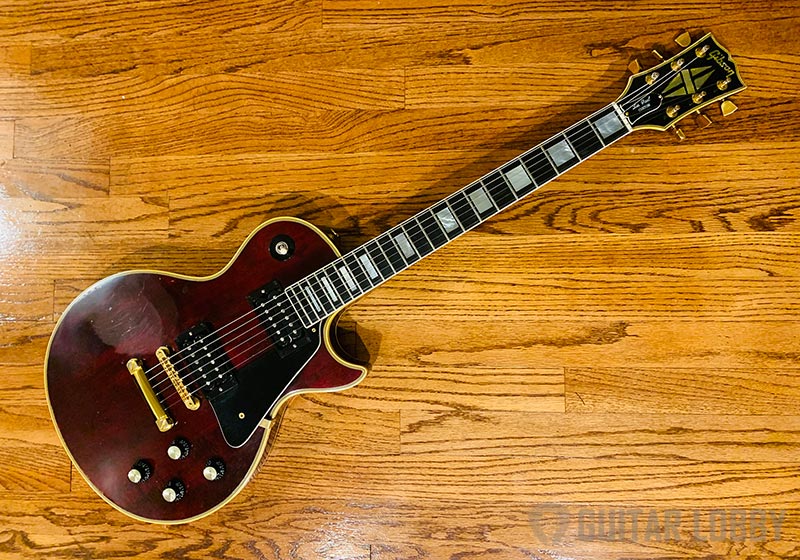 When Gibson Les Paul guitars first entered the world in the early '50s, their pickup of choice was the P90s. P90s were the hottest kinds of pickups at the time, and P90s were Gibson's version of the single-coil pickups (as opposed to Fender's signature single-coil pickups). Gibson initially put out P90 pickups to replace Gibson's old-school bar pickups like the Charlie Christian pickups. Early P90 pickups had Alnico 3 magnets, while the later P90 pickups had Alnico 5 magnets attached to them. P90s were a great success, and they produced massive tones for a single-coil pickup and P90 pickups are still loved to this day.
The P90 pickup sound is often described as somewhere in between a humbucker and a Fender single coil pickup. P90s produce a brighter tone compared to humbuckers, but not as much as Fender single coil pickups. Compared to other single coil pickups, P90 pickups have a lot of midrange and have a thick single coil sound. From rock to blues, there are quite a few guitarists that seek out the signature P90 tone on their Les Paul guitars.
In 1957, there was a significant change with the Gibson Les Paul, and this was a change significant enough to impact the rest of the guitar world forever. A technician at Gibson by the name of Seth Lover designed one of the earliest forms of the humbucker pickup – the PAF pickup. The new kind of pickups had double coils, and the two coils cancelled out noise and hum while producing a fuller and bigger tone. Gibson equipped these new inventions on their Les Paul Goldtops and Customs, and soon after, PAF humbuckers became synonymous with Gibson Les Pauls and became a part of the guitar's identity. The PAF humbuckers made the Les Paul the legendary guitar that it is today, and it produced the signature full, warm, and resonant Les Paul tone.
Fast forward to today, you'll be able to find many variations of the PAF humbuckers like Seymour Duncan Pearly Gates, Seymour Duncan Antiquity, or Gibson BurstBuckers. These modern versions of PAF humbuckers have slight variations in features like the type of Alnico magnets, and variations in output level.
Stratocaster Pickups and Tones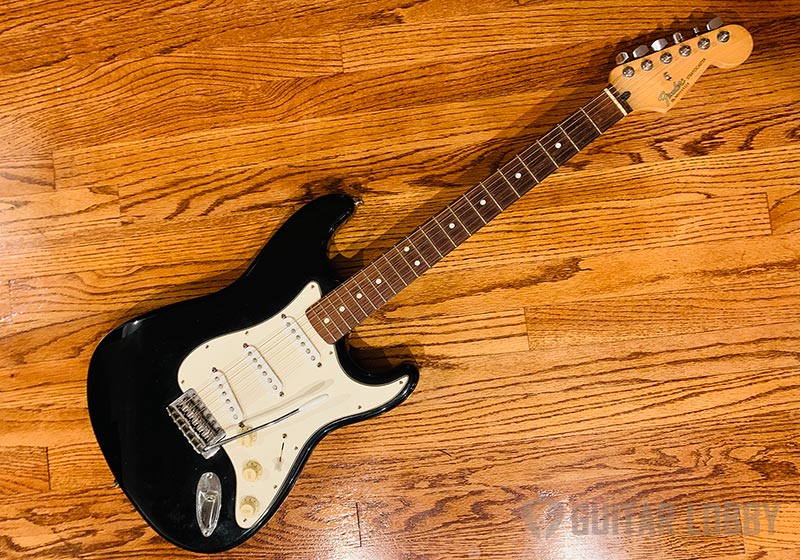 The Stratocasters debuted on the world stage with 3 pickups on them – 3 Fender single coil pickups on the neck position, middle position, and the bridge position. The general characteristics of a Fender single coil pickup include bright, crispy, and snappy. The single coil pickup on the neck position tends to have a warmer tone while still retaining the Strat "bite", and the neck pickup typically has the most mid-range and bass frequencies out of the three. The bridge position pickup tends to have a "hot" and much more powerful tone with higher output than the rest. And finally, the middle position has less bass and more treble than the neck pickup, and it makes a great pickup position for playing genres like funk and RnB.
Since the '50s, Fender single coil pickups have been pretty consistent in terms of their core characteristics like having that signature bright, tight, and the Stratocaster "bite". But different models produce slightly different combinations of magnet types and features. Some of their most popular single coil models include Fender Custom Shop Custom '69 Stratocaster Pickups, Eric Johnson Signature Stratocaster Pickups, Pure Vintage '59 Strat Pickups, Gen4 Noiseless Stratocaster Pickups, and Fender Tex-Mex Stratocaster Pickups. In recent years, Fender came out with even newer technology, with pickups like Fender Vintage Noiseless Stratocaster Pickups and V-mod Single Coils designed by the legendary pickup engineer Tim Shaw.
The new V-mod pickups have different Alnico magnet types for each of the 5 pickup positions, and the new pickup systems are paving a new way for maximum versatility for Fender Stratocasters. You can expect the newer pickup systems to include features like the S-1 switch on the volume knob, and the S-1 switch will allow you to get a whole new layer of tones to pick from.
Famous Players
Gibson Les Paul is no doubt one of the most iconic guitars in the world, and many of the most legendary guitarists swear by these guitars. Among the guitarists who exclusively play Les Pauls include guitarists like Slash, Billy Gibbons, Randy Rhoads, Gary Moore, Duane Allman, Pete Townshend, and Joe Perry. Most of the notable Les Paul users are rock and blues guitarists, but once in a while, you will also find guitarists in genres like RnB, funk, fusion, and pop who will also use Les Paul guitars. Legendary guitarists like Jimmy Page, Eric Clapton, and Mark Knopfler are also known to own and play Les Paul guitars at some part of their careers.
Fender Stratocaster is probably even more popular than Les Pauls, and the biggest names of the guitar world are seen with a Stratocaster. The iconic pictures of Jimi Hendrix or Eric Clapton on stage are usually with a Fender Stratocaster in their hand. It'll be literally impossible to include all the famous Stratocaster users on this list, but some of the other notable Stratocaster users include John Mayer, Jeff Beck, Eric Johnson, Ritchie Blackmore, David Gilmour, George Harrison, Yngwie Malmsteen, Nile Rodgers, and Stevie Ray Vaughan. As you can see on this list, it's easy to see why Fender Stratocasters are the most versatile electric guitar. From country, funk, RnB, jazz, to rock, and metal, Stratocasters are truly the do-it-all guitar, and have been dominating the guitar world for over 60 years.
Which Guitar is Better For You?

There is no doubt that both guitars are fabulous instruments, and you probably won't regret getting one over the other. But here are some things to consider when comparing two guitars side by side: Pricing, tones, and the type of music you play.
In terms of the price, Gibson Les Paul guitars are always going to be more expensive than Stratocaster with similar specs. One of the reasons for that is because of the all-mahogany construction of the Gibson Les Pauls, and the construction of Gibson Les Pauls will cost more than Fender Stratocasters. Gibson Les Pauls will usually be over $2,000, and you will find commercial models of Les Pauls that go over $3,000 as well. And as for vintage Gibson Les Pauls, these precious vintage Les Pauls will easily go over $10,000. That being said, you will also be able to find cheaper versions of Les Pauls that are made by Epiphone, and you will be able to find a decently-working Epiphone Les Paul for another $1,000.
Stratocasters are much more affordable compared to the Gibson Les Pauls, and you will find the American-made standard Stratocasters almost all under $2,000. Mexican-made Fender Stratocasters are much cheaper, and they won't go over $1,000. Even the most high-end Stratocasters like special vintage editions of the Stratocaster or Fender Custom Shop Stratocasters will be below $3,000. And if your budget is extremely low, like lower than $500, there are even Squier Stratocasters that are around $200. Just by looking at the price point, Stratocasters are much more affordable and most versatile for the same price.
When comparing the tones, the two have completely different colors and signature sounds to offer. Like we mentioned above, Gibson Les Pauls are known for their warm, and thick quality, and their sound can be compared to fine wine. The combination of all-mahogany body and Gibson PAF humbuckers also produces a powerful, and full tone that can produce a luxurious blues and rock tone. Many people only know Gibson Les Paul guitars for their overdrive and distortion tones, but they were initially produced for their clean tones and Les Pauls can produce beautiful clean tones as well as rock and blues tones. In terms of pickup selection, Les Paul guitars have three pickup positions- neck, neck/bridge, bridge. Les Paul guitars are certainly not as versatile as Stratocasters, but if you love that signature warm, and thick Les Paul sound, go get yourself a Gibson Les Paul.
Fender Stratocasters are known for more treble-heavy, crisp, and tight tones and that is known as that "Strat sound". The combination of alder or ash solid body with single coil pickups creates the signature bright Strat sound, and it's certainly a more versatile tone that is applicable for so many different genres of music. Stratocaster comes with three single coil pickups, and therefore, there are 5 different pickup positions to choose from, and the amount of tone variety is mind-blowing with a Stratocaster. If you're looking for a maximum bang-for-the-buck electric guitar that is also very high-quality, Fender Stratocaster is for you. Also, looking at your guitar hero's guitar and seeing what they use is also a good way to find the right guitar for you. If your favorite guitarist is a Strat player, then Stratocaster might be the one for you.
While we know that both guitars are very versatile guitars, the use of a Les Paul or Stratocaster is different when compared side-by-side. If you're into hard rock or metal and need a very powerful rock tone that is full of harmonics and mids, Les Pauls will do the job perfectly. In terms of rock music, Stratocasters will be better for lighter rock music that requires overdrive or funky rock tones. For blues guitar playing, both guitars are popular and you can see the difference in tone when you compare artists like Gary Moore and Joe Bonamassa to Eric Clapton and John Mayer. When it comes to genres like pop, funk, RnB, Stratocaster is definitely a more common choice, and you'll have an easier time playing with a Strat for those styles of music.
What you might realize from reading this article, is that both guitars are legendary instruments that offer an impressive amount of versatility and tone from one single electric guitar. Stratocasters and Les Pauls certainly have differences in their looks and sound, and choosing between these two guitars is a very personal choice. But one thing for sure is that whether you get a Stratocaster or Les Paul, you definitely won't regret your decision!
Popular Related Article: 21 Great Beginner Electric Guitars
History of Gibson Les Pauls
In 1951, Fender came out with the Telecasters, and the Telecasters started a new age of solid body electric guitars. In 1945, the famous inventor and musician Les Paul quickly recognized that solid body guitars were changing the music industry and they were the next "big thing" in the guitar world. At the time, Gibson was already an extremely successful musical instrument company, and they initially laughed off Les Paul's claim that the solid bodies were the next big thing. Les Paul approached Gibson with an idea for a solid-body Spanish guitar, and this initial prototype was called the "The Log" at the time because of its pine-block shape. Because the guitar wasn't good enough to be an expensive instrument worthy of Gibson's name, Les revised and suggested another prototype in 1951, and ended up calling it "Les Paul" after his own name.
The collaboration between guitarist Les Paul, Ted McCarty, and the Gibson employees led to the invention of the legendary Les Paul guitar, and they first launched their guitars in 1952 with Les personally debuting the guitar with a live performance at New York's Paramount theater. The original Les Paul guitar was already a masterpiece, with basically the same specs that we see today in the Les Paul guitar – the distinctive Les Paul single-cutaway body shape, mahogany body, and the iconic Gold Top finish.
The main difference between the first models produced in 1952 and today's Les Pauls would be the pickups. The first Les Pauls had P90s installed in them, which are also amazing pickups that are still widely used today. But in 1957, Gibson technician Seth Lover designed a revolutionary humbucker pickup called PAF (Patent Applied For) that changed the course of electric guitar history. PAF pickups are characteristic for their full, thick, and sustaining tone with so much depth and attack, something that was revolutionary at the time. They were also significant because at the time, single coil pickups had a lot of hums and unnecessary noises that came with them, and PAF pickups were able to solve that problem by canceling out and eliminating a lot of that noise and hums.
But even towards the late 1950s, Gibson's were still not a massive hit like Fender Telecaster or Stratocasters. They replaced the Gold Top finish with Sunburst designs, and only 1700 of these Sunburst finish Les Pauls were sold in two years between 1958 and 1960. Because of this, the Gibson Les Pauls was on the brink of extinction and Gibson released the Gibson SGs in a desperate effort to save their sales. But luckily, Keither Richards purchased a '59 Sunburst Les Paul, along with legendary guitarists like Eric Clapton, Jeff Beck, Jimmy Page started using Les Pauls, and turned the fate of the Les Paul guitars. After a hiatus in the early '60s, Les Paul guitars were reintroduced in 1968, and the production restarted and now the Les Paul guitars have become one of the most popular and legendary guitars today.
History of Fender Stratocasters
Fender Stratocaster is perhaps the most iconic electric guitar of all time: it's the first guitar that comes into most people's heads when we hear "electric guitar". And since their release, they have been the dominant force in the guitar industry, and from the surface, it seems like they haven't had any changes since their first release, and seems like they are still the same Stratocaster even after more than 60 years in the market. But that's far from the truth, and the Stratocasters are a masterful invention after much trial and tribulations.
Even before the release of the Fender Stratocasters, Fender was a well-known, established musical instrument company in the American musical instrument industry. They were founded in Fullerton, California, by a talented man named Leo Fender. Starting with creating Hawaiian Lap Steel guitars, the West Coast-based former electronics technician Leo Fender came into the guitar market with another legendary guitar – the Fender Telecaster. Telecasters were finished and released around 1950, and Fender remained a relatively small operation in the early 1950s.
After Leo Fender's release of the Telecasters (or "Broadcasters"), he focused on creating another electric guitar that would successfully compete with the other guitar companies at the time. Even as early as 1951, he was already spending long hours trying to create a better guitar, and by the mid-1950s, Leo and his team had started to create the guitar that would become the Fender Stratocaster. A member of his team named Freddy Tavares sketches out the iconic, balanced two-horned body shape, and Fender sales chief Don Randall came up with the name "Stratocaster"
To compete with amazing electric guitars like the Gibson Les Paul, he made the Stratocaster extremely versatile – installing not one or two but three pickups. The focus was on trying to create the most versatile and useful tool for creating music. The three pickups gave way to a lot of tonal palettes, and it was their way of competing against the Gibson Les Paul.
One of the revolutionary guitar technologies that came out with the Sratocaser was its bridge. Learning from the Telecaster models, Don Randall and Leo Fender wanted a new vibrato system that would offer stable tuning stability, improved sustain, and also improve the playing experience. Even though the first prototype was a complete failure without any sustain, Leo Fender invested huge amounts of time and money into perfecting this new kind of bridge. The new design included features like "inertia block" fixed to the underside of the bridge plate, individual string saddles for adjusting each string height and length, and a detachable tremolo arm.
Stratocaster was also the first guitar to have single coil alnico 3 pickups with staggered-height pole pieces that were designed to deal with the varying output of different string gauges, as well as a slanted output jack on the face of the guitar. The first Stratocaster also showcased the iconic sunburst finish, which was designed to give the electric guitar a more high-end look. The sunburst finish also helped cover up the mismatched wood grain in the ash bodies, covering signs of two or more pieces that were glued together.
After finishing up the modifications up until early 1954, Fender introduced the revolutionary Stratocaster to the world in 1954 – one version had a tremolo bridge and the other without the tremolo bridge. Because they were so different from any guitars out there, the Fender Stratocasters took a while to settle into the musicians' minds as a serious guitar, not just a gimmicky tool. And as Stratocasters got into the hands of famous guitarists and got on national TV like The Ed Sullivan Show, they started to become well-known by musicians and regular people alike.
But Stratocasters really started to become a cultural phenomenon during the end of the 1950s and the beginning of the 1960s, when British guitarists like Peter Townshend, Eric Clapton, Jeff Beck, and David Gilmour used the Stratocaster as their main axe. Back in the US, an electric guitar revolution started to happen, and electric guitars started to drive the Rock'n'roll movement. Icons like Stevie Ray Vaughan and Jimi Hendrix came out wailing on a Stratocaster, and soon, Stratocasters became the most popular electric guitar in the market.
Wrap Up
That does it on this article on Les Paul vs Strat guitars. You should have a very deep understanding of the differences at this point, but if you have any questions or comments just let us know below.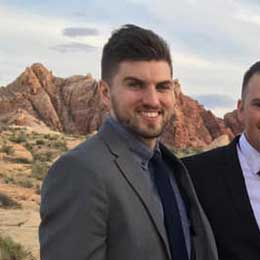 My name is Chris and I've had a passion for music and guitars for as long as I can remember. I started this website with some of my friends who are musicians, music teachers, gear heads, and music enthusiasts so we could provide high-quality guitar and music-related content.
I've been playing guitar since I was 13 years old and am an avid collector. Amps, pedals, guitars, bass, drums, microphones, studio, and recording gear, I love it all.
I was born and raised in Western Pennsylvania. My background is in Electrical Engineering, earning a Bachelor's degree from Youngstown State University. With my engineering experience, I've developed as a designer of guitar amplifiers and effects. A true passion of mine, I've designed, built, and repaired a wide range of guitar amps and electronics. Here at the Guitar Lobby, our aim is to share our passion for Music and gear with the rest of the music community.