Billy Corgan is an avowed music fan and remains devoted to the pursuit of the ultimate guitar tone for his unparalleled sonic vision. He owes much of his buzzsaw-like tone from the classic Smashing Pumpkins era to his Lace Sensor-equipped Stratocasters, which subsequent guitars have attempted to either improve on or recapture.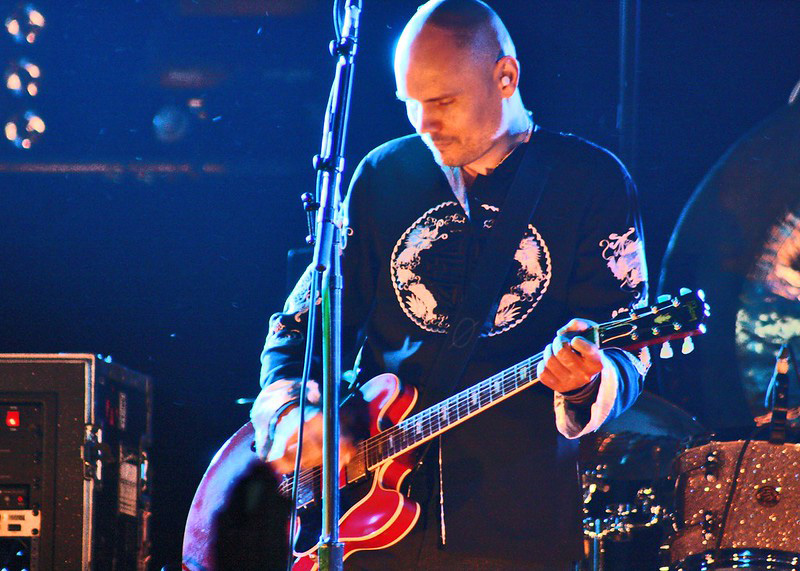 As an unparalleled figure in rock. The 90s were marked by his angst-filled voice, and low-slung Fender Stratocaster, making for one of the most thriving alt-rock anti-heroes of all time. Furthermore, Corgan is one of the last standing active stars that swept the last decade of the 20th century thanks to his natural conscientious approach to music and the industry. Always critical of the romanticized scope of Rock n' Roll and the music industry, Billy has claimed that perhaps his greatest legacy and advice is to simply follow your own path, acknowledge your own worth.
What Guitar Does Billy Corgan Use?
Billy Corgan currently plays Reverend guitars of which he has his own signature model, the Reverend BC1 Terz. However, he is historically most known for playing Fender Stratocasters. He's also owned and played many other guitar models throughout his career.
See the full list of Billy Corgan guitars and gear below.
Reverend BC1 Billy Corgan Terz Signature

| | |
| --- | --- |
| Finish | Satin Silver Burst/Blue Silver Burst |
| Years Used | 2015 to Present |
Back in 2015, Billy Corgan had a fallout with major guitar manufacturers, Gibson and Fender, the frontman described his quarrel briefly "Fender disrespected me and Gibson blew me off". The result was his collaboration with Reverend guitars. Corgan described this signature design as a mix between "a beefed-up Fender Jaguar and a Rickenbacker" with a complete Korina body design, a somewhat stray issue from his iconic Stratocaster choice.
Both Corgan and gearheads alike have praised the Terz BC Signature for its hybrid nature, "it can pull off the Mellon Collie sound with little need for pedals or mods at all" said Billy on an interview at NAMM 2016. It's an upgrade in each front from traditional guitars, the BC1 features the new Pure Tone Jack socket which has dual contacts for improved grip, audio signal, and reliability. This 21 and half-inch scale six-string is built tuned G to G with a roasted maple neck and fretboard for a lightweight experience along with its Korina body material chambered with a full-on aluminum pickguard and of course a Billy Corgan signature Railhammer pickups. The latter ones are brilliantly balanced innovative mics that can easily provide a classical P90 sound with the muscular build of a Humbucker.
Needless to say, for six years straight this Reverend six-string line has remained Corgan's undisputed favorite and main go-to for both studio recording and live performances. It came in noticeably as the one guitar that appears in all Smashing Pumpkins music videos ever since it first entered Billy's rotation.
Fender Billy Corgan Signature Stratocaster

| | |
| --- | --- |
| Finish | White/Blue |
| Years Used | 2008 to Present |
Back in 2008, Fender took inspiration from Corgan's eccentric modifications of the various Stratocasters during his prolific career with The Smashing Pumpkins during their mid-90s heyday. However, despite both parties initially engaged in friendly talks and collaboration, it wouldn't take long until a quarrel broke out behind the scenes, and this partnership would dissolve after only a few years and a single issue of a Billy Corgan Signature Strat. Initially, there were plans to release a second version of this line, but when questions were raised by fans Corgan would simply reply "Fender disrespected me, never going back".
The Billy Corgan Signature Stratocaster however, is revered as one of the most outstanding models Fender has ever released. Contemporary guitarists as well as some old-guard veterans have picked up the instrument and have been enthusiastic about its professional use.
Setting this guitar apart is the fact that, rather than the Lace Sensor pickups Corgan used so extensively in the early Smashing Pumpkins days, this guitar boasts Billy Corgan's signature DiMarzio humbuckers. These diminutive humbuckers are designed to fit into the slot for a single-coil guitar, but provide the buzzsaw-like heavy metal tone for which DiMarzios are famous for.
This guitar uses one Special Design Dimarzio Billy Corgan Single-Spaced Humbucking Pickup on the neck, another in the bridge, and a Dimarzio Chopper Pickup in the middle position. It has one master volume knob and two tone knobs, and a five-position pickup selector.
Despite Billy's fallout with Fender, this signature guitar has become an undisputed staple in his rig and setup. Even to this day with Corgan preferring his Reverend line, this Stratocaster is one of his most reliable pieces, making more than a few dozens of on-stage apparitions, notoriously on the Pumpkins relatively original line-up reunion tour.
1957 Fender "Bat Strat" Stratocaster

| | |
| --- | --- |
| Finish | Two Tone Sunburst/ Custom Repainted Silver |
| Years Used | 1992 to 1998/ 2000 to Present |
This reissue Stratocaster was Corgan's number one guitar during the Gish and Siamese Dream eras, as well as on the long, multi-year Mellon Collie and the Infinite Sadness world tour. This is supposedly Corgan's favorite guitar. He once told Reverb.com that "If you said, 'What's the guitar you'd want to be buried with?' I'd have to say the Bat Strat. It's just beat to living hell."
Billy Corgan's "Bat Strat" is no ordinary Stratocaster. It boasts three Lace Sensor pickups. These are the Lace Sensor Blue in the neck position, the Lace Sensor Silver in the middle position, and the Lace Sensor Red at the bridge position. He also installed a five-way pickup selector on this guitar himself. This guitar was originally two-tone sunburst, but Corgan sprayed over this finish with silver and installed the infamous bat stickers that give this Stratocaster its name.
The "Bat Strat", as a '57 reissue, has some notable features that distinguish it from similar Fender guitars made at the time. It boasts a 50s reissue alder body and has a maple neck with a softer, rounded 1950s profile. It's arguable that the extra heft to this guitar's neck contributes to its sustained and monstrous tone, although the Lace Sensor pickups probably do more in that regard than a few extra millimeters of maple.
The Lace Sensor pickup differs remarkably from the standard Stratocaster pickup more commonly associated with Fender's most iconic guitar. Fender actually used Lace Sensors extensively in their guitars from 1987 to 1996. Although the Lace Sensor is a true single coil pickup, the internal workings of these high-end pickups set them apart. The coil in a Lace Sensor pickup is surrounded by metal barriers designed to reduce electro-magnetic interference, including the infamous "Fender hum".
For a guitar player using as much gain and fuzz as Billy Corgan, minimizing the noise of a traditional single-coil guitar would have been paramount, particularly in the smaller venues that the Smashing Pumpkins started out playing. Supposedly, these barriers help to concentrate the pickup's magnetic field. This allows them to use weaker magnets, which reduces string pull. Reduced string pull improves pitch, intonation, and sustain on the guitar.
The Billy Corgan Bat Strat was retired from regular touring work in the late 1990s as the Smashing Pumpkins endured turbulent times, changing fashions, and a marked shift in style. Billy Corgan still appears to own this Stratocaster, and occasionally will bring it out for Smashing Pumpkins gigs. Overall, this is definitely one of the most notable Billy Corgan guitars of all time.
1988 Fender Stratocaster

| | |
| --- | --- |
| Finish | Black with Red Paint and Stickers |
| Years Used | 1992 to 2017 |
Billy Corgan's number two guitar during the Siamese Dream and Mellon Collie and the Infinite Sadness eras was this American Vintage Reissue (or AVRI) Stratocaster from 1988. This guitar was remarkably similar to the "Bat Strat", albeit adorned with star stickers rather than bat ones. Like the Bat Strat, it boasts classic pre-CBS specs.
This was the guitar used to record the intro to "Today" and the solo on "Cherub Rock" from Siamese Dream. It featured DiMarzio pickups, but these were not Corgan's signature set, as the guitar's inclusion of powerful DiMarzios predates his endorsement deal with the pickup company.
This guitar remained a mainstay of the Smashing Pumpkins' touring setup for decades, often used for songs tuned to Eb. Its powerful sound and comfortable neck reminded Corgan of his stolen Gish guitar. Although this guitar saw frequent use through the decades, Corgan put it up for sale on Reverb, along with a broad variety of other vintage instruments.
1974 Fender Stratocaster
| | |
| --- | --- |
| Finish | Yellow with Custom Stickers |
| Years Used | 1991/ 2019 to Present |
Before he made the Bat Strat famous, Billy Corgan's number one instrument was the "Gish guitar", a vintage Stratocaster from the infamous 1970s CBS era.
The story follows Corgan buying this Stratocaster from Smashing Pumpkins drummer Jimmy Chamberlin in 1989 or 1990, when he paid a paltry $275 for it. At the time, '70s Fender guitars were woefully unfashionable and widely considered to be inferior to their 1950s and 1960s brethren. Corgan didn't care much. He, too, was decidedly anti-fashion, more accustomed to Gibson's Flying V than the sleek, space-age Stratocaster.
According to Billy Corgan, the Gish Strat's neck was key to the way he played. In fact, it totally redefined his playing, and Corgan described the instrument's neck as similar to that of a violin. Billy Corgan, despite being left-handed, plays right-handed so he has more guitars to play. Corgan said that as soon as he played this cheap 1970s guitar, his own style finally came to life.
"It was like everything I was doing suddenly was amplified. I'm way over aggressive on the left hand and less obviously aggressive on the right hand, and that's the style that people associate with the band. That sort of bending, pulling, and riffing really comes from that. On that Strat, it was like you suddenly could hear every little thing I was doing."
This refreshed style was crucial for the sound of Gish, the Smashing Pumpkins' debut in 1991. Billy's Stratocaster boasts a solid alder body, the oversized CBS-era headstock, and a single-piece medium profile maple neck. These are all standard appointments for guitars of the era.
Billy Corgan repainted this Stratocaster, as he was prone to doing with many of his instruments. He disliked its original creamy yellow finish, instead adorned it with a psychedelic paint job and some custom stickers.
Sadly, after a show at Detroit's Saint Andrew's Hall in June 1992, someone stole this guitar from Billy Corgan. His subsequent Stratocaster use, including the Bat Strat, was his attempt to recapture the magic of this beautiful guitar. At the time, Corgan filed a police report and offered a $10,000.00 reward for the return of his prized instrument.
Over the course of the next twenty-seven years, Corgan had a few near misses, but thought his prized instrument was long gone. However, when Beth James, a Michigan mother of three who doesn't play guitar, picked it up at a Detroit yard sale, she initially thought she'd bought a bargain piece of decoration for the house. Supposedly, James wasn't a huge fan of the Smashing Pumpkins and accordingly failed to recognize the instrument.
But in 2019, a friend of Corgan's contacted him, claiming to have found the original guitar. Corgan went to check the instrument out in person and found his old number one, stickers still intact. It even still had the same old cigarette burns from the early 90s, a true throwback to a time when smoking indoors was commonplace.
A friend of Beth James' had identified her basement decoration as Billy Corgan's long-lost love, and via Sound Royalties' Alex Heiche she finally got in touch with the Smashing Pumpkins frontman himself. Supposedly, the ordinarily stoic Corgan was "pretty happy" to see his old instrument back again.
It returned to the fold just in time for the writing and recording of The Smashing Pumpkins' latest record, Cyr, and will likely accompany Corgan on any supporting tour.
Gibson ES-335TDC

| | |
| --- | --- |
| Finish | Red/Black |
| Years Used | 1993 to Present |
Back in 1993 Smashing Pumpkins had recently graduated from "the next Alice in Chains" to "the next Nirvana" and so Corgan decided to delve into new warmer tones to accompany a newer impromptu more aggressive sound. This was around the time Billy picked up his very first own Gibson ES-335TDC, his first model became a studio favorite that would see some extensive action until this day starting with 1995's "Mellon Collie and the Infinite Sadness". Furthermore, the always classic cherry red ES-335TDC became closely associated with Corgan when he used it on the music video for the hit single "Bullet With Butterfly Wings".
Corgan's Gibson ES-335TDC is a very standard and traditional cherry issue, it sports a trapeze tailpiece and a dual humbucker setup. Eventually, Billy would modify this guitar with a tune-o-matic bridge. Furthermore, this became a staple on Corgan's sound when looking for a more traditional sound.
Despite being this guitar being one of the most consistent pieces in his catalog it certainly is one of his most laid back guitars, nevertheless, Billy has a certain loyalty to this one. It's fairly usual to see him on stage with it, noting it was also a staple during the recording sessions of 2019's "Cotillions" and 2020's "Cyra" with The Smashing Pumpkins.
Popular Related Article: What Guitar Does Alex Lifeson Play?
Gibson Dove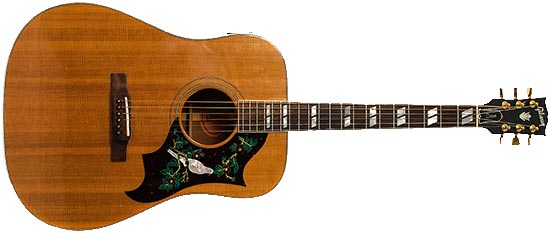 | | |
| --- | --- |
| Finish | Natural |
| Years Used | 1996 to 2021 |
One of Billy Corgan's most intimate and extensively played guitars, he initially acquired it after the Pumpkins rose to prominence, and thus sparking interest in exploring a more simplistic sound before further experimenting with pedals. This Gibson Dove has been around for a few decades, it first came to his hands during the Mellon Collie era, and from the very first day, it became Billy's main writing six-string. Despite being originally used for bedroom, creative playing, and studio recording it wasn't until the 2000s when Corgan decided to bring this Folk acoustic to the stage after performing a few modifications to make it more suitable for the stage.
Corgan's Dove was modified with an onboard pickup and preamp (AccuVoice standard from the factory) with a balanced XLR to fight feedback. Furthermore, its original natural gloss finish has been worn given the small knicks a home kept guitar takes.
As Billy's main acoustic for both the stage light and the occasional studio, this six-string has also seen some traveling across the U.S. It's made quite a few appearances in its 25 years with Corgan, however, in 2021 this acoustic was listed for sale through Reverb by the man himself.
Timetable Showing Each Guitar Billy Corgan Has Played Through His Career
| Make | Model | Color/Finish | Years |
| --- | --- | --- | --- |
| Fender | 1974 Stratocaster | Yellow with Custom Stickers | 1991/ 2019 to Present |
| Fender | 1957 "Bat Strat"Stratocaster | Two Tone Sunburst/ Custom Repainted Silver | 1992 to 1998/ 2000 to Present |
| Fender | 1988 Stratocaster | Black with Red Paint and Stickers | 1992 to 2017 |
| Gibson | ES-335TDC | Cherry Red/Black | 1993 to Present |
| Gibson | Dove | Natural | 1996 to 2021 |
| Fender | Billy Corgan Signature Stratocaster | White/Blue | 2008 to Present |
| Reverend | BC1 Billy Corgan Terz Signature | Satin Silver Burst/Blue Silver Burst | 2015 to Present |
Billy Corgan Amps Overview
Billy Corgan's tonal flavor relies typically on thick, overdriven tube amps. Although much of his guitar sound comes from the specific combination of pedal, guitar, and amp he uses, Corgan's choice of amp is an integral ingredient in his musical recipe.
Billy Corgan used a broad variety of amps over his multi-decade career, but the "classic" Corgan sound of the early Smashing Pumpkins records is a Marshall amp. Like most other rock bands, the Marshall amp represented the ultimate in rock and roll cool to the young Pumpkins. Since then, Billy Corgan has dabbled in other similar amplifiers, including a Jimmy Page-esque Hiwatt clone and various preamps. Today, he uses a variety of amps to achieve the distinctive and varied guitar tones of his long career.
Marshall "Soul" JCM800
What self-respecting classic rocker was playing through anything else in the late 80s? Although the JCM800 was widely considered a metal (or glam metal) amp by the 90s alt-rock crowd, Billy Corgan relied heavily on the JCM800 for much of his early guitar work.
Billy Corgan modified his JCM800 to say "Soul" on the head. Supposedly, he bought the JCM800 in 1989 "from a stoner guy", initially simply because he was excited to play through a Marshall. Eventually, Billy Corgan realized the amp's sound wasn't to his liking. He switched out its stock 6550 tubes (as were standard in Marshalls sold in the US) for more vintage-voiced KT88s, and "the amp just sprang to life, and it was the body of the amp that I used to drive insane amounts of distortion into to get 'that sound'".
The JCM800, even before Corgan's tweaking, was one of the highest-gain amps on the market in the 1980s. It had multiple gain stages, offering more saturation and distortion than any other amplifier. It also had a built-in effects loop, which Billy Corgan, an avowed lover of guitar pedals, made great use of.
According to his Reverb listings, Billy Corgan was partial to the 50-watt 2204 variety rather than the 100-watt 2203. It's likely that this lower wattage was better for the smaller venues the Smashing Pumpkins were playing at the time or provided saturation at a lower volume for studio use. Billy Corgan typically ran his Marshalls through a slanted cabinet, with at least one sporting a modified faceplate reading "Mars".
This amplifier was the cornerstone of Billy Corgan's thick, gnarly, early guitar tone. Supposedly, almost every single guitar part on the first two Smashing Pumpkins albums were recorded using this amp. Corgan would record Stratocaster parts through a Shure 57 microphone on the amp's bottom right speaker, and Les Paul parts through a Sennheiser 421 on the top left speaker. These subtle harmonic differences contributed to the enormous wall of guitars sound on those first two Smashing Pumpkins albums.
Popular Related Article: What Guitar Did Eddie Van Halen Play?
Salvation Mods Preamps
Perhaps driven out of pure pragmatism, the Smashing Pumpkins frontman, on the road, uses no fewer than eight preamp modules. Billy Corgan owns a wide variety of amplifiers and effects, and in order to deliver the broad tonal palette of his multi-decade career, takes preamps built by boutique experts Salvation Mods on the road. These are painstaking copies of the below amplifiers:
"Soul" Marshall 2203
Reeves Custom Jimmy
Marshall Super Lead 1959RR Limited Edition Randy Rhoads
VamPower amp
Diezel VH4
'69 Marshall Super Tremolo
Billy Corgan owns, or has owned, all of the above amplifiers, and used them on Smashing Pumpkins records. His preamps are far smaller, and therefore more portable, and Corgan uses them on tour.
The Reeves Custom Jimmy is based on Jimmy Page's early 1970s guitar tone, an aggressive, mid-heavy sound with plenty of note definition thanks to a combination of 12AX7 and EL34 tubes.
The Randy Rhoads Super Lead was based on Ozzy Osbourne guitarist Randy Rhoads' personal amplifier, in a distinctive white (rather than black) Tolex finish. It's a non-master-volume, two-channel 100-watt head with four EL34 tubes. Critically, it features some of Randy Rhoads' own modifications, cascades both halves of the first ECC83 tube in the preamp circuit, feeding the output from the first stage into the second stage's input. This allows the amplifier to function more like a JCM800, albeit years before the 800 was introduced to the market.
The Vampower amp is based on the 1960s British amplifiers, like Vox, but has an additional clipping stage to feature a built-in fuzz sound. Billy Corgan typically uses this amplifier's tone to play material from the album Oceania.
The Diezel VH4 is a high-end guitar amp built to deliver massive amounts of gain. Its power varies from 90 to 160 watts and uses four JJ KT77 tubes.
The Marshall Super Tremolo is simply a classic British Marshall Plexi with an additional tremolo circuit, not unlike those of contemporary Fender amplifiers. The 1969 Super Tremolo amps used EL34 tubes in the power amp and three ECC83 tubes in the preamp.
Billy Corgan runs all these preamps into a Mesa/Boogie Strategy 500 power amp, and switches between them with a Rocktron All Access switcher.
Mesa/Boogie Strategy Power Amp
Billy Corgan's use of this power amp dates back to the Mellon Collie and the Infinite Sadness era. According to Premier Guitar's description of Corgan's rig, his Mesa runs at half power.
The Strategy 500 was boutique amp builder Mesa Engineering's foray into the rack amp market. Like the original Mesa amps, it's a modified take on classic tones, designed to work in conjunction with a variety of preamps to make the use of different amp tones easier. Billy Corgan is arguably the most famous proponent of the Mesa/Boogie Strategy system. While most amplifiers used four (or fewer) power tubes, the Strategy 500 adopted a "more is more" approach to tone:
With a combination of 6550, 6L6, and, theoretically, whatever power tubes the player wants to use, the Strategy 500 was squarely aimed at guitarists playing massive rooms who used a variety of power-tube distortion levels.
Billy Corgan Pedals and Effects Overview
Billy Corgan is an avowed devotee of guitar pedal effects. His guitar tone over the years has shifted and changed, with Corgan frequently adding to or removing elements of his Starship Enterprise-sized pedalboard. The defining elements of his classic tone, however, are vintage fuzz, phase, tremolo, and some echo. Let's take a look at the most iconic items in Billy Corgan's massive pedal collection.
Electro-Harmonix "Op-Amp" Big Muff Pi V4
The most obvious of Billy Corgan's tone choices is the Big Muff, a broad, thick fuzz sound that dominates the guitar layers on the classic Smashing Pumpkins albums. You can hear the tone for yourself in the below video performance of "Geek USA" from Siamese Dream:
The distinguishing feature of this Big Muff was its use of an op-amp, which differentiated it from the harsher Big Muff V2 and V3. This pedal was only produced for a short time in the late 1970s, but Billy Corgan picked one up around the time Smashing Pumpkins were first starting out.
Corgan and his fellow Pumpkins axeman James Iha both bought Big Muffs at the same time, incidentally picking up the op amp version. They initially wanted to imitate the sound of another band, Catherine, who used Big Muffs for all their guitar work. They wanted to capture the Black Sabbath tone, running the Big Muff into their JCM800s' low-gain channels to capture the 'sweet spot' of their dense, distorted guitar sounds.
Billy Corgan since worked with Electro-Harmonix to produce a smaller, more pedalboard-friendly edition of this pedal nicknamed the "Pumpkin Pi", based on his Siamese Dream guitar tone. You can see Corgan demoing the newer edition of his op-amp Big Muff in the video below.
Popular Related Article: What Guitar Does Tony Iommi Play?
Phasers & Flangers
Billy Corgan often uses a phasing effect to get motion and momentum into his guitar solos. He has used MXR's classic Phase 90, particularly on the solo for "Oceania".
During the Gish/Siamese Dream era, Corgan used an Electro-Harmonix Electric Mistress, which he still owns.
He used a Mu-Tron Bi-Phase to record Siamese Dream.
Corgan also used an MXR Phase 100 during this time and was also known to use an Electro-Harmonix Small Stone Phaser. Corgan also owns an Electro-Harmonix PolyPhase and a Boss PH-3 Phase Shifter and a Roland AP-5 Phase Five.
Guitar Tone Company Bloody Finger
In recent years, the Bloody Finger has been Corgan's go-to lead boost pedal. He describes it as " a little bit of that Brian May clean kind of lead tone but it's much more high gain than that". Corgan uses this for guitar solos and little else.
Wrap Up
Despite being one of the most famous frontmen of the 1990s, Billy Corgan's gifts as a guitar player are often underappreciated. All any six-stringed cynic needs to do is turn on "Geek USA" from Siamese Dream to hear Corgan's unhinged lead guitar style in all its glory. Relying more on mood and atmosphere than the lightning-fast runs of 1980s shred heroes, Corgan delivers a masterclass in no-holds-barred rock and roll guitar.
The Smashing Pumpkins frontman credits Black Sabbath as his earliest inspiration as a guitar player, which his fuzzed-out sledgehammer riffs pay homage to. A younger Corgan was, by all accounts, a gifted athlete and devoted son, but his love of rock and roll, particularly proto-metal by the likes of Van Halen, Sabbath, and Rush, won out in the end. A short-lived tenure in Florida with The Marked sent the native Chicagoan back to the windy city to form The Smashing Pumpkins. The band began as a mere idea in a record store, shared by Corgan and fellow axeman James Iha, who co-wrote what Corgan called "gloomy little goth-pop records". The addition of drummer Jimmy Chamberlin following a few gigs with a drum machine for percussion lent the band a heavier sound more akin to the metal of Corgan's youth, and the rest is alt-rock history.
Corgan is notorious for playing almost all the instruments on Smashing Pumpkins albums, particularly early in their career, often layering up to forty guitar parts in a single song. For this, he's occasionally labeled a control freak. However, the resulting sound, a towering, thick deluge of riff-o-rama, came to characterize not only The Smashing Pumpkins but the standards of alternative rock from the 90s to this very day.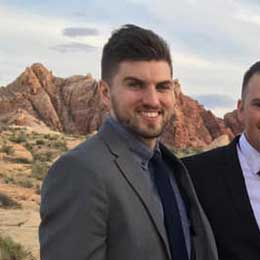 My name is Chris and I've had a passion for music and guitars for as long as I can remember. I started this website with some of my friends who are musicians, music teachers, gear heads, and music enthusiasts so we could provide high-quality guitar and music-related content.
I've been playing guitar since I was 13 years old and am an avid collector. Amps, pedals, guitars, bass, drums, microphones, studio, and recording gear, I love it all.
I was born and raised in Western Pennsylvania. My background is in Electrical Engineering, earning a Bachelor's degree from Youngstown State University. With my engineering experience, I've developed as a designer of guitar amplifiers and effects. A true passion of mine, I've designed, built, and repaired a wide range of guitar amps and electronics. Here at the Guitar Lobby, our aim is to share our passion for Music and gear with the rest of the music community.