Aleksandar Zivojinovic, otherwise known by his stage name Alex Lifeson, is the lead guitarist for the legendary virtuosic rock trio, Rush. Along with his fellow Rush bandmates, Geddy Lee and Neil Peart, Lifeson was inducted into the Rock and Roll Hall of Fame in 2013, was made an Officer of the Order of Canada, and is ranked 98th on Rolling Stone's 100 Greatest Guitarists list.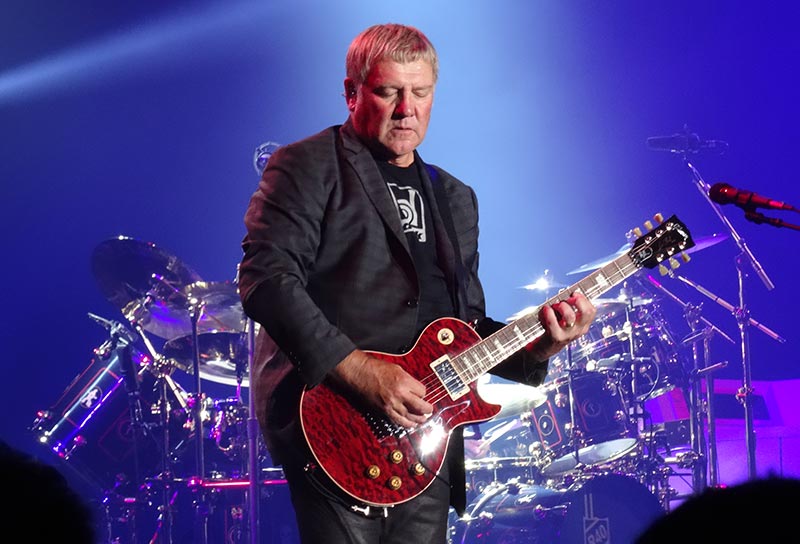 Lifeson is known for his outstanding riffing, odd chord structures, and electronic effects. There just isn't another guitar player like him. His bandmates even call him "The Musical Scientist" because of his sound experimentation. Of course, to craft his iconic sound, Lifeson has amassed quite the arsenal of gear. Here's a rundown of the guitars, amps, and effects that Alex Lifeson has used over his decades-long career.
What Guitars Does Alex Lifeson Play?
Alex Lifeson plays a Gibson Les Paul Axcess guitar. Lifeson has been back and forth with his main guitars over the years, but ever since he landed a deal with Gibson for his signature Les Paul Axcess, the model became his undisputed favorite six-string for both stage and studio.
See the full list of notable Alex Lifeson Guitars below.
Gibson Alex Lifeson Les Paul Axcess

| | |
| --- | --- |
| Finish | Royal Crimson Finish / Viceroy Brown / Black |
| Years Used | 2011 to Present |
In 2011, Alex Lifeson got to team up with his friends at Gibson once again to create another unique signature guitar. Since he already got his signature ES-355, this time, he opted for a solid body. Finally, Lifeson would get his own signature Gibson Les Paul!
The Alex Lifeson Les Paul Axcess is a very unique guitar. While most Gibson Axcess models include chambering (hollowing out parts of the body) for weight reduction, Lifeson's model has no chambering. Instead, it's thinner than standard Les Pauls, giving it that Axcess weight reduction without losing the incredible solid-body sustain. The neck also has a rounded Axcess profile to help Lifeson reach the higher frets more easily.
As for pickups, the Alex Lifeson Signature Les Paul features 496R and 498T humbuckers with push/pull series and parallel switching that's activated with the standard tone and volume knobs. Of course, what's an Alex Lifeson signature model without his favorite tremolo bridge: the Floyd Rose.
As if a Floyd Rose on a Les Paul isn't unique enough, in addition to the two magnetic humbuckers, Lifeson also added a Piezo pickup into the Floyd Rose bridge. That's what gives him that special "Life-O-Sound" that blends acoustic and electric sounds.
To make the guitar even cooler, it has two output jacks. The primary jack blends the magnetic and the piezo. If you plug in the second output jack, it splits the magnetic pickups and the piezo pickup, so Lifeson can send the two signals to separate amp configurations!
All these amazing Lifeson-inspired features are finished off by an incredible figured maple top. Lifeson has several of these Les Paul Axcess in his arsenal, most notably in Black, Royal Crimson, and Viceroy Brown. The black one is exclusive to Alex, you won't be able to find a signature model of that one in stores! Since its creation in 2011, this guitar has become one of Lifeson's primary players. He even uses it during Rush's induction into the Rock and Roll Hall of Fame.
Gibson EDS-1275 Double Neck Guitar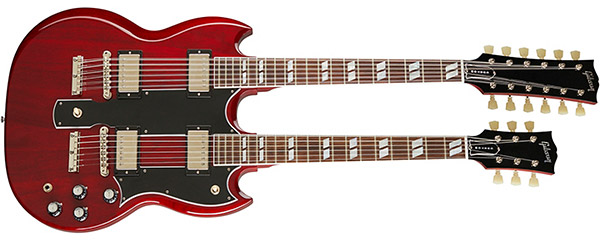 | | |
| --- | --- |
| Finish | Cherry Red |
| Years Used | 1977 to 1983 / 1991 to Present |
In the rock and roll world, there's hardly anything cooler than a double-necked guitar. It doesn't matter how skilled you are, if you're holding a double-neck, you look like a guitar hero! Alex Lifeson knew that and following in the footsteps of one of his favorite guitarists Jimmy Page, he picked up a Gibson EDS-1275 Doubleneck in 1976.
Lifeson loved the way a 12-string sounded for certain songs, but being in a three-piece band, he couldn't give up the ability to play lead on a six-string. The solution was a double-necked guitar that had both!
Lifeson's main EDS-1275 is white and features humbuckers on both sides of the guitar. The neck pickup on the 12-string has a coil splitter that Lifeson installed himself. He wanted to be able to get a cleaner sound out of the 12-string, so he put the guitar under the soldering iron and "chainsaw," as he said in an interview with Gibson.
The Gibson EDS-1275 is used any time Lifeson needs a 12-string—most notably, on the song "Xanadu." As if one double-necked guitar wasn't cool enough, Geddy Lee also plays a double-neck for that song. His guitar, however, is a Rickenbacker with a brass neck and a 12-string neck.
Lifeson's original EDS-1275 Doubleneck was eventually donated to a museum in Toronto. Of course, a legendary rocker like Alex Lifeson can't go on tour without an awesome double-necked guitar, so he replaced it with a Gibson Signature Alex Lifeson EDS-1275 Doubleneck prototype, which he nicknamed "Heavy Bastard," for obvious reasons.
The prototype was eventually made into an official Gibson signature model and had a limited production run in 2015. It was such a close replica to the original that Gibson included all the scratches, knicks, and even the cracked headstock from Lifeson's original!
1976 Gibson ES-355

| | |
| --- | --- |
| Finish | Alpine White |
| Years Used | 1976 to Present |
After the demise of his prized ES-335, Alex Lifeson swapped to using some of his Les Pauls and a few Fender Stratocasters, but there was still a semi-hollow hole left in his heart that those solid-body guitars just couldn't fill.
In 1976, Lifeson took a tour of the Gibson factory in Kalamazoo, Michigan. He saw this beautiful, brand-new, white ES-355 that he just had to have, so he bought it! He fell in love with it right away. He thought it looked so unique with its bright-white finish, and the sound was incredible! It instantly became his primary player that graced both the stage and the studio for the next few years.
While his '76 ES-355 might not be his primary player anymore, it's still one of Lifeson's favorite guitars and frequently goes on tour with him. When you think of Alex Lifeson, you either picture him with a Les Paul or his white ES-355.
You can see this guitar in action throughout most of Rush's history, all the way from the 1970s in "The Trees" music video, through more recent tours, like on "Working Man" from the Time Machines Tour in 2011 (Lifeson really shreds on this one!).
In 2008, Alex Lifeson teamed up with his favorite guitar-makers to create a signature Gibson ES-355 that's (almost) as good as his original 1976 model. It only came with a white finish (of course) and featured gold hardware. It also had a Tune-O-Matic bridge and a Maestro Long Vibrola tailpiece. The pickups were Alnico II replicas of the legendary 1950s PAF humbuckers that made Lifeson's original 355 sound so good.
Unfortunately, the Alex Lifeson Memphis ES-355 is no longer in production, but if you're lucky, you can still find a few for sale floating around the internet. This is easily one of the most iconic Alex Lifeson guitars ever.
1968 Gibson ES-335

| | |
| --- | --- |
| Finish | Tobacco Burst |
| Years Used | 1968 to 1977 |
After rocking on his Canora for a while and discovering that music was what he really wanted to do, Alex Lifeson decided it was time to buy his first "proper" guitar to get his new band Rush going. He bought a 1968 Gibson ES-335 for Rush's first tour.
He loved the feel and tone of the guitar, and it easily became his primary player for years to come. Unfortunately, at a show in 1977, the band was opening for Blue Öyster Cult and one of the horns fell off the PA system. It smashed right into his prized ES-335 (and his double-neck EDS-1275, which we'll get to later), cracking the headstock. The guitar had to be retired from touring after that.
This guitar made tons of appearances throughout the '70s. You can see it rocking on "Working Man" during this early Rush performance.
1974 Gibson Les Paul Standard

| | |
| --- | --- |
| Finish | Sunburst |
| Years Used | 1976 to Present |
Shortly after he bought his first "proper" guitar, Alex Lifeson also picked up a 1974 Gibson Les Paul Standard following Rush's first tour in 1976. The Les Paul and the ES-335 became his two primary players through the rest of the 1970s and cemented his love for Gibson guitars, hollow-bodies, and Les Pauls.
Over the years, Lifeson has used almost countless Gibson Les Pauls on stage and in the studio. In fact, it's hard to even picture Alex Lifeson without a Les Paul in his hands! In his interview with Vintage Guitar Magazine, he says, "There's nothing like having a low-slung Les Paul over my shoulder!" It's nearly impossible to beat the tonality and playability.
Although he jumped around to a few different guitar manufacturers throughout Rush's history, Lifeson always found his way back to the Gibson Les Paul. From about 2000 on, he used Gibsons almost exclusively, most of them being Les Pauls.
Most of Lifeson's Les Pauls aren't much different than the ones you can pick up from any Gibson dealer. He did, however, modify his 1958 Sunburst Gibson Les Paul Reissue to include a Piezo pickup in the bridge along with dual outputs—a configuration he later incorporated into his own Gibson signature model. You can see this model in action on "Far Cry" from the Snakes & Arrows tour.
Fender Stratocaster "Hentor Sportscaster"
| | |
| --- | --- |
| Finish | White/Black "Porkflapsocaster" |
| Years Used | 1980 to 1986 |
For a good chunk of the 1980s, Alex Lifeson used a mysterious guitar called a Hentor Sportscaster. It looked like a Fender Stratocaster with a few stark differences. Of course, seeing such an unknown guitar rocking stages all over the world, guitar players everywhere were trying to figure out what the heck a Hentor Sportscaster was!
As it turns out, the whole Hentor Sportscaster thing was a joke. They were really just modified Strats that Lifeson renamed Hentor Sportscaster after Rush's producer at the time, Peter Henderson. Despite not being a real guitar brand, the Hentor Sportscaster became one of Alex Lifeson's most iconic guitars!
There were several main differences between a standard Fender Stratocaster and the Hentor Sportscaster. First, the Hentor Sportscaster's pickup toggle switch was located on the horn of the guitar, similar to a Gibson. It also had only two knobs—one tone and one volume—unlike the three that you usually find on Strats. The pickups were swapped out with DiMarzios for the rhythm and bass positions and a Bill Lawrence L-500 in the back position.
You can see the incredible Hentor Sportscaster in action for much of the Grace Under Pressure tour, including this live performance of "The Spirit of the Radio."
Gibson Howard Roberts Fusion (HRF)

| | |
| --- | --- |
| Finish | Tobacco Burst |
| Years Used | 1981 to 1987 |
Alex Lifeson's two true guitar loves are the Gibson ES-335 and the Les Paul. When he saw the Gibson Howards Roberts Fusion, he just had to have it!
The Gibson HRF looks like Gibson took a Les Paul and threw some ES-335 into it. It's essentially an oversized hollow-body Les Paul. Lifeson said it had a really nice balance when he played it, and it had everything he looks for in a guitar.
Even though it's technically a hollow body, the Gibson HRF has a maple spur that runs through the middle of the body, which gives it some weight. Lifeson loves playing heavy guitars, so being able to get that clean hollow-body sound out of a heavy guitar was like a dream come true.
After he picked it up around 1980, the HRF became one of his primary players for the next few tours and albums. It's such a great guitar that it still goes out on tour 30 years later!
Lifeson uses the Gibson HRF for songs like "Hemispheres," "Tom Sawyer," and "Camera Eye."
Signature Aurora

| | |
| --- | --- |
| Finish | White/ Black/ Red |
| Years Used | 1987 to Unspecified |
Toward the end of the '80s, Alex Lifeson switched from playing his Gibson HRF to guitars from a new, relatively unknown brand called Signature Guitar Company. The signature was a Canadian guitar manufacturer located in Toronto. Legend has it that Lifeson was friends with the owner of Signature Guitars and helped him design the instruments.
Lifeson played a Signature Aurora almost exclusively for the Power Windows Tour and kept it in rotation for a few shows after that. Later, Lifeson admitted that he loved the sound of the Signatures, but he wasn't a fan of how they felt. "it was awful to play, very uncomfortable, but had a particular sound that I liked." – Alex Lifeson in Vintage Guitar Magazine, September 2011
You can see Lifeson rock his black Signature Aurora (and an awesome '80s haircut) in this 1989 live performance of "Big Money."
Although Lifeson helped propel Signature to new heights by showing off its capabilities on stage, the Signature Guitar Company ultimately closed its doors in 1990, and Lifeson switched back to Gibsons and PRSs. Although he doesn't play his signatures anymore, he did install a signature pickup into one of his primary PRSs he still brings on tour.
1991 PRS CE24

| | |
| --- | --- |
| Finish | Black |
| Years Used | 1991 to 2013 |
In the early '90s, Lifeson picked up a black PRS CE24. It's a double-cutaway, solid-body guitar with humbuckers—which is right in line with most of Lifeson's guitars. As he said in an interview with Total Guitar, "There's nothing particularly special about it, but it has 24 frets, and I needed it for a song."
You can see Lifeson's black 1991 PRS CE24 in action on songs like "Leave That Thing Alone." There are some super high notes in the solos that require a 24-fret neck.
He also has another early '90s PRS in Tobacco Sunburst that has a signature pickup in the bridge position—from his old Signature Aurora days. He missed the sound of his old signatures and asked Paul Reed Smith to build him a PRS with one of the old pickups, so he did! Lifeson uses this guitar on songs that require that unique "twangy" sound, like "Time Stands Still."
1952 Reissue Fender Telecaster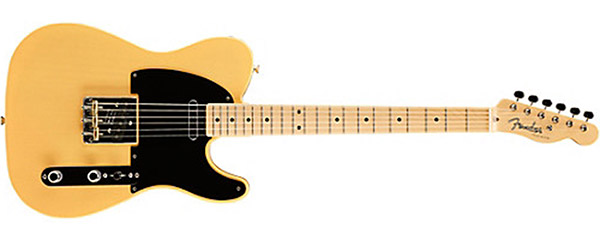 | | |
| --- | --- |
| Finish | Butterscotch |
| Years Used | 1982 to 2013 |
Although Alex Lifeson prefers (loves) Gibson guitars, he does dabble with some other manufacturers as well. In addition to his arsenal of Les Pauls and ES-355s, Lifeson also carried a 1952 Reissue Fender Telecaster with him on the road.
There isn't anything special about Lifeson's Tele. It has the same pickups, bridge, and hardware that you'd find on any '52 reissue. The only difference is that the finish was taken off the neck to help with playability.
Lifeson's telecaster doesn't make too many appearances on stage or in the studio, but it is one of his primary writing instruments, so bonus points for intimacy. If you listen to any Rush songs written after 1982, there's a decent chance the guitar part was originally written on Lifeson's 1952 Reissue Tele.
Garrison OM-20 Mandolin
| | |
| --- | --- |
| Finish | Natural |
| Years Used | 2007 to Present |
Alex Lifeson is always looking for new sounds to add to the Rush repertoire. In 2007 for the Snakes & Arrows tour, Lifeson added the Garrison OM-20 octave mandolin to his guitar arsenal.
Garrison Guitars was an instrument manufacturer in Canada founded in 1999. In 2007, the company was bought by Gibson and eventually closed in 2010. Lifeson picked up one of their mandolins to use for a handful of songs, and sometimes, for only part of a song. You can hear the Garrison in action during a small solo break on "Working Them Angels."
Kent Acoustic
| | |
| --- | --- |
| Finish | Natural |
| Years Used | 1966 to Unspecified |
Alex Lifeson's very first guitar was a Kent steel-string acoustic his parents got him for Christmas when he was about 12 years old. As he told Guitarist magazine, "It wasn't much of a guitar. I think it cost $10." He recalled the string height was very high off the neck, making it difficult to play—as most beginner acoustics are.
Despite the rough playability, Lifeson loved that guitar, and it started him on a musical journey that would last for the rest of his life.
Unnamed Canora Electric Guitar
| | |
| --- | --- |
| Finish | Unspecified |
| Years Used | 1967 |
After a year strumming the Kent acoustic, Lifeson started begging his parents for an electric guitar. They went out to the store and picked up a $59 Canora the following Christmas. Lifeson thought that guitar was so cool because it was shaped like a Gretsch Country Gentleman.
With his Carnoa in hand, Alex Lifeson started learning solos from his favorite players. All he would do after he got home from school is go to his room and play guitar. He'd take only a quick break to eat dinner, then go right back up to keep playing until bedtime. From that moment on, all he wanted to do was play guitar.
Table Showing Each Guitar Alex Lifeson Has Played in His Career
| Make | Model | Color/Finish | Years |
| --- | --- | --- | --- |
| Kent | Acoustic | Natural | 1966 - Unspecified |
| Canora | Unnamed Electric Guitar | Unspecified | 1967 |
| Gibson | 1968 ES-335 | Tobacco Sunburst | 1968 – 1977 |
| Gibson | 1976 ES-355 | Alpine White | 1976 – present |
| Gibson | Les Paul | Sunburst | 1976 – Present |
| Gibson | EDS-1275 Doubleneck | Arctic White/ Cherry Red | 1977 – 1983 / 1991 – Present |
| Hentor | Stratocaster "Hentor Sportscaster" | White /  Black "Porkflapsocaster" | 1980 - 1986 |
| Gibson | Howard Roberts Fusion (HRF) | Black | 1981 – 1987 |
| Fender | Telecaster | Butterscotch | 1982 - 2013 |
| Aurora | Signature | White/ Black/ Red | 1987 – Unspecified |
| PRS | CE24 | Black | 1991 – 2013 |
| Garrison | OM-20 Mandolin | Natural | 2007 – present |
| Gibson | Alex Lifeson Les Paul Axcess | Royal Crimson Finish / Viceroy Brown | 2011 – Present |
Alex Lifeson Amplifier Overview
To power his arsenal of guitars, Alex Lifeson needs quite a few amps to project his sound to a stadium filled with thousands of people. Like with his guitars, Lifeson has gone through a few amps over the years. Here are a few of his most notable.
Fender Super Reverb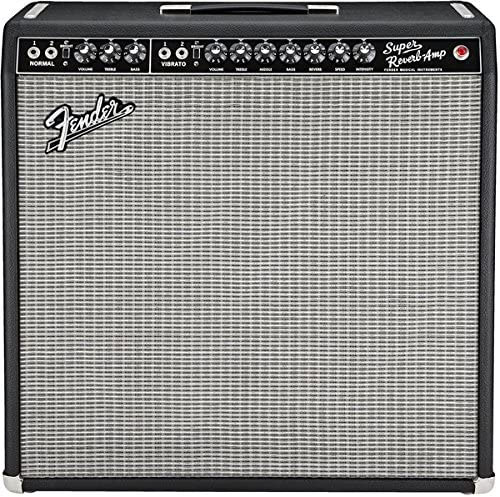 Years Used: 1975 to 1976
In Rush's early years, Lifeson didn't even own an amp. He borrowed most of his equipment from friends and relatives—as most budding musicians do. Once Rush started hitting it big, Alex Lifeson went out and bought a Fender Super Reverb amp.
Lifeson's Fender Super Reverb would stick with him for a few albums, including Fly by Night and Caress of Steel. He would also use it in live shows, pushing a Marshall 4×12 cabinet.
Hiwatt Amps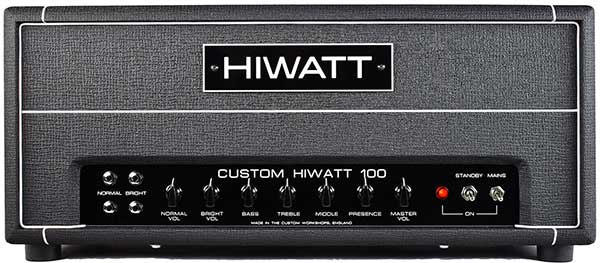 Years Used: 1978 to 1981
For the Hemispheres tour, Lifeson swapped from his standard Fender Super Reverb to Hiwatt amps. Playing bigger gigs, he needed the extra power! Specifically, he used three Hiwatt 100s pushing four 4×12 Hiwatt cabinets.
In addition to the Hiwatt 100s, Lifeson also used a Fender J.B.L. Twin Reverb, but it was mostly used for PA miking.
This setup carried Lifeson all the way through the Moving Pictures tour in 1981.
Hughes and Kettner Coreblade

Years Used: 2010 to present
Looking for a bit more lead boost during live performances, Lifeson added the Hughes & Kettner Coreblade to his amp setup for the Time Machine tour in 2011. He uses this amp to add a little "extra" to his regular tone. Whether he wants to add a clean line under the heavier sound or some added effects, Lifeson can switch the Coreblade on and off to get the effects he's looking for.
Hughes and Kettner Alex Lifeson Model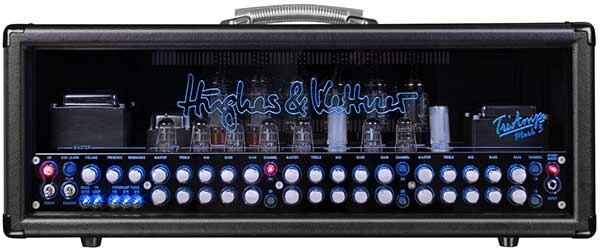 Years Used: 2010 to Present
In 2010, the sound experts at Hughes & Kettner gave Alex Lifeson his very own signature model amp. The Hughes & Kettner Alex Lifeson Signature Edition Triamp is a 100-watt tube head with three preamps (like the name "triamp" suggests) and two different channels.
Alex Lifeson uses three of his signature Hughes & Kettner amps on stage. One has all his effects, the second is a straight feed that switches channels as needed, and the third is a backup, just in case one of the others breaks down.
Lifeson controls which amp he wants to use with a foot pedal switcher. The sound engineer also blends the amps together to get the perfect sound from backstage.
Steampunk Hughes and Kettner Amps – Twin 12 cabinets
Years Used: 2010 to Present
To project the awesome sound from the amps out into the audience, Lifeson three Hughes & Kettner 2×12 cabinets.
In 2010, the band wanted to go for a steampunk vibe. To make sure everything matched onstage, Lifeson had his Hughes & Kettner cabinets built to look like steampunk machines, complete with copper piping, gauges, and even a small television screen. He has three of these contraptions behind him on stage at all times.
Since Geddy Lee also uses steampunk contraptions to fill his side of the stage, these custom-made Hughes & Kettners look great to give the band a unified look on stage. You can see these cabinets in action on the Time Machines tour.
Alex Lifeson Pedals and Effects
There's no guitar player that sounds exactly like Alex Lifeson. He has spent so many years experimenting with different guitars, amps, and effects, that it's nearly impossible for anyone to recreate. To craft his signature sound, he uses a myriad of effects pedals. Here are a few of his favorites to take on tour and use in the studio:
Morely Volume Pedal
Alex Lifeson does a lot of fading to add some "dramatic" effect to his solo and rhythm parts. To do that, he has used a Morely Volume Pedal for almost his entire career. The Morely made its first appearance in 1975 on the Fly By Night tour and has been a consistent part of his pedalboard ever since.
Cry Baby Wah Pedal
What would a lead guitarist be without an awesome wah pedal!? Lifeson prefers to use the Dunlop Cry Baby Wah to help his solo parts stand out. You can hear Lifeson rock the wah pedal on songs like Cygnus X1 and countless other riffs throughout the Rush repertoire.
Boss CE-1 Chorus
Chorus is a big part of Alex Lifeson's unique sound. His go-to chorus pedal is the Boss CE-1 Chorus. It has been a staple for Lifeson since the A Farewell to Kings tour in 1977.
In the later tours, Lifeson swapped from having a chorus foot pedal to a rack-mounted chorus effect. That way, his sound engineer can manage the chorus instead of him having to worry about switching the pedal on and off while he's rocking the house on stage.
TC Electronics 1210
For the Power Windows tour in 1985, Lifeson swapped out his chorus foot pedal for a rack-mounted TC Electronics 1210. The 1210 is a spatial expander and chorus flanger that helps Lifeson create his unique Rush sound.
Lifeson loved the sound of the TC Electronics 1210 so much that he's had the same exact unit in his rack for over 30 years!
Piezo Switcher
Alex Lifeson loves to have piezo pickups and dual outputs built into his guitars. He has them on many of his Les Pauls, including his signature Axcess Les Paul. To help him blend the acoustic-sounding piezo and the magnetic pickups, he has a piezo switcher on his pedalboard.
The second output jack on his guitar is just for the piezo pickup. Lifeson runs that second output into the piezo switcher on his pedalboard, so he can turn the piezo on and off with the touch of his foot. That way, he can easily blend in the piezo or use it for straight acoustic sound.
Moog Taurus Bass Pedal
For some of the synth-heavy songs, Lifeson uses a Moog Taurus Bass Pedal to add some chords and synth bass sounds without having to put down his guitar.
The Moog Taurus Bass Pedal looks like a small keyboard that fits on Lifeson's pedalboard. The keys are elongated so Lifeson can press them with his feet while still playing guitar. Lifeson's Moog is preset with a few bass sounds and some samples.
Geddy Lee also has a set of Moog Taurus Bass Pedals on his pedalboard, preset with different sounds. That's how a three-piece rock band can produce sounds that even five-piece bands would struggle with!
Wrap Up
Lifeson began his musical journey at a young age, playing the viola. When he was 12, he was given his very first guitar as a Christmas present and renounced the viola forever in favor of shredding the guitar. Growing up, his musical idols included other legendary rockers like Jimi Hendrix, Jeff Beck, Pete Townsend, Jimmy Page, and Eric Clapton.
Surprisingly, Alex Lifeson is mostly self-taught. He took a few classical guitar lessons from a friend when he was young, but he mostly sat by his record player trying to learn the solos from his favorite guitarists. In an interview with Vintage Guitar magazine, Lifeson joked that Hendrix absolutely blew his mind, but "there was no thinking about ever reaching his level." He found Clapton's solos much more approachable, so that's how he learned to play.
In 1963, at only 10-years old, Lifeson decided to form a band with his neighbor John Rutsey, who played the drums. They recruited bassist and vocalist Jeff Jones and became The Projection, which eventually became Rush in 1968. When Jeff Jones left the band, he was replaced by Lifeson's high school friend Geddy Lee. Once Neil Peart replaced Rutsey as the band's drummer in 1974, the trio stuck together and changed the musical world for the next four decades!
That does it for this overview of the Alex Lifeson Guitar collection. Let us know if you have any questions or comments below!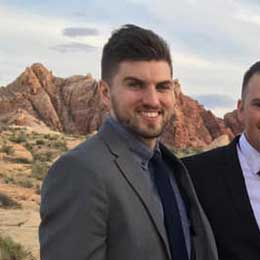 My name is Chris and I've had a passion for music and guitars for as long as I can remember. I started this website with some of my friends who are musicians, music teachers, gear heads, and music enthusiasts so we could provide high-quality guitar and music-related content.
I've been playing guitar since I was 13 years old and am an avid collector. Amps, pedals, guitars, bass, drums, microphones, studio, and recording gear, I love it all.
I was born and raised in Western Pennsylvania. My background is in Electrical Engineering, earning a Bachelor's degree from Youngstown State University. With my engineering experience, I've developed as a designer of guitar amplifiers and effects. A true passion of mine, I've designed, built, and repaired a wide range of guitar amps and electronics. Here at the Guitar Lobby, our aim is to share our passion for Music and gear with the rest of the music community.