Bluegrass music has a charm all its own, and learning to play traditional bluegrass songs will enrich any guitarist's skills, repertoire and broaden their musical horizons. And if you're worried that bluegrass songs may be too complex or tricky for you to play, don't worry.
Even if you're a beginner on the guitar, don't worry. We've put together a list of 40 easy bluegrass guitar songs for beginners that'll familiarize you with this unique genre real quick. Scroll down to learn them all.
Here is a List of Easy Bluegrass Guitar Songs
1. Keep on the Sunny Side by The Carter Family
This popular tune was written way back in 1899 by Ada Blenkhorn, who was rather struck by her differently abled nephew's request of always wanting his wheelchair pushed down "the sunny side" of the lane. In 1928, famous American folk music group, The Carter Family recorded their own rendition of "Keep on the Sunny Side" and turned it into a radio sensation, inspiring many bluegrass versions of the song.
In their inventive, signature style, the Carters played the melody notes on the bass strings, while all the strumming took place on the treble strings. We've linked a super easy three-chord version of the song to help you get started.
2. On Top of Old Smokey by The Weavers
"On Top of Old Smokey" is one of the folk songs that most Americans have heard in their childhood but are clueless about the recordings that made them famous in the first place. In the case of this old Appalachian tune, it was the 1951 recording by folk group The Weavers that took it mainstream. The group's cover became quite a rage, enjoying an impressive run on the charts and clocking over a million copies in record sales.
What makes this song such a great pick for new learners? For starters, it has only three chords! That's right! You only need C, F, and G7 chords to make this song happen. It also has a slower tempo and is played with three beats per measure.
3. Kentucky Girl by Larry Sparks
For those of you new to the guitar as well as the bluegrass genre, it cannot get easier than "Kentucky Girl" by Larry Sparks! A capo on the second fret and just two chords- G and D- are all it takes to play this gorgeous song. A tender love ballad delivered in traditional bluegrass style by Sparks, "Kentucky Girl" is a joy to play. Check out the tabs above and add this to your vault. You won't be disappointed!
4. Nine Pound Hammer by Flatt & Scruggs
Nearly every big name in the bluegrass genre has recorded their renditions of this emotionally charged work song used by railroad laborers in post-Civil War America to motivate each other to keep going. What's wonderful about "Nine Pound Hammer" is it sounds great in both fingerstyle and flatpicking. There are so many fantastic versions varying in style and skill level, but the one we've got here for you is perfect for beginners!
Lester Flatt & Earl Scruggs' up-tempo version can be played with just three easy chords- G, C, and D in a straightforward strum pattern. Once you've got the easy version down, you can branch out to Tony Rice's mind blowing solos in his relatively complex flat-picked cover of this classic Bluegrass tune.
5. Blackberry Blossom by Norman Blake & Tony Rice
Ask any bluegrass aficionado to pick a song they'll recommend to get acquainted with the genre. Chances are high it'll be the famous "Blackberry Blossom." Now a bluegrass standard, the tune was first brought to public attention by old time fiddler Arthur Smith. Since then, the tune has been in countless covers and included in over 250 tune books!
The version we're referring to here features flatpicking royalty Norman Blake, Tony Rice, and Doc Watson. Although all three have released their own interpretation of the tune, we'd like you to check out the one featured in their collaborative album Norman Blake and Tony Rice 2.
It's a pretty face-paced melody which can seem a bit challenging at first. But don't fret, as the chords are relatively easy to tackle and go in a short strum pattern. You'll need to focus on switching from one chord shape to another but with a bit of practice, you'll get there. Check out the tabs to get started!
6. Wildwood Flower by The Carter Family
Next up is a classic American song with ubiquity among Bluegrass musicians. A variant of the famous folk tune "I'll Twine 'Mid the Ringlets" by Joseph Philbrick Webster, "Wildwood Flower" was first recorded by the original Carter Family in 1928, but the Carter Family's version firmly brough the song into mainstream consciousness forever.
Even though technically this song can be categorized as a mix of country and bluegrass, there was no way I couldn't include this priceless track in the list. A bittersweet song about a promising young love that faded away with the years, this song can hit you quite hard when you're least expecting it. In their original style, The Carters employ a classic folk/country rhythm pattern and an easy chord progression, making it an excellent pick for players of all skill levels.
The lyrics talk about how a young, carefree and beautiful woman was promised love by a man, who failed to honor his commitment, and left her in the lurch and heartbroken. With multiple rhythm guitars, vocal harmonies, mother Maybelle Carter's prodigious guitar playing and the longing in her voice, this track showcases Bluegrass's signature melancholy at its finest.
It'll be a good idea to first master the tune the way it is played in the original record by using Carter-style picking where the melody is played on bass strings and rhythm on treble strings. From there, move on to the crosspicking version which is how it's played by Bluegrass guitarists. We are linking tabs to the original as well as the Bluegrass version above.
7. Little Lion Man by Mumford & Sons
Influential British roll-rock group Mumford & Sons' Grammy-winning debut single "Little Lion Man" is a brilliant blend of bluegrass country rock that'll keep you hooked from start to finish. A bluegrass banjo, piano, bass, acoustic packed instrument arrangement, and catchy harmonic vocals (never mind the profanity!) all come together in creating the iconic shout-along style that's inspired many groups since.
To play this song, you'll need to tune your guitar to a variant of Open C, which goes, C-A-C-G-C-E and slap on a capo on the 5th fret. Chords are fairly easy, but as in the case of bluegrass, rhythm is key, which is quite fast here. It'll be a good idea to use a thinner pick to support the faster tempo.
8. Man of Constant Sorrow by Soggy Bottom Boys
The origins of this Bluegrass classic can be traced to a folk song published way back in 1913 by a fiddler from Kentucky, Dick Burnett. Since then, "Man of Constant Sorrow" remained relatively unknown until it was brought into prominence by influential bluegrass duo The Stanley Brothers in the 1950s. This highly recognized tune was covered by well-known musicians like Bob Dylan, Joan Baez, Judy Collins, and more recently by the Soggy Bottom Boys for the 2000 film O Brother, Where Art Thou?.
The most beginner-friendly version of the song is played in Drop D tuning with a capo on the 3rd fret. If you know Dsus2, Asus2, and G chords, then you're sorted. You can also play this using E, A, and B7. Try mastering the chords with downstrokes before taking on the actual strum pattern.
9. Cripple Creek by Bill Monroe & His Bluegrass Boys
An Appalachian folk melody from the mid 19th century, "Cripple Creek" is a popular bluegrass jam and typically one of the first songs taught to bluegrass banjo or guitar learners. Although recorded extensively by many bluegrass greats, the versions that are credited for taking this tune to a wider audience are by Bill Monroe and His Bluegrass Boys and Flatt & Scruggs.
Bill Monroe's cover is incredibly easy and can be nailed using just three chords- G, C, and D. Sure, the fiddle gets quite fast, but all you need is to focus on the timing and chord changes to lay down a solid rhythm.
10. Foggy Mountain Top by The Carter Family
It's pretty evident from the number of times the name "Carter" pops up on this list the incredible amount of influence this trailblazing group had on setting the Bluegrass genre into motion!
Originally recorded in 1929, "Foggy Mountain Top" has been covered by the likes of Doc Watson, Earl Scruggs, Ricky Skaggs, Bill Monroe, and Chet Atkins, just to name a few. The most simplified version of the original, tailored for guitarists of beginner skill level, uses three chords- G, C, and D7. It's fast in tempo and played in an easy down-down strum pattern—all in all, a great song to warm up to the genre. If you're looking for easy bluegrass songs to play on guitar, this is one I highly recommend.
11. Soldier's Joy by Jimmy Driftwood
Make way for one of the most recognized tunes in the bluegrass world, "Soldier's Joy," will make for a great addition to your bluegrass repertoire. As the name suggests, this is a lively, uptempo melody that traveled from Scotland to the US, where it became one of the most played old-time fiddle pieces.
Though there are many versions of this tune that vary in skill level and complexity, the most suited from a novice's point of view is Jimmy Driftwood's three-chord rendition. The prolific country singer-songwriter and multi-instrumentalist composed over 6,000 folk songs, many of which attracted numerous covers. You can play his interesting take on "Soldier's Joy" with three beginner-friendly chords- G, D, and C. This is one of my personal favorite bluegrass guitar songs.
12. Rocky Top by Osborne Brothers
Despite its relatively short, two-and-a-half-minute length, "Rocky Top" makes its way into your heart with its upbeat pace and thought-provoking lyrics about a person who misses a simpler way of life in the hills of Tennessee.
This well-known bluegrass song was written by Felice and Boudleaux Bryant and recorded by the Osborne Brothers in 1967. Since its release, "Rocky Top" has inspired many covers and is a frequent feature at sporting events in Tennessee-based schools and colleges, including the University of Tennessee. The original is played in the key of B, which can get tricky for beginners. However, a capo on the 4th fret will tweak the key to G and place it well within reach of new guitarists.
13. Shady Grove by Jerry Garcia & David Grisman
The Bluegrass repertoire is teeming with brilliant renditions of traditional Appalachian folk tunes that it's hard to pick just one. The same holds true for "Shady Grove," with many iconic versions of this piece by influential heavyweights of the genre like Doc Watson, Tony Rice, Billy Strings, Bill Monroe. To me, it's legendary guitarist Jerry Garcia and mandolist David Grisman's interpretation of "Shady Grove" that sounds most alluring!
Their take on the classic is powered by Garcia's signature vocals and his phenomenal guitar skills with Grisman working his magic on a mandola. The string interplay between Garcia and Grisman will simply take your breath away! For beginners, we've found tabs that will enable you to play this version with just two chords- Dm and C.
14. Old Joe Clark by Misc (Traditional)
A frequent feature at Bluegrass jams and country dances, "Old Joe Clark" transports you and your audience to the mountains of Kentucky every time you play it! The song's playful and quirky lyrics chronicle the life of and death of a Kentucky Mountaineer who went by the name of Joseph Clark.
It's a mid-tempo tune based on an A major scale with hints of blues scale like the flatted 3rd and 5th. If it sounds a bit intimidating at first, it's because of all the complex fiddle parts. The guitar work is not challenging and fairly straightforward. A capo on the 2nd fret and three chords-G, D, and F are all you need to play this iconic tune!
15. Roll In My Sweet Baby's Arms by Buck Owens
An uptempo bluegrass masterpiece that'll have you tapping your feet before you know it! Like most folk tunes, "Roll In My Sweet Baby's Arms" has been recorded by many artists like Glen Campbell, Dolly Parton, and Hank Wilson.
The legendary Flatt & Scruggs and the Foggy Mountain Boys introduced or rather re-introduced the tune to Americans in 1951. But the most commercially successful was released by Buck Owens in 1971, which grabbed the number 2 position on US Billboard Hot Country Singles and the top spot in Canadian RPM Country Tracks. We've added the tabs to Owens' chart-topping version above. You'll really enjoy playing this one!
16. Blue Moon of Kentucky by Bill Monroe & His Bluegrass Boys
There's a reason Bill Monroe keeps popping up on this list; after all, the man with his high energy, fast-paced style of country music invented the bluegrass genre. "Blue Moon of Kentucky" is one of Monroe's best-known compositions, which inspired many acts in bluegrass as well as country and rockabilly.
The classic is sometimes mistaken to be an Elvis original after the legendary musician released his rockier rendition seven years later. Presley's distinctive take on his waltz-paced original nudged Monroe into re-recording it. This particular version started off slow like the original but surged in tempo, making it faster than Presley's cover.
Monroe loved the tweaked version so much that he stuck to it for the rest of his performances. In 1988, Monroe's masterpiece was chosen as the official bluegrass song of Kentucky and made it to number 11 on CMT's list of 100 Greatest Songs in Country Music in 2003.
17. Uncle Pen by Ricky Skaggs
Catchy is what comes to mind when you first hear "Uncle Pen"! With its up-tempo rhythm and infectious vibe, the song never fails to get the crowd going! The track was originally written and recorded by the "Father of Bluegrass," Bill Monroe, who based it on his uncle who also inspired him to embark on his musical journey.
The most popular cover of this 1950 classic came three decades later when it was recorded by 14-time Grammy-winning artist Ricky Skaggs in 1984. His version wooed critics and fans alike, racing all the way to the number one spot on Billboard Country Chart. The mainstream success of Skaggs' cover was pivotal in taking bluegrass to a wider, more diverse audience. If you're looking for easy bluegrass guitar songs for beginners, this is a great option.
18. Whiskey Before Breakfast by Misc (Traditional)
Want to hone your flatpicking skills? Look no further than this hugely popular song that's still a hot favorite in bluegrass circles. Believed to have been inspired by a traditional Appalachian tune, "Whiskey Before Breakfast" has attracted many fantastic versions over the years. While Norman Blake and Tony Rice's improvisation on the classic can get a tad challenging for beginners, we've managed to dig out a much-simplified way for you to get acquainted with this tune. You'll be playing this particular version in the key of D with four basic chords- D, G, A, and Em. Click the tabs above and flat pick away!
19. Freeborn Man by Tony Rice
Flatpicking legend Tony Rice's signature tune is not exactly beginner-friendly fare, but it's such a transcendent piece that I couldn't help myself from including it here. Originally written by the Outlaws, Rice's bluegrass cover was released in his 1974 album Guitar. Powered by his inimitable picking, breathtaking intro licks, and a phenomenal solo, the track is an absolute masterpiece! If you fancy a challenge, do give this one a shot! Thankfully we've found a version that's easy on new learners. You'll be playing it with a capo on the third fret using G, C, D, and G7 chords.
20. Big Mon by The Gibson Brothers
Big Mon is the kind of song that'll make you want to get up and dance, even if you don't know how to! Originally performed and composed by the father of Bluegrass Bill Monroe, Big Mon is actually a Northern Irish/Scottish slang which means a really strong and physically powerful man, and this thrilling instrumental does sound like a Big Mon chasing someone down crowded streets and Irish pubs. You can definitely hear the Celtic influence in the song.
The steady groove of the double bass, the hectic but energetic mandolin, the swaying violins, the guitars and the sudden finish create such a heady, festive atmosphere that you won't forget this song for a long, long time to come! Big Mon is a staple at a lot of Bluegrass concerts – I especially like the cover by The Gibson Brothers.
21. Angeline the Baker by Stephen Foster
An old time American tune, Angeline the Baker has origins in an emotional song by Stephen Foster for the band the Christy Minstrels as far back as 1850. This bittersweet track talks about a person sold into slavery who is remembering his young love that he lost. The song's upbeat energy and melody sometimes makes you forget the central theme of the song, but I believe it's important to remember its lyrical roots, so we can honor its origin.
The song's lyrics have gone through what is known as the 'folk process', which means that the original lyrics have been adapted and transformed across generations. The song is popular both as its instrumental version, as well as the one without the lyrics. The instrumental version is an absolute riot of brilliance – the fiddle, mandolin, bass, guitars, all come together for a phenomenal experience. The chores of the track are pretty standard – G, C, Em and D – but the rhythm pattern is pretty fast and furious, so you'll have to keep up! If you have friends that are violinists and double bass players, ask them to come over and jam on this beauty. You won't regret it!
22. Mountain Dew by The Stanley Brothers
Also known as 'Good Ol' Mountain Dew' or 'Real Ol' Mountain Dew', this song is an Applachian folk track composed by Bascom Lamar Lunsford, which was later adapted by his friend Scott Wiseman in 1935. And no, the song is not about the soft drink but about the original 'Mountain Dew', by whichI mean Moonshine! At the time when it was written, America was in the Prohibition era, where sale of alcohol was illegal. However, the state of North Carolina maintained their tradition of brewing the illegal form of whiskey called 'Moonshine'. Quite a colorful history already.
But it gets more interesting – the story goes that Lunsford's pal Scott Wiseman was looking for a final song to complete his album as the music duo Lulu Belle and Scotty. He heard Kunsford's version and asked if he could use the song in his album, to which Lunsford responded by selling it to him for a mere $25! But Wiseman honored his promise by making sure that Lunsford received 50% of all royalties from the song up to his death. Check out this vibrant version of this iconic song by The Stanley Brothers.
23. Beaumont Rag
Before the oil boom, Beaumont was just an average coastal Texas town. However, when oilers struck liquid gold, its population multiplied as there was lots of money to make. Even though the song's origin remains a mystery, it's safe to say the unknown composer thought the town was significant enough to honor it in a piece. Fiddler Samuel Morgan Peacock first recorded the song in 1929.
The "Beaumont Rag" melody features a lot of flat thirds. In Doc Watson's twelve-string guitar version, he lets the notes ring out with the open strings, creating a fascinating dissonance. One thing to note about the rhythm part here is that the song begins on the V chord instead of the I chord we typically see. The song also features a fundamental Bluegrass technique in guitar called cross-picking, which is when you use alternate picking to arpeggiate a chord.
24. Arkansas Traveler
You might recognize the melody of this diddy. The tune was popularized as a children's song, "Baby Bumble Bee." Little do most people know the original song called "Arkansas Traveler" is bluegrass standard. It's one of the must-know-songs at every bluegrass jam and is an excellent entryway into Flatpicking.
"Arkansas Traveler" is usually played in the key of D, either in the open D or C chord shape, with the capo at the second fret. For the most part, the melody stays within the diatonic major scale. You may experiment by adding blue notes like the flat 3rd or flat 5th. Coming up with your variation on these Bluegrass songs is part of what makes the genre so fun to play. The song follows an AABB structure, prominently relying on the key's I, IV, and V chords. Once you get the "Arkansas Traveler" or "Baby Bumble Bee" melody in your ear, try your hand at playing the melody. The tune moves in steps and skips and is a great exercise to practice alternate picking.
25. Banks of the Ohio
Like many American folk songs, "Banks of the Ohio" comes from an unknown author. Songs in this tradition were passed along orally, inspiring different versions and variations, which might be why the song is also known as "Down on the Banks of the Ohio" and "I'll Never Be Yours." First recorded in 1927 by Red Patterson's Piedmont Log Rollers, this murder ballad tells a story of unrequited love. After his lover rejects his marriage proposal, the character in the song "Willie" murders her on the river bank. Many country and folk singers, including Doc Watson and Tony Rice, have recorded the song.
This version of the song incorporates melody and chords, making it great for solo guitar. The rhythm sticks to the beat, and the notated chords are the easy open chords that only use the top three strings. Try performing the song with the full chords once you have a handle on the melody and the easy version.
26. In the Pines
The song "In The Pines" dates back to at least the 1870s and appears as other titles, including "Where Did You Sleep Last Night," "My Girl," "Hey Girl," and "Black Girl." Although it was recorded in different styles, the tune was made famous by bluegrass godfather Bill Monroe and blues trailblazer Lead Belly. In 1993, Nirvana recorded a version during their MTV Unplugged performance.
While most bluegrass songs are written in a 4/4 time signature, "In The Pines" sways in ¾ time. Feeling the waltz might be challenging, but counting aloud and emphasizing the "one" as the strong beat will help. If you are having difficulty switching chords, practice changing two chords at a time out of tempo. Then start to try it while keeping the beat.
27. Blue Ridge Mountain Blues
The Blue Ridge Mountains are part of the greater Appalachians mountains on the eastern side of the United States. Known as "mountain music," bluegrass repertoire honors its geographical origins. Though "Blues" is part of the title, country, and blues music have always shared tunes.
This "Blue Ridge Mountains" version features slides, hammer-ons, and pull-offs. Although these are advanced techniques, they are sounds only guitarists can make. It's essential to have these in your toolbox. Idiomatic of the blues, the song includes a flat third over the C chord, which is Eb. Try exploring this sound by resolving either to the C or E.
28. Duelin' Banjos
"Duelin' Banjos" has become one of the most instantly recognizable tunes thanks partly to its feature in the 1972 film Deliverance. Though it was initially written in 1954 by Arthur "Guitar Boogie" Smith, who recorded it on banjo, the song hit peak popularity on its second motion picture appearance. In 1962, the song appeared on the Andy Griffith Show. "Duelin' Banjos" has since become iconic of Southern living.
In the tutorial here, we dip into some Flatpicking. Since most songs of the folk tradition were taught aurally, it is advised first to be able to hum the melody. Then see if you can figure it out on your own. Developing your ear will not only make you a better guitar player but a better overall musician.
29. Foggy Mountain Breakdown
"Foggy Mountain Breakdown" is an instrumental by the banjoist Earl Scruggs. The song was first recorded in 1949 by Flatt & Scruggs and the Foggy Mountain Boys. As part of its title, the song follows a "breakdown" format. Each instrument gets a go at the melody. Fun fact: The theme is similar to Bill Monroe's "Bluegrass Breakdown," which Scruggs helped write.
The chords for "Foggy Mountain Breakdown" are familiar open chords and only include three chords in the whole song, which makes this a great beginner song. To spice up your rhythm playing, try and incorporate some different walk-ups. Think of the chord's root stepping into the next chord's root. First, try it diatonically, moving as a major scale, then try and get fancy by adding some chromatic half-steps.
30. The Red Haired Boy
"The Red Haired Boy" is unique because not only will you hear this fiddle tune at Bluegrass jams, but you may hear it at Irish jams as well. The song's origins and wild folktale can be traced back to the United Kingdom in the mid-1800s. For Flatpicking inspiration, listen to Tony Rice's version.
"The Red Haired Boy" is composed in the Mixolydian mode, which is like a major scale but with a flat 7. Many fiddle tunes are in this mode, so it is important to familiarize yourself with the sound. The rhythm part follows a typical Carter Family-style "boom-chick" pattern. As always, it is best to learn the rhythm before you start learning the melody. Knowing the chords will make learning the melody much easier. When my students as me for easy bluegrass songs, this is one I always tell them to learn.
31. Salt Creek
"Salt Creek" was recorded by Bill Monroe on his record label Decca in 1963. But the tune was known much earlier. It is believed that for marketing purposes, they changed the title from "Salt River" to "Salt Creek" to avoid audience confusion over similarities with another one of his singles, "Big Sandy River." The original "Salt River" was recorded in 1929 by the Kessinger Brothers. Hobart Smith made things more complicated by registering it later as "Pateroller," even though that was already its separate song.
For "Salt Creek," you must use a capo at the second fret. You can play everything in the key of G, but the capo will put the song in A. You can use all the chord shapes in G; move up two frets. The song has a Mixolydian sound similar to "Old Joe Clark." Hearing the song in that mode may take some time, but listening to it multiple times will help familiarize your ear.
32. Turkey in the Straw
Although "Turkey in the Straw" has had a questionable past appearing in minstrel shows post-Civil War, the tune has become part of the Bluegrass repertoire. The song might have roots in older ballads from the United Kingdom. You might recognize the melody as the song "Do Your Ears Hang Low." Use your discretion. Play it or skip it due to its racist origins. We won't judge.
"Turkey in the Straw" will improve your flatpicking skills. Primarily written as sixteenth notes here, the melody has some slight rhythmic variations, including eighth notes. If you are having trouble playing the rhythm, try patting your lap along with the melody's rhythm. The better you can internalize the melody and rhythm, the better you will be at performing it.
33. Wabash Cannonball
During the 1920s, railroads began to connect major US cities as the need to transport goods and people grew. Trains became a significant source of inspiration for folksongs, blues, and country. "Wabash Cannonball" was written about a fictional train on the Great Rock Island Railroad, which tracked through the Midwest, south, and Westward. The lyrics capture the scenic beauty of the journey and have become a staple in the country and bluegrass repertoire. The Carter Family recorded a version of the song in 1929.
"Wabash Cannonball" is an excellent jumping-off point for guitarists looking to spread their feelers into bluegrass music. The version provided here uses hammer-ons, pull-offs, slides, and double stops–all the techniques needed to become proficient in the style. Observe the chords at the top of the measures and try playing along with the instructor. Then try your hand at learning the melody. If you are unsure about the picking hand, remember that flat pickers usually subscribe to a strict down-up alternate picking. Downstrokes should line up with the strong beats, while upstrokes should line up with the weak beats.
34. Wayfaring Stranger
"Wayfaring Stranger" was first published in 1858 but was likely to have been composed earlier in the decade. Considered an American folk and gospel song, It's a song about a sad character traveling through life. In 1944, it became Burl Ives' signature song, and later versions have been recorded, including Johnny Cash in 2000. The song has since been enjoyed in Bluegrass circles and is considered a standard at any Bluegrass jam session.
Most of our Bluegrass songs have been in the key of G major. "Wayfaring Stranger" changes things up. The song, set in A minor, evokes a moodier vibe with its tonality, which captures the "lost soul" sentiment of the lyrics. Some of the minor chords might be new to you but are to learn as they will be found in many other songs you choose to learn. The F chord is typically a barre chord that challenges beginner guitarists. If it's too tricky holding down more than one string with one finger, you can choose to play the easier version from the video. If that is still too hard, try only playing the top four strings. If that doesn't work, play the top three strings. Still too hard? Substitute the chord for a D minor.
35. Will the Circle Be Unbroken
The Carter Family popularized this Christian Hymn by recording the song in 1935. "Will the Circle Be Unbroken" was written in 1907 by Ada R. Habershon with music by Charles H. Gabriel. Since then, the song has been rerecorded by many artists, including Bill Monroe, John Lee Hooker, and Greg Allman, and has appeared in many TV shows and films. "Will the Circle Be Unbroken" has a catchy melody and is an excellent song for a Bluegrass beginner for its "boom-chick" rhythm.
"Will the Circle Be Unbroken" is a short 16-bar tune. Usually, Bluegrass tunes are around 32 bars, but this song doesn't feel odd. While playing the rhythm part of these songs, keeping steady time is essential. Try practicing with a metronome or with tapping your foot. You want to be solid with your time, especially when playing with other musicians. When you feel comfortable and ready, try adding a G7 chord right before the C chord. This slight movement will add a push to the next chord that is pleasing to the ear.
36. Orange Blossum Special
"Orange Blossom Special" was inspired by a train with the same name. Connecting railroads from New York City to Miami along the eastern side, it was a luxurious passenger train erected to cash in on the booming development in Florida during the mid-1920s. "Orange Blossom Special" became a fiddle tune written by Ervin T. Rouse and recorded by Ervin and his brother in 1938 and 1939, respectively. Also known as "The Special" or "OBS," the song has been recorded by many artists, including Bill Monroe, Johnny Cash, and Doc Watson. The song is popular amongst fiddlers and is also called "the fiddle player's national anthem."
The rhythm part of "Orange Blossom Special" can be tricky to master. Unlike most songs, it starts on the V chord. It might sound weird when you cycle through the chord progression because it doesn't feel like it resolves at the top of the form. Listen to the song multiple times to get the chord movements in your ear. Try playing along with the instructor. Sometimes, visualizing the chord chart will help you stay on track with the song.
37. Roanoke
"Roanoke" is an instrumental written and recorded by Bill Monroe in 1955. Likely referencing the Virginian city in the Blue Ridge Mountains, the song has been recorded by many Bluegrass artists, including Lester Flatt, David Grier, and Bryan Sutton. Though the song is ordinarily performed at a fast tempo, there's no shame in taking it at your own pace.
Bluegrass music is known for its fast tempos and long, flowing eighth-note lines. "Roanoke" succeeds in living up to this. Here are the tabs for Bryan Sutton's version of the tune. One of the best ways to improve is to learn from the best, and Sutton proves he's one of them. The song is ripe with hammer-ons, pull-offs, and double stops. These are techniques that all guitar players should learn. Be patient with yourself and work slowly. Take small chunks and start to put them together. Nobody becomes a Guitar Hero overnight.
38. Kentucky Waltz
"Roanoke" is an instrumental written and recorded by Bill Monroe. Monroe is considered the father of the Bluegrass style; it comes as no surprise that the next tune, "Kentucky Waltz," was penned by the prolific mandolin player. The song, written in 1946, was one of Monroe's most successful releases, peaking at number three on the Country & Western charts. The lyrics tell of a bereft lover, alone in the moonlight, wishing "once more for your embrace in that beautiful Kentucky waltz."
Since our song is a waltz, we will count three beats per measure. The lesson here gives us the strumming pattern to master this and other songs in ¾ time. Like the Carter Family rhythm pattern, you will alternate between the bass and treble. Only your pattern will be "boom-chick-chick" instead of the even one. What's nice about this version is the extended chords. The top voice has movements leading to the next chord, creating a nice little countermelody to accompany the rhythm part.
39. Bill Cheatham
The song "Bill Cheatham," like many songs on our list, comes from a shaky origin. Believed to have been composed in the South, Eck Roberston first recorded in 1922, then again in 1929. However, earlier records find the tune mentioned in a 1901 newspaper story about a fiddlers contest in Kentucky. These fiddle contests were put on to showcase the players' virtuosity at the time. "Bill Cheatham" is now enjoyed by Bluegrass guitar players equally alike.
Many fiddle tunes are meant to demonstrate a musician's virtuosity. "Bill Cheatham" is no exception. Luckily the rhythm part stays pretty simple, using a typical I, IV, V pattern. When you start learning the melody, take it slow and practice it in sections. You don't want to try and tackle the whole thing right away. Take it two measures or even one measure at a time, and try to get the melody in your ear. The quicker you can hear it, the faster you can play it.
40. Gold Rush
"Gold Rush" is yet another Bill Monroe special. Like most fiddle tunes, the instrumental follows an AABB form. Monroe recorded the song in 1967, which has since been rerecorded by other Bluegrass artists such as Don Crary, Mark O'Connor, Tony Rice, and David Grier. Although Monroe gets official credit for writing the song, it is believed that one of his fiddlers at the time, Bryon Berline, actually wrote the tune. Most of those musicians, including the 60-some fiddler players he employed throughout his career, went on to start their bands or have successful careers on their own.
The song "Gold Rush" might feel intimidating for a Bluegrass greenhorn. The twisty melody and quick alternate picking make it seem challenging. First, learn the Carter Family style "boom-chick" rhythm part; if someone calls the tune at a jam session, you can still play along. The tricky part might be remembering how many times to strum each chord. Be sure to count along while you play it. The quicker you can internalize it, the easier this song and other songs will become.
Final Thoughts:
We hope you enjoyed learning how to play these easy yet iconic bluegrass songs on the guitar! We've kept the list as a mix of the legendary classics as well as some of the newer songs that you must know. It's pretty incredible to see how musical traditions originate and evolve over hundreds of years, transforming into a crucial part of our cultural history. The evolution of bluegrass music has seen a similar journey, and contemporary bluegrass guitarists are proudly carrying forward this genre's rich history.
If you're looking for more easy and amazing songs to play on the guitar, do check out our articles on easy folk guitar songs, easy indie guitar songs, easy two chord guitar songs and easy one string guitar songs. Happy learning!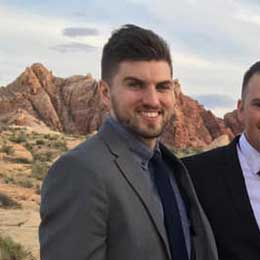 My name is Chris and I've had a passion for music and guitars for as long as I can remember. I started this website with some of my friends who are musicians, music teachers, gear heads, and music enthusiasts so we could provide high-quality guitar and music-related content.
I've been playing guitar since I was 13 years old and am an avid collector. Amps, pedals, guitars, bass, drums, microphones, studio, and recording gear, I love it all.
I was born and raised in Western Pennsylvania. My background is in Electrical Engineering, earning a Bachelor's degree from Youngstown State University. With my engineering experience, I've developed as a designer of guitar amplifiers and effects. A true passion of mine, I've designed, built, and repaired a wide range of guitar amps and electronics. Here at the Guitar Lobby, our aim is to share our passion for Music and gear with the rest of the music community.