Buckethead is about as unique of a guitar player as they come. He needs no partners in crime to thrive, some may consider him a gun for hire, and certainly one of the most sought after in Rock's experimental elite. Additionally, this is the man credited for bringing a whole new gritty and aggressive grime to Guns N' Roses, perhaps his most notorious collaboration.
But Buckethead's massive collab list doesn't stop there, other acts include Colonel Claypool's multiple brigades, Bootsy Collins, Iggy Pop, Serj Tankian, Mike Patton, and even Viggo Mortensen to name a few.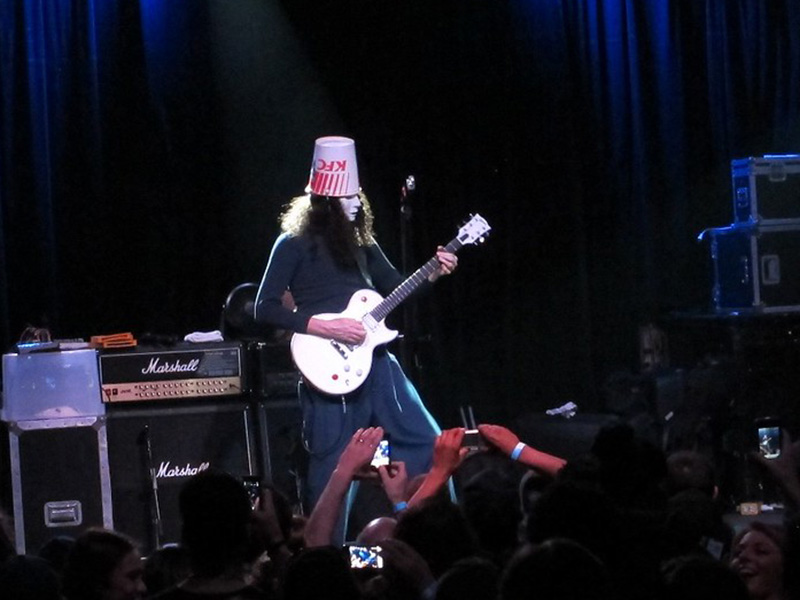 His "avant-garde" musicianship has flourished in a unique blend of progressive metal, rock, bluegrass, and electronica all melted down into one of the industry's most appealing acts when riding solo.
What Guitars Does Buckethead Play?
Buckethead is best known for playing customized Gibson Les Paul guitars. Gibson produced a signature model of his notorious white Les Paul, first issued in 2001, and complete with customized fretboard, baritone scale length, and red kill switches. He has also played other guitars.
See the full list of Buckethead guitars and gear below.
Gibson Buckethead Signature Les Paul

| | |
| --- | --- |
| Finish | Alpine White |
| Years Used | 2001 to 2012 |
The Buckethead Signature Les Paul is the most iconic and battled guitar in this catalog. Ever since it's very first issue back in 2001, it's a rare sight to see the KFC man without this tailored-made LP in his hands. From a few solo tenures like 2002s "Electric Tears" and 2005s "Enter the Chicken" all the way to his long involvement with Guns N' Roses and their 2008 release "Chinese Democracy" and the OST for the horror franchise "Saw" this six-string saw some extensive use in at least 13 albums.
The model was designed by Gibson specifically for Buckethead, keeping in mind his complaint of average-sized guitars looking like toys in his hands, quite understandable, given his height. Buckethead stands at a towering 6'5″, with his jumbo Les Paul. He has a formidable stage presence, not to mention the ease with which he uses his instruments. The image of Buckethead playing with a white-bodied, big guitar, with white pickups and orange kill switches, has become iconic since the 2000s.
The Buckethead Signature Les Paul is finished in high-gloss Alpine White. It features no inlays on its fretboard and its neck is constructed from a single piece of solid mahogany: the guitar sports 24 jumbo frets, all immaculately dressed and polished.
Jackson KV2 KFC Custom

| | |
| --- | --- |
| Finish | White with KFC Stripes |
| Years Used | 2001 to Present |
Made for Buckethead exclusively, this Jackson takes after Dave Mustain's Y2KV which was massively produced in the year 2000. As for the Bucket man, he had gained such status that he decided to test different waters from his then go-to Les Paul, and ESPs, so he made a special order to his friends at Jackson guitars who complied with this, his signature KFC stripes and a timeless cut that has long fascinated him.
A guitar with such status that today you can find only in mini replicas, kids toys, and 3D models of the guitar for sale, all with the iconic KFC red stripes and red square kill switch. Being this a custom order rather than a partnership for a signature line means that the only real Buckethead KV2 model out there is the one that belongs to him and none other. As opposed to the original Y2KV, this one departs a little further from the Gibson flying V, sporting six-in-line tune pegs on the headstock and sporting an edgier cut to the body. As for its bridge, this KFC icon has a Floyd Rose Tremolo bridge system and DiMarzio X2N PUs pickups.
This KV KFC six-string was used in some of the most jam-packed shows in Buckethead's career, with him being a part of one of the biggest Rock 'n Roll bands of all time – Guns N' Roses. Needless to say, this particular Jackson guitar is one of the most heavily associated models to Buckethead, it's use stretches from his already cemented stardom in the 2000s all the way to the present day, and its become one of the most sought-after axes these days.
Gibson Buckethead Les Paul Studio

| | |
| --- | --- |
| Finish | Alpine White |
| Years Used | 2012 to Present |
The Gibson Buckethead Les Paul Studio is Buckethead's current live staple, it stepped up as an upgrade from its battled and worn predecessor, since he had but only 2 original Signature Gibson's it was time to renew his LP lineup with his updated preferences.
It is more or less the same as the Signature Les Paul and has the same fan favoritism attached to it. Buckethead fans love both of these guitars as they are available for sale. They sound almost identical to each other.
Specs-wise, the Les Paul Studio is similar to the Buckethead Signature Les Paul. The Studio uses Alnico 498 in the bridge and Alnico 490 in the neck instead of Burstbucker Pro pickups on the Signature. This modification gives it a slightly higher output than the Signature. The two guitars look more or less identical, with a high-gloss alpine white finish, lack of inlays, and the same orange kill switches.
Buckethead has released a whopping 284 solo albums spanning from 2013 to the present day. Most of them were recorded with the Les Paul Studio as his weapon of choice. In 2015, from October 1st to October 31st, Buckethead released one album a day with a Halloween theme. Buckethead recorded most albums from the 'Pike Series' with the Les Paul Studio.
Jackson 'Coopwood' Y2KV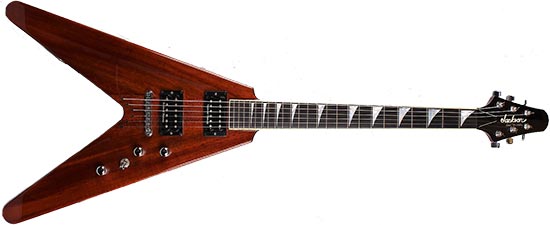 | | |
| --- | --- |
| Finish | Custom Coopwood |
| Years Used | 1998 to 2008 |
This was the first Buckethead guitar to feature a 'kill switch, one of Buckethead's most favored features for his eccentric and ever bombastic style. Reportedly, this Coopwood Jackson Y2KV was the one he used to write one of his most iconic tunes, "Jordan". Additionally, this is considered to be the elder sibling to his trademarked custom KFC V-styled Jackson guitar, in many ways, it served as a prototype to develop his preferences around the special order of the iconic red striped Y2KV.
More than being a prototype, this six saw some heavy action during Buckethead's time with Primus, and it was his main go-to during the recording sessions and live performances for his fifth studio tenure "Monsters and Robots". Additionally, this was also a main during his few years collaborating with Travis Dickerson, when the pair released their 2006 collab "Chicken Noodles".
Although this particular Jackson served him well, The 'Coopwood', just like the Air Jordan, was given to a Hard Rock Cafe in Palm Springs, California, in the mid-2000s where is now pinned in the wall for exhibition.
Jackson Doubleneck King V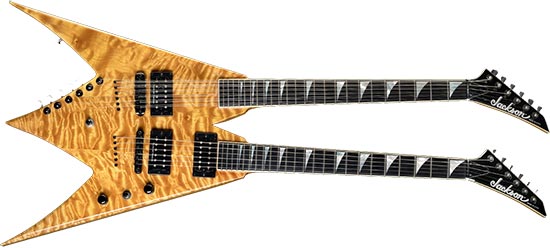 | | |
| --- | --- |
| Finish | Glossed Wood |
| Years Used | Unspecified to 2016 |
The eccentric Buckethead couldn't go for your typical EDS double-neck, reportedly he stumbled upon this 1994 custom build Jackson King V sometime in the late 90s when he first acquired it. It was featured only once, but Buckethead held onto the guitar until 2016 when he put it on sale at 16.5 thousand dollars. This was a double-necked guitar with a unique design. No one has claimed to have bought the guitar from him, so it may still be with him.
During the only performance with the guitar, it was seen with the manufacturer's tag still on it, as if he was playing it in a shop before buying it. It seems to have still had the tag attached in the photo put up during its sale, 16 years later. Typical Buckethead!
1959 Gibson Les Paul

| | |
| --- | --- |
| Finish | Cherry Burst |
| Years Used | 2001 to Unspecified |
Best known from its feature during the 2002 VMA awards, when Buckethead performed as part of Guns N' Roses, sparking a heavy comparison to Slash given his look and guitar choice towards the end of the show when performing "Paradise City". Back in 2002, the MTV Awards were one of the most anticipated shows for Axl Rose's renewed lineup, as fans were eager for the band's mainstream return, especially after introducing Buckethead as the main guitar hero to jump on-stage in a promising fashion.
This particular Les Paul is notable for its classical sunburst, no pickguard nor fretmarks, and of course its sporadic and scarce use during the remaining years of Bucket along with GNR. Although this Les Paul was a short-lived turn into tradition from a rather eccentric payer, its specific model and year of origin are yet to be confirmed. Nevertheless, it's easy to speculate that Buckethead had this guitar customized and made into a personal fit, in his footage with it, one can tell the replaced neck for a larger just like the ones in his signature models.
Buckethead barely used this sunburst Les Paul, but other sources claim that this is the guitar he used to write his part for the song "Madagascar". Whatever it may be, this Gibson staple aligned Buckethead with a momentary counterpart and Guns N' Roses forebear Slash, while the animosity of press speculation might have been bitter, it was exciting to see the Bucket man sporting a classical model while making some of his first mainstream entries.
Heartfield Talon II

| | |
| --- | --- |
| Finish | Midnight Blue |
| Years Used | 1991 to 1993 |
The Heartfield Talon II was one of Bucket's earliest guitars. In fact it was used prior to him becoming the KFC wearing enigma we know today. He customized it by adding two pink Dimarzio X2N pickups, replacing the humbuckers. This modification was probably because the Dimarzio X2N pickups were good for very high output, driving any amp into immediate breakup – leading to Buckethead's signature gain tones.
It was the guitar that Buckethead played the song "I Love My Parents" with, for the first time, in front of his family, in their backyard. He also used this guitar with Deli Creeps, a band that he played in at the time, but through that journey, Brian would acquire his serial killer look and would go on to record some of his earliest tenures. This guitar can be seen in a special DVD called "Young Buckethead". Other than his implicit story with this six-string, there's not much information regarding this quiet figure and this early guitar.
The Talon II on the other hand was released in 1990 by Heartfield (who soon went out of business) and was eventually acquired by Fender to release a Superstrat line. It was one of their last successful guitars.
Steinberger GS "Kaiser's Gift"

| | |
| --- | --- |
| Finish | Originally Natural/ Custom Painting Patterns |
| Years Used | 1991 to 2002 |
This Steinberger GS was given to Buckethead as a gift from musician Henry Kaiser. Kaiser was amazed by his guitar playing when they worked on the "Hope You Like Our New Direction" album together in 1991. He decided to give him a custom Steinberger GS. Kaiser also said that Buckethead was destined for a glorious career, and of course, he was right, and he honored his friend's words by using this particular guitar for over a decade and continuously changing its appearance.
Buckethead parted with the guitar in 2002 after holding a guitar-playing competition. The winner of the competition took it home, sadly it wasn't younger Bucket. The Steinberger GS was released to compete with the myriad of guitars meant for the well-established genres of Hard Rock and Heavy Metal. However, Gibson had not foreseen the coming of the Grunge era, which meant this guitar was never sold in record numbers and remained a rare find.
Additionally to his collaboration with Kaiser, Bucket also went into the studio to work on the electronica-based album "Bermuda Triangle" alongside Extrakd, it marked his eighth solo tenure.
Ibanez Rocket Roll X-Series 550

| | |
| --- | --- |
| Finish | Orange Burst |
| Years Used | 1995 to 1999 |
One of Bucketheads most used guitars, it was one that saw him jump into niche and then superstardom as a prolific guitarist. By 1997 several household names had already heard about Bucket, however, one of the very first to call and recruit him on tour, was one as peculiar as him, the band was none other than Primus. Reportedly, when Les Claypool met Buckethead, he had barely started using this Rocket 550 X series, and so the collaboration became his experimental phase with this model, it can be seen in the video for "Buckethead's Ballad"
This guitar featured a Schaller floating tremolo and custom egg-yolk colored double-coil pickups. Steve Blucher designed it specifically for Buckethead. The Ibanez Rocket Roll series solid body guitars debuted in the early 1970s. They were intended for Hoshino Gakki. Overall, this is one of my personal favorite Buckethead guitars of all time.
ESP "Air Jordan" (MII)
| | |
| --- | --- |
| Finish | Purple Custom |
| Years Used | 1996 to 2008 |
Buckethead has had a few ESP models in his catalog before this peculiar purple MII, and this one followed an ESP M V, that he broke after being caught in the heat of the moment. Shortly after, Bucket got himself a rather similar cut style, this MII, that he employed shortly before jumping on tour with Primus.
The origin of this guitar seems to be somewhat obscure, but it is speculated that it was given to him as a present from Primus, but that's just theories craft. Unlike his previous ESPs the guitar survived, and, like most of his previous six-strings Buckethead customized it with stickers and colored pickups, turning it into what is now known as the 'Air Jordan'.
As for its current whereabouts, the Air Jordan became one of Buckethead's most recognizable guitars and it was subsequently given to the Hard Rock Cafe in Hollywood, Florida.
Kramer Unspecified 1987 model
| | |
| --- | --- |
| Finish | Deep Blue |
| Years Used | 1988 to 1991 |
This is the first guitar that Buckethead is recorded playing with, at least as far as the public record goes. The blue Kramer is also the only guitar that Buckethead has been recorded playing without a mask on. A photo featured in the December 1989 issue of Guitar Player Magazine, a face reveal he will never be happy about.
Online forums where his fanbase regularly interacts have even banned photos of unmasked Buckethead, respecting his wish to be a private person. Needless to say, this is more a Brian guitar rather than an enigmatic Bucket one.
Yamaha CPX Compass Series Acoustic

| | |
| --- | --- |
| Finish | Vintage Tint |
| Years Used | 2005 to Unspecified |
Seen in a rare DVD special feature of Buckethead teaching a few six-string licks and tricks, as well as a few acoustic concerts and occasions. This guitar appears in the address, along with his Signature Les Paul. The CPX Compass series is Yamaha's attempt at finding the middle ground between the classic acoustic sound and plug-in performance.
1996 Vigier Excess Bass

| | |
| --- | --- |
| Finish | Violin Sunburst |
| Years Used | 1994 |
Reportedly, this is one of Buckethead's longest-running instruments to this day. It has a piece of tape stuck to its body, and it is in fact the same piece of tape.
The Vigier Excess range is most notable for being the favorite of Deep Purple's bassist Roger Glover. Vigier may be a comparatively small guitar brand from France, but they make some cutting-edge instruments. Currently available models of the Excess come with a neck of 90% Maple. The remaining 10% is a Graphite strip added for extra strength, and immobility of the neck, ensuring that the model can last another few decades.
Gibson Chet Atkins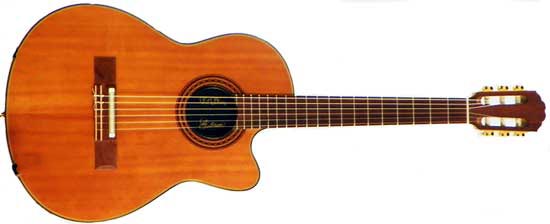 | | |
| --- | --- |
| Finish | Natural |
| Years Used | 1995 to 2009 |
Buckethead often picks up an acoustic during his live shows, and often it was this one. No effects, no kill switches, just a simple acoustic. It was largely used during the early stages of Buckethead's career, specifically during the recording sessions of "Colma" back in 1998. Additionally, he can be seen playing it during a few live shows.
This Gibson acoustic was created by combining technologies in all fronts. It was initially released as a tribute to the legendary Chet Atkins but a few years later, it simply became a staple for experimented players. It featured a light brown finish with nylon strings.
Timetable Showing Each Guitar Buckethead Has Played at Each Point of His Career
| Make | Model | Color/Finish | Years |
| --- | --- | --- | --- |
| Jackson | Doubleneck King V | Glossed Wood | Unspecified to 2016 |
| Kramer | Unspecified 1987 model | Deep Blue | 1988 to 1991 |
| Heartfield | Talon II | Midnight Blue | 1991 to 1993 |
| Steinberger | GS "Kaiser's Gift" | Originally Natural/ Custom Painting Patterns | 1991 to 2002 |
| Vigier | 1996 Excess Bass | Violin Sunburst | 1994 |
| Ibanez | Rocket Roll X-Series 550 | Orange Burst | 1995 to 1999 |
| Gibson | Chet Atkins | Natural | 1995 to 2009 |
| ESP | "Air Jordan" (MII) | Purple Custom | 1996 to 2008 |
| Jackson | 'Coopwood' Y2KV | Custom Coopwood | 1998 to 2008 |
| Gibson | Les Paul | Cherry Burst | 2001 to Unspecified |
| Gibson | Buckethead Signature Les Paul | Alpine White | 2001 to 2012 |
| Jackson | KV2 KFC Custom | White with KFC Stripes | 2001 to Present |
| Yamaha | CPX Compass Series Acoustic | Vintage Tint Natural | 2005 to Unspecified |
| Gibson | Buckethead Les Paul Studio | Alpine White | 2012 to Present |
Buckethead Amplifiers Overview
Peavey 5150
Years Used: 1993 to 2009
The flagship model of Peavey in the 1990s, the Peavey 5150, was created as a signature model for Eddie Van Halen. It was a favorite of many Rock and Roll professionals, including Colin Richardson, Matt Tuck, Dino Cazarez, and Jason Seucof. It was said to have defined a generation's guitar tone, hence its use in many of Buckethead's live performances.
The amp's name later changed to 6505 after Van Halen split with Peavey, but the 5150 model features in Buckethead's shows. This amp features four cascading preamps, 1 phase inverter, and four gain stages – allowing ultimate control over the sound. No wonder it's his favorite!
Diezel Herbert MK3
Years Used: 2000s to present
Diezel Herbert is a 180 Watt amp head. It has three independent channels, including separate EQs. It has been spotted in various Buckethead concerts, although not as frequently as the others on this list. It is one of the lesser-known models on the list. Still, its name keeps popping up on various forums, regularly being associated with Buckethead's name.
Mesa Boogie Triple Rectifier
Years Used: 1996 to Present
Since its release in 1991, the Mesa Boogie Double/Triple Rectifier range has been a force in the hard rock scene. It is one of Buckethead's favorites and features in many of his live performances. This amp has a legendary reputation as far as Rock and Roll is concerned, as one of the defining features of the '90s era, making it popular among many icons from that era. This model has 3 channel amplifiers and outputs a whopping 150W for a powerful, gnarly tone.
Marshall JVM410H
Years Used: 2013 to Present
Big names like Bon Jovi, Alice Cooper, Dave Mustaine, Arch Enemy, and Children Of Bodom have used Marshall's JVM. No wonder it is one of the most commonly seen heads in Buckethead concerts as well. It is one of the newer additions to his gear. This amp features 4 EL32 power amp valves and has a 100W output.
Marshall Slant 4×12 Cabinet
Years Used: 1990 to Present
Ancient technology as it may be, this cab is almost always present in rock performances everywhere; Buckethead's shows are no different. It's the world's bestseller in its range. A simple google search of 'Buckethead live' will give hundreds of results of him playing in front of a Marshall cab.
The entire world has seen and heard the power of a 'Marshall Stack' at some point. The classic Marshall Stack consists of two stacked 4×12s, which are loudspeaker cabinets. Each contains four 12-inch loudspeakers arranged in a square layout. An amplifier head is set on top of the speakers. These feature Celestion speakers with 300W output.
Buckethead Pedals and Effects Overview
Digitech Whammy
Years Used: 1998 to Present
The Digitech Whammy was the first effects pedal that could shift octaves with pedal controls. This made it immensely popular when it came out in the '90s. Almost every guitarist has a Whammy or a similar pitch shifter. Buckethead's favorite setting is 2 octaves up. He has been using the pedal for the past two decades, making it one of his most used effects.
Digitech Bass Synth Wah
Years Used: 2016 to Present
Part of the trio of effects called 'Three Slabs of Doom'. A fuzzier variant of the classic Wah pedal sound. Initially designed for bass guitars, it works just as well for Buckethead. The 'Three Slabs of Doom' are newer additions to Buckethead's arsenal of killer sounds.
Rocktron Intellifex
Years Used: 1988 to 1997
Buckethead used the Rocktron primarily for its pitch-shift function and Ape Voice chorus. The effect was used through his Deli Creeps days and then occasionally for live shows until 1997. Buckethead has spoken about using the Rocktron, saying he used the pitch-shift function to create his characteristic semitone clusters.
BOSS FZ2 Hyper Fuzz
Years Used: 2016 to present
One of the trios of effects is called Buckethead's 'Three Slabs of Doom'. This part of the trio gets the word 'Doom' into the name. Fuzz pedals are often used by heavier genres of Rock and Roll like 'Doom Metal' (An entire genre dedicated to the reverence of Black Sabbath). Buckethead uses this pedal to add heavy and sludgy sounds into his playing.
Alesis MidiVerb II
Years Used: 1988 to Present
The Alesis has been Buckethead's delay and reverb effect of choice for literally all of his career. He uses its 99th preset, with a 4-second delay, as seen in photographs and videos of his live performances.
MXR EVH phase 90
Years Used: 2016 to Present
One of the trio of effects, 'Three Slabs of Doom'. It's used by Buckhead to create sounds reminiscent of bands like Led Zeppelin. As a phaser, it modulates sounds up and down to different places of the audio spectrum, creating an ever-changing tone.
Line 6 FM4 Filter Modeler
Years Used: 2000s to Present
The Line 6 FM4 is probably behind the weird and wacky sounds on every Buckethead Pike album, making the effect quite prevalent in Buckethead's music. After all, there are 290 pike albums in total. Besides being his favorite for recording Lazer beams, growls swells, and much more, he always has one for his live performances as well.
Accessories
D'Addario Nickel-wrap Guitar Strings
Buckethead uses 9 gauge D'Addario nickel-wrap strings for his electric guitars. These have long been recognized as industry standards and a favorite of many. They are a super light gauge set with great flexibility and are ideal for all kinds of music genres. The nickel wrap increases corrosion resistance, making the strings super reliable.
Dunlop Tortex Standard 0.73 mm Picks
These picks are used by a large number of professionals worldwide. Made of Tortex for durability and great tone. Good balance of rigidity and flexibility, and a great memory too. Suitable for playing just about anything on an electric guitar.
Dunlop Nylon Jazz III XL Picks
Again, very widely used picks, with outstanding resistance to wear. They are very accurate compared to other, more flexible picks, with a sharp and stiff tip. These are ideal for picking very quickly – perfect for Buckethead's shredding licks.
KFC Bucket
Buckethead's bucket of choice is a large KFC bucket that doubles as headgear. Sometimes it's an actual, unchanged KFC bucket; other times, it's painted white. It often has a sticker saying "Funeral" on it. Whatever be the funky additions, the bucket remains.
He is rarely spotted in public without it, barring a few unfortunate incidents.
Expressionless Face Mask
To escape the public eye, a bucket is not enough. That's where the mask comes in. Buckethead says the inspiration for it came from the movie 'Halloween 4'. After watching the movie, Buckethead went to a store and bought an expressionless Michael Myers- like-mask.
He has been wearing the same kind of mask in public ever since, and never shows his face.
Wrap Up
Buckethead's legendary career, it is best summed up by this statement published in Guitar Player Magazine's 1988 issue – "An astonishingly skilled guitarist and bassist, he demonstrates post Paul Gilbert speed and accuracy filtered through very kinky harmonic sensibilities. His psychotronic, demonic edge is far removed from the clichés of classical metal and rock. As icing on the cake, his finger-lickin' good technique ranked him as the 8th on Guitar One's list of The Top 20 Greatest Guitar Shredders of All Time.
During his 30 years in music, Buckethead has recorded a mind-blowing 325 studio albums, and it's an understatement to claim that he is far from done. He has used hundreds of instruments, effects, and other gear during the recording of these albums, along with his live shows.
Buckethead has inspired millions of guitar players: from his time with the legendary Guns N' Roses to his solo instrumental albums and other projects. He has always been innovative and pushed the boundaries of rock music with other-worldly effects and sounds. Though Buckethead is currently struggling with some health issues, this niche rock icon is by far one that has enjoyed a slow-burn career, but a rather fruitful one that is simply hard to ignore.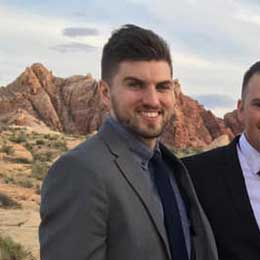 My name is Chris and I've had a passion for music and guitars for as long as I can remember. I started this website with some of my friends who are musicians, music teachers, gear heads, and music enthusiasts so we could provide high-quality guitar and music-related content.
I've been playing guitar since I was 13 years old and am an avid collector. Amps, pedals, guitars, bass, drums, microphones, studio, and recording gear, I love it all.
I was born and raised in Western Pennsylvania. My background is in Electrical Engineering, earning a Bachelor's degree from Youngstown State University. With my engineering experience, I've developed as a designer of guitar amplifiers and effects. A true passion of mine, I've designed, built, and repaired a wide range of guitar amps and electronics. Here at the Guitar Lobby, our aim is to share our passion for Music and gear with the rest of the music community.