One of the most recognizable rock figures of all time, an avid Les Paul collector and an overall guitar legend, the man in the hat, Saul "Slash" Hudson was born into a family of artists before making a name for himself with Guns N' Roses. Before moving to Los Angeles at the age of five, Slash had already met a vast number of artists from the British music scene.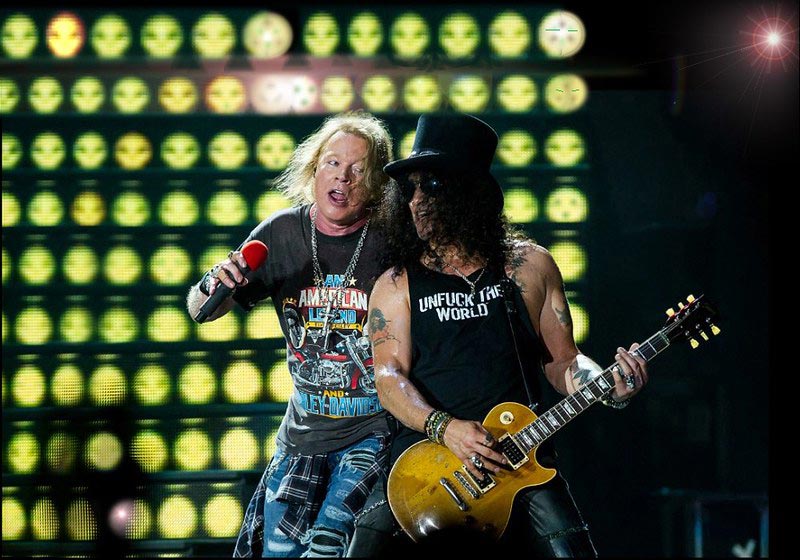 Upon the release of their debut album Appetite for Destruction, Guns N' Roses would become one of the world's largest bands with the best-selling debut of American recording history. Following the success of his professional debut, in time, Slash became one of the latest and most beloved rock guitar icons, finally becoming an ambassador for Gibson, Epiphone, and even Marshall amplifiers.
What Guitars Does Slash Play?
Slash is notorious for playing Gibson Les Paul Standard guitars as his main instrument, both in-studio and live on stage. Over the years, Gibson has issued several renditions of Slash signature guitars, including an entire signature line known as the Slash Collection.
While he is known to own an impressive collection of Gibson Les Pauls, Slash has also embraced several other guitars and pieces of gear throughout his career. See the full list below.
Les Paul Standard – Replica by Kris Derrig #90607

Finish: Appetite Burst / Yellow
Years used: 1986 to Present
During the recording process of Appetite for Destruction, Slash was brewing frustration with his equipment, especially since he was no longer satisfied with the sound he was getting from his B.C Rich and Jackson guitars. Manager Alen Niven took notice of this and bought two Les Paul replicas from Jim Foote, these guitars were made by luthier Kris Derrig.
There's little information on the material this Les Paul is made of, but what is known is that it didn't have any pickups until it was purchased, just before walking out the door a couple of Seymour Duncan Alnico II Pro were installed. According to Alen, it was love at first sight for Slash and he kept this particular Les Paul through several years as a main, even in the years following the first separation of Guns N' Roses.
The Kris Derrig Les Paul has been one of Slash's most consistent pieces of equipment, but it had its highs and lows, at one point it was stolen from him by a fan during a concert, but he managed to get it back through security. On another occasion, the neck on the guitar broke during the tour of his first solo album, and ever since then, it has been stored away and kept at home as a centerpiece of his Les Paul collection.
It is important to note that this replica along with Slash's Max Baranet guitar, laid out the base for Gibson. In more recent years this guitar inspired their Slash Les Paul Standard signature line.
1987 Gibson Les Paul

Finish: Two-Tone Sunburst
Years used: 1987 to 1998
These original Gibson Les Pauls came along with the release and success of Guns N' Roses' debut, Appetite for Destruction. At this point, Slash had grown tired of his B.C Rich and was extremely cautious regarding his precious Les Paul replicas due to their particular modified sound. So in early 1987, there was a certain need to get a backup instrument of high quality to take on the wearing promotional tour for their album.
According to Watch You Bleed the New York Times Best Selling GNR biography, Slash got two factory second Les Pauls to re-paint and modify with his adopted signature, one was kept in its original classical sunburst finish, and one was repainted in a mild yellow sunburst. Their pickup guards were removed and both would have Alnico II Pro humbuckers installed, their performance was so good that Hudson would store his replicas and keep them safe at home, he would only use them to record the Use Your Illusion double album.
These guitars had seen massive action, considering that Guns N' Roses were deemed as "the world's most dangerous band", and indeed they suffered on the road. One got its neck battered while another one was ultimately stolen along with much of the band's gear from a shared apartment. Slash would later acquire yet another Gibson Les Paul with a red and yellow sunburst finish, virtually the same guitar.
As for the yellow two-tone guitar, it is reportedly the guitar Slash used for the Welcome to the Jungle music video, while the yellow-red sunburst can be seen in the video for Sweet Child O' Mine. This set of 87 Gibson Les Pauls were heavily used up until the late 90s when Slash started using more modern models and collaborating with new artists.
1966 Gibson EDS-1275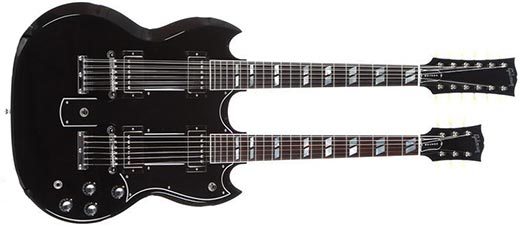 Finish: Black
Years used: 1989 to Present
This double-neck standard briefly earned Slash the title of the successor of Jimmy Page, it is one of the most highlighted guitars on his catalog despite its minimal usage. It was reportedly acquired shortly after the breakthrough success of Appetite for Destruction, as Gibson dealers grew eager to become Slash's main guy, but the guitarist shared in an interview that he left this task to his trusty guitar tech, who ultimately picked up the guitar for him on the road.
Dubbed "the coolest guitar in rock" ever since it was issued in 1963, the Gibson EDS-1257 was the first double-necked guitar manufactured by the brand. This double SG features 490 Alnico and 498 Alnico humbucking pickups in both bodies in addition to the two-volume and two-tone control knobs, and three-way pickup selector switch. Its craftsmanship also includes a solid mahogany body for every model built prior to 1998, Slash's guitar being from 66, can be found in this lot.
Any Guns N' Roses or Slash fan will recognize this as one of the most iconic guitars during the height of the band, famously enough this double-SG was Hudson' choice for the Knocking on Heaven's Door rock cover, a live staple where the band would bid farewell to their audience.
The EDS-1275 remains one of Slash's most precious pieces to this day, while it might not be as frequented as his favored Les Pauls, this particular guitar remains an iconic double combo, for its remarkable trajectory in rock history. On another hand, recent years saw Gibson issue a special model just like this one to the guitarist as they manufactured 250 pieces, Slash got to keep #1.
1987 Gibson Les Paul Standard

Finish: Black
Years used: 1992 to Unspecified
This black Les Paul has been described as Slash's first Gibson guitar, while other guitars have been credited with this title, the guitarist has claimed that this was it. He first got it in 1992, so hard evidence of this being his introduction to Gibson might be in order, but the record seems a tad blurry for this topic.
With an Alnic II setup and a bumblebee yellow binding to its mahogany black finished body, this Les Paul was immediately wired to his preference.
Although Slash didn't make much use of it in the studio, this was one of his regular rotatory pieces during the Use Your Illusion tour ever since he got it in 1992. It's hard to tell if this Black Les Paul model is the same he's used in recent years since there's no record on whatever happened to this specific guitar.
Popular Related Article: Malcolm Young's Career Guitar and Gear Rig
Les Paul Standard – Replica by Max Baranet

Finish: Appetite Burst / Yellow
Years used: 1986 to Present
One of the three guitars Slash got from Howie Hubberman, this guitar was acquired shortly after the guitarist sold his original Hunterburst Les Paul. The story follows a desperate Hudson who was contacted by Guitars R Us, informing him there was a spare replica, a rather similar one to his first model. Slash reportedly agreed to pay the full price of $2600- it took him two years to complete this payment.
The specs on this guitar are special, with an interesting skull and crossbones image that appear naturally on the maple back, it is unknown if this was made on purpose or not. As for its pickups, Hubberman agreed to give the guitar to Slash without a full payment only if he got to keep the original PAF humbuckers on it, after acquiring it, the guitar was taken to Roman Rist, who installed a pair of Seymour Duncan Alnico II Pro instead.
This guitar was mainly used for the road, and it was reportedly used to record Paradise City and it can be seen as a notorious companion through Slash's career. Alike his Kris Derrig replica, this Les Paul featured a finish that is now known as "Appetite Burst" yellow, and it inspired the signature "skully" drawing.
1970s Memphis Les Paul

Finish: Unspecified
Years used: 1978 to 1981
The first of a lifelong relationship with the iconic Les Paul model, Slash learned how to manage himself through shreds and blues licks on this 1970s copy of the Gibson model. It was during the late 70s that Saul picked up this first electric guitar right after a miscellaneous, unspecified acoustic, and started his first band in 1981 called Tidus Sloan.
Memphis guitars back then issued rather similar copies when it came to specs. Built with a maple top, mahogany back, and neck, it is very possible that Slash's first guitar was among this badge of Memphis models with generic humbucker replica pickups.
"The next thing that I got- after my first acoustic- was a Memphis Les Paul copy, and that was my first electric guitar. That was pretty special to me up until I actually learned that it wasn't really that great. But innocently enough, initially, that guitar was great."- Slash for My First Guitar.
1978/79 B.C. Rich Mockingbird

Finish: Koa Wood Natural Finish
Years used: 1981 to Unspecified
Known as the actual Tidus Sloan guitar, this early B.C Rich six-string was the first high-end game Slash got to his hands after years of practicing in his Memphis Les Paul copy. This was one of the 3 alleged guitars Hudson saved for during the course of 2 years in Los Angeles. Lining up the information, this B.C Rich was the very first of Slash's extensive collection, one that has expanded vastly throughout the years. This guitar would be used for the very first Tidus Sloan gigs as well as a few songs for his first appearances with L.A Guns. This guitar would accompany a younger Slash into the very early stages of Guns N' Roses, it is said that it was even used during the studio sessions for the band's first EP.
The specs on the B.C Rich Mockingbird are a classic that's changed very little since the model was first introduced. With a Koa Wood single-piece design and a natural finish to its wooden color, this Mockingbird guitar packed a pair of DiMarzio humbuckers to its set up, hence offering an edgier heavier sound.
As for the whereabouts of this guitar, Hudson has expressed that he intended to keep it originally as a relic of his trajectory, nevertheless, he ended up selling it to afford drugs during the wilder years of his career, it is unspecified when this happened. Nevertheless, he mended the mistake by later purchasing and collecting similar models throughout the years.
Popular Related Article: Dave Grohl Guitar and Gear Rundown
Gibson Les Paul

Finish: Hunter Burst Yellow
Years used: 1986
Owned for a brief period, as sources suggest, this Hunter Burst Les Paul was Slash's first Gibson guitar before his more renowned Kris Derrig replica. Slash got this Les Paul from a shop in Los Angeles called Guitars R Us owned by Howie Hubberman. This Les Paul was pawned before Hudson came for it, it is suggested that its prior owner was Lou Reed's former guitarist Steve Hunter.
Sources point out that this Gibson was in fact a very good replica built by L. A based luthier Peter "Max" Baranet, whose skill was paralleled to that of a Gibson manufacturer. Nevertheless, this pawned guitar had its PAF humbucker pickups removed and replaced with two Seymour Duncan ones prior to Slash.
The footage and evidence of Hudson playing live with this guitar exists, but its format has poor quality, it was last seen on Guns N' Roses' performance at the Fenders Ballroom club in Long Beach in late 1986. As far as the story goes, the guitar was sold shortly after to keep up with payments and addiction.
1959 Gibson Les Paul Tobacco Sunburst/ Joe Perry

Finish: Tobacco Burst
Years used: 1990 to 2000
This guitar was previously owned by Aerosmith guitarist Joe Perry, it was gifted to him by his ex-wife before he sold it to Gerry Beaudoin who would sell it to Eric Johnson. When Johnson learned that this guitar was originally Perry's, he offered to sell it back for a large amount, the guitarist couldn't afford it at the time, and so Johnson contacted many high-profile musicians, he eventually landed on Slash in 1990 who was yet to start the recording sessions of Use Your Illusion.
This is one of the few Les Paul guitars that Slash kept unmodified, featuring Japanese-style plastic tune pegs with original Gibson PAF pickup guards. The only major modification on this guitar is its re-fretted neck, which according to some sources had pits all over the fingerboard when it was first given to Slash.
This guitar is said to have become Slash's main during the early 90s, in the Use Your Illusion era when he had shifted from his cherry-yellow sunburst to this Tobacco burst classic Les Paul. Nevertheless this Joe Perry Les Paul would slowly go to his protected collection and it was used for more selective displays, for example, the November Rain music video feature.
This guitar remained on Slash's catalog up until September 10th in the year 2000, when he decided to give it back to its original owner and friend, Joe Perry. Hudson said about this occasion:
"I kept the guitar for a long time, but I knew that Joe really loved it probably as much as I did. So I gave it to him for his birthday."
Popular Related Article: Complete List of Tony Iommi Guitar and Gear
Guild Double Neck "Crossroads" Slash Custom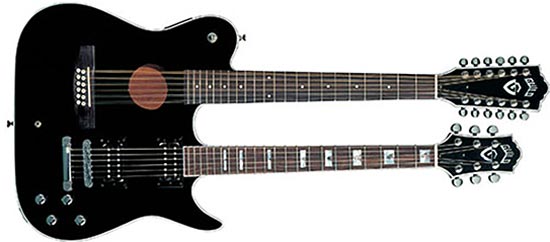 Finish: Black
Years used: 1993 to Present
A guitar made following Slash's design and specifications by Guild, according to the story, this "design" was drawn on a cocktail napkin by a drunken Hudson before giving it to the luthiers. The Guild Doubleneck custom was conceived based on Slash's need of switching between acoustic and electric sounds during live shows. This was Slash's first signature model, the Crossroads offered a relieving instrument for Hudson, and it could be often seen with him for the live performances of both Patience and Civil War.
The Guild Crossroads double neck is a unique and somewhat groundbreaking piece of engineering for modern music, it features a wired acoustic 12-string with a completely hollow body, while the bottom part is a completely solid 6-string. Needless to say, there's no surprise that the electric half of this double ax was designed to Slash's preferred and unique Les Paul setup with two humbuckers.
As the years went by, Slash bolstered the presence of Guild Guitars, and this became one of the brand's most prestigious and recognized models to hit the market. As a result of this partnership, several copies have been issued, and Slash owns quite a colored palette number of these, most noticeably there's a green tortoise, and a classical cherry sunburst one, but this black finished the first issue made a huge difference for the GNR icon back in the 90s.
When Slash got his hands on this double guitar it became a regular feature on his rig, although it didn't appear much with his final years with Guns N' Roses during the 90s, it became a regular with Slash's Snakepit and Velvet Revolver. However, upon the reunion of the band, the Guild Crossroads made a return when playing Civil War and on occasions Knocking on Heaven's Door.
Appetite for Destruction Gibson/Epiphone Les Paul II

Finish: Appetite Burst / Yellow / November Burst
Years used: 2010 to Present
In 2010, Gibson decided to commemorate the release of Guns N' Roses' debut album, and so they went for one of their favorite brand ambassadors and recreated the replica that Slash used to record and perform live for many years. This relatively new induction to Hudson's catalog has been one of the handiest things to ever happen in his career, this Gibson replica of a replica became his standard line of road guitars for every occasion and show.
The AFD Les Paul offers a wide range of colors, and their setup is pretty much the closest thing anybody will get to the 1987 model. It features double Alnico II humbuckers that are now known as Slash signature pickups. It also features 80s control speed knobs and a traditional Tune-O-Matic bridge, as for its neck, this Les Paul line features jungle frets to its C profile and AAA flamed maple top.
B.C Rich Warlock
Finish: Cherry Red
Years used: Unspecified to 1987
During the early years and merge of the L. A Guns and Hollywood Rose, Slash had another guitar he purchased during his introductory years to the Los Angeles scene, this other B.C Rich model was reportedly one of his favorite models at the time, and it was extensively used during the formation of Guns N' Roses. Live ?!*@ Like a Suicide introduced a closed circuit to one of the biggest names in Rock N' Roll, and reportedly Hudson used this guitar to play most of the tracks in that four-track EP that would later be included in GNR' Lies.
It is important to note that this guitar entered the studio sessions of Appetite for Destruction but by that time, the guitarist had grown tired of this Warlock model's sound, so he picked up the Les Paul instead for a full-on meatier end product. This Warlock featured an EMG pickup setup, it was a more aggressive and razor-sharp sound in comparison to Slash's classic Les Paul.
The whereabouts of this guitar are largely unspecified, and Slash hasn't spoken much about it in years, it could have been either sold at the time or kept for collection. The guitar was last seen in a show back in January 1987 before reportedly, storing it away. However, in 2016, there were rumors and alleged statements that this B.C Rich model had been found and put up for auction with a starting bid of $30.000 on Julien's Auctions.
1961 Gibson SG


Finish: Cherry Red
Years used: 1987
One of the most dynamic guitars in the industry for popular conception, as for Slash, one of the most annoying and despicable pieces of equipment that ever existed. This is the only single-neck SG he ever wielded, and it wasn't even used on stage, so whether this belonged to Saul Hudson or not is up to debate and theorists. This 1961 Gibson SG was only used a couple of times, the only reported one being when the Guns N' Roses recorded My Michelle in 1987, it was suggested by the audio engineer that Slash should try a different setup to spice things up, needless to say, he wasn't very happy with said suggestion.
The 1961 Gibson SG was, in fact, one of the very first Les Paul models in the market, after a few years around 1965, Les Paul himself asked for his name to be removed from the model, and engraved it into his very own design. Either way, this model featured a fast mahogany slim-taper neck with rosewood fingerboard and featured a classic setup of 61R and 61T humbuckers.
In case you're wondering what happened to this guitar. It is said that Hudson hated it to the point that he got infuriated and smashed it against the band's touring van. Be that as it may, the legend says that one piece of the guitar was taken to Guitars R Us.
1987 Gibson Les Paul Reissue Goldtop


Finish: Goldtop
Years used: 1988 to 1992
Picked up on the road and designated as a touring instrument, this was one of the guitars that marked Slash's affinity for this particular Gibson model. According to many sources, this was his most babied guitar during the Appetite for Destruction tour until it went missing during the promotional tour for Use Your Illusion.
As for its specs, Slash made sure that every Les Paul he owned sounded similar to his specified and signature set up. But as a vintage high-end guitar reissue, this guitar offered an extra crisp and body to Hudson's setup.
There was a fair share of gigs in which Slash used this guitar, and it can be distinguished by its zebra-colored Seymour Duncan pickups. The most iconic one has to be the 1991 live at the Ritz concert in New York.
After it was stolen, Slash posted an ad to look for it with a cash reward in case anyone can find it. This ad includes the guitar serial number #70854 and contact information. It's said that you can contact the guitarist himself about it.
1976 Gibson Les Paul Standard

Finish: Tobacco Burst
Years used: 1995 to Present
Yet another two-tone tobacco burst Gibson Les Paul, this was Slash's main guitar upon his departure from Guns N' Roses, and into his first project Slash's Snakepit. This Les Paul saw some extensive action, it also played a massive role in Velvet Revolver and is one of his most precious vintage pieces, especially after he gave back Joe Perry his original model, it's been quite a career for the guitarist with this classical piece.
Wired and set up after Perry's six-string, this guitar can be spotted with a zebra neck pickup. Also, this is one of the last "generic" Les Pauls Slash would acquire without a special Gibson or Epiphone issue.
With a considerable amount of live appearances, this 1976 vintage guitar is also known as the one featured on the Velvet Revolver single Slither. He kept using it for special occasions throughout the new millennium and into his legendary status as a guitar hero.
Guild JF-30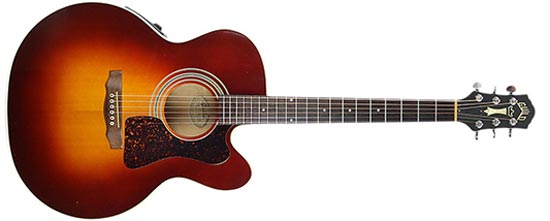 Finish: Natural Balm Two Tone Sunburst
Years used: 1988 to Present
The records point out that this was Slash's first acoustic guitar following the success and finalized tour of Appetite for Destruction, it was bought on the road and set up during a brief from the road. Allegedly, Slash kept this guitar close to him, even closer than a few Les Paul models, it is said that he wrote the acoustic part for the ballad Patience while that may be unspecified, it is known that he recorded the track on it.
Shortly after acquiring a first Guild JF-30, Slash decided that he would need a backup so he purchased another identical one. These era of Guild acoustics were the main go-to in live performances and studio even through the Use Your Illusion era and tour, meaning that it had a fair share of live-action with Civil War as well.
One of these guitars remains with Slash stored in his personal collection, while the second one was recently auctioned.
B.C. Rich Mockingbird

Finish: Cherry Red/Black Stripes
Years used: 1990 to Present
The Use Your Illusion era saw a peak moment for the band, Guns N' Roses was hailed as the ultimate Blues/Arena Rock band in the world, and Slash was arguably the most renowned guitarist at that time. The band got a chance to stock on whatever they pleased and so Hudson took the chance to get his hands back on one of his previously favored models, the B.C Rich Mockingbird, which he preferred over his Warlock.
This guitar is very well known to fans as the You Could Be Mine six-string and lawfully ever since the song came out as the promotional single for both the album and the Terminator sequel, Slash has been popping out this guitar when its time to play that specific tune.
He got the guitar from a stranger in Hollywood who reportedly sold it to him for $400, and since at the time Hudson was playing mainly Les Pauls, he saw this as a fit opportunity to get this convenient Mockingbird with a Floyd Rose tremolo and expand his sound palette.
This B.C Rich Mockingbird some extensive action ever since it was purchased. This guitar was also featured on the You Could Be Mine music video, and it's been a staple to his catalog ever since he used it during the infamous St. Louis concert in 1991.
In 2011 Slash auctioned a B.C Rich Mockingbird model, and while many believe it could be this specific model, there's still hard evidence needed. Ever since the Not in this Lifetime tour, he's been using a very similar Mockingbird, black stripes, and everything. It can even in the latest live performance of You Could Be Mine.
Martin D-28

Finish: All Natural
Years used: 1987 to 1995
Many sources point out that Slash use to carry this guitar with him at all times during the Use Your Illusion era, but there are records of the guitarist using a Martin D-28 even earlier than the 90s. If this is correct, this was probably the guitar used for Guns N' Roses guest show at CBGBs back in 1987.
There were several reported Martin D-28 models involved with GNR during the peak height of their career, but probably Izzy Stradlin, Duff McKagan or even Gilby Clarke could have owned a couple of them since Slash has repeatedly stated that he was a more electric oriented guitarist.
1996 Gibson Les Paul "Snakepit"

Finish: Custom Red/ Custom Artwork
Years used: 1996 to Present
The short-lived project Slash's Snakepit saw massive traction as an innovative act for hard rock/ heavy metal. Late into the decade, Slash was already cemented as a household name, one that could ask for his line and signature special models from major brands, and this is exactly what he did when he asked Gibson for a special Les Paul he wouldn't have to modify and rewire.
This Les Paul features a unique inlay with a snake all across the fretboard, the Snakepit logo in the lower part of the body, and a cherry red finish with black Alnico II humbuckers, which makes for a unique piece of craftsmanship.
Initially, Hudson received a couple of these guitars, but they were taken from him when his apartment was burgled during the late 90s. Nevertheless, he got to keep one that would be featured in many concerts, but it was immortalized when it appeared in the "cult" psychedelic music video for the single Shine in 2001.
Maton TE-1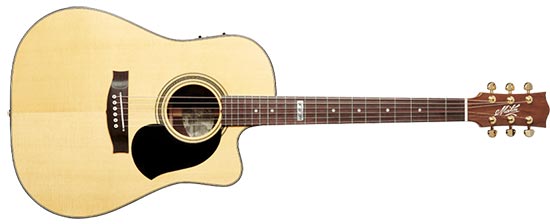 Finish: All Natural
Years used: 2010
This Australian-made acoustic was issued to Slash on a special occasion in 2010 during the guitarist's tenure with Myles Kennedy, it was only seen in one opportunity during the MAX sessions in Australia. It is said that Hudson received the guitar a couple of days before the gig, in it, the duo played a good number of GNR acoustic-based tunes before showing off their original repertoire.
The MAX sessions show served to amplify the project, and spawn massive comparison between Myles Kennedy and Axl Rose, this was mildly controversial in the limelight, nevertheless, the heat was dismissed by all parties.
1991 Gibson Les Paul Black Death Vodka
Finish: Black Chrome/ Black Death Vodka Sticker
Years used: 1991 to Present
This rare Les Paul is all about a background story that pairs up perfectly to the sex, drugs, and Rock N' Roll standard of Guns N' Roses during the height of their career in the early 90s. Slash was slowly becoming a brand himself; he was already a respected figure that seemed appealing enough for certain companies aside from Gibson. So Black Death Vodka stroke a deal with the guitarist, he would become the face of the brand as long as he played this Les Paul they got for him, which featured a vodka sticker in the bottom part of the body.
This is one of the few guitars that are not set up the signature Slash way, in fact, the only modification it has is the PAF pickup shell removed, he conserved the Gibson patent ones, and as usual, he removed the pickguard.
While this guitar wasn't Slash's main go-to for the studio, he would switch to it at random points in live performances in exchange for a generous amount of money and fair good publicity. Its use was extended from the Use Your Illusion tour, all the way to the years following the breakup of GNR, it is in fact considered one of the most pinpointable Velvet Revolver Les Pauls, as Izzy Stradlin would also adopt it from time to time.
It is also known as the Dirty Little Thing because he would often play this Les Paul when performing this specific song.
"Bad Obsession" Travis Bean TB1000
Finish: Black/White
Years used: 1992 to Present
During 1992 and the escalating traction that Guns N' Roses was getting, many rare guitars came in, among them, Slash acquired two Travis Bean models, one in black and one in alpine white. The latter was directly added to his personal collection, while the black one was frequently used to perform Bad Obsession on tour.
The Travis Bean 1000 was one of the most promising prospects of the 1970s, its popularity was rather brief, and it would eventually drift into legendary status. Slash's interest in this rare piece occurred when he came across these two guitars in a collectors dealership in Los Angeles, whether he acquired them for any specific interest is hard to know. Nevertheless, the black Travis Bean remains a regular guitar when playing specific tunes.
The studio usage of the TB1000 occurred when the band recorded their last album before the first separation, 1993s The Spaghetti Incident.
1958 Gibson Explorer
Finish: Natural Korina / White Pickguard
Years used: 1992 to 2010
According to Slash, this as well as a 1959 Flying V, were the most expensive guitars he has ever bought.
The Flying V made a selective return in 2010 however, when Slash released and recorded his very first solo album "Slash", which featured a heavier sound than usual and a massive special guest list.
Slash managed to acquire a second 1958 Gibson Explorer as well as a Gibson Skylark Lap Steel from the same era. These guitars tend to see extremely limited use due to their rare and valuable nature.
1965 Fender Stratocaster

Finish: Olympic White
Years used: 1992
Probably an eyebrow-raising revelation to many, seeing or even imagining Slash playing a Fender Stratocaster is a statement that might come off as gibberish. But it has happened, in fact, Hudson the Les Paul star owns a couple of arch-rival models to his standard guitar. There's scarce footage of this actually happening, but during the shooting of the November Rain music video, Slash, Duff McKagan, and Gilby Clarke were spotted having a jam session in which the lead guitarist popped out this Olympic white Stratocaster.
Reportedly the white Strat is kept in completely stock condition, presumably for political and image reasons, since Slash has been one of the faces of Gibson since the mid-90s. It was allegedly used for a few overdubs during the recording of the Use Your illusion double album and later for his solo song Sucker Train Blues.
A few years ago Slash came forward in an interview that was later published by Music Radar and shared a few controversial thoughts on the Fender leading model:
"As far as I'm concerned and Gibson probably wouldn't want me to say it, the Strat is hands down, probably one of the best, most versatile guitars there is. But I've always gravitated to a Les Paul. And there's Strat guys and there's Les Paul guys…"- Slash on a podcast interview, covered by Music Radar
As far as popular conception goes, this vintage Strat collection must be kept a secret, but this Olympic white Stratocaster, in particular, was caught in Slash's hands while he was fooling around with it.
Gibson ES-335


Finish: Black
Years used: 2005 to 2010
Slash loves classic, vintage guitars and so there's no surprise when you see him with this Gibson/Epiphone industry standard, this is basically a Velvet Revolver exclusive feature, it is often known as the Last Fight ES-335. Whether Slash played it on the record or not is up to theories craft, but it could very much be, as he would often wield it when playing it for live appearances and even on the music video for the song.
Slash's ES-335 is pretty standard, it features T-Type humbucker pickups, paired with a wired control assembly. With a C-rounded neck and mahogany fretboard, this classical setup makes one of the only pieces of this type in Slash's collection.
It was played live on various special occasions and extensively on the road with the supergroup Velvet Revolver until its separation following singer Scott Weiland's passing.
JOI Custom
Finish: All Natural
Years used: 2014 to Present
A late special acquisition, Slash commissioned JOI for a special guitar, and so his request was delivered, this exotic six-string lacks notoriety in his repertoire, but ever since it was given to him in 2014, it's become one of the most personal pieces of gear to his catalog. It is rare to see a veteran guitarist being amazed by new equipment, but Slash shared his humbled words upon receiving it.
"When I picked it up, I was completely humbled. It was a shock-and-awe moment. It changed everything I'd ever thought about acoustic guitars leading up to that point, It was the most amazing acoustic guitar I'd ever played or heard. perfect intonation, perfect tension on the neck, perfect sound. And it's beautiful. I was just floored."- Slash when interviewed by JOI.
This special model is a small jumbo-scaled acoustic, with a 25.4" scale, it has been nicknamed "The Tree" since it was manufactured with some of the most exotic materials the world has to offer. With an Ancient Sitka Spruce top, ebony bridge, and bindings, this is one of the most remarkable pieces of craftmanship in recent years in the guitar industry.
Table Showing the Guitars Slash Used at Each Point in His Career
| Make | Model | Color/Finish | Years |
| --- | --- | --- | --- |
| Memphis | Les Paul | Unspecified | 1978 to 1981 |
| B.C Rich | Mockingbird | Koa Wood Natural Finish | 1981 to Unspecified |
| Gibson | Les Paul | Appetite Burst/ Yellow | 1986 |
| Kris Derrig | Les Paul Standard #90607 | Appetite Burst/Yellow | 1986 to Present |
| Max Baranet | Les Paul | Appetite Burst/ Yellow | 1986 to Present |
| B.C Rich | Warlock | Cherry Red | Unspecified to 1987 |
| Gibson | SG | Cherry Red | 1987 |
| Martin | D-28 | All Natural | 1987 to 1995 |
| Gibson | 1987 Les Paul | Two-Tone Sunburst | 1987 to 1998 |
| Gibson | 1957 Les Paul Reissue Goldtop | Goldtop | 1988 to 1992 |
| Guild | JF-30 | Natural Balm/ Two Tone Sunburst | 1988 to Present |
| Gibson | 1989 EDS-1275 | Black | 1989 to Present |
| Gibson | Les Paul Tobacco Sunburst/ Joe Perry | Tobacco Burst | 1990 to 2000 |
| B.C Rich | Mockingbird | Cherry Red/ Black Stripes | 1990 to Present |
| Gibson | Black Death Vodka Les Paul | Black/Custom Sticker | 1991 to Present |
| Travis Bean | TB 100 "Bad Obssesion" | Black | 1992 to Present |
| Gibson | 1959 Explorer | Goldtop | 1992 to 2005 |
| Fender | Stratocaster | Olympic White | 1992 |
| Guild | Double Neck "Crossroads" Slash Custom | Black | 1993 to Present |
| Gibson | 1976 Les Paul Standard | Tobacco Burst | 1995 to Present |
| Gibson | Les Paul "Snakepit" | Custom Red/Custom Artwork | 1996-Present |
| Gibson | ES-335 | Black | 2005-2010 |
| Maton | TE-1 | All Natural | 2010 |
| Gibson/Epiphone | Appetite for Destruction Les Paul II | Appetite Burst / Yellow / November Burst | 2010-Present |
| JOI | The Tree | All Natural | 2014-Present |
Slash's Amps and Gear Overview
Marshall 1959T Super lead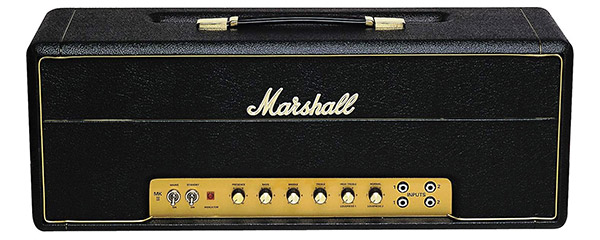 Years used: 1986
This Marshall 1959T was borrowed from SIR (Studio Instrument Rentals) a store in the valley. Slash made exclusive studio usage of it during the recording sessions for Appetite for Destruction, however, it was modified by the studio technician, Tim Caswell. Caswell removed the tremolo circuit from the amp and re-wired it to bolster and max the gain in it.
It was one of the very first amplifiers Slash fell in love with, and after a few bids to SIR and various rejections to his purchase approach, he tried to scheme the rental by saying it was stolen from him. But this ultimately failed as one of the studio technicians returned the amp unknowingly.
Roland JC-120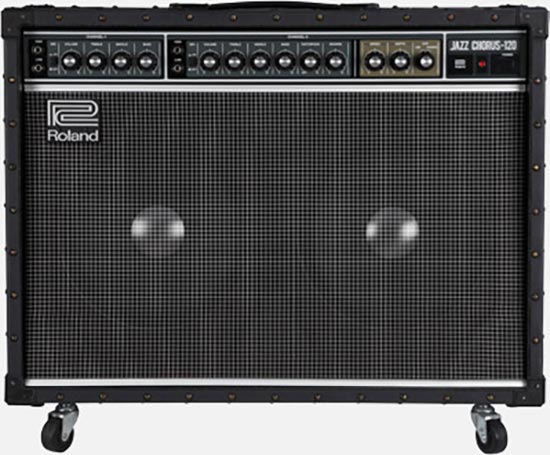 Years used: 1986 to 1987
Although this sound machine had a brief period with Hudson, it became something of an icon to Guns N' Roses' lore, it was suggested in the studio during the recording sessions for the anthemic Paradise City for its ethereal sound filter and switch as well as for its chorus. After the recording of the song, it was pretty much dismissed and was soon replaced by an MXR M134 Stereo Chorus.
Marshall JCM800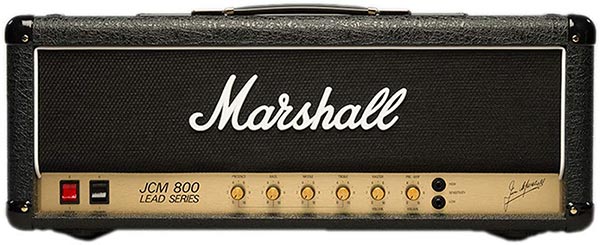 Years used: 1987 to 1988
Shortly after the release of Appetite for Destruction Slash got himself a reliable head, this JCM800 stuck through the first year touring, it was used throughout the entire schedule. Nevertheless, it was quickly replaced by a Marshall Silver Jubilee in 1988, it is speculated that the latter amp head was the first time he got himself this type of gear and that this JCM800 was borrowed from someone from a studio.
Marshall Silver Jubilee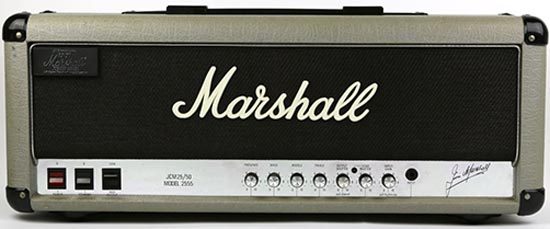 Years used: 1988 to 1996
When Slash acquired this Marshall, he immediately decided to add a few modifications, basically, he asked it to be hot-rodded like his Superlead was a few years back and it quickly became his signature sound machine. The Silver Jubilee was extensively used ever since it first appeared on the last leg of the Appetite for Destruction tour, it would be the most prominent and steady piece for the remaining of his tenure with Guns N' Roses until 1996 when Marshall decided to make him his own signature line of amps, which aimed to recreate this modified amplifier.
It is important to note, however, that even though this was by far the most employed amp head for both studio and live shows, Slash never closed himself to try new things and sounds. Just like his brief trial run with the Vox AC30 he would spend some time experimenting on a Fender Twin Reverb.
Marshall JCM 2555SL Slash Signature Amp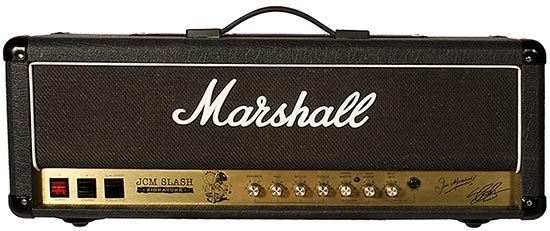 Years used: 1996 to Present
The first-ever signature model ever made by Marshall, it was made especially for Slash when he finally achieved legendary status. It was also commissioned to organically replicate the sound of his Silver Jubilee amplifier with a few extra specs that would emulate the effect of his first vintage 1959T Superlead, but this model wouldn't excel at it, so Marshall complemented the piece with the AFD 100 model.
Only 3000 were made, and the exact number given to Slash is unknown, nevertheless, this one quickly became his regular amplifier and it remains that way to this day.
Fender Tweed Champ
Years used: 2002 to 2007
Although this is not the most frequented nor main amplifier of this guitarist, Slash picked up this Fender industry standard during one of his most experimental eras and the Fender Tweed Champ is perfect for this task. Reportedly it was used for both Revolver studio tenures Contraband and Libertad and it was also a brief selection for the rhythm sections, the latter might not have been Slash's task, but it was appointed by him. While the Fender Tweed Champ made it to a few live shows, it was often overshadowed by his signature amp head models.
Marshall AFD100
Years used: 2010 to Present
Exactly 23 years after the release of Appetite of Destruction, Marshall released this replica of the modified 1959T upgrading the first signature Slash amplifier and making it more dynamic towards the vintage sound that made this guitarist an icon. To commemorate the 23 years the brand released 2300 units, needless to say, that Hudson was the very first owner of one of these.
The usage of this amplifier has been prominent in more recent years, and he usually rotates it with his JCM2555SL, but their functionality is very similar when it comes to gain and specs.
Slash Pedals Overview
Often enough Slash relies more on his amplifier heads and rectifiers than a precise pedalboard, nevertheless, there are a few modular and distortion effects he has employed throughout the years. Slash is known to claim that he could make his entire career with his Les Paul, a Marshall, and his trusty Wah pedal with a couple of cables.
MXR M234 Analog Chorus
This bypassed MXR pedal is responsible for Slash's more ethereal sound palette, it was one of the very first pieces to be incorporated into his rig, and it can be heard mainly on the intro section of Paradise City, and Don't Cry.
BOSS TU-2 Stage Tuner
This basic pedal can be seen as a regular right beside Slash on almost every concert. The BOSS TU-2 Stage Tuner is a must and it's used by every guitarist amateur or professional, it is often preferred for its wide variety of tuning selections and obvious precision.
BOSS Digital Delay
Nowadays Slash has employed the upgraded version, the DD-3, but back in the day and obviously in recent years the guitarist used this specific pedal for the iconic Hard Rock tune Welcome to the Jungle. Being the pedal used for this colossal rock staple, Hudson kept it and experimented in certain tunes during the Use Your Illusion recording sessions, especially in single Estranged, where he kept it more subtle and on the back.
Dunlop Cry Baby SW95 Wah
This Wah pedal had Slash's involvement in its creation and programming, it was created to emulate his talkbox. Often enough this Wah pedal and Slash's talking tubes have shared the stage bringing a certain aggressiveness when paired with his signature Octave pedal and his distortion settings from his amp heads.
MXR Ten Band EQ
In some interviews, Slash and his technician have referred to this specific pedal as the source of their tone shaping. Slash uses a wireless setup in his rig, and most of the time this can cause high-end frequencies to it causing a rather annoying imbalance, that's where this MXR jewel comes in, to take it away. Now both the EQ settings are vastly used in this rig, it allows the gain to shine through without forcing any gear.
MXR CAE MC-401 Boost Line Driver
This particular pedal steals the spotlight every time Slash turns it on. It is the quintessential piece for his solos, it features a built-in overdrive to bolster his signal and presence through his standard Marshall setting. Its main function is to bring more saturation and volume as well as mild drive, in some occasions it offers some sustain and gain although these settings are all knobbed down to a bare minimum, it's in the details. Note that this pedal makes itself present since it's the first one in the rig, following the EQ, Wah, and tuner pedals.
Wrap Up
Slash didn't have any trouble integrating himself into the Los Angeles underground scene, forming his first band in 1981, Tidus Sloan, a project that would earn him renown as one of the most notorious guitarists in California. It wasn't until the late 80s when Slash joined the L.A Guns before merging with Hollywood Rose, ultimately forming Guns N' Roses the band that would benefit from this eventual guitar hero.
After three decades, Slash has cemented himself as one of the most prolific rock icons of all time, he co-founded Velvet Revolver and partnered with other legends on the side, such as Dave Grohl, Lenny Kravitz, and even the king of pop, Michael Jackson. Slash always knew what he wanted from life, and made himself synonymous with Rock N' Roll, he has stated on many occasions that being able to continuously make records and going on tour are his ultimate way of life.
His blues hybrid beginnings helped him become the ultimate thunderous hard rock guitarist. Named "The Best Guitar Player" by Esquire Magazine, appointed "Riff Lord" by Metal Hammer during the Golden Gods Awards in 2007, and even landing himself the 65th position in Rolling Stone's "The 100 Greatest Guitarists of All Time." There's no shortage of accolades for this man in cup hat, and it would be an understatement to say there will surely be more to come in the following years.
In 2011, Slash formally became a Rock N' Roll Hall of Fame member along with the other members of Guns N' Roses. As for ambition and innovation, Slash may not be the first name that comes to mind, but the fact that this man perfected the game to the extreme he has, leaves little words to describe what his magic fingers have achieved.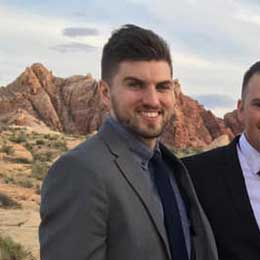 My name is Chris and I've had a passion for music and guitars for as long as I can remember. I started this website with some of my friends who are musicians, music teachers, gear heads, and music enthusiasts so we could provide high-quality guitar and music-related content.
I've been playing guitar since I was 13 years old and am an avid collector. Amps, pedals, guitars, bass, drums, microphones, studio, and recording gear, I love it all.
I was born and raised in Western Pennsylvania. My background is in Electrical Engineering, earning a Bachelor's degree from Youngstown State University. With my engineering experience, I've developed as a designer of guitar amplifiers and effects. A true passion of mine, I've designed, built, and repaired a wide range of guitar amps and electronics. Here at the Guitar Lobby, our aim is to share our passion for Music and gear with the rest of the music community.