The 1980s were yet another decade that brought massive changes in music. This was noticeable with all of the guitar-centric genres, most notably with hard rock and heavy metal. With the emergence of Eddie Van Halen as a phenomenon in the late 1970s and 1980s, many new names started exploring the instrument in ways it was never explored before. All those lovers of the 1970s blues-filled hard rock and doomy-sounding early metal began approaching the instrument as classical musicians. It was more about virtuosity than the somewhat casual and "dragging" feel. One of many guitarists who started exploring these new territories was the legendary Paul Gilbert.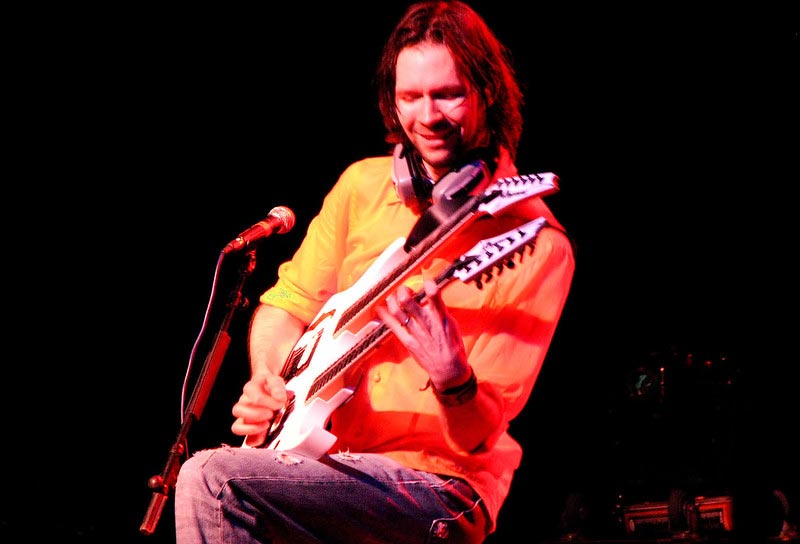 His earliest exposure to anyone in the music industry was in the early 1980s when he was only 15 years old. After the tragic passing of Randy Rhoads, 15-year-old Gilbert sent a demo tape to Shrapnel Records founder Mike Varney to try and audition for Ozzy Osbourne. Although he never got to the audition, this relationship eventually landed him a spot at the Guitar Institute of Technology when he was only 17 years old. It took only a year for him to be accepted as an instructor. Not long after, he formed his band Racer X and released a debut album titled "Street Lethal". More through the 1980s, he also formed Mr. Big where he further showcased his technical and songwriting skills. Gilbert would later become recognized by many as one of the selected few guitarists of the 80s who revolutionized the instrument.
What Guitar Does Paul Gilbert Play?
Paul Gilbert plays Ibanez guitars and has long been one of the most recognizable and enthusiastic players of the brand. He's championed several models and is partnered with Ibanez on a signature line of guitars.
Back in the 1980s, Gilbert had the opportunity to sit down with Grover Jackson before getting a call from Ibanez to get his first custom guitar. Nowadays Gilbert is a devoted collector of vintage Ibanez models. When it comes to the stage, it's not so common to spot him sporting anything other than his PGM series. See the full list below of the most notable Paul Gilbert Guitars.
Ibanez PGMFRM1

Finish: Natural
Years Used: 2009 to Present
In 2009, Paul Gilbert got yet another signature Ibanez deal. It's not confirmed, but this is probably the first "reverse Iceman" design that he had. Although sold as Ibanez, it was manufactured by Sugi Musical Instruments Ltd. in Japan. It was intended as the celebration of 20 years of collaboration between Gilbert and Ibanez.
This "Reverse Iceman" design was eventually labeled as "Fireman," a suggestion given by one of Paul's fans. What's really exciting about it is that it comes with a Korina body, a Gibraltar II fixed bridge (similar to a tune-o-matic), and three DiMarzio single-coil pickups. Needless to say, the guitar had a lot of awesome ergonomic features. Unfortunately, this particular model was only produced in 2009 as a (very) limited edition series.
Ibanez PGMFRM200

Finish: White
Years Used: 2018 to Present
According to Paul himself, this is one of his favorite guitars, simple because the body is "so cool" but also because the natural resonation of it excels in comparison to many and most of his PGRFM models. The guitar was built under his very own request, but it was made into a heavy piece of wood to carry and hence it enhances the sustain on the six-string.
Gilbert decided to introduce this guitar to the public, one of his few signatures to be available for retail and one of the most resilient ones as well. It features two pickups and a single bolt connecting the neck to the body. You can see this model with Gilbert in almost every performance and rig crash course of his in the last few years.
Ibanez Ice-Stroyer

Finish: Pink/Purple
Years Used: 1987 to 2020
Although not much has been known about the guitar, Paul Gilbert's Ice-Stroyer was his trusty ally back in the late 1980s. Of course, he also kept playing it in the coming years, mostly for his work with Mr. Big.
Now, this is a "hybrid" model, fusing the traits of Ibanez's Iceman and Destroyer models. Ibanez made two of these unusual instruments for both Gilbert and Bruce Bouillet, the second guitar player in Racer X. As for Gilbert's guitar, he did a lot of changes to it over the years. To keep things under control, he replaced the instrument's original tremolo bridge (most likely a Floyd Rose, although not certain) with a regular fixed one. The guitar also has a pair of DiMarzio pickups, a Tone Zone humbucker in the bridge position, and an unknown single-coil in the neck position.
The instrument remained in Paul's possession until 2020 when he sold it at an auction over at Reverb.com. The motivation to sell it was to benefit his former Racer X bandmate, bassist Juan Alderete, who suffered a brain injury. Paul's custom-made Ice-Stroyer was eventually sold for $16000 to an unnamed buyer. This is easily one of the most iconic Paul Gilbert guitars of all time.
Ibanez PGM100

Finish: Jewel Blue
Years Used: 1989 to Present
One of the crucial moments in Paul Gilbert's career was his endorsement deal with Ibanez. In 1989, the company released a special signature model, which was made especially according to his specs and standards. The guitar is pretty much based on the company's RG770 model and comes with three DiMarzio pickups in the humbucker-single-humbucker formation. You can easily notice the guitar for its special "Jewel Blue" finish with two rose "F"-shape motifs, replicating the shape of string instrument soundholes. Other than that, it also rocked an Edge double-locking tremolo bridge.
Ibanez PGMFRM 25th Anniversary Edition

Finish: Yellow Maple Top
Years Used: 2014 to Present
The Paul Gilbert Fireman guitar escalated quickly in popularity, and not precisely as a signature guitar, it strived mainly because of its dynamic, rich sound and remarkable quality ever since it was first introduced. But in 2014 Ibanez wanted to commemorate this staple model for its 25th anniversary and it was introduced by Paul at NAMM 2014.
Unlike the traditional Fireman model, this anniversary edition sports two humbuckers on the neck and bridge position, now it is a must to have them on a zebra color so they can camouflage as single coil pick-ups so the aesthetic doesn't drift too far from the standard models. Ever since it was released, it's been Paul's main, that doesn't mean he won't play the original ones though.
Popular Related Article: What Guitars Did Prince Play
Ibanez Destroyer

Finish: Unknown
Years Used: 1976 to 1980
Looking at Paul Gilbert's earliest guitar-playing days, the first contact that he had with an electric guitar was with a particular Ibanez Destroyer. However, once again, we have a model but not much info about the instrument itself. Knowing that Paul uses Ibanez guitars almost exclusively, this Destroyer must have left a pretty great impression on him.
Although sold under the Ibanez label, these Destroyer guitars were manufactured by Japan's FujiGen-Gakki. Introduced in 1975, it was an obvious copy of Gibson's Explorer model. These were intended as more affordable alternatives for the Western market and a lot of late 1970s and early 1980s rock and metal players had them. Some of the examples include Adrian Smith of Iron Maiden and Eddie Van Halen. But despite originally intended as more affordable models, these are highly sought-after by modern-day guitar collectors.
Ibanez FRM100TR

Finish: Red
Years Used: 2011 to Present
But one of Paul's most important instruments at this point is Ibanez's FRM100TR. It's not sure how many of these he has, but the model was designed by him in collaboration with Ibanez. These came out as a mass-produced model back in 2011, which is probably when Gilbert also got one. The most interesting trait is that it comes with three single-coil pickups, along with the classic Iceman body model. While, it's not exactly the Iceman shape, but a reverse variation, and with a useful cutaway on the treble side of the body where it meets the neck.
It comes with a Tight-Tune bridge, DiMarzio Injector pickups in neck and bridge positions, as well as an Area 67 pickup in the middle. It also features 22 narrow and tall frets.
Ibanez FRM150TR

Finish: Red
Years Used: 2015 to Present
Then we have the Ibanez FRM150TR, which is a direct successor to the FRM100TR model. It was introduced in 2015, right after the FRM100 was discontinued. The main change is the inclusion of two humbuckers in bridge and neck positions. These are DiMarzio Air Classic pickups, while the middle position kept the Area 67 single-coil. Other than that, the guitar kept most of the same traits as the FRM100 variant.
Popular Related Article: Guitars John Mayer Has Played Over His Career
Ibanez PGM Double-Neck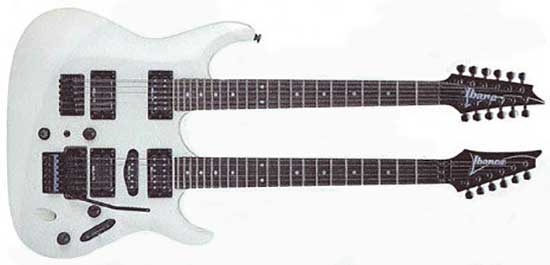 Finish: White
Years Used: 2009 to Present
Paul Gilbert's PGM series holds a lot of interesting models. One of the most interesting guitars in his collection, however, is a PGM double-neck variant made especially for him. You could see Paul using it in 2009, and it's highly likely that he still has it in his collection. The instrument is known for its pure white finish and black "F"-shape motifs, just like the ones on the PGM100 model. While there's not much info on it online, it's safe to assume that the instrument comes with the same type of hardware as seen on the PGM100 model. The Ibanez PGM is one of the coolest looking Paul Gilbert guitars in my opinion.
1995 Ibanez PGM800 Prototype
Finish: "Brown Satin"
Years Used: 1995 to Present
Another one of the PGM guitars, the PGM800 is another example done in this classic style of an RG770 and with "F"-shaped details, although it comes with a "Brown Satin" finish. Paul got his prototype in 1995 and he probably has a few other of these in his collection, although this has never been confirmed. He was seen, however, with a 25-fret version, which could be this prototype or some other custom-made experimental version of the model. Either way, the PGM800 was officially released in 1996 and manufactured up until 1999. Once again, we have a guitar with two humbuckers at the outside positions and one single-coil in the middle position.
Ibanez PGM300

Finish: White
Years Used: 1991 to Present
This is one of the most associated guitars to Paul's name, not only has Gilbert made extensive use of it for quite some time now, but it's also one of the most distinctive ones. As one of the 90s models that Ibanez issued for him, he received some copies to use as a backup, but when it came to manufacturing it had something special and that would be its classical body shape with F-holes.
It features a basswood body with a Wizzard neck and maple fingerboard with a reversed headstock. DiMarzio pickups were his choice as usual before he decided to modify its bridge with a hardtail tremolo. Later on, this model was reissued for its 20th anniversary as the PGM301 in 2004 and in 2009 the PGM300Re.
Popular Related Article: Complete Rundown Of David Gilmour Guitars
Ibanez PGM700
Finish: White
Years Used: 1995 to Present
Arguably the most interesting model of the entire PGM series is the PGM700 guitar. It takes no more than a single glance to realize why this is the case. The guitar is inspired by the violin body shape and kind of resembles those old "violin" bass guitars, like the old Höfner 500/1, popularized by Paul McCartney of The Beatles. Other than that, you'll see most of the other features and traits from the PGM series. There's the set-neck construction, "F"-shaped violin-like details on the body, a maple neck with a rosewood fretboard, and a Gibraltar II bridge. The guitar, however, was only produced during 1996, which makes it a really interesting collectible item these days.
Ibanez Jet King Omar Rodríguez-López Signature ORM-1

Finish: White
Years Used: Unspecified to 2013
Paul Gilbert was also seen using the Ibanez Jet King ORM-1 guitar. This is a signature model of Omar Rodríguez-López, a Puerto Rican musician, producer, and filmmaker. In 2008, he got his signature Ibanez model, the ORM1 guitar, which brings not only a unique and stylish body but also some other unexpected traits. For instance, there's only one pickup in the bridge, a single-sized humbucker, Ornament for Jet King tailpiece, a Gibraltar III fixed bridge, and just one control for volume level. Additionally, the instrument has pretty-looking pearl inlays on the fretboard and was available in black and white finishes.
Other than that, it's also worth noting that Ibanez ORM1 is one of the Jet King series guitars. These guitars are known for their "offset" body shape. While we're at it, mahogany is the main material for both the body and the neck. Although it has a 3-piece construction. ORM-1 also has a shorter and somewhat "unconventional" scale length of only 24 inches. If it were any shorter, it wouldn't be a regular electric guitar.
B.C. Rich Mockingbird

Finish: Neon Pink
Years Used: 1983 to 1987
One of the most popular electric guitars in the 1980s was B.C. Rich Mockingbird model. As Gilbert explained, most guitar players were looking for those other "unconventional" shapes. With the formation of Race X and the release of their debut album "Street Lethal," the company made a special Mockingbird guitar just for Gilbert.
Done in neon pink finish, it also featured "X"-shaped fretboard inlays. It was also accompanied by a Kahler tremolo bridge system. However, Paul wasn't satisfied with it, explaining that the guitar just wasn't particularly comfortable to play on. According to his own words, both the neck and the body didn't have ergonomic designs, ultimately resulting in subpar performances.
Taylor 710ce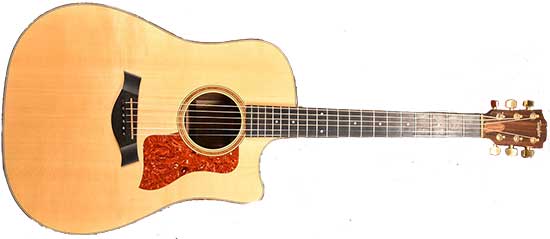 Finish: Natural
Years Used: 2000 to Present
Interestingly enough, Paul Gilbert is not much of an acoustic guitar player. Nonetheless, this doesn't mean that his collection didn't include some acoustics. Although not much is known of them, there's definitely been at least one of Taylor's 710CE models.
Taylor is one of the most popular and respected acoustic guitar companies on the market. The 710CE model is a cutaway variant of the standard 710 model. It's also one of the longest-lasting guitars ever made by the company. Aside from the Indian rosewood back and sides of the body, the top of the instrument is made out of solid sitka spruce wood. The instrument's dreadnaught shape is accompanied by a very comfortable and stylish Venetian cutaway. Finally, the guitar also comes with the company's own Expression System 2 which features a piezo pickup and an active preamp.
Ibanez PGA1000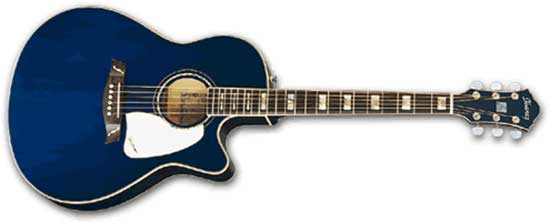 Finish: Marine Blue/ Transparent Red
Years Used: 1997 to 2003
While we're at it, back in the late 1990s, Paul Gilbert teamed up with Ibanez once again for a new special series of acoustic guitars. Based on the company's already established AE series, there was only one model, the PGA1000. It was produced for only one year and there were two variants available, one in the Marine Blue finish and the other one in Transparent Red finish.
These guitars came with a jumbo-shape body, accompanied by the classic Venetian cutaway. What's really interesting is that they feature bodies made entirely out of flame maple. You don't often find an acoustic guitar that uses the same material for the top, sides, and back.
The neck on this model is a maple one, accompanied by the standard rosewood fingerboard. It also came with 22 medium-sized frets, pearl rectangular-shaped inlays, as well as cream binding on the fretboard. Finally, the PGA1000 guitar also had a preamp and piezo system, featuring Fishman Matrix pickup and Fishman Prefix preamp.
Unnamed Stella Acoustic Guitar
Finish: Unknown
Years Used: Unspecified
To start, it's worth noting that this was Gilbert's first-ever guitar. This was an unnamed Stella model. According to Paul, the guitar featured a short scale length and was intended for beginners. But not much is known about it other than that.
Table Showing the Guitars Paul Gilbert Used at Each Point of His Career
| Make | Model | Color/Finish | Years |
| --- | --- | --- | --- |
| Stella | Unnamed Acoustic | Unknown | Unspecified |
| Ibanez | Jet King Omar Rodríguez-López Signature ORM-1 | White | Unspecified - 2013 |
| Ibanez | Destroyer | Unknown | 1976-1980 |
| B.C. Rich | Mockingbird | Neon Pink | 1983-1987 |
| Ibanez | Ice-Stroyer | Pink/Purple | 1987 - 2020 |
| Ibanez | PGM100 | Jewel Blue | 1989 - Present |
| Ibanez | PGM800 Prototype | Brown Satin" | 1995 - Present |
| Ibanez | PGM700 | White | 1995 - Present |
| Ibanez | PGA1000 | Marine Blue/ Transparent Red | 1997 - 2003 |
| Taylor | 710ce | Natural | 2000-Present |
| Ibanez | PGMFRM1 | Natural | 2009 - Present |
| Ibanez | PGM Double-Neck | White | 2009 - Present |
| Ibanez | FRM100TR | Red | 2011- Present |
| Ibanez | FRM150TR | Red | 2015 - Present |
Paul Gilbert's Amplifier Overview
Marshall Vintage Modern 2266C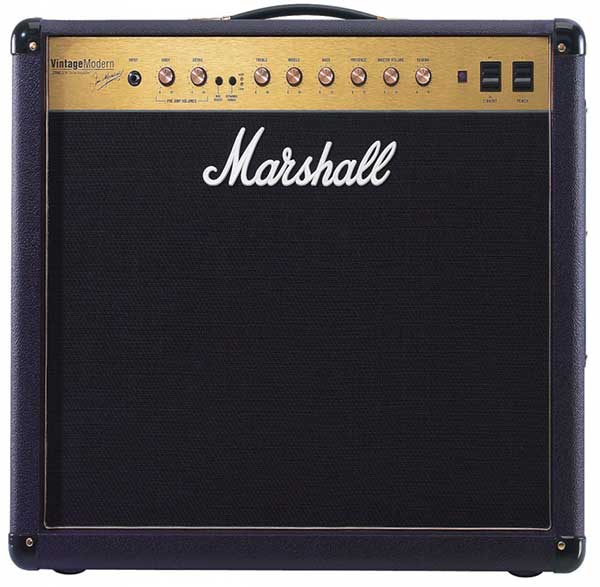 Years Used: 2006 to Unspecified
Everyone who's a Paul Gilbert fan knows that he uses Marshall amps. For a while, he was an avid Laney user, but he switched over to Marshalls for good, presumably in 2007. This started with the use of a 2266C model, which is a combo variant. These tube amps came out in 2007 and are referred to as the "Vintage Modern" models. They came with a total of 50 watts of output power going through a pair of Celestion G12C speakers. They're also equipped with four ECC83 or 12AX7 preamp tubes, as well as two KT66 power amp tubes. They're also intended as single-channel amps, although there are some ways to create that saturated "organic" distortion tones that tube amps are well-known for.
Marshall 2061X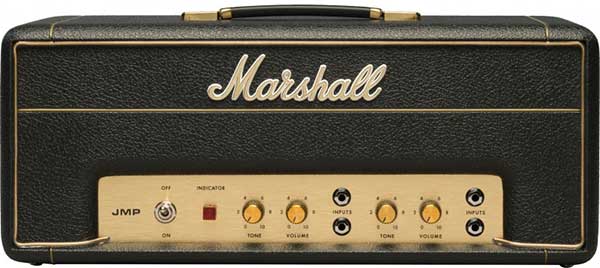 Years Used: 2007 to Present
Another Marshall that Gilbert revealed that he used is the 2061X model. This one is also a discontinued one by the legendary manufacturer, although it's an amp head. Its main intention was to replicate the old 2061 amp model which was originally manufactured between 1968 and 1973. Marshall pretty much succeeded in it, delivering some vintage-oriented tones with this 20-watt head.
This particular model features a simple layout with two separate channels, each featuring two inputs. The tone is shaped only through volume and tone knobs for each channel, making these amps very straightforward. They're also equipped with two ECC83 tubes in the preamp and a pair of EL34 tubes in the power amp.
Marshall JCM 2000 DSL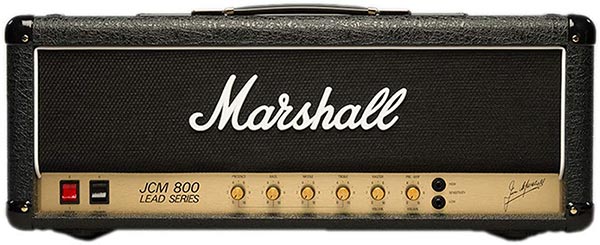 Years Used: 2011 to Present
In some gear review videos, Paul revealed that he used Marshall JCM 2000 DSL amps. This was confirmed for his live rig, although we can't say for sure whether they saw some action in the studio. According to him, these amp heads are pretty consistent and reliable.
Marshall JCM 2000 DSL is one of the most potent amp heads. They have two channels and some pretty detailed tone-shaping options. It's equipped with four ECC83 tubes in the preamp and four EL34s in the power amp. It's the classic Marshall formation with immense power, great versatility, and great value for money.
Marshall 1987X

Years Used: 2006 to Unspecified
Another Marshall in his collection is the 1987X head. This is a 50-watt head, completely tube-driven. It's pretty much a modified variant of the larger 1959 SLP amp, although it has its own character. Gilbert began using it around the time when he switched over to Marshalls altogether, most likely in the late 2000s.
Aside from having 50 watts of output power, the 1987X has the classic 4-input configuration with two channels. This allows you to use it the old-school way and "jumper" the channels in order to blend them in. Additionally, the amp comes with an effects loop, a bypass switch for the loop, as well as a level switch that enables the use of both pedals and rack-mounted units. Although the control layout is pretty simple, this amp enables some pretty interesting tone-shaping options. The simplicity is also accompanied by Marshall's classic mid-oriented tone, which is, in part, thanks to the EL34 tubes.
Germino Lead 55

Years Used: 2013 to Present
Although not a Marshall amp, Germino Lead 55 is done according to some of the legendary brand's older models. Sure, Germino is not a super well-known amp-making company, but it's what you'd refer to as a "boutique" amp maker. Either way, Paul Gilbert uses the Lead 55 amp head. This one is a pretty potent and powerful piece, delivering the classic vintage 4-input and 2-channel formation. It's kind of similar to classic Marshalls amp models, especially for its expressiveness in the mids. Either way, this amp gives Paul a lot of sonic versatility when paired with a great pedal combination.
Laney GH100L
Years Used: 1988 to Present
Now, for most of his career, Paul Gilbert has been using Laney amps. While it's been confirmed that he had the GH100L, there isn't any other info on whether he used some other stuff by the company. Either way, the GH100L head is one of the longest-lasting amps on the market these days and it was one of the crucial models for Paul Gilbert's tone during his Race X time.
Interestingly enough, this is a single-channel amplifier, although it comes with additional distortion circuitry within this channel. There's the standard 3-band equalizer, along with two separate inputs (high and low impedance). It's one of the classic hard rock and metal amps with a significant boost to the mids. This is, in part, thanks to the EL34 tubes in the power amp section.
Fender Princeton Reverb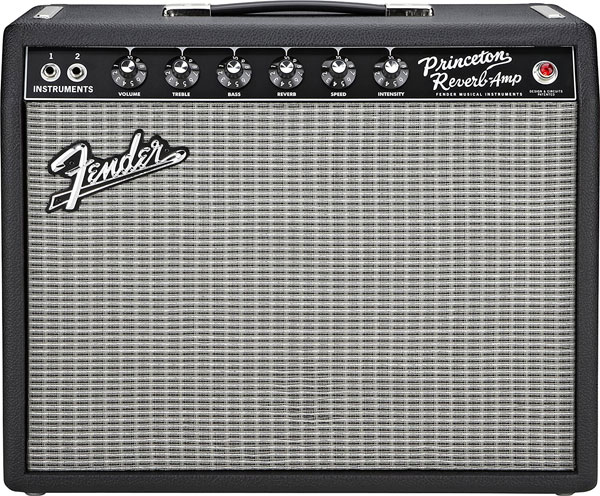 Years Used: 2009 to 2020
Although not exactly a Fender kind of guy, Paul Gilbert did use a Fender Princeton Reverb amp at one point in his career. Well, at least at one point. This was supposedly for a song "Batter Up" from his 2010 album "Fuzz Universe." It's not certain which Princeton Reverb variant was it, but it's most likely the '65 reissue model since this was around the time when it came out.
Being a traditionally American amp, the Princeton Reverb '65 Reissue model comes with a pair of 6V6 tubes in the power amp section, featuring a total of 15 watts of output power. This is accompanied by three 12AX7 valves and one 12AT7 valve in the preamp section, as well as one 5AR4 rectifier tube. You'll hear that it comes with not so much mid frequencies in the mix, bringing that classic surf-rock kind of tone.
Yamaha THR5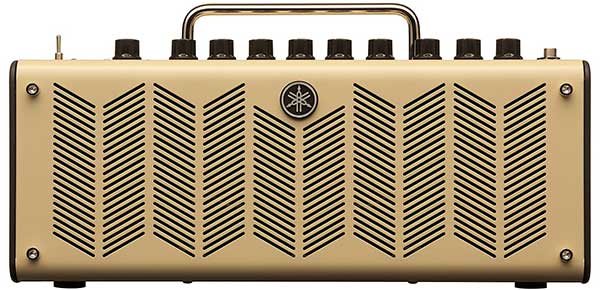 Years Used: 2014 to Present
Although not exactly an amp you'd see him use on stage, Paul Gilbert is really fond of his Yamaha THR5. This little piece is a practice amplifier, featuring 10 watts of power going through its two 3-inch speakers. It's accompanied by an integrated digital modeling and effects unit, a stereo formation, as well as an integrated audio interface that can be connected to your computer via USB.
But it's more than just an amp as it also allows for an auxiliary input for backing tracks or other purposes. Combine it with its five digital amp models, and you've got yourself a really potent practice and home recording unit, all available in a lunchbox-sized piece.
Kemper Profiler Head

Years Used: 2016 to Present
While it may be a bit of a "controversial" topic, digital modeling amps have been finding their place in the rigs of many famous guitar players. It was probably a shock to some, but Paul Gilbert began using Kemper's Profiler Head.
According to Paul, he was pretty curious about how using a Kemper modeler amp would turn out. Eventually, he was able to capture the tones of his own amps. And, according to his words, he couldn't notice any difference. We're yet to see what the future holds, but it seems like Paul Gilbert is now one of the guitar heroes who will be going digital.
Paul Gilbert Pedals and Effects Overview
TC Electronic MojoMojo Overdrive
Years Used: 2015 to Present
Although distortion and overdrive are effects people usually spend the most money on, Paul Gilbert actually uses a super-cheap MojoMojo pedal by TC Electronic. For some time now, this has been his go-to dirt box, which he combines with the full potential of tube-driven amps.
The MojoMojo pedal is based on the classic Tube Screamer concept, although it has a few interesting tone-shaping features. Firstly, it comes with a 2-band EQ, and secondly, there's a "voice" toggle switch that gives "tight" or "open" kind of tones. And, on top of all that, it's a compact pedal, making it a pretty great choice for those who want to "organically" boost their tube-driven amplifiers.
Ibanez TS808 Tube Screamer
Years Used: Unspecified
But while we're at it, Paul has used Ibanez's TS808 Tube Screamer, the classic "original" variant. However, although we know the model in question, it's not certain when and where he used it and whether he's using newer or older versions. It's also known that he used it for his studio work, but no one can say which exact songs feature this particular pedal model.
Either way, being a lead guitar player, it's only obvious that he would go with such a pedal. Featuring only three simple controls for volume, drive, and tone, the pedal has been pretty popular among guitarists who prefer tube amplifiers.
Ibanez TS9DX Tube Screamer Keeley Mod
Years Used: 2013
Robert Keeley of Keeley Electronics is one of the unsung heroes of rock music. He's collaborated with plenty of guitar players over the past few decades or so, modifying some of the classic pedals. Paul Gilbert was also seen using an Ibanez TS9DX Tube Screamer variant, but with Keeley's recognizable modification, an additional footswitch. Now, it's not certain what the exact modification is, but there are definitely some significant changes done to its circuitry.
Other than that, the TS9DX is a more versatile variant of the classic TS9 Tube Screamer pedal. It has an additional knob that shifts through three different modes of operation, allowing you to get a different response from any standard tube-driven amp.
Boss CS-3 Compression Sustainer
Years Used: 2013 to Present
While it's not completely certain when Paul Gilbert began using it, there has definitely been Boss' CS-3 Compressor Sustainer pedal in his signal chain. This is a classic piece and a continuation of Boss' compact compressor units for guitars. This one has been on the market for a while, ever since the early 1990s.
What makes it special compared to most of the other compact compressor units on the market is that it's a bit more versatile. It comes with four knobs, allowing you to adjust the volume level, tone, attack of the compression effect, as well as an additional "sustain" knob. In the practical sense, the "sustain" control "squeezes" the signal, adjusting the ratio and amplifying the quieter sounds while also keeping the louder parts quieter. As a result, you can get some additional sustain in your tone.
Boss DD-3 Digital Delay
Years Used: 2002 to Present
Once again, we can't say for sure when Paul Gilbert began using the classic DD-3 Digital Delay by Boss. However, it's been a part of his live setup for a while now. It's been confirmed that he used it live with Mr. Big, although there's a high chance it has seen action both in live and studio settings for his solo work as well.
This is one of the classic Boss pedals, a direct descendant of the first-ever digital delay compact guitar pedal. In fact, it's one of their longest-running products, with the first series of units being rolled out sometime in 1986. So there's some chance that Gilbert has also been using it since his early-career days.
Way Huge Electronics WHE202 Green Rhino MkII
Years Used: 2012
From the early 2010s and onwards, Paul Gilbert was seen with the Way Huge Electronics Green Rhino pedal, the MkII version. The pedal came out around that time, and Paul is known for trying new stuff when it's released. The pedal has been one of the fundamental components behind his tone since then, at least for his live shows.
Just like most of the overdrives on the market today, the Green Rhino is heavily inspired by the classic Ibanez Tube Screamer. Of course, there are those three basic controls for volume, tone, and drive. But the pedal is also equipped with two important knobs that allow you to cut or boost frequencies around 100 Hz and around 500 Hz.
MXR M101 Phase 90
Years Used: 2010
Of course, it's hard to imagine a guitar player like Paul Gilbert not using MXR pedals. That's especially the case with a classic piece like the M101 Phase 90. This is, by far, one of the simplest pedals available on the market. And, what's more, it's also one of the longest-running products. Most popularly, it was used by Eddie Van Halen, and Paul was likely inspired by Eddie.
Although a fairly straightforward one, featuring only one knob for the effect speed, it's been used by guitar players of many different genres. Additionally, it's also a fairly compact one, making it really easy to fit into any standard pedalboard.
MXR M107 Phase 100
Years Used: Unspecified
But the Phase 90 is not the only phaser pedal in his collection. Paul was also seen using the MXR's M107, which is the Phase 100 model. Although still simple and straightforward, the pedal has more tone-shaping options for the effect.
Aside from the speed knob, there's a control for intensity, allowing for different modes of operation. Other than that, the pedal is larger than its predecessor, taking up a bit more space on your pedalboard. But still, it's a very potent tool for guitar players.
Electro-Harmonix Deluxe Electric Mistress
Years Used: 2007 to Present
Going further into his effects of choice, Paul also prefers to enhance his guitar tone using legendary Electro-Harmonic's Electric Mistress, the Deluxe version. Here we have an analog flanger on our hands with a pretty interesting approach to this effect. In fact, the pedal is more than just that, bringing the "filter matrix" mode which gives some interesting twist to the effect.
Ibanez AF2 Airplane Flanger Paul Gilbert Signature
Years Used: 2009 to Present
But it's not only guitars that Ibanez has been making for Paul Gilbert over the years. In 2009, the company released a signature flanger pedal that they've done in collaboration with the guitarist. The model in question is AF2, the Airplane Flanger Paul Gilbert Signature pedal.
This unit has completely been designed by Gilbert, even featuring creatively conceived "taxi" and "takeoff" modes. The pedal allows for anything from soft and subtle flange tones, similar to the chorus, and up to soaring "wooshing" jet-like sweeps. And, just like his guitars, the overall design is not what you see every day, with a pink finish and vintage-oriented writings on it.
Empress ParaEQ
Years Used: 2010 to Present
Now, the Empress ParaEq is a rather intricate pedal. It's actually pretty complex, but it enables a lot of tone-shaping options. Paul Gilbert has been using this piece for some time now, most likely since the early 2010s, although we can't say for sure. It found its way into his live setup and, according to Gilbert, he pretty much leaves it on almost all the time during his performances.
But the ParaEq pedal by Empress is more than just your average equalizer device for a guitar. Essentially, it's a 3-band EQ. However, it's also possible to select the peak frequency of each frequency band using separate knobs. Additionally, each frequency range comes with its own 3-way position switch that determines the curve shape. And as if all of this wasn't enough, there's an input pad control and an additional footswitch for further boosting the output signal.
TC Electronic Hall of Fame Mini Reverb
Years Used: Unspecified
Another interesting device by TC Electronic that found its way into Paul Gilbert's signal chain is the Hall of Fame Mini Reverb pedal. This is a small-sized version of the company's famous Hall of Fame pedal. What's really interesting is that it comes with just one knob which controls the effect's intensity, duration, and mix. It also features a true bypass circuitry, along with a super-small casing. And, finally, it also comes with TC Electronics' famous TonePrint feature, meaning that you can download some special presets and tones for it.
TC Electronic Ditto Looper
Years Used: 2010 to Unspecified
TC Electronic's simple, and surprisingly affordable, devices sit pretty well with Paul Gilbert and his preferences. Another pedal that he uses occasionally is the Ditto Looper. Just like the previously mentioned pedal, this one also comes with a small-sized metal casing. What's really interesting for a looper device, there's just one knob and one footswitch. The knob controls the loop volume level, while the switch does basic functions and can be used in multiple ways. It records loops in 24-bit resolution, while it also allows up to 5 minutes of recording time in multiple layers.
MXR M169 Carbon Copy Analog Delay
Years Used: 2011 to Unspecified
As far as MXR pedals go, Paul Gilbert also uses the company's analog delay, their famous Carbon Copy pedal. Also labeled as the M169 model, this is a fairly simple one but comes with some additional features except for the standard delay and echo controls. On the front panel, we can find a switch for modulation, essentially a chorus-like effect with a real vintage vibe to it. There are also two trim pots inside of the pedal that allows you to adjust the rate and width of the modulation effect. Other than that, the pedal comes with up to 600 milliseconds of maximum delay time, which is a standard for analog delays.
MXR M103 Blue Box
Years Used: 2009 to Present
MXR's Blue Box is technically a distortion device. However, this is actually a fuzz pedal that adds a bottom octave to the mix as well. Its tone is very saturated and harmonically rich. It's not for everyone's tastes, but it brings a completely new twist to the standard fuzz effect. It's a very useful tool if you need a unique-sounding lead section that cuts sharply through the mix.
4114 Custom Effects Flux Capacitor Delay
Years Used: 2013 to Present
4114 Custom Effects is not a name that you hear about that often. Nonetheless, they make some pretty awesome "boutique" kind of pedals. Paul Gilbert has been using their Flux Capacitor Delay for some time now. Although a digital pedal with a chip, it has an analog-like tone. It's completely vintage-oriented, both in its design and features. It's simple to use and brings up to 400 ms of delay time. But what's really exciting is that it comes with a shining flux capacitor and it turns on when you engage the effect.
JHS PG-14 Paul Gilbert Signature
Years Used: 2020 to Present
After being impressed by some of the company's products, Paul Gilbert teamed up with JHS for his own signature distortion pedal. Called PG-14, it has six parameter control knobs on it. Sure, there are standard volume, tone, and drive controls, but it's also accompanied by mid, mid-frequency, and "push" controls as well. The mid and mid-frequency controls let you completely change the character of your tone. The "push" feature is pretty interesting since it enables you to replicate the dynamic response of tube-driven amplifiers.
Dunlop Crybaby 535Q Multi-Wah
Years Used: 1991 to Present
Although wah is an obligatory effect pedal for a virtuoso like Paul Gilbert, not much is known about the exact models that he used over the years. However, it's been confirmed that he used Dunlop's Crybaby, the 535Q variant, which is most likely still in his inventory. This is a "Multi-Wah" pedal, enabling more tone-shaping options compared to conventional wahs on the market.
Wrap Up
Paul Gilbert is one of those treasured players of the industry, while his career with Race X might have been overshadowed by the likes of Van Halen and Yngwie Malmsteen, he managed to beacon his skill as one of the greatest. His playing sounds like a dragon when it comes to shredding and his no mercy on vibrato has melted countless faces since the 1980s.
More on, Gilbert's success has been paralleled by his laid-back quirkiness combined with his beastlike attitude towards a six-string. Paul is an understated guitar god, he helped morph music into the 80s as the era we love to bask in memorabilia with, he cut his teeth while mimicking Malmsteen and broke unseen melodic sensibilities to heavy metal and hard rock.
However, Paul Gilbert proves that he's more than just a classic shredder. Sure, his alternate picking technique was impeccable and he's one of the fastest and most precise guitarists of all time. However, his skills are in service of music, and that's something you don't see that often among stereotypical shredders. In fact, it's his writing and very expressive playing that made him stand out in the sea of fast guitarists, who often focused more on performance rather than substance.
Having said this, a huge part of his greatness and what makes his work so unique is Paul Gilbert's tone. The most interesting thing about it is how he always found a way to use an appropriate tone for every setting, making his music so balanced and enjoyable. This is a man who never stopped pushing his limits since he was 15, and that has paid off making him into a household name across all genres and Rock N' Roll as a whole.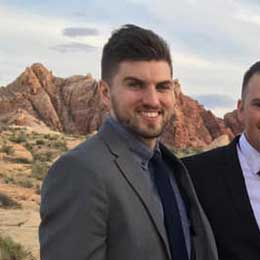 My name is Chris and I've had a passion for music and guitars for as long as I can remember. I started this website with some of my friends who are musicians, music teachers, gear heads, and music enthusiasts so we could provide high-quality guitar and music-related content.
I've been playing guitar since I was 13 years old and am an avid collector. Amps, pedals, guitars, bass, drums, microphones, studio, and recording gear, I love it all.
I was born and raised in Western Pennsylvania. My background is in Electrical Engineering, earning a Bachelor's degree from Youngstown State University. With my engineering experience, I've developed as a designer of guitar amplifiers and effects. A true passion of mine, I've designed, built, and repaired a wide range of guitar amps and electronics. Here at the Guitar Lobby, our aim is to share our passion for Music and gear with the rest of the music community.