As a guitarist, Mark Knopfler is truly a virtuoso of the instrument. But also as a singer-songwriter, his unique take on country and folk sparked the stratospheric rise of Dire Straits. A four-time Grammy winner, he maintained the band's success even when his music taste shifted. His music transcends both new wave and pub rock, and will forever remain timeless.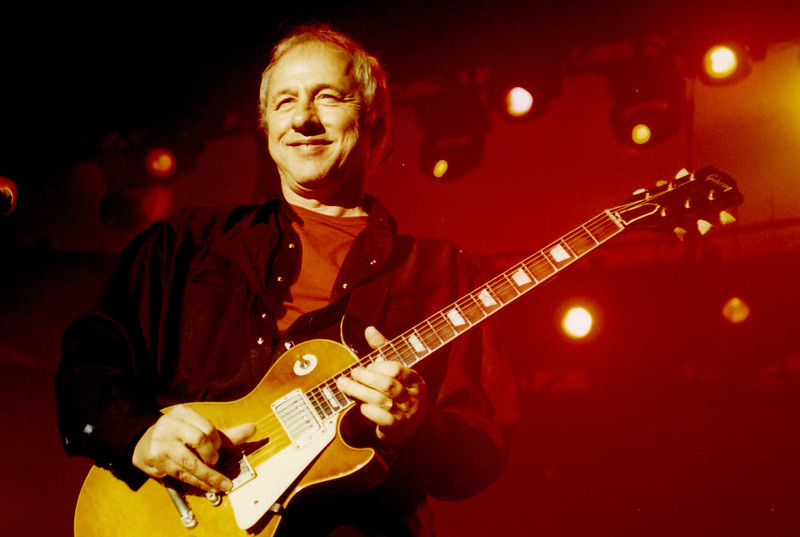 Mark has sold more than 120 million records worldwide as a solo artist and with Dire Straits. Rolling Stone even ranked him as the 27th greatest guitarist ever, and he was recently inducted into the Rock and Roll Hall of Fame. As a craftsman, he is unrivaled, able to tap into rock's historical ancestry and mold it into often bizarre shapes. Publications such as Classic Rock Magazine and Skin Magazine have described Mark as a virtuoso and the most lyrical rock guitarist out there.
What Kind of Guitar Does Mark Knopfler Play?
Mark Knopfler is most known for playing Fender Stratocaster and Gibson Les Paul Standard guitars. He has also used many other guitars throughout different stages of his career, and he is known to have a large collection of vintage and rare guitars from various manufacturers.
See the full list of Mark Knopfler guitars and gear below.
Fender Stratocaster Mark Knopfler Signature

| | |
| --- | --- |
| Finish | Hot Rod Red |
| Years Used | 2003 to Present |
The Mark Knopfler Signature Strat is built around a Fender Comfort Contoured '57 guitar body. He had the model made to his specifications, with an ash body and an Indian rosewood fingerboard hoping to improve the sustain from his previously owned Stratocasters
Fender released the Mark Knopfler Signature Stratocaster in 2003. It was officially only available in one color: Hot Rod Red. However, the original production run was in a different color and did not resemble Mark Knopfler's famed red 1961 Strat but was much deeper. The Hot Rod Red edition eventually superseded the darker version.
Three Texas Special single-coil pickups and a five-way switch give the Fender Mark Knopfler Stratocaster its distinct tone. This scorching beauty also comes with Fender/Gotoh vintage tuners and an American vintage tremolo system. He primarily plays this guitar when he is on the road, and is often his main go-to along with his vintage Les Paul catalog, according to the man himself, each serves an entirely different purpose.
1983 Gibson Les Paul Standard Reissue '59

| | |
| --- | --- |
| Finish | Cherry Sunburst |
| Years Used | 1984 to Present |
Mark's Les Paul Standard model has a one-piece mahogany body with an excellent two-piece flamed maple top in cherry sunburst and two Gibson 'Shaw' humbuckers, most likely. In 1984, Mark purchased this 1983 Gibson Les Paul Standard from Rudy Pensa.
According to one of Mark's interviews, he couldn't afford to buy one from the "classic years" at the time, so he waited until the 1970s to get a reprint. Mark recorded songs like 'Brothers In Arms' and 'Money for Nothing' like the other Gibson SG models used in this Gibson standard. He also flaunted this majestic ax quite a bit like the other Gibson SG models while on tour.
It seems like it is still not confirmed whether or not this guitar is the 1970s or 1980s Les Paul. Its serial number appears to be #90006, indicating that it was part of the first batch of '59 Les Paul Flametop reissues produced in 1983. Since most signs lead to the 1980s, Mark was most likely misquoted or made a blunder when he said he acquired the guitar in the 1970s.
1961 Fender Stratocaster

| | |
| --- | --- |
| Finish | Fiesta Red |
| Years Used | 1977 to Present |
Mark purchased the Stratocaster before the debut of Dire Straits' first album in 1978. It was Mark's first Fender Stratocaster, and it was most likely used on the demo tape and possibly the album version of 'Sultans of Swing'.
Mark had the original paint taken off the guitar when he bought it, so he had it repainted in red to look like Hank Marvin's red Strat, which is one of his dream guitars. This Strat previously boasted DiMarzio FS-1 pickups which were later replaced with original Strat pickups in the '90s.
Mark played this guitar for the album's recording and as a backup for his maple-necked Strat. He began to use this instrument more frequently than the maple Strat in 1979, but by the mid-1980s, he had determined that it was best to keep the guitar safe at his home for obvious sentimental reasons.
1958 Gibson Les Paul Standard

| | |
| --- | --- |
| Finish | Cherry Red Sunburst |
| Years Used | 1995 to Present |
The 1958 Gibson Les Paul Standard is Mark's first vintage Les Paul which he purchased in the mid-'90s, and it swiftly supplanted his 1980s reissue, which he used on the Brothers in Arms album. This version of Les Paul has an almost entirely faded cherry-red sunburst finish on a slightly figured maple top. It was manufactured during what is commonly referred to as Gibson's golden era.
It is one of the first models to have a sunburst finish, which replaced the standard gold-top finish released in July 1958. It also has the original 1958 Gibson PAF pickups in both the neck and bridge positions.
Mark loves to play this guitar live a lot, even more than his other 1959 Les Paul. This Les Paul has often been considered Mark's most desirable Les Paul model. He initially used it on tour to support his solo album Golden Heart, published in 1996. Other albums where you can hear this guitar include 'Sailing to Philadelphia', 'Shangri La', 'Kill to Get Crimson', 'Get lucky', and 'Privateering'.
1959 Gibson Les Paul Standard

| | |
| --- | --- |
| Finish | Cherry Red Sunburst |
| Years Used | 1996 to Present |
The 1959 Gibson Les Paul Standard is Mark's second vintage, Les Paul. It's unclear when he purchased this instrument, but it appears to have been about the same time as his other Les Paul, in the mid to late 1990s.
It's easy to confuse this 1959 Les Paul with his 1958 Les Paul because they both have the same cherry red sunburst finish, but this one has a much less soft finish, making it easier to tell them apart.
Like its predecessor (the 1958's Les Paul), this model features a mahogany body with a maple top and a rosewood fretboard. It is also scarce and expensive. As a bonus, it has the original 1959 Gibson PAF pickups stored inside as well.
This Les Paul is usually used by Marl on tours as a backup guitar for his '58 Les Paul. While performing 'Song for Sonny Liston' and 'Why aye man, he played it live.
1954 Fender Stratocaster

| | |
| --- | --- |
| Finish | Two-Tone Sunburst |
| Years Used | 1966 to Present |
Mark received the 1954 Fender Stratocaster as a gift from English singer-songwriter Paul Kennerly in the 1990s. This is the 59th Stratocaster ever built, according to the manufacturer The original 1954 Fender Strat pickups are housed in this Fender Stratocaster, with an ash body and a one-piece maple neck. Heavier strings have always been Mark's preference for this Strat. This gem always has 012 gauge wound strings, and, astonishingly, he plays it with a pick.
Mark utilized it to record songs such as 'I'm The Fool' from the 1996 album 'Golden Heart', "The Fish and the Bird" from 'Kill to Get Crimson, and 'I Used to Could' from 'Privateering'.
1962 Hofner Super Solid V2

| | |
| --- | --- |
| Finish | Red |
| Years Used | 1962 to Present |
Mark's father purchased this guitar for him for just 50 pounds when he was 15 years old in 1964. It was his first guitar, and he couldn't afford an amplifier at the moment, so he tried to play it through a family radio instead, which blew up.
The Hofner super solid V2 is a 1962 model with a stunning and slightly shiny crimson finish. It comes with two type-510 'Diamond Logo' pickups and celluloid strip fretboard inlays. Even though the instrument was neither particularly unusual nor expensive, it assisted Mark in his early days as a guitarist.
Even though Mark has had this instrument for more than 50 years, he still owns it and takes great care of it. He definitely has a special attachment to it.
1960s Gibson SG Custom

| | |
| --- | --- |
| Finish | White |
| Years Used | 1982 to 1983 |
The Gibson SG Custom from the 1960s is one of the finest models in the Gibson SG line. It has three Gibson humbuckers that are all gold-plated. It boasts a mahogany body and a split-diamond headstock inlay, giving it a very regal appearance.
This SG Custom model, too, has two volume and tone controls and a three-way switch like the other Gibson SG models. Each of the three humbucking pickups is the same as the one found in the SG Standard.
During the 'Love over Gold' tour in 1982-1983, Mark Knopfler used this guitar for 'Two Young Lovers'. According to a Facebook post, this was indeed Hal Lindes' guitar, which Hal confirmed.
1959 Gibson ES-335TDN

| | |
| --- | --- |
| Finish | VOS Natural |
| Years Used | Unspecified |
The '59 Gibson ES 335 was featured on the album's booklet in 2000, "Sailing to Philadelphia." Mark used this guitar on the album's song 'Baloney again.' It was also captured on camera at Mark Knopfler's studio.
Mark's Gibson ES 335 boasts a lovely blonde finish and an ABR-1 Tune-O-Matic bridge, which was unusual at the time. It came with the standard Gibson PAF pickups. This guitar, according to Mark, has a good, fat neck that he enjoys and is at ease with.
Mark also used this guitar on some of the album 'Kill to Get Crimson' songs.
1953 Gibson Custom Super 400 CES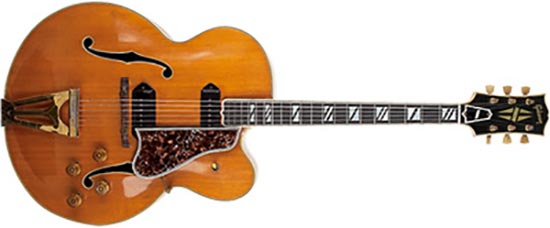 | | |
| --- | --- |
| Finish | Deep Amber Blonde |
| Years Used | 1990 to 2004 |
Rare and pricey, the 1953 Gibson Custom Super 400 CES had just a handful of owners all over the world. This magnificent guitar features a blonde finish, an archtop shape, and two Alnico V pickups of the highest quality.
When opposed to prior models, Mark's Custom Super 400 has a thicker top to prevent feedback. and was built in 1953. During the 1990 UK tour of 'The Notting Hillbillies,' the guitar was used by Mark for the first time while performing 'Run me down'.
Mark used this to record the song 'Fade to Black' on the album 'On Every Street' and perform 'Your latest trick' during the 'On Every Street' world tour. The beauty reappeared again for the last time in 2004 when Mark utilized it to perform 'Blue Moon of Kentucky' and 'Baby Let's Play House' at an Elvis Presley tribute performance.
1962 Fender Stratocaster

| | |
| --- | --- |
| Finish | Fiesta Red |
| Years Used | 1977 to 1982 |
Mark bought his second Fender Stratocaster somewhere in the mid to late 1970s. The guitar was built in the early 1960s, and it was a Japanese copy with a maple neck, which was unique at the time.
The 1962 Fender Stratocaster has a 2-piece select alder body that delivers a great tone and a classic look. The hand-wound single-coil Strat pickups provide a classic Strat tone that fits Mark's style perfectly. In 1982, John Suhr dismantled Mark's maple Strat, noticing all the imperfections, and replaced the original neck with a Schecter one-piece maple neck.
Mark quit playing his Strat soon after, possibly because he discovered it wasn't real, and switched to Schecters and other guitars. However, it was purportedly sold at an auction for a good cause.
1969 Fender Telecaster Thinline

| | |
| --- | --- |
| Finish | Black |
| Years Used | 1977 to 1978 |
The 1969 Fender Telecaster Thinline originally belonged to David Knopfler, but Mark used it as a slide guitar in the early days for 'Water of Love'. The instrument started as a Telecaster Thinline with body cavities, which Mark's friend Steve Phillips later changed by filling in the f-holes and painting the whole thing black.
This guitar was built to resemble Mark's Thinline black telecaster in tone and feel. It has a mahogany body with a maple neck, two regular Telecaster single-coil pickups, and a mahogany body. This instrument is incredibly resonant because of its small weight, making it suitable for the slide guitar methods that Mark wanted to try.
On all early Dire Straits live recordings, you can hear this guitar. Mark played it on the song 'Water of Love,' and David Knopfler, who still owns it, played it on songs like 'Wild West End' and 'Les Boys.'
1980 Schecter Dream Machine Stratocaster Red

| | |
| --- | --- |
| Finish | Metallic Red |
| Years Used | 1980 to 2008 |
This guitar, along with a couple of other Schecters, was acquired by Mark in the early 1980s from Rudy Music Stop in New York. At the time, Mark was searching for a guitar to replace his 1962 Stratocaster. Coincidentally, a Schecter guitar that his girlfriend owned attracted him.
This Schecter was initially equipped with three black Schecter F500T pickups, but after a few months, they appear to have been changed with Seymour Duncans. It features a premium mahogany body with a birds-eye one-piece maple neck. The metallic red finish offers a striking presence that stands out.
Mark used this guitar from 1980 to 1987, when he converted to Pensa-Suhr guitars. However, he did play it on occasion in the 1990s. It was also seen at two of Dire Straits' most memorable concerts, Alchemy Live in 1983 and Live Aid in 1985.
1980 Schecter Dream Machine Stratocaster

| | |
| --- | --- |
| Finish | Two-Tone Sunburst |
| Years Used | 1980 to 2004 |
During the 1980s, this was Mark's second-most-used Schecter out of two almost similar sunburst Schecters, one of which was stolen in the early 1980s and replaced by the other.
The Schecter had a sunburst finish and three Schecter F500T pickups, and a brass pickguard. It features a one-piece ash body with a birds-eye one-piece maple neck. The original Schecter that was stolen had dot inlays on the neck and the jack socket on the front of the body. However, the second had no inlays and the jack plate on the side.
Mark used the first Schecter for the album "Making Movies" in 1980, but it was stolen, and he used the second one alongside his red Schecter main until roughly 1986, solely for the song "Tunnel of Love." He eventually sold the instrument at an auction in 2004 and donated the proceeds to Eric Clapton's Antigua Crossroads Centre.
1984 Schecter Telecaster
| | |
| --- | --- |
| Finish | Vermillion Red |
| Years Used | 1984 to Present |
The vermillion red finish on Mark's Schecter Telecaster is accented by a white pickguard along the body's top edge. The body is built of fine alder, with a maple neck and rosewood fretboard, which provides a premium feel.
The Schecter F500T pickups are featured in it, and they are so responsive and expressive that they are at the top of the shelf when it comes to pickups from that era.
Mark bought the 1984 Schecter Tele in the 1980s and used it for the first time on the 1984 soundtrack album 'Cal'. He then utilized it in the video for 'Walk of Life'. He is still the proud owner of this magnificent instrument, and he uses it to perform the songs he recorded with it.
1985 Schecter Stratocaster
| | |
| --- | --- |
| Finish | White |
| Years Used | 1985 to Present |
The 1985 Schecter Stratocaster was acquired by Mark sometime during the 80's era. It has been put together by John Suhr, who worked at Rudy's Music Stop in New York City at the time, primarily handling guitar repairs.
The guitar has a white finish on a Schecter Stratocaster-style body and a Schecter neck fashioned after a 1961 Fender Stratocaster neck. Suhr later added a tortoiseshell pickguard, three Seymour Duncan Alnico pickups, and a vintage-style Fender tremolo bridge to the guitar. These custom features gave it a unique feel, making it a deserving guitar to be played by Mark.
The Schecter Strat's headstock has also been adorned with a Fender decal, leading many people to believe that it was an original Fender. On the 'BiA' tour in 1985/86, Mark used this guitar frequently, and he continued to use it during the 'On Every Street' tour in the 1990s. It has also been featured on a handful of his recent solo tours.
Steinberger GL2 Standard

| | |
| --- | --- |
| Finish | Black |
| Years Used | 1983 to 1986 |
In the years 1983 to 2001, Steinberger produced the GL2 type guitar. The neck and body are reinforced carbon fiber composite, keeping with the iconic headless Steinberger design. The single, ultra-rigid unit with a unique blend of reinforced composite materials provides acoustic qualities not found in wooden instruments. It boasted of being able to produce a wider variety of tones than anything else.
The GL2's one-piece composite body and neck are adorned with a black finish. It contains an EMG 60 humbucker in the bridge and an EMG 81 in the neck. The Trans-Trem vibrato mechanism and its ability to bend the pitch of entire chords without affecting their tuning was a big deal back in the day. Understandably, Mark would have one of these lying around. During the latter stages of the Brothers in Arms tour in 1986, Mark used this guitar sparingly on the song "Money For Nothing".
1988 Pensa-Suhr Custom

| | |
| --- | --- |
| Finish | Two-Tone Sunburst |
| Years Used | 1988 to Present |
Mark Knopfler's Pensa Suhr custom has a fascinating backstory. According to reports, a tiny New York coffee shop named "Prince's" is where Mark and Rudy Pensa met. They talked about making a guitar that's a hybrid between a Stratocaster and a Les Paul, possibly. Upon reaching an agreement, they drew rough sketches of the instrument on napkins they had lying around the table.
The guitar was completed in 1988 by none other than John Suhr. The body of the Pensa Suhr is made of mahogany, and the top is made perform of one piece carved maple with a Brazilian rosewood fingerboard inlaid into the top. An EMG 81 bridge pickup and two EMG SAs in the middle and neck positions, together with an EMG SPC push/pull knob, provide the guitar's sonics with a boost.
This guitar was one of Mark's go-to instruments during the' On Every Street' tour, but it is arguably most known for its debut at Nelson Mandela's 70th birthday event in June 1988, which marked its premiere.
1960s Danelectro Silvertone 1452

| | |
| --- | --- |
| Finish | Red Sunburst |
| Years Used | 2004 to Unspecified |
In 1966, Danelectro introduced the Silvertone 1452 model. According to one of Mark's interviews, he became interested in these guitars due to his connection with Mike Henderson.
With two single-coil pickups and a tremolo bridge, the Silvertone 1452 has a red sunburst finish. The original plan was to sell the guitar with a case that included an amp, providing an all-in-one solution.
Mark played this guitar heavily in the studio and on tour for his 2004 album' Shangri-La.' It's also featured in songs like 'Boom Like That,' 'Stand Up Guy,' and 'Don't Crash the Ambulance,' among others.
National Duolian Resonator

| | |
| --- | --- |
| Finish | Nickel Binding |
| Years Used | 2009 to Present |
Mark purchased this instrument from Steve Phillips in 1978, after meeting him in 1969 while working as a journalist for 'The Yorkshire Evening Post'. Eventually, the two became friends and began performing together in local taverns as "The Duolian String Pickers."
The National Duolian is a single cone resonator guitar with a metal body. The body is steel and has two f-holes. The neck is made of mahogany or maple, while the fretboard is made of ebonized wood. The Duolian is known for its traditional blues-tone, which is why it has a well-deserved position in Mark's guitar collection.
Nearly every Dire Straits album and solo Mark Knopfler release features the Nationa Tricone. It's also been used on numerous tours. 'Romeo and Juliet' and "Telegraph Road" were two of the most well-known songs that feature this instrument. 'Done with Bonaparte' and 'Haul away' both also featured this guitar.
1938 Gibson Advanced Jumbo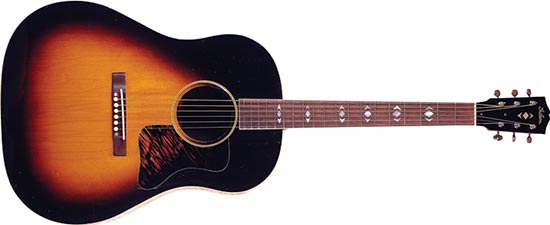 | | |
| --- | --- |
| Finish | Sunburst |
| Years Used | 2000 to 2009 |
The guitar Mark plays is one of only 300 hundred Advanced Jumbos ever made. Later they were superseded by the now well-known Gibson J-200 Super Jumbo. The Advanced Jumbo was only produced from 1935 to 1940 (but was revived in 1990).
The guitar's body is made of Brazilian rosewood and has a Brazilian spruce top with a sunburst finish. That time, the Jumbo series was the pinnacle of Gibson's acoustic guitar line.
The neck has a more slender profile compared to other Gibson models, which is appealing. Because of this, Knopfler favors it for picking out licks and other improvisational stuff and the 1953 model for strumming.
In addition to "Speedway at Nazareth" and "Wanderlust" from the album "Sailing to Philadelphia," Mark also used this guitar on "Before Gas And TV" and "Remembrance Day" from the album "Get Lucky".
Pensa-Suhr Prototype
| | |
| --- | --- |
| Finish | Black |
| Years Used | 1987 to 1999 |
Interestingly, Mark used this guitar before using the Pensa-Suhr previously stated during the studio session for the song "Let it be" with the Ferry Aid ensemble group in 1987.
The orange Pensa Suhr custom guitar has a lot in common with this instrument. Thus it's very likely that this model was used as a construction block. The most considerable distinction between the two is that this guitar has a flat top and a front-mounted humbucker, while hers does not.
The black Pensa-Suhr only has one knob. Therefore, the EMG SPC gain increase is absent from it. Mark first played this instrument on Eric Clapton's 1987 tour as a guest guitarist and then on Vic and Ray's 1996 and 1999 'Notting Hillbillies' tours.
Timetable Showing the Guitar Marks Knopfler Played at Each Point of His Career
| Make | Model | Color/Finish | Years |
| --- | --- | --- | --- |
| Gibson | 1959 ES-335TDN | VOS Natural | Unspecified |
| Hofner | 1962 Super Solid V2 | Red | 1962 to Present |
| Fender | 1954 Stratocaster | Two-Tone Sunburst | 1966 to Present |
| Fender | 1961 Stratocaster | Fiesta Red | 1977 to Present |
| Fender | 1962 Stratocaster | Fiesta Red | 1977 to 1982 |
| Fender | 1969 Telecaster Thinline | Black | 1977 to 1978 |
| Schecter | 1980 Dream Machine Stratocaster Red | Metallic Red | 1980 to 2008 |
| Schecter | 1980 Dream Machine Stratocaster | Two-Tone Sunburst | 1980 to 2004 |
| Gibson | 1960s SG Custom | White | 1982 to 1983 |
| Steinberger | GL2 Standard | Black | 1983 to 1986 |
| Gibson | 1983 Les Paul Standard Reissue '59 | Cherry Sunburst | 1984 to Present |
| Schecter | 1984 Telecaster | Vermillion Red | 1984 to Present |
| Schecter | 1985 Stratocaster | White | 1985 to Present |
| Pensa-Suhr | Prototype | Black | 1987 to 1999 |
| Pensa-Suhr | Custom | Two-Tone Sunburst | 1988 to Present |
| GIbson | 1953 Custom Super 400 CES | Deep Amber Blonde | 1990 to 2004 |
| Gibson | 1958 Les Paul Standard | Cherry Sunburst | 1995 to Present |
| Gibson | 1959 Les Paul Standard | Cherry Sunburst | 1996 to Present |
| Fender | Stratocaster Mark Knopfler Signature | Hot Rod Red | 2003 to Present |
| Danelectro | 1960s Silvertone 1452 | Red Sunburst | 2004 to Unspecified |
| National Duolian | Resonator | Nickel Binding | 2009 to Present |
| Gibson | 1939 Advanced Jumbo | Sunburst | 2000 to 2009 |
Mark Knopfler Amplifiers Overview
Fender Vibrolux
Years Used: 1977 to Present
As soon as Mark Knopfler bought his first Strat, he hooked it up to a Fender Vibrolux amp that had most likely belonged to Dire Straits bassist John Illsley, but which is still in Knopfler's hands today.
The Fender Vibrolux is a throwback to the brown-Tolex era of the early 1960s. The brown Vibrolux is a fantastic amp that uses two 6L6 tubes to produce 30 watts of power. Tremolo effects and an Oxford 12L6/M6 speaker are included in this beautiful amp too.
On a couple of occasions in 1977 and 1978, Mark used this amp live. The original version of "Sultans of Swing" was composed in open tuning on a national steel guitar, but when Knopfler bought his Strat and put it through the Vibrolux, the song took on a whole new meaning.
With The Notting Hillbillies, the Vibrolux made a comeback, and it's still utilized extensively in Mark Knopfler's British Grove Studio today.
Soldano SLO 100
Years Used: 1987 to Present
With the Soldano Super Lead Overdrive (SLO) 100, you get much more than just another high-gain tube amplifier head. For anything from electric blues to blazing jazz fusion to teeth-rattling metal, this jaw-dropping fire-cascading-gain breather's preamp offers a thick, meaty sizzle.
Its extreme adaptability is precisely why Mark loves his Soldano SLO 100. Many other legendary guitarists, like Eric Clapton, Gary Moore, Joe Satriani, and Steve Vai, have used this beast over the years.
Music Man HD130
Years Used: 1978 to 1988
The HD-130's strengths are precisely what Leo Fender wanted them to have: solid and clean tones with plenty of body and clarity that cut through anything you throw at it. When distorted lightly, this is one of the few vintage master-volume tube amps that sound great.
Aside from that, it has a distinctive tremolo, and the reverb is more of an effect than a Fender or Gibson-style reverb. If you get the settings just perfect, it will give you the impression that your head is turned backward, which might be helpful when making ambient guitar sounds.
For numerous years in the late '70s, Mark Knopfler used the HD 130 as his primary touring amp with Dire Straits. Eric Clapton has been one of the HD 130 endorsers too.
Mesa Boogie Mark II
Years Used: Unspecified
Mesa Engineering, also known as 'Mesa Boogie', produces the Mesa Boogie Mark Series of guitar amplifiers. The product series was initially known as "Boogies," but as newer revisions were built, it was renamed "Mark Series."
The Mark II is by far one of the most well-known and versatile amplifiers made by the company. Inspired by the classic Fender Bassman amp model, this amp was created. This, along with the Marshall JTM45, was one of Mark's choices for the "Brothers in Arms" record. He also used it while on tour and in the studio for the 'Love Over Gold' album and subsequent releases.
Jim Kelley FACS heads
Years Used: 1985 to 1986
Jim Kelley amps had only three knobs and were designed with a straightforward signal route and no superfluous components to provide a clear and natural sound, unlike Mesa Boogie amps.
With this amp, you get the power amp's more natural-sounding distortion. Power attenuators were frequently used in conjunction with the amplifiers to mitigate the excessive loudness generated by distortion.
For the whole 'Brothers in Arms', Mark used the Jim Kelly FACS. According to John Suhr, the amp was also utilized in the 'Money for Nothing' intro, who introduced Mark to Jim Kelley amps.
Mark Knopfler Pedals and Effects Overview
Dan Armstrong Orange Squeezer
Years Used: 1978-Not specified
Dan Armstrong's Orange Squeezer compressor is a near-legendary guitar effect pedal that compresses the dynamics of music or individual notes without changing the attack of the note or adding any significant noise or distortion to the output.
It is frequently mentioned as an ingredient in the early Mark Knopfler / Dire Straits sound, which accounts for a significant chunk of its reputation. This compressor is said to have been used on Mark's first album, "Sultans of Swing."
Morley Volume Pedal
Years Used: 1977 to 1981
Once Mark's most preferred volume pedal, the pedal responsible for creating the distinctive violin type sound is none but the Morley Volume pedal. He used this volume pedal until the 'Making Movies' tour in 1981. When 'Brothers in Arms' is played live by Mark, this pedal can be heard all over the fillers.
The Morleys are unique in that they do not utilize a pot, instead opting for a photo-resistor. The advantage is that the photo-resistor will not be affected by dusty or smoky stages, humidity, or other factors, no matter how much you use or even misuse it.
Crowther Audio Hotcake
Years Used:
Unspecified
Paul Crowther, the inventor of the Hotcake, created the first one in 1976. It is designed to preserve the guitar's undistorted sound while adding an excellent fat distortion sound without relying on a treble cut circuit, which would ruin the guitar's tone.
Mark most likely had the Hotcake pedal for two reasons: the sound and the best-in-class quality. What's impressive about the Hotcake is that it doesn't change the tone of the clean sound, unlike other overdrive units that do, even with minimal (or no) distortion.
Accessories
D'Addario EXL 120 9-42
The EXL120 is a highly light gauge set with a biting tone and maximum versatility. These nickel-wound electric guitar strings are appropriate for a variety of musical styles. Almost all of Mark's electric guitars have these strings.
Dean Markley Helix HD Phosphor Custom Light 12-53
The Dean Markley Helix strings, which are skillfully twisted for better sustain, tone, and endurance, are said to breathe fresh life into one's music with a smoother feel and a more resonant tone that is unrivaled by conventional strings. Except for his National guitars, these strings adorn all of Mark's acoustics.
D'Addario EJ15/3D 10-47
The EJ15 is an extra light gauge Phosphor Bronze string set that provides a lower tension ideal for vintage instruments and playability, which is precisely what Mark needs for his vintage National guitars. Hence, all his National acoustic guitars feature this particular string set.
Wrap Up
As a teen in the 1960s, Mark played in school bands and was inspired by legendary guitarists like Chet Atkins, Scotty Moore, B.B. King, and Django Reinhardt.
With his unique style, Mark Knopfler became the face of Dire Straits, while his lyricism and approach helped the band become world-famous. However, Mark says he has never been comfortable being in the spotlight. Nostalgia is not his strength. The victorious British band's frontman finds looking back as unpleasant as life in the limelight.
Knopfler became interested in music when he was a child. His parents gave him his first guitar after his uncle's piano playing inspired his interest in music. The naked economy of Knopfler's lyrics, as well as his dizzying guitar fills, were a breath of fresh air among ponderous rock dinosaurs and the one-dimensional punk scene of the late 1970s in the UK and America.
Besides four Grammy Awards, Knopfler has also received the Edison Award, the Steiger Award, the Ivor Novello Award, and three honorary doctorate degrees in music from UK institutions. Mark Knopfler is a modern maestro with an ear for blending the past with a futuristic outlook. With no room for doubt, Mark is one of the best guitarists of his generation – if not all time – and a singer with a palpable emotional depth. The man's discography is nothing short of legendary and enthralling. Let us know if you have any questions below about any of Mark Knopfler's guitars or gear in the comments below.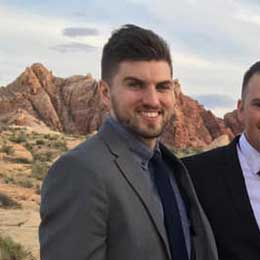 My name is Chris and I've had a passion for music and guitars for as long as I can remember. I started this website with some of my friends who are musicians, music teachers, gear heads, and music enthusiasts so we could provide high-quality guitar and music-related content.
I've been playing guitar since I was 13 years old and am an avid collector. Amps, pedals, guitars, bass, drums, microphones, studio, and recording gear, I love it all.
I was born and raised in Western Pennsylvania. My background is in Electrical Engineering, earning a Bachelor's degree from Youngstown State University. With my engineering experience, I've developed as a designer of guitar amplifiers and effects. A true passion of mine, I've designed, built, and repaired a wide range of guitar amps and electronics. Here at the Guitar Lobby, our aim is to share our passion for Music and gear with the rest of the music community.