Derek Trucks is one of the purest blues guitarists in the world. With soul shredding slide guitar licks as a trademark for his encompassing style, he followed in, and some may even say outdid, the footsteps of his uncle, Butch Trucks, founder of the Allman Brothers Band.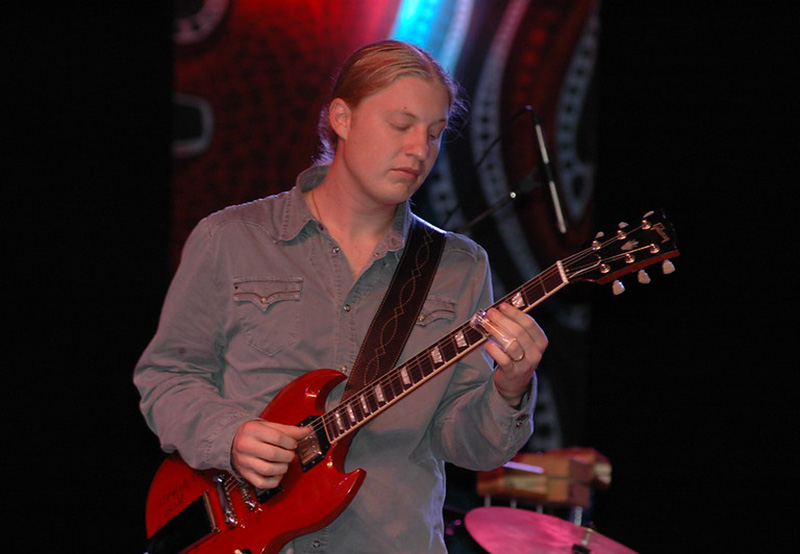 Trucks' musical style is rather diverse, but it's deeply rooted in blues, soul, Jam Band, southern rock, and R&B. However, he has stated that he particularly enjoys learning from qawwali, and Latin music, with the sole purpose of condensing these styles into his playing and composition, reason enough for him to become a two-time inducted member of Rolling Stone's 100 Greatest Guitar Players of All Time.
What Guitars Does Derek Trucks Use?
Derek Trucks plays Gibson SG guitars, most notably of which are his original 1961 Dickey Betts SG as well as his limited edition 2011 reissue model of the Dickey Betts SG. While Trucks is a notorious SG player, he has also played several other models throughout his career. 
See the full list of Derek Trucks guitars and gear below.
2011 Gibson SG Dickey Betts LE

| | |
| --- | --- |
| Finish | Cherry Red |
| Years Used | 2012 to Present |
Derek Trucks originally had acquired the 2011 Gibson SG Dickey Betts Limited Edition from Duane Allman's daughter Galadrielle Allman, with the certificate of and upgrade of the Artist Proof #4. Derek originally had the Dickey Betts Limited Edition SG in 2011, but he liked the Artist Proof #4 version better, so this became his main guitar. The original version of this piece was also played by Duana Allman, who had a big influence on Derek Trucks. In fact, Derek liked this guitar so much that it eventually replaced his '61 Reissue SG in 2012, eventually, it became pretty clear that he prefers this guitar over his own signature model.
One of the top qualities that Derek looks for in a great guitar is its weight. He says "I've noticed more and more, if you're going between two guitars, even before you play them, like if you just pick up four or five Les Pauls, usually the light one is gonna sound the best. So if we are ever looking for a guitar, that's one of the things we check out." – MusicRadar Interview. And the incredible lightness is one of the top qualities that Derek finds about this particular SG.
The 2011 Gibson SG Dickey Betts LE has a beautiful mahogany body with a cherry finish and has a glued-in mahogany neck. It also features a rosewood fingerboard and has 22 banjo frets, which is pretty unique. In terms of hardware, it has the ABR-1 Tune-o-matic bridge and has two Custom Bucker pickups that are loaded with Alnico III magnets. This guitar went through some minor changes – Derek replaced the two-volume control knobs with black top hat, which are very similar to the ones on the new Gibson Les Paul Specials. The pair of PAFs that were loaded in there were modified as well. Derek Trucks says in an interview, "We've been messing with the pickups quite a bit. A friend of ours, Thomas Neilson, in Norway, wound these pickups and they're kind of based on a guitar I played – 'Spot', this '59 Les Paul (once owned by Joe Bonamassa). And they are unwaxed, unpotted pickups." Derek says the modification of the pickups resulted in pickups being almost "microphonic" and singing, which is exactly Derek Trucks' playing style.
Derek says he has Gibson's version of the Grover tuners, and he rarely uses tuners while playing. He constantly tunes on the fly and tweaks the tuning in real-time, due to the fact that he tends to play pretty hard and bend hard with his hands.
Gibson SG 1961 Reissue

| | |
| --- | --- |
| Finish | Cherry red |
| Years Used | 2000 to Present |
The 2000 Gibson SG '61 Reissue is the next guitar that Derek acquired in the early 2000s, and soon this guitar became his main guitar for the next decade. When Derek Trucks finds a guitar that he feels a connection to, he usually just sticks with that one for a very long time. He says in an interview with Musician's Friend, "The instrument becomes second nature, and you can focus on other things". Some guitarists are focused on getting the best gear and newest gear all the time, but for Derek Trucks, he almost makes the instrument and the gear work for him.
This guitar served as his main up until 2011, and you can see him using this guitar basically for all the major recordings and live performances. Among its highlighted performances there's Trucks' appearance on the 2010 Crossroads Guitar Festival, it was eventually turned into a Live Album recorded at Georgia Theatre, it's also the sole guitar used for the first Tedeschi Trucks Band album.
Like all his previous SGs, this SG '61 Reissue went through some modifications. He first replaced the tremolo tailpiece with a Gibson stopbar tailpiece, and then also added the Gibson Maestro Vibrola plate. Derek does these modifications so that the guitar fits his needs better. He also doesn't play with a pick, so he removed the pickguard on the guitar as well. All of these decisions were also to change the looks and better suit his style. Other than those changes, the pickups are stock, which is two '57 classic humbucker pickups. Gibson took notice of Trucks and at some point during 2011, they issued this as his signature model.
Gibson Derek Trucks Signature SG

| | |
| --- | --- |
| Finish | Cherry Red |
| Years Used | 2012 to Present |
It was inevitable that Derek Trucks was going to get his own signature lines with Gibson USA, and Derek Trucks worked with Gibson to recreate his "dream" guitar. This signature model is based on Derek's favorite 1961 Gibson SG, and he included all his favorite modifications that he likes to do on his SGs.
The body and neck of Derek Trucks Signature are made of grade-A mahogany, and it's finished with high-gloss Heritage Cherry. The neck profile is a slime "true D" profile that was used in the early 1960s, and you can expect to move up and down real fast on the neck. The fretboard is made of Rosewood, and the 22 medium jumbo frets with 12-inch radius frets allow you to bend very easily and smoothly. The pickups on this guitar are also phenomenal, and the two pickups are PAF 57 Classic humbuckers with Alnico II magnets, 42 American Wire Gauge enamel-coated wires. The combination of these beautiful PAF 57 Classic humbuckers with the grade-A mahogany body offers throaty warm neck tones that have plenty of clarity, singing lead tones from the bridge positions, and the middle positions are great for funky playing.
Some Derek Trucks modifications on this guitar are the 500k pots for both volume and tone control, and it has a very unique "no wire" early style ABR-1 Tune-o-matic tailpiece. And of course, we all know that Derk Trucks likes to remove the pickguard on the guitar at all times. Unfortunately, the 2011 Gibson SG Dickey Betts LE became his main guitar, and he carries his signature models as his backups while on tour. Overall this is easily one of the most iconic Derek Trucks guitars of all time.
Gibson SG 1962 Reissue

| | |
| --- | --- |
| Finish | Cherry Red |
| Years Used | 1990 to 1999 |
This was the first guitar that Derek played. The main reason why he got an SG was that some of the other full-size guitars were too big for the young Trucks to play. In 1990, Derek's parents bought this guitar for him at Paulus Music in Jacksonville, Florida. The original model had a metal pickup cover, but by 1991, he eventually removed the pickup cover on the neck pickup. In 1993, Derek would eventually remove the pickguard of the guitar, and this was probably to preserve the signature that he got from BB King on it, some sources suggest that he framed the piece and has kept it as a collectible ever since.
The 1990 Gibson SG '62 Reissue was Trucks' main guitar until the headstock broke in 1999. He used this guitar to play with many of the tenures he was involved with like the Allman Brothers Band and Eric Clapton at a very young age. He used this all-mahogany piece to develop his style and learn how to really sing on the guitar.
Nowadays, this guitar is pretty hard to come by and if you can find one of these, you've found yourself an amazing instrument. As for its specs, it's built as a single mahogany piece from the body to the neck. While sporting a rosewood fretboard with a slim taper neck profile. The scale length is pretty standard 24 ¾" with a traditional Gibson Stopbar tailpiece.
1990s Gibson SG Standard

| | |
| --- | --- |
| Finish | Cherry Red |
| Years Used | 1999 to 2002 |
After his first guitar suffered a headstock breakage, Derek Trucks used this guitar for a brief period. This guitar is briefly seen in his public appearance at a gig on the night of his 20th birthday. And just like his old SG, Derek removed both of the pickup covers, and it features a large "batwing" pickguard. He can be seen using this guitar from the time period of 1999 to 2002.
The 1990 Gibson SG Standard is slightly different than the '60s versions of the guitar, and a noticeable difference might be that the neck is not as thin as the profiles of 61 reissues. For players that like to really dig into thick and creamy bends and guitar tones, you might benefit from this chunkier neck profile with a compact SG body. The pickups this 90s SG are Gibson's 57 Classic Humbuckers, which are always reliable to provide a vintage and creamy tone.
1961 Gibson SG Standard

| | |
| --- | --- |
| Finish | Cherry Red |
| Years Used | 2012 to Present |
A 1961 SG is perhaps the most peculiar piece in Derek's catalog, and he mentions this guitar many times in a couple of interviews. He says he keeps this guitar safe in his home studio, which totally makes sense considering how rare and valuable this instrument is. 1961 was the year that the very first Gibson SG came out in the market as we know it, marking a departure from the Les Paul name. Knowing that Derek is an SG-lover, it only makes sense that he keeps the true original SG that Gibson ever produced. And we can easily guess that Derek really treasures this vintage instrument.
Although he doesn't know the exact details of this guitar's condition and the specs, we can guess that the 1961 Gibson SG Standard guitar comes with the original Gibson PAFs and also has a cherry finish. It is believed that the unique Gibson SG body was first designed by an engineer/designer named Larry Allers. The body shape was derived from the Les Paul, and in a way, it was designed to be a smaller version of the Gibson Les Paul. Larry got the body shape right the very first time he designed, and history was made. When they started selling the 1961 Gibson SG to the public, the popularity caught on instantly with a heavier and slightly larger body than the ones made today.
The super unique feature that makes the 1961 Gibson SG Standard stand out, is the Sideways Vibrola, which has a side-pull action vibrato. But knowing Derek's playing style, we can assume that Derek probably took off the pickguard for his playing comfort. But all in all, this is one of his favorite treasures that he likes to keep safe from the world. Hopefully, we'll get to catch a glimpse of this beauty one day.
Silvertone Tuxedo 1964

| | |
| --- | --- |
| Finish | Black |
| Years Used | Unspecified to Present |
The Silvertone Tuxedo 1964 is yet another peculiar piece in Trucks catalog, he used this guitar on the tune "Down In the Flood" with a capo on the fifth fret. The guitar is specially designed for slide playing, and he got it from Ed Seelig. It has a huge neck and short scale, and he finds it very comfortable for slide guitar playing. Derek mentions that the Silvertone Tuxedo 1964 is a special guitar that excels in blues and folk, while its wooden quality makes the perfect instrument for "porch music".
He says, "When we did that tune "Down In The Flood", that was the guitar that inspired it. But it's simple. There's a volume and a tone and it does what it does! It's probably plywood. It's not one of the finer instruments but I love it; it's got a personality. I think it was about $500." Again, you can see that Derek doesn't care about the gear or the price of it. He's a pretty simple man and if he finds what he likes, whether it's a $4000 guitar or $500, he makes beautiful music out of it. After all, that's what matters the most.
1965 Firebird V

| | |
| --- | --- |
| Finish | Tobacco Burst |
| Years Used | 2012 to Present |
Derek Trucks seems to love playing really rare guitars, because when he is not playing his usual SG guitars, he is always using some unorthodox electric guitar that is NOT a Strat, Tele, or Les Paul. Or rather, he seems to not conform with the popular guitars that every other guitarist plays, and somehow finds his own guitar that works for him. And that's the case with this guitar as well, and this guitar is the 1965 Firebird V.
The Firebird is a guitar that was invented by Gibson during the 1950s, and the purpose of this guitar was to compete with Fender's super popular line of solid body guitars like Telecaster or the Stratocaster. Because after the boom of the Les Paul in the 1950s, Gibson's popularity was starting to decline due to the popularity of Fender Strats and Teles. Ted McCarty hired a car designer for this particular project, and the car designer Ray Dietrich designed the Firebird based on the designs of Gibson Explorer. The guitar was originally called the "reverse" because the guitar is "backward" in terms of the placement of the horn on the guitar. It was also the first Gibson solid-body to have a neck-through construction and the early Firebirds had the Gibson P-90 pickup as its pickup.
Now back to Derek Trucks, he acquired this particular guitar from a vintage gear dealer by the name of Ed Seelig in St. Louis. If you are a Tedeschi Trucks fan like myself, you might have noticed this cool guitar on recordings of newer tunes like "Made Up Mind" and "Whiskey Legs". Derek Trucks says this about the guitar, "For "Made Up Mind" I used an old Ampeg V-12 bass amp quite a bit. Plugging it into the old bass amp, I was able to fully dig into the low end and it never gave up on me. Jim Scott(the producer for the album) is really honest about what he's hearing. So we would pick a song to record and start looking for guitar sounds, and I would plugin and he'd immediately say "that's good," or "kind of boring. Next." When I plugged the Firebird into the Ampeg, his reaction was immediate: "That's a sound I want to hear over and over." Well, there you have it from the legend himself. The guitar sounds phenomenal on the record with the combination with the old Ampeg V-12 bass amp, and you can hear the guitar's really fat low-end and tight guitar sound on the record. A great instrument from the past.
1932 Gibson L-00

| | |
| --- | --- |
| Finish | Black |
| Years Used | 2000 to Unspecified |
Derek Trucks also loves his acoustic guitars, and there are only but a few six-strings that get to be featured in his catalog as he is rather devoted to his pieces. You can catch him playing this beauty of a guitar many times in both live shows and recordings through the years. The L-OO was first produced in 1932, and so any piece has to be a straight up relic. Derek loves early vintage guitars and if possible, he seems to prefer the very first batches, as they are often the most valued instruments.
This instrument is perfect for getting that 30s Gibson Blues and Rags feel, and is credited with bringing the most genuine throaty and gritty feeling. It comes in a beautiful black color with a white pickguard that stands out in contrast. The 1932 Gibson L-00 is made up of mahogany with a spruce top.
Martin D-28

| | |
| --- | --- |
| Finish | Natural |
| Years Used | 2002 to Present |
If you have seen the performance of Derek and Susan at the White House, you might have seen Derek playing a Martin D-28 acoustic guitar on it. The Martin D-28 is such a classic that it almost needs no explanation. This was one of the earliest Dreadnought-styled six-strings produced by Martin in 1917 and the wide-body makes for a truly deep and powerfully resonant. The name for this guitar was derived from the famous Dreadnought Warship that the British Navy used in the early 1900s. This beautiful instrument rightfully took its name in 1916 when Martin restarted their production.
Derek's Martin D-28 will most likely have a Rosewood body with a spruce top or maybe a Sitka spruce top and probably has an enforced mahogany neck. The side and the back are made of East Indian Rosewood. And it's also known for having quite wide frets and a big old neck profile. The Martin D-28 is one of the most sought-after acoustic guitars in the recording studio because of its natural deep bass sounds, and it's also super versatile in use. It's a great acoustic guitar for recording strumming sounds with a thin pick and it's widely used in genres from folk music, folk-rock, blues, pop, country, and Rn'B. And because of it, the Martin D-28 is still regarded as one of the best acoustic guitars even after over 100 years of production.
Timetable Showing Each Guitar Derek Trucks Has Played at Each Point of His Career
| Make | Model | Color/Finish | Years |
| --- | --- | --- | --- |
| Silvertone | 1964 Tuxedo | Black | Unspecified to Present |
| Gibson | 1962 SG Reissue | Cherry Red | 1990 to 1999 |
| Gibson | 1990s SG Standard | Cherry Red | 1999 to 2002 |
| Gibson | 1961 SG Reissue | Cherry Red | 2000 to Present |
| Gibson | L-00 | Black | 2000 to Unspecified |
| Martin | D-28 | Natural | 2002 to Present |
| Gibson | Derek Trucks Signature SG | Cherry Red | 2012 to Present |
| Gibson | 2011 SG Dickey Betts LE | Cherry Red | 2012 to Present |
| Gibson | SG Standard | Cherry Red | 2012 to Present |
| Gibson | 1961 SG Standard | Cherry Red | 2012 to Present |
| Gibson | 1964 Firebird V | Tobacco Burst | 2012 to Present |
Derek Trucks Amplifier Overview
Fender Super Reverb 1965 Blackface
Years Used: 1990 to Present
This has been his go-to magic amp for the first 20, 25 years that he performed. He says "All I used was Supers. That was it. That was my go-to." Derek usually fits the Fender Super 1965 model with four Pyle Driver MW-1040 speakers made in 1980. But he says he likes to experiment with multiple different speakers. Derek mentioned in an interview, "Sometimes we use two Webers up top and two Tone Tubbys on the bottom. Sometimes we use Pyle Drivers. We use whatever combination sounds best in the room that night. It's been changing so much because I've been blowing an amp a night for whatever reason."
His main amp has multiple modifications to suit his specific needs, and the amp has a ground lift switch on the tremolo circuit. This leads to the amp having more output on the Vibrato, and he usually doesn't have any tubes installed on the Normal channel of the Fender Super 65.
This is his go-to amp for his bands but for playing with the Allman Brothers, Derek says this amp wasn't enough. He says, "There was too much sound onstage with that band. I used a Fender Super 6 for a while. I used Marshalls for a while. I used a Randall amp that I got tweaked to make it sound like an old Marshall. I used all kinds of shit. The Paul Reed Smith Custom was probably the closest we got to the sound I was looking for." The Weber speakers that he mentioned are custom speakers created by Ted Weber – called the DT-10 V1.1.
Alessandro 1/2AZZ
Years Used: 1999 to 2003
Derek sometimes uses this amp while on tour with Allman Brothers Band or Tedeschi Trucks Band, mainly for his live rig. Even though Derek is a hardcore Fender Super Reverb fan, he sometimes uses two Alessandro 1/2AZZ amps to get strong enough sound for playing live.
PRS Amps
Years Used: 2004 to Present
Derek Trucks is also known for using PRS amps while playing with the Allman Brothers Band, and this was because he could never get enough sound or power out of his Fender amps.
I've tried a dozen different things and up until this year when I started using this head, it was just a constant battle. For me the first thing is comfort… When you know you can bring it down and have the subtle tones and you don't have to worry about the amp sagging on you, it frees you up to play and not think about the equipment. With this, it's been a rock, and it's constant night tonight."
Well, that's what he thinks about using PRS amps, and he seems to have found his sweet spot on the PRS amps after a long journey of trying out a bunch of different amps. He also mentions that he loves to use the PRS amps for recording as well, and along with his favorite Fender Super Reverb, he has PRS amps sitting in his studio for recording rock tones. He mentions that the tone from the PRS amps blends well with the other guitarist in the Allman Brothers band. Derek Trucks uses PRS amps like PRS HXDA, and also Blue Sierra and Original Sewell models. He used a Randall 4×12 cabinet fitted with Custom Eminence speakers.
1963 Fender Deluxe Reverb
Years Used: Unspecified
This is a legendary amp that most of us know about, and Derek only uses the Fender Deluxe Reverb in the studio for recording. This legendary amp was first introduced in 1963 when the engineers incorporated an onboard spring reverb tank to the new Fender Deluxe blackface amp. The Deluxe Reverb has 22-watt tubes and it is powered by two 7408/6V6GT power tubes, one GZ34/5AR4 rectifier tube, four 7025/12AX7 tubes to get that beautiful tone that we all recognize. And two 6201/12AT7 tubes are used for creating the reverb sound and for phase inverter circuits. In terms of the speaker, it's most likely the Jensen C-12Q series 12-inch loudspeaker.
Now that we know the first Fender Deluxe Reverb amp was out in 1963, we can safely assume that Derek owns the earliest model of this amp. And it's pretty obvious why he doesn't take it out of his studio, and I would probably do the same thing if I owned one of these treasures.
Derek Trucks Guitar Effects
When it comes to pedals and effects, Derek keeps incredibly simple. For him, it's his SG straight into a good quality tube amp. He might have a PolyTone tuner or a BOSS Chromatic Tuner in between or maybe a volume pedal for playing on stage. But especially while recording, he likes to go straight into the amp. He leaves the pedalboard at home. I mean, just listening to his "perfect" thick tone that he produces with his fingers, I don't think he needs pedals anyway.
Derek Trucks says in an interview for MusicRadar, "There are a few effects in the studio. There are some nights if it's not feeling right I'll unplug the tuner and make sure the cable is just going right into the amp. You are always trying to find that connection between your hands, what you are hearing, and the amp, and for me, any time I plug into anything I hear it. Even though a tuner. It knocks it down. That's how it feels. And sometimes, maybe I'm imagining it, but I always hear it."
Slides and Accessories
Coricidin Bottles
Years Used: 1990 to 2000
There is a famous story of Duane Allman first using the Coricidin medicine bottle when his brother gave him two presents for his birthday – a copy of Taj Mahal's debut album and a bottle of Coricidin for his cold. Allman ended up using the Coricidin bottle as a slide for his guitar, and a lot of players followed his path. And one of them was the young Derek Trucks. After getting Coricidin bottles from one of Allman Brother roadies, he started using the Coricidin bottle as his main slide in the 90s. It's hard to come by a Coricidin Bottle these days, so Derek created his version – his signature Derek Trucks slide.
Dunlop Derek Trucks Signature Slide
Years Used: 2000 to Present
Derek Trucks worked with the famous Dunlop to recreate his dream slide, and that's how the Derek Trucks Signature Slide came about. He tried his best to recreate Duane Allman's Coricidin bottle, and his signature slide has the same weight and has a closed top for easier use. It's an amazing product for anyone interested in playing slide guitar.
Guitar Strings
Derek Trucks is known to use DR STrings Pure Blues 0.11 set, which has gauges of .011, .014, .017, .026, .036, and .046.
Wrap Up
That does it for this gear list. Derek Trucks is easily one of the most legendary guitarists of all time. After learning to play the guitar at the age of 9, he became a child prodigy and started playing with many famous artists like Buddy Guy and Allman Brothers Band from a young age. The fact that he was a nephew of Butch Trucks, who was a drummer for the Allman Brothers, also helped kickstart his career.
When it comes to Blues as the centerpiece of American music or even folklore, there's much to learn and look out for when it comes to Derek. As a teenager, Trucks saw the stage limelight alongside massive household acts such as Buddy Guy and Thunderhawk, only to become an official Allman Brothers Band in 1999 at the tender age of twenty. The latter would become Derek's highlight band, becoming a novel act in the Crossroad's Blues Festival and certainly one of the most outstanding projects inside the genre. It's also allowed Trucks to shine as a guitarist, paving the way for his soulful lines and crisped guitar phrases whilst adopting his now-signature slides.
Initially getting his first guitar for $5 from a garage sale when he was barely nine years old, Derek needed less than a few months to be considered a child prodigy around the instrument. By the time he was eleven, he had already gotten his first paid gig in 1990, and needless to say, it was only a matter of time before word got out about the kid who would sling with some of rock's music elite.
He began his career by playing in blues bands in his hometown, Jacksonville, Florida. Derek Trucks already started to build up his reputation, and after 20 years, he recorded and toured as part of Derek Trucks Band, and also became an official member of the Allman Brothers Band in 1999. His tenure with the Allman Brothers gained him enough recognition and net so he could pose as a merging talent by 2004. Up until 2008, Trucks would forge his own career and release his first independent studio album with the Derek Trucks Band, "Already Free", quickly becoming one of the few blues-based Grammy Award-winning acts in recent years. The Derek Trucks Band would dismember, but this only paved the way for Derek to start his project with his wife Susan Tedeschi, hence the Tedeschi Trucks Band. He continued to collaborate with legendary musicians like Bob Dylan, Joe Walsh, and Eric Clapton. Having already built up a reputation as one of the best guitarists of this generation, he and his wife Susan Tedeschi started the Tedeschi Trucks Band. Tedeschi Trucks Band's debut album "Revelator" from 2011 won the 2012 Grammy Award for Best Blues Album and made the project massively successful and popular around the world.
When it comes to Derek Trucks, there are two things to talk about – The Gibson SG and the slide. It seems as if the man has truly become one with these two instruments and tools, bringing one of the very best versions of the electrified blues that his predecessor Duane Allman helped innovate.
Although the legendary Allman Brothers may not be his main tenure, Derek is relentlessly compared to the style of the "Sky Dog" Allman. Unlike many guitarists these days, he's managed to make a name for himself and has even been invited to perform the American patrimony of the Blues. He is among the greatest players of his generation, but what sets him apart is his massive feeling for his craft, something certainly many players will envy.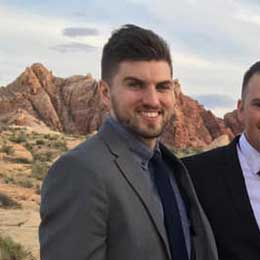 My name is Chris and I've had a passion for music and guitars for as long as I can remember. I started this website with some of my friends who are musicians, music teachers, gear heads, and music enthusiasts so we could provide high-quality guitar and music-related content.
I've been playing guitar since I was 13 years old and am an avid collector. Amps, pedals, guitars, bass, drums, microphones, studio, and recording gear, I love it all.
I was born and raised in Western Pennsylvania. My background is in Electrical Engineering, earning a Bachelor's degree from Youngstown State University. With my engineering experience, I've developed as a designer of guitar amplifiers and effects. A true passion of mine, I've designed, built, and repaired a wide range of guitar amps and electronics. Here at the Guitar Lobby, our aim is to share our passion for Music and gear with the rest of the music community.