If you're a fan of rock or metal music, I'm sure you've at least noticed how the guitarists from your favorite bands tend to have a heavier, grittier tone. It's likely not some secret effect pedal they are using. Often, the magic is also in the tuning, and drop C is a wildly popular tuning for these heavier genres.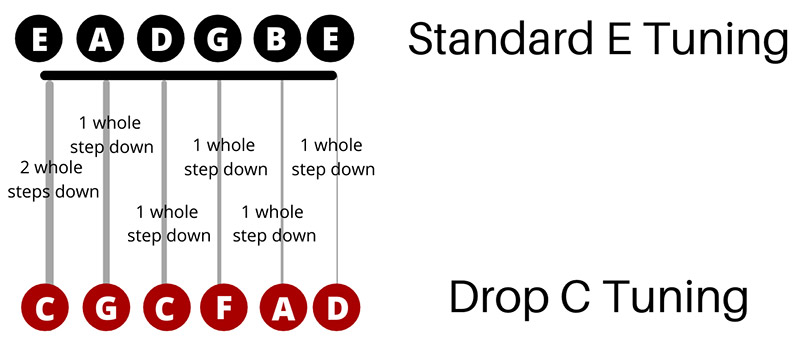 If you'd like to explore this unique and versatile alternate tuning in your own playing, then you're in the right place. We've put together a great list of songs in drop C tuning below, complete with video lessons and tabs.
List of Drop C Songs
1. Neon by John Mayer
| | |
| --- | --- |
| Genre | Blues-Pop (Fingerstyle) |
| Release Date | June 5, 2001 |
| Tabs | View Neon Tabs |
As one of John Mayer's early hits, "Neon" remains a popular choice for guitarists eager to challenge their fingerstyle technique. Despite the genre being blues-pop, the use of drop C tuning adds a distinct baritone flavor to this song.
The tune's complex and syncopated fingerpicking pattern, coupled with Mayer's smooth vocal lines, creates a compelling contrast. The quick jumps between frets also add to the challenging style.
The song conjures images of a city dimly lit with ambient neon lights. So, while practicing, imagine yourself under those gleaming lights, delivering an intricate performance to an awe-struck crowd, and you'll feel right at home.
2. Bad Horsie by Steve Vai
Riding in with a wah-wah pedal and a wild attitude is "Bad Horsie" by the legendary Steve Vai. Known for his out-of-this-world guitar techniques and tunings, Steve embraced drop C for this track, and the result is incredible.
From the album "Alien Love Secrets," this instrumental stands out for its aggressive, rocking riff. Its rhythm is a galloping tribute that became an instant classic among guitar enthusiasts.
The drop C tuning gives the song a thick, grungy tone, while Vai waltzes through scales maintaining an aggressive sound. It's a prime example of how tunings can make a significant impact on a song's mood and texture.
3. Tears Don't Fall by Bullet For My Valentine
Power chords are super easy to play as this kind of tuning lowers the range of the guitar and also works brilliantly with singers who have a deep voice. It is precisely for this reason, the iconic Welsh heavy metal band, Bullet For My Valentine, is often heard using drop C tuning in many of their songs.
The band's 2006 single 'Tears Don't Fall's alternate tuning is one of the reasons it sounds so amazing. The track catapulted Bullet For My Valentine to big-league status and became their live staple that never fails to woo the crowd. It is played in the key of G Minor and has been tuned to drop C with C-G-C-F-A-D. This metalcore track's popularity got the band to release its sequel, "Tears Don't Fall (Part 2)," in their 2013 album, Temper Temper.
4. Tourniquet by Breaking Benjamin
Another Breaking Benjamin classic is "Tourniquet," from their album "Ember." It's a dynamic song that showcases the band's knack for combining heavy, driving guitar riffs with melodic hooks.
In this piece, drop C tuning is used to add a melancholic and brooding tone. The lowered strings allow for chunky, aggressive riffs in the verses while also enabling smooth, melodic choruses that are characteristic of the band's sound.
Fans praise the track for its high energy and evocative lyricism, complemented by the carefully crafted guitar work. Experience this expertly curated piece and strike it off the must-learn list.
5. Frantic by Metallica
Metallica is an icon in the heavy metal scene, and Frantic shows its versatility. While the band usually sticks to standard tuning, this track boasts drop C tuned chunky riffs and features on their eighth studio album, 'St. Anger'.
The use of drop C tuning lends a distinct heaviness to the guitar riffs, embodying the anguished tone of the song. The lowered strings bring out the raw intensity of the track, a testament to James Hetfield's energetic approach.
Take on this challenge, and you'll experience the raw power of thrash metal at its finest. The satisfaction you'll get from nailing this classic? Priceless.
6. The Nomad by Calum Graham
Next up, we've got a delightful contrast with "The Nomad" by Calum Graham, an extraordinary fingerstyle guitarist. Honestly, it's quite surprising to see an acoustic piece using drop C tuning so beautifully.
This song, taken from his album "Phoenix Rising," was inspired by his travels, a nomadic journey encapsulated in his unique guitar work. His style resonates with listeners, making his compositions memorable.
In this track, the drop C tuning offers a rich and resonant bass that supports the delicate touch on the higher strings. It's a deep and warm song, proving that drop C isn't just for heavy riffs!
7. Resurrection Man by Lamb of God
"Resurrection Man" is a highlight of Lamb of God's self-titled 2020 album. Featuring their favorite drop C tuning, the song showcases the band's penchant for heavy, groove-laden riffs.
The track has a complex arrangement, with syncopated rhythms and intricate lead guitar lines. The intro's eerie melody combines with a devastating main riff to hook you in.
The piece's lyrics mix macabre themes like body snatchers and the undead with modern issues like economic instability, sending a message while maintaining the band's aesthetic. Plug your guitar in, amp up the gain, and groove to this headbanger.
8. Harrison Fjord by Haunted Shores
"Harrison Fjord" by Haunted Shores, a side project of Periphery's Misha Mansoor and Mark Holcomb, is a progressive metal delight. The drop C tuning adds heavy chunky tones, creating a tastefully contrasting backdrop for the intricate guitar riffs that jump all over.
The track is a great showcase of the band's technical prowess, with its mix of speedy palm-muted riffs, sweeping arpeggios, and soaring lead lines. The melodic layering throughout provides an atmospheric feel too.
The track, much like its name—a pun on famous actor Harrison Ford—is dynamic and engaging. It's the sort of tune that gets your head banging and your fingers itching for a guitar.
9. The Numbers by Radiohead
"The Numbers" by Radiohead, from their ninth studio album, "A Moon Shaped Pool," uses drop C tuning, adding a unique depth to the song's rich sonic texture. The song creates a haunting soundscape that draws listeners in and keeps them hooked.
This piece features a blend of electronic and acoustic elements, with its reverberating guitar lines complementing Thom Yorke's ethereal vocals perfectly. The guitar's role, though understated, is crucial to the song's melancholic mood.
The lyrical theme is environmental degradation due to selfish politics, emphasizing the English band's knack for weaving socio-political narratives into their music.
10. Nottingham Lace by Buckethead
"Nottingham Lace," by the enigmatic guitarist Buckethead, is a tour de force of guitar technique. With its drop C tuning, the song truly captures the essence of his experimental approach.
Known for his fretboard gymnastics, the all-time great delivers a series of intricate riffs and licks in this instrumental, making it an exciting challenge for any guitarist. The tune's complex rhythms and impressive guitar solos showcase extraordinary talent.
Even amongst his expansive discography of over 300 albums, "Nottingham Lace" is often hailed as one of his best tracks. It's a clear testament to his innovative and ever-evolving musical style.
11. I'm The Mountain by Stoned Jesus
"I'm The Mountain" by Stoned Jesus will take you on a psychedelic journey through stoner rock. This Ukrainian band has their roots firmly planted in the rock scene, and their single from the album "Seven Thunders Roar" hits all the right notes.
The track features intricate layering and hypnotic rhythms, with its drop C tuning providing a heavier, richer sound.
You'd be hard-pressed to find a song that encapsulates the stoner genre quite like "I'm The Mountain." It's a test of your fretwork finesse, patience, and timing. Give it a try, and lose yourself in the depths of this mountainous track.
12. I Don't Wanna Stop by Ozzy Osbourne
When the Prince of Darkness says he doesn't wanna stop, you better believe it. Ozzy Osbourne's anthem from the album "Black Rain" is a testament to his enduring presence in heavy metal.
"I Don't Wanna Stop" is played in drop C tuning, allowing for powerful and heavy guitar riffs. The track embodies Ozzy's indomitable spirit with its gritty and aggressive composition.
If you're looking to bring out your inner metalhead and expand your horizons as a guitarist, this song is perfect. It's a headbanger's paradise that tests your speed, precision, and ability to keep up with Zakk Wylde's relentless energy.
13. Feed The Machine by Nickelback
The album's title track, "Feed The Machine," doesn't pull any punches. This post-grunge tune has proven to be a challenge for even experienced guitarists.
The song employs drop C tuning, bringing a dark and gritty tone to Chad Kroeger's ominous lyrics. The song's intricate main riff and powerful chord progressions demonstrate that Nickelback isn't all about catchy radio hits.
Ready to power through this machine? Be prepared for rigorous palm muting and power chords, all while maintaining a steady rhythm. It's an intense ride, but I bet you'll be up for the dare. If you're looking for drop c songs that are fun to play, then I highly recommend trying to play this song.
14. Feuer Und Wasser by Rammstein
"Feuer Und Wasser" by Rammstein is a fiery showcase of the band's Neue Deutsche Härte genre. This song, from their "Rosenrot" album, is an interplay of raw energy and soothing rhythms.
The drop C tuning gives the track a heavy tone, highlighting the band's skill with powerful riffs and intricate timing. It's the perfect practice tune for alternative metal techniques.
Are you ready to walk on fire and swim through the water with your guitar? This song is a journey in itself, a testament to Rammstein's ability to create an ethereal atmosphere unlike any other.
15. Straight Out Of Line by Godsmack
"Straight Out Of Line" by Godsmack is a track that's just as rebellious as it sounds. This award-winning song from the band's third album, "Faceless," is an anthem of defiance and strength.
Played in drop C tuning, the song presents a rich, deep sound that accompanies the aggressive and powerful lyrics. This track isn't just a test of your skills but also a reminder of the grungy side of alternative metal that Godsmack so beautifully portrays.
Wish to strum out your dissent? This song is your chance! With its roaring riffs and energetic rhythm, it's really a fun ride.
16. Hand Of Blood by Bullet For My Valentine
You'll find "Hand Of Blood" by Bullet For My Valentine on their second EP of the same name. The band's use of drop C tuning in this piece adds a punchy, gritty sound that complements the angsty lyrics perfectly.
The rapid down picking and chunky power chords make this song a fun challenge for any guitarist. Be prepared for a wild ride, with swift transitions between fast-paced verse and the anthem-like chorus.
This title track is one of the band's earliest hits and continues to be a fan favorite at live shows. So pick up your guitar, and experience this fierce metalcore classic.
17. In Your Face by Children of Bodom
Now here's a tune that's as confrontational as it gets. "In Your Face" by Children of Bodom, from the album "Are You Dead Yet?" is a rapid-fire assault of melodic death metal that's sure to get your blood pumping.
Drop C tuning is extremely prevalent in Alexi Laiho's huge body of work and with astonishing intensity. Between the relentless riffs and blistering solos, there's never a dull moment in this song.
Ready to face the challenge head-on? This track will test your speed, accuracy, and endurance, all while keeping you hooked with its adrenaline-fueled energy.
18. Change (In The House Of Flies) by Deftones
"Change (In The House Of Flies)" is a standout track by Deftones, an alternative metal band known for their inventive style. The tenth song from their iconic album "White Pony", this song is a fan favorite.
The drop C tuning in this album is an absolute game-changer, making the tracks haunting and brooding, perfectly matching the dark lyrics. It helped guitarist Stephen Carpenter deliver iconic riffs that'll stay in your head as earworms for a long time.
The whole album is in drop C, unlike any other album by the band. Throughout the 49 minutes, Deftones live up to their reputation as a standout artistic wonder.
19. Hated by Beartooth
"Hated" is a force to be reckoned with from the hardcore punk band Beartooth. This track is a unique gem from their second album, "Aggressive", showcasing their knack for crafting infectious choruses.
The use of drop C tuning adds a weighty and resonant tone that complements the song's thematic exploration of self-doubt and frustration. The heavy chords and aggressive riffs prove the band worthy of their name.
Beartooth is renowned for songs bursting with unfiltered emotion, the sort that gave rise to rock and metal music in the first place. No way you can refuse this tune.
20. Outlander by Jinjer
Next up, we've got "Outlander" by Jinjer, an intriguing progressive metalcore band from Ukraine. The track is from their 2014 album "Cloud Factory," characterized by its fusion of various metal sub-genres.
Drop C tuning plays a key role in this song, creating a low, dark sound that beautifully supports Tatiana Shmayluk's powerful and expressive vocals. It sets the stage for heavy grooves and memorable riffs, adding depth to the already complex musical arrangement.
"Outlander" is Jinjer's exploration into new musical territories. And boy, does it rip!
21. All Laid Back and Stuff by Andy McKee
"All Laid Back and Stuff" is a track that truly showcases Andy McKee's prowess in fingerstyle guitar. This song is from his album "Nocturne", in an atypical tuning which is derived from drop C. To play this piece, you'll have to adjust the 3rd and 4th strings to G and D, respectively, so you'll get CGDGAD.
This unique tuning allows McKee to create a distinctive sound full of open strings and resonant harmonics. The song might sound relaxed, but the complexity of the fingerstyle patterns is enough to stump even experienced guitarists.
Ever tried to lay back and still make a statement? That's what Andy does here – a relaxed yet intricate piece that'll definitely level up your musicality.
22. Luck As A Constant by Periphery
Let's dive into "Luck As A Constant," a progressive metal masterpiece by the band Periphery. Featured on their sophomore album 'Periphery II,' this track is an excellent display of their signature sound.
Drop C tuning is masterfully used, resulting in intense riffs and captivating melodies that keep you hooked. It's like a rollercoaster ride with a perfect balance of heavy and melodic sections, showcasing the band's musical complexity.
Try your 'Luck' with this intricate djent classic that has inspired many a guitarist to join the ranks of the more gentlemanly shredders. Plus, the dual guitar solo is sure to leave you wanting more.
23. Starspawn by Blood Incantation
We've got a headbanger here with Blood Incantation's "Starspawn" from their first full-length studio album of the same name.
In this track, the drop C tuning provides a raw and heavy sound that forms the backbone of the track. The powerful riffs, the layered melodies – they all play a role in creating an atmosphere that feels otherworldly.
The music of "Starspawn" feels as vast and unfathomable as space itself. It's as if Blood Incantation is guiding us through the cosmos, one guttural growl and shredding riff at a time. Brace yourself for this interstellar ride!
24. War Eternal by Arch Enemy
The Swedish melodic death metal band, Arch Enemy, astonished me with "War Eternal." This song marked a significant chapter in the band's history, being the title track of their first album with Alissa White-Gluz.
The drop C tuning in "War Eternal" intensifies the song's aggressive riffs. It's a fierce showcase of Michael Amott and Jeff Loomis' guitar prowess, making this track a stern test for any guitarist.
The track's lyrics delve into personal struggle and resilience, making it resonate with many listeners. The track surely ranks as one of Arch Enemy's most powerful and emblematic pieces. This is one of those drop c songs I find myself returning to all the time.
25. Through Struggle by As I Lay Dying
"Through Struggle" by "As I Lay Dying" is a quintessential metalcore anthem from their album "Shadows Are Security". The drop C tuning adds extra depth to the song's brutal yet intricate guitar work.
Notably, this track is both an exercise in technical proficiency and a testament to the band's emotive songwriting. With unyielding energy and engaging dynamics, the lyrics speak of enduring hardship with an iron will.
It's an intense listening experience, demonstrating As I Lay Dying's ability to blend melody and raw power. The band's visceral performances make this track an unforgettable gem.
26. Meddler by August Burns Red
Next up is "Meddler" by August Burns Red. Released on their 2009 album "Constellations," it's a track that's sure to heighten your endorphins.
The song is in drop C tuning to give it a darker, heavier tone. This, combined with the band's high-energy performances and intricate musicianship, has skyrocketed this track to glory.
"Meddler" showcases a powerful mix of breakneck riffs, complex rhythms, and melodic solos. The lyrics deal with introspection and personal growth, making it relatable for many listeners. It's a sonic journey brimming with raw energy and emotion.
27. Machine by Born Of Osiris
Born of Osiris's "Machine," is a progressive metalcore powerhouse that emerged in 2013. Its pounding riffs, atmospheric synth, insane sweep-picked solo, and heavy drop C tuning all blend to produce a uniquely intense sound.
It's a track that highlights the band's knack for combining technical proficiency with sonic diversity, thanks to the broad tonal palette that alternate tuning allows.
"Machine" delivers a barrage of rhythmic twists and turns, from relentless breakdowns to ambient, synth-driven sections. It's an immersive blend of brutality and melody.
28. Pestilence by The Faceless
"Pestilence" by The Faceless is a technical deathcore masterstroke. From their first album, "Akeldama," it's a textbook example of the genre's complexity and precision.
The use of drop C tuning adds a thicker, meatier texture to the multi-layered riffs and syncopated rhythms. It's a song that takes full advantage of the band's musicianship and creativity, making it a standout track in the genre.
The piece offers a journey through various moods and textures. Its lyrics, rife with cosmic horror and existential dread, paint a chilling picture that matches the song's sonic onslaught.
29. Toxic Garbage Island by Gojira
"Toxic Garbage Island" from Gojira's "The Way of All Flesh" album is a thunderous track that throws you into a maelstrom of drop C-driven technical death metal with a blend of groove.
The journey of learning this song is a rough one. With the rapid palm-muted riffs, complex rhythm structures, and the band's signature pick scrapes and squeals, Joe Duplantier and Christian Andreu's guitar work is a daunting hurdle.
Despite its difficulty, the song offers a fantastic opportunity to explore Gojira's unique guitar techniques, especially their use of pitch shifters. You'll come away with a better grasp of rhythmic complexity and distinctive metal sounds.
30. Concubine by Converge
"Concubine," the opener of Converge's iconic album "Jane Doe", is a short but brutal burst of energy. The song hits you like a train with its relentless guitar riffs and intense drumming, perfectly encapsulating the raw power of this Massachusetts mathcore band.
The drop C tuning creates a powerful resonance that runs through its swift one-minute span. The frenetic riffs and tempo build an overwhelming tension, setting the tone for the rest of the album.
If you're up for a quick and brutal exercise in alternate tuning, "Concubine" is a perfect choice.
31. Needle by Chimaira
Ohio's groove metal outfit Chimaira's "Needle" from their 2007 album "Resurrection" is a brilliant showcase of the band's penchant for incorporating diverse influences. It's a compelling blend of melodic and groove elements that keep the listener hooked.
The drop C tuning, combined with a downtempo rhythm, creates a brooding atmosphere that's contrasted beautifully by soaring melodies. This adds depth to the song, while the growling vocals on top emphasize its aggressive nature.
The layered sound and the well-executed guitarwork make it a must-listen for anyone interested in heavy music. It's also a rewarding pick for any guitarist looking to set themselves apart.
32. Rain by Breaking Benjamin
Breaking Benjamin's "Rain," from their album "We Are Not Alone," takes a step back to focus more on melody and lyrical emotion in this track, as opposed to their usual fast pace.
The use of drop C adds a heavier undertone to the otherwise melodic track, creating a balance. It sets the scene for the raw emotion of the acoustic strumming, adding depth and complexity to the song.
Over the years, "Rain" has become a fan favorite, with many listeners finding solace in its beautifully arranged guitar parts and heartfelt lyrics. Add tracks like this to your arsenal for the feels and a little more variety.
33. The City Ignites by 36 Crazyfists
36 Crazyfists' "The City Ignites" is a melodic yet powerful track from their album "Rest Inside The Flames." The Alaskan band is renowned for its ability to fuse intense heavy sections with soaring melodies.
The lower pitch of drop C helps to generate a full-bodied, deep sound for the riffs and makes the transitions to higher, more melodic sections even more impactful.
The song offers a roller-coaster ride of emotions, much like the band's hometown of Anchorage, which is known for its harsh winters and beautiful summers.
34. Infinite Eyes by Darkest Hour
"Infinite Eyes" by Darkest Hour, from their self-titled album, showcases the band's talent for combining aggressive metalcore with melodic death metal.
The piece is in drop C tuning, laying a robust groundwork for the intense and rapid riffs. It adds a sense of gravity to the music, giving it a dark and intense atmosphere that matches the song's bleak lyrical theme.
It's a masterclass in musicianship, showing the versatility and power of this tuning when utilized effectively. Confront the depth and heavy emotional impact of this song for some guitar thrills.
35. I'm A Monster by Of Mice And Men
"I'm A Monster" by "Of Mice And Men," from their 2011 album "The Floods," is a high-energy track full of powerful riffs and memorable hooks. The song is a standout example of the band's blend of melodic choruses and heavy verses.
Drop C tuning builds the song's dark and menacing atmosphere. It gives the guitar riffs a thicker, heavier sound, perfect for the aggressive verses, while also allowing the choruses to shine with a rich, textured melody.
Fans of the band cite this piece as a post-hardcore essential, appreciating its high energy and expert songwriting.
36. Feel So Numb by Rob Zombie
| | |
| --- | --- |
| Genre | Industrial Metal |
| Release Date | October 14, 2001 (As a single before the album) |
| Tabs | View Feel So Numb Tabs |
Rob Zombie's "Feel So Numb," from his album "The Sinister Urge," is a hard-hitting industrial metal essential. The song is chock full of Zombie's signature blend of heavy riffs and electronic elements.
Drop C tuning is used to create the song's hefty, grinding guitar sound, adding an extra layer of heaviness to the already dense sonic landscape, complementing Zombie's guttural vocals and the pulsating electronic beats and layered synths.
This piece is one of Rob's long list of classics and showcases his distinctive style. Its gritty sound has helped it remain a fan-favorite and a staple in Zombie's live performances.
37. Die Eier Von Satan by Tool
"Die Eier Von Satan" by Tool, from their album "Ænima," is a distinctive track. It's a spoken-word piece performed over an alternative metal backdrop, setting it apart from the band's more traditional songs.
The song uses drop C tuning to create its ominous, heavy atmosphere. The lower pitch of the tuning helps to give the song's riffs a deep, resonant quality that matches James Keenan's menacing vocal narrative.
The piece showcases Tool's experimental edge and musical ingenuity and is unique in the band's discography, standing as an ode to their creative bravery.
38. Marigold by Periphery
Tabs: See Marigold by Periphery Tabs Here
The American progressive metal band Periphery redefined the genre when they pioneered the Djent movement. This high-gain, distorted, palm-muted, low-pitch guitar sound was invented by the Swedish band Meshuggah but was brought to life by the likes of Periphery, Volume, and SikTh. Along with new sounds and techniques, the band also loves experimenting with alternate tunings on their extended guitar range featuring six, seven, and eight-string guitars. They typically choose a Drop C tuning for their 6-string, Drop G# for 7-string, and standard for their 8-string.
Labeled as their most theatrical song, "Marigold" was released as a part of their fifth studio album, Periphery III: Select Difficulty, in 2016. This drop C track is brimming with orchestral elements and mind-blowing choruses that are bound to enthrall you. The dark-sounding main riff is a masterclass in rhythm techniques like palm mutes, economy picking, upstroke accents, and much more. With fantastic instrumentation, orchestration, and intricate changes, "Marigold" is perhaps one of the most revered songs in the Progressive metal genre.
39. Animal I Have Become by Three Days Grace
Tabs: See Animal I Have Become by Three Days Grace Tabs Here
Adam Gontier, guitarist and the lead vocalist of Three Days Grace, was going through a rather dark phase when he penned down their chart-topping single, "Animal I Have Become." Through the song, he vented out his anger and helplessness that came from his addiction to painkillers. "Animal I Have Become" was featured in the Canadian rock band's second album and was not released in stores, unlike most singles. It charted well, peaking at no.1 on Billboard US Alternative Airplay and US Mainstream Rock.
To play this track, you'll have to tune to drop C, which basically goes from low to high- C-G-C-F-A-D. The opening riff is bass with a prominent tritone that lends the song a mysterious and tense sound right from the start. The Chorus is easy to play with a simple chord progression in drop C power chords. It is said that Three Days Grace roughly composed this dark and evocative track while on a trip to Germany in 2004. They figured that it would sound perfect as a heavy song, and we are glad that they did! This is one of my favorite drop C songs.
40. My Curse by Killswitch Engage
Tabs: See Animal I Have Become by Three Days Grace Tabs Here
Arguably the American metalcore band Killswitch Engage's most famous song, "My Curse," revolves around the theme of having a hard time coping up with the loss of a beloved. The band's vocalist Howard Jones' energetic and pining voice reached out straight to the hearts of metal fans across the world. The guitar is equally passionate, with a mellow opening leading to a paced-up metal chorus that is ultimately followed by an intense bridge and pounding riffs.
The song was released as the first single from the band's fourth album, As Daylight Dies. In terms of popularity, it managed to outdo their breakthrough hit "The End of Heartache." It is a well-known fact that in addition to standard D tuning, this metalcore band has an affinity for alternate tunings, especially Drop C. The intro bit has some powerful chords, which are played in Drop C tuning. In fact, some of them would be almost impossible to play or sound rather weird in standard tuning.
41. Chop Suey! by System Of A Down
Tabs: See Chop Suey by System Of A Down Tabs from Here
If you are a fan of Modern metal, there is no doubt you wouldn't have heard of the blockbuster single "Chopsuey!" by the heavy metal giants System of a Down. Shortly after its release in 2001 as a part of their second album, the track fetched the American-Armenian band their first Grammy Nomination for Best Metal Performance. Widely regarded as one of the biggest metal hits, the single made its way into Loudwire's list of "The Best Hard Rock Songs Of The 21st Century" and ended up becoming the band's signature song.
Fans of System of A Down would probably know already that most of their guitar and bass tunings are in drop C. It perfectly complements their style and lets them play fast power chord riffs that go all over the fretboard. You can hear the amazing results in many of their songs, such as Aerials, Toxicity, Roulette, and of course, Chopsuey. Those of you looking to pick up different kinds of riffs in drop C tuning should definitely explore System of A Down's music.
42. Blew by Nirvana
Tabs: See Blew by Nirvana Tabs Here
The first track on the debut album of one of the most influential bands ever, "Blew," is heavy, growly with elements of groove and simple playing that is easy enough to be picked up by beginners. Interestingly, the band intended to record this track in their favorite Drop D tuning but ended up playing in Drop C tuning purely by accident.
As is often narrated by the band, the instruments were already tuned to Drop D, but they went ahead and tuned down one step further. Without realizing the tuning, they were playing in. They ended up recording many songs that day. The goof-up was discovered the next day, and they decided to redo all the songs, but"Blew" was spared for its distinct doom pop sound that came from the drop C tuning. The song's lyrics were quite personal to the band and were centered around entrapment, claustrophobia, and the desire to break free from rules and restrictions.
43. Heart Burst Into Fire by Bullet For My Valentine
Tabs: See Heart Burst Into Fire by Bullet For My Valentine Tabs Here
Big, speedy riffs and embellished fretwork fuel this rock ballad by the Welsh metal band Bullet For My Valentine. According to the band's bass player, Jay James, "Heart Burst Into Fire" was written to describe their life on the road and the desire to be reunited with the loved ones. The song's softer and relatively toned-down appeal made it reach out to a larger audience. Released in 2008 in their second album, "Heart Burst Into Fire," it has also been played in the band's favorite Drop C tuning.
To create the element of heaviness, the band made excellent use of power chords and full chord shapes in the alternate tuning. When you hear the opening riff, you'll realize how awesome simple arpeggios sound in drop C tuning when compared to other tunings. For guitar enthusiasts who are interested in picking up some cool chord shapes in C minor scale should certainly give this song a go.
44. Oblivion by Mastodon
Tabs: See Oblivion by Mastodon Tabs Here
A song that can shake you to your core, "Oblivion" by the Modern Metal band Mastodon is 6 minutes of pure genius with its changing grooves and some epic evil-sounding riffs. Released in their fourth studio album, Crack the Skye, the song became Mastodon's second most successful single, peaking at number 30 on the Hot Mainstream Rock Tracks. If you are a gamer, you would have probably heard the instrumental version of this track on the action-adventure video game Brutal Legend.
The variety of arpeggio and chord riffs you will find in this multi-layered song is plain awesome. The band is known to play most of their tracks in Drop A, Drop C, or D standard, and in "Oblivion," you will hear their guitars tuned to Drop C. Pay attention to chords in the chorus part to know the kind of exciting stuff you can do with the Drop C tuning.
45. Trashed, Lost & Strungout by Children of Bodom
Tabs: See Trashed, Lost & Strungout by Children of Bodom Tabs Here
You will find that the Finish melodic death metal band Children of Bodom play most of the compositions in D standard tuning. However, in their fifth album, Are You Dead Yet? they decided to try something different. The band picked the drop C tuning and changed the song structure to give the tracks a more aggressive feel.
Although the resulting compositions got mixed reviews from the critics, the album made it to Rock Hard magazine's "The 500 Greatest Rock & Metal Albums of All Time". The most loved tracks were "In Your Face" and "Trashed, Lost & Strungout". The latter being a fast and heavy song with a wicked intro. And all of this awesomeness played in a drop C! "Trashed, Lost & Strungout" showcases some epic guitar work by the lead guitarist and vocalist Alexi Laiho, especially the great solo part.
46. Buttersnips by Periphery
Tabs: See Buttersnips by Periphery Tabs Here
Here's another masterpiece by the progressive metal royalty Periphery that is a testimony to their love for alternative tunings. Started in 2005 as a recording project for the founding member and guitarist Misha Mansoor, the band took the world by storm with their mind-bending instrumentation and techniques. Periphery is revered for pushing the boundaries of metal and coming up with unique musical elements that are new to our ears.
The track "Buttersnips" from their highly acclaimed self-titled album is a brilliant piece that pulls its listeners into the explosive world of Djent. The intro part is out of this world, and we love how it transcends smoothly into the verses and chorus. To play this amazing composition, the band's guitarist, Misha Mansoor, tunes his guitar down from Drop D to one whole step, low to high C-G-C-F-A-D, or in other words, the Drop C tuning.
47. Freya by The Sword
Tabs: See Freya by The Sword Tabs Here
Next up is the anthemic hit that made The Sword a household name among the metalheads. The track "Freya," as the name suggests, is based on Norse mythology interspersed with fantasy and folklore. Shortly after its release on the band's debut album Age of Winters, the song was picked up as a playable track for the music rhythm video game Guitar Hero II. Overall, with "Freya," the American heavy metal band managed to woo fans and critics alike, becoming their most performed song.
Inspired by the likes of Led Zeppelin and Black Sabbath, the band became well-known for their heady riffs and big arrangements. In their smash hit "Freya," the band tuned their guitars to drop C and played some pretty wicked riffs. And the solo is equally awesome! From a learner's point of view, the song might seem a bit complex at first, but after some focused playing, we are confident you'll get the hang of it.
48. Elite by Deftones
Tabs: See Elite by Deftones Tabs Here
The song that fetched the alternative music giants Deftones a 2001 Grammy for Best Metal Performance, "Elite," is basically about how people change themselves just to get some attention. The song was featured on Deftones' best-selling and first platinum album White Pony that has been entirely played in an alternate tuning. No surprises there, as the band's popularity came from their experimental style that never failed to impress.
Lead guitarist Stephen Carpenter's signature sound was almost always delivered in a drop tuning with power chords. But what really set his technique apart was the art of coming up with interesting and exciting progressions to create epic-sounding riffs, and "Elite" is a testament to that great skill. Straightforward and heavy, what this track lacks in the dynamics department is more than made up for by Carpenter's killer riff and ferocious vocals by Chino Moreno. To play this track, you will need to change the tuning of all six strings to CGCFAD to arrive at a drop C tuning.
49. Stricken by Disturbed
Tabs: See Stricken by Disturbed Tabs Here
"Stricken" was the first track ever for the band where Disturbed's guitarist Dan Donegan introduced a guitar solo with pretty sweet results! The fans loved the single so much that it got certified gold in the US for selling over 500,000 copies. Propelled by guitarist Donegan's hard-hitting riffs, an incredible chorus, and an equally remarkable solo, Stricken is a must-add to any aspiring metal guitarist's repertoire.
This 2005 track from the band's third studio album generated even more buzz when it got included in a number of popular video games and was eventually picked up as the official theme for WWE's PPV New Year's Revolution. To play distorted licks and that amazing solo, Donegan chose the drop C tuning. Once you get started on this track, you'll find that the solo is the only challenging bit, and perfecting it will be well worth your time. This is another one of my favorite songs in drop C tuning to play.
Related Article: Songs in Open E Tuning
50. Isolation by Alter Bridge
Tabs: See Isolation by Alter Bridge Tabs Here
Formed by the former members of the prominent rock band Creed, Alter Bridge managed to carve out a style best described as heavy yet melodic. Though the band seldom tunes low, we have managed to pull out a sweet track for you that has been played in Drop C tuning. Lucky for us, this track also happens to be one of their biggest hits! Released as a part of their third album, AB III, "Isolation" was lyrically dark that explored detachment from faith and belief. The track won over critics for the range of musical skills and techniques used by the band.
"Isolation" charted all the way up to number one on Billboard's Hot Mainstream Rock Tracks and stayed put there for seven whole weeks. The song is aggressive, and fast, but overall uplifting, contrasting with its lyrics that actually work pretty well. To play the amazing solo and cool riff that powers the verses, tune your guitar to drop C first. Just tune all the strings down a whole step from standard and finally tune the sixth string down to C to arrive at "Isolation's" alternate tuning.
51. L'Enfant Sauvage by Gojira
Tabs: See L'Enfant Sauvage by Gojira Tabs Here
If you want to pick a technically sophisticated death metal track that plays in drop C, then "L'Enfant Sauvage" by the French extreme metal band Gojira might be right up your alley. The title track from their fifth studio album reflects on freedom and the responsibility that comes with it. In fact, you can go ahead and pick any track from the album, as all of them have been played in the alternate tuning of drop C. All songs from this particular album are incredibly intense yet fascinatingly captivating, with heavy-hitting riffs and subtle melody.
Sonically, "L'Enfant Sauvage" packs quite a punch with some awe-inspiring rhythm guitar work. Although the song has a simple structure, Gojira's style and nuances require heaps of time and effort to master. We suggest you start slow by working on your alternate picking and perfecting it with a metronome.
52. Passenger by Deftones
Tabs: See Passenger by Deftones Tabs Here
Make way for a slow-burning melodic ballad by the alt-metal legends Deftones. "Passenger" was the result of the band's collaborative effort with Tool singer Maynard James Keenan. The track's symbolic lyrics, atmospheric arrangement, and two insanely talented vocalists, Chino Moreno and Maynard, made it a real treat for the listeners.
Also played in drop C tuning like other songs from the band's 2000 platinum record White Pony, the track features a fantastic intro followed by a magical duet by Keenan and Moreno. Their striking vocal interplay is then followed by a heavy guitar that leads to the choruses. The song got a new lease of life when Deftones unleashed a remix of the track featuring Linkin Park's Mike Shinoda. While retaining the song structure, Shinoda opted for an EDM-ish beat in place of the original track's alt-metal backdrop.
53. Avalanche by Bring Me The Horizon
Tabs: See Avalanche by Bring Me The Horizon Tabs Here
It's time for something that's a bit less headbanging but still pretty awesome. Released by the British rock band Bring Me the Horizon, "Avalanche" is one of those anthemic songs that were created keeping a big crowd in mind. The track was released by the band in their 2015 fifth album That's the Spirit. The song's powerful, thought-provoking lyrics talk about the band's vocalist Oliver Sykes's recent diagnosis of attention deficit hyperactivity disorder and how it played a role in his recovery from drug addiction.
Played in drop C, "Avalanche" has fantastic guitar hooks that give out a strong arena rock vibe. The huge open chords beautifully amplify the soulful lyrics and Sykes's mindblowing vocals. The song enjoyed a good commercial run, climbing to number seven on the UK Rock & Metal Singles Chart.
54. Toxicity by System of a Down
Tabs: See Toxicity by System of a Down Tabs Here
Perhaps the most popular band to embrace drop C tuning, System of a Down boasts an extensive discography making their music perfectly suited to start your drop C journey. We spoke about "Chop Suey!" a while ago, now we bring you the phenomenal title track from the very same album, Toxicity. Released by the band in 2001, this smash hit album is entirely played in drop C and showcases a clever mix of different genres, including jazz, rock, folk, and Armenian music.
The title track, "Toxicity," is hailed for its aggressive vocals, growling guitars, and adrenaline-fueling drum beats. Learning the track might seem like a herculean task, given its fast and speedy pace, but it is honestly not that hard. Just play around and follow the song's widely available tabs, and you'll nail it soon enough. This is one of the most popular drop C tuning songs and also one of that I really enjoy playing.
55. Monster by Skillet
Tabs: See Monster by Skillet Tabs Here
This heavy and dark single by the American Christian rock band Skillet became one of the most-played Halloween tracks following its release in 2009. "Monster" is the second single from the band's seventh album, Awake. It rose to great heights, becoming the band's most successful song, eventually earning Double Platinum status. Labeled Skillet's breakthrough hit, "Monster," charted Number four on the Billboard Mainstream Rock Tracks and number one on Bubbling Under Hot 100.
Even though the song's lyrics have a deep theological meaning that revolves around original sin. But the overall theme of how each of us has a dark side resonates with pretty much everybody. We found the song's energy to be highly infectious. The guitar riffs are pretty heavy, with the perfect amount of distortion. If you listen closely, you will notice that the eerie vibe of the song comes from the guitars, which have been tuned down to Drop C.
56. Bodies by Drowning Pool
Tabs: See Bodies by Drowning Pool Tabs Here
The American rock band Drowning Pool's signature song "Bodies" has attracted some controversy, mainly stemming from the misinterpretation of the lyrics. Nevertheless, considered the finest creation by the band, "Bodies" peaked at number six on Billboard's Mainstream Rock Tracks chart in 2001 and was certified platinum with over a million digital copies sold. That's not all. The song became so huge that it was soon picked up by many films, TV programs, and commercials.
"Bodies" is basically a mosh pit anthem that makes the crowd go berserk whenever performed live. Although tragically linked to some violent events, the song's lyrics are anything but inciting that only speak about the crowd's passion and the brotherhood of mosh pit. The song uses a drop C tuning and is fun to play. Using a wah-wah pedal while playing it will give you superb results. Try it and let us know!
Related Article: Open D Tuning Songs
57. Your Guardian Angel by The Red Jumpsuit Apparatus
Tabs: See Your Guardian Angel by The Red Jumpsuit Apparatus Tabs Here
Here's a heartbreaking Emo song in Drop C to end the list. Written by the American rock band The Red Jumpsuit Apparatus' Ronnie Winter, "Your Guardian Angel" was dedicated to eight students whose lives were cut short in a tornado that wrecked a high school in Enterprise, Alabama. The track was released as the third single by the band in 2007, peaking at number 22 on Billboard Under Hot 100 Singles. It was also chosen to grace the season finale of Moonlight, a CBS show.
For this track, The Red Jumpsuit Apparatus tuned their guitars down to CGCFAD and played it entirely in the time signature of 6/8. The intro might initially sound a bit tricky, but once you've got it, the verse is quite similar and uses the same strumming pattern throughout.
More Information on Drop D Tuning
As you can see in the diagram below, the standard E tuning on your guitar goes something like this: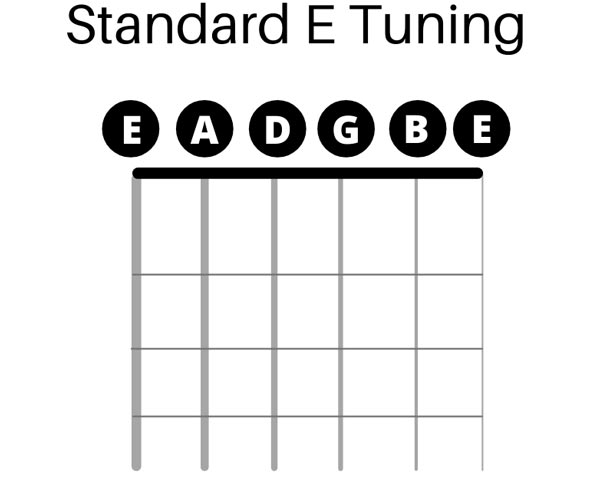 However, once you tune your guitar to a Drop C tuning, the individual tuning of all 6 strings will look like this: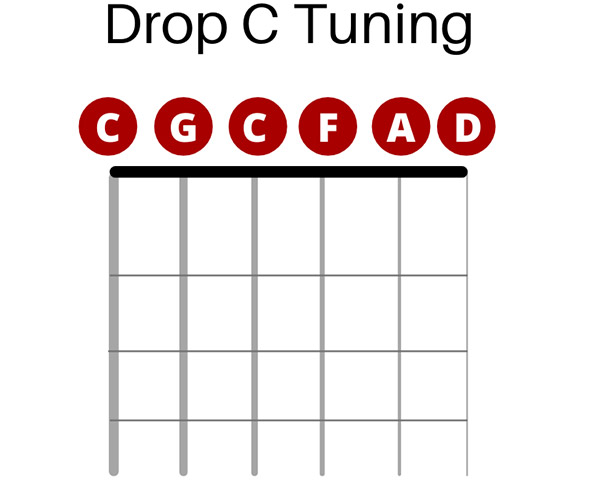 How Do You Tune Your Guitar To Drop C? Step-By-Step Tuning Guide
Now let's jump into how to tune each string from a standard E a Drop C tuning:
6th (E) string (lowest string): Pluck the string, and slowly tune it down to two whole steps to C by twisting the tuning peg towards you. Keep plucking the string till you reach the correct note. If you don't have a tuner, then you can tune it by ear – press the third fret of your 5th (A) string to get the C note. Then, keep tuning the 6th string down till the tuning matches the note of the pressed 5th string.
5th (A) string: Pluck the 5th string and keep tuning the string down by one whole step, until you reach from the A to the G note.
4th (D) string: Similarly, tune your 5th string down by one whole step to go from D to the C.
3rd (G) string: Pluck your 3rd string and keep tuning the string down from the G note until you reach the F note.
2nd (B) string: In the same fashion, tune down the 2nd string from its original A note to a whole step, until you reach the B note.
1st (E) string (highest string): Finally, pluck the 1st string and keep tuning down by one whole step, until you hit the D note.
Why Should You Learn Drop C?
The Drop C tuning is quite popular amongst guitarists, especially those who enjoy playing rock and metal songs. In fact, some of the world's most popular metal and rock bands use Drop C in their songs.
Arch Enemy, Killswitch Engine, Bullet For My Valentine, Deftones, and Periphery come to mind, to name a few! However, this is not to say that you can't explore other genres in the Drop C tuning.
Let's take a look at some of the top reasons why musicians like playing the Drop C tuning.
Compliments Lower Vocal Range: When you tune the guitar down to a Drop C, the range of your guitar extends by 2 whole steps in the lower range. This helps you shift any guitar parts to better suit vocalists with a lower vocal range. So if you frequently play with singers who like to sing low, then Drop C tuning could work pretty well.
Extended Standard Chords: The Drop C tuning helps you extend the range of standard chords, giving a more lush, open, and layered sound over regular chords.
One-Finger Power Chords: Because of the way the Drop C tuning rearranges the notes, you'll be able to play power chords by barring frets with a single finger across the 3 lowest strings on the guitar!
In contrast, standard E needs you to typically use at least 2 to 3 fingers to play power chords. This is why Drop C is a rock and metal guitarists' best friend.
Lower, Gritty Range For Metal: Metal and rock music often prefer lower guitar tunings to add that gritty, low rumble to their music, and Drop C is a great way to naturally add it to the tracks and promises to complete a gritty growl of the vocalist!
Related Article: Drop D Tuning Songs
What To Keep In Mind Before Tuning Your Guitar In Drop C?
Before you decide to change the tuning of your guitar to Drop C, here are a few things you should keep in mind:
Keep a tuner handy while changing the tuning to ensure accuracy. Plus, it's better to tune the string down slightly flatter than the intended note, and then slowly tuning up to it. This will maintain the string's tension and keep it in tune for longer.
Since the Drop C is such a low tuning vis a vis standard E tuning, you may need to modify and adjust your guitar neck's tension and raise the action to avoid fret buzz. If you're an experienced guitarist, you could do it by yourself using a truss rod. If you're a novice, then consulting a luthier is a good idea.
Since Drop C tuning involves the lowering of the tuning of ALL your guitar strings, switching to heavier gauge strings will serve you well – they will be easier to play, and will add that heavy sound as well.
When playing the one-finger power chords in Drop C tuning, do be careful to not play the highest 3 strings.
Final Thoughts
We hope this blog gives you everything you need to get started on exploring the delightfully heavy Drop C tuning. Experimenting with alternate tunings is a great way to explore new playing styles as well as push your own creative boundaries. Interested in exploring other cool alternate tunings? Check out our handy Open E tuning resource next. Happy playing!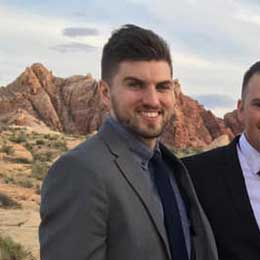 My name is Chris and I've had a passion for music and guitars for as long as I can remember. I started this website with some of my friends who are musicians, music teachers, gear heads, and music enthusiasts so we could provide high-quality guitar and music-related content.
I've been playing guitar since I was 13 years old and am an avid collector. Amps, pedals, guitars, bass, drums, microphones, studio, and recording gear, I love it all.
I was born and raised in Western Pennsylvania. My background is in Electrical Engineering, earning a Bachelor's degree from Youngstown State University. With my engineering experience, I've developed as a designer of guitar amplifiers and effects. A true passion of mine, I've designed, built, and repaired a wide range of guitar amps and electronics. Here at the Guitar Lobby, our aim is to share our passion for Music and gear with the rest of the music community.