As music lovers, we've all heard the old thumb rule to check whether a song is in a major or minor key. It's often said, "if it sounds happy, it's in a major key, and if it sounds sad, that's a minor key." Well, buckle up because you're in for a surprise.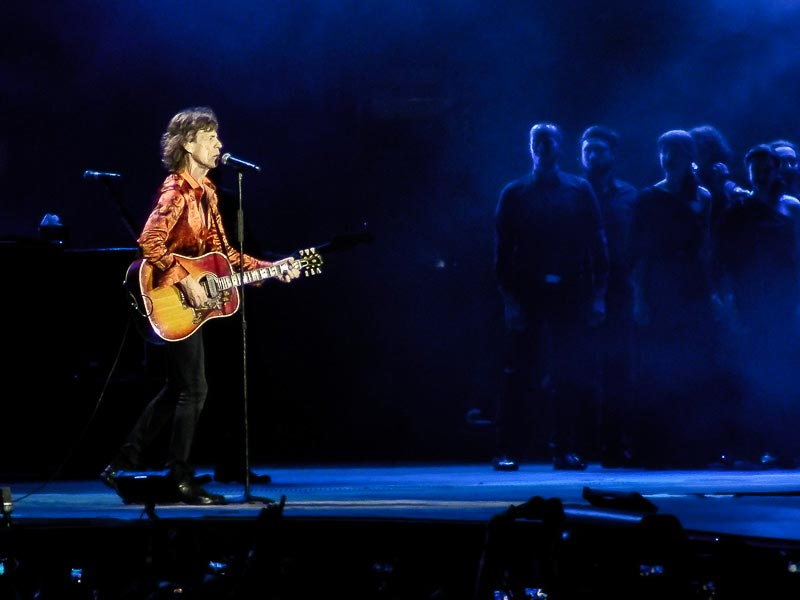 There are breakup songs like Adele's "Someone Like You," that's written in A major, while Oasis' upbeat campfire favorite hit "Wonderwall" that's played in F sharp minor. And while many people think that popular songs are mostly written in the major key, you'll be surprised to know just how many chartbusters across genres are in the minor key!
Here are a ton of popular songs in minor keys from various genres like rock, blues, pop, funk, and folk. So let's get started, shall we?
List of Popular Songs in Minor Keys
1. Californication by Red Hot Chili Peppers
It's been over 22 years since influential funk-punk rockers Red Hot Chili Peppers first came out with "Californication," a groovy feast that still sounds as fresh and zesty as it did back then. Written by frontman Anthony Kiedis, the band initially had trouble bringing it alive musically until guitarist John Frusciante just walked in one day declaring he had figured it all out. The song ended up becoming one of RHCP's greatest hits and a live staple that never fails to get the crowd going!
When you get down to playing it, you'll be using A minor scale that, without any flats and sharps, is perfect for beginners looking to expand their fundamentals.
2. Stairway to Heaven by Led Zeppelin
A captivating tune, thought-provoking lyrics brought alive by passionate vocals, and one of the finest guitar solos ever has earned Led Zeppelin's "Stairway to Heaven" a permanent top spot in most rankings and best-ever lists. "Stairway to Heaven" is a carefully crafted piece that uses tempo, beat, and instrument arrangement to make its point.
Like a sonic staircase, it starts out slow with an arpeggiated, fingerpicked intro in the key of A minor. As the song progresses, more layers get added, with drums joining in, followed by guitar legend Jimmy Page's iconic solo before ultimately ending in an uptempo hard rock section powered by Robert Plant's signature falsetto.
When it comes to guitar, there's a lot going on! It is, after all, a Jimmy Page song! Learning this song is a rewarding and satisfying experience that'll have you brush up on a range of techniques from fingerpicking, arpeggiated picking, and rhythmic strumming to rendering a melodic solo in the classic Page style.
3. Hotel California by Eagles
Who hasn't air guitared to "Hotel California's" epic twin solo? The 2-minute and 20 seconds long sonic treat is a fantastic display of Don Felder and Joe Walsh's guitar prowess that simply takes your breath away. Believe it or not, this spontaneous-sounding solo was not an improvised interplay but a note-for-note replication of the original instrumental demo that Felder had created! But that doesn't take away the fact that it remains hands down the greatest guitar solo in the history of music.
The song's written in the key of B minor but not conventionally. It dances around quite a bit as the song progresses. You'll hear chords such as F#m, which comes from B harmonic minor, and E from B Dorian. But since the verses are in B natural minor, you could say it is centered around that key.
When it comes to fortifying your barre chords skill, B minor is the most ideal. But if you are not yet comfortable with barre chords, take the chords a whole step down to A minor and slap a capo on the second fret to play it along with the original. The use of minor-key, together with its cryptic lyrics and the killer solos, make "Hotel California" an enigmatic rock classic that's been winning hearts for over four decades!
4. Heart of Gold by Neil Young
While recuperating from a back injury, Neil Young put together a repertoire of soft acoustic-driven-harmonica-infused gems, which were a departure from his usual electric fare. It was during this phase he conceived "Heart of Gold," a song that catapulted his reach and turned him into an international star.
Besides being a timeless classic that's inspired many amazing covers, "Heart of Gold" is a great song for any aspiring guitarist, regardless of skill level, to add to his vault. Young plays "Heart of Gold" in the key of E minor and sticks mainly to open chords, making it quite accessible to beginners. More proficient players can add dynamics just the way Young does in the original.
5. All Along the Watchtower by Jimi Hendrix
Originally written and recorded by Bob Dylan, "All Along the Watchtower" did not see much success before Jimi Hendrix came along. The guitar giant took the original understated acoustic piece and turned it into an electric marvel teeming with amazing solos and jaw-dropping licks.
Released six months after Dylan's original, Hendrix's rendition became a thumping success and his highest-ranking American single. It was ranked number 48 on Rolling Stone's 500 Greatest Songs of All Time and is widely regarded as one of the best covers ever. While Dylan wrote his original in the key of A minor, Hendrix went with C minor to play his version.
6. Wonderwall by Oasis
A campfire favorite since the mid-'90s, and for a good reason! "Wonderwall" by Oasis is undeniably groovy and beginner-friendly with an incredibly high sing-along quotient. The single's chart run was pretty impressive, to say the least! It swiftly grabbed the top spot on the Modern Rock Tracks and stayed put for ten straight weeks!
The song is in the key of F sharp minor, but it does seem to swing between F#m and A major if you listen to the recording closely. To play it in the easiest and most fuss-free way, you'll need Em, G, D, and A7sus4 with the addition of a C chord in the pre-chorus. You'll also need to place a capo on the 2nd fret to make it sound closer to the original. The 16th strum pattern can get fast, so you'll have to set aside some time to work on getting it right. I really enjoy playing this song, and it's easily one of the most popular songs in minor keys.
7. Ain't No Sunshine by Bill Withers
Built off the tender and soothing A minor key, Bill Withers' "Aint No Sunshine" is an immersive experience for the listeners. A simple bluesy melody paired with beautiful vocals, heartfelt lyrics, and an interesting "I Know" loop that almost always evokes a collective crooning response from the crowd. It seems Bill Withers had kept the loop as a filler to add in more lyrics later on but was nudged by other musicians to let it remain that way. Since its release in Withers' 1971 album, this song has become a live staple covered by many in a range of styles.
Playing-wise, this Grammy-winning single is perfect for those who want to work on minor chords. Most of the song uses Am, Em, and Dm chords and gives you plenty of practice in chord changes and timing the beat. You can always add in more flair using some suspended chords and other complex arrangements along the way.
8. House of the Rising Sun by Animals
In 1964, British rock band The Animals decided to do something unusual. They took a 19th-century folk staple and turned it into a chart-topping folk-rock song! The gritty song with hidden depths is a tale of caution about a man whose life had gone downhill in New Orleans. Like most folk songs, no one knows who wrote the original, but it ended up becoming pretty popular among the American mining community.
Though Animals' recording became hugely popular, they were not the first ones to take this folk ballad mainstream. Woodie Guthrie, Joan Baez, Nina Simone, and Bob Dylan had already released their versions by then. While on tour with Chuck Berry, frontman Eric Burdon heard it at a club in Newcastle, England, and decided to cover it. The song was recorded in one take, kicking off with the iconic A minor chord arpeggio by Hilton Valentine on his electric guitar before Burdon's soulful vocals take over.
9. Black Magic Woman by Santana
This Fleetwood Mac blues-rock original was taken by Santana and turned into an infectious Latin-infused marvel that conquered the charts and made them a household name. While retaining much of the original's bluesy vibe, melody, and lyrics, Santana's version had some jazz, Hungarian folk, and Latin rhythm thrown into the mix.
Santana's "Black Magic Woman" has one of the catchiest openings I have ever heard! A guitar intro followed by a terrific solo, all of which is inspired by Gábor István Szabó's "Gypsy Queen." "Black Magic Woman" uses D minor, a scale that's also called the "heartbreak key," for its ability to add strong emotions, usually melancholy, to a song.
10. Angie by The Rolling Stones
It didn't take this Rolling Stones' acoustic-driven breakup ballad very long to conquer the charts. Released in 1973, "Angie" swiftly grabbed the top spot on the US Billboard Hot 100 as well as several charts across the globe.
Although credited to both Mick Jagger and Keith Richards, this song was almost entirely composed by Richards at a Swiss Rehab facility after regaining strength in his fingers enough to start strumming again. He built it around the key of A minor, a perfect scale to craft a song that was intended to be calmer and tender than Stones' high decibel style.
In the most simplified form, you'll only need to strum a few simple chords- Am, E, G, F, and C to play the song. But for those who are keen on reproducing a more accurate rendition,  it'll take a fair bit of work in getting the timing, strumming, and picking patterns right to emulate "Angie's" fine melody lines, trilling riffs and that iconic intro acoustic solo.
11. Chop Suey! by System of a Down
By now, it must be pretty clear just how pivotal a scale is in defining a song's emotions and overall vibe. Just as A minor is associated with tenderness and D minor with melancholy, G minor conveys a sense of discontent and resentment.
Take the popular heavy metal band System of a Down's biggest hit, "Chopsuey!" for example. From the word go, this song is all about angst and mayhem. Galloping power chord riffs on down-tuned guitars, fiery vocals, and controversial vocals lyrics built around the key of G minor are the driving force behind this insanely popular and edgy track. The fact that it is only the second metal song after Linkin Park's "In the End" to cross a billion views on YouTube just goes on to show "Chop Suey's!" strong reach and influence 20 years on from its release.
12. Things We Said Today by The Beatles
This B-side wonder from the Beatles' chart-topping album "A Hard Day's Night" was written by Paul McCartney while holidaying on a yacht with his then-girlfriend, Jane Asher. "Things We Said Today's" deeply personal lyrics exhibit "future nostalgia," with McCartney acknowledging his relationship with Asher would eventually fall apart, and they'll remember the things they said today.
While the song is centered around the natural minor key of A, McCartney's interesting combination of alternating major and minor chords swings the scale from A minor to A major. The transition flows beautifully with a change in harmony and an acoustic guitar flourish. To me, this song is a brilliantly complex ride of emotions that deserved more love and appreciation than it got.
13. Snuff by The Slipknot
Now, it wasn't very often you would see a Slipknot single cracking the top 10 or 20 despite their fantastic music, but this heartwrenching ballad from All Hope Is Gone album did just that! "Snuff" gave the world a taste of heavy metal royalty's versatility, racing all the way to number 2 on Billboard Hot Mainstream Rock Tracks and becoming their highest-ranked single to date.
The key of F# minor, a scale associated with gloominess and resentment, was a fitting choice to write this immensely moving ballad about a manic-depressive who is too reluctant to love. It begins with an acoustic opening with Corey Taylor's clean, melodic vocals before shifting sonically in momentum once the whole band takes over.
Popular Related Article: Easy Country Songs to Play on Guitar
14. I See Fire by Ed Sheeran
Ed Sheeran's vast repertoire of charismatic, acoustic-based hits is testimony to his genius when it comes to crafting a tune. His 2013 single "I See Fire" is a gorgeous folk ballad written for the epic fantasy adventure film The Hobbit: The Desolation of Smaug. After hearing raving reviews from his daughter, acclaimed director Peter Jackson roped in Sheeran to write a song to be played over the closing credits.
Sheeran flew to New Zealand, watched a rough draft of the film, and wrote and recorded "I See Fire" in one day flat. Captivating and haunting, the song starts gently with Sheeran's euphonious voice and beautiful riffs in B-flat minor key. Bet you'll love this one just as much as I did! This is one of my personal favorite minor key songs of all time.
15. Hallowed Be Thy Name by Iron Maiden
There's a reason many heavy metal bands favor playing in a minor key, particularly E minor. With "E" being the lowest note on a guitar, it gives off a moody vibe and is perfect for heavy chugging. If you comb through heavy metal titans Iron Maiden's repertoire, you'll find most of their music is built around this key.
Written in the same key of E minor, "Hallowed Be Thy Name" is a seven-minute sonic feast chock-full of Murray/Smith's brilliant dual guitar harmonies, Burr's fluid drum work, Dickinson's epic vocals, and Harris' goosebumps-inducing lyrics. In short, all of the Maiden members are at their finest! No wonder it is considered not just the band's most popular track but also one of the greatest heavy metal songs of all time. And we agree!
16. Another One Bites the Dust by Queen
From their eighth album, The Game, this chart-topper established Queen's crossover to R&B and funk market. Written by bassist John Deacon in E minor, "Another One Bites the Dust" is an adrenaline-pumping fare that, thanks to its anthemic vibe, is a frequent feature in sports events and movies.
Beacon's iconic bassline, May's groovy riffs, Freddie's solid vocals driven by a dry-drum loop all fell into place to create this disco-funk masterpiece. For some reason, the band was a tad reluctant to release it as a single, but a backstage visit by Michael Jackson convinced them otherwise. Jackson told Freddie Mercury the track was too fantastic not to be released.
Catchy and relatable, it became a live staple for the band, so much so that the audience would often end up singing the chorus by themselves.
17. Enter Sandman by Metallica
Metallica went mainstream with this one. As the title track from their 1991 self-titled album, "Enter Sandman," was certainly not the band's most sonically complex song but worked wonders in shooting their popularity across the globe. It sounded more rock than their usual sound.
As the name suggests, "Enter Sandman" chronicles a child dealing with nightmares powered by some of the catchiest riffs out of Metallica's vault. It is also perhaps the reason why drummer Lars Ulrich called it a "one riff song," as everything from progression to the chords came out of a rather ominous-sounding riff that Kirk Hammett wrote in the key of E minor.
The song may be one of their simpler tracks, but it has some really tricky bits in it. If you fancy a challenge, we've linked the tabs above to get you started. Have fun!
Popular Related Article: Easy Love Songs to Play on Guitar
18. Beat It by Michael Jackson
After conquering the world with chart-shattering singles like "The Girl Is Mine' and "Billie Jean," Michael Jackson stunned his fans with something different- a catchy rocker! With elements of arena rock and foot-tapping pop, "Beat It" elevated Jackson's sound to a whole new level, cementing his image as a global superstar. The song also happened to feature one of the greatest guitar solos of all time, courtesy of Eddie Van Halen.
The King of Pop had a penchant for minor keys. For "Beat It," he went with an E-flat minor, which also worked brilliantly for Van Halen's mind-blowing solo and turned the song into a solid rocker!
19. Smells Like Teen Spirit by Nirvana
If you haven't heard Kurt Cobain's iconic riff from "Smells Like Teen Spirit," you, my friend, have been living under a rock! It is undoubtedly Nirvana's biggest song with the most recognizable riff in the history of rock. The power chords-fuelled riff runs in tandem with Krist Novoselic's famous bassline and Cobain's adrenaline-pumping vocals.
The raging success of this title track from the band's second album Nevermind is often viewed as the point where grunge entered the mainstream. For "Smells like Teen Spirit," the band picked the key of F minor, which is known for its distinctive lamenting-angsty vibe. And isn't that what this song is all about? If you're looking for songs in minor keys, this is an excellent choice and one I recommend to my students often.
20. Shine on You Crazy Diamond by Pink Floyd
A somber masterpiece and my favorite Pink Floyd song, "Shine on You Crazy Diamond," was written as a tribute to the founding member Syd Barett who had to leave the band due to deteriorating mental health. Spread across 26 minutes; it gave every member a chance to shine and beautifully immortalized Barett's talent, journey, and the immeasurable influence he's had on shaping the band's sound.
There's a psychedelic vibe to this song brought on by David Gilmour's melancholic guitar arpeggio, distorted riffs, a saxophone solo, multi-tracked synths, and passionate vocals. "Most of this 26-minute long composition sticks to G natural minor (Aeolian) scale, at times incorporating hints of G Dorian mode with the E (raised sixth) note in some parts of the song.
21. The Pretender by Foo Fighters
According to former Nirvana drummer and Foo Fighters frontman Dave Grohl this 2008 Grammy-winning track is "a stomping Foo Fighters uptempo song, with a little bit of Chuck Berry in it." Written in the key of A minor, "The Pretenders" begins with a stripped-down, mellow acoustic intro with a small string section before exploding into a full-blown hard rock fare, complete with powerful rhythm hooks, catchy riffs, and intense vocals.
Grohl's allusion to Chuck Berry starts to make sense when the emotionally charged bridge comes up. It's a Berry-style riff that turns more melodically complex along the way. Grohl acknowledged the song had a strong political undertone to it but wanted people to have their own interpretation. All in all, a true crowd-pleaser and a wonderful pick for aspiring guitarists for the range of techniques and skills it employs.
22. Scarborough Fair by Simon and Garfunkel
A medieval English ballad about jilted love, "Scarborough Fair," has been recorded by many artists throughout the 20th century, including the famous version by Rock 'n roll titans Simon & Garfunkel. The influential duo made the ancient folk ballad global with a poignant rendition that equates betrayal in love to war. A clever pairing of "Scarborough Fair" with their anti-war "Canticle" was achieved using vocal and instrumentation overdubs.
Playing this song gets a whole lot easier once you familiarize yourselves with the melody, which is written in the key of E minor. Emulating it can get tricky with the multitude of chords, intricate fingerpicking, and layers of guitar work that are in it. It's a beautiful song that'll require heaps of patience, all of which will be well worth the effort.
23. Slow Dancing in a Burning Room by John Mayer
The soulful opening riff in "Slow Dancing in a Burning Room" has all of us swooning to it! John Mayer has a knack for making songs about situations in life that every listener can relate to. This one talks about how two people are striving to keep a relationship alive when it's actually slowly burning to the ground, and the spark is fading away.
Played in the key of C sharp minor, the rhythm section consists of the three chords C#m, A, and E with the addition of B and F#M in the chorus and bridge. Sounds simple? Not by a long chalk! "Slow Dancing in a Burning Room" showcases this modern guitar virtuoso at his finest. From intricate muting and vibrato-powered intro to tricky chord embellishments and a challenging solo rendered with a slew of quick slides, Mayer's guitar work is astonishingly awesome.
24. Voodoo Child (slight return) by Jimi Hendrix
This song needs no introduction. A Jimi Hendrix staple, "Voodoo Child," has been covered by numerous music legends such as Stevie Ray Vaughn, Kenny Wayne, and Shepherd, just to name a few. Hendrix used the scale of E minor and tuned down half-step to play this classic that's teeming with fuzz and distortion. It begins with a riff on a wah-wah pedal before escalating sonically with crunchy chords and breathtaking lead parts in Hendrix's signature psychedelic style.
Whenever multiple guitarists collaborate on stage, Hendrix's "Voodoo Child" is one of the tracks that they almost always jam to. And why not! Like Joe Satriani right said, "It's just the greatest piece of electric guitar work ever recorded. In fact, the whole song could be considered the holy grail of guitar expression and technique. It is a beacon of humanity."
25. Bad Romance by Lady Gaga
Lady Gaga's "Bad Romance" is arguably her most recognized tune, especially the "Ra ra ah ah ah…" loop, which I am guessing nearly everyone on the planet has heard. The interesting lyrics about a toxic relationship with an undeniably catchy melody will draw you to the dancefloor and take you back to the '90s. In fact, American Psychological Association has called "Bad Romance" the catchiest earworm ever recorded.
Gaga has quite a few of her iconic tunes written in minor keys. Her "Poker Face" is in the key of G# minor, while this electropop seminal hit is in A minor. When your lesson, notice how this song follows the different A minor chord progressions in the upbeat chorus and the relatively subtle verses. The tutorial above will break it down for you.
26. Sultans of Swing by Dire Straits
Practice playing in the key of D minor with this timeless classic by the Dire Straits. A fantastic example of frontman Mark Knopfler's genius songwriting skills and jaw-dropping guitar playing, "Sultans of Swing" remains to date one of the most famous tunes in rock music. It was pure radio gold, winning the British band a legion of fans and a permanent spot on "best-of" lists.
Knopfler's masterful fingerpicking and Stratocaster-fuelled solos earned the song a well-deserved 32nd spot on Rolling Stone's collection of greatest guitar songs. Every time this track is played live by the band, its power continues to grow. You can get familiar with the chord progressions of Dm-C-Bb-A and F-C-Bb before taking on the more challenging lead parts.
27. Fallin' by Alicia Keys
Two decades ago, Alicia Keys thrilled the world with her soul-stirring debut "Fallin'," giving us a sample of her multifaceted talent. In this piano-led piece, Keys croons about being head over heels in love with her person, who may not be her best bet when it comes to eternal happiness. The song cracked the top 10 in many countries and won three Grammys.
Now, this single may be a part of Keys' breakout album Songs in A Minor, but it's actually written in the key of E Minor. You only need two chords to play this gorgeous tune, one being a barre chord. Despite the Bm, it's still a slow-paced beginner song, and you can always swap the barre chord with a Bm7, a more accessible alternative.
28. Hurt by Johnny Cash
Johnny Cash's sparsely arranged country-style spin on Nine Inch Nails' industrial rocker hit single became as famous as the original, if not more. So unique was Cash's "Hurt" that Nine Inch Nails' Trent Reznor felt the song was no longer his and belonged to the country icon in every aspect.
Everything about the song is raw and gut-wrenching, especially when you think it was recorded only a few months before Cash's passing. You can sense the vulnerability and pain in the 70-year-old legend's aged voice, and a minimalist arrangement makes it all the more powerful and honest. Both renditions are emotionally heavy, making A minor a perfect key for them.
29. New Born by Muse
Muse's discography is a fantastic place for anyone who wants to add killer down-tuned riffage and minor key songs, especially E minor, D minor, and G minor, to their arsenal. The alt-rock band's 2001 single "New Born" is a commentary on the breakneck pace of technology and its impact on humanity.
Sure, you might find the piano hogging the spotlight, but it also happens to have a brilliant riff that transforms the whole vibe of the track. From a melodic piano intro, the song shifts gear and goes into a bombastic zone! The second Matt Bellamy's distortion-heavy riff kicks in, you'd want to grab your guitar and play along. There's a video lesson to help you do just that.
30. Back to Black by Amy Winehouse
Amy Winehouse's anguished vocals carry the wistful "Back to Black" – D minor key song overflowing with a retro-soul vibe. Fresh from a devastating breakup, Winehouse used this 2007 track to talk about the dejection and heartache she suffered. It's a bittersweet piece that might make you want to cry and dance at the same time.
"Back to Black" was released as the third single from her second album and, along with "Rehab," catapulted the British sensation into a global icon. There are two plays to play, one of which has some barre chords. Either way, it's the strumming that you need to focus on getting right to capture the swing vibe of the original. The video lesson above will take you through that.
31. One by U2
It's no secret that "One" is a special track for the members of the Irish rock giants U2. During their exceptionally turbulent phase, the band had briefly split up, and somehow jamming to this song while figuring out the chord progressions brought them back together. Bono's lyrics acknowledge that not everyone is the same, but it's good to put aside differences and just get along. It didn't take long for this single from Achtung Baby to become a chart-topping success and a staple at the band's gigs.
The song is in the key of A minor, and in terms of guitar, there's plenty to love and learn. The Edge's signature digital delays and reverb-driven riffs, an interesting strumming pattern, and chord embellishments are all perfectly within reach of beginner to intermediate guitar players. If you want to learn an acoustic arrangement first, check out the tutorial above.
32. Eye of the Tiger by Survivor
For anyone who grew up or lived through the '90s, Survivor's "Eye of the Tiger" was as inescapable as Rocky Balboa! Even today, this adrenaline-pumping classic remains a popular choice for background tracks on motivational videos. The opening riff has become permanently embedded in our heads and is a part of every aspiring guitar player's wishlist.
This insanely catchy track is played in the key of C minor, which is known to have an element of softness and innocence to it. Those who want to practice easy power chords, palm muting, and alternate picking, go right ahead and check out the lesson. The absolute beginners eager to learn the iconic riff but don't know power chords can play a super easy version of it on just the high E string.
33. I Kissed a Girl by Katy Perry
Katy Perry's debut single is an upbeat ditty written in the key of A minor. With its cheeky lyrics, danceable energy, and infectious hook, "I Kissed a Girl" took the world by storm and became the 10th best-selling single of this century. Contrary to popular belief, plenty of dance-pop tunes are in minor keys, especially A minor.
If you want to play this exactly how it is in the studio recording, you'll need to tackle some tricky yet fun chord progressions, different for verses, chorus, and bridge parts. You can also play a relatively simpler version with the same Am-C-Dm-F-E in both verses and chorus and F-Em-Am-G-Dm in the bridge. Click on the tabs to know more.
34. While My Guitar Gently Weeps by The Beatles
The Beatles only have a handful of songs in the minor key, including this breathtaking masterpiece in A minor by the band's guitarist George Harrison. "While My Guitar Gently Weeps" was written by Harrison at a time when cracks between the group had already started to appear. The nonchalance shown by the rest of the members while the song was still taking shape prompted the lead guitarist to reach out to his friend and frequent collaborator, Eric Clapton, for help.
Needless to say, when two of the most legendary guitarists collide, the result is awe-inspiring. In my opinion, it's hands-down the greatest guitar-driven gem by the Beatles. Learning this will not only help you add an iconic solo by Clapton to your repertoire but also show you how to switch the key from A minor to A major during the bridge parts.
35. Counting Stars by One Republic
Folk meets pop in this catchy earworm from One Republic's Native. So ubiquitous has "Counting Stars" become since its release in 2013 that even nine years later, it's now one of the most watched YouTube videos of all time with over 3.6 billion views. It's a straight-shooting upbeat One Republic banger tinged with elements of soul and dance-pop.
The record kicks off with Ryan Tedder's gorgeous voice backed by some beautiful guitar strumming. The way it's originally written is in the key of C#m with a C#m-E-B-A chord sequence. If you want to avoid the barre chords, you can play the track with a capo on the 4th fret and relatively easier chord shapes. The video lesson will show you both versions. Pick the one you are more comfortable with.
36. The Man Who Sold The World by David Bowie
You might have seen Kurt Cobain performing it, but the song was written and originally performed by the legendary British musician David Bowie. It was released as the title track of his third studio album in 1970. The song is known by many people for its introspective lyrics and meaning as well as its distinctive musical arrangement, which features a very powerful and well-known guitar riff that serves as the foundation for the song, from which everything builds up.
The riff itself uses chords centered around the key of D Minor (A, Dm, F, and C), which draws out a very melancholic atmosphere, even though there's only one minor chord that serves as the tonic of the progression. If you are only focused on the chords and the basement of the guitar part, this song won't set many handicaps on your path because the chords are well-known for beginners.
37. Losing Grip by Avril Lavigne
Still, remember the 00s? Well, then, the next song will surround you with the atmosphere of that particular time. "Losing Grip" is a track created by Canadian singer-songwriter Avril Lavigne, released on her debut studio album, "Let Go," in 2002. As we figured out, it represents Avril's signature pop-rock sound, full of elements of alternative rock, especially seen in songs written in the period from 2000 to 2010.
The song is characterized by its guitar-driven instrumentation, which opens the song with a raw riff that sets the tone for its catchy chorus. The combination of punk-rock melodies and driving alternative sound is created with the implementation of the half-step-down tuning that modifies the original guitar mood and makes it more profound and deep. The song doesn't use any open chords, so to play it, you definitely have to nail the skill of pressing.
38. Black by Pearl Jam
"Black" is a song by the American rock band Pearl Jam, released as the fifth single from their debut studio album, "Ten," in 1992. It was written by the band's vocalist Eddie Vedder. You might have already heard the song, since it is considered to be one of their most popular ones.
The song represents a very melancholic mix of acoustic and electric guitars that perfectly blend together and create a great tone. The song opens with a delicate arpeggio played over the rhythm of 77 BPM, setting a specific mood from the outset. As the song progresses, the intensity builds with the addition of drums, bass, and electric guitar, creating a dynamic and climactic feel revolving around the key of E minor, which is defined as being really obscure and sad.
39. Zombie by The Cranberries
I won't believe you if you say you don't know the lyrics used in the chorus. The next song's called "Zombie," and it is an alternative rock song by the Irish band The Cranberries, released as the lead single from their second studio album, "No Need to Argue," in 1994. It features an amazing instrumental track overlayed with impeccably beautiful and technical vocal lines by Dolores O'Riordan that nowadays many of her fans miss so much.
The song features a distinctive and compelling sound. The song opens with a driven combination of guitar sounds that start from a crunchy, slightly distorted strumming, which then follows up by a hardly distorted and dirty electric attack that truly represents the feeling the song is supposed to convey, especially the key of E Minor plays right in the hands of that. However, the song is pretty easy to learn and is really memorable.
40. Time by Pink Floyd
"Time" is a mesmerizing progressive rock (psychedelic rock) song by the British band Pink Floyd, released on their most popular and iconic album, "The Dark Side of the Moon," in 1973. As usual, Pink Floyd used so many interesting decisions creating the track, such as recording clocks, etc.
Instrumentally, this song represents the band's meticulous craftsmanship and innovative sound. It begins with a series of ticking clocks and alarm clocks, which we have already mentioned, followed by very meticulously distorted guitar chords played by the band's guitarist, David Gilmour. The chords of the song will not require you to have any special skills or agility in terms of playing guitar, but the amazingly notable emotional solo will require you to spend some time examining the tabs of the song because you really need to have a certain ability to use bends in your playing with great precision to push the string to the right note without overbidding or underfunding it. You need to feel your instrument to play the solo.
41. Paint It, Black by The Rolling Stones
We couldn't skip it, no way. "Paint It Black" is a classic rock song by the English rock band The Rolling Stones. Released in 1966 as a single and included in their album "Aftermath" (pretty smart, though).
The recording is known for its dark and brooding atmosphere, combining rock and roll with elements of psychedelia. Keith Richard's guitar riff gives the song the proper setting right from the outset and sets the key of E minor for the composition. For this song, obviously, you'll need to learn how to use a pick, because it's a very important aspect of guitar playing and is especially helpful with playing solos, arpeggios, etc. Therefore, this song wouldn't be an exception. Mainly, the intro is played only with high strings (the main guitar riff), but chords that go after quickly catch it up.
42. How To Disappear Completely by Radiohead
Thom Yorke is either considered to be a genius or somebody from a different universe. Well, we don't know the answer yet, but the thing we're sure of is that his songs incorporate really interesting and unusual moves.
"How to Disappear Completely" is an alternative rock song created by the English rock band Radiohead, where he is a lead singer and guitar player. The song appears on their album, "Kid A," released in 2000.
The guitar part in the song perfectly complements the atmospheric and introspective nature of the song. It starts with a perfectly balanced and well-composed chord progression, using the inversion of Em to smooth the transition between different parts of it, and that can't go unnoticed. Radiohead also likes to use modulations, but the song is generally centered around the key of F# Minor, providing a very mysterious and introspective feeling. Technically, the song is not really difficult to learn, unlike most of the songs they produced, because the guitar part here is really stable and revolves around few chords in general.
43. Numb by Linkin Park
"Numb" is an alternative rock song written by Linkin Park that is a must-listen if you are not yet familiar with the masterpiece. It was released in 2003 as a single from their second studio album, "Meteora," which is a very successful work.
The song is characterized by its dynamic and impactful sound, which combines elements of alternative rock, nu-metal, and electronic music. It features a very distinctive distorted guitar riff, the chords of which are built only using three notes, and that gives drive to the song but also keeps the perfect balance for the part not to go over the limit of dirtiness and sets the atmosphere of pressure, accompanied by heavy drums and intense bass lines. The song should be played with slight carefulness because the distortion setting is pretty much boosted, and you don't want extra strings to ring and disturb the whole composition.
44. Stolen Dance by Milky Chance
"Stolen Dance" is a popular indie folk-pop song by the German musical duo Milky Chance. Released in 2013 as a single, it quickly gained international acclaim by being steamed all over the world (coffee shops, radio stations, etc.)
The song has a very laid-back vibe and blends elements of folk, electronic music, and reggae, which makes it sound so unique. The guitar part is not hard here, but again, you need to nail barre chords to play that since the song uses no capo and chords like F# are more convenient to be played in the "E Shape" from the famous CAGED system. The track itself revolves around the key of G# Minor, which usually conveys the feeling of slight discontent and uneasiness.
45. Counting Crows by Mr.Jones
"Mr. Jones" is an alternative rock song by the American rock band Counting Crows. It was released in 1993 as the lead single from their debut album with a very smart and original name, "August and Everything After.'
The song features an upbeat tempo followed by the rhythm guitar part in the genres of rock, pop, and folk. The guitar-driven instrumentation in the song is actually not that hard to learn because there are only 5 chords in the song, each of which is a simple triad with no extensions or inversions, which makes the song very suitable for beginners (the only difficulty there is that three of the chords are in barre-chord variations, but it's not a formidable barrier or handicap because you can easily learn them if you practice a little bit).
46. You Give Love a Bad Name by Bon Jovi
"You Give Love a Bad Name" is a hard rock song by the American rock band Bon Jovi. It was released in 1986 as the lead single from their album "Slippery When Wet," whatever is meant behind the title.
It features a powerful rhythmic part that is a little bit tricky if you are an absolute beginner, especially in the genre of hard rock, where the highly distorted guitars will never give you any chance to let extra notes ring unnoticed. It blends elements of hard rock and pop, which is expressed vividly in the chorus. The opening guitar riff also portrays the main juice of the genre itself and charges you with its energy from the first second of the track.
47. Heart-Shaped Box by Nirvana
"Heart Shaped Box" is one of the most famous grunge songs by the American band Nirvana, dedicated to Kurt Cobain's partner. It was released in 1993 as the lead single from their third and final studio album, "In Utero."
The song combines everything that Nirvana is famous for a raw, distorted, and rough guitar sound that perfectly complements the two-note five chords that are being used throughout the whole song and gives this crunchy and concise sound that contains nothing more than the essential combination of the first and second notes of a particular scale. If you are a fan of such music and you recently started playing music but already have the skill of muting notes that are unnecessary, this song is a perfect fit for you. This is one of the most famous minor key songs ever written.
48. Angie by The Rolling Stones
"Angie" is a very beautiful name, and so is the rock ballad by the English band The Rolling Stones. It was released in 1973 as a single and featured on their album "Goats Head Soup."
The acoustic guitar here brings out a very sensitive feeling, and it can be explained by the perfect choice of the key, which is A minor in this particular case. The song uses many interesting chords, including ones that are inverted and have extensions, such as the added 7th note of a scale, etc. This makes the general vibe of the song slightly more emotionally colored, which is one of the essential things for a ballad, but at the same time, it can cause some difficulties for absolute beginners or pre-intermediate or intermediate players.
49. Hit The Road Jack by Ray Charles
Ever felt like you want to jump in a car and drive for a whole day long?
"Hit the Road Jack" is a classic rhythm and blues song recorded by the legendary and well-known American musician Ray Charles. It was released in 1961 and was very popular back then and up to this day too.
The song has an upbeat tempo, a groovy vibe, and catchy vocal lines. You can easily replicate the main rhythmic part on your guitar, even if you are a total beginner; you just need to feel the groove and beat. As many songs of the genre have in common, the track features suspended chords and chords with extensions. These chords clearly portray the atmosphere of some sort of road that the main character is supposed to hit (referring to the lyrical part of the song).
50. The Chain by Fleetwood Mac
'The Chain" is a rock song by the British-American band Fleetwood Mac. Released in 1977 as part of their album "Rumours." The album is one of their best-selling ones, even though the title of the album is spelled the wrong way. Let's figure out what makes this song so good that it deserves its special place there.
The composition is famous for its propulsive rhythm, driven by a memorable bassline, steady drumming, and intricate guitar work that conveys the band's signature raw sound and sophisticated simplicity, which truly creates a very specific and distinct vibe you cannot confuse with anything. The main guitar part consists of simple chords, but with the exception of Dsus2, it creates an amazing vibe of unresolvedness and freedom – space to breathe, if you will.
51. My Sweet Lord by George Harrison
"My Sweet Lord" is an alternative rock song by English musician George Harrison that is known for being a great guitar player in the band called "The Beatles." The song was released in 1970 as a single from his landmark album "All Things Must Pass."
It kicks off with the slide guitar part that immediately catches your attention (that almost always works really well because of the specific sound of it that you don't typically hear in most modern songs). The song also features the G#dim chord, which makes the whole song stand out from the "crowd" of typical chord progressions in parts where it appears because solely the chord sounds really unusual and specific, but when it is mixed in part properly, it truly evokes some interesting feelings. Also, you can expand the spectrum of chords you can play and use, so the song is a very good choice to learn.
52. Layla by Derek and the Dominos
"Layla" is a legendary blues rock song recorded by Derek and the Dominos, a band formed by Eric Clapton in the early 1970s. It was released in 1971 as part of their only studio album, "Layla and Other Assorted Love Songs," which is a very cool title since, generally, people tend to only notice songs that are well-known already.
The song exemplifies Eric Clapton's wonderful guitar skills and songwriting ability. The guitar part is really memorable and so popular among blues lovers and just people who love old recordings that feature guitar. Since the riff has all the rights to be called iconic, even though it is not the hardest one Eric has ever played, it is still one of the best ones for many people. To master the song, you'll definitely need to get a bit more agile and proficient in terms of guitar playing because it features such tricks as bends, pull-offs, hammer-ons, etc.
53. Iris by Goo Goo Dolls
The next song will become a reason to visit a local music store (you'll understand why a bit later).
"Iris" is a very popular alternative rock ballad by the American band Goo Goo Dolls. It was released in 1998 as a single from the soundtrack of the film "City of Angels" and later included on the band's sixth studio album, "Dizzy Up the Girl."
The tuning you need to use in order to get the closest sound used in the studio recording is probably one you haven't seen before, but your first strum will be unforgettable because of the depth that can be felt due to the tuned-down E string (it becomes B). Chords change their shape, and so do your mind and perception because playing the song is a very unique and fascinating experience that every guitarist should try out for themselves.
54. Come Together by The Beatles
"Come Together" is a classic rock song created by The Beatles. It was released in 1969 as the opening track of their album "Abbey Road," yes, this one with the cover representing the band crossing the road.
Musically, "Come Together" features a very interesting combination and tandem of instruments and sounds. When you're listening to the song for the first time, you can get a little bit confused about how to play it because the introduction doesn't contain as much raw guitar sound as we're used to hearing from the band, but the short but powerful chorus shapes it out completely. Using two-note chords to avoid getting extra sounds into the part makes you feel so engaged in the listening process and, at the same time, makes the song, not the hardest one to learn, even though you have to put some effort in the beginning.
55. Come As You Are by Nirvana
Played by so many people on the guitar, ukulele, piano, bass, etc., the song called "Come As You Are" is a track of one of the most famous and controversially acclaimed American grunge bands, Nirvana. It was released in 1992 as the second single from their critically acclaimed album, "Nevermind."
The starting riff is one of the most recognizable ones in the history of music, and I suppose that every beginner has tried to learn the song at least once. It can be easily played with only two strings: E and A. The hardest thing you can encounter here as a beginner is getting out of rhythm or confusing the order of notes that should be played. As with many songs by this band, this one is very groovy and engaging.
56. Bark At The Moon by Ozzy Osbourne
"Bark at the Moon" is a heavy metal song by the legendary British musician Ozzy Osbourne. It was released in 1983 as the title track and lead single from his third solo album, "Bark at the Moon."
The guitar riff here is really aggressive and might seem a little hard for beginners, but it is perfect for intermediate players that want to learn something that feels a little heavier and distorted. The song's tempo is pretty fast, but at the same time, the chords are mainly pretty simple triads that shouldn't cause any difficulties for you while playing. If you love music of that genre, we wish you good luck with examining the song in depth!
57. In My Time of Dying by Led Zeppelin
"In My Time of Dying" is a long-lasting rock song by the legendary band Led Zeppelin. The song was recorded for their 1975 album, "Physical Graffiti."
The song lasts 11 minutes, which is why the possibility of making mistakes is really high, but don't be scared by that fact because it's absolutely okay to make them when you learn a song. This one is in open A tuning, which makes it really unusual, but the distinctiveness of the sound comes right from the way you play the song. If you check the actual tab, you'll notice that you have to accrue a solid base to be able to play it consistently throughout the whole length of the original recording, mostly because there are times you need to rely strongly on your sense of rhythm when the drum part fades away.
Final Thoughts
We hope you enjoyed going through this list of some of the best songs that have been written in the minor key. Each of these songs has something unique to teach us as musicians, and if you're looking to practice minor key songs, this blog is a good place to start. Happy learning!