The music of The Beatles lives on in every seasoned performer, aspiring artist, and even ordinary people who draw inspiration from the Fab Four's countless songs. Their songs continue to be streamed and downloaded from online platforms, giving contemporary listeners a taste of the music that defined an era.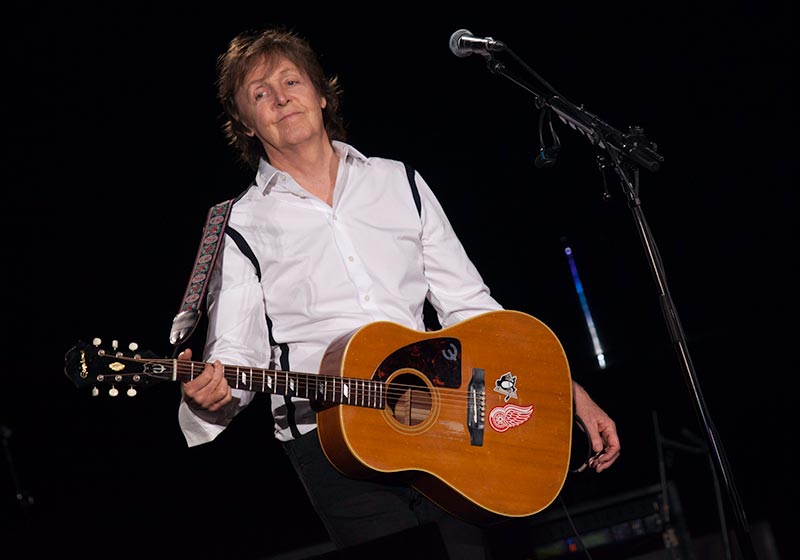 Any Beatles song is an essential part of music history and a testament to man's undying love affair with music. I wouldn't be surprised if you also want to include some of the Fab Four's songs in your repertoire. Do keep in mind that some Beatles songs are quite difficult to play. As such, it would be best to start with these easy Beatles songs to play on guitar.
Here is a List of Easy Beatles Songs to Play on Guitar
1. Eleanor Rigby
Most people would be surprised to learn that this 1966 song did not require any Beatle member to play any musical instrument during the song's recording. However, both John Lennon and George Harrison lent their vocals to the composition to give the song much-needed harmony. This song used a string ensemble that consisted of violins, cellos, and violas. There were no guitars, drums, pianos, or any other instrument. The song employed staccato chords that featured beautiful melodic embellishments.
Just because The Beatles didn't employ any standard music backing for this song doesn't mean you can no longer play it on your guitar. You still can. Your guitar can still be an excellent alternative to the classical string ensemble. What makes this song extra special for beginners is that it only has two very simple and easy chords: C major and E minor. And if that is not enough to convince you that this is an easy piece to execute, then the simplicity of its strumming pattern should. You'll also get an introduction to palm muting, a technique that you will use in many of your rock and roll guitar songs.
2. Paperback Writer
This is one of the most unusual songs ever written by the Beatles at the time. The Fab Four were especially known for writing love songs and other love-themed pieces. Paperback Writer is different in that it focuses more on the aspirations of a budding author. Another thing that made this song quite unique from the Beatles songs prior to 1966 is the single static chord that backed the song's melody. This was also one of the first Beatles creations that have substantially boosted bass. McCartney had to use a Rickenbacker for the bass, and he played it with more melody.
Beginner guitarists will like the fact that Paperback Writer only needs two easy chords: E major and A major. I have seen guitar sheets that have more chords. However, you should still get a very decent melody of the song using only these two chords. Just don't forget to put a capo on the guitar's 3rd fret. You might also want to spend some time learning the fingerstyle of the song's intro guitar riff. That should get your fingers all warmed and ready for other Beatles songs.
3. Don't Let Me Down
Satisfy your cravings for a bluesy soul from the Fab Four with this song from their last year together as a band. True to the artistic inclinations and the counterculture mindset of the Fab Four, Don't Let Me Down has instrumental touches that are very unusual. There's the counterpoint melody that George Harrison and Paul McCartney played in octaves. This gave the alternate verse of the song a very surprising melody. In turn, it gave the song its characteristic bluesy feel and soul vibe that some people at the time were already beginning to forget.
With only F# minor and E major forming the chords of the song, any beginner guitarist will have this in the bag in less than an hour. If you want it easier, put a capo on the 2nd fret and play the Em and D chords. Learning to play the fingerstyle will be tricky as this musical piece has a few instrumental techniques that were deemed unconventional in the late 1960s. Don't worry. Strumming the chords will still produce a lovely sound.
4. All Together Now
This musical piece is one of the most fun Beatles songs anyone can ever play. It's the perfect piece to play in get-togethers. I have seen companies use this song in their team-building activities. Picnics and other informal gatherings are made livelier with this song, encouraging everyone to sing along and even dance to the beat. It doesn't even matter if you don't know the lyrics of the verses. You can always join in the fun when everyone is already shouting, "all together now." The fun nature of the song is unmistakable because McCartney wrote it as a musical piece that children can sing-along to. And if kids can have fun singing this song, I don't see any reason why you shouldn't have fun playing it on your guitar, too.
The light-spirited nature of this skiffle is made even easier by the three simple chords that people can play. There is the G major, the D major, and the C major to keep the fingers of the novice guitarist busy. And if you think this is very elementary, then you can always venture into the fingerstyle of this piece. However, the best way to play this Beatles great is by simple strumming. It wouldn't hurt to have everyone clapping to the groove, too. As far as easy Beatles songs on guitar go, this is easily one of my favorites.
5. She's a Woman
Here's a very nice 3-chord song that any guitarist can play, especially the newbies. The Fab Four's She's a Woman is what many would consider the perfect blend of rock and roll, pop rock, and rhythm and blues. One of the song's most important characteristics is the writing of the notes in the high register. Many believe that McCartney purposely wrote the song this way to imitate Little Richard's vocal style. This music piece also has a unique countermelody produced by the backing piano and bass. And you've got to commend George Harrison for playing an ingenious solo in the song's middle-eight.
There are two ways guitarists can play the three chords of this 1964 song. One is by using barre chords to give the music piece its harmonic qualities. Beginners can always opt for the open chords of the song if they feel that fretting near the body of the guitar is difficult. The strumming style of the piece is easy. Now, I do recommend learning the famous guitar solo of George Harrison. It's tricky but achievable.
Popular Related Article: Easy Love Songs on Guitar (with Video Lessons)
6. Love Me Do
Not many people know that the very first lyrics of this Merseybeat song were written several years before Paul McCartney and the rest of the Beatles got together and establish the band. John Lennon did add his music genius to the bridge to give the song its characteristic lively vibe. The original song only features the G7 and C major chords. The bridge has an additional D major chord that makes this song as easy to learn for beginners as possible. It is also one of the most fun and engaging Beatles songs, too. People can't help dancing to the beat and even singing along.
Love Me Do is great for folks who are more confident about strumming songs than using the fingerstyle technique. It is a song that I often recommend to friends who want a music piece that they can play during informal gatherings. Add a harmonica in the mix, and you'd get that iconic dockside harmonica lick that made this song very popular in 1962. While this piece is a love song, one can never deny its dance-pop rhythm.
7. Twist and Shout
Contrary to what many people think, the Beatles did not write this song. They were only one of several artists who covered this 1961 rock and roll piece by the Top Notes. The Isley Brothers also covered this song in 1962, as well as The Who in 1970, Salt-N-Pepa in 1988, Chaka Demus in 1993, and The Orchestra in 2001. There have been other artists who covered this Phil Medley-written song. However, the version of the Fab Four remains the most popular, peaking at the 2nd spot on the Billboard Hot 100.
I'm not saying you should also consider covering this song. But, if you look at the hundreds of guitar covers on YouTube, you know that you'd want to do the same. It's easy. With only three easy chords to strum and a chord progression that even an 8-year-old kid can memorize, this is a song worth playing on your own YouTube channel. What is so exciting about this music piece is its lively beat. It is a quintessential rock and roll piece that can bring life to any party.
8. Yellow Submarine
Kids love this song. Adult music-lovers also like it. The Beatles penned this 1966 song as a children's musical piece. Not only does the song very easy for children to sing along. It also has a structure that is simple enough to be played by young hands. I don't see any reason why a grownup guitarist cannot play this pop song from the Fab Four. It is Billboard's 2nd best Hot 100 song and was also the recipient of the UK's Ivor Novello Award. It is proof of the song's remarkable songwriting and phenomenal composition. This is a Beatles song that is as pleasant to young ears as it is to the mature ones.
Being a kiddie song makes Yellow Submarine a cinch to play. I have yet to see a guitarist play this piece using the arpeggio. It should still sound beautiful with the fingerstyle. However, it is the harmony of the 6 strings that makes the song more fun to play when strumming. While there are 5 chords to play, your fingers won't have problems fretting. It is a great exercise for mastering basic finger positioning and movements.
9. Get Back
An all-time favorite of party-goers, Get Back has that warm and exciting vibe that is an important characteristic of blues rock. Unfortunately, this 1969 song also has very strong anti-immigration sentiments. It became an anthem of anti-immigration personalities in both the US and the UK. If you analyze the lyrics closely, you'd get hints of the artists telling 'unwelcome' immigrants to go back to wherever they came from. You can always brush this aside and focus more on the pulsating rhythm and the lovely upbeat melody of the song instead.
I have a 6-year-old neighbor who plays this song on his ukulele like a pro. That's why I believe Get Back is also an easy piece for adult beginner guitarists to learn. The only aspect that is quite tricky with this song is its rhythm. At 126 beats per minute, you will find yourself furiously strumming the chords. This can prove challenging for people who have difficulty coordinating the movements of their fingers and wrists. Nevertheless, like I already said, a kid can play this song. You should, too.
10. Here Comes the Sun
In my opinion, this is one of the Beatles' most exciting songs. Not only is it fun to sing along. This song is also one of the most ideal pieces for any beginner guitarist to learn. You get to brush up on your basic strumming skills if you feel you're still not confident about it. And if you think you're ready to take your guitar playing to the next level, this 1969 Beatles folk-pop song is also a great piece. The intro is where you will be practicing your beginner fingerstyle skills. There are a few breaks in the piece that you can turn into guitar solos if you like.
Unlike most Beatles songs, George Harrison penned this piece that continues to dominate digital streaming platforms of the 21st century. Music experts also consider Here Comes the Sun to be one of Harrison's best compositions. The lyrics convey hope and a welcome respite from the many stresses that we all face. It is the promise of a new dawn that is especially appealing. And if you add the warm melody and the upbeat tempo, you've got a song worth playing on the guitar and dancing to.
11. Come Together
This is a good song for learning and mastering the art of hammer-ons. This Lennon-McCartney composition has one of the most fascinating guitar riffs that incorporate two of the most important playing techniques any aspiring rock artist needs to have. You also get to learn and develop your proficiency in the slide technique. If you find this technique to be very uncomfortable, then you might want to buy a guitar slide. You can put this small cylindrical device over one of your fretting fingers. When you perform the slide technique, you will not hurt your finger. It's a simple device that any serious rocker will want to have.
It wouldn't hurt to start playing this 1969 blues rock using a more traditional strumming technique. The pattern is mostly D-DU-U-DU. I suggest practicing this pattern first before you try playing it with the chords. Speaking of the guitar chords, Come Together is not as difficult as some people may want you to think. Four chords are hardly the type of song construction that will tire your brain or even stress your fingers. So, go and have fun playing this Beatles classic.
Popular Related Article: Why is Stairway to Heaven Banned in Guitar Stores
12. I Saw Her Standing There
If you're looking for a Beatles song that people around you can dance and clap to, then this 1963 rock and roll music is the one to play. While it did not top the Hot 100, I Saw Her Standing There did manage to gain Rolling Stone's 139th spot for the all-time greatest musical pieces. What some people may not realize is that this song is the Beatle's take on a 1912 English folk song, Seventeen Come Sunday. McCartney also drew inspiration from Chuck Berry's 1961 hit, Talkin' About You. He used Berry's signature bass riff to give the song very punchy guitar licks.
Beatle fans love to play this song during parties because of its very vibrant feel. The song can easily transport you to an era where teens and young adults flocked to dance halls whenever they could. The strumming pattern couldn't be easier, and it is what gives the song its dynamic vibe. Hit the strings right, and you will be rocking the floor. You'll be enticing everyone else to join you.
13. The Ballad of John and Yoko
While this is a very popular and easy Beatles song to play on the guitar, The Ballad was a bit controversial. Some radio stations in the US banned the song because of some questionable lyrics that pertain to Christ and his crucifixion. Despite the ban, this 1969 rock and roll piece still managed to land on Billboard Hot 100's number 8 spot in the US. It also topped the charts in the UK. It is not difficult to see why this song remains very popular. The beat is very catchy, and the songwriting essentially chronicles the relationship between Lennon and Ono.
The song uses open chords and none of the power and barre chords that can intimidate first-time guitarists. You will also find the suggested strumming pattern to be very easy, using a predictable pattern. The time signature also helps in making the song easy to play. There's also a portion of the song where guitarists will execute an abrupt stop to the strumming. It is a neat trick that takes a few sessions to get right. If you feel uneasy about the lyrics, then don't sing it. Play this song and immerse yourself in its wonderful springtime groove.
14. Eight Days a Week
We all love this song, don't we? It is the epitome of a rock classic that will make contemporary songs sound like wimps. It is a Hot 100-topper and a chartbuster in many countries upon its release. This 1964 song also happens to be the very first pop studio recording to use the fade-in technique for opening the track. This technique gave listeners the unique feeling of hearing the wonderful sounds of the Beatles piece even before the actual song.
One tricky aspect of playing this song is the high register notes of the guitar intro. Beginners might find it very awkward to play the chords very near the body of the guitar. Once you get through this part, however, playing this Beatles rock and roll classic should already be a breeze. It is as easy as fretting the major chords of D, E, G, and A, plus a B minor chord. These guitar chords won't confuse you, nor will they make your fingers feel strained afterward. I strongly encourage you to try the intro because it is what will get the attention of anyone around you to start clapping and dancing to the rhythm. This is one of those fun and easy Beatles songs on guitar that I recommend any Beatles fan learn.
Popular Related Article: Our Favorite Guitar Songs for Beginners
15. I Should Have Known Better
You've got to admire the Fab Four's musical ingenuity. Most contemporary songs add a lot of embellishments in their songs to make them very appealing. And while the Beatles are also known for adding color to their music, they do so in a subtle way so that the song will never sound trashy. Take this 1964 rock song, for example. It has a very exciting vibe, melodic instrument backing, and the lovely vocals of the boys from Liverpool. That's all there is to it. It's so simple, yet it can get an entire city block to dance along.
Absolute beginners may find the verses of this song to be challenging. It is not because of the complexity of the chords but rather the fast changes between chords. You might also think that the 120-BPM tempo of this song is beyond the reach of the average newbie guitarist. I know what you mean. And I'm sure you also know that beginners can always choose to play this Beatles song in a reduced tempo first. Get yourself and your fingers acquainted and familiar with the finger movements. Sooner or later, you'll be zipping across the fretboard like a superstar.
16. Norwegian Wood
This 1965 Beatles song is one of the Fab Four's most critically-acclaimed works. It was the very first rock and roll song ever to incorporate the sound coming from an indigenous Indian sitar. This paved the way for other rock stars at the time to use other non-mainstream music instruments in their compositions. The song had an ingenious innuendo and just enough ambiguity to satisfy even the most avid of Bob Dylan fans. The song is also a testament to the Liverpool band's growing creativity and increasing artistic and musical awareness.
Strumming Norwegian Wood is easy since the song only has about 6 or so chords to keep your fingers busy. Unfortunately, strumming alone will not give you a melody that is as beautiful as adding a few fingerstyles to the strumming technique. Most beginners will find this pushing it too far. I'd say it's worth the effort. You may feel like you're stretching your fretting ring finger and pinkie to the hilt. However, the melody that you will produce is enough to get everyone humming and singing along to your guitar playing. I urge you to learn to use both the strumming and the fingerstyle technique in playing this song. You'll thank me later if you do decide to make guitar playing more than just a hobby.
17. Can't Buy Me Love
Some people think that this 1964 song has something to do about a prostitute. Others believe that the message has something to do about the fact that material possessions can never supplant what many people truly crave for genuine love. Regardless of how you interpret this song, Can't Buy Me Love remains one of the Fab Four's most significant contributions to the development of pop rock. The music piece has a very distinctive hook that people can sing at any time. The guitar riff is not that bad, either. In fact, this is a Beatles song that has a unique verse structure. It utilized classic twelve-bar blues that highlight the phenomenal progression of the chords.
The only thing that some beginner guitarists may find daunting about this song is its tempo. The recommended number of beats per minute is 180. What I can say is for newbies to approach the song like a true novice. Play it slow. Master the transitions between chords. Learn the basic strumming pattern. Don't worry so much about the tempo as everything will fall into place once you've got a feel for the basics.
Popular Related Article: Easy Acoustic Guitar Songs for Beginners
18. A Hard Day's Night
One of the most remarkable things about the Beatles is that they were able to produce multiple chart-topping songs in a single year. This 1964 rock song happens to be the Beatles' 5th of 7 creations that topped the charts within one year. The intro guitar riff is also unmistakable. It would make you want to buy for yourself a 12-string Rickenbacker 360/12, too. The song's opening is already impressive. Add to this the phenomenal reverberation of Paul McCartney's high bass notes, and you get a song with very wavy and colorful harmonics. Harrison also added his unique arpeggios to give the song greater depth.
The original song has about 18 different chords. However, I have seen seasoned guitarists play the song using only 6 basic chords. Beginners can choose to learn the song using this set of chords first to help develop their confidence. The tempo is also more forgiving than the Beatles' other hit, Can't Buy Me Love. At 140 BPM, strumming the chords should not feel complicated.
19. All You Need is Love
Take a stroll down memory lane with this 1967 Beatles pop song. It has a carefree vibe that can transport you to the flower power movement of the late 1960s. And even if you don't really care about what happened during that time, the song's beautiful melody and harmony will have you rocking your body like a baby getting a lullaby. Musicologists consider the song another milestone for the Beatles. It is cool, contagious, and very calculated. The message of hope and love is something that anyone gets right away.
The intro of the song can be a bit challenging for the neophyte guitarist. It requires a fingerpicking technique to get individual notes. What may surprise you is that the arpeggio is not that difficult. Plus, it only lasts several seconds. You can easily learn this part in a matter of minutes. It's basic strumming after that, following a typical D-DU pattern for the G chord. The D major chord will have a D-DU-U-DU pattern and the E-minor chord will have an easy D-DU-DU style. Easy, right?
20. Let it Be
Personally, I believe that Let It Be is the Beatles' most significant and beautiful song. It may not be an all-time great. However, this 1970 song remains in the heart of many music lovers, both Beatle fans and not. I guess the appeal has something to do with the fact that this is one of the last songs that the band ever recorded together. I also think that the guitar solo of this song is more aggressive than those found in other Beatles songs. The orchestral sections of the music piece were also mixed substantially higher than in prior songs.
You'd be wrong to think that these characteristics of Let It Be will make it unplayable by beginner guitarists. There is one thing that some neophyte guitarists may have a problem learning – executing the 3-chord ending to each verse. Like all beginner songs, you can always learn this part of the song at your own pace. Get the confidence to play it. Before you know it, you are already ripping the guitar licks and arpeggios of this piece.
21. Helter Skelter
Beatles meet hard rock in this killer track from their ninth studio album, "The White Album." "Helter Skelter" is bold, raucous, and intense, packed with riffs, overdriven guitars, and screaming vocals. What started off as a light bluesy acoustic jam with falsetto vocals ended up being the first-ever attempt at heavy metal by any band.
The song has been widely covered by several iconic bands, including Aerosmith, Oasis, and U2. A riff-driven song isn't exactly known for being kind to beginners, but not in the case of this one. Chords G, E, and A are all you need to rock out a simple yet potent version of this classic. So go on, grab your electric guitar, and get started!
22. She Loves You
This is one of the most joyful and heartwarming compositions by the Beatles. It was meant as a hat-off to their burgeoning female fan base. Not only was it received well by the female fans, but it also marked the start of Beatlemania. "She Loves You" is still the band's biggest-selling hit and occupies the 64th spot on Rolling Stone magazine's 500 Greatest Songs of All Time.
Ah! the flamboyant "Yeah, Yeah, Yeah," simple arrangement and delicious harmonies – this song is pure pop perfection! Watch the tutorial and learn to play it with easy chord shapes and a straightforward strumming pattern.
23. Rocky Raccoon
McCartney wrote the country-folk piece "Rocky Raccoon" while on a spiritual retreat in Rishikesh, India. With a title inspired by a well-known Marvel Comics character, this 1968 classic chronicles a love triangle, complete with Western-style melodramatic twists. It's instrumentally lavish, with George Martin's honky tonk piano leading the way and Lennon adding harmonica and harmonium into the mix.
McCartney plays a catchy chord progression on an acoustic that repeats through the entirety of the track. Guitarists of all skill levels will enjoy playing this fun tune. True, the chords might seem intimidating and new to beginners, but keep at it – the chord sequence is repetitive, and the chord switches are not that hard.
24. I've Got a Feeling
The Lennon-McCartney songwriting team produced many immortal gems, including this one. From the Beatles' final album, Let it Be, "I've Got a Feeling" is a combination of two unfinished tracks and one of the three live songs recorded by the band at a rooftop concert.
It certainly isn't their most refined and structured song, and parts of it feel too spontaneous, but that's also what makes it so special and raw. The song leans towards blues-rock and has a rather simple chord progression compared to some of their earlier works. Beginners can play a simplified version by strumming the intro with just an A and D chord. Check out the tutorial for more tips.
25. Birthday
Not a lot of people rate "Birthday" on the band's top tracks, but that doesn't mean it isn't awesome. The song was written by Lennon-McCartney around a riff that McCartney came up with during one of their jam sessions. Once they had the riff figured out, the duo wrote the song, and the band recorded it, all in a day's work. In fact, the members were such pros by then that they found the time to watch a movie AND record the song the same day.
The simple yet memorable tune kicks off with drums and that catchy distorted riff that was conceived before the song. The riff follows a blues progression. It's an excellent song for beginners to build pinky strength and dexterity.
26. Ob-La-Di, Ob-La-Da
This song has one of the most interesting titles in the band's discography, but that isn't the only remarkable thing about it – "Ob-la-di, Ob-la-da" has been scientifically established as the finest example of a perfect pop tune! Surprisingly this Jamaican ska-influenced track ended up annoying the band members, most of all John Lennon. Nevertheless, I, like millions of Beatles fans, find it catchy and fun.
Here's the thing – there are four chords in this song, but one of them is a barre chord. It's tricky but can be mastered with a little practice. Don't believe us? Check out the tutorial above and see just how easy this song is to play, even for beginner guitarists.
27. You Won't See Me
"You Won't See Me's" lyrics echo sentiments that were deeply personal to McCartney. It's about a couple in the throes of a messy breakup. The overall melody and harmonies mirror the sadness or, shall I say, the bitterness of the words, and Macca's piano skills certainly don't let down.
The song was a part of Rubber Soul, often touted as the album that marked the beginning of the band's transition from spunky to more mature themes. It's written in the key of A with a chord progression inspired by Four Tops, a famous Motown quartet from the '60s. It does have a bunch of chords that might seem handful at first but will get easier the more you play.
28. Hey Jude
Paul McCartney's greatest contribution to the Beatles' catalog, "Hey Jude," is undoubtedly not a beginner-level song, that is, if you want to play exactly as in the recording. However, a much simpler way of tackling this song requires a capo on the first fret and a few relatively easier chords than the ones in the studio version.
The seven-minute-long anthemic ballad was written by McCartney to comfort Lennon's son Julian during his parents' divorce and was originally titled "Hey Jules." With its heartfelt lyrics, three-note riff, and bluesy licks, this crowd-pleaser is enough to tempt even the toughest of the crowd to "Na-na-na" along.
29. We Can Work It Out
Many songs describing McCartney's dynamics with Jane Asher made their way into the Beatles' discography. "We Can Work It Out" is another one of them but a more optimistic take on the relationship than "You Won't See Me." This folk-pop tambourine-driven track from Day Tripper became UK's 7th best-selling record in the '60s.
The collaboration between Macca and Lennon is clear as day in this one. The McCartney verses and chorus are uplifting, while Lennon's bridge slows things down, giving the song more depth. It's a fabulous piece to play in any setting with easy verses and chorus but a slightly tricky bridge that you should be able to nail with some practice.
30. I Wanna Hold Your Hand
"I Wanna Hold Your Hand" is, all in all, a simple and fun ditty except for the bits that require a key change and some riff-based blues shuffles. The actual recording has multiple guitars building on a layered effect, but with a couple of liberties, you can strum it on a solo acoustic. The intro is tricky and kicks off with two chords, C and D chords. You might want to spend a little time nailing the chord switches in the intro and chorus. The tutorial and tabs above will break it down for you.
In a matter of two minutes and half minutes, this joyful and upbeat acoustic-led ballad builds a connection with the listeners that leaves us craving for more. As a beginner guitarist, if you've had this lovestruck earworm on your wishlist but didn't know how to go about it, here's your chance!
Some songs by the Beatles are easy in that they only require basic strumming. Other music pieces may require skilled and deft finger movements. There are also songs that may only have 2 or 3 chords, while others can have as many as 12 chords and more. What's important here is to have patience whenever learning any of these songs. Remember, what I may consider to be easy may not really be easy for some. Everything is subjective. What is true is that no song is ever difficult to learn if you are focused and determined to learn it.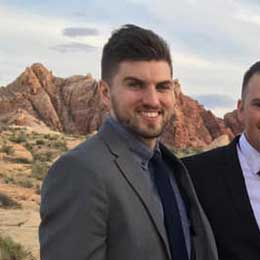 My name is Chris and I've had a passion for music and guitars for as long as I can remember. I started this website with some of my friends who are musicians, music teachers, gear heads, and music enthusiasts so we could provide high-quality guitar and music-related content.
I've been playing guitar since I was 13 years old and am an avid collector. Amps, pedals, guitars, bass, drums, microphones, studio, and recording gear, I love it all.
I was born and raised in Western Pennsylvania. My background is in Electrical Engineering, earning a Bachelor's degree from Youngstown State University. With my engineering experience, I've developed as a designer of guitar amplifiers and effects. A true passion of mine, I've designed, built, and repaired a wide range of guitar amps and electronics. Here at the Guitar Lobby, our aim is to share our passion for Music and gear with the rest of the music community.