If you're a beginner looking to build your guitar repertoire, a steady and straightforward strumming pattern matters just as much as easy chord shapes.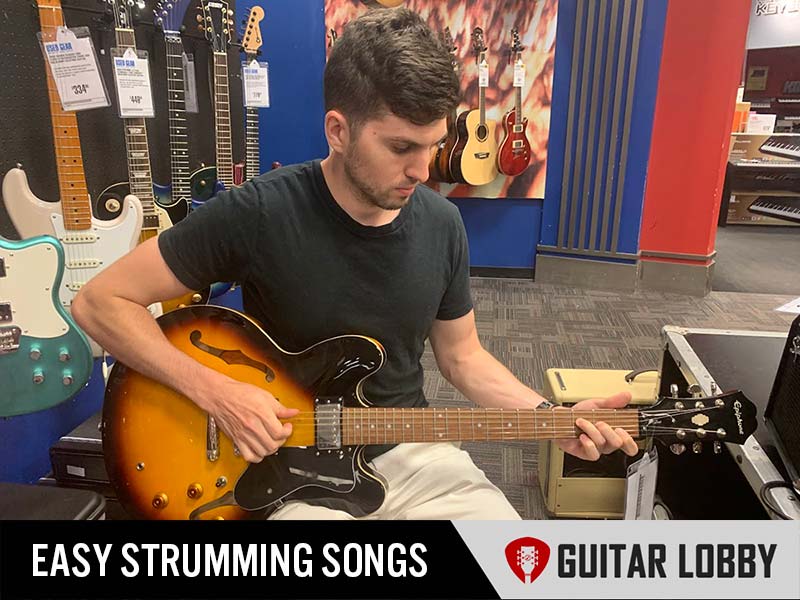 Even songs made up of just three or four chords can be quite challenging if the rhythm is complex. But what we have here is a list packed with easy strumming songs that are fun to play on guitar. So, let's get right to it!
List of Easy Strumming Guitar Songs
1. Brown Eyed Girl by Van Morrison
Who hasn't heard Van Morrison's enduring "Brown Eyed Girl"? A heartwarming blend of uptown R&B and classic rock remains to this date, a staple on radio stations and wedding playlists. It's also a rage among new guitarists because of easy chord shapes and Morrison's choice of a universally popular strum pattern.
Also known as "the Ultimate Strum Pattern," this technique is a mix of the quarter and eighth notes and goes D-DU-UDU. In case you've forgotten the actual strumming of a song or if it's something too daunting to play, you can always substitute it with this ultra-dependable strum pattern.
2. Good Riddance (Time of Your Life) by Green Day
A tender acoustic-driven "Good Riddance" reveals a softer side to Green Day's punchy and decidedly raucous punk sound. The bittersweet crowd-pleaser it is, "Time of Your Life," still dominates proms and farewell parties. It's also beginner-friendly, made up of four basic chord shapes and the D-DU-UDU strum pattern.
If you've worked out the pattern for "Brown Eyed Girl," this one should be a cakewalk. The only part that might take a little practice is the fingerpicked intro. The tutorial above should help.
3. Blitzkrieg Bop by Ramones
Speaking of Green Day, here's something by the punk pioneers Ramones whose music influenced the sound of Billie Armstrong-fronted band. "Blitzkreig Bop" showcases the quintessential Ramones style with its adrenalin-pumping three-chord melody and arena chants.
Ranked the 18th Greatest Guitar Song of All Time by Rolling Stone, this fast-paced banger is a must-add to any aspiring guitarist's repertoire. There are a bunch of pretty doable barre chords strummed in rapid downstrokes. For a complete breakdown, check out the video lesson.
4. Hotel California by The Eagles
Learning to play the ubiquitous "Hotel California" is almost a rite of passage for every budding guitarist. The iconic dual solo interplay between Joe Walsh and Glen Frey isn't exactly beginner-friendly terrain, but the rest of the track is driven by chord progressions instead of riffs.
The simplest way to play this track is to use the reliable D-DU-UDU pattern. Once you nail this arrangement, amp up the dynamics and embellishments to sound closer to the original.
5. Sweet Home Alabama by Lynyrd Skynyrd
Let's face it: we've all wanted to learn the infectious Lynyrd Skynyrd crowd-puller from the moment we first picked up our guitars. "Sweet Home Alabama" is a timeless hit that sounds amazing on an acoustic, even though it was originally played on an electric guitar.
The three-chord progression is repetitive, but strumming can be as easy and challenging as you want it to be. The easiest way to play the 8th note strum pattern is to hit all downstrokes or DDU-DDU. When it's time for the chorus, just use a DD-DD-DDU-DU. Add in some right-palm muting to make it more authentic.
6. Dancing in the Dark by Bruce Springsteen
"Dancing in the Dark" was the first time Bruce Springsteen added upbeat synth riffs and to thrilling results. This lead single from the iconic Born in the U.S.A album went on to become Springsteen's biggest hit, winning the exuberant rock star his very first Grammy.
The strumming pattern might not be as commonly used as the Ultimate Strum Pattern but is, in fact, even easier to nail. It alternates between a downstroke and an upstroke for every beat except for the first upbeat, which you'll have to skip. Practice a simplified strummed version with open chords before adding the riff.
7. Yellow by Coldplay
In their seminal hit, Chris Martin croons about an unrequited love along a hypnotic melody, creating hooks that simply won't let go. The way the band plays is slightly more complex and involves detuning the guitar. However, you can learn a more easily playable version of the tune with just four chords and a capo on the 4th fret. The strumming pattern stays the same throughout, made up of just eight down strums.
8. Iko Iko by Dixie Cups
There's a reason so many artists have covered this Dixie Cups classic about the supercharged atmosphere of Mardi Gras. It's undeniably catchy and a whole lot of fun to strum on a guitar.
"Iko Iko" was originally written in 1953 by New Orleans-based James "Sugar Boy" Crawfor Jr. but didn't grab attention till Dixie Cups released their spin on it over a decade later. With just two chords, F and C, and a fairly simple strum pattern, you can get this enduring tune under your belt.
9. Every Rose has its Thorn by Poison
Poison's much-loved "Every Rose has its Thorn" won the influential hair metal group a legion of fans and awards. The memorable power rock ballad is centered on the bittersweet theme of love and betrayal. It's a slow-paced gem, but as with every glam metal band of the '80s, it's heavy on guitar action.
You'll need to tune your guitar down half a step to E flat tuning. The rhythm is accessible for beginners, but you'll need intermediate skills to attempt the solos. The strumming pattern, however, is pretty straightforward, with D-D-D-DU throughout. As you learn to play some of the songs on this this, I recommend you focus on mastering and retaining some of the essential strumming patterns you learn along the way as it will help to have an established and versatile strumming ability as you progress as a guitar player.
10. Stand by Me by Ben E. King
It's been over six decades since Ben E. King's magnum opus "Stand by Me" was first released, and we still haven't had enough of this uplifting, heartwarming classic. And thanks to its 400-plus refreshers, some by icons like John Lennon, Tracy Chapman, U2, and more recently by Skylar Grey, the song will remain in our collective consciousness till the end of time. The strumming pattern here is slap strumming that goes D-XD–DU. Learning the slap strum will help add a percussive element to your playing.
11. Breakfast at Tiffany's by Deep Blue Something
Deep Blue Something came out of nowhere to deliver one of 1995's biggest hits and vanished soon after. "Breakfast at Tiffany's" was a monumental success, and nothing the band released afterward could come close to the song's popularity and catchiness. The song has three basic chords of D, G, and A and a fast yet accessible 16th-note strumming driving it. You can learn it all by checking out the video tutorial.
12. Love Me Do by The Beatles
There are a few beginner-friendly strumming songs in the Beatles' award-studded vault. "Love Me Do" is an up-tempo 4/4 time song with a super simple chord progression that involves only two chords, G and C in the intro and the verses. The easiest way to play along to the original is with two strums for each chord.
13. Three Little Birds by Bob Marley
With basic chord shapes, simple chord progression, and a straightforward 4/4 strumming pattern, Bob Marley's "Three Little Birds" ticks all the boxes as the perfect beginner song. In this charming composition, the Reggae legend shares his encounters with tiny birds and how their visits to his porch in Jamaica seemed to cheer him. It's a great song to perfect the 8th all-down strumming pattern.
14. All of Me by John Legend
Released in 2013, "All of Me" was John Legend's soul-stirring love note to his then-fiancee, now wife, Chrissy Tiegen. You can play this song using Em, C, G, D, and Am and the good ol' D-DU-UDU. Check out the tabs and the lesson to learn this song and impress your special someone. This is one of my personal favorite easy strumming guitar songs.
15. Free Fallin' by Tom Petty
You're looking at one of the most famous coming-of-age songs that can strike a chord with a musically diverse and generation-spanning crowd even decades after its release. From Tom Petty and the Heartbreakers' Full Moon Fever, "Free Fallin'" is a delightful blend of 12-string acoustic and electric, relatable lyrics and a shout-along chorus.
While the original is more of an intermediate-level fare, you can reproduce it with a few easy chords and a simple strum pattern, as shown in the video above.
16. Rockin' in the Free World by Neil Young
Neil Young's arena-rock anthem from Freedom occupies the 216th spot on Rolling Stone Magazine's 500 Greatest Songs of All Time. While the heavily palm-muted intro might seem a little challenging for beginners, you can skip and get right down to perfecting the rhythm.
This is one of my favorite easy electric guitar songs to play. The chord progression is relatively simple, with an Em-D-C in the intro and the verses and G-D-C-Em for the chorus. The strumming pattern is the classic 8th note with down strums. Do try palm muting to add some flair to your performance.
17. Silent Night by Franz Gruber
So far, the songs we've seen are in the 4/4 time signature, as it is easier to count and keep track of the beats. However, this famous Christmas carol composed in 1818 by Franz Gruber is the perfect starter to introduce 3/4 time signature into your repertoire. And what better time to learn it than with the holiday season just around the corner?
18. Riptide by Vance Joy
Next up on the list is an indie-pop banger that skyrocketed the Australian singer-songwriter Vance Joy's popularity. This heartfelt, cute, and insanely catchy track has become one of the first tunes that a beginner guitarist and ukulelist wants to learn. It's that easy to play! A few simple chords and a D-D-UDU strumming pattern are all you need to add "Riptide" to your song bank.
19. Take Me Home, Country Road by John Denver
It's incredible how listening to this beloved ballad where John Denver celebrates his country roots and all the things that matter to him acts as a surefire nostalgia trigger! When you finally get down to playing it, start by placing a capo on the 2nd fret to play in the same key as the original. For the most part, you'll be working with G, D, C, and Em chords and a D-D–UDU strumming pattern.
20. Mr. Tambourine Man by Bob Dylan
Through his masterful strumming, Bob Dylan could turn even the simplest of chords into an unforgettable melody. But what we have here is one of his easier-to-strum compositions. The bright and infectious "Mr. Tambourine Man" was a roaring success that inspired countless musicians to record their renditions. While it is like most of Dylan's songs, an acoustic-led piece, the countermelody is played on an electric guitar by the prolific session guitarist Bruce Langhorne. So you can put both your electric and acoustic to use in this one.
21. Radioactive by Imagine Dragons
What's great about this dubstep-infused alt-rock anthem is that it uses the same four chords throughout, with the common D-D-UDU strum pattern for the intro and verse. However, getting the groove and chord switching right might take a bit of practice.
Considering just how inescapable it ultimately became, it's hard to imagine that at the time of its release, "Radioactive" didn't garner much attention. But when it did, this fist-pumping rocker stayed in the charts for a whopping 87 weeks and won Imagine Dragons their first Grammy.
22. Dead Flowers by The Rolling Stone
As a Rolling Stones fan, I had to get in one of their masterpieces on this list. And "Dead Flowers" from Sticky Fingers album is the first track that came to my mind where accessible strumming is concerned. The song packs a country flavor with an interesting combination of a sweet melody and rather dark lyrics. The best way to jam to it is with an intermediate player to back you up with the lead parts while you work on the folksy rhythm.
23. Polly by Nirvana
If you know your mutes, you can play this emotionally intense earworm from the seminal Nevermind album. In contrast to Nirvana's iconic riff-based "Smells Like Teen Spirit" and "Lithium," "Polly" is a chord progression fuelled melody. You can play it with open chords if you haven't yet come to grips with power chords. This tutorial will show you the simplified arrangement of "Polly." This is an easy strumming song I always recommend for beginners.
24. Ride by Twenty One Pilots
"Ride" is a groove fest propelled by Caribbean riffs and a reggae rhythm, topped off with a rousing chorus. The song became the genre-defying American musical duo Twenty One Pilot's ticket to international stardom.
It's a great track to familiarize yourself with an upstroke strumming and palm muting the strings, as used in Reggae. If you want to jam along with the original, tune down half a step to an E-flat tuning.
25. When We Were Young by Adele
In "When We Were Young," subtle yet beautiful piano melodies lay the ground for Adele's staggering vocals to take over and shine. To me, it's one of Adele's most evocative songs, with relatable lyrics about getting older and the fear of time slipping away too quickly.
Since it's a piano-led song, it doesn't have a clear strumming pattern. Instead, you'll take each line of chords and hold them out for a specific number of beats. The tutorial here will take you through it. For those looking for easy songs to strum on guitars, this is one of my top recommendations.
26. Achy Breaky Heart by Billy Ray Cyrus
Two chords are all it takes to play this soppy love song from the '90s. "Achy Breaky Heart," featured in Billy Ray Cyrus' debut album, became a crowd-favorite for its cheesy lyrics and catchy melody but drew criticism from true blue country music fans for precisely the same reason. It's a super easy song to play, and you can get the tune going with down strums on every beat.
27. The Only Exception by Paramore
Here's another song to fortify the waltz-y 3/4 strumming. In "The Only Exception," you'll use a D-DUDU strum pattern that's easy enough for beginners to learn but with a bit of practice. The soft acoustic ballad was the third single off Paramore's third studio album, Brand New Eyes, and stood out in their otherwise angsty and energetic discography. The tabs and tutorials will break it down further.
28. Take Me to Church by Hozier
Released in 2013, "Take Me to Church" was nothing short of a dream debut for the Irish musician singer-songwriter Hozier. The soulful ballad conquered charts and captured hearts in several countries. It does have a good bunch of chords, and the timing is a little tricky, but strumming isn't too hard. Add this lesson to your practice routine, and you'll have this tune down in no time.
29. Eleanor Rigby by The Beatles
The Beatlemania continues with "Eleanor Rigby." This 1966 hit from Yellow Submarine was one of the songs that showcased the band's eagerness to adopt a more mature and instrumentally diverse sound. Lyrics focused on loneliness, and hope was another cue that the Beatles had bid goodbye to their teeny-bopper style. It has a common and repetitive strumming pattern making it a terrific beginner-level song.
30. Don't Worry Be Happy by Bobby McFerrin
Ending this list with a song that has the magical ability to cheer up no matter how grumpy you're feeling. The iconic whistle that kicks off the track is enough to put a smile across the listener's face.
"Don't Worry Be Happy" truly put Bobby McFerrin on the map and added three Grammies to the vocal legend's award-packed mantlepiece. It's driven by a reggae strumming pattern, but you can begin with one strum for every chord.
Wrapping Up
While there are plenty more fun and easy tunes that we wanted to include here, you can get started with this list of 30 easy strumming songs to expand your skills as a guitarist. Start with the Ultimate Strum Pattern (D-DU-UDU) and then work your way up slowly and steadily.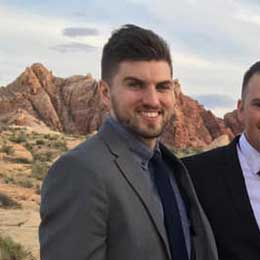 My name is Chris and I've had a passion for music and guitars for as long as I can remember. I started this website with some of my friends who are musicians, music teachers, gear heads, and music enthusiasts so we could provide high-quality guitar and music-related content.
I've been playing guitar since I was 13 years old and am an avid collector. Amps, pedals, guitars, bass, drums, microphones, studio, and recording gear, I love it all.
I was born and raised in Western Pennsylvania. My background is in Electrical Engineering, earning a Bachelor's degree from Youngstown State University. With my engineering experience, I've developed as a designer of guitar amplifiers and effects. A true passion of mine, I've designed, built, and repaired a wide range of guitar amps and electronics. Here at the Guitar Lobby, our aim is to share our passion for Music and gear with the rest of the music community.