Thurston Moore is one of the most impactful guitar players in recent history, at the age of 22, he was already a pioneer, co-creating the Noise rock subgenre, one that would parallel shoegaze in terms of relevance and counter culture. At the time, he wasn't an avid guitar player, instead, he was a young, ambitious creative man who was willing to find the most bizarre sounds and use them to simply make music. In 1980, he founded Sonic Youth alongside Kim Gordon and Lee Ranaldo, exploring along with them new uncharted tunings that would later become Sonic Youth's trademark.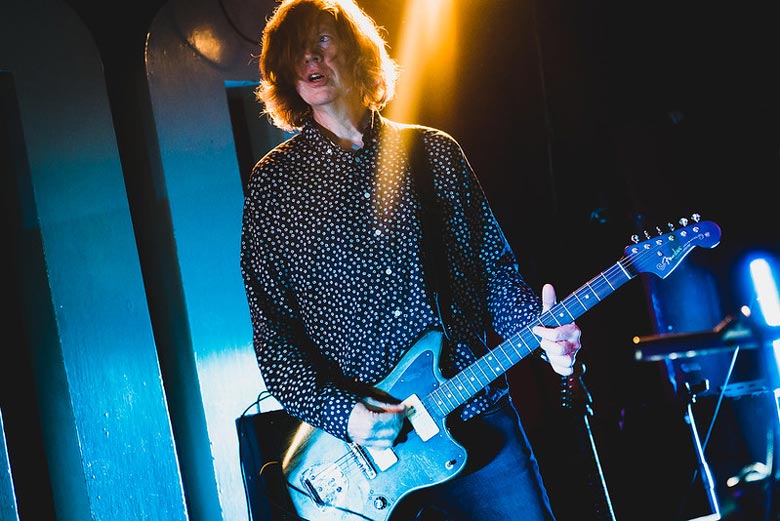 As the years went by, Thurston Moore used plenty of different guitars, some worked for him, some didn't, and some others were extremely modified for him to explore the different sounds a piece of wood with six strings can produce. At last, Moore managed to become very comfortable with Fender Jazzmasters, and since then he has remained exclusive to the model.
What Guitar Does Thurston Moore Play?
Thurston Moore is known for playing Fender Jazzmaster guitars. He's had a career-long partnership with the model and has owned many over the years. However, he is most associated with his 1964 Sunburst Jazzmaster as well as his own Signature Forest Green Jazzmaster Model.
See the full list of Thurston Moore Guitars and gear below.
1964 Fender Jazzmaster

| | |
| --- | --- |
| Finish | Heavy Relic Sunburst |
| Years Used | 2003 to Present |
In the following years after his gear was stolen in 1999, Moore acquired a plethora of guitars, one of which was his 1964 Fender Jazzmaster. This Jazzmaster is perhaps the guitar most associated with Moore. This beautiful piece has no stickers, as many of Moore's Jazzmasters do, and doesn't need them to create the visual impact he's known for. As Thurston himself says, this guitar aged like a fine wine. The thrashed body paint makes it look rebellious, making Thurston Moore look like the one-of-a-kind player he is.
There are three main tunings Moore used this guitar for while playing with Sonic Youth. The first one is GABDEG for "Teenage Riot" and "Sugar Kane", then we have F#F#F#F#EB for "I Love You Golden Blue", and also DD#A#D#GG for "Incinerate". Needless to say, it was subject to some heavy use, especially during the first few years Moore owned it. From sticking drumsticks between the strings to other experimental playing techniques, this guitar has seen all sorts of 'Sonic Youth stuff' that Thurston Moore has become notorious for.
This guitar features a rosewood fingerboard, a tortoiseshell pickguard, one volume knob, a tremolo bar, a toggle switch, and two soap bar pickups, and is modified with the rhythm circuit completely removed.
This 1964 Fender Jazzmaster was acquired by Thurston sometime around the year 2003 or possibly earlier, and even after the Sonic Youth break-up, he still plays this guitar to create his own music. Interestingly enough, this guitar wasn't his main Jazzmaster until around 2012. Before that, it was his Black 1966 Jazzmaster from around 1999 up until 2012 when it was unfortunately stolen while on tour. He had already been fond of the 1964 Sunburst Jazzmaster which upgraded to his main guitar from then up until today. You can see him rocking his '64 Jazzmaster with the Thurston Moore Group at the Pitchfork Music Festival 2017.
1966 Fender Jazzmaster

| | |
| --- | --- |
| Finish | Black |
| Years Used | 1999 to 2012 |
After his gear was stolen in 1999, Thurston Moore bought this guitar to later become one of the most iconic instruments he would ever own. Moore covered his entire guitar with stickers, the whole body and even the headstock got stickered! From 1999 to 2001 he played some shows typically using CGDGBB tuning for songs such as "Free City Rhymes" "Renegade Princess", and others. In the year 2002 up until 2012, Moore often used the tuning CGDGCD to play songs such as "The Empty Page", "Disconnection Notice", "Reena", and many others
The '66 Fender Jazzmaster featured a red tortoiseshell pickguard, a 22 fretted rosewood fingerboard, two soap bar pickups, one tone knob which got removed by Thurston himself, one toggle switch, and a tremolo bar. All the switches this guitar featured were completely removed and covered with a ton of stickers.
For many years, this was considered to be Moore's main six-string, and as the years went by, you can see how more and more stickers were added to the body of this black Jazzmaster, you can really see the evolution on this one. It was also one of his most abused guitars, reportedly, he started using knitting needles on it to get some "fun tones out of it" and according to the man himself, it was often a "bit broken". He also started to apply some stage moves on it, the destructive kind, which led to him having the neck on it repaired and changed as some sources suggest.
Regardless of all the hardcore playing techniques this guitar was subject to, Moore babied this guitar, he would set it up and double-check on it before every Sonic Youth tour. Unfortunately for Thurston, his precious '66 Jazzmaster was stolen while Sonic Youth was on tour in West Philadelphia on December 12th, 2012. Moore filed a police report but, as of today, its whereabouts are still unknown.
Thurston Moore Signature Fender Jazzmaster

| | |
| --- | --- |
| Finish | Forest Green |
| Years Used | 2009 to Present |
Fender, as a token of appreciation for Sonic Youth's remarkable trajectory, decided to partner up and pay tribute in 2009 with two signature guitars, one for Lee and the other one for Thurston. The signature guitar made for Thurston is a Jazzmaster based on a replica his technician made for him in 2003. On the technical specs of the guitar, it was modeled exactly like his stripped Jazzmasters, they only had the bare essentials Thurston was so known for.
Starting with jumbo frets on a 7.25" radius fingerboard, a satin black headstock, a black anodized aluminum pickguard, two Seymour Duncan antiquity pickups, vintage-style nickel hardware, a pickup selector, a vibrato bar, and an Adjust-o-Matic bridge, but he replaced it with a Mastery bridge. It didn't feature the rhythm circuit, therefore it only had just one knob that controlled the volume.
Blue Fender Jazzmaster

| | |
| --- | --- |
| Finish | Blue With Custom Stickers |
| Years used | 1983 to 1999 |
During the early years of Sonic Youth, Moore picked up the iconic Jazzmaster while "sound hunting". The "drone" sound he achieved became one of Sonic Youth's most highlighted trademarks to this day. This was possible thanks largely to the versatility of this guitar. The story behind Thurston acquiring this six-string is a bit of a mystery. Legend tells of a younger Moore just buying a misc Jazzmaster copy from a pawn shop, while others claim this is a legitimate Fender model.
Moore experimented on this guitar with different new, and sometimes even abstract tunings, for lack of a better word, which was a critical aspect to the band's development as a unique and generationally impactful group. You can listen to this guitar in action on songs like "Death Valley 69" and "Disappearer".
Moore, being the experimental guitarist he is, modified his guitar to the max. He replaced the original Jazzmaster pickups with two soapbox pickups and installed a tortoise pickguard. This early Jazzmaster sported 4 knobs that were later removed around 1985, leaving only the volume knob. It also featured a 22 fretted rosewood fingerboard.
When it comes to the aesthetic of the guitar, Moore added many decorative stickers to the body and headstock. Notably, this Jazzmaster featured a yellow circular sticker that had written "INTERVENTION NOW! NICARAGUA EL SALVADOR GUATEMALA", a "Gremlins" sticker, and a backward "NECROS" sticker on the headstock.
The Jazzmaster wasn't only used by Thurston throughout the years, rather it was also used by Lee Renaldo and Kim Gordon because "The instruments belonged to the whole band". – Moore claimed during an interview with Fender. Sadly, the guitar was stolen in 1999 among other instruments. This is easily one of the most iconic Thurston Moore guitars of all time.
White Fender Mustang
| | |
| --- | --- |
| Finish | Worn White |
| Years Used | 1987 to 1999 |
The white Mustang was among the other instruments that were stolen from Sonic Youth in 1999. Moore used this weapon during the recording of songs like "Crown Cotton", "Stereo Sanctity" and "Brother James", and tuned in a really interesting way for those three songs. The tuning was primarily GGDDD#D# and it stayed that way for a few years, then it changed to F#F#GGAA for the recording of "Schizophrenia", "Tom Violence", among other songs.
Moore wanted to voice his dislike towards female oppression by setting up a sticker that said "Sisters Are Getting Pissed!", he was also concerned about environmental issues and he stated his position on the matter by putting up a circular Astro Boy sticker that said, "People Start Pollution, People Can Stop It". It shows that Moore isn't only a great musician, but also someone who is passionate about social, political, and environmental matters.
This white Fender Mustang featured 22 frets with a CBS-style headstock, a rosewood fingerboard, two switches that he removed by himself, three single-coil pickups, and a blue pickguard.
The guitar can be seen in several music videos, some of them are "Silver Rocket" and "Candle". The guitar wasn't rocked by Sonic Youth, because this guitar also appears in the music video of "Ken (The Mother Nature's Son)" from the band You Am I
Red Fender Jazzmaster

| | |
| --- | --- |
| Finish | Red |
| Years Used | 1989 to 1999 |
Moore acquired his red Fender Jazzmaster sometime around 1989 and the guitar made one of its earliest appearances during a live performance where Sonic Youth played "Silver Rocket" on a night music program. Moore's tuning for this live event was ACCGG#C, but later on, this guitar would be predominantly used by Moore for songs using EGDGED tuning. This guitar was bought and used primarily by Moore but was sometimes Kim Gordon as well.
Unlike other Jazzmaster in his arsenal, Moore didn't remove the two knobs that came with the guitar, nor the toggle switch, but he took out the original pickups the guitar came with and replaced them with two soap bar pickups. This Jazzmaster, just like many other, rocked a 22 fretted rosewood fingerboard that was connected to a chipped red body.
This guitar was used by Moore during the recording of "Kool Thing" music video, and for a long time this was his main guitar, but unfortunately for Moore this red Jazzmaster another one of the instruments that were stolen in 1999.
Sunburst Fender Jazzmaster

| | |
| --- | --- |
| Finish | Sunburst With Custom Stickers |
| Years Used | 1989 to 1999 |
Thurston bought this guitar during the "Daydream Nation" era and used it up until 1999 when it was stolen along with other guitars and the rest of the band's gear. This Jazzmaster was played in many shows by Moore and the predominant tuning was GGDDD#D#. The only different known tuning this guitar was used for was GABDEG in 1989.
The guitar featured initially two soap bar pickups, but the bridge pickup was replaced with a black humbucker (The brand and model are unknown). The pickguard was also changed. It was originally a tortoiseshell pickguard that was in 1993 swapped out with a white pickguard. The 22 fretted rosewood fingerboard is also present in this guitar like many other Jazzmasters, but the neck was replaced around 1992.
Thurston Moore played this guitar live on many occasions from 1989 to 1999, and adds to the series of guitars that are part of Thurston Moore and Sonic Youth's history. If you want to listen to this beautiful Jazzmaster in action, you can watch footage from July 1992 where Thurston Moore is shredding that guitar while playing "Burning Spear" live.
Gibson Firebird

| | |
| --- | --- |
| Finish | Sunburst |
| Years Used | 1990 to 2003 |
The Gibson Firebird was one of the few non-Fender guitars that Thurston actually liked enough to use for a significant stretch. It was used more often for videos than live shows, but he played a few shows in 2003 primarily using GGDDD#D# tuning for songs such as "Bull in the Heather", and "Radical Adults". The music videos that featured this guitar were "100%", "Macbeth", "Mildred Pierce", among others.
After a few shows in 1990, this guitar was stored in a studio and be forgotten for the most part for 12 long years. In 2002, The Firebird was dug out by Jim O'Rourke, and Thurston played it once again during the "All Tomorrow's Parties" music festival.
Thurston's Firebird featured two pickups, the bridge pickup would be replaced by a Firebird mini-humbucker and stayed like that until 2002; it also had a rosewood fingerboard, one toggle switch, four knobs (none of them were removed and taped over), and a white pickguard.
In October 2018 the guitar was auctioned and would never be seen again by Sonic Youth's fans. This was the only time Thurston received money for one of his guitars. Historically his other guitar had been stolen, broken, or stored away and forgotten.
Golden Fender Jazzmaster

| | |
| --- | --- |
| Finish | Gold |
| Years Used | 1999 to 2007 |
Following the 1999 theft of the band's gear, Sonic Youth saw themselves in a bit of a strain, most of what they had was taken from them and tour dates were getting closer. However, Moore and Gordon had grown to be friends of Patti Smith. Smith and her crew had been through a similar occasion back in the 70s, so after a short visit following a show in Northampton Massachusetts at Sonic Youth's HQ, Patti told her guitar tech to go fetch her beloved golden Jazzmaster to give it to Thurston as a gift.
In an interview, Moore recalls the occasion as one of the sweetest moments of his life: "I was like, This is really sweet. I held onto it for a long time. I remember telling Tom Verlaine that she gifted me this guitar. He's like, I can't believe she gave you that gold Jazzmaster." – Thurston Moore on Patti Smith's Gold Jazzmaster.
This is one of Thurston's private six-strings, it is a 1959 Jazzmaster, so it's pretty contemporary in age to him. The last time it was seen in live-action was back in 2007 during the Daydream Nation tour during a show in Sweden, ever since then, the guitar is believed to have been retired to avoid any damage or well, theft.
Seafoam Fender Jazzmaster

| | |
| --- | --- |
| Finish | Seafoam Blue |
| Years Used | 1995 to 2011 |
Thurston seemed to store this guitar away in 1996 and forget about it. Lucky he did because, after the theft incident in 1999 where a box truck with most of Sonic Youth's gear inside was stolen, this was the guitar Moore took out for the Lollapalooza tour in the year 2000. From 1995 to 1996 he only played this guitar on a couple of instances that we are aware of. It was after 1999 he started playing this guitar more often and tasked it with F#F#GGAA tuning.
This Fender Jazzmaster featured two soap bar pickups, a rosewood fingerboard, a gold anodized pickguard, one knob, and a tremolo bar. The volume knob and all the switches were removed from the guitar.
Up until 2011, this guitar was still in use to play some iconic Sonic Youth songs, such as "Schizophrenia" and "Tom Violence". The Seafoam Jazzmaster has been seen in Thurston's arsenal in 2018, but he hasn't played many shows live on his post-Sonic Youth era with this guitar.
Green Fender Jazzmaster (Replica)
| | |
| --- | --- |
| Finish | Green |
| Years Used | 2003 to Present |
Thurston Moore received his green Jazzmaster as a gift from Eric, his technician who made this Jazzmaster replica himself, and Thurston has been playing this guitar from the moment he first got it. This was the main guitar for the GGDDD#D# tuning during the "Daydream" tour, and from 2009 to 2011 he used the DDAF#AD on it. On the top, this guitar looks like any other guitar, but what some people don't know is that it has a cheat lyric sheet written on the side for the song "Antenna".
This guitar features a black pickguard, a rosewood fingerboard, two Seymour Duncan antiquity pickups, a vintage Fender vibrato tailpiece with a Mastery bridge, one toggle switch, and one knob. The neck of the guitar comes from a '65 original Fender Jazzmaster, while the finish is clearly hand-painted, which makes for quite a rustic first impression of it.
This six-string is one of Thurston's all-time favorite pieces, it's almost as if it was made to his precise specifications, but reportedly, it was kind of a surprise when he was presented with this gift. To this day he uses this one-of-a-kind Jazzmaster with the Thurston Moore Group, and it would lay the ground basis for his first official signature Fender model, which came out in 2009, only two years in, on the limelight.
Fender Telecaster/G&L ASAT
| | |
| --- | --- |
| Finish | Black |
| Years Used | 1991 to 2011 |
Thurston's Fender Telecaster may have been given to him as a gift by his brother Gene, and some say it was probably built by Gene as well. It was one of the few instruments that didn't get stolen in 1999, to Thurston's luck. This Frankenstein of a guitar has a Telecaster body and a G&L ASAT neck. From 1991 to 1995 the guitar was tuned to EG#EG#EG# for the song Expressway, and the extensive and intense outro this song had, was the cause of its damage. After ten years of misuse, in 2005 Thurston picked up this guitar one more time, tuned it to GABDEG for "Teenage Riot" and "Hey Joni"
The Fender Telecaster features two humbuckers, a rosewood fingerboard, one toggle switch, a black pickguard, and just one knob, the other three knobs were removed and taped over. Just like most of Thurston's guitars, this one also has a few stickers on its body, adding a really cool aesthetic value.
It's unknown how this guitar survived the robbery in the late '90s, the most reasonable answer is that the guitar was under maintenance so it wasn't stored on the truck with the band's other gear. What we know is that this guitar is still part of Moore's collection, but hasn't been seen played live for some time.
Popular Related Article: Jack White's Guitar Rundown
Conn Drifter
| | |
| --- | --- |
| Finish | Black |
| Years Used: | 1983 to 1999 |
The Conn Drifter was one of the guitars Thurston Moore used in some of the earliest days of Sonic Youth. It originally belonged to a friend of the band who gave it to them as a gift. The Conn Drifter was a cheap guitar and it was perfect for sound poaching, Moore played the guitar using drumsticks, and even a cowbell! Moore's Conn Drifter featured many stickers, for example, a "SONIC" sticker on the headstock, an Elvis Presley one on a U.S.A flag, a Dayglo Tiger, and a "Confusion is Sex" sticker.
This guitar features a rosewood fingerboard, two single silver coils which were taped in, and four knobs that were removed and taped over with duct tape. Around the mid-'80s the guitar suffered major changes. First of all, the guitar became completely fretless, then the two E tuners were removed and all the strings were replaced with bass guitar strings.
The tuning used on this four-stringed guitar were CCD#D# for the song "Marylin Moore", and BBF#F# for "Eric's Trip" where Moore not only plays with an odd tuning but also where you can see him rocking the Conn Drifter with two drumsticks.
Table Showing The Guitars Thurston Moore Played at Each Point of His Career
| Make | Model | Color/Finish | Years |
| --- | --- | --- | --- |
| Fender | Blue Jazzmaster | Blue With Custom Stickers | 1983 to 1999 |
| Conn | Drifter | Black | 1983 to 1999 |
| Fender | Mustang | Worn White | 1987 to 1999 |
| Fender | Jazzmaster | Red | 1989 to 1999 |
| Fender | Sunburst Jazzmaster | Sunburst With Custom Stickers | 1989 to 1999 |
| Gibson | Firebird | Sunburst | 1990 to 2003 |
| G&L/ASAT | Telecaster | Black | 1991 to 2011 |
| Fender | Seafoam Jazzmaster | Seafoam Blue | 1992 to Present |
| Fender | 1966 Jazzmaster | Black | 1999 to 2011 |
| Fender | Golden Jazzmaster | Black | 1999 to 2007 |
| Fender | 1964 Jazzmaster | Hevy Relic Sunburst | 2003 to Present |
| Fender Custom | Green Jazzmaster Replica | Green | 2003 to Present |
| Fender | Thurston Moore Signature Jazzmaster | Forest Green | 2009 to Present |
Thurston Moore's Amps
Since all the important guitars Moore has ever had are electric, the amplifiers played a huge role in the creation of the sounds he was looking for when he was composing with his Sonic Youth bandmates. Here is a list of the most important Amps he has had since the beginning of his music career.
Peavey Roadmaster
The Peavey Roadmaster belonged and was used by Thurston Moore in 1989. This amp featured two channels and six 6L6 tubes. By using the Peavey Roadmaster, Thurston didn't need a reverb pedal, because the effect was already featured in this amp. This 120-watt amp worked for Thurston as a tool to hunt sounds in his early years.
Peavey Encore '65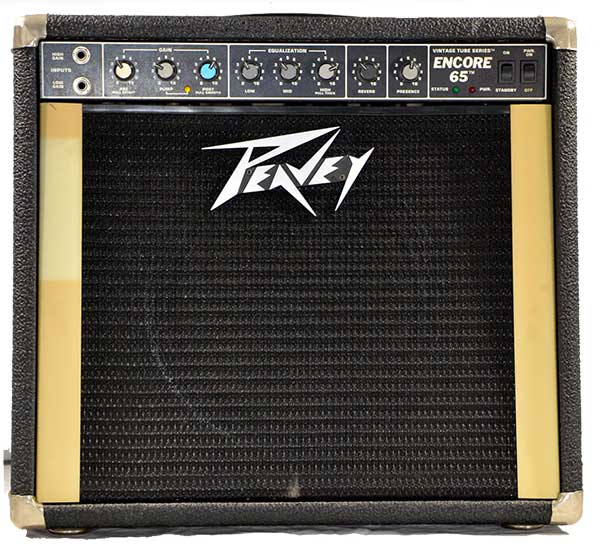 This 65-watt amp produces a distinct vintage sound. It has gain control options where you can find a new feature at the time which was "Pump control". This new feature was perfect for Thurston. After all, it helped him find the sounds he was looking for. This amplifier features a three-band equalization which enables the possibility of using different guitar voices. It also has the reverb effect integrated into the amp and presence control.
Popular Related Article: Kurt Cobain Guitar Rig Rundown
Marshall 4×12 Cabinet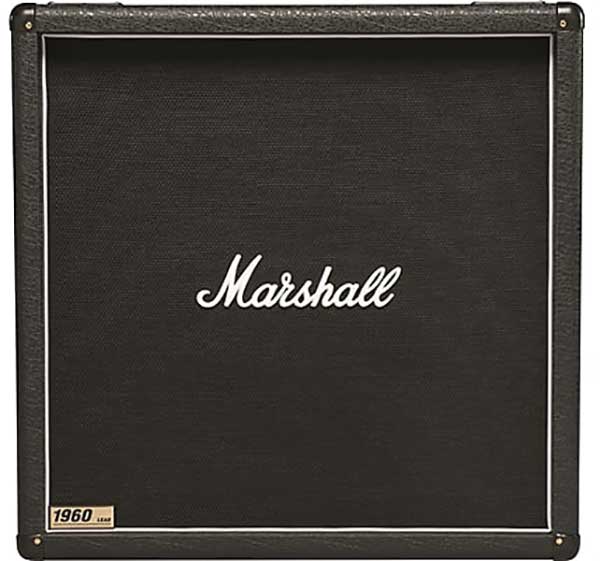 This 1960's amp was built specifically for bigger stages than your small gig bar stage, it works with 2×150 watts on stereo mode and 300 watts on mono mode.
Fender '65 Deluxe Reverb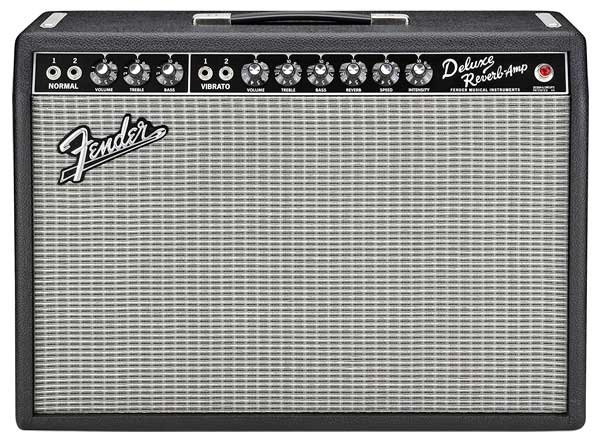 The Fender '65 Deluxe Reverb is a low-wattage amp that produces pure Fender tone. With only 22 watts, this amplifier allows the user to play country, rock, blues, you name it. The Fender '65 Deluxe Reverb has tube-driven effects integrated into it, such as spring reverb and vibrato.
This amp features a pair of 6V6 Groove Tubes, two channels (one for normal tone and the other for vibrato), and a two-button footswitch to turn on or off the vibrato and the reverb. This amp was crafted for small gigs or to crank it up at the studio.
Popular Related Article: Dan Auerbach Complete Guitar and Gear List
Peavey 5150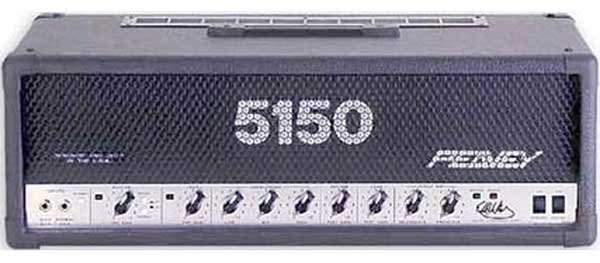 The Peavey 5150 started being produced during the '90s, and it was at first a signature model for Eddie Van Halen. This 120-watt amp was powered up by four 6L6GC tubes and it featured a footswitch that controlled the looping effects. It also had two channels, one for rhythm guitar, and the other one for lead, these two shared a 3 band EQ, and resonance control. The Peavey 5150 had a built-in spring reverb effect, which was also controlled with the footswitch.
Thurston Moore Pedals and Effects Overview
Strange tunings and deluxe amplifiers with various effects are a big part of the sounds that Thurston Moore created. Pedal effects were necessary for him to explore and push the boundaries of his guitar playing.
Thurston Moore owned various interesting guitar pedals that helped him on his way to becoming a mad sound scientist. He crafted his bizarre noise rock by combining different guitar pedals. Here is a list of the ones he used the most.
JHS Crayon
This overdrive pedal has been part of Thurston's post-Sonic Youth era. It features three knobs that control tone, pre-volume, and master volume; it also has a toggle switch that controls the hi-pass.
This pedal was designed to make very compressed overdriven sounds, even adding a pinch of fuzz into the mix. The birth of the JHS Crayon was inspired completely by the British rock scene.
Electro-Harmonix Sovtek "Civil War" Big Muff Distortion
Thurston used this particular one on many of Sonic Youth's songs, this pedal adds a strange flavor to his playing. It turns basic clean guitar sounds into a grotesque and constant growl. Thurston Moore used this pedal when he had the task of creating an intense background sound.
Pro Co TurboRat
Thurston used the Pro Co TurboRat when he wanted to have a "spiked" sound on the main guitar riffs. It creates a lo-fi distorted sound, perfect for the songs that inspire a sense of rebellion and rage. This pedal was usually combined with a few others on Thurston Moore's pedalboard, plus the reverb effect that was already provided by some of his amps.
MXR M101 Phase 90
This pedal creates a very different ambiance than the ones previously mentioned. The MXR M101 Phase 90 produces soothing sounds, perfect for songs that are on the psychedelic side of music. It is a very simple pedal, it only features a phase speed knob, a footswitch, an input, and an output.
Dunlop JH3S Jimi Hendrix Octave Fuzz
Usually accompanied by an overdriven amp, this Jimi Hendrix signature pedal cranks up the attack on Moore's guitars, producing a spikier sound. This pedal only features two knobs, one controls the volume of the effect and the other one the tone.
Jam Pedals Chill
The Chill pedal was typically used in surf rock bands, but Thurston Moore wanted to introduce the tremolo this pedal provides into his repertoire. It lives up to its name, this pedal is indeed one of the most easy-going effects on Thurston's pedalboard.
MXR Blue Box
This isn't a normal pedal, this little guy's main mission is to add a fuzzy sound to the guitar, and it does it successfully. The special thing about the Blue Box is that it also works as a sub-octaver, it pushes the notes down two octaves, creating a futuristic yet chaotic sound. For almost every guitarist, the glitchy subterranean effects the Blue Box creates would be a problem, but for Thurston was an opportunity to dive deep into the "droning" trend that was just being born at that time.
TC Electronic Corona Mini Chorus
The TC Electronic Corona Mini is one of the pedals Thurston uses in the post-Sonic Youth era. In combination with reverb, this pedal creates a huge depth to the chords and notes you play. It features three knobs, which are depth, FX level, and depth. With the exact combination only Thurston knows, he has been able to compose the epic songs in this chapter of his career.
Mu-Tron C-200 Volume-Wah
The Mu-Tron C-200 is able to control two things, the first thing is the sound frequency, this is better known as the "wah" effect, which adds funk to your sound; the second thing it alters is the volume, by doing this the melodies played could sound heavenly. Both effects are activated by footswitches and controlled with the pedal itself.
Ludwig Phase II Synthesizer
Unlike other phase pedals, Phase II has a wider sound range. The futuristic aspects of its sound add a different perspective to noise rock. This huge pedal features Synthesizer controls on the top and four footswitches on the bottom. Thurston Moore explored the sound of this pedal synthesizer, and it ended up being a crucial pedal for the song "Diamond Sea".
Wrap Up
Moore's guitar arsenal has been one huge collection – the majority of them are obviously Jazzmasters. To Moore's misfortune, most of the guitars that he had owned were stolen at some point along with other bandmates' instruments.
After a long and prosperous career in the music industry, Moore became a flagship artist for those who want to experiment with new sounds and new techniques that were created by Sonic Youth. Even to this day, he lives from the music he's made and continues to make, packing arenas with the Thurston Moore Group.
Thruston is one of the most innovative artists of his generation, with a childlike wonder approach to sound and his instrument, he helped revolutionize the punk rock scene in an uncanny way, while his exploits of noise as an ambiance genre channeled the grimey side of an ethereal sound. As a guitarist he might not be your traditional hero, but he certainly changed the game!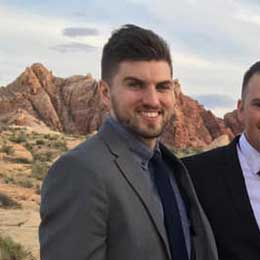 My name is Chris and I've had a passion for music and guitars for as long as I can remember. I started this website with some of my friends who are musicians, music teachers, gear heads, and music enthusiasts so we could provide high-quality guitar and music-related content.
I've been playing guitar since I was 13 years old and am an avid collector. Amps, pedals, guitars, bass, drums, microphones, studio, and recording gear, I love it all.
I was born and raised in Western Pennsylvania. My background is in Electrical Engineering, earning a Bachelor's degree from Youngstown State University. With my engineering experience, I've developed as a designer of guitar amplifiers and effects. A true passion of mine, I've designed, built, and repaired a wide range of guitar amps and electronics. Here at the Guitar Lobby, our aim is to share our passion for Music and gear with the rest of the music community.