Music exists outside the realm of language and it isn't always easy to categorize without being slightly limiting. That's why some of the most creative people are genre-bending artists, and a few of those have even ended up creating sub-genres. These sub-genres likely stream from indie.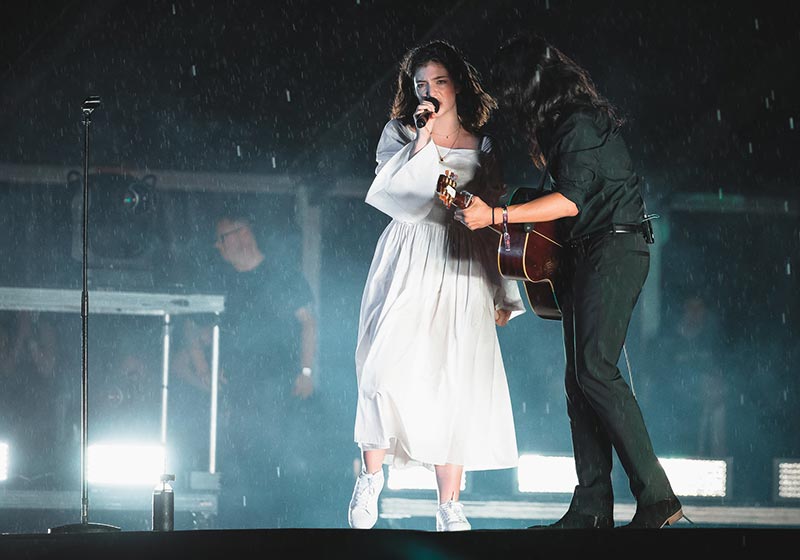 Originally, 'indie' was short for independent. That meant any music published by a smaller label or an unsigned artist. Over time it came to refer to a collection of styles that were typical of the type of music put out by small labels. It is associated with music that has an 'artsy and non-commercial' feel, it's often guitar-driven but recently more synth-heavy and it incorporates folk-rock, post-punk, alt-pop, grunge, and electro-pop.
In case you still think of indie as long-haired white boys with holes in their jeans playing guitar, I've come to disillusion you. Here are some of the best female indie singers. These ladies have incorporated different experimental sounds and some of them have led whole different lives with alter-egos as experiments to produce a fresh and imaginative record.
Here Are the Best Female Indie Singers of All Time
1. Kate Bush
| | |
| --- | --- |
| Years Active | 1975-Present |
| Famous Songs | Wuthering Heights, Running Up That Hill, The Man with the Child in His Eyes |
| Wikipedia Page | Learn more about Kate Bush here |
Kate Bush seems to have created with no fear or care to what would sell or what would be radio-friendly, and that's what made her one of the most eclectic and unbound musicians. She combined folk-rock, alt-rock, pop, and indie in a whirlwind of songs with bold production and the most artful and unusual lyrics full of fantasy and drama (She has a song about a failed bank heist and another about a woman's affair with a snowman.). Her music was ahead of its time, ethereal and decorated by swoops and screeches of her theatrical soprano voice. She is a dancer, singer, songwriter, producer and I would also add conceptualizer to the list for reasons I'll mention later.
In 1978, aged 19, her debut single "Wuthering Heights" topped the UK Singles Chart for four weeks, becoming the first female artist to achieve a number one with a self-written song. Since then, she has released 25 UK top 40 singles, including "Running Up That Hill", "Don't Give Up" and "The Man with the Child in His Eyes". Her 10 studio albums have all reached top-tier status. The albums The Dreaming (1982) and Hounds of Love (1985) marked her first real breakthrough in the USA. She has been nominated for 13 British Phonographic Industry Accolades, winning for Best British Female Artist in 1987, and has been nominated for three Grammy Awards. In 2002, Bush was recognized with an Ivor Novello Award for Outstanding contribution to British Music. Bush was appointed a CBE in the 2013 New Year Honours for services to music.
The reason she is a well-rounded artist is also how she showcases her music. According to The New Yorker, in 2014, she put on "Before the Dawn," a twenty-two-night residency at the Hammersmith Apollo, in London, that combined theatre, puppetry, film, and music in a spectacle that critics found occasionally ridiculous and genuinely, almost unbearably moving. Tickets for all twenty-two performances sold out within fifteen minutes online. Also, she got hypothermia after a performance of "The Ninth Wave" where she floated in a tank of water at Pinewood Studios singing "And Dream of Sheep" for six hours. Kate Bush has inspired a variety of indie artists like Björk, St. Vincent, Perfume Genius, and Mitski.
2. Fiona Apple
Fiona is an intricate soul with a hybrid of inspiration from John Lennon, Maya Angelou, and Yoko Ono. As a child, she was classically trained on piano and began composing original songs at eight years old. Her first album, Tidal, contained songs written when she was only 17 and received a Grammy for Best Female Vocal Rock Performance on the song 'Criminal' from that album.
Her five albums have reached the top 20 on the U.S Billboard 200 chart, from 1997 to 2020, with her last album Fetch the Bolt Cutters gaining two Grammy awards: Best Alternative Music Album and Best Rock Performance for the lead single "Shameika". The album also grasped a variety of music critics' respect and even got a 10/10 score from Pitchfork and a few music blogs even called it a masterpiece that defines an entire era. It's an unbound record that includes symphonies from everyday life like real handclaps, bangs on walls, chants, echoes, breathing, 'mistakes', and even dog barks (At least five dogs are credited). Pitchfork stated, "on Fetch the Bolt Cutters, she unapologetically indicts the world around her. And she rejects its oppressive logic in every note…she sings about toxic masculinity, bullies, meaninglessness, and trauma".
Her music includes spirals of infused poetry, jazz, rock, and soul. She is so genre-bending that she can swoop from a cabaret tune into a blues ballad that turns into a choir. The vulnerabilities of her voice are so daring, she can swing from a ragged and bold scream to an intimate whisper that is barely heard. On her song 'I Want You to Love Me" she sings about the meaning of life: to love, to connect, to get back in the pulse. She sings, scats, raps, and curls her voice into an extended-vocal contortion over a piano loop. She is someone who does not do things for attention or praise, but only for self-expression and the rush of creating.
3. Bjork
The 14-time Grammy-nominated indie artist is still said to have some of the greatest music videos. In an interview with Pitchfork, she stated "A video is not a promotional necessity, but a graceful tool to ease the passage of music into your brain". Her music is thrilling, hypnotic, and artistic; mixing instruments with synthesizers, personal with the political, and technology with intimacy.
The Icelandic singer, songwriter, producer, and actress released her first album at 11 with her mother drawing up its psychedelic cover art. She is mostly labeled as an alternative female singer or indie singer because of how she experimented and mixed genres like electronic, trip-hop, and alternative-rock music with a classical take. She gained international recognition as the lead singer of the alternative rock band, the Sugar Cubes. After that, she embraced a solo career with several of her albums reaching the top 20 US Billboard 200 charts. She sold over 40 million records worldwide and her top-charting singles were "Army of Me", "It's Oh So Quiet", "Violently Happy", "Big Time Sensuality" and "Hyper-ballad". One of her most interesting projects, Biophilia was marketed as an interactive app album with its own education program based around creativity as a teaching and research tool.
Her influences include Joni Mitchell, Meredith Monk, and Edith Piaf. Although, she stated that Iceland itself shaped her voice more than any other singer could. Its wavy landscape of glaciers and volcanoes inspired her. It didn't come as a surprise that she regularly advocates for environmental causes in Iceland.
4. Florence Welch (from Florence + The Machine)
"I want my music to sound like throwing yourself out of a tree, or off a tall building, or as if you're being sucked down into the ocean and you can't breathe. It's something overwhelming and all-encompassing that fills you up"- Florence Welch.
No one could describe how her voice made you feel as well as she did in this quote. Her visceral voice goes from groans and grand leaps across her wide vocal range to belting out a sensual vibrato. Add these vocals to the band's rock/soul mix of music, and her captivating stage presence and you get a goose-bump-worthy experience.
This enchanting singer was discovered during an improvised performance at a nightclub's bathroom! She sang Etta James's "Something's Got a Hold on Me" and caught the attention of her new manager, gaining huge opportunities. Florence is an English singer, the lead vocalist, and primary songwriter of the indie band Florence and the Machine. The band's first studio album 'Lungs' topped the UK album chart after staying on the charts for 28 consecutive weeks. It ultimately won the award for Best British Album.
Their second album 'Ceremonials' met the exceptionally high expectations and was also number one in the UK and number six in the US Billboard 200. It was pushed by the anthem-like single "shake it Out". Florence + the Machine hit their first U.S. number one when the group's third album, How Big, How Blue, How Beautiful, climbed the top of the Billboard 200 chart in June 2015. The album won 4 Grammy Nominations in 2016 and put them in a whole new caliber of praise. She never hid away from having darker lyrics or talking about issues that mattered to her. During their 4th album, High as Hope, the song Hunger, talks about her teenage eating disorder. She has also spoken of being a highly imaginative and fearful child. "I learned ways to manage that terror – drinks, drugs, controlling food…". The band's earliest popular singles are still highly influential today, such as "Kiss with a Fist" and "Dog Days Are Over.
5. Phoebe Bridgers
Phoebe is a four-time Grammy-nominated singer, songwriter, guitarist, and producer from Los Angeles. While in school, her band Sloppy Jane got their cover of The Pixies' "Gigantic" into an Apple ad that enabled her financially to keep pursuing her dream.
This candid and multi-dimensional artist caught the eye of the public when she performed at the South by Southwest Festival in March 2017. Her first hit single was "Smoke signals", which helped her get the spot at the festival. Her Debut album was Stranger in the Alps, but the one that earned her the most recognition is Punisher (released in 2020).
Her nickname in the industry is 'serial collaborator" because of her many features: Fiona Apple, Matt Berninger, Kid Cudi, The 1975, Lord Huron, and many more. Her music has been classified as indie folk, indie rock, and sometimes even emo folk. It incorporates a mix of acoustic guitar, electronic sounds, and atmospheric elements along with her vulnerable and vibrant voice. Her music was often described as melancholic and haunting and she usually gets personal with her writing. Her song Kyoto is about her relationship with her father, while ICU and Motion-Sickness dive deep into romantic breakups. Her music has become a world unto itself, and she stated that when language fails, music doesn't.
6. Lorde
| | |
| --- | --- |
| Years Active | 2009-Present |
| Famous Songs | Royals, Tennis Court, Everybody Wants to Rule The World |
| Wikipedia Page | Learn more about Lorde here |
Lord is an indie/alternative-pop singer-songwriter from New Zealand. She's known for her unconventional and introspective writing. Her music is a genuine, melancholic mix of catchy and eerie while her voice is sophisticated and deep; it almost feels like it is dramatically staring at you. She generally writes about youth culture, the drama of being a teenager, growing pains, and working-class suburban boredom. She has a great way of balancing irony and exposing hypocrisy without being preachy.
She was discovered in a talent show but rose to stardom thanks to her hit-song 'Royals', part of her debut EP 'The Love Club'. This was the first song in 17 years by a female solo artist to top Billboard's alternative chart, leading her to win three Grammys in various categories. Lorde introduced herself as someone who doesn't give a "F" about what people think, with the song lyrics "We don't care/ We aren't caught up in your love affair". Royals is a song that rebels against excess luxury usually praised in contemporary pop. Its musical arrangement is simple- 'only a few finger snaps and a barely-there beat caught in the gravitational pull of Lorde's charisma'.
She later dropped her first studio album, Pure Heroine which is a compilation of moody, calm, and intense indie tracks. Buzzfeed described it as "A mix of St. Vincent's "Champagne Year" mixed into whatever's in the punch at Abel Tesfaye's house". The album was a commercial success. After that, she released the album Melodrama which also rose to the top US Billboard 200 chart. She recently dropped her latest album Solar Power, ironically after traveling to Antarctica. Unlike her earlier work, this album is widely about joy and living in the moment.
7. ST Vincent
Much like the rest of the indie artists on this list, Annie is an artist in a variety of forms: singer, songwriter, producer, and actress. Before becoming a solo artist, she was a member of the Polyphonic Spree and Sufjan Stevens' touring band. She carried on to create albums, Marry Me, Actor, Strange Mercy, St. Vincent Masseduction, and Daddy's Home. Her fourth album won a Grammy for Best Alternative Album and gained a variety of commercial and critical attention and respect. Clark's fifth studio album, Masseduction, earned her Best Rock Song and Best Recordings Package at the Grammys.
With her mellow, mezzo-soprano voice with creepy lullaby-like undertones, she took you to another world. She's Playful, hypnotic, jazzy, and orchestral all at once. Her music had a wide array of instruments and complex arrangement, whatever she didn't do with her voice, she did with her guitar, expressing tension and release with various instruments across each track. Her sly and cutting-edge lyrics were brought to life by her constant role-playing: as a dominatrix in a mental institution on her album "Masseduction", or a creepy girl next door in "Now, now" or someone seducing a prophet in "Dilettante". Even though she assumes many roles, she still expresses genuine and real emotions. Her lyrics are often described as teetering between "happiness and madness". Her latest album Daddy's Home was not a roleplay; however, it was actually inspired by her father being released from prison.
Her musical style has been characterized as alt-rock, indie, pop, with influences from soft rock, electro-pop, and cabaret jazz. A few of her inspirations are David Bowie, Kate Bush, Jimi Hendrix, Patti Smith, and Pink Floyd.
Popular Related Article: The Best Female Pop Singers of All Time
8. Wolf Alice / Ellie Rowsell
Wolf Alice are an English alternative rock/indie band with Elie Roswell as their lead singer. Wolf Alice has gone from performing at half-empty clubs in London to playing in huge festivals. The New Yorker described Ellie's voice by saying "She can whisper like a child but howl like a rabid animal". The band sometimes has a garage-rock feel to them, studded with guitar riffs and wild drum patterns.
In 2015 they released their debut album My Love Is Cool, after releasing four EPs and touring to make a name. It includes their 2014 single "Moaning Lisa Smile" which peaked at number nine on US Billboard's Alternative Song chart and was nominated for the Best Rock Performance Grammy award. Their second album, Visions of a life, was number two on the UK Albums Chart and won the 2018 Mercury Prize. The band recently released their third album, Blue Weekend in 2021 and it received great critical acclaim and wonderful reactions. Their music has the feel of bad haircuts and hopping buses with a best friend you'd die for; 20-somethings going through their vices while having a non-conforming identity and battling misogyny in an overly capitalistic world, tainted with punk riffs, cinematic strings, and indie vocal harmonies.
9. Lana Del Rey
Lana del Rey's genre has sparked some debate. She's associated with several music styles, dream pop, rock, baroque pop, pop, psychedelic rock, and finally, indie pop. She's cited being influenced by Lou Reed, Nancy Sinatra, Leonard Cohen, Amy Winehouse, and Eminem, which didn't really ease any of the confusion. A few people called her sub-genre 'Hollywood Sad-core' which is perfectly in line. Her consistent themes are a mix of cinematic sadness and glamour along with tragic romance and the reckless, fast cars, drug-filled festival madness of 1960s Americana. Her music makes you feel like you have the life of Jim Morrison's favorite well-educated groupie. Her songs are charged with references to jazz, heavy metal, Hemingway, Fitzgerald, and Springsteen sprinkled with money, power, glory, and loss.
She got viral in 2011 thanks to her nostalgic homemade clip for "Video Games," a hazy and melancholic love song that amplified her 1950s-inspired theme. She then signed with Interscope Records and released Born to Die which was an international success and included the wildly successful songs: Summertime Sadness, Blue Jeans, and Born to Die, which all appeared on top 10 charts internationally. She has then also ventured into film and released her single Ride along with a poetic monologue and a short film, melting you deeper into her dream-like state with honeyed vocals, and harmonies decorated with edgy guitar riffs. She also made a psychedelic short film for her music and called it Tropico. Her albums Ultraviolence, Honeymoon, and Lust for life all had great commercial success and critical acclaim, and the album Norman Fing Rockwell received two Grammy nominations including Album of The Year.
10. Karen O
The American indie-rock band Yeah Yeah Yeahs were formed in New York City in 2000. Their lead vocalist is Karen O. Their music is an edgy post-punk, dancefloor-friendly sound inspired by Blondie and the Banshees. The band recorded four albums and three of them got Grammy nominations for Best Alternative Music Album. They were: Fever to Tell, Show Your Bones, and It's Blitz! The band opened for rock giants The Strokes and The White Stripes. They earned significant buzz for their outrageous antics during live shows. Their current most popular single is the synth-heavy Heads Will Roll, especially since it got remixed for the movie Project-X. When this song plays at a party it's a guaranteed dance-floor winner. Overall, Karen O is easily one of the best female indie singers of all time.
11. Maggie Rogers
Maggie got noticed when her song 'Alaska' was played to Pharrell Williams during a master class at New York University. Pharrell said that the song was like nothing he has heard before. It has a gently lilting beat that slightly evokes tropicalia, along with a catchy falsetto pre-chorus that dabbles into R&B. Things went uphill from there, she signed with Capitol Records and was nominated for a Grammy for Best New Artist in 2019. Her label debut album 'Heard it in a Past Life' climbed at number two on US Billboard 200.
She cites Björk, Carrie Brownstein, and Patti Smith as a few of her influences. In 2020, Rogers collaborated with Phoebe Bridgers on a cover of the Goo Goo Dolls' single "Iris", which Bridgers said she would make if Donald Trump lost the elections. The song was released as a one-day exclusive on Bandcamp and was downloaded 28,000 times, with all proceeds going to Fair Fight Action. Maggie then released her compilation album 'Notes from the Archive: Recordings 2011-2016.' Even though she is marketed as a new voice, Rogers has four releases on BandCamp dating back to 2012 that she recorded in high school, these past releases were a bit stripped back in comparison to her current incorporation of electronica and soft-rock into her folk song-writing, sprinkled with her classic indie voice and layered harmonies.
12. Natasha Khan / Bat for Lashes
Like a lot of great indie artists, Natasha has the talent of world-building. She creates a character and crafts a musical and aesthetic environment based on fantasy. Her first album 'Fur and Gold' was filled with fairy-tales, her second 'Two Suns' was by her desert-born alter ego after she journeyed the desert in California to gain inspiration, while the 2016's 'The Bride' was created from the perspective of a woman whose fiancé, killed in a car crash on the way to their wedding, would not rest quietly.
Bat for Lashes' music has been described as having both indie-associated sincerity and pop-oriented catchiness. Natasha has an enigmatic soprano voice and the production is a blend of alt-rock grandeur with emotionally rich, transcendent piano or guitar melodies balanced by some synth-heavy sounds for a modern touch. She has been able to carve out an uncompromising niche for herself. Khan has received three Mercury Prize nominations and has many songs on the UK Top Charts with two albums being on top 10. Bat for Lashes also supported Coldplay in an American tour.
Popular Related Article: The Best Female R&B Singers of All Time
13. Angel Olsen
Olsen is categorized as indie and has been described as folk-rock mixed with dark, dream pop that deals with anxiety. The music is warped together with her magnificently expressive vibrato voice. She signed with Jagjaguwar records and released the album 'Burn Your Fire for No Witness'. The album's closing track got featured in the Netflix series '13 Reasons Why' in 2017 and got great reviews. Her third album 'My Woman' was seen as her strongest and most honest record and won an Album of The Year award from Libera Awards. It blends psychedelia and folk and features three music videos directed by Olsen. Later, she released the album 'All Mirrors' which was also nominated for Album of the Year and Best Alternative Album. It was described by The Guardian as "Strong wind that blows in and leaves you undone". In 2020 she released her 5th studio album, Whole New Mess, which features tracks from 'All Mirrors' arranged in a more intimate style.
14. Girl in Red
Marie Ulven's career took off when she released "I Wanna Be Your Girlfriend" in 2019. The song is about a girl falling in love with her straight best friend. The song got certified gold and helped her become a queer icon due to her honest lyrics. On TikTok, people began "Do you listen to Girl in Red?" as code for "Are you gay?". According to Rolling Stone magazine, she started putting posters with the slogan in countries such as Brazil, Poland, and Russia, "places where gay rights are not moving in the right direction, and we made it a really cool moment," she states. "If my songs can in any way shape or form normalize queerness then that's amazing."
Her music is a laid-back indie-pop or bedroom pop and she sings openly about infatuation, mental health, and heartbreak. Her debut studio album, If I Could Make It Go Quiet is a genuine expression of someone who struggles against her own brain chemistry. Recently Ulven altered her intimate indie rock into a version of her music that seems more electrified and ambitious, and her new releases sound as if they were created to be performed in arenas rather than in small clubs. She was nominated for Best New Artist at the 2020 Norwegian Grammy Awards (oh, she's also from Norway).
Honorable Mentions:
This is a list of indie artists that may not have won as many awards or gotten critical acclaim, but are nonetheless worth mentioning:
15. Sky Ferreira
16. Clairo
17. LP
18. Benee
19. Lykke Li
20. Mitski
21. Tash Sultana
22. Vera Blue
23. Daughter
24. Men I Trust
25. Aurora
25. Ambar Lucid
Wrap Up
Indie is generally softer than classic rock, and usually features emotionally expressive – borderline pessimistic – lyrics with strong socio-political and artistic references. For some people, an indie persona involves having a general resistance to mainstream culture, inducing realism, independence and authenticity. Indie is one of the most experimental genres, and it keeps making room for non-binding creatives.
I'd recommend you have an intimate listening party with a few friends and have fun checking these great artists out if you're unfamiliar with any of them.
Hi, my name is Laila and I've been a writer and strategist in the advertising/entertainment industry for around 5 years now. I'm a singer/songwriter and enjoy creating content related to music in my free time.