The guitar's slide is a technique that is both underappreciated and underused. Based on your preferences, you can use a slide guitar with different types of guitar to create a wider variety of glissando effects and louder vibratos.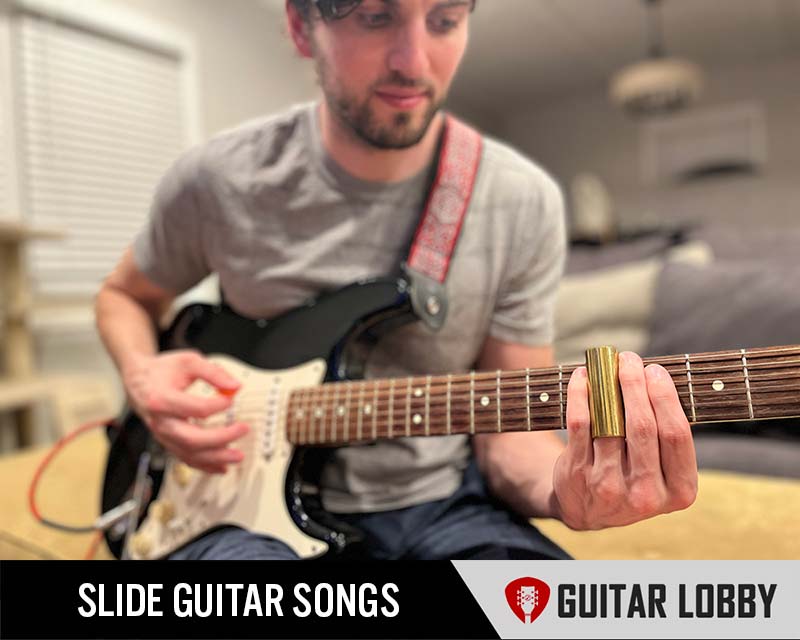 Guitar slides have the distinct benefit of being incredibly simple to master. You can play every song on this list with a little practice, no matter whether you've used a guitar slide before. While certain songs are ideal for newcomers to try out, others need plenty of practice to perfect.
Here are the best slide guitar songs to learn, along with guitar tabs of each song's cool slide guitar licks. Since most slide guitar tunes lack conventional tuning, I've included guitar tuning for every song.
List of Slide Guitar Songs
1. In My Time of Dying by Led Zeppelin
I am a huge fan of Led Zeppelin. I find them the pillar of rock who influenced the entire music world by bringing various methods and perspectives to the genre. "In My Time of Dying" is a powerful bluesy epic, showcasing Zeppelin's musical prowess with soulful vocals, haunting guitar riffs, and an emotive atmosphere. It is one of their masterworks. Try it on a slide guitar with an "Open A" tuning. It should go like this: E A E A C-sharp and E. Beginners can also play this song in open G tuning.
2. Scar Tissue by Red Hot Chilli Peppers
The musical arrangement and tone introduced by Red Hot Chilli Peppers in their songs are astonishingly authentic. Not everyone has the status of being so famous while composing original music. "Scar Tissue" showcases the band's signature blend of raw emotion and funk-driven rhythms, creating a timeless and unforgettable listening experience. With its mellow and basic slide guitar melody, it is one of their best tunes. Even though it was released in 1999, we still listen to it as if it were just yesterday. The guitar solo is in the slide part. I use the hybrid picking method to play this song, which combines strumming and fingerpicking.
3. Statesboro Blues by The Allman Brothers Band
Blind This song was initially written by Willie McTell. In 1928, he recorded it. In 1968, the band Taj Mahal re-recorded it. The Allman Brothers Band couldn't stop playing "Statesboro Blues" after hearing and recording their version of it in 1971. "Statesboro Blues" became a powerful blues-rock anthem in the hands of The Allman Brothers Band, showcasing their unmatched musicianship and passion. It features a ton of lead playing and will train both your right-hand sliding technique and left-hand fingerpicking well. Also, everything fits comfortably inside minor/blues, so any beginner can handle this without any problems.
4. No Expectations by The Rolling Stone
Today, I'm highlighting what I believe to be one of the Stones' most exquisitely unforgettable slide tracks. One of Brian Jones' final contributions before his expulsion and passing was 'No Expectations,' which was included on the 1968 album Beggars Banquet. The song is a poignant ballad featuring soulful vocals and heartfelt slide guitar, showcasing their versatility and musical depth. It's crucial to focus on the pitch and ensure that you slide up at the appropriate tempo when playing it on a slide guitar. Due to its leisurely pace, it's very simple to make the mistake of playing it all too quickly, which would ruin the mood of the song.
5. Tush by ZZ Top
Tush is a no-brainer selection on a list like this. "Tush" by ZZ Top is a gritty and catchy rock anthem characterized by its bluesy guitar riffs, punchy rhythms, and sizzling vocals, showcasing the band's signature sound and style. Billy Gibbons' solo in this ZZ Top classic has some simplistic but exceptionally powerful slide licks. But don't be deceived by the song's seeming ease of playing; it requires much perseverance and practice to play exactly like the original. It's critical to have proper timing when playing the riff because the song has a fast backbeat. Join a band or play with pals.
6. Seven Nation Army by The White Stripes
"Seven Nation Army" is a powerful and iconic rock anthem. The song is arguably one of the most well-known from the 2000s. When the song was published in 2003, it quickly became quite well-known all over the world. The guitar must be tuned slightly differently to E, A, E, A, C sharp, and E. A handful of the strings must be tuned higher than usual for this to work. If it's more comfortable, tune in to open G. Focus on the rest symbols, and when necessary, mute the strings with your picking hand. To make this riff sound correctly, mute the strings.
7. Free Bird by Lynyrd Skynyrd
"Free Bird" is a Southern rock masterpiece with an epic guitar solo, emotional vocals, and a timeless anthem-like quality, defining Lynyrd Skynyrd's legacy. Has anyone heard the infamous slide guitar solo that opens "FreeBird" by Lynyrd Skynyrd? The fact that this song has become so well-known is not by accident because it is superbly written, composed, and played. I believe there is much to learn from "Free Bird."
The song has a lot of progression, guitar playing, and technique going for it. The slide guitar enters during section two of the introduction. Playing the slide guitar parts will make you feel liberated, just like a free bird!
8. Dust My Broom by Elmore James
"Dust My Broom" is a classic blues song by Elmore James, featuring his slide guitar prowess, emotive vocals, and influential style, leaving a lasting impact on blues music history. If you enjoy Mississippi's authentic blues and slides, you have come to the correct location. The beginning riff of Dust My Broom is one of the most well-known and influential slide guitar riffs ever. Yes, it has a similar tone to the song Robert Johnson sang on I Believe I'll Dust My Broom a few years ago. Nevertheless, James claimed his riff and gave a new generation goosebumps by playing it on an electric guitar. This is one of my all-time favorite beginner electric guitar songs.
9. Überesso by Sonny Landreth
"Überesso" by Sonny Landreth is a remarkable instrumental showcasing his exceptional slide guitar skills, blending blues, zydeco, and rock elements, creating a dynamic and captivating musical journey. Following the publication of the 2007 Crossroads Blues Festival DVD, renowned slide player Sonny Landreth from Louisiana gained significant attention from music enthusiasts. Several Landreth songs—including the incredibly thrilling instrumental Überesso—are included. Landreth is best known for playing with Eric Clapton. Landreth can play chords and chord fragments behind the slide with his distinctive slide technique while fretting notes. To give his other fingers more room to fret, he plays using the slide on his little finger.
10. Fade Into You by Mazzy Star
"Fade Into You" by Mazzy Star is a dreamy and hauntingly beautiful song with mesmerizing vocals and atmospheric instrumentation. Perhaps this song by Mazzy Star wouldn't be included if this list were for "the best slide guitar riffs." This list of the top songs with slide guitar riffs is meant to calm the irate old-school blues devotees and slide pendants. The late David Roback's flawless slide solo isn't as intricate and pervasive as in some overly-textured prog-rock tracks, but it wasn't necessary. Play it on guitar with a capo on the second fret if you're a beginner. Good luck with your practice!
11. Desdemona by The Allman Brothers Band
"Desdemona" by The Allman Brothers Band is a soulful and expansive blues-rock masterpiece featuring stunning guitar solos and heartfelt vocals, captivating listeners with its emotional depth. The Allman Brothers Band, however, has a fairly lengthy resume. Derek Trucks eventually into the starting lineup. With the band, he officially collaborated on just one studio album, Hittin' the Note, in 2003. Furthermore, it serves as the group's last album. Despite not being a big hit, the song Desdemona stands out. Its middle piece, which lasts more than 9 minutes, features a slide solo by Derek Trucks. This one is a little difficult, but you'll enjoy it.
12. Sharp Dressed Man by ZZ Top
"Sharp Dressed Man" by ZZ Top is a groovy rock anthem with infectious riffs, catchy lyrics, and a signature bluesy swagger, epitomizing the band's timeless style and charisma. Among ZZ Top's tunes, this song is arguably their most well-known. The song was included on the album Eliminator, published in 1983. ZZ Top has a distinctive aesthetic, a classic American rock look, and its music is instantly recognizable. In many of their tunes, the slide guitar is prominent. Here, a slide is used to play the guitar solo. So, "Sharp Dressed Man" is a band to listen to if you plan to study slide guitar.
13. Shine On You Crazy Diamond by Pink Floyd
I find "Shine On You Crazy Diamond" one of the most profound and brilliant songs of all time by Pink Floyd. Ethereal masterpiece with emotive guitar and poignant lyrics. Pink Floyd's classic. Launched in 1975, this Pink Floyd song features nine unique parts. I once heard a rumor that the song is dedicated to the former band member Syd Barret who quit due to mental health issues. The slide guitar solo in "Shine On You Crazy Diamond" is stunning. David Gilmour's signature slide guitar tone makes it impossible to miss when the slide part begins. The song's opening guitar solo is performed using a slide.
14. My Sweet Lord by George Harrison
Perhaps the most underappreciated musician and a genie of the Beatles is George Harrison. For the Beatles and his own endeavors, he has many fantastic songs and ideas. He is an excellent musician and artist, in my opinion. "My Sweet Lord" by George Harrison is a soulful and spiritually uplifting song, blending rock and Indian music influences, touching hearts worldwide. Standard strummed chords handle most of the rhythms in this song, but as the song progresses, there are numerous instances where little lead lines and inflections are produced using the slide, so you should always have it ready to go on your third finger.
15. Highway 61 Revisited by Johnny Winter
To slide guitar, Johnny Winter is like a brand-new god. He mastered it and delivered it flawlessly using a traditional highway blues style. "Highway 61 Revisited" by Johnny Winter is a blues-rock rendition of Bob Dylan's classic, showcasing Winter's electrifying guitar skills and energy. It is an excellent portrayal of his playing. The fact that many of the slide guitar parts or licks are meant to be played while singing is one of the reasons it's one of my favorite easy slide guitar songs out there. As a result, if all you are thinking about is playing the guitar, they should come naturally to you.
16. Little Bird by The White Stripes
When I was younger, I clearly recall hearing the band 'The White Stripes' for the first time on the radio and being completely taken aback by the upbeat garage revival vibe. The White Stripes produced a wide range of songs, including raucous stadium rockers like "Icky Thump" and sweet ballads like "We're Going to Be Friends." However, Little Bird is my favorite composition from the band. Jack White continuously used a variety of instruments and effect pedals to create his sounds. One of Jack White's (the lead singer) most trusted companions was the slide, which he played flawlessly in the 2000 song "Little Bird."
17. Give Me Love (Give Me Peace on Earth) by George Harrison
"Give Me Love (Give Me Peace on Earth)" by George Harrison is a heartfelt and uplifting song, expressing a desire for love and harmony in a troubled world, beautifully conveyed through Harrison's vocals and musicality. It serves as the album's opening track and the first single to be made available. And although he was no longer a Beatles member, the track became his second number-one hit, knocking Paul McCartney off the top of the charts. Give Me Love, his solo song, is primarily an acoustic one. Harrison, though, shows off his slide abilities. However, that's not all. Harrison also added extra harmonies using records of his slide guitar.
18. Layla by Derek and the Dominos
The Eric Clapton song "Layla" is undoubtedly why everyone knows it. The band's 1970 recording of the song, which Clapton co-wrote with Jim Gordon, was really the second. As wonderful as Clapton's recording is, so is this rendition. Also, it has a significant writing history, such as that of Eric Clapton and George Harrison or Clapton and the other Derek and the Dominos players. Duane Allman is the master of slide guitar, and Derek and the Dominos are almost like a superband. You could try performing the song's characteristic slide guitar passages. A slide guitar enters during the third chorus.
19. Slow Ride by Foghat
Foghat's Slow Ride is another top-charting slide song from the 1970s. I became a fan of Foghat when I heard this song for the first time. "Slow Ride" by Foghat is a classic rock anthem with a bluesy edge, featuring a groovy rhythm, memorable guitar riffs, and powerful vocals that make it a timeless favorite. The song may also be familiar if you've seen the 1993 film Dazed and Confused. It was also utilized in numerous TV series up until this point. Several slide guitar playing styles in "Slow Ride" are well worth hearing. Be careful of the song's final, frantic section!
20. Rocky Mountain Way by Joe Walsh
"Rocky Mountain Way" by Joe Walsh is a rock masterpiece with a catchy riff, soulful vocals, and dynamic guitar solos, reflecting Walsh's musical brilliance and creativity. While he was performing with the Barnstorm in 1973, the song was released. On this track, Joe Walsh uses a recently developed talk box. Furthermore, it sounds absurd! Since most of the song's slide passages revolve within the minor pentatonic scale, now is a great time to practice placing your contact point directly over the fret rather than in the middle, where I would normally place the fingers if there had been no slides present.
21. Fade In-Out by Oasis
Following the release of Oasis' first two albums, Definitely Maybe and (What's the Story) Morning Glory?, the Gallagher brothers were accused of overindulging and producing bombastic Britpop that was progressively less enjoyable. Be Here Now is best known for its iconic singles "Stand by Me" and "All Around the World," but for me, the album's soaring, guitar-heavy ballad "Fade In-Out" takes the cake. In the late 1990s, the Gallagher brothers grew close to British model Kate Moss and her lover Johnny Depp. "Fade In-Out" by Oasis is a powerful rock track, characterized by its energetic instrumentation and Liam Gallagher's distinctive vocals.
22. Come On In My Kitchen by Robert Johnson
"Come On In My Kitchen" by Robert Johnson is a classic Delta blues song, showcasing his haunting vocals and intricate guitar playing, cementing his influence on future generations of musicians. The slide guitar was kind of invented by Robert Johnson, or at least he popularized it by siding with the devil and creating the spookiest slide guitar tunes. This beautiful Robert Johnson song has you feeling the slide playing in your stomach. Here, a slide is used throughout the entire song. The beat remains constant throughout the entire song. In addition, the song's core melody is instantly recognizable. The slide guitar and vocals complement one another.
23. Broke Down Engine by Johnny Winter
"Broke Down Engine" by Johnny Winter is a blues gem, featuring his electrifying guitar work, soulful vocals, and passionate delivery, capturing the essence of the genre and Winter's musical prowess. In 1968, Johnny Winter released The Progressive Blues Experiment, which featured the song for the first time. The tune is an E minor blues shuffle. The song's lyrics describe a man who lost his lady and gaming funds. A slide is a fantastic tool for giving your performance a bluesy tone. Try a bottleneck or pen if you don't have a slide. Overdrive, distortion, and wah-wah are some prominent effects of blues guitar.
24. Ballad of Curtis Loew by Lynyrd Skynyrd
"Ballad of Curtis Loew" by Lynyrd Skynyrd is a heartfelt southern rock ballad, narrating a touching story with soulful vocals and captivating instrumentation. This song is an excellent illustration of Lynyrd Skynyrd's incredible slide guitar skills. The track can be found on the band's renowned album Second Helping. One of the band's all-time best songs is "Ballad Of Curtis Loew." This wonderful tune has actually been performed numerous times by the band Phish. They enjoy incorporating slide guitars into their music. So if you enjoy the wonder of slide guitar, listen to this tune. The tabs provided here are for playing the melodies and solos with a slide.
25. Sahib Teri Bahi by Derek Trucks
A huge band, The Derek Trucks Band. They produce excellent music, and Derek enjoys adding his signature slide touch to nearly every song they perform. In 2006, "Sahib Teri Bandi" was published. "Sahib Teri Bahi" by Derek Trucks is a mesmerizing instrumental track showcasing his impeccable slide guitar skills and Eastern influences. As a guitarist, you ought to take this band seriously. E B E G Sharp B and E will be used here for the open E tuning. Many lines can appear rather challenging to perform, but since they are all single-note melodies, you must practice them slowly until you can play them at tempo.
26. Father to a Sister of Thought by Pavement
The most unappreciated indie band from California in the 1990s, Pavement, preferred to maintain a low profile and cultivate a cult fan base while signing only to independent labels. The leader of the band, Stephen Malkmus, was mostly in charge of the band's creative output. He brought many inspirations to the forefront and added his insightful lyrics to complete that distinct Pavement sound. Wowee Zowee, the band's best album, other than Slanted and Enchanted, was released in the latter stages of their initial run in the 1990s. I'll always appreciate the slide guitar's inclusion in "Father to a Sister of Thought," a staple of the Pavement discography.
27. Crankin' It Up by Justin Johnson
One of today's newer blues musicians is Justin Johnson. He might not have a great reputation in the guitar community. But it was his amazing slide-playing and songwriting style that propelled him to popularity. His instrumental tune Crankin' It Up, will be included on this list. "Crankin' It Up" by Justin Johnson is a high-octane blues-rock tune, showcasing his masterful guitar skills, infectious rhythms, and passionate performance, creating a thrilling musical experience that leaves audiences energized and craving more. He plays one of his shovel guitars in the original version. However, you can also play it on a conventional guitar.
28. The Joker by Steve Miller Band
"The Joker" by Steve Miller Band is a feel-good classic with catchy lyrics, groovy rhythms, and memorable slide guitar, embodying the band's signature blend of rock, blues, and psychedelic influences. This song by the Steve Miller Band is arguably their most well-known and popular tune. It was published in 1973 and is still quite popular. The song doesn't have a lot of technical complexity, but there are two slide solos that each have excellent phrasing and assured technique. As a result, you can approach this more as an opportunity to concentrate on creating a wonderful tone rather than as an opportunity to acquire a skill.
29. Draw the Line by Aerosmith
The blues heavily influence Aerosmith's music. And you'll note that their tunes occasionally include tiny slide guitar riffs. One of them, "Draw The Line," was published in 1977. "Draw the Line" by Aerosmith is a hard-hitting rock anthem, showcasing Steven Tyler's powerful vocals, Joe Perry's electrifying guitar work, and the band's signature energy and attitude. This song is in normal tuning, and we'll be playing rock guitar licks. However, our phrasing significantly alters when we add the slide because we'll primarily be sliding up the fretboard rather than doing bends. This provides the hard rock guitar with a twist and taste that is otherwise impossible.
30. Meet Me In The Morning by Bob Dylan
A barren period before Bob Dylan's most significant and popular run through the middle of the 1960s, 1974's Planet Waves broke this. One of Dylan's most enduring albums, Blood on the Tracks, was released a year later. After a lengthy absence, the greatest songwriter of the century had finally given us a flawless record. The effortlessly cool "Meet Me in the Morning" opens side two of this delectable album, a traditional blues structure complemented by silky slide guitar riffs. While 'If Not for You,' which George Harrison more famously covered (see above), deserves notice, this song nearly tops Dylan's discography in terms of slipping.
31. Just Got Paid by ZZ Top
"Just Got Paid" by ZZ Top is a foot-stomping rock classic featuring their signature bluesy sound, irresistible groove, and gritty vocals. The song is a fantastic illustration of slide guitar parts in hard-rock blues. It became available in 1972. As a hard-rock blues tune, this song is too quick and forceful for both that time period and the present. Even though "Just Got Paid" is virtually a strong metal song, it features slide guitar portions that are moderately simple and simple to play. These are the relevant tabs. Don't overlook this unique music. Slide guitar is played on Guitar II of the tab.
32. I Can't Be Satisfied by Muddy Waters
"I Can't Be Satisfied" by Muddy Waters is a raw and soulful blues song expressing a yearning for contentment and fulfillment. Rock music, especially, has benefited greatly from the blues. When the term "genre" is used, many recall the genre's early days through Muddy Waters. Known as "The Father Of Modern Chicago Blues," his avant-garde electric technique helped establish the Chicago Blues movement in the middle of the 20th century. The greatest vintage blues slide guitar examples still include Muddy Waters' "I Can't Be Satisfied." The Rolling Stones No. 2, released in 1965, featured a cover of the song by Brian Jones and his bandmates.
33. Traveling Riverside Blues by Led Zeppelin
"Traveling Riverside Blues" is another gorgeous slide guitar tune by Led Zeppelin. 1982 saw the song's release. Hearing from a musician like Jimmy Page is amazing! "Travelling Riverside Blues" is a pure road blues song with flawlessly executed slide guitars, as the song's title suggests. By the way, it was written in 1937 by Robert Johnson. Johnson was a fan of Led Zeppelin, who elevated the song with their rendition. Without a doubt, Led Zeppelin had to pay respect to the famous blues musician Robert Johnson in this way. A slide is used on the guitars, with the exception of the solo part.
34. Cocaine by J.J. Kale
You're definitely familiar with "Cocaine" thanks to Eric Clapton. However, it was initially published in 1977 and was written by J.J. Cale. Although I like Clapton's rendition, you should listen to this. "Cocaine" by J.J. Cale is a laid-back yet captivating song with its smooth vocals, groovy rhythm, and bluesy vibe, becoming a timeless classic in the rock music landscape. The song by J.J. Cale must be on this list. because, in my opinion, this song's slide guitar portions are special. It's simple to learn how to play. Slides are used to play the solo part. Fun with it, please!
35. Want Ad Blues/Wanted Blues by Rory Gallagher
Let's acknowledge the late, great Rory Gallagher, pictured here performing John Lee Hooker's Wanted Blues in my official slide guitar song collection. It seems unlikely that this Irish Stratocaster master was also a highly skilled traditional blues slide musician. You should check out Rory Gallagher's recordings to learn how to play "Wanted Blues" properly. "Want Ad Blues" or "Wanted Blues" by Rory Gallagher is a gritty blues-rock track with scorching guitar solos, showcasing his virtuosity and passion. Keep an eye out for his vibrato, timing, and phrasing. Furthermore, use a capo on the second fret while playing it in standard tuning.
36. Dark Was The Night, Cold Was The Ground by Blind Willie Johnson
"Dark Was the Night, Cold Was the Ground" is a haunting and emotive instrumental by Blind Willie Johnson. The gospel blues and slide guitar on "Dark Was The Night, Cold Was The Ground" is one of the genre's earliest recordings. The song, which was first released in 1927, is still legendary! The song was one of Johnson's first singles, which he cut in the late 1920s for Columbia Records. You should definitely listen to the slide guitar part in "Dark Was The Night, Cold Was The Ground," which is simple yet incredibly emotive and meaningful. However, re-creating an exact version of this song is difficult.
37. Twice As Hard by The Black Crowes
"Twice as Hard" by The Black Crowes is a powerful rock song with soulful vocals, driving guitar riffs, and a captivating energy that leaves a lasting impression. If you're a classic rock fan, you should definitely listen to the band 'The Black Crowes.' This hit band from the 90s is among my favorites, and their debut song 'Twice As Hard' is something I treasure often. The inclusion of musicality and enthusiasm in the song makes it very appealing to me. The slide guitar parts for "Twice As Hard" are a perfect demonstration of simple slide guitar parts. I also use the slide to play the verse segments.
38. You Shook Me by Led Zeppelin
One of Led Zeppelin's best examples of playing the slide is "You Shook Me," published in 1969. "You Shook Me" by Led Zeppelin is a mesmerizing blues-rock track, blending Robert Plant's soulful vocals, Jimmy Page's wailing guitar, and John Paul Jones' haunting organ, showcasing the band's musical brilliance and innovation. Playing and listening to this tune is really seductive. Pay close attention to the guitar playing of Jimmy Page while paying close attention to the tab. Slides are used for every guitar part in this song. I usually play the slide guitar part with a finger slide or bottleneck slide.
39. Ground On Down by Ben Harper
Ben Harper has been playing slide guitar for a long time, so you should check it out. He often uses lap steel or, on occasion, only a slide ring to play brilliantly. One of his well-liked lap steel songs, "Ground on Down," is a success. "Ground On Down" by Ben Harper is a soulful and introspective song featuring his emotive vocals and skillful guitar work, inviting listeners to reflect on life's journey and challenges. A slide is used throughout the entirety of the song. Learn the chords and the strumming rhythm first. Once you've mastered those, you can move on to the fingerpicking sections.
40. Sister Do You Know My Name by The White Stripes
"Sister, Do You Know My Name?" by The White Stripes is a haunting and poetic track, capturing Jack White's emotive vocals and raw guitar prowess, delving into themes of longing and connection while leaving a profound impact on listeners with its intimate and vulnerable atmosphere. Here, Jack White uses a slide to play a really basic riff. When performing this song, use a slide for riff 1. Jack White wrote the song, which is about the ability of music to bring people together. The song title alludes to the idea that music may foster understanding amongst people of various cultures.
41. I Ain't Superstitious by Jeff Beck
One of the most sincere guitarists ever is Jeff Beck. "I Ain't Superstitious" by Jeff Beck is a powerful blues-rock rendition featuring his masterful guitar skills and emotive interpretation, paying homage to the classic Howlin' Wolf original with a dynamic and energetic performance. Beautiful slide guitar parts from "I Ain't Superstitious" are available for you to experiment with. The guitar solo in the song is one of Jeff Beck's most well-known solos. This long and intricate solo has improvisation and bluesy licks throughout. Slide through the tabs for the second half. To give the music more emotion, I prefer using a wah-wah pedal.
42. Feelin' Bad Blues by Ry Cooder
"Feelin' Bad Blues" by Ry Cooder is a soulful blues track showcasing his impeccable slide guitar work and emotive playing, delivering a heartfelt and captivating musical experience. One of the slowest and most energetic blues songs ever is "Feelin' Bad Blues." Here, Ry Cooder plays the slide excellently. The song is a classic blues ballad, but Cooder's rendition combines blues, country, and Tex-Mex in a distinctive way. A slide is used to play the entire song. I'll suggest using a slide to achieve the distinctive blues sound. Slowly speed up the song as you become more familiar with the chords.
43. Old Friend by The Allman Brothers
The Gregg Allman song "Old Friend" laments the passing of a buddy. The title alludes to the idea that even if the friend is no longer among us, we will always remember them. "Old Friend" by The Allman Brothers is a nostalgic and heartfelt track, capturing the band's signature blend of rock and blues, evoking warm emotions and fond memories. The slide guitar performance on "Old Friend" epitomizes the traditional American slide guitar style. A slide is used to play the entire song. Do not skip this. Furthermore, I prefer using a capo on the second fret when playing in standard tuning, and you should do the same.
44. Running On Faith by Eric Clapton
One of Clapton's stunning tunes, "Running On Faith," is one of his slide-played favorites. However, Lynyrd Skynyrd is performing what sounds like a classic Clapton tune. "Running on Faith" by Eric Clapton is a soulful ballad showcasing his emotional vocals and heartfelt guitar playing. This song is recommended listening if you enjoy slide guitar. When "Running On Faith" was published in 1989, it also had an incredible unplugged version worth listening to. In the face of difficulty, having faith is crucial, according to the hymn. The lyrics discuss how having faith can give us the power we need to face difficulties and recover from weakness.
45. Cut My Wings by Seasick Steve
"Cut My Wings" by Seasick Steve is a gritty and bluesy track, with his signature slide guitar and weathered vocals, reflecting on life's struggles and finding resilience amidst adversity. Seasick Steve is noteworthy even though he plays music in a very unusual way. The story of Seasick Steve is untrue. Launched in 2006, "Cut My Wings" quickly gained popularity. He uses a slide throughout the entire song. The tuning information may be found on the tabs link. He uses a distinctive tuning. Seasick Steve plays slide guitar in a delightfully insane manner, so please take some time to watch the video.
46. Walking Blues by Eric Clapton
1992 saw the publication of "Walking Blues" by Eric Clapton. Robert Johnson initially wrote the song. "Walking Blues" by Eric Clapton is a masterful rendition of the classic blues song, featuring his soulful vocals and electrifying guitar work, capturing the essence of the blues with passion and precision. One of Clapton's most well-known performances is the guitar solo from the song. The mellow, bluesy solo nicely expresses the song's intensity of feeling. One of the best instances of slide guitar, and Clapton raises the bar with it. The blues progression is traditional. The song is performed entirely on a slide.
47. Crazy Mama by J.J. Cale
"Crazy Mama" by J.J. Cale is a smooth blues-rock track with infectious rhythms and Cale's distinctive vocals. He is one of the true unheralded rock musicians of the 20th century. He "was always a background person," which greatly diminished the appreciation of his innovative dexterity and songwriting skills. "I got bored of gymnastic guitar playing, and when I heard J.J. Cale records, I was struck by the subtlety, by what wasn't being played," the late legend's biographer stated in his autobiography. Cale often played slide guitar in his classic tunes. 'Crazy Mama' is a great blues song that reaches nirvana thanks to Cale's deft use of slide.
48. Loser by Beck
"Loser" by Beck is a groundbreaking alt-rock anthem, fusing hip-hop, folk, and lo-fi elements, with its witty and surreal lyrics, captivating vocals, and innovative production. Released in 1993, it became a defining track of the '90s alternative music scene, propelling Beck to stardom and earning critical acclaim for its originality and genre-blending approach. Beck's "Loser" is always the first slide song that comes to mind when discussing slide music from the 1950s to the 1970s. A basic jab on the low strings in a drop D tuning creates the song's signature riff, which, my goodness, is effective! The 1993 single is still Beck's most cherished and recognizable success.
49. If Not For You by George Harrison
"If Not for You" by George Harrison is a tender love song originally written by Bob Dylan. Harrison's version, released in 1970, features his heartfelt vocals and delicate acoustic arrangement, becoming a touching tribute to love's transformative power and a highlight of his solo career. When George Harrison became free to pursue his solo career in the early 1970s, he was bursting with ideas as the lead guitarist of The Beatles and a disgruntled, ignored songwriter. Harrison's passion for strings led to his tutelage by sitar master Ravi Shankar and his spiraling ukulele-collecting hobby. Obviously, his string addiction led to entertaining, guitar-heavy content for us to enjoy.
50. Native Stepson by Sonny Landreth
"Native Stepson" is a captivating instrumental showcasing his exceptional slide guitar skills, blending blues, zydeco, and rock elements, creating a dynamic and unique musical experience. Sonny Landreth is one of the finest slide guitar masters of today, despite not being as well-known as some of the other names on this list. Native Stepson, a fantastic song highlighting Sonny's remarkable talent, is taken from his 1995 South of I-10 album. However, what makes his slide playing so captivating is how clear it is, even with distortion. Also, he plays some fairly unusual licks that you wouldn't anticipate hearing in a song that emphasizes the use of slides.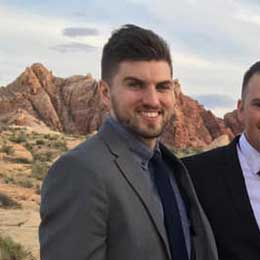 My name is Chris and I've had a passion for music and guitars for as long as I can remember. I started this website with some of my friends who are musicians, music teachers, gear heads, and music enthusiasts so we could provide high-quality guitar and music-related content.
I've been playing guitar since I was 13 years old and am an avid collector. Amps, pedals, guitars, bass, drums, microphones, studio, and recording gear, I love it all.
I was born and raised in Western Pennsylvania. My background is in Electrical Engineering, earning a Bachelor's degree from Youngstown State University. With my engineering experience, I've developed as a designer of guitar amplifiers and effects. A true passion of mine, I've designed, built, and repaired a wide range of guitar amps and electronics. Here at the Guitar Lobby, our aim is to share our passion for Music and gear with the rest of the music community.