Few artists ever achieve the level of stardom as KISS' original Spaceman, Ace Frehley. His incendiary work on the early KISS albums, success with Frehley's Comet through the 80s, his triumphant return to the band 90s, and his barn-burning solo efforts throughout this century have been nothing short of remarkable. It's no surprise that renowned axemen like John 5, Dimebag Darrell, Marty Friedman, and even shredder supreme Paul Gilbert cite him as a primary influence.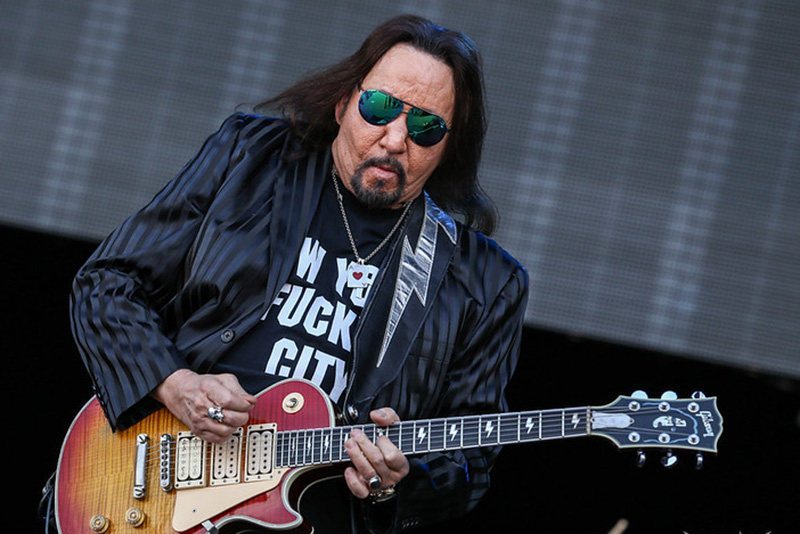 Of course, it wasn't all about Ace's playing. When he donned his iconic Spaceman makeup, towering above the audience in platform boots, smoke pouring out of his Les Paul Custom, Ace Frehley became more than a guitar player. He became an icon to thousands of fans who wanted nothing more than to shred their way to stardom.
What Guitars Does Ace Frehley Play?
Ace Frehley plays Gibson Les Paul Custom guitars. Throughout his entire career, he has been a champion of Gibson Les Paul Customs, with the triple pickup configuration becoming his signature model. But true to the always eccentric antics, Ace has also had plenty of custom builds.
See the full list of Ace Frehley guitars and gear below.
1974 Gibson Les Paul Custom


| | |
| --- | --- |
| Finish | Cherry Burst/ Ebony |
| Years Used | 1978 to Unspecified |
These cherry-burst and ebony Les Pauls featured cream-colored humbuckers making up for perhaps the most associated look with Frehley's image, in addition to inspiring the basis for the looks and feel of several of his later signature models. Eventually, the design and setup of these peculiar models would eventually evolve into the "Budokan" Les Paul in 2011.
On another hand, Frehley famously sported his Ebony Les Paul with the exact same fix and set up as his cheery burst one. This one was groundbreaking considering its top pickup slot would be designed to shoot smoke from it. A feature that would be more practically installed in his future models, but this was a firestarter.
Ace purchased these guitars once KISS had started pulling in serious cash, around the fall of 1976. The Gibson Les Paul Custom is far from a cheap guitar! It was heavily used during the live album Alive II, recorded at the Budokan in Japan in 1977, the Unmasked tour, and fairly enough, much of Frehley's career. With a cream pickguard, cream pickups, and triple binding, these pieces are absolutely gorgeous to look at on either of their versions.
Frehley also added nickel-plated Grover tuners with square pearloid buttons to assist in tuning stability and, of course, enhance the guitar's aesthetics. The bridge pickup is a DiMarzio Super Distortion, while the neck and middle pickups are DiMarzio PAFs. Ace used neither the neck nor the middle pickups, so these were lowered away from the strings and disconnected from the guitar. This turned Ace's pickup selector into a "kill switch", enabling him to achieve the stuttering staccato effect often heard in his guitar solos.
It's worth noting that these set of 74 Les Pauls have been some of the most faithful guitars in Frehley's catalog. Seeing action before his departure from KISS, they also went through the entire Frehley Comet tenure and into the super band's 1996 reunion before being rotated and retired by Ace's signature custom-made LP models.
As a 1974 model Custom, these guitars feature a mahogany neck, rather than maple, and a "pancake" mahogany body top. The exact moment when Frehley retired the cherry burst Les Paul remains a mystery, however, nowadays it belongs to guitar collector Matt Swanson, who reportedly acquired it through an auction. As for the Ebony one, it is speculated that its become part of his private collection.
Gibson Custom Ace Frehley Signature Blueburst Les Paul

| | |
| --- | --- |
| Finish | Blueburst |
| Years Used | 2009 to Present |
This particular one is quite a sight as one doesn't often see a Les Paul in blue! Ace Frehley emerged from the ashes of the KISS Farewell tour with a new solo album, Anomaly, and this rather dashing blue Les Paul from the Gibson Custom Shop. Ace Frehley uses his blue Les Paul extensively live and in music videos, such as the video for his cover of Free's "Fire and Water", featuring none other than Paul Stanley!
Little is known about the specifications of this guitar, but Ace has been pictured with three separate blue Les Pauls over the years. The one from his "Fire and Water" video appears to be Ace's favorite, in a blue sparkle finish. It has the same block fret inlays as his "Budokan" Les Paul Custom, a bound headstock and body, and three pickups. The neck pickup is white, but the middle and bridge pickups are chrome.
His other two blue models are even more outlandish, with lightning bolt inlays and Ace's face in the headstock instead of Gibson's usual split diamond inlay. One seems to be identical to his 1996 Custom Shop Les Paul in all but the blue finish. The other has the artwork from his Anomaly solo album in the headstock and the inverted lightning bolt from Ace's Spaceman solo album in the fret inlays. These two guitars are used less frequently. As with all of Ace's other Les Pauls, they use DiMarzio double cream pickups. This is easily one of the most iconic Ace Frehley guitars of all time.
Gibson Ace Frehley "Budokan" Les Paul Custom

| | |
| --- | --- |
| Finish | Cherry Burst |
| Years Used | 2014 to Present |
When Gibson decided to partner up, manufacture, and sell yet another Ace Frehley signature guitar, they decided to make an exact replica of the Les Paul Custom Frehley favored so massively in the 1970s. The "Budokan" Les Paul Custom is the result of painstaking examination and replication, a guitar so close to the original that Frehley himself can't tell the difference.
This guitar replicates the same wear and tear as Ace's original (most notably a huge chip in the finish near the bridge pickup) and Ace's own modifications to the guitar.
It has a four-piece mahogany-and-maple "sandwich" body construction with zero weight relief. The fingerboard is ebony, with mother-of-pearl block inlays. The headstock's binding, Gibson logo, and split-diamond inlay are also mother-of-pearl. The stop bar and ABR-1 bridge are chrome-plated, while the Grover machine heads have pearloid banjo tuners.
The three-way toggle switch is even disconnected from all but the bridge pickup, as per Ace's own guitars.
1973 Gibson Les Paul Deluxe

| | |
| --- | --- |
| Finish | Sunburst (Repainted to solid black) |
| Years Used | 1973 to Unspecified |
Ace Frehley's original Les Paul sure has been through a lot. He bought the guitar in 1973 when KISS first signed their record deal. The band was nowhere near as wealthy as they would go on to become. Ace needed a professional guitar to suit KISS' limited budget, so Ace bought himself a no-frills rock and roll machine.
By 1973, Gibson made some changes to their guitars. The generation of British guitar heroes that had preceded Ace Frehley made great use of late 50s Les Paul Standards, with prime examples appearing in the hands of Eric Clapton, Jimmy Page, and Jeff Beck. Gibson replaced their standard full-sized humbuckers with the mini humbuckers acquired along with the Epiphone guitar company.
These mini-humbuckers had a thinner, brighter sound, closer to the P90 or a single coil than the fat, thick tone typically associated with a Les Paul. For that reason, Ace Frehley's Les Paul Deluxe was modified to feature full-sized humbuckers rather than the minis. These were likely to be Gibson stock humbuckers, but only a year later KISS started using DiMarzio Super Distortion humbuckers, which Ace placed in his Les Paul Deluxe for the recording of their second studio album, Hotter than Hell.
Les Paul players often lament the lack of upper-fret accessibility available on the single-cutaway guitar. To address this, and enhance the ergonomics of his guitar solos, Ace further modified his guitar around this time by routing a comfortable heel where the neck meets the body, which he explained in a 2015 interview.
In 1975, Ace replaced the stock Kluson tuners with Gibson Deluxe metal button tuners, which in 1976 were swapped out for Grovers with pearloid buttons. These buttons seemed to be a favorite of Ace's, and they have since appeared on several of his signature models.
When Ace bought his Les Paul Custom (details below), his modified Deluxe was relegated to a backup guitar. His acquisition of a more expensive instrument likely led Ace Frehley, a notorious tinkerer, to modify his former number one.
Ace liked the looks and ergonomics of double-cut guitars. He was a dedicated Les Paul player, and neither of Gibson's double-cutaway models, the Gibson SG, and Les Paul Special could seriously compete with Ace's own arsenal. Rather than buy an entirely new instrument, he decided to alter his first Les Paul and carved a new cutaway into its body.
Ace took this Les Paul to Strings & Things in Memphis to be modified. Strings & Things deemed the instrument to be a fire hazard. Ace had installed rocket launchers on this guitar that had accidentally torched the instrument, which may have contributed to his decision to modify it.
The resulting guitar is one of a kind, a double-cutaway Les Paul Deluxe. It was repainted black and can be seen in the famous "Ace in the Hole" photo taken at Frehley's home studio around 1978.
The guitar, affectionately nicknamed "Blackie", left Ace's possession after this conversion, likely when he sold his vintage guitar collection. It changed hands several times over the years and currently resides with Ace's friend Dr. Konstantine Zakzanis.
Gibson Custom Shop Ace Frehley Les Paul

| | |
| --- | --- |
| Finish | Flamed Cherry Burst |
| Years Used | 1996 to 2001 |
When KISS reunited with their original lineup, they meant business. The original fearsome foursome donned their old costumes and makeup and embarked on a record-breaking world tour celebrating their 1970s heyday. To mark his return to KISS, Ace owned the stage wielding a unique guitar reminiscent of his 1974 Les Paul Custom.
Finished in a flame-top cherry burst, with lightning bolt fret inlays and Ace's own face on the headstock, this guitar was just as over-the-top as KISS' lauded reunion itself. During shows on the Psycho Circus, Reunion, and Farewell tours, Ace Frehley's guitars variously shot rockets from the headstock and belched smoke from their bodies. Two different Les Pauls were customized to perform these pyrotechnics, but they were virtually identical (apart from the addition of fireworks and a smoke machine) to the original Custom Shop model.
This guitar features 3 high-output Dimarzio pickups, a fat '59 style mahogany neck, mahogany body (with maple cap), Ace Frehley signature at the 12th fret, a tune-o-matic bridge, and nickel hardware. This stunning guitar provided all the roar and crunch necessary to bring KISS' back catalog to the 90s, and a consumer model was released in 1997 with virtually identical appointments to Ace's original.
Steve Carr Custom Built "UFO" and "Flasher" Les Pauls

| | |
| --- | --- |
| Finish | Custom Bling and UFO Lights |
| Years Used | 1979 to 1981/ 1996 to Present |
Not one to be outdone by Gene Simmons' fire breathing, ax-wielding antics, Ace Frehley looked to spice up his instruments during KISS' world domination of the late 1970s. Simmons was by this point playing a guitar-shaped bass, custom-built by Steve Carr. Frehley recruited Carr to build him a couple of custom Les Pauls for the performances of his 1978 solo hit "New York Groove", with lights built into the body of the six-string.
The original "flasher" Les Pauls were a couple of profoundly modified late 50s, Les Paul Juniors. Carr swapped out the single pickup slots to fit DiMarzio Super Distortion humbuckers, refinished the guitar in silver, and inlaid Ace's character in pearl into the headstock and fretboard. Of course, the most highlighted one of the two is the famed UFO LP, for the lights installed into the body of the guitar, which flash continuously throughout its performance.
The Flasher Glitter Les Paul didn't turn out to be as useful as Frehley imagined, it proved to be troublesome and it had deteriorated far too much to continuously perform live the way KISS did back in the day, so it was eventually discarded.
On another hand, Ace famously deployed the UFO to play "New York Groove" under the Brooklyn Bridge for the MTV 1996 Awards. Years later, he would use this same guitar live at the Jimmy Fallon Show yet again for "New York Groove", and there's a good reason for the relationship between this flamboyant six-string and the song. The guitar's power supply only had enough juice for about five minutes so Ace only had time to play a tune song per show.
Ibanez Destroyer Model 2459

| | |
| --- | --- |
| Finish | Natural Gloss |
| Years Used | 1976 to 1977 |
Ace Frehley may be best known for his love of Les Pauls, but that didn't mean he wasn't happy to call on another instrument when it was necessary. Ibanez was a Japanese brand producing now-infamous "lawsuit" guitars in the 70s. These were so named because their Gibson copies were as good as, or superior, to Gibson's own home-grown stock! KISS used Gibsons exclusively at this point, so it's no surprise to see them using Gibson copies as well. Ibanez's Destroyer model was their answer to the lightning-bolt-shaped Gibson Explorer.
KISS frontman Paul Stanley gave this guitar to Ace in 1976, and Ace used it extensively in their live shows for the next year or so, appearing frequently on the European tour in support of Destroyer.
The Ibanez Destroyer featured a solid ash body and, like KISS' other guitars from this era, aftermarket DiMarzio pickups. Ace also replaced the stock ABR-1 style bridge with a "harmonica" style bridge, which was likely either an Ibanez or Schaller.
Washburn Ace Frehley AF-40V

| | |
| --- | --- |
| Finish | Silver and Black |
| Years Used | 1987 to 1988 |
Ace Frehley might have a soft spot for Gibson guitars, but that didn't stop him flirting with other brands.
In the 80s, when Ace was fronting his solo band Frehley's Comet, and Japanese manufacturer Washburn came up with this out-of-this-world design perfect for the Spaceman. It's unclear when Ace started playing this guitar, with the man stating that it was "after I left KISS". His endorsement deal with Washburn lasted from 1987 to 1988, and Ace played this guitar in the video for Frehley's Comet's "Into the Night":
The AF-40 may have looked cool, but Ace himself massively disliked the sound. Ace stated that "Unfortunately, it didn't sound very good. I started off in KISS playing Les Pauls which, to me, is the best-sounding guitar in the world."Ace Frehley abandoned the Washburn after only a few short years and went straight back to his preferred Les Pauls.
Fender Telecaster Deluxe

| | |
| --- | --- |
| Finish | Butterscotch |
| Years Used | 1973 |
Ace revealed in a 2018 interview that he used Fender guitars extensively in the studio, dating all the way back to the recording of KISS' first album. The guitar pictured below likely belonged not to Frehley but to Bell Sound City Studios in New York City.
From the guitar's large headstock and logo you can tell that it's a 1970s Fender, likely a 1972 model. The pictured guitar has what appears to be a stock humbucker in the neck position, a maple neck, and an ash body. Ace blends Gibson and Fender guitars in the studio to this day:
"One of the tricks I used was I'll record a rhythm track with a Les Paul and I'll double it with a Strat or a Telly. I'll tuck it down. You have to realize a Strat has a different harmonic range than the Les Paul but when you blend the two together, you get a thicker sound."
Interestingly, he appears to be using a humbucker-equipped Telecaster in the above photo rather than one with single-coil pickups. Humbuckers, which are more commonly found in Gibson guitars, produce a thicker, fatter sound, while single-coil pickups provide the high-end twang that Fenders are famous for.
Veleno Original

| | |
| --- | --- |
| Finish | Solid Aluminum Body |
| Years Used | 1974 to 1977 |
Yet another departure from Ace's beloved Les Pauls, the Veleno Original might just be the strangest guitar in the Spaceman's arsenal.
Long before metal guitar meant a genre, Ace Frehley wielded a literal metal guitar. The Veleno Original was made entirely of aluminium, making it incredibly heavy and a nightmare for touring musicians. The metal would expand and contract in different climates, making tuning stability an impossibility.
Because of this issue, Frehley rarely played his Veleno live. He occasionally played this guitar during the Alive! Era (around 1974-1975), but as with all his other guitar dalliances, he returned swiftly to the Les Paul.
Ace's original choice of pickups for this guitar appears to have been Gibson humbuckers, but these were quickly substituted for his favored DiMarzios. Ace's Veleno has five control knobs and two mini switches on the upper horn. The guitar eventually made its way to Bill Baker's guitar collection.
Ovation Breadwinner

| | |
| --- | --- |
| Finish | White |
| Years Used | 1973 to 1974 |
One guitar that Ace used heavily before his switch to the Les Paul was this strange-shaped Ovation Breadwinner. The Breadwinner was originally released in 1972 and was supposedly designed to resemble an axe. Ace Frehley likely purchased this guitar used before KISS signed a record deal, so it was almost definitely a 1972 model rather than an off-the-rack new model in 1973.
Ace Frehley placed a hand-wound DiMarzio pickup in this guitar, which may have been his first-ever use of the pickup he favored for most of his career. Unlike virtually all other guitars from this era, the Ovation Breadwinner used an active pickup circuit. This FET preamp was powered by two 9-volt batteries hidden behind a metal plate on the back of the guitar. Ace did quite a few modifications on this guitar's switch configuration, as it was truly bizarre. The three-way pickup selector could select the neck pickup, bridge pickup, or both pickups out of phase. Since Ace Frehley almost exclusively plays using his bridge pickup, he modified or removed this for KISS performances.
This was Ace's main guitar for the recording of KISS' eponymous debut album. Sometime after this recording, Ace bought the Les Paul Deluxe he used for the rest of the 70s, and the Breadwinner was either relegated to a backup guitar or retired permanently.
Steve Carr mini-Explorer
| | |
| --- | --- |
| Finish | Cherry Burst |
| Years Used | 1980 to 1981 |
Yet another bizarre guitar built for the Spaceman. Coming in hot off the back of Ace's "Flasher" Les Paul, Steve Carr also designed a miniature Explorer for Ace Frehley based on his go-to Les Paul set-up and finish. Ace played this guitar mainly on the "Unmasked" tour, and it can be seen prominently in the concert footage of the band playing in Sydney in 1980.
This guitar was used both for the recording and live performances of "Talk To Me", and was tuned to open G, as per Ace's hero Keith Richards. Interestingly, Ace didn't use the Keef tuning for his version of the Rolling Stones' "2000 Man".
The mini-explorer had a mahogany body, with DiMarzio pickups and cream appointments. This guitar survived into the much-maligned Music From "The Elder" era, and the end of his tenure with KISS.
Timetable Showing Each Guitar Ace Frehley Has Played at Each Point of His Career
| Make | Model | Color/Finish | Years |
| --- | --- | --- | --- |
| Gibson | Les Paul Deluxe | Sunburst (Repainted to solid black) | 1973 to Unspecified |
| Fender | Telecaster Deluxe | Butterscotch | 1973 |
| Ovation | Breadwinner | White | 1973 to 1974 |
| Velano | Original | Solid Aluminum Body | 1974 to 1977 |
| Ibanez | Destroyer Model 2459 | Natural Gloss | 1976 to 1977 |
| Gibson | 1974 Les Paul Custom | Cherry Burst/ Ebony | 1978 to Unspecified |
| Steve Carr | Custom Built "Flasher" Les Pauls | Custom Bling and UFO Lights | 1979 to 1981/ 1996 to 2001 |
| Steve Carr | mini-Explorer | Cherry Burst | 1980 to 1981 |
| Washburn | Ace Frehley AF-40V | Silver and Black | 1987 to 1988 |
| Gibson | Custom Shop Ace Frehley Les Paul | Flamed Cherry Burst | 1996 to 2001 |
| Gibson | Custom Ace Frehley Signature Blueburst Les Paul | Blueburst | 2009 to Present |
| Gibson | Ace Frehley "Budokan" Les Paul Custom | Cherry Burst | 2014 to Present |
Ace Frehley Amplifier Overview
Ace Frehley's meat-and-potatoes approach to rock and roll extends to his amp collection. His staggering array of Les Pauls would be no good without an ear-shattering amplifier to match, and his taste in amps reflects this.
Ace Frehley, like many of his contemporaries, used Marshall heads extensively throughout most of his career. The distinctive roar and crackle of vintage Marshalls are one of the sounds most associated with KISS' blitzkrieg live shows.
Ace Frehley largely eschews amplifiers with bells and whistles. As the Spaceman himself said,  "just plug a Les Paul into a Marshall amp and turn it up to 10!"
Marshall Super Lead
During the 1970s, Ace Frehley pushed his wall of speaker cabinets into the stratosphere with the Marshall Super Lead. These were more than likely the 1971 models widely used by touring hard rock bands of the era. These amps produced the thick, overdriven sound of classic 70s rock at a volume appropriate for the arenas the band would soon be playing. The 1971 Marshall Super Lead is known to be one of the most aggressive amplifiers in the niche market right now.
Laney AOR Pro Tube with AOR 4×12 Cabinet
When Frehley's Comet was touring the world back in the 80s, Frehley appeared in advertising for Laney Amps. He used the high-octane AOR Pro Tube, which produced the sizzling distorted sound perfect for 80s lead guitar.
In the advertisement above, Ace appears with his short-lived Washburn signature guitar for maximum 80s shred-metal appeal.
Ace preferred to use Laneys for his lead tone up until the KISS Reunion tour:" If you can tweak 'em right, you can get a real good, biting, lead guitar sound that really cuts through."
Marshall JCM900
These days, Ace's live rig is a combination of the 100-watt JCM 900 and the higher-output JCM 2000. Both are 100-watt amplifiers with volume to spare.
The JCM 900 was first released in the early 1990s and was particularly popular with hard rockers and metal players looking to add extra distortion to their basic tone. The JCM 900 has built-in reverb, unlike Marshall's vintage Super Lead, master volume, and two gain channels. This forms the core of Ace's thick, brash, distorted live sound. Modern JCM900 amps also have a power soaking feature built-in, allowing players to switch from 100 watts to 50 if need be. They also have an effects loop, although it's unlikely that the largely pedal-averse Ace Frehley uses it.
Marshall JCM 2000
Ace's JCM2000 comprises the other half of his live rig, an over-the-top distortion monster. The JCM2000 was introduced in the late 1990s, intended to produce every classic Marshall tone, from 1959 crunch, 80s shred all the way to ultra-modern high-gain distortion. The JCM2000 is powered by EL34 tubes, which have plenty of clean headroom and are capable of scorching distortion.
Bad Cat Reverb
For studio work, Ace prefers to use a broad variety of amps and guitars. This allows him to access a broad spectrum of frequencies. To record 2014's Space Invader, Ace Frehley deployed a small Bad Cat combo amplifier. This amp featured a single 12-inch Celestion speaker and a mere "30 or 40 watts" of power.
Ace Frehley Pedal and Effects Overview
Unlike many other guitarists, Ace Frehley isn't a huge fan of guitar pedals. He's historically been an advocate of simple plug-and-play methods. For KISS records, Ace largely recorded his guitars straight into the amp, with effects added to the track after his performance.
Much of KISS' work sounds extremely distorted, but in fact, Ace Frehley preferred a far cleaner sound than you'd otherwise expect. He rarely uses effects on stage, but they do make occasional appearances on Ace's records.
Ace Frehley avoids using pedals live as he prefers to move around on stage. When he does need to call on a particular effect, he uses rack-mounted effects units operated by his guitar tech, leaving Ace to concentrate on delivering his guitar lines.
Zoom G3
In 2014,
Ace told Premier Guitar
that "The only pedal I used was the Zoom G3". This multi-effects unit provides both amp simulation and 94 different pedal simulators. This includes distortion, compression, modulation, delay, and reverb!
Despite this broad array of features, Ace uses the Zoom G3 for a Big Muff-style distortion and an Echoplex-style tape delay. Ace Frehley used a genuine Echoplex delay once upon a time, but these old units were noisy and required physical tapes to function, which were prone to breakage. Ace appears to have a deep affection for the Big Muff distortion sound, with his usage dating all the way back to the early KISS days.
Electro Harmonix Big Muff Pi
Possibly the only pedal Ace was using in the early KISS days was this fuzzy distortion from Electro Harmonix.
He told Premier Guitar that, on all the early KISS recordings, his studio mainstay was the tobacco burst, Les Paul, with the DiMarzio pickup, which he pushed into overdrive with the EHX Big Muff Pi.
This pedal, in combination with his guitars, amps, and Ace's own unique phrasing, is responsible for Ace's searing lead tone on the early KISS albums. The Big Muff provided Ace with the saxophone-like lead tone on Rock and Roll Over, or the way his guitar slices through the mix on "She".
To avoid the squashed, compressed effect that fuzz boxes are known for, Ace Frehley would record his guitar tracks straight into an amp, and apply this effect to the track after recording. This makes all the squeaks, harmonics, and dynamics of Frehley's unique playing style stand out on the record.
Vox Clyde McCoy Wah Pedal
Considering Ace Frehley's love of Eric Clapton and Jimi Hendrix, it's only natural that he would seek to use a wah pedal eventually. For "Rocket Ride", one of the studio tracks from KISS' 1977 release Alive II, he used this Vox Wah rather than the more popular Dunlop Cry Baby.
The Clyde McCoy wah pedal has a noticeably wider sweep than the Cry Baby. The Cry Baby's tone is throatier than the Vox, which has a sweeter sound. The Vox's wider sweep makes it stand out more when one is soloing over a rhythm guitar, as Ace did in KISS. The Cry Baby was more popular with guitarists playing in power trios, like Eric Clapton's Cream or the Jimi Hendrix Experience.
The track "Genghis Khan" from Ace's 2009 solo album Anomaly culminates in a wah solo, for which he reprised his use of the Vox.
Rack Mounted Line6 Pod
Ace Frehley tends to avoid pedals and effects for live usage. However, every live show includes an extended solo section in which smoke billows from Ace's Les Paul, for which he deploys a few sonic enhancements. Ace's rack-mount Line6 is a backup for his wall of Marshalls, and to sneak in a few effects when needed.
Frehley told Vintage Guitar that for these solo sections, he uses a delay with "lots of repeats in it". The delay unit runs straight into his amps, producing the endless looping echo effect during the crescendo of Ace's solos.
Mutron Octave Divider
Around the time of KISS' reunion tour, Ace stated that he had been using Mutron's Octave Divider. This may have been for the doubled guitar solo in "She", or for his unaccompanied solo section along with the lashing of delay provided by Line 6.
These units were originally released in the 70s and provided a sub-octave signal that made it sound as if Ace was playing two guitar parts at once, an octave apart. The Mutron also applied fuzz to the low octave, which may have helped to replicate the Big Muff sound favored so heavily throughout his career.
It is unknown how long Ace Frehley used the Mutron for, as by the Reunion tour he started to prefer the Zoom effects unit detailed above.
Wrap Up
Ace came from a musical family, and upon receiving an electric guitar for Christmas 1964, he became obsessed with the instrument. A steady diet of British Rock and Roll like Led Zeppelin, the Who, and The Rolling Stones made Ace tempered by a love of the blues, as he's listed Albert Lee, BB King, and Buddy Guy as his main influences.
It was Jimi Hendrix, who melded this hard-driving British Rock and Roll sound with melody and blues that really elevated Ace to develop his signature style. The combination of flash and ability was integral to KISS' meteoric rise to the top, one that continues to inspire guitarists around the world to this day. However, Frehley was certainly a catalyst Rock N' Roll figure during the 70s, he condensed and embodied massive showmanship with eccentric antics and a top-shelf dominance of Blues Rock.
While many may find Frehley's area an easy classic to mimic nowadays, this man developed his very own style and excelled at it in an era of fierce contemporaries. Ace is one of the most emblematic figures of the 70s and Rock music alike.
It takes more than a smoking guitar and a few Hendrix licks to ascend to Ace Frehley's guitar heroics. At one point, Ace Frehley owned over 80 guitars!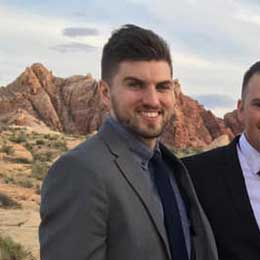 My name is Chris and I've had a passion for music and guitars for as long as I can remember. I started this website with some of my friends who are musicians, music teachers, gear heads, and music enthusiasts so we could provide high-quality guitar and music-related content.
I've been playing guitar since I was 13 years old and am an avid collector. Amps, pedals, guitars, bass, drums, microphones, studio, and recording gear, I love it all.
I was born and raised in Western Pennsylvania. My background is in Electrical Engineering, earning a Bachelor's degree from Youngstown State University. With my engineering experience, I've developed as a designer of guitar amplifiers and effects. A true passion of mine, I've designed, built, and repaired a wide range of guitar amps and electronics. Here at the Guitar Lobby, our aim is to share our passion for Music and gear with the rest of the music community.