As frontman of Nirvana, Kurt Cobain not only became the face and voice of a generation. He also shaped the course of the music industry, pivoting American counterculture and alternative rock as a massive driving force. His conscientious lyricism and distortion-packed, blasting riffs trademarked the band and the left of the American dial alike.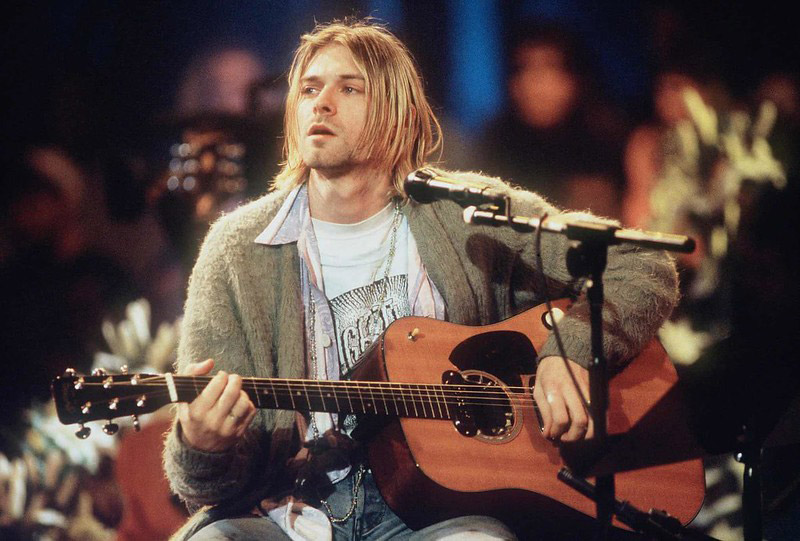 With mild pop melodies, enough to become a catchy riddle in the minds of thousands, Nirvana's Sub Pop era spawned their first underground hit Love Buzz, a song that for many music critics and historians was nothing but a mere hint of what was yet to come. But it wasn't until 1991's Nevermind that Kurt and Nirvana would become a world-changing act through the release of their first No. 1 hit, Smells Like Teen Spirit.
What Guitar Did Kurt Cobain Play?
Kurt Cobain was most known for playing Fender Mustang and Jaguar guitars as well as the Martin D-18 acoustic he played on the legendary Nirvana MTV unplugged performance. See full list below
Kurt Cobain Fender Jag-Stang

| | |
| --- | --- |
| Finish | Sonic Blue |
| Years Used | 1993 to 1994 |
In 1993 with Nirvana being hailed as the "biggest rock band in the world" Kurt landed a deal with Fender to make a special guitar just for him, he came up with the idea to produce a completely new model that would hybrid a Mustang and a Jaguar. The first drawings were later published from his journals and he shared them with the Fender custom shop engineers, but he also gave a glued picture of half a Jaguar and Mustang.
"What I did is I took a picture of a Mustang, a Polaroid picture of a Mustang, and a picture of a Jaguar and then cut them in half and glued them together and told them to build that. So that's what it is. It's the Jag-Stang."
This special model used simple Mustang electronics and single-coil pickups as well, just like the tailpiece and pickguard pieces were all taken directly from the aforementioned model, but used the horns and mild aesthetic values from the Jaguar cut down to a lower scale. As for the headstock, after some trouble finding the right fit, Larry Brooks from the custom shop shared that they ended up using a standard Fender shape for it. One that stuck after the first prototype and tryout session. This model sports an alder body and a 24-inch scale maple neck with a rosewood fretboard, on the neck position there was a Fender Texas Special and a white DiMarzio H-8 humbucker for the bridge.
The Jag-Stang was one of the last guitars Kurt used, usually rotated with other Mustang models, and very sparsely his 1965 Jaguar. But this signature prototype was used even two months before his death in 1994.
Fender Mustang Sky-Stang

| | |
| --- | --- |
| Finish | Sky Blue/ Red |
| Years Used | 1993 to 1994 |
Kurt Cobain acquired three Mustangs prior to the In Utero tour, all wired and set up in a very similar way with the only distinctive variation of their body colors. Nicknamed "the Sky-Stang Series" these came in blue, sky blue, and red. All played through the final shows and years of his life.
These guitars came in 1993 as a part of Fender's collaboration with Nirvana and Cobain himself, so as a courtesy they were all built and routed to fit Kurt's fixation on full-sized humbuckers on the bridge position – the way he used to do with all his homemade guitars. Besides their different colors, these Mustangs wore the stage with Seymour Duncan JBs, and single coils on the neck position, there was also the specific mod of a Gotoh Tune-o-Matic stock bridge.
Following extensive touring from 1993 to 1994, these three sisters saw the band play their MTV Live and Loud performance at Seattle in 1993, where Kurt famously wielded his Sky-Stang I for almost a full set as shown in the video above.
Then there was Nirvana's return to Europe for the following year, where the red Mustang performed in Nirvana's iconic suited performance on Nulle Parts Ailleurs Paris, France, 1994.
Their use stretched as far as Nirvana's last performance for an audience on March 1, 1994, at the Munich Terminal 1, Germany, five weeks before Kurt Cobain was found dead on his Seattle estate. It was a hectic show and aside from obviously symbolic, circumstances seemed to signal Nirvana was about to be no more, Cobain suffered from bronchitis as a result of rigorous touring and the power went out during Come as You Are. Nevertheless, the band was able to put up a solid 23 track show, with Kurt wielding one of his blue Sky-Stangs.
Recent years saw the blue Sky Stang-I auctioned for $500.000 in the Icons and Idols: Rock 'n' Roll Julien's Sale.
Martin D-18E

| | |
| --- | --- |
| Finish | Natural |
| Years Used | 1993 |
Bought a few months prior to shooting Nirvana's climatic MTV Unplugged session, this Martin D-18E will forever be referred to as Cobain's only acoustic, despite this being not true. With Kurt's fascination for rare guitars, this model was only produced for one year in the latter half of the 50s, and one of the very first acoustics to feature electric pickups for the market.
Needless to say that this guitar was only used for a single performance, and little is known about Kurt Cobain's relation with it. Originally stocked with DeArmond pickups, Kurt decided to swap them for a set of Bartolini 3AV for a better ring with his bronze wound strings.
As for its use on stage, this is one of Nirvana's most emblematic instruments, being the one that Kurt used for his haunting performance of Where Did You Sleep Last Night, as well as his David Bowie cover of The Man Who Sold the World. Although this guitar was only used for one show, it's one of the most iconic Kurt Cobain guitars of all time.
White "K Sticker" Fender Stratocaster

| | |
| --- | --- |
| Finish | White |
| Years Used | 1990 to 1991 |
The very first of a long-running relationship between Kurt Cobain and Fender's most iconic model, this was the first left-handed Stratocaster he would use, reportedly of Japanese manufacturing, it is presumed to have been acquired in the US before Nirvana embarked to the UK in the Fall of 1990. At this point it seemed that Kurt would dual his stamp on gear, making it unique by placing a sticker that would only feature a K, referencing an indie label from Olympia, Washington.
This white Strat debuted on Leeds when Nirvana blasted the stage with Blew, and It made its way through 1991 as one of Kurt's main instruments up until he picked up his two black Strats in March of that year. It is also uncertain whether he thrashed it at any point during his time in the UK, as later on, he was seen yet again wielding a white finish Stratocaster.
The guitar featured three pickups, two single coils in the mid and neck sections, and an angled humbucker on the bridge, unlike the other two single coils, this one doesn't fit the original Stratocaster set up, so it would be safe to say that Kurt could have modified it. As for its white finish and rosewood neck, they made for one of his most iconic guitars during the Nevermind era, especially with its K sticker, the same design Cobain had tattooed on his left hand.
Fender Stratocaster White Pick Guard and Black Finish

| | |
| --- | --- |
| Finish | Black |
| Years Used | 1991 |
Picked up in early 1991, the first picture of this Fender Stratocaster on stage was taken on March 8th, 1991, when Nirvana played at the Commodore Ballroom, in Vancouver, Canada. It was a seemingly standard left-handed model with a black glossed finish and a white pickguard that sported two single-coil Duncans in the mid and neck sections and a full-sized humbucker on the bridge just like his white Strat.
This black finish Stratocaster with the white pickguard is the guitar that Kurt Cobain used to record Nevermind when the band returned to the studio for a second and final time in May 1991. Most of the final takes and songs that ended up on the record were played during this time and occasion, but there's a famous incident that led to this guitar to pay the ultimate price. Allegedly the guitar was giving Cobain some trouble and during the recording of Lithium, he made some mistakes that would become riffs for the album's hidden track Endless, Nameless which follows after 10 minutes into Something in the Way.
According to Butch Vig, who was present during the Endless, Nameless recording, the band, particularly Cobain was very frustrated after the fourth take of Lithium, and so they blasted what was a hidden track even for the studio staff. After recording this power grunge tune, an enraged Kurt Cobain smashed his gear while recording, something that is recorded in sound upon the last minute of the track.
"We had some problems at first recording "Lithium." For some reason, the band kept speeding up, and it took away from the power of the song. After the fourth take that didn't come out right, Kurt went right into "Endless Nameless." He didn't even tell anyone he was going to do it and the rage and frustration on his face was so f***in' scary. All of us were like, "Whoa!" The band just went into it with him, and I was rolling the tape so I recorded the whole thing. And then Kurt smashed his guitar to bits at the end of it." Vig recalls on Making Nirvana's Nevermind 25 Years Ago.
Now, the remains of the body of this Stratocaster are in display at the Museum of Pop Culture in Seattle, with a brief story attached to it that reads it as the Nevermind sessions guitar.
Fender Stratocaster "Vandalism"

| | |
| --- | --- |
| Finish | Black |
| Years Used | 1991 |
Perhaps the most iconic Stratocaster on Kurt Cobain's catalog, and arguably the most associated guitar to his name, this Black finished six-string was also used on the Nevermind sessions, and even acquired relatively at the same time that his white pickguard Strat.
This black finished body sported two stock single-coils and a bridge Seymour Duncan JB. The general setup is that of a Japanese Fender, during these times, these models were the brand's highest quality line for a more affordable price.
Originally a plain black Strat, it wasn't until August that Cobain decided to put his own mark on the guitar, pasting a bumper sticker that would characterize it while referencing the Feederz' album Teachers in Space. The sticker read: "Vandalism: As beautiful as a rock in a cop's face", "Courtesy of Feederz: Office of Anti-Public Relations". On another hand, Kurt did little more than just tuning its aesthetics. After seemingly going out of rotation in late 1991, after the European Nevermind tour, he swapped the guitar's original neck for a Fernandes one with a piece of duct tape on the strap buttons.
Used during the peak of Nirvana's career, the hype for Nevermind had them performing high profile and televised shows around the globe. Making its first public appearance after June 1991, Kurt's signature "Vandalism" Stratocaster had a share of iconic performances during the Nevermind tour, most noticeably at the Reading Festival of that year and Live at the Paramount, among many others at this glorious point for the band.
Even after a full first leg of the European Nevermind tour, Cobain continued to use this guitar for the second half that lasted from October to December. The "Vandalism" Fender, however, made its reappearance on November 25th in Amsterdam, followed by the band's infamous performance at the British show, Top of the Pops, where they shredded their way through Smells Like Teen Spirit protesting the shows mandatory mimic and lipsyncing imposed rule.
This guitar was an undisputed main for Cobain, although he would occasionally rotate it with another one of his favorites, his 1965 Fender Jaguar which dates back to mid-August. But it wasn't until he smashed this iconic black Stratocaster in France on December 7th that the Jaguar would become his official first choice. Nowadays, the remains of the Fender "Vandalism" Strat were put together by Earnie Bailey, who fitted back an original neck to its body, and is now on display with the EMP Museum.
1969 Fender Competition Mustang

| | |
| --- | --- |
| Finish | Lake Metallic Blue |
| Years Used | 1991 to 1994 |
Also known as "that guitar from Smells Like Teen Spirit" the 1969 Fender Competition Mustang became an immediate signature and one of his most iconic guitars. Shot on August 17th, 1991 the video for Nirvana's global anthem was the chronological starting point for this Stang, and reportedly it was acquired around that same time, it is unknown whether the guitar was given as part of Fender's concession with Cobain or purchased. Although he would rarely showcase this particular model live, he was seen for the first time on stage with it at a show in Seattle upon the band's return from Europe in September.
Unlike his other Mustangs, Kurt modified this one in a distinctive way, placing a Seymour Duncan SH-4 JB humbucker in the bridge position, and amounted JB humbucker pickup, screwed to the body. This was also one of the original matching color headstocks that were released, but many credit Cobain for popularizing this fashion in the world of guitars.
Despite being one of Kurt's most treasure guitars, the reason he would rarely play this at live gigs was that he cared way too much about this guitar to put it in danger, he was the danger. But it is known that he would sport this Lake Blue Mustang for a few dates in Minneapolis at the Tree Club and First Avenue before going back for a second run of the Nevermind tour in Europe, where he would mostly rely on his battled 65 Jaguar. He would later appear on stage with this Mustang in 1992 for American tour dates in Seattle, San Francisco, and later on, in 1993.
The 1969 Fender Mustang is one of Kurt Cobain's most intimate pieces, he'd use it during composition, live gigs, and during recording sessions, it's one of the few guitars that survived the raging Nevermind era through the release of In Utero.
After knowing Cobain's story and love for violently smashing his guitars, his final years saw him nurture some of his most iconic six-strings, for one this Mustang as well as his Jaguar, were his outspoken favored choices he wouldn't dare t ruin. In his final interview, Kurt told Guitar World about his "babied" Fender choices. See the link above.
1965 Fender Jaguar

| | |
| --- | --- |
| Finish | 1991 to 1994 |
| Years Used | Sunburst |
Kurt Cobain's most battled guitar, used for extensive touring during the Nevermind era all the way through to the In Utero recording sessions and promotional tour but at this point, its usage had become more sporadic. Originally purchased in early 1991, this Jaguar debuted on stage in August 1991 parallel to his black "Vandalism" Stratocaster which he regularly rotated until the Jaguar took the role as the main guitar on the road. By the time this became Kurt's standard choice for live performances, he would switch to random Stratocasters near the end of the setlist so he could thrash them painlessly while keeping it safe, and so was the case for most of his few treasured pieces.
It's been confirmed that by the time Kurt got this Jaguar it was already modified, it came with an Anvil sturdy case as confirmed by Krist Novoselić, and with two DiMarzio pick-ups already installed, a Super Distortion set for the bridge and a PAF in the neck. Furthermore, the guitar's bridge had been replaced with a Gibson Tune-O-Matic piece and traditional volume knobs to replace the standard fender pieces. Little is known about how much could Cobain intervene in this guitar, while it wouldn't be impossible for him to add his own touch, this Jaguar was already an upgraded variety. But there's always been a scent of mystery as to who was the previous owner of this guitar, recently a fan allegedly discovered that the previous owner was Martin Jenner, who played in the backing band for Cliff Richard.
Among its most notorious appearances throughout the years, this Jag saw action at the Paramount in Seattle in 1991 as well as Nirvana's iconic performance at the Reading Festival 1992 headlining the third day August 30th. It was also used for the band's first show at Saturday Night Live, and even at the Hollywood Rock Festival in 1993 when its use had become sparser and rarer since he acquired his signature Fender Jag-Stang and red Mustang.
Although Kurt stated that this was one of his most cherished guitars, and well it does remain in a single piece, there were several violent attempts against it, for one, a bad show in Rio saw Cobain slamming a cantaloupe melon to the Jags body. While the video for Lithium sees him trying to pull off the guitar strings, and another clip shows him pounding it to the ground in Rotterdam, the lore also tells us that he hit a bouncer in the face with the body of the guitar, nice?
Nevertheless, this 1965 Jaguar survived the raging phenomenon of Nirvana's peak and made it in one piece, it is believed that after Cobain's death Courtney Love gave the guitar to Hole's guitarist, Eric Erlandson, who played it for the video of Doll Parts. It was last seen in public at 1995's Lollapalooza when Erlandson brought it on stage. Cobain championed Fender's underdog model to utmost success, and while the Jaguar had few notorious players, it was Kurt who made it a staple influencing countless players to pick it up instead of the Jazzmaster.
In 2011, Fender decided to follow Cobain's lead and released a signature model, it features the exact same DiMarzio pick upset as well as the custom toggle switch, Gotoh sealed tuners, and an Adjusto-Matic Tuner as opposed to Kurt's Gibson Tune-O-Matic.
1970s Univox Hi-Flier Phase 3 guitar

| | |
| --- | --- |
| Finish | Sunburst Covered in Stickers |
| Years Used | 1985 to 1988 |
From 1985 up until Nirvana's foundation in 1987, Kurt wielded his first trademarked and lesser-known model, a 1970s Univox Hi-Flier Phase 3 guitar, whether this was his first guitar or not, is up to debate, but its low fidelity and rugged sound shaped and forced him to become a resourceful player. It's where Kurt developed some of his signature tricks, such as his forceful bend and double bend, some of the very first signs of grandeur that can be appreciated during the Sub Pop and Bleach era, back when About a Girl was about the only song in their repertoire to barely range as a pop tune of sorts.
The Univox Hi-Flier was originally a cheap guitar, one could find them for as low as $60 or $80, nowadays after Cobain's massive employment of it, these can cost up to $1000 per piece. With a light color pickguard and originally wired with 1968 single coil Humbuckers, this low-action model delivers a dirty and heavy sound that is as palpable as its cleaner sweet tone. It's a diverse and dynamic ax that embodies both sonic stages of the 60s and 70s, from heart-touching balladry to a classic vintage distortion the Hi-flier makes for a vast range of styles and sound. So, for what could have been a rock staple model during its initial release to the market, the Phase 3 and Phase 4 editions were obviously overshadowed by Mosrites, but finally got revendicated during the 90s, when Cobain took them to the extra mile, adding a little more of dirt and an over the edge aggressive display.
Theories on how Cobain acquired this guitar are scarce and inherently unofficial, as well as the dates of its usage, but the album that gave birth to the grunge movement and sound had a lot to do with the abused use of these Japanese replicas. It is esteemed, however, that their manufacturing dates back and between 1974 -1977, and they were issued as a cheap alternative to Mosrite Venture and Gospel models. Cobain was known for being fond of pawnshop and junkyard gear, and his early years into his career as a professional musician saw him drifting and struggling to get an affordable left-handed guitar.
The sound on the 1970s Univox consisted of the vast output it could provide well enough with its P-90 or Humbucker settings, both used by Cobain during the recording process of Bleach. The early years of Nirvana had a lot to do with this specific model, as their frontman developed an affinity for it, there were many Hi-flier guitars that were displayed during and after their debut tenure was released, from his humble sticker packed sunburst unit, to an iconic white issue, the Univox suffered a lot of smashing and distortion excess at the hands of Cobain.
According to Rick King, the Cobain-Hi-Flier relationship seemed like a bit of an obsession back then, King is the owner of Guitar Maniacs in Tacoma, Washington, and when asked about Cobain during his prior to stardom years he shared "Kurt bought a whole bunch of Univox Hi-Flyers—both the P-90 version and ones with humbuckers. Those pickups have huge output and are completely over the top. He broke a lot of those guitars. We sold him several of them for an average of $100 each over the course of five years."
There are lots of theories going about how Kurt only wielded two or three Hi-fliers throughout his career, but like Mr. King said, lots of these guitars met their end on stage as Nirvana would close their shows by smashing their equipment. Even after the Bleach era, and as Cobain got a concession with Fender guitars, it's only right to say that these Japanese replicas had a special place in his heart, even though the In Utero days, when he used a famous white-bodied Univox only to smash it and the end of the video.
Kurt Cobain "Greco" Mustang

| | |
| --- | --- |
| Finish | Solid Brown with Soundgarden Sticker |
| Years Used | 1988 to 1989 |
According to many sources, a pawn shop Fender Mustang copy that was heavily modified by Cobain after smashing his Univox Hi-Flier during a show in October 1988. Others point out this was the actual first left-handed guitar Kurt ever owned and didn't have to forcefully re-string, unlike his beloved Univox models. Despite the fact that the early years of Nirvana are credited to Hi-Fliers, this Mustang was more of a road instrument rather than a studio one. It was allegedly bought at Guitar Maniacs, Tacoma Washington, despite Rick King stating that he mostly sold Univoxes to Cobain, this guitar's lore points out that it might have been unplayable until he picked it up and made it fit to go and play live shows.
As Cobain often appeared on stage using different models, this Mustang was one of the most notorious and memorable ones for those freshman shows. The "Greco" Stang had no visible branding on its headstock, and it had a single-coil pick up on its bridge, an identical one to those attached on his Hi-Flier guitars, this has led many to believe that this pickup came directly from his modified smashed Univox. This Mustang also lived through some transformations, first in a clean body, and then with a Soundgarden sticker.
Being the first Mustang to be wielded by Cobain, this piece has some serious historical value, and it's said to have been repainted at least three times before being violently smashed on stage. But this almost entirely undocumented era for Nirvana has spawned several theories and speculation, it is unknown if Kurt carried on with the same six-string, or if it was a reincarnation, either way, the remains of an early mustang are displayed in the now Museum of Pop Culture, whether is this the same item or not, it's up to theories work. This is one of my favorite Kurt Cobain guitars ever.
1973 Fender Mustang

| | |
| --- | --- |
| Finish | Sunburst W/Grey Duct Tape |
| Years Used | 1989 |
Yet another road guitar, during the promotional touring dates for Bleach, this 1973 Fender Mustang was perhaps the first high-performance guitar Kurt Cobain could have ever wielded, and it was only seen on one occasion. Played for one night only at The Sonic Temple, Wilkinsburg, PA on July 9, 1989, many believe this was Cobain's original "Greco" Mustang, nevertheless, this one had actual branding features from Fender.
This guitar was seen and reportedly played during only two shows during the 1989 U.S Bleach tour, only to be slammed against the stage leaving a guitarless Cobain to trade its remains to Sluggo Cawley in exchange for a blue Gibson SG, but that's another story. In one of the few pictures of Cobain with this Mustang, one can figure out the puzzle and see that it has only one set of bridge Humbuckers, similar to those he wired to his Univox.
As for the tour dates in which this guitar was featured, there's a bit of a mix up, although the timeline points out that Cobain smashed this on July 12th, 1989 in Philadelphia, before destroying yet another Hi-Flier model the next day. Nevertheless, this 1973 Fender Mustang became an artistic relic that poses as an artifact that experienced the birth of the grunge phenomenon that washed over the U.S rather than a mythical instrument. It ended up at the hands of Cawley, as a signed token of appreciation of a memorable night for Cobain.
Sluggo Cawley has shared his story and words with the world about the day he received this bottom taped Mustang at his home:
"Kurt asked me if he could have the smashed Gibson SG I had hanging on my wall. (..) So I said, "Sure, but now I won't have one for my wall." Kurt replied, "I'll be right back." He went out to their van and presented me a 1973 Fender Mustang that he deemed beyond repair. He had smashed it at Maxwell's in Hoboken, New Jersey the night before the Green Street show with Thurston Moore of Sonic Youth watching. In sort of mock guitar hero worship, I asked him to sign it for me.
He wrote, "Yo Sluggo, thanks for the trade. If it's illegal to rock and roll, then throw my ass in jail. NIRVANA." He also wrote "vox pick-up" with an arrow, but I have lost that piece of the pickguard"
Kurt Cobain's 1970s White Univox Hi-Flier Phase 3

| | |
| --- | --- |
| Finish | White |
| Years Used | 1989 |
Yet another Univox in Kurt's history, this white Hi-Flier is one of the most notorious ones, being gifted to Cobain while on the road in July 1989 by his then-girlfriend Tracy Marander. Prior to this white bodied model, he owned one of his maple necked Univoxes, but when he received this thoughtful present, he figured out he'd destroy his previous model on stage. This was his most presented Univox six string, it reportedly debuted on July 13th, 1989 on the Pyramid Club, New York and it stuck with Cobain for most of the latter part of that year's tour.
It was probably, or at least one of the most, consistent pieces of gear Kurt Cobain used during the rampaging Bleach tour based on images of the European leg. But once Kurt managed to get his hands on several cheap brands on the road, he gave this Hi-Flier one last show in November at the Ecstasy, Berlin, West Germany. After having a troublesome set, Kurt bashed his guitar during Breed, after this one, it would be a while until he'd be seen again playing a Univox guitar as the main instrument.
Hagstrom II F-200

| | |
| --- | --- |
| Finish | Cherry Red/Black Pickguard |
| Years Used | 1989 |
The red Hagstrom II had a short run with Nirvana, it was used and acquired in November during the final stages of the European tour, and it would often back Kurt's white Univox Hi-Flier until it met its end. This German red finished guitar featured two single coil pickups, and a stop tailpiece, what made this guitar a rare version of the model, was the fact that it had a pickup switch rather than dials, which leads to the presumable fact that this model is probably from the sixties.
Kurt's Hagstrom stretched its days until the band moved to Italy for their final show, where this guitar would be immortalized by a picture used for an unofficial album titled " Nirvana, It's All Going Wrong" in Mezzago, Italy. Needless to say, this guitar would be smashed during the final tour dates, specifically on November 27th, at the Piper Club in Rome, Italy.
1980s Washburn Force 31

| | |
| --- | --- |
| Finish | Black/ White Pickguard |
| Years Used | 1989 |
Kurt's 1980 Washburn was used for five shows only, and it was purchased to immediately replace his Hagstrom, which he destroyed on their last Italian gig in Rome, so this brief six string replaced it for their final stretch on Europe. This Washburn Force mode is one of the handful remains that have been collected and auctioned as historical pieces, the last time anyone knew about it was back in 2003 when it was sold for $1.975 through Christie's.
Kurt's 1980s Washburn had a standalone set of Humbuckers on its bridge position, featuring a matching black finish to its rosewood fretboard and headstock, and as for its sound, this high output and defined treble guitar could have given the band a distinctive cutting edge, or at least it did for five shows.
Just like most of Cobain's guitars, the Force 31 model became memorable once it was, destroyed on the closing date of the Sub Pop Lame Fest at the Astoria Theater, London, as the band supported Mudhoney before going home. It was a memorable gig for Nirvana, as it was the first time the band drew so much traction in this first major venue, and the first time the grunge movement got so much attention, with a capacity of 2000 people, that witnessed the very first major grunge event, including Cobain smashing this very guitar.
1970s Blue Gibson SG

| | |
| --- | --- |
| Finish | Placid Blue with Duct Tape |
| Years Used | 1989 to 1990 |
Chronologically speaking, this guitar followed Kurt Cobain's 1973 Fender Mustang, but it didn't make an appearance nor had it been much-reported use until 1990 after the European tour was over. The guitar originally belonged to Slugo Crawley, a friend of Kurt's who traded this "beyond repair' Gibson for Cobain's smashed Mustang, just so he could hang a broken guitar on his wall. Presumably, the reason this SG's on-stage time was delayed was that it was unplayable, so Kurt probably spent some time working on it before debuting it in February.
After almost half a year, this SG was modified with one of Cobain's old Univox Humbuckers on the bridge position, and likely repainted as well with a black tape wrapped around the lower part of the guitar, the latter one is up to theories work.
Reportedly this guitar was sported for two shows only in Mexico, where Nirvana ultimately smashed its equipment on the night of the 17th, after performing Breed. This stage battery is somewhat legendary, Kurt attempted to pogo his SG but failed to do so, then he slammed the neck of the guitar so he could pick up the fretboard and beat its body with it, you can skip to 31:47 on the video to watch the full thing.
Popular Related Article: What Guitar Does James Hetfield Play?
Vintage Epiphone ET 270

| | |
| --- | --- |
| Finish | Cherry Red |
| Years Used | 1990 |
Undoubtedly, Cobain had a certain love for unusual guitars, and while this might have developed from not being able to afford a high-end guitar, this led him to immortalize certain models, there was also his undisputed love for destroying them on stage as well. But this Epiphone really got things going when used, and it had a nice run with Nirvana when it was originally acquired early in 1990. It was first seen on the band's opening show for that year and timelessly championed when featured on the alternative video of In Bloom.
It was Kurt's standard guitar for a large part of 1990 before moving to more high-profile guitars, including a Mosrite he could finally get his hands on and an association with Fender for custom and signature models.
The Epiphone ET 270 was a brief line for the brand, it was manufactured in Japan between 1972-1975, and while it wasn't one of the most successful models, it had lots to offer. Originally advertised with chrome-plated hardware, vibrola, two single-coil pickups, and true tone control, it's a shame the ET 270 didn't triumph in America until 1990. Much of its disapproval came from its foreign appearance and double-cutaway body, it was rather similar to that of a Mosrite or a Hi-Flier, but this was probably what caught Cobain's attention.
Needless to say, this Epiphone ET would meet its demise on the night Nirvana played at the Pyramid Club, in New York on April 26th, 1990, although there's no video footage of that gig, there is photographic evidence of Kurt bashing it.
Kurt Cobain "Homemade" Mustang

| | |
| --- | --- |
| Finish | Pink |
| Years Used | 1990 |
As it's been made clear, Cobain loved to getting rid of his gear, but this pink-finished Mustang has been hoaxing ever since its first and last show, at the Bogart's Club, Long Beach, California. In February 1990, Kurt and Krist had an instrumental duel that resulted in Cobain popping off the neck and splitting the body of this poor short-lived Mustang before stepping on its remains.
This was Kurt's second to third Mustang, but it was probably a guitar he had set up for himself, and it's very similar to the sonic blue finish model he would use on the following tour dates. A Stratocaster neck with black headstock attached to a Mustang and a Maxon pickup on the bridge position.
Kurt Cobain "Homemade" Mustang

| | |
| --- | --- |
| Finish | Surf Green |
| Years Used | 1990 |
One of the famous homemade Mustang models as presumed, made by Cobain sometime during the early half of 1990, followed the Pink version of his custom model, which was battered on stage in February. Known as one of the guitars featured in the alternative version of In Bloom, recorded under their original label Sub Pop. This rare Mustang has a vague origin story, and so is its use and performance records, it's also unknown whether this is the same Pink bodied guitar with a different coat of paint.
As a DIY model, this guitar was a hybrid of sorts, featuring a Stratocaster typed neck and a black headstock, with a Mustang body and a Shaller bridge. As for its single bridge placed Maxon pickup, they were also black, so this might be a completely alienated guitar from his Univox infused models.
The first time it was seen on stage was on the Amnesty international benefit gig on April 27th, from that point it was Kurt's standard instrument for the following three scheduled concert dates. There's no telling if it was destroyed on stage or not, although it would be a safe assumption to make.
1980s Aria Pro II CS-350

| | |
| --- | --- |
| Finish | Ash Brown |
| Years Used | 1990 |
Just like his homemade Mustangs and the Epiphone ET 270, this Aria Pro saw Nirvana gain traction as well as the attention from major labels in the music industry. But this particular guitar lived through the hype and saw Nirvana sign with Geffen Records. It's a key six-string, as it saw the seemingly eternal economic struggle of the band fade away, which could only mean a farewell to Cobain's confinement to second-hand gear.
Featuring an ash body with a maple neck, and rosewood fretboard this walnut finished guitar sported two Protomatic V humbuckers. But with Cobain's affixion to modify his gear, he removed most of its controls and selectors, leaving only a functional bridge section.
Kurt started using this Aria Pro in the midst of 1990, as the band stretched out some extra dates to promote Bleach while they featured some of the tracks that would go on in Nevermind. Its first recorded use was around May when the band played at the Masquerade, in Atlanta, Georgia, and it probably was acquired upon receiving their first $1000 paycheck from the record company so he could directly replace his homemade Mustangs and Epiphone, which you guessed it, he smashed.
Reportedly, this was Kurt's main guitar, for a few shows on a row until he got his Mosrite Gospel during their brief hiatus in August of 1990 when their tour resumed, this Aria Pro became secondary equipment until the night of September 22nd on Seattle's Motor Sports International Garage, when he destroyed it.
Mosrite Gospel Mark IV

| | |
| --- | --- |
| Finish | 1990 to 1991 |
| Years Used | Two Color Sunburst |
After several years of many second-hand, Univox knockoffs, Kurt got his hands on an actual Mosrite in a shop called Real Guitars in San Francisco. One of the rarest pieces of gear in Kurt Cobain's catalog, it was never smashed and saw extensive usage until it disappeared, reportedly, he ended up pawning it to a shop in Los Angeles, California sometime around 1991.
It's easy to figure that Kurt grew fond of this piece, perhaps it was a childhood dreamt item he couldn't get until his newfound fame and money came through. Aside from being one of the few six-strings to be still in one piece, a Mosrite with a Mark IV body is one of the strangest things to find, it was back in the 90s and so it remains in this day and age.
It accompanied the band on the road following their break in August of 1990, and it was for a long time, Kurt's main instrument on stage with occasional shifts to his Aria Pro II.
After seeing an entire European tour at the end of 1990, and a considerable share of American dates the guitar returned to a pawn shop, only to be purchased months later by a man who would identify it as Kurt Cobain's Mosrite Gospel for its case, which read "F**K ELVIS". For whatever reason Cobain decided to sell this piece, it was probably after acquiring a set of left-handed Fender Stratocaster's, among them there's his notorious black "Vandalism" Strat and a couple of white ones.
This Mosrite Gospel would be auctioned twice after three miscellaneous owners, once in 2004, when it was sold for $117,500 and later in 2006 for $131,450, now a days the guitar is an exhibit at the Museum of Pop Culture.
Univox Hi-Flier Phase 4 (Heart-Shaped Box)

| | |
| --- | --- |
| Finish | White |
| Years Used | 1993 |
Kurt's last known Univox, used for the Heart-Shaped Box music video, and the only Hi-Flier Phase 4 to his official catalog. It is highly recognized but barely played, in fact little is known of the whereabouts of this guitar or what happened to it after a showcase Nirvana played at the Kansas City Memorial Hall in October 1993.
It was first seen and suggested for aesthetic purposes of the video, but there's little to no information about it in regards to its time with Cobain. But after its use for Heart-Shaped Box the estimated value for a Hi-Flier went up within four years, now praised as one of the best microtonal guitars.
Popular Related Article: What Guitar Does Tom Morello Play?
Hondo 737 Les Paul
| | |
| --- | --- |
| Finish | 1989 to 1990 |
| Years Used | Two Color Sunburst |
Perhaps the most irrelevant piece of gear on the list, as for Cobain, this copy of a Les Paul was most likely purchased out of necessity rather than anything else. At the time Kurt only had his blue Gibson SG, being essentially a self-restored piece, it most likely had many issues and was barely playable, so this Hondo 737 was meant to replace it.
The receipt for this guitar was recently auctioned, and it points out that the guitar was bought on December 20th, 1989 at the Tacoma, Washington Pawn Shop, Top Kick Jewelry & Loans. It is unknown what happened to this guitar, but it was only seen once when Nirvana played on February 9th at the Pine Street Theatre, Portland.
Table Showing the Guitars Kurt Cobain Used at Each Point in His Career
| Make | Model | Color/Finish | Years |
| --- | --- | --- | --- |
| Fender | Kurt Cobain Jag-Stang | Sonic Blue | 1993-1994 |
| Fender | Mustang Sky-Stang | Sky Blue / Red and Blue Variations | 1993-1994 |
| Martin | D-18E | Natural | 1993 |
| Fender | Stratocaster "K Sticker" | White | 1990-1991 |
| Fender | Stratocaster | Black w/ White pick guard | 1991 |
| Fender | Stratocaster "Vandalism" | Black | 1991 |
| Fender | 1969 Competition Mustang | Lake Metallic Blue | 1991-1994 |
| Fender | 1965 Jaguar | Sunburst | 1991-1994 |
| Univox | 1970s Hi-Flier Phase 3 guitar | Sunburst | 1985-1988 |
| Custom | Mustang "Greco" | Brown | 1988-1989 |
| Fender | 1973 Mustang | Sunburst | 1989 |
| Univox | 1970s Hi-Flier Phase 3 | White | 1989 |
| ESP | 1988 MX220, aka "Fuk Em Up" | Black | 1988-Present |
| Hagstrom | II F-200 | Cherry Red/Black Pickguard | 1989 |
| Washburn | 1980s Force 31 | Black/White Pickguard | 1989 |
| Gibson | 1970s SG | Blue | 1989-1990 |
| Epiphone | 70s Vintage ET 270 | Red | 1990 |
| Homemade | Mustang | Pink | 1990 |
| Homemade | Mustang | Surf Green | 1990 |
| Mosrite | Gospel Mark IV | Sunburst | 1990-1991 |
| Univox | Hi-Flier Phase 4 | White | 1993 |
| Hondo | 737 Les Paul | Sunburst | 1989-1990 |
Kurt Cobain Amps Overview
1960s Fender Twin Reverb
Years Used: 1989 to 1990
This 2-channel clean tone amp was used as Kurt's main output to entirely record Bleach. It's pure tone quality allowed Kurt to toss some dirt with his Boss DS-1 as his sole pedal during the recording sessions for Nirvana's debut album. However, Cobain didn't own this Twin Reverb, it was borrowed from Jack Edino, who is known to be the producer of Bleach. It's said that Kurt developed a certain affinity towards the Twin Reverb, and following the band's promotional tour in Europe, he decided to get a Silverface one for himself.
Randall RG-120 Commander Amp
Years Used: 1988-1989
Kurt Cobain's original amplifier, broke down before the Bleach recording sessions started, but repaired it when the band returned from their European tour. Kurt used a 2×12 Bullfrog cabinet with it, and its lush reverb and dreamy tremolo make for a very similar sound to that of a vintage standard Fender amp, probably which is something that Cobain enjoyed tweaking and modifying. Nowadays it is said that this amp belongs to Krist Novoselić.
Sunn Beta Lead Head Guitar Amp
Years Used: 1990
One of the main choices for punk bands during the late 80s, the Sunn Beta Lead Head, wasn't only a choice for Cobain but also for some of his rooted influences, such as the Melvins and the Meat Puppets. Its tube-tone warm sound offers killer options, and it remains a great choice for aggressive players. It has progressively become a rare piece to come across now that there are fewer in the market, but its playability with distortion and pedalboards have remained one of a kind despite being thrashed by the industry, without a doubt, many of the sounds that helped shape the Seattle grunge scene came from these.
Mesa/Boogie Studio Preamp
Years Used: 1990 to 1994
After thrashing his Sunn Beta amp, Kurt came across this piece a day prior to his show at the Cat's Cradle, Chapel Hill, North Carolina on May 1st, 1990, and ever since then, this became his standard amplifier, one that he could really fiddle with. It's one of the few pieces that stuck with Nirvana despite all the smashing since the Bleach tour, all the way through to the In Utero latter days. It was often paired with a Crown Power Base 2 power amp, and occasionally it was rotated with the Crest 4801 Power Amps.
Marshall JCM800 Amp
Years Used: 1991
As Nirvana gains more and more traction it's no wonder Kurt adopted this base staple for a rock upon the Nevermind era in 1991, one of the last years Marshall would produce the dynamic JCM800 models and move on to the JCM900. The sound in this amp was relatable to that of a late 70s JMP, but sizzly and brighter overall, meaning that it could only bolster Cobain's signal for a much more aggressive and dirty tone.
Crest 4801 Power Amp
Years Used: 1992 to 1994
Adopted by Cobain in January 1992, this amp powered his sound through several festivals and iconic gigs, among them Reading and Live at the Paramount in Seattle. This high-power amp met every requirement to withstand Nirvana's abuse of their gear, it's sound reinforcing qualities were mostly used for arenas and festivals, and remains a staple to this day.
Kurt Cobain Pedals Overview
Boss DS-1
Years Used:1988 to 1994
For many, this pedal became widely popular for its associated use with Cobain, while it was the only pedal used to record Bleach back from 1988 to 1989, it provided the power and cutting edge that made Nirvana a stand out act. Krist Novoselić also made use of this Boss staple to modify and dirty up plenty of his bass tones, needless to say, this pedal remains just as important as it did back in the day.
Its use extends from their debut full-length album all the way to In Utero where Cobain made use of both the DS-1 and DS-2
Electro-Harmonix Small Clone
Years Used: 1991 to 1994
Some of Kurt Cobain's most celebrated riffs and opening lines relied heavily on his use for modulation effects, but after trying some more expensive yet unreliable pedals such as the Echoflanger and the Polychorus which broke down often, Kurt resorted to the Small Clone, as a more affordable yet effective alternative. The Small Clone provides a fully powered chorus effect, giving the distant modulation for Come as You Are and a lighter one for Heart-Shaped Box,
PRO CO RAT
Years Used: 1991 to 1994
Yet another beloved grunge pedal that made a name for itself among the ranks of the grunge scene, although it hasn't been reported that Cobain used this for many tunes, it is the main igniter for Territorial Pissings. On another hand, its edge thumping and thickening sound was often used by Novoselić for his bass tones, while its different taste of distortion has led to speculation that this pedal was used more often than we might think.
Electro Harmonix Big Muff
Years Used: 1991 to 1994
Vastly associated with the grunge scene of the 90s the Big Muff is one of the most powerful roaring pedal effects in the market. It gives a dark buffed signal that automatically massively distorts a guitar's tone, Cobain used this for various sections of Lithium, and when playing live, Aneurysm but he would regularly rotate effects with the Boss DS-2.
DOD Grunge
Years Used: Unspecified
A mighty powerful FX that is usually left out of Cobain's pedalboard for a good reason, it wasn't used in any of the recording sessions for the albums, or at least according to popular conception. The DOD Grunge pedal was mostly used for live performances, just to give an extra kick as one would say, usually those high treble and razor-sharp rugged Smells Like Teen Spirit intros we hear on recorded live shows come from this underdog.
Cobain wasn't a big fan of the pedal, and it's mostly remembered as the pedal he tossed during the Live and Loud 1993 performance, go ahead, there's a Pawn Stars episode with it.
Popular Related Article: What Guitar Does Billie Joe Armstrong Play?
Boss Turbo Distortion DS-2
Years Used: Unspecified to 1994
Known as the main contributor to those In Utero sounds, the Boss DS-2 follows essentially the same path as its predecessor with a few upgrades and features on its knobs. Mainly Cobain used it to complete and bridge his modular effects to a distorted section.
Wrap Up
A lot of people ask what guitar did Kurt Cobain play so we decided to put this list together. We hope you found it helpful. Cobain was a game-changing figure for popular music around the globe, but his status as a guitar player is often debated between those who consider him a sloppy ax-man and those who deem him as a one-of-a-kind creative player. Either way, it's easy to find a middle ground for him, while he might not have displayed the virtuoso and genius of a Jimi Hendrix or Eddie Van Halen, he was able to develop his own style with little to no formal introduction to the guitar.
Before signing with Geffen Records and introducing Nevermind to their limited discography, Cobain recalls having massive headaches after smashing his pawnshop equipment. He shared in an interview that the next day after a gig would be pretty much about finding a pawn shop just to get his hands around $30 or $100 used guitars they would have to intonate and restring themselves.
There's also a moral to Cobain's early run with low-budget Hi-Flier Univoes – a more affordable replica of the Mosrite Gospel models- It's about making the best of what you've got, in other words, its more about the player than the guitar itself. With an impact so large, this man is singlehandedly credited for inspiring Fender America to revive and reissue the 1962 Jaguar Model based on his modified Jag, he also played a significant role for left-handed players, after he made his mark, lefty models became a more regular find in all brands. This is a guitarist whose feeling overpowered by his skill, but only to connect these two qualities into a unique sound.
Kurt Cobain is probably one of the first things that pop in our mind when you think of a Rock icon, he's up there with the most notorious figures of music history, but he achieved that with an arguable treatment of his gear as well as a consistent low budget until a certain point. Perhaps he's the rock icon that drifted away from being a music nerd and let his passion wash over him with every show and song he would put out there.
Besides all the glory, and consecration that revolves around the name, Kurt Cobain, it might be good and even encouraging to think about him as a guy who just wanted to make music with whatever he had around him. His legacy is often put so high that it might seem unreachable, but more than that there's a certain modesty to his way and approach towards music that just made it all sound so real.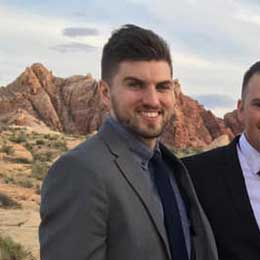 My name is Chris and I've had a passion for music and guitars for as long as I can remember. I started this website with some of my friends who are musicians, music teachers, gear heads, and music enthusiasts so we could provide high-quality guitar and music-related content.
I've been playing guitar since I was 13 years old and am an avid collector. Amps, pedals, guitars, bass, drums, microphones, studio, and recording gear, I love it all.
I was born and raised in Western Pennsylvania. My background is in Electrical Engineering, earning a Bachelor's degree from Youngstown State University. With my engineering experience, I've developed as a designer of guitar amplifiers and effects. A true passion of mine, I've designed, built, and repaired a wide range of guitar amps and electronics. Here at the Guitar Lobby, our aim is to share our passion for Music and gear with the rest of the music community.