The Rolling Stones were one of the pioneer bands that defined early British rock and roll in the 1960s, to the point they were, laughably, considered too old for the game when they embarked upon the record-breaking Steel Wheels tour in the 1980s. Forty years after the snide "steel wheelchairs" jokes have been long forgotten, the Rolling Stones endure, symbolic of the longevity of rock and roll itself.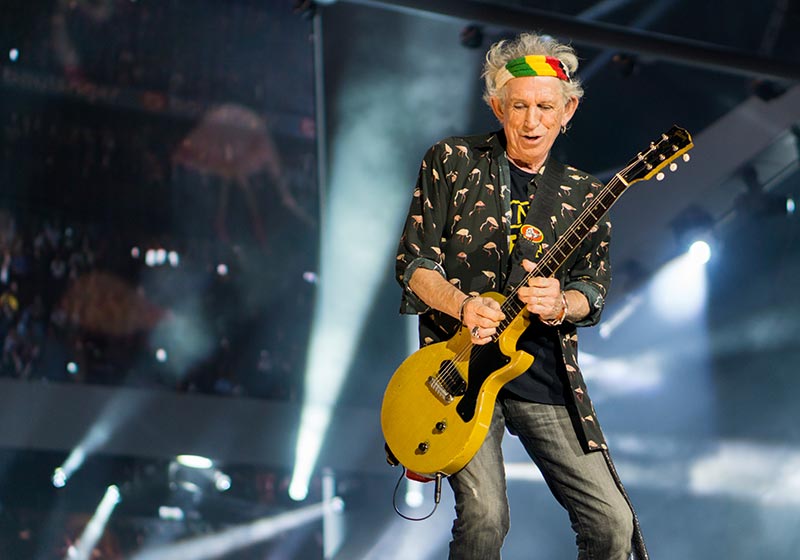 From their humble early days in London's blues clubs to the dizzying heights of the Stones' juggernaut stadium tours, Keith Richards is perhaps rock and roll's truest survivor. In this list, we take a look at the guitars and gear most associated with Richards over the years. Keith Richards is an avid guitar collector. Supposedly, he owns over three thousand instruments. Of his massive collection, Richards says "I have 3,000 guitars and only one pair of hands. It's an incredible collection of instruments but I only play about 10 of them".
What Guitars Does Keith Richards Play?
Keith Richards is most know for playing vintage Fender Telecaster guitars, most notably his 1953 Butterscotch Tele, known as "Micawber", which Richards was given as a birthday gift from Eric Clapton. Undoubtedly, Richards has played more guitars than anyone could count.
See the list below of the most notable Keith Richards guitars and gear below.
1953 "Micawber" Fender Telecaster

| | |
| --- | --- |
| Finish | Butterscotch |
| Years Used | 1970 to Present |
This customized Telecaster is arguably the guitar most associated with Keith Richards. Nicknamed for a character in Charles Dickens' David Copperfield, the "Micawber" Tele remains Keith Richards' number one instrument to this day. It's been in his possession since the 1970s and is one of Richards' main stage guitars to this day. If enduring over fifty years in Keith Richards' hands isn't a testament to the durability of Fender's instruments, nothing is!
Richards initially picked up this Telecaster in 1970. Perhaps in recognition of the '59 Les Paul Richards lent him a few years beforehand, Eric Clapton gave Keith Richards this Telecaster for his 27th birthday. Richards took an immediate shine to the instrument, although at the time it still had two stock Fender single-coil pickups in it.
This was the form in which "Micawber" appeared on The Rolling Stones' massive album Exile on Main Street. Richards removed the low E string from the guitar and tuned the guitar to open G (that is, G-D-G-B-D) to record the album, and liked the sound so much he never put an E string back on it. The open G tuning became something of a signature for Keith Richards and the Rolling Stones, appearing on all subsequent albums, as did "Micawber" itself.
In 1972, Keith made further changes to this Telecaster. Unhappy with its country twang, he wanted a fatter, more rounded sound. With Mick Taylor in the band, he needed a guitar that would keep his rhythm playing effectively competitive with Taylor's Les Paul and SG guitar heroics.
Richards' solution was to take a Gibson PAF pickup and place it in the Telecaster's neck position. The PAF, of course, was the pickup found in Gibson's iconic 1950s guitars, such as Richards' own Les Pauls. Interestingly, he put the humbucker into his guitar backward, reversing its pole positions, giving the instrument far more treble and bite than one would normally expect from Gibson's PAFs.
One theory is that the guitar's pickup selector is simply placed backward, a prank not beyond Keith. Another interesting hypothesis is that both the instrument's pickups are always on, and its tone knob blends the single-coil bridge pickup, not unlike the blend knob on Richards' 1957 Les Paul Custom.
The 1953 Telecaster represents Leo Fender's mass-production approach to guitar building. Individual Telecaster parts were built separately and assembled on a production line. It featured a lightweight ash body, equipped with an easily removed Bakelite pickguard for easy access to the guitar's electronics.
The bolt-on neck is a solid piece of maple, with a finished maple fretboard. The neck lacking a discrete fingerboard contributes to the Telecaster's bold, sustaining tone. The Telecaster has a characteristically small headstock, around the width of the guitar's fretboard. This small headstock, as opposed to the larger Stratocaster headstock, allows the length of string beyond the guitar's nut to remain straight, assisting in tuning stability.
Although the guitar is showing significant wear due to its age and heavy use. Keith uses it for the classic Stones open-G songs, such as "Brown Sugar" and "Honky Tonk Women".
1975 Fender Telecaster Custom

| | |
| --- | --- |
| Finish | Black |
| Years Used | 1975 to 2005 |
When the Rolling Stones appeared with new lead guitarist Ronnie Wood in 1975, Keith was playing a new guitar to match his new partner in crime. The 1975 Telecaster Custom made its first appearance during the Stones' 1975 Tour of the Americas, and it became a mainstay on Richards' touring rig for many years to come.
Interestingly, the Telecaster Custom came about through an attempt by Fender guitars to do what Keith Richards did on his own: equip a Fender guitar with a Gibson humbucker. The original Telecaster neck pickup lacked the power of a humbucker, and so Fender unleashed the Tele Custom.
As part of Fender's attempt to enter the Gibson-dominated humbucker market, they enlisted Seth Lover, who had been involved in the development of Gibson's original humbuckers. The resulting Fender Wide Range humbucker is optimized for Fender guitars, with a bright, thumping sound.
Richards' Telecaster Custom has, like its other siblings, a maple neck with a maple fretboard. Its alder body is supposedly slightly heavier than that of a standard model, a claim that Richards put to the test in 1981. When an overzealous fan rushed the stage, Richards showed no hesitation in swinging his six-string like an axe. The guitar stayed in tune and Richards was able to finish the song.
1954 "Malcolm" Fender Telecaster
| | |
| --- | --- |
| Finish | Butterscotch |
| Years Used | 1972 to Present |
Initially a backup to Keith's beloved "Micawber", Malcolm eventually carved out a niche of its own. The number two Telecaster first appeared around 1972, adorned with a Rolling Stones logo sticker. At first glance, it appears almost identical to the 1953 Butterscotch Tele, but a closer look reveals that "Malcolm" boasts a visible wood grain that is lacking in its elder brother. Like "Micawber", its stock neck pickup was replaced by a meatier Gibson PAF in the mid-70s, giving Keith two guitars with extremely broad tonal possibilities.
The PAF, as with "Micawber" has appeared both in rotated and standard configurations, likely shifted to suit Keith's own tonal preferences. The 54 Telecaster is typically tuned to open G, just like "Micawber", but is used for songs that can be played in B, with a capo on the Telecaster's fourth fret. This can be seen most prominently in the live performances of "Jumpin' Jack Flash"
As Keith's number two Telecaster, "Malcolm" is set to many of the same specifications as "Micawber", not least the aforementioned five-string open G tuning. It may well have the same mysterious internal wiring setup as its elder brother, but as with "Micawber", confirmed reports of the guitar's innards are non-existent.
The 54 Telecaster is rather similar to the 53, including a solid maple neck with finished maple fretboard, ash body, and the traditional small Telecaster headstock. The major difference between the two is "Malcolm's" less worn painting.
Keith Richards still uses "Malcolm" live as the capo-equipped second-in-command to "Micawber". It's used for "Jumpin' Jack Flash", as above, and Keef often plays this guitar for "Happy" and "Tumbling Dice". This is easily one of the most iconic Keith Richards guitars of all time.
1962 Epiphone Casino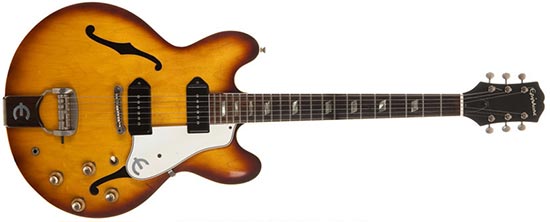 | | |
| --- | --- |
| Finish | Sunburst |
| Years Used | 1964 to 1966 |
When the Rolling Stones descended upon the United States in 1964's first British Invasion, Keith Richards had two main guitars under his belt. A Harmony Meteor, and this Epiphone Casino from 1962.
The Casino, unlike the Gibson 335, is fully hollow, without a center block. Its hollow construction and dual P90 pickups can generate significant feedback, but in 1964 few players were using enough volume or distortion for this to be an issue.
Keith's Casino was an extremely early model, built-in only the second year of the Epiphone Casino's production. Accordingly, it featured a Gibson-style open book headstock, a feature that was quickly removed when Epiphone became Gibson's "budget" line of guitars. It was produced in Gibson's flagship Kalamazoo factory and displays all the craftsmanship that one might expect from such a prestigious establishment.
Keith's Casino would feature a spruce top, as opposed to the laminated maple top of later Casino models. To further distinguish this Casino from its descendants, it has a pearl inlay logo, pearl trapezoid inlays in the rosewood fretboard, and a Trem-o-tone tailpiece. This tailpiece distinguished the Casino from earlier trapeze tailpiece models, as well as later ones that featured a Bigsby.
Keith Richards' Casino would have featured a maple body with the aforementioned spruce top, and most likely a mahogany neck to balance out the bright, jangly tone this wood combination produces.
Keith Richards used his Casino extensively from 1964-1966, preferring its aggressive, snarling tone for the Stones' massive hit "Satisfaction", some sources even point out this along a misc acoustic were used to write the song.
1957 Gibson Les Paul Custom

| | |
| --- | --- |
| Finish | Ebony With Custom Graphic |
| Years Used | 1966 to 1971 |
One potential reason for Keith Richards parting ways with his Les Paul Standard at a time was his acquisition of a luxurious Les Paul Custom. This model is also known in his catalog as the "Paint it Black" LP. During the sixties, it was still considered a superior instrument to the Les Paul Standard in every possible way, it had yet to attain its "holy grail" status.
Richards bought this guitar sometime in 1966 and used it extensively through the Rolling Stones' hectic touring schedule of that year. The Les Paul Custom made its first notable appearance during the Rolling Stones' late 1966 performance on the Ed Sullivan Show.
In 1967, however, Richards and the Rolling Stones' bad-boy reputation caught up with them, and this guitar's story became more interesting. Some claim that Richards' Les Paul Custom was actually stolen in 1967, although this does not line up with the Rolling Stones' touring schedule of the time. In fact, Richards appeared with this Les Paul frequently during the band's performances all throughout 1967.
In early 1967, Keith Richards found himself on the wrong side of the law. The police busted him at a party in Sussex with a suitably copious amount of drugs for a rock star of Richards' stature, and he was staring down the barrel of serious incarceration.
Richards was sentenced to a year in prison, although he was granted bail after a mere twenty-four hours behind bars. Good behavior demands prevented the Rolling Stones from getting up to much, and Richards took to expressing his creativity on the guitar in an entirely different manner.
Along with his girlfriend Anita Pallenberg, Richards took to his Les Paul Custom armed with pens and paint, adorning the instrument in a unique psychedelic paint job fit for the late 60s. This is the form in which Richards' guitar appeared for the Rolling Stones' 1968 film Sympathy for the Devil, and the guitar was used in the studio for Beggars Banquet and Let it Bleed.
This Les Paul Custom, like others of its era, has a solid mahogany body and set mahogany neck. Although the Met erroneously reports its fretboard as rosewood, Gibson did not use rosewood on their premium Custom line during the 1950s. It's almost certain that this guitar's fretboard is ebony, with mother-of-pearl fret inlays.
It features three Gibson PAF pickups and a unique control setup. Like the two-pickup Les Paul, it has four control knobs, but one of the knobs only controls the volume of the guitar's middle pickup. The pickups selector, in either bridge or neck position, will turn on either the bridge or neck pickup as well as the middle pickup. This creates an extremely broad tonal palette for the instrument, enabling Richards to achieve both the honking and shimmering tones for which he was famous in the 1960s.
The guitar was likely stolen in Nice, France, when the Stones were recording Exile on Main Street. The Les Paul Custom eventually wound up in the possession of a guitar collector, and it currently lives at the New York Met Museum.
Harmony Meteor

| | |
| --- | --- |
| Finish | Tobacco Burst |
| Years Used | 1962 to 1964 |
Keith's main guitar for the Stones' early years was this Harmony Meteor. This was a low-budget single-cutaway guitar made in the USA. Richards used this Meteor extensively for the first few years of the Stones' career, and it appeared regularly in TV spots and in Rolling Stone's live performances.
The Harmony Meteor, like Richards' Casino, was a hollow-bodied electric with a spruce top. It featured twangy gold foil DeArmond pickups, which produced the biting, jangling tone popular among British guitar groups of the early Sixties. The Meteor featured a maple body beneath a spruce top, coupled with a maple neck. The Harmony also had a rosewood fretboard and a trapeze-style tailpiece reminiscent of early Gibson guitars.
The Harmony company went bust in the 1970s due to competition from low-end foreign brands and the near-saturation in the high-end market enjoyed by Gibson and Fender. Mirroring this was Keith Richards' retirement of his Harmony Meteor, which he increasingly rotated upon purchasing a 1959 Gibson Les Paul.
1959 Gibson Les Paul Standard

| | |
| --- | --- |
| Finish | Sunburst |
| Years Used | 1964 to 1967 |
Considered by many to be the greatest electric guitar ever built, the 1959 Gibson Les Paul Standard is perhaps the only instrument as indelibly associated with rock and roll as the Rolling Stones themselves. It's fitting, then, that Keith Richards would proudly own and play a '59 Standard.
Richards first bought this guitar in London, way back in 1964. It had previously belonged to guitarist John Bowen, who played with Mike Dean and the Kinsmen. Bowen added a Bigsby vibrato to the Les Paul, replacing its stock stop tailpiece. Bowen eventually traded this guitar for a Gretsch, and it made its way to Keith Richards.
Richards' Les Paul Standard represents the pinnacle of Gibson's solid-body guitar construction. The Les Paul Standard featured a solid mahogany body with none of the weight relief or chambering that came with later models. This body was topped with a solid maple cap, to brighten up the Les Paul's dark tone and give it plenty of snap and articulation. The neck, like the body, was solid mahogany, with a rosewood fretboard and binding on the sides. Mother of pearl trapezoid inlays adorned the fretboard as did a mother of pearl Gibson logo on the headstock. The '59 Les Paul featured Gibson's famous PAF (Patent Applied For) pickups, which provide sweet, clear tones at low volume and all the roar and snarl of early British rock and roll when run through a cranked Marshall amp.
Keith Richards, generous by nature, often lent this guitar to his six-string-slinging friends. Both Jimmy Page and Eric Clapton borrowed this guitar for studio work or performances, but it was his friend and future bandmate Mick Taylor who eventually tempted the guitar away from Richards in 1967.
Incredibly, considering the enormous value and build quality of this Les Paul, Richards sold it to Mick Taylor, then playing lead guitar with John Mayall's Bluesbreakers. Two years later, the 1959 Les Paul Standard returned to the Stones fold along with its new owner, who replaced Brian Jones on lead guitar. Mick Taylor played this guitar extensively during his tenure with the Rolling Stones, including at their infamous Altamont performance. While Mick Taylor was with the Rolling Stones, he often let Keith play his old guitar, as can be seen in concert footage from the Altamont gig.
Sadly, the Les Paul was stolen alongside some of the Rolling Stones' other equipment in 1971. Some believe the robbery took place at London's Marquee club, while others believe it happened during the recording of Exile on Main Street. Regardless, it eventually found its way to Cosmo Verrico of the Heavy Metal Kids. Whitesnake's Bernie Marsden then bought the instrument from Cosmo. It clearly didn't suit Whitesnake, because it quickly changed hands once more, this time finding its way to Mike Jopp of British jazz-rock outfit Affinity.
Keith Richards' 1959 Les Paul stayed with Jopp until around 2003 when Jopp sold it to a collector. The guitar moved around between various guitar collections in the US for a few years, including one notable sale for one million US dollars. Its current owner is unknown, although it's assumed that the Les Paul remains with a guitar collector.
1965 Gibson Firebird VII

| | |
| --- | --- |
| Finish | Sunburst |
| Years Used | 1966 to Unspecified |
Keith Richards and mid-60s Rolling Stones lead guitarist Brian Jones used a pair of matching Firebirds during the band's clean-cut days. Long before Keith Richards dabbled in makeup, shag haircuts, and heroin, he was clean-shaven in tailored suits, and the Firebird's Fender-esque shape was the most outlandish thing about the Rolling Stones.
It was on the Firebird that Keith Richards recorded the iconic fuzz-fueled opening riff to "(I Can't Get No) Satisfaction", and it appeared sparingly throughout the 1960s. At the time, the sound of Richards' Firebird was there to fill the space that would, ultimately, be filled by a horn section. In the end, the Gibson Firebird's honking saxophone-like tone was enough, and the song worked its way into the annals of rock and roll history.
Supposedly, There are erroneous claims that the Firebird was stolen, but in various photos, Keith Richards can be seen either playing his old sunburst Firebird or a guitar very much like it right now in 2021.
The Firebird, unlike Gibson's SG and Les Paul, uses Roman numerals to denote different models, as opposed to the traditional "Standard" or "Custom" designation. The Firebird VII's distinctive shape, designed by retired Ford and Chrysler designer Ray Dietrich, was reminiscent of the old-school American cool of classic cars and the offset guitars designed by Gibson's greatest rival, Fender.
The Firebird VII features neck-through-body construction. That is, the neck and the center of the body are a single piece of wood, to which the guitar's bouts are attached. The neck is a solid block of mahogany, with a bound ebony fretboard. Both the "wings" are mahogany, and the guitar features three custom Firebird mini-humbuckers. These boasted more punch and aggression than the more treble-heavy mini humbuckers that Gibson later put into its Les Paul Deluxe line. Other distinguishing features on this premium instrument include tune-o-matic bridge, 'leaf-and-lyre' Deluxe vibrato, gold hardware, and banjo-style tuners on the guitar's six-a-side headstock.
From the above picture, it seems that Keith Richards either still owns his "Satisfaction" Firebird, or a vintage Firebird VII almost exactly like it.
Gibson Les Paul Junior "Dice"

| | |
| --- | --- |
| Finish | TV Yellow |
| Years Used | 1971 to Present |
Keith Richards is occasionally spotted playing this TV Yellow Les Paul Junior. With dual cutaways and a single P90 pickup, the Les Paul Junior is a no-frills rock machine. In a similar finish to his preferred Telecasters, Richards' Les Paul Junior appeared in the 1970s.
Gibson's Les Paul Junior line came into being in the late 1950s. Gibson wanted to extend their reach to beginner guitarists and created a solid-bodied electric guitar with none of the expensive premium features that graced their Custom line.
The Les Paul Junior is a flat piece of mahogany with one pickup and two controls for that pickup. Its neck is another slab of mahogany and its rosewood fretboard is adorned with dot inlays. The cost-saving measures of the Les Paul Junior did not, however, compromise on its tone. Early adopters figured out that the P90's sound is neither Gibson humbucker nor Fender single-coil, but a pleasant middle ground. It was likely this unique tone that drew Richards to what was considered a student guitar when he was already a professional touring musician.
Keith Richards owns several Les Paul Juniors, in both single and double cutaway configurations. At least one is in deep red mahogany color, but the rest are all TV Yellow. Richards' main Junior is a 1960 model nicknamed "Dice" for the Rolling Stones song "Tumbling Dice". It sports a tortoiseshell pickguard and Telecaster-style control knobs. He reportedly used the Junior to record "Start Me Up", doubling the Gibson with one of his open G Telecasters.
Richards plays "Dice" in the below performance of "Midnight Rambler". It remains a steady feature in his live arsenal to this day, a true road warrior like his Telecasters.
Zemaitis 5-string "Macabre"

| | |
| --- | --- |
| Finish | Custom Pirate Artwork |
| Years Used | 1975 to 1978 |
This distinctive Les Paul-style guitar was built for Keith by British luthier Tony Zemaitis in 1974. Zemaitis was already making guitars for new Stones man Ron Wood, and this relationship led to the creation of this piratical single-cutaway guitar.
The Zemaitis boasted a single PAF pickup, placed in the middle of the guitar's body as opposed to at the bridge or neck. This gave it a distinctive tone and Built with only five strings, it was one of Keith Richards' main open G guitars from 1974 until 1978. Sadly, this custom-built instrument was destroyed in a house fire in 1978.
Timetable Showing Each Guitar Keith Richards Has Played at Each Point of His Career
| Make | Model | Color/Finish | Years |
| --- | --- | --- | --- |
| Harmony | Meteor | Tobacco Burst | 1962 to 1964 |
| Epiphone | 1962 Casino | Sunburst | 1964 to 1966 |
| Gibson | Les Paul Standard | Sunburst | 1964 to 1967 |
| Gibson | 1957 Les Paul Custom | Ebony With Custom Graphic | 1966 to 1971 |
| Gibson | Firebird VII | Sunburst | 1966 to Unspecified |
| Fender | 1953 "Micawber" Telecaster | Butterscotch | 1970 to Present |
| Gibson | Les Paul Junior "Dice" | TV Yellow | 1971 to Present |
| Fender | 1954 "Malcolm" Telecaster | Butterscotch | 1972 to Present |
| Fender | 1975 Telecaster Custom | Black | 1975 to 2005 |
| Zemaitis | 5-string "Macabre" | Custom Pirate Artwork | 1975 to 1978 |
Keith Richards Amps Overview
Keith Richards' three-thousand-strong guitar arsenal wouldn't be doing much without amplifiers to match. His distinctive tone, chiming, full, and resonant, is more dependent on clean bluesy amplifiers than many of his rock and roll contemporaries. When most of his blues and rock contemporaries became Marshall loyalists, Keith preferred the sparkling clean tones of American-made Fender amplifiers. The distinctive high headroom, note separation, and touch response of high-wattage Fender amps can be heard all over the Rolling Stones' early records.
Keith Richards' playing style, where he often plays five-note chords with sixths and fourths, depends heavily on the listener being able to discern individual notes. Instead of heavy distortion or crunch, Richards prefers a "breakup" tone, where the guitar remains clean when played softly, and takes on a thicker slightly overdriven tone when played hard.
Fender Dual Showman
Keith picked up this amplifier way back in 1964, and it came to define the early sound of the Rolling Stones. Early Stones guitar tones were sparkling and clean, the sax-like tone on "Satisfaction" notwithstanding. Keith played an early "blackface" showman throughout the 1960s, taking full advantage of its capacity for volume without distorting.
The Dual Showman was a combo amplifier with two twelve-inch speakers. Powering these speakers were three preamplifier tubes: 12AX7s, 12AT7s, and in the power amp 4 6L6GC power tubes. While most of Keith's rock and roll-playing brethren preferred other Fender models, these were highly prized by pedal steel players, a likely reason for Keith's own affinity for the Dual Showman.
Keith Richards' playing and writing were heavily influenced by styles other than rock and roll, including his use of open tuning typically reserved for slide guitar. After using the Showman to record virtually all the earliest Rolling Stones albums, he moved on to British-built amps.
Vox AC30
Keith first employed the services of this classic British amplifier in the late 1960s, upon growing bored with his Fender Showman. The Vox AC30 is perhaps best known as the amplifier of choice for the Beatles and Brian May of Queen, but Keith Richards found a way to make the AC30 all his own.
The Vox AC30 is a twin-speaker combo amplifier made in Britain. The AC30 has a distinctive jangling tone, and its sound is most commonly associated with the sound of early British rock and roll. The AC30 is powered by EL84 tubes in the power amp and a 12AX7 tube in the preamp. The best-known feature of the Vox AC30 is its "top boost" or "brilliant" channel, which provides additional treble and sparkle to the amplifier's tone.
Keith primarily used the AC30 as a studio amp, as the Rolling Stones had an endorsement deal with Vox at the time. He reportedly played an AC30 in the earliest days of the Rolling Stones, as can be seen in the image below. In the late sixties, however, his return to the Vox fold was short-lived, and Keith quickly moved on to other amplifiers.
Ampeg SVT Bass Head Amp
Packing a whopping 300 watts of power, the Ampeg SVT was the powerhouse of the Rolling Stones' live show throughout the 1970s. These tube amps featured a higher degree of fine-tuning than was available on other amplifiers at the time, including a midrange control, midrange shift switch, input pads, and treble control with a bright switch. This meant that Keith Richards (or his guitar tech) could dial in with laser precision the thick, glassy tones the Stones were using live at the time.
The SVT was actually designed not for electric guitar, but for bass. When the Rolling Stones were rehearsing for a tour in the USA, they blew up their UK-spec Fender amps, requiring urgent replacement. Ian Stewart, Rolling Stones manager, phoned his friends at Ampeg and acquired for the entire band high-output prototype amps. Keith Richards was not alone in using the Ampeg SVT for that fateful tour in 1969, and for the decade that followed. Bill Wyman on bass and the revolving door of backup musicians that the Rolling Stones employed on tour were all playing through Ampeg's massive amplifiers.
The high wattage and fourteen 6550 tubes in Ampeg's SVT range allowed the Rolling Stones to play larger venues at a higher volume than anybody else at the time. When most amplifiers were barely scraping 100 watts, the 300 offered by the Ampegs gave the Rolling Stones huge amounts of volume. This high wattage also created plenty of headroom for Keith Richards. That is, a higher level of clean volume before the amplifier turned to natural overdriven distortion.
Typically, the Ampegs would be played either as combos or through massive sealed 8×10" speaker enclosures, often affectionately referred to as "fridges". Keith used Ampeg amps until the 1980s.
Mesa/Boogie Mark I
Although Mesa/Boogie amplifiers are more commonly associated with high-gain metal, Keith Richards used their Mark I combo extensively from the late 70s up to the 90s. Keith's amp use tends to overlap, as he would mix and match various amplifiers in both studio and live settings.
Mesa/Boogie was initially a small repair shop in which Randall Smith modified Fender amplifiers to provide higher gain and overdriven sounds. Mesa, founded in 1969, is widely considered to be one of the first boutique amp builders. Their first amplifier modification was, originally, a joke. Smith took a small, ultra-clean Fender Princeton and replaced its amplifier section with a Fender Bassman and its 10-inch speaker with a 12-inch speaker.
The resulting amplifier was louder and more distorted than the Fender and gave birth to Mesa Engineering.
Keith's Mesa/Boogie is a 100-watt combo amp that was handcrafted by Randall Smith himself. The original Mark I appeared frequently in the studio, particularly on Some Girls, Emotional Rescue, and Tattoo You.
Keith Richards Pedals and Effects Overview
Keith Richards rarely used effects pedals live, preferring the edge-of-breakup tone that you can only get by pushing a tube amp with a great guitar. He occasionally experimented with pedals in the studio, although little is known about the precise effects he used during the hazy days of the 60s and 70s. One exception to this rule is Keith Richards' in-your-face fuzz tone on "(I Can't Get No) Satisfaction", while another is the phaser on "Shattered". Let's take a look at the few effects that earned Keith Richards' approval.
Gibson Maestro FZ-1 Fuzz
If you listen to the first few seconds of the above video, you'll hear one of the most famous guitar tones ever recorded. Keith Richards initially intended to record the song's iconic opening riff with a horn section, and approximated the sound with his Firebird VII and a Gibson Maestro Fuzz-Tone FZ-1. Ultimately, the horn section was never recorded, and the fuzz tone remained. "Satisfaction" became a massive hit for the Rolling Stones and remains one of the band's signature songs to this day.
Mick Jagger, the Rolling Stones' legendary frontman and Keith Richards' eternal foil, once said of the single, "it was the song that really made the Rolling Stones, changed us from just another band into a huge, monster band" thanks to "a very catchy title. It has a very catchy guitar riff. It has a great guitar sound, which was original at that time". So catchy was the guitar riff, and so great the sound, that Gibson sold out of all Maestro units by the end of 1965.
The distinctive sustaining brass-like sound of the FZ-1 comes from its three germanium transistors, originally intended to provide fuzz to a bass guitar. Regardless of Gibson's original intention for the stompbox, in Keith Richards' hands (or under Keith's foot) it became a part of rock and roll history. In fact, it may well be the first recorded use of a fuzz pedal on a rock and roll song!
MXR Phase 100
Keith's only other recorded use of an effect pedal is on "Shattered" from Some Girls. Keith's guitar sound is prominent throughout the track, with the warbling, shifting tone of the MXR phaser is unmistakable. According to Dunlop's website, this was an MXR Phase 100, which offers more control over the shape of the phaser sound than Phase 90, which was more popular at the time. The phaser almost definitely did not accompany the Rolling Stones on tour, as Keith Richards prefers not to play with any guitar pedals live.
Wrap Up
Born in Kent, England, in 1943, to a World War Two veteran, it wasn't long before the young Keith Richards fell in love with the guitar. Told by his jazz-playing grandfather that he could have a guitar sitting on a high shelf on the day he reached it, Keith Richards, as a child stood on stacks of books and cushioned until he retrieved the treasured instrument. Early on, before there was rock and roll, Keith Richards learned to play by listening to Louis Armstrong, Billie Holiday, and Duke Ellington.
From the very beginning, the Stones were fronted by Mick Jagger and Keith Richards. They created the template of lead singer and guitarist that inspired countless imitators and few equals. While Mick contorted and writhed at the front of the stage, it was "Keef" and his supercharged blues guitar playing that delivered the Stones' signature sound.
But it was when he heard Elvis Presley for the first time that Keith fell in love with rock music. His first guitar hero was Elvis' own lead axeman, Scotty Moore, and the high-octane hybrid of country and blues he epitomized worked its way into many of Richards' signature compositions.
Richards' guitar playing is direct, unpretentious, and aggressive. He prefers to focus on chords and syncopated rhythm playing, including his famous five-string I/IV voicings. This sets Richards apart from most other famous guitarists, who rarely resist an opportunity to show off their stunning technical prowess. Further adding to Richards' unique style is the strong influence of acoustic guitar on his electric playing. Richards views the electric guitar as more limited in its musical scope than an acoustic instrument.
With so many instruments in his possession, it's no wonder that Keith Richards deploys a variety of guitars on tour and in the studio to this day. Hollow, solid, Fender, Gibson, and bizarre custom guitars have all appeared in Keef's wizened, gnarled hands.
Keith's distinctive approach to the guitar is best summed up by the man himself. Asked about his enormous arsenal of instruments, he once joked "give me five minutes and I'll make 'em all sound the same". Even more than his approach, Richards is the embodiment of Rock N' Roll, 77 years old and still in the business, Keith is without a doubt one of the most prolific guitar players to ever walk this earth.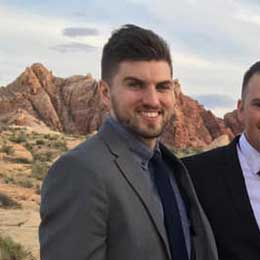 My name is Chris and I've had a passion for music and guitars for as long as I can remember. I started this website with some of my friends who are musicians, music teachers, gear heads, and music enthusiasts so we could provide high-quality guitar and music-related content.
I've been playing guitar since I was 13 years old and am an avid collector. Amps, pedals, guitars, bass, drums, microphones, studio, and recording gear, I love it all.
I was born and raised in Western Pennsylvania. My background is in Electrical Engineering, earning a Bachelor's degree from Youngstown State University. With my engineering experience, I've developed as a designer of guitar amplifiers and effects. A true passion of mine, I've designed, built, and repaired a wide range of guitar amps and electronics. Here at the Guitar Lobby, our aim is to share our passion for Music and gear with the rest of the music community.