Although some may think it's odd or just wrong, raspy vocals aren't only popular but are also pretty challenging to pull off. Medical professionals would probably refer to it as "dysphonia." However, it usually takes practice and a lot of experience to pull it off in the right context. That's why it's less common to hear singers with raspy voices.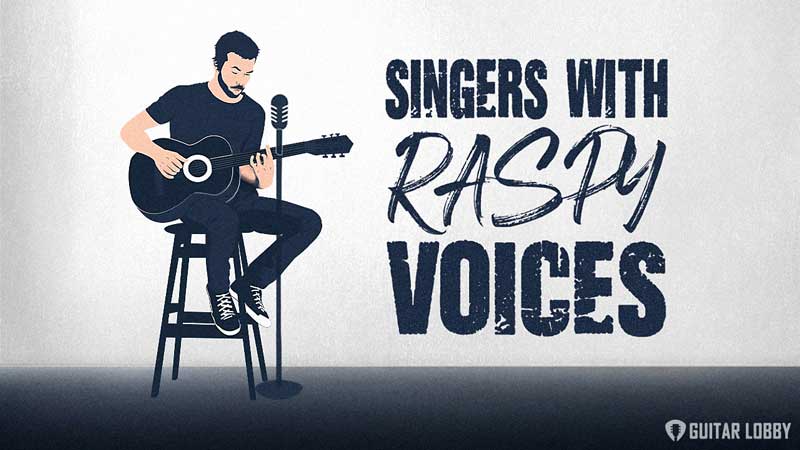 Every vocal technique is there to help one convey emotion through music. And what better way to convey the feeling of pain or a broken heart than by using a raspy voice? However, despite this desirable vocal trait, there aren't as many singers who managed to become famous for it. Sure, it's not an impossible thing to learn how to do. However, it takes a lot more to be remembered for it.
1. Louis Armstrong
| | |
| --- | --- |
| Genre | Jazz, traditional pop |
| Years active | 1919 to 1971 |
| Born | August 4, 1901 |
With Louis Armstrong, we go back to the first half of the 20th century. While The Beatles are credited for ultimately defining what "popular music" means, we still owe so much to jazz musicians. Especially to someone like Louis Armstrong.
Also known as Satchmo or Satch, Louis Armstrong really stood out from the rest of the crowd back in the day. For the most part, this is for his incredibly rough voice. It's difficult to give a proper analogy, but we'd say that it's kind of like a gravel road in the summer heat. Although rough, it's somehow soothing and oddly enjoyable. Of course, there's also his trumpet playing that worked wonders in combination with his vocal parts.
There's, of course, "What a Wonderful World," that Louis Armstrong is probably the most famous for. However, his incredible gravel-like voice and musicianship could be experienced through pretty much any other of his works. Needless to say, he's one of the most influential singers and musicians of all time.
2. Bonnie Tyler
| | |
| --- | --- |
| Genre | Rock, soft rock, country, pop |
| Years active | 1969 to today |
| Born | June 8, 1951, Skewen, Wales |
Bonnie Tyler is not only one of the most impactful musicians of the 20th century but is also adored for her incredible "husky" kind of voice. In fact, she's one of those singers who are incredibly difficult to imitate. Sure, her voice isn't super-raspy, at least not all the time. But the reason why she's one of the best vocalists to implement this practice is that she does it her own way. And she does it incredibly well.
Just take a listen to any of her classics. For instance, take "Total Eclipse of the Heart." Those rough vocal parts are done so subtly. But without them in the song, it just wouldn't be what it is. The same goes for her entire discography.
With that said, she's one of the most famous and prolific Welsh musicians of all time. Although she usually had outside songwriters, Bonnie is also an incredible writer herself. She's an incredible all-around musician who touched the hearts of fans of various genres. A true master of her craft. Bonnie Tyler is, without a doubt, one of the most famous female singers with raspy voices.
3. Steven Tyler
| | |
| --- | --- |
| Genre | Hard rock, heavy metal |
| Years active | 1970 to today |
| Born | March 26, 1948, New York City, USA |
You may know him as the frontman of Aerosmith. Paired with Joe Perry's guitar tone, it makes for one hell of a rock 'n' roll combo, especially with Steve Tyler's raspy voice. Now, this isn't your usual vocal rasp. Tyler hits those high notes way better than most other rock stars. And that happens even today, well into his 70s.
Over the years, Steven earned a nickname — the "Demon of Screamin'." And, we gotta say, the man definitely lives up to it. Additionally, his voice matches his persona, his live presence, and Aerosmith's music. From the earliest songs, like "Dream On" from the band's debut album, over their legendary collaboration with Run-D.M.C., up to the 2012 album "Music from Another Dimension!," Tyler's tasty raspiness is all over the place.
We could even argue that Steven is, in more than just one way, responsible for defining what a "rock star" really means. Apart from his stage presence and overall appearance, one of the biggest factors — if not THE biggest factor — is his incredible voice and singing techniques. Seriously, who out there can actually pull off those high notes while singing with that vocal distortion so much? To say that his skills are impressive would be an understatement.
4. Brian Johnson
| | |
| --- | --- |
| Genre | Hard rock, blues rock, rock 'n' roll |
| Years active | 1970 to now |
| Born | October 5, 1947, Dunston, England |
Speaking of defining rock 'n' roll and raspy voices, AC/DC is something impossible to avoid on a list like this one. The band's first era featured Bon Scott, who replaced the original singer Dave Evans. After Scott's tragic passing, the band brought in Brian Johnson, who shocked everyone with his distinctive piercing shade of a raspy voice.
At first, the band was even critiqued for choosing a vocalist like Brian. But AC/DC never cared and they were just 100% focused on doing their own thing. Before you knew it, they started filling stadiums, and their worldwide fame exploded after the "Back in Black" album, the first one with Brian Johnson on vocals.
Needless to say, his voice became one of rock 'n' roll staples, something that fans of all genres could recognize in the band's biggest hits. Even the old Bon Scott-era tunes got a new life with Brian's raspy input.
Of course, no matter how smaller it was compared to AC/DC, we shouldn't overlook Brian's 1970s career. He was a member of Geordie, as well as smaller bands called Gobi Desert Canoe Club, Fresh, Jasper Hart Band, as well as his solo works.
5. Chris Rea
| | |
| --- | --- |
| Genre | Rock, pop rock, blues rock |
| Years active | 1973 to now |
| Born | March 4, 1951, Middlesbrough, England |
On the other hand, Chris Rea isn't your usual rock star kind of musician. With that said, his way of singing is very specific. He preferred to keep things simple; none of the performances were overly virtuosic, at least not in the conventional sense. But one thing's certain; once you hear Chris Rea sing, you absolutely know that it's him. He has one of the most recognizable and unique voices in all modern music.
What also needs to be added is that his singing isn't as raspy as most of the other mentions on this list. If you want to put this in guitar terms, it's much milder and more subtle, more of an "overdrive" rather than "distortion." This also goes hand-in-hand with his guitar tone, writing, and arrangements. Everything is subtle, nothing is too complex, and yet he manages to convey the deepest and saddest emotions through his work. His 1962 Fender Stratocaster, known for its faded and worn-out red finish, is his most trusty companion and complements his deep and raspy voice incredibly well.
Although mostly known for his soft rock and, objectively, pop hit songs, Rea is an incredibly prolific blues musician. In fact, his 2005 album "Blue Guitars" features a total of 137 pieces that span through all eras of blues music and is divided into 11 parts. That's more than some musicians do for their entire careers, and he pulled it off in 18 months.
6. Alice Cooper
| | |
| --- | --- |
| Genre | Hard rock, shock rock, heavy metal |
| Years active | 1964 to now |
| Born | February 4, 1948, Detroit, Michigan |
It's no secret that Detroit, Michigan, is known as the "Rock City." But while we could say that some Detroit-based musicians live up to the city's name, Vincent Damon Furnier, who we all know as Alice Cooper, helped define it as the city of rock music.
For his career, we'd need to go all the way back to the mid-1960s and his high-school band Earwigs. Eventually, the band got the name Nazz before ultimately changing it to Alice Cooper. As years went by, Vincent himself became known as Alice Cooper.
After all, it's pretty difficult not to associate the band name with such an incredible frontman. Apart from being one of the shock rock pioneers and "The Godfather" of the genre, Alice is also adored for his voice. It's that rough and rugged voice that helped him become of the hard rock and heavy metal greats. On top of that, he's an incredibly humble and down-to-earth person and has had some of the finest musicians pass through his band.
7. P!nk
| | |
| --- | --- |
| Genre | Pop, R&B, pop rock |
| Years active | 1995 to today |
| Born | September 8, 1979 |
Alecia Beth Moore Hart, who we know as P!nk, or Pink, pretty much changed the game in the late 1990s and the 2000s. Although technically a pop musician, it was such a breath of fresh air back then to have that serious influx of rock music in her work. But none of it would work if she wasn't so into it, which also includes her unique way of singing.
We could only imagine how shocking it must have felt for your average mainstream music listener to have Pink on TV and radio back then. She cites Janis Joplin and Madonna as her biggest influences. Pink's work is the perfect and most tasteful combination of both worlds. There's the tenderness and raw power working perfectly with one another. Her rough voice with that recognizable growl is so natural, and yet it hits you right in the face. Listening to Pink's music is kind of like enjoying a summer thunderstorm from the comfort of your home. It's loud, it's even frightening, but it's still beautiful. Although she inspired generations of both female and male vocalists, there's a slim chance that there'll ever be anyone like her out there. Pink is Pink.
Read Next: Famous Rock Bands With Female Singers
8. M. Shadows
| | |
| --- | --- |
| Genre | Heavy metal, hard rock, alternative metal |
| Years active | 1999 to now |
| Born | July 31, 1981, California, USA |
For the next entry on this list, we'd like to go into some of the more contemporary artists and explore modern metal music. Although originally starting with obvious metalcore elements, Avenged Sevenfold is now the closest thing to "classic metal" among the artists who emerged over the past couple of decades or so. And they're easily recognizable, not only for their specific style but also for their vocalist Matthew Charles Sanders, also known as M. Shadows.
Overall, Avenged Sevenfold's musical style is a mix of heavy riffs, melodic parts, some harmonized dual-lead guitar parts, and even "softer" vocal sections. M. Shadows' vocals are a huge part of this as well. And he often goes from one to the other, even delving deep into the straight-up growling parts.
The band evolved over the years, and so did M. Shaddows' voice. And, if you ask us, it's only been getting better with time. No matter the song, you can always notice that slight gravel-ish rasp in there, even in some of the softer songs.
9. Lemmy Kilmister
| | |
| --- | --- |
| Genre | Hard rock, heavy metal, classic rock |
| Years active | 1960 to 2015 |
| Born | December 24, 1945, Stoke-on-Trent, England |
The very mention of a rough, raspy voice automatically brings up Lemmy Kilmister. Of course, the musician was active even before forming Mötorhead. These bands included Hawkwind, The Rockin' Vickers, and others. Nonetheless, it's Mötorhead that made one of the biggest changes in rock music, which is in part due to his thick distorted bass riffs and his unique rugged voice.
There are plenty of ways to describe his voice, but it feels like none of them fully represent its true nature. We described Louis Armstrong's voice as a gravel road in the summer heat. For Lemmy, this road is spiked with Jack and Coke, cigarettes, and his attitude. It's nothing short of ferocious.
From start to finish, Mötorhead's discography is filled with nothing but true rock 'n' roll bangers. And each of the songs has Lemmy's signature voice. Although these are all great, the band wouldn't have its popularity if it wasn't for Lemmy's vocals. He was a game-changer and an icon that not only revitalized rock music back in the day but also completely redefined it.
10. Joe Cocker
| | |
| --- | --- |
| Genre | Rock, pop, blues |
| Years active | 1961 to 2014 |
| Born | May 20, 1944, Sheffield, England |
Joe Cocker was one of those musicians whose music will always stay fresh. It's something that fans of all genres can appreciate. But probably the most interesting aspect of his work is Joe's voice. Although as rough as gravel, he still managed to have complete control over it, differentiating between even the slightest dynamic nuances one could imagine.
But before Joe Cocker became famous as Joe Cocker, he began his career way back in 1961 as Vance Arnold. He was performing with a band Vance Arnold and the Avengers. Over these early years, he worked with a few other great musicians, including Jimmy Page, before Led Zeppelin was even a thing.
His big break came after the release of the first album under the Joe Cocker name. "With a Little Help from My Friends" was named after The Beatles song that he covered, ultimately giving it a new life.
Cocker went on to have a pretty successful career over the coming decades. But the thing that people remember him for the most is his rough voice that still retains dynamical sensibility.
11. Adele
| | |
| --- | --- |
| Genre | Pop, soul |
| Years active | 2006 to now |
| Born | May 5, 1988, London, England |
Adele, on the other hand, is a different kind of singer altogether. Although her voice, obviously, isn't really rough, she sings with a beautiful rasp. Meanwhile, she still retains her place among the most technically proficient singers. She not only proved that millennials also have the talent to offer but that the newer generations are ready to innovate and bring things to a whole new level.
From her very first album, 2008's "19," Adele reached worldwide success. In fact, the record went triple-platinum in the US and eight-times-platinum in the UK. What's more, the singles were pretty successful as well.
But nothing could have prepared her for the success of her upcoming albums. In 2011, she released "21," which topped the charts worldwide. The entire worldwide sales have long since surpassed 31 million. And this was the record that brought three of her most successful songs, "Rolling in the Deep," "Someone Like You," and "Set Fire to the Rain."
Her success kept going, and she's still one of the most beloved musicians of today. Her unique voice, great musicianship, as well as her incredible charisma made her popular among listeners of all genres today.
12. Joan Jett
| | |
| --- | --- |
| Genre | Rock, punk rock, hard rock |
| Years active | 1975 to today |
| Born | September 22, 1958, Pennsylvania, USA |
Although hard rock is associated with all-made bands and male vocalists, nothing could have stopped Joan Jett from achieving worldwide fame. In fact, she's easily one of the most influential figures in rock music altogether and is also respected as a guitar player. Of course, her signature trait is her powerful and rough voice. Even today, she'd make even some of the most macho male singers envious.
Her most popular works are songs like "I Love Rock 'N Roll," "I Hate Myself for Loving You," "Bad Reputation," and others. With her backing band, The Blackhearts, she's achieved massive success. Apart from that, she's also known for her work with The Runaways, an all-female rock band that also featured Lita Ford.
What's also important to note is that her guitar tone and approach to playing and songwriting complemented her rugged voice. That punk-rock kind of vibe was present in all aspects of her musicianship. Hearing her shout on any of the studio or live recordings isn't like your usual punk-oriented music. Sure, they're true to the genre, and yet they're incredibly catchy, almost like pop music, and we mean this in the most positive sense of the word "pop."
Related Article: Most Famous Female Pop Singers of All Time
13. Janis Joplin
| | |
| --- | --- |
| Genre | Rock, blues rock, psychedelic rock, soul |
| Years active | 1962 to 1970 |
| Born | Born January 19, 1943, Texas, USA |
Belonging to the ill-fated "27 Club" of musicians, Janis Joplin's career was tragically cut short in 1970. Nonetheless, her work didn't go unnoticed, and she's considered to be one of the most impactful vocalists of the 20th century. Obviously deeply rooted in blues, her works went in a few directions during her career. But all of Janis' music is marked by her vocals which were a perfect blend of traditional female singing and coarse shade in her voice.
In fact, none could pull off what Janis did. Take her "Mercedes Benz," which was released on her posthumous second and final solo album "Pearl." It's an acapella piece that presents Janis' voice at its peak. Additionally, it's arguably one of her best songs.
Apart from her solo work, she worked with Big Brother and the Holding Company back in the 1960s as well. Although obviously not as big as her hit pieces, the band is worth checking out if you're into raspy female voices.
14. Kurt Cobain
| | |
| --- | --- |
| Genre | Grunge, alternative rock, hard rock, punk rock |
| Years active | 1982 to 1994 |
| Born | February 20, 1967, Washington State, USA |
The 1980s brought us glam metal. Although the genre had its great run, it began feeling very style and stereotypical. Fortunately, music started to change in the late 1980s and the early 1990s, and the new generation of rock musicians stayed away from spandex, hairspray, and obnoxious partying. Instead, we got guys like Kurt Cobain, who put societal issues and how a young individual dealt with these hardships at the time.
Although Kurt isn't the one who started the so-called grunge movement, he was a crucial part of it. But in order to convey darker messages, one needs darker and somewhat punk-ish music, as well as rougher vocals. That is how he approached his band Nirvana from its very start.
While we usually remember him and Nirvana for "Smells Like Teen Spirit," there are plenty of the band's songs that deserve more attention. For instance, pieces like "Serve the Servants" or "Sappy" also show his innovativeness as a songwriter and treat listeners with Cobain's memorable harsh vocals. But even despite his raspy voice and a very straightforward writing approach, Kurt was creatively innovative and sensible and always managed to get his message across. When it comes to singers with raspy voices, Kurt Cobain is easily one of the most well-known.
15. Grace VanderWaal
| | |
| --- | --- |
| Genre | Pop |
| Years active | 2016 to now |
| Born | January 15, 2004, Kansas, USA |
Heading over to the new generation of musicians, Grace VanderWaal was only 12 years old when she won America's Got Talent in 2016. But don't get fooled — she's not your typical TV show contestant winner. Her music and voice aren't what you'd expect from a mainstream pop singer today. Nonetheless, listening to even one of her songs, you can notice that technical perfection is an absolute priority for Grace.
But at the same time, she balances perfectly between a clean-cut modern singer and a rough-sounding underground musician. If there was a way to describe her voice, we'd like to compare it to those American vintage tube-driven guitar amps that bring brightness and just a dash of dirt in the mix.
Grace VanderWaal is still young, and yet her music feels as emotional as that of her much older and more experienced colleagues. There's a bright future ahead of Grace, and we can't wait to experience the music that she'll release in the coming years.
16. Axl Rose
| | |
| --- | --- |
| Genre | Hard rock, heavy metal, blues rock |
| Years active | 1983 to now |
| Born | February 6, 1962, Indiana, USA |
Once again, going back to the 1980s, Axl Rose is one of the musicians who wanted to bring a different twist to what other bands were doing at the time. Sure, the early incarnation of Guns N' Roses, which was also called Hollywood Rose, relied on their glam-oriented roots. But as the lineup stabilized, the band released their debut album "Appetite for Destruction." Needless to say, Axl and his band revolutionized rock music at the time.
What stood out were Axl's vocals. Similar to Brian Jones, who he even replaced in AC/DC for a brief time, he always sings with a very distinctive raspy voice. But what's always been exciting about Rose's voice is the wide range and sheer power that he was able to pull off. Even today, going into the 7th decade of his life, Axl still manages to hit those high notes and deliver a superb performance.
17. Waits
| | |
| --- | --- |
| Genre | Rock, blues, experimental |
| Years active | 1971 to today |
| Born | December 7, 1949, California, USA |
Whenever you hear Tom Waits' music, you can always notice that it's him. That deep, harsh, and gravelly voice is something that he's developed over the years. Sure, there's always been some of that rasp and distortion in his singing. But it got much more distinctive over the years.
He further defined his style throughout the 1980s and the 1990s. However, no matter how creatively and tastefully experimental it got with his music, nothing beats Tom Wats just sitting down at a piano and performing with his almost frightening vocals. It's not a surprise to know that he eventually found his way into movie soundtracks and even acted in quite a few movies.
Wrap Up:
That does it for this article. Let us know if there are any great singers that we missed that we should add to this list in the comments sections below.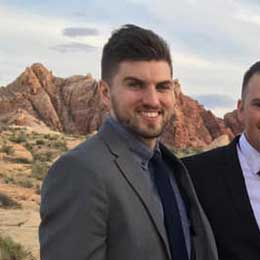 My name is Chris and I've had a passion for music and guitars for as long as I can remember. I started this website with some of my friends who are musicians, music teachers, gear heads, and music enthusiasts so we could provide high-quality guitar and music-related content.
I've been playing guitar since I was 13 years old and am an avid collector. Amps, pedals, guitars, bass, drums, microphones, studio, and recording gear, I love it all.
I was born and raised in Western Pennsylvania. My background is in Electrical Engineering, earning a Bachelor's degree from Youngstown State University. With my engineering experience, I've developed as a designer of guitar amplifiers and effects. A true passion of mine, I've designed, built, and repaired a wide range of guitar amps and electronics. Here at the Guitar Lobby, our aim is to share our passion for Music and gear with the rest of the music community.