When it comes to creating genre-blending music, hardly anyone does it better than Keith Urban. His country-inspired sound merged with face-melting rock guitar solos changed country music forever when he hit the scene in 1999. By 2001, he already earned the CMA Award for Top New Male Vocalist!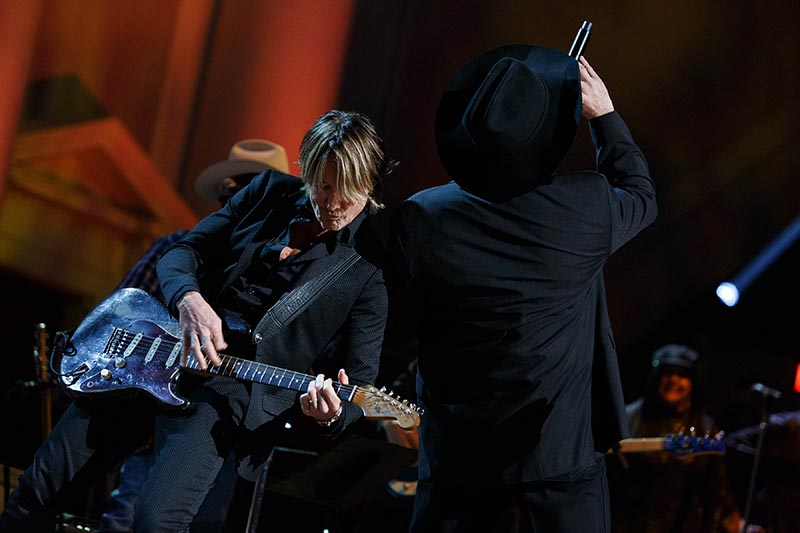 Over the years, Keith Urban has managed to write 37 songs that charted on the US Hot Country Charts, 18 of which hit number one, earned four Grammys with 19 more nominations, and won several CMA Awards, including Top Male Vocalist three times and the coveted Entertainer of the Year twice. As if his songwriting skills weren't enough, he's also a world-class guitar player. Let's take a look at some of the incredible guitars and gear that Keith Urban has used to mesh country and rock.
What Guitars Does Keith Urban Play?
Keith Urban is most known for playing his 1964 Fender Stratocaster as well as several classic Fender Telecaster guitars. Although he generally prefers Fenders, it's not uncommon to see Urban perform with his 1959 Gibson Les Paul Junior, as well as several other guitars.
See the full list of Keith Urban guitars and gear below.
1964 Fender Stratocaster

| | |
| --- | --- |
| Finish | Black |
| Years Used | 2014 to Present |
In the mid-2010s, Keith Urban was browsing through a guitar shop in Sydney, Australia. He was looking for a new amp, but something else caught his eye. When he found the amp he wanted, he needed a guitar to try it out. Behind him on the wall was a black 1964 Fender Stratocaster. According to Urban, the guitar didn't leap out at him or anything. It was just there, so he grabbed it.
Although it might not have been love at first sight, it was definitely love at first touch. Urban instantly felt how great the guitar was. Typically, he likes big necks you can really handle. The Strat, however, had a much thinner neck that gave him a ton more speed. It was so effortless to play! It was also made of rosewood, which tends to provide a bit more attack compared to the maple necks Keith Urban was used to. Naturally, he bought both the amp and the guitar.
Like most of his guitars, Keith Urban has done a few modifications to make the guitar his. Instead of the original pickups and pickguard, Urban swapped in a red tortoiseshell pickguard holding DiMarzio Injector pickups in the neck and middle positions and an Area 67 in the bridge. Don't worry Fender purists; he put the original pickups and pickguard in a safe place.
With the pickups swapped out, the 1964 Fender Stratocaster became one of Keith Urban's primary players. According to his guitar tech, it has become Keith's "number one dance partner." Since Keith is a pretty vigorous guitar player, the finish has taken a few beats and scratches along the way, but that just makes it look even better!
Urban admits he has a love/hate relationship with the guitar. He's so aggressive onstage that the smaller neck can't always keep up with his passion. Sometimes when he plays too hard, the tone gets really thin, which he can't stand. He has to remember to lighten up a bit and play the guitar the way it's meant to be played.
This 1964 Fender Stratocaster is, however, his undisputed mainstay. He uses it in almost every concert! You can see it in action in this 2021 performance of "Wild Hearts" on the TODAY Show.
1989 Fender 40th Anniversary Custom Shop Telecaster

| | |
| --- | --- |
| Finish | Sunburst |
| Years Used | 1989 to Present |
Keith Urban first came to the United States back in 1989, and to commemorate the next chapter of his career, he headed to a music shop to get another axe. He went to a shop in New York called Manny's and spied a gorgeous Fender 40th Anniversary Custom Shop Telecaster with a sunburst finish hanging on the wall.
At the time, he wasn't as far along in his career as he is now, so the $2,500 price tag seemed like a fortune. He ended up borrowing some money from friends, bought the guitar, and took it back home to Australia. He used his new guitar to record his first solo album in the following year.
Although he bought the guitar stock, just like it comes from the Custom Shop, he made several alterations over the years—specifically with the pickups.
Urban changed the pickguard and pickups around several times. At different times, the guitar went from two stock pickups to three single-coils like a Stratocaster, and all the way down to one bridge pickup. According to Keith in an interview, the guitar never responded well to being a Strat.
He typically only played the bridge pickup anyway for rock and chicken-picking, so he pulled out the mid and neck pickups. Although it sounded fine, he thought it looked too much like an Esquire, so he put the original pickguard and neck pickup back into it, which is how it's set up now. In the bridge, however, Keith put in an active EMG pickup for a little more attack power.
Throughout the several transformations, the original 1989 Fender 40th Anniversary Telecaster remained Keith Urban's primary player for most of his early career.
Around 2007, Urban came across another sunburst 40th Anniversary Telecaster. He loved his original so much that he just had to snatch it up. He ended up liking the new guitar better than his original! This time, he decided not to make any alterations. His second 40th Anniversary Tele is completely bone stock, just like it came from the factory. It replaced his original Tele as his primary player, and he still uses it today.
You can hear Keith shred his favorite 40th Anniversary Telecaster in this 2010 high-energy performance of "Somebody Like You."
Fender Stratocaster Eric Clapton Signature

| | |
| --- | --- |
| Finish | Black |
| Years Used | 2006 to Present |
One guitar legend meets another. Around 2006, Keith Urban was recording his latest album Love, Pain & the Whole Crazy Thing. Since it was a new record, he decided to get a new guitar. He wanted something with a little more mid-range, so he ended up with a late Fender Eric Clapton Signature Stratocaster, which is famous for its iconic mid-boost.
Keith Urban loved the sound of the guitar so much, he used it throughout the album, specifically to record "I Can't Stop Loving You." It turned out so good that Keith started using the Eric Clapton Strat as one of his primary players both on stage and in the studio. In fact, over the years, Keith Urban has collected three Eric Clapton Stratocasters that come with him on every tour, each with their own unique modifications.
Urban's primary Eric Clapton Stratocaster is a late 1980s model nicknamed "RC." Why the nickname? Because it has a left-handed Fender La Cabronita (Telecaster) neck. The RC stands for "Reverse Cabronita."
Keith Urban loves the Cabronita neck because of its huge size. He prefers larger necks because of his aggressive playing style. Not only can they withstand the abuse, but they're also more comfortable to play when you're jumping around and swinging the guitar vigorously on stage. As for why "RC" has a left-handed neck, according to Urban's guitar tech, "Why not!?"
In addition to the reverse Cabronita neck, "RC" also has a DiMarzio Area 67 pickup at the bridge and Fender Fat 50s in the neck and mid positions. Really, the only thing that's still stock about the guitar is the black finish and that incredible Clapton mid-boost.
Keith Urban's second Clapton Stratocaster is called "Guilty" because it's the first Clapton model that Urban made alterations to. It's guilty of leading him down the rabbit hole! This guitar got to keep the original Eric Clapton neck, but the original pickups were swapped for the Fat 50s and Area 67 just like RC. It also has a shiny gold aluminum pickguard to really make the guitar stand out.
The final Fender Eric Clapton Signature Stratocaster in Keith Urban's arsenal is called "Tuxedo" because of its black finish, black pickguard, and white pickup covers. It has the reverse Cabronita neck just like the primary "RC," but instead of a DiMarzio Area 67, Tuxedo has a Lindy Fralin Steel Pole 43 in the bridge position—which is similar to a P90 in terms of attack. It still has the Fender Fat 50s in the mid and neck positions, though.
Keith Urban's Eric Clapton Stratocasters have made frequent stage appearances ever since he got his first one back in 2006. Overall, this is without a doubt one of the most iconic Keith Urban guitars of all time.
1959 Gibson Les Paul Junior

| | |
| --- | --- |
| Finish | Cherry Red |
| Years Used | 2009 to Present |
Around 2009, Keith Urban started appearing in some promotional material holding a gorgeous 1959 double-cutaway Gibson Les Paul Junior in the iconic cherry red finish. Urban has always had a thing for LP Juniors. According to him, this smaller scale model is like the Telecaster of the Gibson world. It's simple and straightforward but still packs an incredible sound. There's nothing quite as perfect and simple as a single P90 pickup in a flat-top guitar.
Although Keith Urban certainly likes to modify his instruments, his 1959 Les Paul Junior hasn't endured any alterations or pickup changes. It just doesn't need any! The only thing not original about the guitar are the tuners and the tailpiece.
Keith Urban is notoriously rough when playing guitars, and the original tuners just couldn't hold up to the abuse. They eventually became so old that they died and wouldn't keep the guitar in tune. Keith's mentality is that staying original is nice, but a guitar has to work first and foremost. He swapped the original tuners for some modern ones that actually stay in tune.
The original tailpiece was also updated with a custom model built by resident Nashville guitar master Joe Glazier. The original string-through tailpiece wasn't easy for palm muting, and the thin design sometimes wiggled on the posts. Urban replaced the original tailpiece with a thicker mute-friendly wraparound model that's a bit thicker to prevent wiggling and ensure proper intonation.
This gorgeous 1959 Gibson Les Paul Junior usually comes out every time Keith Urban plays "Kiss the Girl." In addition to his 1959 LP Junior, Keith Urban also has an older 1957 Gibson Les Paul Junior single cutaway in a sunburst finish. It also features the same updated bridge as the 1959 model, but everything else is completely stock. Urban's 1957 Les Paul Junior is typically used as a backup, but it's the primary whenever he plays "Stupid Boy."
Maton EBG808

| | |
| --- | --- |
| Finish | Sunburst/Natural |
| Years Used | 2006 to Present |
Keith Urban might be a shredder, but he doesn't always play electric guitar. When he wants to bring it down a notch and turn up the feels, he grabs a Maton EBG808 acoustic. Just like Urban himself, Maton is a guitar manufacturer from Down Under in Australia. The EBG808 features top-of-the-line AA grade solid Sitka spruce top and blackwood back and sides to give the guitar its incredible tone.
Although country music is full of dreadnaught-sized acoustic guitars, the Maton EBG808 has a mid-size body with thinner waist. It's much more comfortable to play and not as cumbersome as many of the guitars on the market, without sacrificing projection or tone.
What really drew Keith Urban to this model was the pickup. The EBG808 features an AP5 PRO acoustic pickup that's much more stable than many other acoustic pickups. When you're playing loud, live shows like Keith Urban, an acoustic that prevents feedback is a must!
Any time Keith Urban feels like playing some stripped-down acoustic songs, he typically grabs his Maton. You can hear it in action in this soulful fingerpicking rendition of "Your Everything."
Deering "Ganjo"
| | |
| --- | --- |
| Finish | None |
| Years Used | 2002 to Present |
After his first successful solo album in 1999, Keith Urban was ready to hit the studio again for his second album Golden Road in 2002. When recording one of the songs, there was a missing sound he just couldn't put his finger on. He headed to Corner Music in Nashville to find a guitar that might fit the bill, but instead of a guitar, he found something quite different. Sitting on a stand just inside the door was a Deering Six-String Banjo.
The six-string banjo is a mix between a guitar and a banjo—hence, the name "ganjo." It's tuned and played like a guitar, but it sounds just like a banjo. It has the same circular banjo head with a guitar neck slapped on top.
Keith Urban always liked banjo, but he's a guitar player. With this, he didn't have to learn anything different! He bought it and took it straight to the studio to use on the album. According to Urban in an interview, "it was the last missing piece of his sound."
Not only did Urban use the ganjo to record his album, it instantly became a mainstay on his guitar rig and he continued to use it throughout the years. It's featured prominently on the song that Billboard would call the biggest country hit of the 2000s decade, "Somebody Like You." It's even featured in the music video.
To get the ganjo sound into an amp, Keith Urban's Deering six-string is equipped with a new EMG pickup system that's designed specifically for banjo. He typically runs it through his acoustic line; the electric line gives it too much feedback. Although it's plenty wired up, Urban doesn't use the ganjo much on stage. It's mostly a "studio toy," as his guitar tech puts it.
Keith Urban "Light the Fuse" Electric Guitar
| | |
| --- | --- |
| Finish | Sunburst |
| Years Used | 2013 to Present |
In 2013, Keith Urban worked to create a brand-new guitar line designed to give beginner players an affordable guitar that's still good enough to play. Everything was personally designed by Keith Urban himself to ensure the guitars meet his quality standards.
Although the line started with just beginner-focused acoustic guitars, it eventually added a few electric guitars, too. His electric guitar featured a Telecaster-inspired shape with a single cutaway, dual humbucker pickups, a clean maple finish, and Urban's custom graphics on the headstock. They were originally sold on the Home Shopping Network, but Keith kept a few for himself on the road.
Not only does he play his custom-designed beginner guitars on stage (how "beginner" could they be?), but he also likes to give them out during his concerts. Whenever you hear "You Look Good in My Shirt", wait for Urban to jump into the crowd, find an unsuspecting fan, and hand them the guitar off his shoulder mid-song! He's also sure to sign each guitar he gives away before he hands it over.
Danocaster Relic Tele Proto
| | |
| --- | --- |
| Finish | White Relic |
| Years Used | 2014 to Present |
Every country singer needs a Telecaster that can give them that iconic Tele twang. When Keith Urban needs to add some twinge to his sound, he turns to a Danocaster Relic Tele Proto.
The Danocaster was custom built by a luthier in Nashville named Dan Strain—hence, Danocaster. It features the same iconic body shape as the Telecaster, but that's about where the similarities end. Instead of regular Telecaster pickups, the Danocaster is equipped with custom Voodoo pickups that provide an incredibly bright, mid-range sound.
The neck is much larger than a standard Fender Telecaster, which is perfect for Urban's style, and features a V shape. In fact, this is the guitar that turned Keith Urban onto bigger necks!
Because Keith Urban likes the beat-up look, he removed the pickguard, leaving the routed pickup pockets exposed for everyone to see. When Keith Urban needs that iconic Tele sound, this is the guitar he turns to. You can hear the Danocaster Relic Tele Proto's twangy sound whenever Keith Urban plays songs like "Who Wouldn't Want to Be Me?"
Timetable Showing Each Guitar Keith Urban Has Played Throughout His Career
| Make | Model | Color/Finish | Years |
| --- | --- | --- | --- |
| Fender | 1989 40th Anniversary Custom Shop Telecaster | Sunburst | 1989 to Present |
| Deering | "Ganjo" | None | 2002 to Present |
| Maton | EBG808 | Sunburst/Natural | 2006 to Present |
| Fender | Stratocaster Eric Clapton Signature | Black | 2006 to Present |
| Gibson | 1959 Les Paul Junior | Cherry Red | 2009 to Present |
| Keith Urban | "Light the Fuse" Electric Guitar | Sunburst | 2013 to Present |
| Fender | 1964 Stratocaster | Black | 2014 to Present |
| Danocaster | Relic Telecaster Prototype | White Relic | 2014 to Present |
Keith Urban Amps Overview
A great guitar player needs a few great amps to project sound out to the screaming fans. Keith Urban has gone through a few amps over the years, but his favorites are Dumbles and Fender Twins pushing custom-made White Box cabinets. Here's a more in-depth look at Keith Urban's amplifiers.
Dumble Overdrive Special
There's hardly a guitar amp more special than the Dumble. Each one is custom-made for the buyer, so they're all a little different, but every single one is incredible. Keith Urban was first introduced to the Dumble back in 2010 when he first partnered up with fellow guitar legend
John Mayer
.
At the time, Mayer was playing a Dumble. Keith Urban said he was always curious about them, but he never had the opportunity to buy one. Mayer said he had an extra Dumble he wanted to sell if Urban was interested. When he heard the price tag, Urban was shocked. They're so expensive! John Mayer reminded him that he swaps guitars around almost every song, but you use the same amps almost every show. Why not spend a little more on a great amp to make all your guitars sound better? Urban was swayed and ended up buying the amp.
After his introduction, Urban has collected at least five Dumble amps to add to his collection. He typically uses two Dumble Overdrive Specials when he hits the road. The first Dumble has a bit more bottom end than he's used to in his guitar rig, so he uses a second amp to balance out the tone a bit more. Sometimes, he'll even mix one Dumble with a Fender Twin.
The second Dumble Keith Urban bought used to belong to Tom Berlain from the band Television. While it might not have been custom-made for Keith, it still sounds great for his guitar tone.
White Box Engineering Custom 2×12 Cabinets
When he's playing live, Keith Urban typically keeps his amps backstage, but that doesn't mean there's not plenty of sound being pumped out on stage. Sitting behind him during live shows are four 2×12" White Box Engineering cabinets that were custom built especially for him.
These custom White Box Engineering cabinets feature two 12" speakers each, for a grand total of eight massive speakers pumping out all the guitar sound you can imagine. According to Urban's guitar tech, it's so loud that nobody likes to hang out in front of them. You'll usually see a nice gap right in front of them on stage. If someone does have to go past them, they usually do it quickly, so they don't get blown over!
Keith Urban's speakers also feature a partially open back. Urban likes open backs, while his tech prefers closed. They compromised, which is why the custom White Box Engineering cabinets have partially open backs.
To make them even cooler, Keith Urban also added his custom logo on the front of the cabinets and lights to make them really stand out during shows—as if they were hard to miss from all the sound they were pumping out!
1950s Fender Twin
Keith Urban is a big fan of vintage equipment. After all, they just don't make it like they used to! To blend with all his vintage guitars, he also uses two 1950s Fender Twin amps to give him his great tone.
Keith Urban brings two vintage Fender Twin amps on tour with him. One is a 1959 model and the other is a 1960. They were Keith Urban's primary amps before he discovered the Dumble. Even after he added the Dumble to his rig, he still sometimes mixed the Dumble with a vintage Fender Twin just to even out the tone. It all depends on what he's feeling for a specific show.
PRS HXDA
Being the lead guitar player that he is, Keith Urban always loved the sound of Marshall amps, but he could never sacrifice the fantastic sound of his Dumbles. To reach the happy medium between a Marshall and a Dumble, Urban snatched up a PRS HXDA.
The PRS HXDA is a 30-watt combo amp with EL34 power tubes, Chinemag Output Transformer, and internally bridged bass and treble channels. All-in-all, it lets Urban tune in to the exact tone that he's looking for.
Because it's such a good balance of his favorite amps, Urban often adds a PRS HXDA into his mix for both live shows and in the studio.
Keith Urban Pedals and Effects Overview
If a pedal exists, there's a good chance Keith Urban has used it. Keith is a huge tone nut, and he has burned through quite a few effects and pedals chasing the perfect sound. According to his guitar tech, his rig got so big and complicated that they had to scale it back to the bare essentials and start over to make it manageable to bring on tour. He's always adding new pedals and constantly swapping them out.
Surprisingly, Keith Urban doesn't have any pedals out with him on stage, so you'll never find a Keith Urban pedalboard. Every now and then, his tech might bring out a wah, but other than that, all his pedals and effects are controlled by his guitar tech backstage.
Despite his affinity for new pedals, there are a few that have earned a regular place in Keith Urban's guitar rig. Here are some of his favorite pedals and effects over the years.
Mesa-Boogie Flux-Drive Overdrive
Every lead guitarist needs a good overdrive pedal. Keith Urban has used several overdrive pedals over the years, but he always seems to go back to the Mesa-Boogie Flux-Drive. According to his guitar tech, this pedal is responsible for 80% of Keith Urban's lead tone. It works with every amp and guitar configuration and has been in Keith's rack for years. Even when he completely reconfigures his effects, the Flux-Drive always makes the cut.
Wampler Ego Compressor
Another pedal that always makes the cut to stay in Keith Urban's effects lineup is the Wampler Ego Compressor. It might not be the most interesting pedal, but the Wampler Ego is one of the best compressors on the market.
This pedal lets you completely control the compression and "tame your dynamics" without sacrificing the tone of your guitar. You'll be able to get sustain for days without hurting your sound. For someone who plays incredible vintage equipment like Keith Urban, a compressor that doesn't hurt your tone is essential.
Liquid Foot Pro MIDI Controller
With all the incredible vintage amps Keith Urban runs, he needs a power controller to swap between them quickly. That's where the Liquid Foot Pro MIDI Controller comes in.
Although Keith Urban doesn't have any effects on stage with him, his guitar tech uses the Liquid Foot Pro MIDI Controller to easily swap between different amp and pedal configurations for each song. In fact, there are two of these controllers backstage: one by the effects rack and the other on the side of the stage. That way, Urban's guitar tech has access to the controller whether he's managing pedals by the rack or handing Keith new guitars on stage. He says it's quite the "tapdancing" act, but it works!
Xotic Effects BB Preamp
Because there's no such thing as too much overdrive, Keith Urban also has two Xotic BB Preamps in his effects drawer.
The BB Preamp isn't technically an overdrive pedal, but it's described as a "tonal Swiss army knife." It can achieve any tone from a super clean front end to thick and creamy overdrive tones. Keith Urban has two of these pedals in his rig to dial in the perfect tone for whatever song he's playing.
Truetone VS-XO
Overdrive, that's the name of the game when it comes to Keith Urban's effects. In addition to the Flux-Drive and BB Preamp, he also stashes a Truetone VS-XO into his effects drawer.
The Truetone VS-XO is an overdrive pedal built for tone tweakers, according to its online description page. It's actually a dual overdrive pedal that features two independent preamps that let guitarists create two separate tones and control which one they want to use with two footswitches. When you absolutely, positively need that perfect tone, it's hard to beat the VS-XO.
Ibanez TS808 Tube Screamer
Even if you have four other overdrive pedals at your disposal, what guitar rig is complete without an Ibanez Tube Screamer?
The Ibanez Tube Screamer is almost a standard when it comes to lead guitar rigs. Its bright-green color can be seen on pedalboards ranging from jazz and blues to rock and heavy metal. Keith Urban uses the Tube Screamer when he really needs to rip a "screaming" solo.
Boss FV-500L Volume Pedal
Keith Urban's guitar tech uses two Boss FV-500L Expression Pedals to control the volume and delay on his rig. They're attached to either side of the Liquid Foot MIDI Controller so he can easily give Urban more or less delay, depending on the song he's playing.
The volume pedal is mostly used for guitar switches. He'll turn the volume down before swapping out guitars to avoid those nasty cracks and pops—which would be especially bad with Keith's quadruple 2×12 speaker cabinets!
Boss GE-7 EQ
Getting the exact tone you want can be a hassle, but not when you have a Boss GE-7 EQ on your side.
The Boss GE-7 EQ has been the go-to equalizer pedal for many guitarists over the years. It features seven adjustable sliders to help you achieve the perfect tone every single time. It's especially helpful when you connect to a distortion effect to control unwanted feedback and keep a handle on decibel levels. Since Keith Urban always has several distortion pedals running at all times, the GE-7 is almost a must-have!
Wrap Up
Keith Urban was born in New Zealand but moved to Queensland, Australia when he was young. He started taking guitar lessons when he was in his teens and tried to emulate his guitar idols, Mark Knopfler and Lindsey Buckingham.
By 1983, his guitar chops were strong enough that he was winning talent shows around the area, including an Australian TV talent show called New Faces. He moved to the U.S. in 1992 and continued making record after record. As his skills and name grew, Urban was signed to EMI records and released his debut American self-titled album in 1999, bringing him international attention. He officially became the first New Zealand performer to reach the Top 10 on the U.S. country charts.
With the success of his first few albums, Keith Urban quickly changed the country scene, injecting a healthy dose of guitar-driven rock into the genre. Over the years, he has earned countless awards and accolades, including three Male Vocalist of the Year and two Entertainer of the Year CMA awards.
In addition to his outstanding music career, Keith Urban has also appeared as a judge in both The Voice and American Idol. He also released his own line of guitars to sell on the Home Shopping Network.
In 2021, Keith Urban is still going strong with no signs of stopping. He's constantly touring and releasing new rock-driven country music. It's hard to find another shredder in Nashville with the skills to match Keith Urban.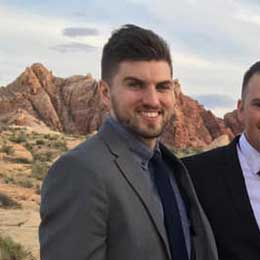 My name is Chris and I've had a passion for music and guitars for as long as I can remember. I started this website with some of my friends who are musicians, music teachers, gear heads, and music enthusiasts so we could provide high-quality guitar and music-related content.
I've been playing guitar since I was 13 years old and am an avid collector. Amps, pedals, guitars, bass, drums, microphones, studio, and recording gear, I love it all.
I was born and raised in Western Pennsylvania. My background is in Electrical Engineering, earning a Bachelor's degree from Youngstown State University. With my engineering experience, I've developed as a designer of guitar amplifiers and effects. A true passion of mine, I've designed, built, and repaired a wide range of guitar amps and electronics. Here at the Guitar Lobby, our aim is to share our passion for Music and gear with the rest of the music community.