If you've been considering learning to play in alternate tunings on your guitar, Open C tuning is a pretty powerful tool to consider adding to your sonic arsenal. A popular alternate tuning amongst guitarists, learning to play in Open C can unlock several melodic possibilities for you.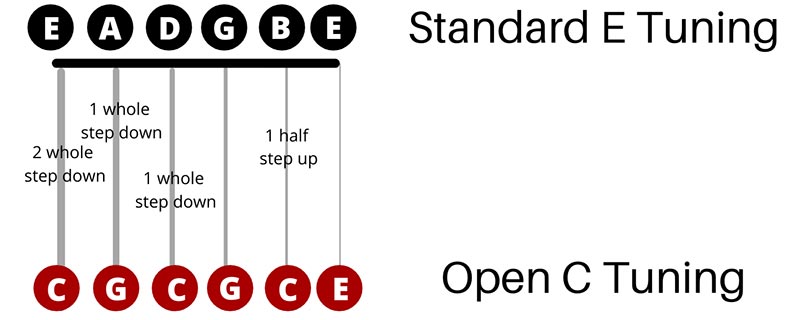 In this article, we will cover step-by-step how to tune to Open C, share the most common chord shapes in Open C, as well share with you a list of 17 awesome songs in open C tuning with lesson videos and tabs provided.
What is Open C Tuning?
To put it simply, the Open C tuning means tuning your guitar strings in such a way that strumming all the open strings results in a C chord. This is because, in this tuning, we change the tuning of the open strings to the notes of the C major chord – which are C, G, and E.
Tuning your guitar from standard tuning to Open C involving tuning most of the strings down by several steps. This may cause the action of your guitar to lower, causing rattling and fret buzz. To combat this, you may want to change the gauge of your strings as well as raise the action of the guitar.
What Does Open C Sound Like?
The Open C tuning has a full, resonant, and rich open sound of the C chord – which is why it's a favorite amongst acoustic guitarists, but it has been heavily used in hard rock on the electric guitar as well. It is the rich, versatile sound of the Open C tuning that has made it a go-to for legendary musicians such as the John Butler Trio, Devin Townsend Project, Sound Garden & Led Zeppelin!
How Is Open C Different From Standard Tuning?
To understand Open C tuning and how it differs from Standard E tuning, let's first start by taking a like at each open note of Standard tuning: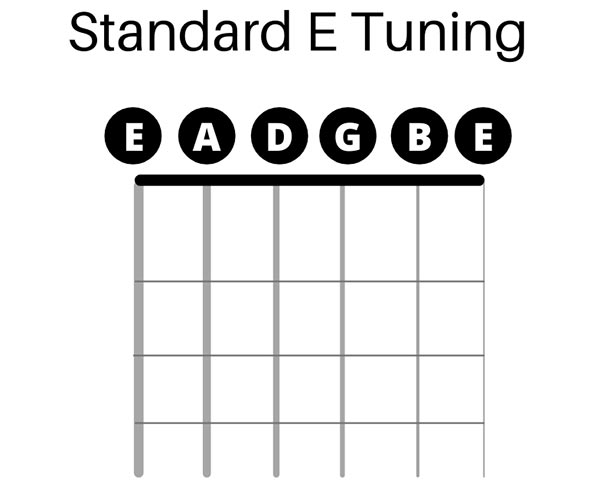 Then, after you tune your guitar from standard E tuning to Open C tuning, the individual notes for each string will look like the following: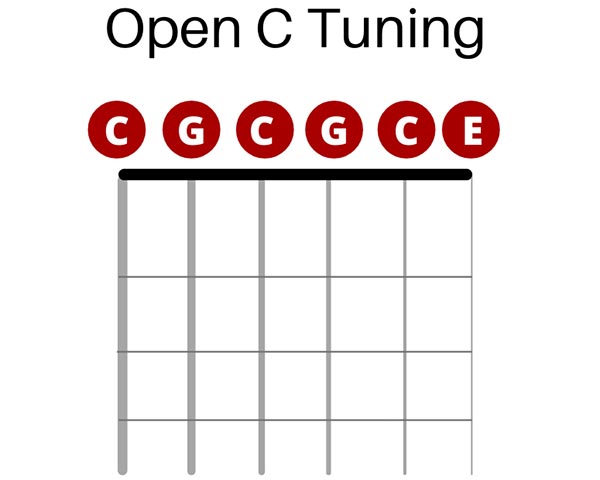 How Do I Tune My Guitar To Open C? Step-By-Step Tuning Guide
Want to tune your guitar to Open C? Follow the string-by-string guide below to find out:
6th (E) string: Pluck the 6th string, and tune down the string by two whole steps – all the way down from E until you reach the C note.
5th (A) string: Tune the 5th string down by one whole step, from A until you accurately hit the G note.
4th (D) string: Pluck the 4th string, and tune it down by one whole step to reach the C note.
3rd (G) string: The 3rd, or G string, stays in its original tuning. No changes needed.
2nd (B) string: Pluck the 2nd string, and tune it up by one whole step to reach the C note.
1st (E) string: The 1st, or E string, stays in its original tuning. No changes needed.
Now that you've figured out not only how to tune your guitar to Open C, let's start playing! The following are the 17 most popular Open C tuning songs. We have also included chords at the bottom of the page!
Pro tip: Keep in mind that in some of the songs, the bands have used a slight variation of the Open C tuning that can be achieved by tweaking the tuning of one of the strings by a bit. For those songs, we have explained the tuning variation in the descriptions.
List of Songs in Open C Tuning
1. Little Lion Man by Mumford & Sons
Tabs: Here are the Tabs to Little Lion Man by Mumford & Sons
With a folksy tune powered by lyrics that pack a punch, "Little Lion Man" was a perfect debut for the British folk-rock quartet Mumford & Sons. The song's international success and several prominent award nominations, including one by Grammy, took the band by surprise. As revealed by the band's frontman Marcus Mumford, they never really thought "Little Lion Man" would do well, considering that it featured a banjo and lots of profanity. But it seems the combination of the bluegrass banjo, piano, bass, acoustic and lively harmonic vocals turned out brilliantly and created a shout-along style that inspired similar rollicking acts from many bands.
This super catchy track is played in a variant of open C tuning. To play it, you'll have to retune your acoustic from low to high: C-A-C-G-C-E with a capo on the 5th fret. Though chords are not very hard to play, rhythm can get quite fast, so try using a thin pick for pacing up comfortably. This is easily one of the most recognizable open C tuning songs out there.
2. Friends by Led Zeppelin
Tabs: Here are the Tabs to Friends by Led Zeppelin
One of the greatest and colossally successful rock band of all time, Led Zeppelin are revered by fans for their innovative and high-intensity guitar-driven music. The band's iconic guitarist, Jimmy Page, loved experimenting with alternate tunings. From Drop D, Celtic, Gsus4 to Open C, the band has used them all. For this track from their third album, Page opted for a variant of open C tuning- C6 to create that low-pitched sound and rattling that we hear in this folk track. The tuning also went well with the Indian string instrument arrangement in the track.
To play "Friends," you'll first need to tune your guitar to C-A-C-G-C-E that makes an open C6 tuning. This song features pretty amazing acoustic guitar work. At the start, you hear some chords that are played throughout, but the main riff simply takes your breath away. The song's verse features ascending octaves and droning open strings, which sounds totally fantastic and ethereal.
3. Skinny Love by Bon Iver
Chords: Here are the Chords to Skinny Love by Bon Iver
Sonically ethereal and lyrically gritty "Skinny Love" by American indie folk band Bon Iver is a short song that will tug at your heartstrings. The track was written by singer-songwriter Justin Vernon when he retreated to an isolated cabin. It is said that a heartbroken Vernon poured his feelings over a failed relationship into this two-versed composition. The 2008 song did well chart-wise and featured in many movies and TV soundtracks, including Grey's Anatomy. In "Skinny Love," you can hear Grammy winner Vernon's distinct falsetto voice will simply take your breath away.
Instrumentally, it is minimal with beautifully layered vocals. It is tuned to an Open C, so when you strum all open strings, they'll sound like the C major chord. "Skinny Love" features a brilliant steel-string hook with a fairly consistent strumming pattern. In 2011, British artist Birdy did a piano-driven cover version of this song that ended up raking 195 million views and was used in certain episodes of The Vampire Diaries and Prisoners' Wives. This is one of the more popular Open C tuning songs on this list!
4. Pretty Noose by Soundgarden
Tabs: Here are the Tabs to Pretty Noose by Soundgarden
When you hear Soundgarden's "Pretty Noose," you come to know how well deserved that Grammy nomination was! It wasn't just Chris Cornell's powerful vocals but a rocking wah-wah opening riff, a pounding rhythm, one of the wickedest solos in alt-rock that skyrocketed the song's popularity. The song charted internationally, peaking at number two on the Billboard Modern Rock Tracks and number four Mainstream Rock Tracks chart. In terms of lyrics, it is pretty much about regretting poorly thought-out romantic decisions.
The guitar part was written in C-G-C-G-G-E tuning that was first introduced to the band by their bass guitarist Ben Shepherd in "Head Down." This Open C tuning is a "C5" variation where you tune the second string to G instead of C. Since several of the usually Open C chords used in grunge music need you to skip playing the 1st string, power chords have pretty much become a staple of the genre!
5. Bron-Yr-Aur by Led Zeppelin
Tabs: Here are the Tabs to Bron-Yr-Aur by Led Zeppelin
A well-deserved break at an 18-century Welsh cottage by the name of "Bron-Yr-Aur inspired Led Zeppelin's guitarist Jimmy page to create a stunning instrumental piece and name it after the place. With only a 2 minute duration, this beautifully fingerpicked track is perhaps the shortest Led Zeppelin song and should be a part of every rock-loving guitarists' repertoire. The song made its way into the band's sixth studio album Physical Graffiti that was released in 1975.
In "Bron-Yr-Aur," Page uses an open C6 that is a variant of open C tuning. So you'll first tune to Open C and then take the fifth string back to A to get C-A-C-G-C-E. Through the track, you'll hear some string squeaks, which were retained intentionally to make the piece sound more raw and reflective. But the rattling in the song comes from the strings being tuned too low. From a learning point of view, most parts of this instrumental are repeated so it basically boils down to 4 or 5 parts that you need to work out. If you are not very proficient at fingerstyle, you should skip using your ring finger. To play this piece well, take it slow by picking out and perfecting one part at a time.
6. Burden In My Hand by Soundgarden
Tabs: Here are the Tabs to Burden In My Hand by Soundgarden
American grunge giants Soundgarden's chart-topping "Burden In My Hand" is another great track in open C to expand your repertoire. Released in 1996 in the band's fourth studio album Down on the Upside, the single ruled the Billboard Mainstream Rock Tracks chart and sat there for five weeks in a row. The song's meaning is pretty plain and straightforward that focuses on a man's guilt over killing his wife, but some fans feel that it suggests something more profound on the lines of drug addiction or an abusive relationship.
Nominated for 16 Grammys, the band's frontman, Chris Cornell, had a powerful vocal range that never failed to astonish and enthrall the audience. He was also an equally talented guitarist and made use of alternate tunings in many of the compositions. In this song, Soundgarden uses a variation of Open C, which you can get by lowering the second string from C down to G, so you'll end up with C-G-C-G-G-E. Since this type of tuning has the second and third strings in the same pitch, the second string can get a bit loose because of the low tuning. For a better playing experience, we suggest you replace your strings with heavier gauge ones to amp up the string tension.
7. King of Spain by The Tallest Man on Earth
Tabs: Here are the Tabs to King Of Spain by The Tallest Man On Earth
Open C tuning's versatility stems from its rich sound. You will come across many musicians from varied genres who have played in this tuning. But it is particularly fancied by acoustic guitarists. You can come up with a whole lot of melodies, strumming patterns, and chord shapes in Open C. "King of Spain" by The Tallest Man on Earth is a superb example of how this type of tuning can transform a simple strumming pattern into something extraordinary.
The track has been recorded and released by the immensely charismatic Swedish singer-songwriter Kristian Matsson who, with his solo style of folk, has often been compared to Bob Dylan. In "King of Spain," he blends a wicked riff with great vocals and genius lyrics to produce a thoroughly enjoyable masterpiece. Matsson plays the Open C tuning with a capo on the 8th fret to create the song's tight rhythm.
8. Ocean by John Butler Trio
Tabs: Here are the Tabs to Ocean by John Butler Trio
Over ten minutes long, but not a single second where this track does not blow our minds! "Ocean" by the Australian roots band John Butler Trio showcases masterful guitar techniques that the band is so well-known for. The lead guitarist John Butler is nothing short of a virtuoso who mainly uses a 12 string acoustic to spin the magic. In "Ocean," he tunes his 12 string acoustic to Open C tuning to play this jaw-dropping instrumental.
If you are up for a challenge, do give this song a shot. The track has plenty of hammer-ons, pull-offs, and percussive tapping to keep you busy. Try slowing down the track to work on the hammer-ons and pull-offs. For 12 strings, the tuning goes cC-gG-cC-gG-CC-EE. You can also play this song on a six-string by using a capo on the 4th fret. If you like the band's style, be sure to check out their other Open C singles like "Funky Tonight," "What You Want," and "Betterman."
9. Deadhead by Devin Townsend Project
Tabs: Here are the Tabs to Deadhead guitar pro by Devin Townsend
Let's explore something heavier and electric in the Open C tuning, shall we? Deadhead by Devin Townsend Project is an excellent track that comes to mind. Part of the band's sixth album, this melodic song is powered by Devin Townsend's phenomenal vocals. The opening riff is simply breathtaking, and the interlude also features pretty great guitar playing. The song's overall fluid riffing, chording and drumming accompany Devin's voice brilliantly.
This nearly eight-minute song shows just how well an Open C tuning can work even with heavier styles. It is the slowest track in the band's Accelerated Evolution album but is perhaps the best one because of the fantastic vocals. Devin's tuning of choice is open C, so those who are scouting for metal and hard rock tracks in this tuning should check out his music. This is one of the heavier open C tuning songs on this list and I really enjoy playing it.
10. Question by Moody Blues
Chords: Here are the Chords to Question by The Moody Blues
Frustrated and pained by the Vietnam War, Moody Blues' guitarist and vocalist Justin Hayward penned their popular single "Question." With its powerfully evocative lyrics and a beautiful tune, the song became a staple at all of their live gigs. "Question" was first released in 1970 as a single before it made its way as the title track of their soft progressive album A Question of Balance. The track charted well superbly in the UK, peaking at number two on UK Singles Chart and staying there for 12 weeks.
The track's bright, jangly 12-string intro, a great bass line, and Hayward's aching vocals make for a spellbinding listening experience. You can arrive at the song's Open C tuning from the standard tuning by going two full tones down from E to C, one down from A to G, another one down from D to G, retaining the standard tuning's G, going up 1 semi-tone from B to C and finally keeping E standard. Once you have got the tuning in place, move to the chords and strumming patterns. Remember to keep the wrist relaxed and loose to get the fluidity of motion that'll help you keep up with Hayward's pace.
11. Can't Get Enough by Bad Company
English supergroup Bad Company's phenomenal hit "Can't Get Enough" is another super track to check out in Open C. The track's composition has been entirely credited to guitarist Mick Ralphs. "Can't Get Enough" went on to become quite a rage selling five million copies worldwide. For tuning, Ralphs went for a C-C-G-C-E-C which is basically New standard tuning with a high C in place of high G. According to him, somehow the song never sounded right in standard tuning, so he tried playing it in open C to get that cool ringing sound.
While Ralphs picked the unorthodox tuning for its unique sound, the band's vocalist and guitarist Paul Rodgers stuck to standard tuning. In an interview with Vintage Guitar magazine, Ralphs mentioned that even though it sounds great, the tuning makes it a bit hard to bend at the end of the solo. He keeps reminding himself not to hit the guitar too hard to avoid string damage.
12. Independence Day by Elliott Smith
Tabs: Here are the Tabs to Independence Day by Elliott Smith
Nebraska-born singer-songwriter Elliott Smith's signature whispery, vulnerable vocals paired with soul-touching lyrics produced many gems, one of them being "Independence Day" from 1998 album XO. The song is played in Open C and kicks off with a melodic acoustic guitar, that is soon joined by soft, groovy drums. This catchy combination of soft-sounding acoustic tune with a groovy beat beautifully backs Smith's smooth, hypnotic vocals.
Don't be fooled by how simple the guitar sounds. "Independence Day" needs a fair bit of patience and effort to nail. As a minimalist, most of Smith's songs were all about guitar and vocals with just a hint of other arrangements. In the track's opening guitars alone, he goes through about ten chord changes to create that intricate and folksy, fingerstyle melody. The song is just three minutes long, but it sure does leave a mark!
13. The Fear by Ben Howard
Tabs: Here are the Tabs to The Fear by Ben Howard
This emotionally compelling track from the singer-songwriter Ben Howard's debut album, Every Kingdom, is absolute perfection. Featuring Howard's passionate vocals and masterful guitar playing, "The Fear" is one of those songs you can't help but listen to over and over again! We love how this acoustic ballad starts with tender vocals and simple picking and then builds up into something heavier and energetic as soon as the drums kick in.
When you listen closely to the lyrics, they feel personal to the Howard but resonate with most of us. The song focuses on how we let fear define our lives and hold us back from all we can become. Howard is a left-handed guitarist who doesn't shy from experimenting with alternate tunings and often pairs them with a partial capo. In "The Fear's" original recording, he chose C-G-C-G-G-C with a capo on the 4th fret and tuned with a capo on the 3rd for the live version.
14. Betterman by John Butler Trio
Tabs: Here are the Tabs to Betterman by John Butler Trio
In the romantic ballad "Betterman," John Butler is heard singing about a woman who changed his life for the better but is too good for him. The song is high on energy with an incredibly captivating display of Butler's command of the guitar. After the track starts with a slide, he breezes through a groovy riff to the solo and then right back to an incredibly catchy rhythm. Butler uses slide technique and distortion to deliver a blazing solo that is sure to send guitar enthusiasts into a frenzy!
The track featured in the second studio album of John Butler Trio that enjoyed a good commercial run in Australia. It won the prestigious Australian ARIA award for 'Best Independent Release' and went platinum. "Betterman" showcases Butler's prowess on a 12-string guitar, and he plays the track in his preferred tuning of Open C of C-G-C-G-C-E.
15. Time 2 by Ewan Dobson
Tabs: Here are the Tabs to Time 2 by Ewan Dobson
If you aren't already familiar with the stellar guitar skills of Ewan Dobson, check it out at once, you will not be disappointed! "Time 2" is a lesser-known track on this list but unquestionably impactful. Recorded and released by the Canadian youtube sensation "Time 2" is a fantastic composition that deserves a broader reach. Trained as a classical guitarist, Dobson took a fancy to shred metal before identifying his style as "Acoustic Metal," which, simply put, is metal shredding but on an acoustic.
From fingerpicking to Flatpicking, we are mighty impressed by Dobson's prowess. After being released as a track in Ewan Dobson II's album, "Time 2" went on to win hearts catapulting Dobson's popularity and topping iTunes charts in many countries. When it comes to tuning, Ewan has a clear favorite- Open C, and the track we are discussing here is played in the same alternate tuning.
16. Caledonia by Dougie MacLean
Tabs: Here are the Tabs to Caledonia by Dougie MacLean
You'll be amazed to know that "Caledonia," the famed love ballad by Dougie MacLean to his homeland, was written in ten minutes flat! That's how talented a songwriter he is! While on a beach in France, Dougie suddenly felt overcome by waves of homesickness. He quickly jotted down his feelings and composed the piece that has often been described as the "unofficial national anthem" of Scotland. The song's name is what Romans used to call north of Great Britain and is considered a poetic word for Scotland.
MacLean fingerpicks this unforgettable song in open C tuning with a capo on the 4th fret and is played in the key of E. The track was released in a joint album with Alan Roberts in 1979 and inspired numerous covers by several musicians. A significant chunk of them with Celtic roots but there have been some rather remarkable renditions by non-Celtic artists as well.
17. Final Passage by Al Petteway
Tabs: Here are the Tabs to Final Passage by Al Petteway
Close on the heels of Led Zeppelin's Bron-Yr-Aur comes another beautiful instrumental, but this time by Grammy award-winning Master of fingerstyle, Al Petteway. Like many of Petteway's compositions, "Final Passage" is influenced by Celtic tunes. Petteway blends his acoustic with the flute, mandolin, cello, piano, and bells to create this enchanting piece.
In addition to Celtic, the American Guitarist draws inspiration from Appalachian mountain music. He is also found pairing his renowned fingerstyle with unusual tunings. For Final Passage's open voicings and ringing, Petteway uses a tuning derived from Open C: C-G-C-G-C-D. The track was featured in his 1994 album Whispering Stones, a charming collection of traditional folk tunes and new compositions.
Honorable Mention: Sister Awake by The Tea Party
Tabs: Here are the Tabs to Sister Awake by Tea Party
Wrapping up our list of songs in Open C tuning is Sister Awake by The Tea Party. It is East meets West for this Canadian Rock band! The Tea Party is well-known for pioneering Moroccon roll and exploring a range of open tunings, as seen in their 1995 single "Sister Awake." The track plays in open C tuning with C-G-C-G-C-E. What's interesting about this tuning is that since it's mostly made up of Cs and Gs it goes fabulously well with drones and meaty riffs. "Sister Awake" uses open strings as drones.
The song was released in the band's third album, The Edges of Twilight that in addition to the band's rock/blues compositions, also featured tracks that used several instruments from across the globe. With a 12-string, Sitar, Sarod, Harmonium, and Goblet Drums, "Sister Awake" infuses Middle-Eastern and Indian touch in a standard three-piece rock composition to produce enigmatic results!
Common Chords in Open C Tuning
Now that you know how to tune your guitar to an Open C tuning you must be wondering, "how do you play chords in Open C tuning?". Since we change the notes of the open strings in this tuning, this changes the way we play our usual chords such as G major, F major, E minor, D minor, and so on.
Below are easy to follow diagrams with chord tabs for the most typical chords played in an Open C tuning: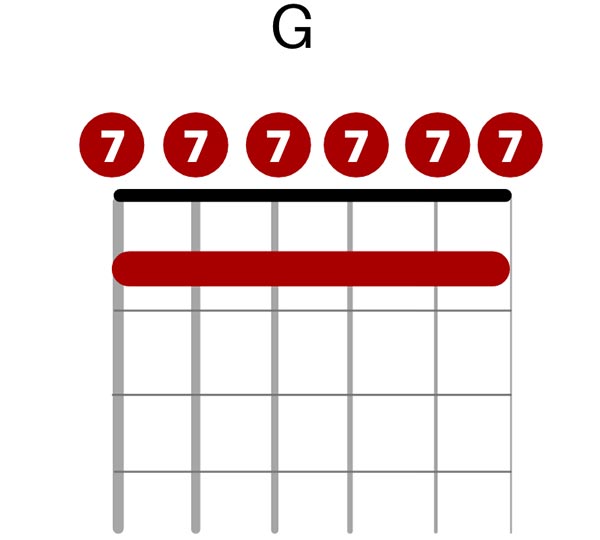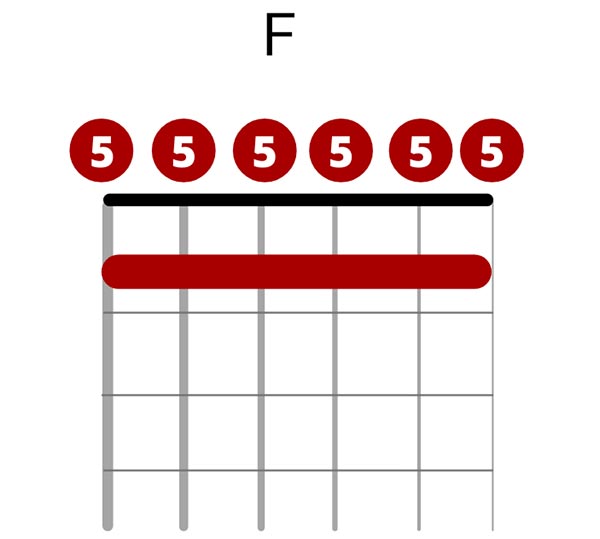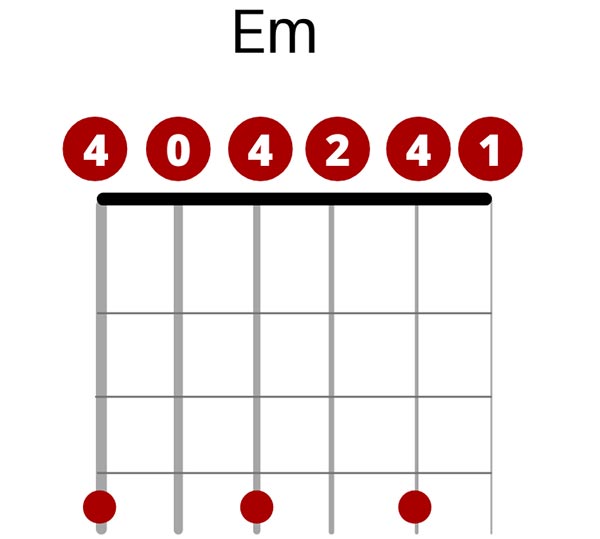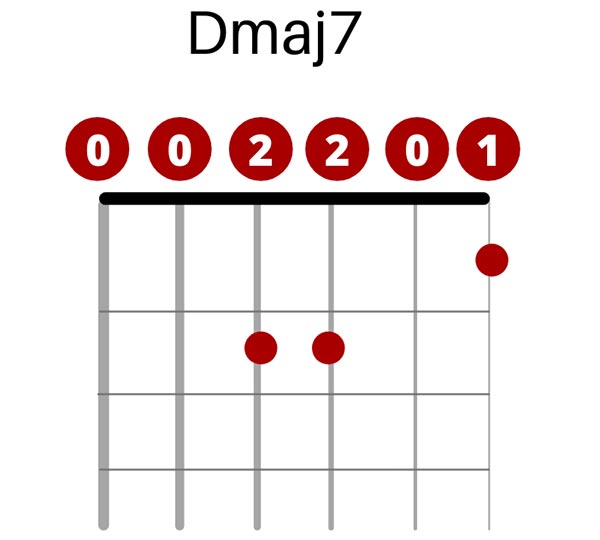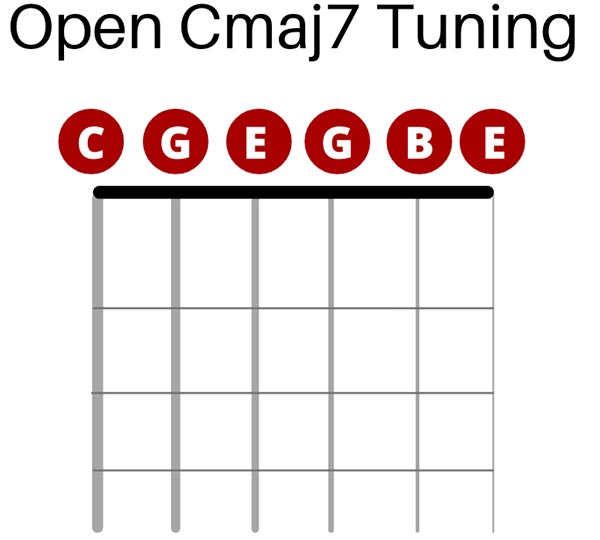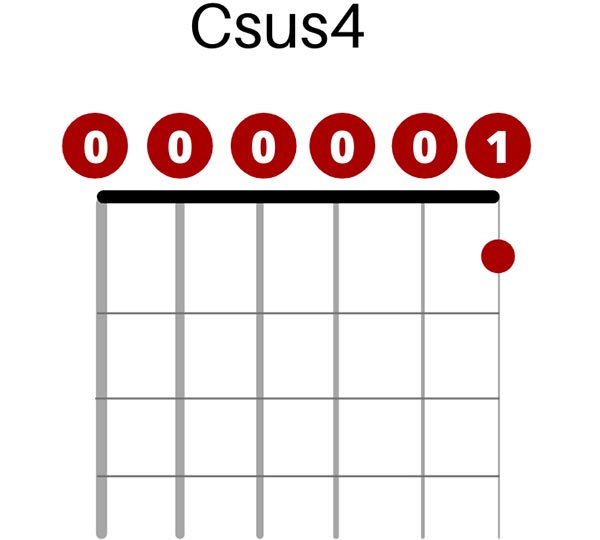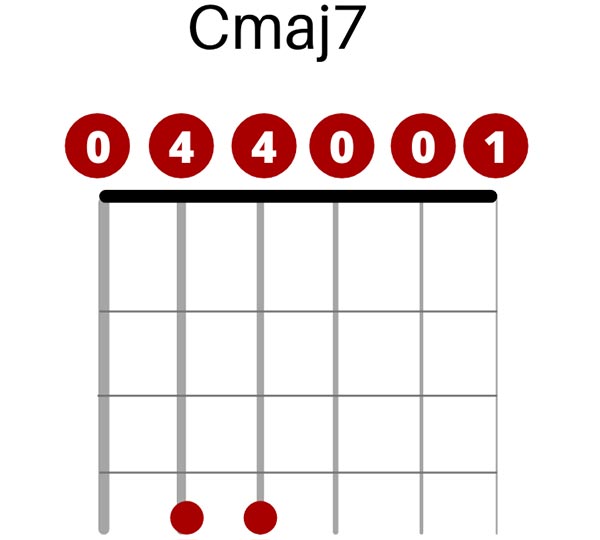 Chords For The C Minor Key (With The Same Tuning)
Did you know that the Open C tuning can be used to only as an open C major chord, but also as C minor? Here are some useful chord voicings that help you make use of it:
Cm7: 0 0 0 3 3 3
Gm7: 0 0 0 3 0 1
Fm: X 0 0 5 5 4
Gmadd11: 0 0 0 7 7 6
Bbadd9: 0 0 0 10 10 10
Ab/ G: X 0 0 8 8 8
Eb6/ G: 0 0 0 12 12 11
Why Should You Learn Open C?
The Open C is a very popular and versatile alternate guitar tuning that can be applied to a wide variety of genres – from experimental acoustic folk, blues all the way to hard rock and heavy metal! The low tuning of this guitar gives a dark and rich sonic quality to any song composed in it.
While metal music adapts the low sound to complement its gritty melodic and songwriting elements, blues played in Open C have a stunningly resonating and piano-like sound, especially when played with heavier gauge strings. Considering just how wide a palette you have with Open C, we encourage guitarists of all playing styles and skill levels to give it a go!
Open C Tuning Variations
Interestingly enough, even though the standard Open C tuning we have shared above is the most popular one used, it is not the only Open C tuning there is. There are several other variations of the Open C tuning that can be played by slightly playing around with the original Open C tuning. Here are some of the common Open C tuning variants:
Repetitive Open C Variation: C – E – G – C – E – G
CMaj 7 Variation: C – G – E – G – B – E
C5 Variation: C – G – C – G – G – E
C6 Variation: C – A – C – G – C – E
Overtones Variation: C – C- G – C – E – G
What To Keep In Mind When Tuning Guitar To Open C?
While Open C is an awesome alternate tuning to explore, there are a couple of things you should keep in mind. Here are the top few tips:
Keep a tuner handy – be it a physical tuner or an online tuning app. This is because you will be drastically changing the tuning of your strings from their usual tuning – and may need a little help to get it absolutely perfect. In case you don't have a tuner at all, then you can easily follow our guide and tune by ear.
Once you are done tuning all 6 of your strings, do go back to the previous strings to double-check their tuning. This is because significantly altering the tuning of your subsequent strings will affect the tuning of the already tuned strings as well – so you might need to polish it up to get it accurate.
Changing your guitar tuning to Open C requires you to drastically tune down several strings of your guitar. As a result, you will most likely experience some annoying fret buzz rattling while playing your instrument because of the lower action (lesser height between the strings and the fretboard). To fix this, considering raising the action of your guitar by fixing the truss rod on your guitar.
To fully reap the benefits of Open C's open, rich, and low sound, you could also choose to try out a heavier gauge guitar string. This will ensure you still have a decent amount of playing tension and also give you a nice, warm, heavy sound.
Final Thoughts
We are sure that by now you can 'C' just how amazing the Open C tuning is! Not only does it throw open a whole new world of songwriting and creative possibilities, but it also gives you access to some pretty iconic songs written by the greats over the years. So whether you've just begun exploring alternate tunings or are a seasoned pro, learning the Open C tuning will benefit both types of players in equal measure.
In case you're interested in checking out more such alternate tunings, do go through our tuning resource articles for the Open E, Open D, Open G, and Drop C tunings. From step-by-step tuning guides, chords, to which songs to play in each tuning – you'll find it all in there. Happy playing!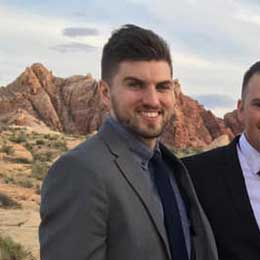 My name is Chris and I've had a passion for music and guitars for as long as I can remember. I started this website with some of my friends who are musicians, music teachers, gear heads, and music enthusiasts so we could provide high-quality guitar and music-related content.
I've been playing guitar since I was 13 years old and am an avid collector. Amps, pedals, guitars, bass, drums, microphones, studio, and recording gear, I love it all.
I was born and raised in Western Pennsylvania. My background is in Electrical Engineering, earning a Bachelor's degree from Youngstown State University. With my engineering experience, I've developed as a designer of guitar amplifiers and effects. A true passion of mine, I've designed, built, and repaired a wide range of guitar amps and electronics. Here at the Guitar Lobby, our aim is to share our passion for Music and gear with the rest of the music community.