There are blues guitarists who stay so true to tradition, remaining indiscernible from their heroes. There are others who supercharge the genre, propelling it forward with high-octane interpretations of the classics. Then there are those who take the blues and run it through all the genres it inspired, from rock and soul to hip-hop, and deliver a powerful, decisively modern vision for one of America's only native art forms. Gary Clark Jr. is one of those guitarists.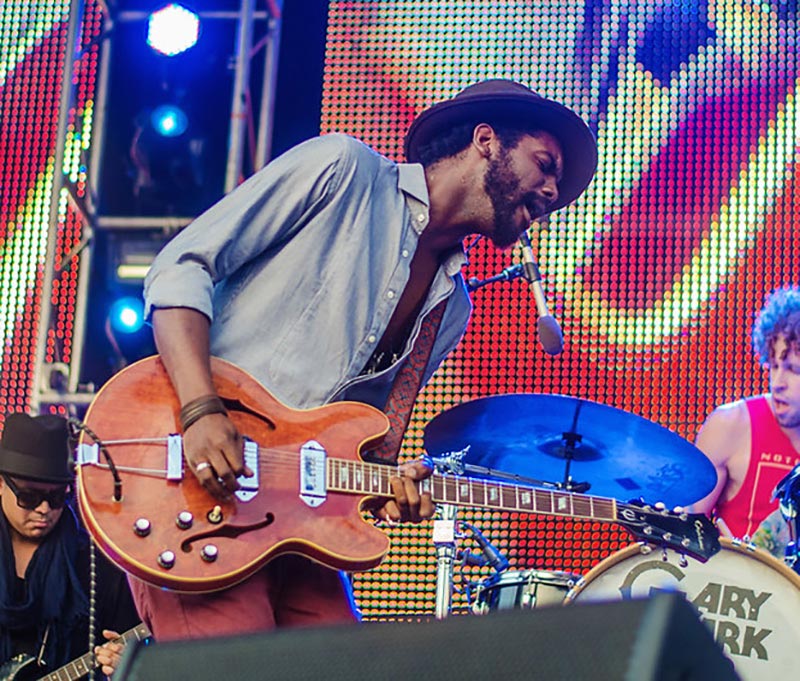 Today with chart-topping singles and performances alongside the Rolling Stones under his belt, Gary Clark Jr insists on pushing the boundaries of the music he loves. Whether he's recording a punishing, fuzzed-out take on The Beatles' "Come Together" for Zack Snyder's Justice League, working alongside a rapper like Tech N9ne, or serenading audiences with his melodic, blues-driven guitar playing, Clark is one of the modern guitar's true heroes.
What Guitars Does Gary Clark Jr Play?
Gary Clark Jr. has been a devoted player of his Epiphone Casino model guitars, which inspired his very own "Blak and Blu" Epiphone Gary Clark Jr. Signature Casino model guitar. In more recent years he's also heavily played Gibson SG model guitars as well.
See the full list of Gary Clark Jr guitars and gear below.
Epiphone Gary Clark Jr Signature Casino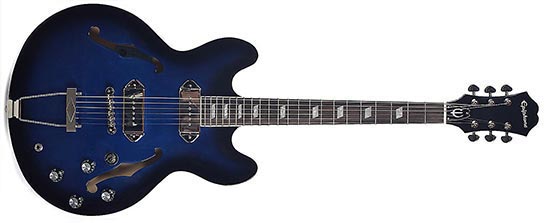 | | |
| --- | --- |
| Finish | Black and Blue Sunburst |
| Years Used | 2014 to Present |
Once Gary Clark Jr's debut album Blak and Blu became a massive hit, and he toured the world brandishing Epiphone guitars, it was only a matter of time before the manufacturer approached him regarding a signature model. The most distinctive feature of this signature model is its unique and self announce black and blue paint job, a direct reference to the name of his album. Clark actually wanted to paint the guitar himself, but he opted to let the experts at Epiphone complete that particular job for him.
The Blak and Blu Casino comes in two variants, one with a Bigsby tremolo and the other with the trapeze tailpiece more commonly found on the 60s Casinos that Clark plays. It boasts a pair of genuine Gibson P90 dogear pickups and chrome hardware to finish its distinctive look.
This guitar features a 5-ply maple-and-birch hollow body with single-ply white binding around the body and neck. Its mahogany neck has a SlimTaper D-shaped profile for unparalleled comfort while playing, set to the body at the sixteenth fret as per the 1960s Casino's specifications. Its rosewood fingerboard has parallelogram pearloid inlays and a 1.68" nut.
The Gibson USA P90s in this guitar, as opposed to Epiphone's comparatively underpowered stock P90s found in lower-end instruments, use Alnico magnets, with a P90 R in the rhythm position and P90T in the neck.
Gibson's most famous pickup is probably the humbucker, particularly the PAF series of the 1950s. However, from 1946 to 1957, the Gibson-made P90 was the guitar builder's pickup of choice, a plus-sized single-coil pickup designed as a higher-powered alternative to the Charlie Christian pickup of earlier years. Although the P90 was relegated to Gibson and Epiphone budget models from 1957 onwards, it found favor among those who wanted a brighter, janglier sound than humbuckers can offer. Although the P90 is a single-coil pickup, it isn't quite as bright or as snappy as Fender's single-coil pickups, with a sound all its own. This thicker tone comes from bar magnets set under the pole pieces, while Fender pickups have rod magnets. Although Gary Clark Jr uses a broad variety of guitars, the core of his tone over the past decade has been his consistent use of P90 pickups, as found in his signature Casino.
The pickup selector is a Switchcraft model, with standard Epiphone volume and tone potentiometers to control the guitar's sound. Finally, this guitar's ABR Tune-o-matic bridge is nickel, while the headstock features Grover Rotomatic tuning heads.
Of course, the signature Blak and Blu Casino's body is fully hollow with no center block, as an Epiphone Casino ought to be.
Clark can be seen playing his signature Epiphone Casino in the below performance of the Beatles' "While My Guitar Gently Weeps" alongside no less a backing band than Dave Grohl and Joe Walsh. Note the guitar's distinctive P90-driven tone, and how Clark has to consistently control his volume knob in order to tame its tendency to feedback at high volume.
1961 Gibson SG Les Paul Tribute

| | |
| --- | --- |
| Finish | Cherry Red |
| Years Used | 2013 to Present |
It would have to be a truly amazing guitar to take the top spot in Gary Clark Jr's arsenal from his beloved Epiphone Casinos. This SG-style "Les Paul" hasn't exactly replaced Gary Clark Jr's Casinos, but it certainly sees a lot of use from the man who once played hollow-bodied guitars exclusively.
Gary Clark Jr's 1961 reissue SG was given to him by Foo Fighters axeman Pat Smear when they were recording the song "What Do I Do / God As My Witness" for the Foos' album Sonic Highways.
The 1961 SG reissue is remarkable in that it isn't exactly a Gibson SG. Back when the SG was first introduced in 1961, it was still called the Les Paul. Gibson, in an attempt to revive their sales following a massive dip in 1960, sought to revitalize their Les Paul model. This new "Les Paul", designed with no input from the legendary jazzman who gave it his name, had a thinner, flat-topped mahogany body with twin cutaways to improve upper-fretboard access. By using less wood in the body, and offering a thinner mahogany neck, Gibson could reduce production costs and charge less for this new Les Paul than they had for the then-flagging sunburst Les Pauls of the late 1950s.
Les Paul himself hated these guitars so much that he asked Gibson to withhold his royalty payment from their sales, and remove his name from the guitar. The designation "SG", as in "Solid Guitar", went on the new guitars instead, from 1963 onwards.
Gary Clark Jr's '61 reissue SG/Les Paul features the standard appointments of the time. It has a solid mahogany body and neck, with a small black pickguard (as opposed to the "batwing" pickguard of later models). Its twin PAF humbuckers are Gibson standard, likely to be '57 classics. Clark's SG also has the vibrato tailpiece and tune-o-matic bridge of the original 1961 models and a curiously mismatched neck tone knob. The mahogany neck is adorned with a rosewood fretboard, inlaid with mother-of-pearl trapezoid fret inlays. The Gibson logo and "crown" inlay in the headstock are also mother-of-pearl.
Clark embraced his new guitar with gusto, appreciating the "unhinged" tone of its humbuckers. He primarily uses the SG for live performances of "Grinder" and "The Healing" from The Story of Sonny Boy Slim.
You can hear this SG in all its glory in the below video performance of "When My Train Pulls In". as per usual this model has become his main for one of his most iconic tunes.
Epiphone Casino


| | |
| --- | --- |
| Finish | Sunburst/Red/Natural |
| Years Used | 2012 to Present |
When Gary Clark Jr first burst into mainstream consciousness with his 2012 album Blak and Blu, much of his incendiary playing was powered by this old-school hollow body from Epiphone.
Clark told Guitar World around the time that he loved "everything about the Casino. I love its P-90 pickups, its shape, how hollow and light it is, and even the way it sounds unplugged when I'm playing it around the house. I feel like it was made for me. I was into Otis Rush, Freddie King, and B.B. King's sound, with their big semi-hollow Gibson guitars, and I wanted one too, but when I saw and played the Casino I said this is what I need in my life. It's a beautiful instrument."
And love it Clark did, playing his Epiphone Casino loyally all over the world in support of his raucous debut album. Clark's main Epiphone Casinos early on were one in a sunburst finish, as pictured above, and another in a cherry red finish.
The sunburst Epiphone Casino is actually a limited edition Elitist 1965 model, which was made in Japan from 2014 to 2019. Following building in Japan, these guitars were shipped to a Gibson factory in the USA and set up using American parts, including the guitar's P90 pickups. Accordingly, these Epiphone guitars go for a far higher price than their Korean or Chinese-made siblings, often double or more.
This high-end reproduction of the classic 1965 Epiphone Casino featured a 5-ply hollow maple body with a set mahogany neck and rosewood fretboard. Its solid neck featured a D-taper shape and Delrin plastic saddles on its tune-o-matic bridge. Clark's sunburst Casino also features a Bigsby vibrato tailpiece, a la George Harrison, although it's unclear if this was a stock feature or an aftermarket addition. Clark told MusicRadar in 2011 that he doesn't like to change his Epiphone Casinos in any way because he loves them "right the way they are". Perhaps he bought the guitar with its Bigsby already installed.
The red Casino, which features a distinctive matte finish, is a Korean-made production line Casino. Like the Japanese-made Elitist, it features a hollow maple body, mahogany neck, rosewood fretboard, and twin P90 pickups. Unlike the Elitist, it was made entirely in Epiphone's Korean factory, which suggests that it was built sometime before Epiphone moved all its production to China in 2007.
Clark bought his red Casino in Austin, Texas, when he went searching for a "hollow body like all the blues greats had". Like Chuck Berry, Eric Clapton, and BB King, Gary Clark Jr was drawn to the shape and striking color of "big red Gibsons", but in his pre-fame days lacked the money to buy one. Accordingly, he bought a stock Epiphone Casino and has played them ever since.
Critical to the unique tone of the Epiphone Casino is its fully hollow body. Although some hollow-bodied guitars, such as the Gibson ES-335, have a solid block of wood running through the center of the guitar's body to minimize feedback, the Casino is completely hollow. This makes the guitar much lighter but can cause feedback when played at high volume or when using overdrive. Like many bluesmen before him, Gary Clark Jr leans into his guitars' propensity for feedback, using this squealing effect to add drama and musicality to his blistering lead playing.
Clark also uses a 1966 factory second Epiphone Casino that he acquired in London. Supposedly, this was his main "heavy" guitar until he transitioned to the Gibson SG in recent years.
Gary Clark used his Epiphone Casinos live exclusively during the Blak and Blu tours and during the recording of that album, and these provided the basis for his first-ever signature guitar.
Gibson SG Gary Clark Jr Signature Model


| | |
| --- | --- |
| Finish | TV Yellow / Cherry Red |
| Years Used | 2017 to Present |
Although his 1961 reissue SG was the first solid-bodied guitar that Gary Clark Jr played regularly, it was by no means the last. His loyalty to Gibson guitars, and his rising profile, led him to partner up with the manufacturer for yet another signature model, this time based on the '61 SG.
Gary Clark Jr's signature SGs come in two colors and set themselves apart from the flock of near-identical SGs with their triple P90 pickup layout. All three of these pickups are Gibson P90s, with a P90SR in the neck, P90M in the middle position, and P90ST in the bridge position. Like other triple-pickup Gibson guitars, the Gary Clark Signature SG's control layout is slightly different from usual. While two-pickup Gibsons tend to have two each of volume and tone controls, one of each for each pickup, this three-pickup SG begs to differ. It boasts three volume knobs, one for each pickup, and a sole master tone knob, all hand-wired with orange drop capacitors. Its three-way toggle switch can select one pickup at a time.
These signature SGs are based heavily on Clark's own 1961 reissue, albeit without the tremolo. Otherwise, the guitar's slender neck, rosewood fretboard, all-mahogany body, and neck are the same, as are its mother-of-pearl trapezoid inlays. The nickel hardware and ABR bridge, too, are based on the 1961 SG's specs. It even features the smaller pickguard of the early sixties, not the larger pickguard which became famous in the seventies. Curiously, the signature SG features 24 frets, rather than the standard 22 of most Gibson guitars.
Clark used his signature SGs as well as the original '61 to record nearly every track on his album This Land, telling Guitar World in 2019 that the album was "pretty much all SGs". The aggressive, articulate tone of his signature SGs can be heard in the below video, in which Gary Clark Jr performs the anti-racist anthem "This Land" live on Saturday Night Live. Note that Clark uses his control knobs to dial in his tone for the guitar solo, making the most of the unique layout for this guitar.
1967 Gibson ES-330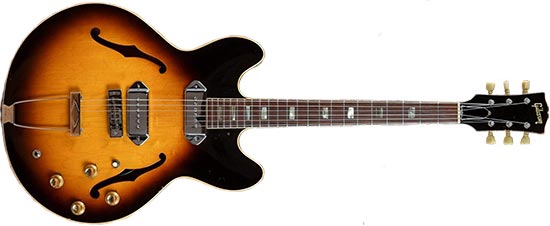 | | |
| --- | --- |
| Finish | Tobacco Burst |
| Years Used | 2012 to Present |
Described by Gary as his "dream guitar", the Gibson 330 is the Epiphone Casino's older, far more expensive brother. Clark bought this guitar in New York around the time he was creating Blak and Blu. Although he didn't play this guitar on that album, it quickly became a mainstay of his touring setup, becoming a backup to his revolving lineup of Casinos, or used to accompany Clark's harmonica playing. It often plays second fiddle to Clark's harmonica as it has a softer, rounder tone than any of his other guitars, allowing the harmonica to shine.
The Gibson 330 was first introduced to the Gibson lineup in 1959. Although it resembled the more popular 335, it was thoroughly different in its construction. Like the Casino, it featured P90 pickups and a fully hollow body, and initially, its neck joined the body at the 16th fret. Later 330 reissues would have a longer neck, designated by the model name ES-330L (L for Long neck).
Gary Clark Jr's Gibson ES-330 has a trapeze tailpiece, dogear Gibson P90 pickups, and the same fully hollow maple body as his Casinos. Its neck is mahogany, with a rosewood fretboard and mother of pearl block inlays. This is easily one of the most iconic Gary Clark Jr guitars of all time and also one of my personal favorites.
Gibson ES-125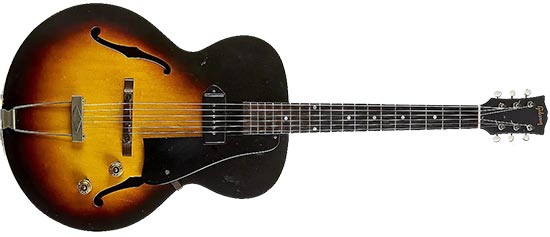 | | |
| --- | --- |
| Finish | Sunburst |
| Years Used | 2009 to Present |
The Gibson ES-125 is a distinctive retro-looking instrument. It used to be Gary Clark Jr's main guitar until he got into the Epiphone Casinos which became his signature. It is reportedly one of the very first high-end six-strings he got for himself
According to an interview with his guitar tech, Gary Clark Jr uses this guitar with flat-wound strings for an "antique" sound. Of course, this guitar has a P90 pickup in its sole visible neck position, but supposedly also boasts a Piezo acoustic pickup in the bridge.
This guitar looks old because it is old. Gibson first introduced the big-bodied 125 as part of its archtop range in 1941, intended to be an entry-level model aimed at beginner guitarists. Its sole P90 pickup, placed in the neck position, gives the 125 a distinctive sound, particularly compared to other P90-equipped hollow-bodies like the Casino. The 125 has a darker, warmer tone than its brethren, thanks in part to its pickup placement and its 3-ply maple and poplar body. Its neck is mahogany, and its fretboard is rosewood with dot inlays. Its neck pickup is also slightly larger than those of the ES 330.
Clark primarily used his ES 125 to play unaccompanied, which his tech claims gives the audience "a raw sense of Gary".
1963 Fender Custom Shop Stratocaster
| | |
| --- | --- |
| Finish | Olympic White |
| Years Used | 2013 to Present |
Gary Clark Jr has always loved the sound of the legendary Fender Stratocaster, during an interview with Premier Guitar, he claimed that ever since he was a boy, he's been chasing after the Stevie Ray Vaughan tone, and that is the one thing he won't use his Gibson or Epiphone models for. This is one of the most special entries to his catalog, given the fact that his wife – then-fiancee- got it for him as a Christmas gift when the two were downtown in New York and Gary tried it a Stratocaster at a local shop for a couple of hours.
This Rare 63 Custom Shop Strat has a unique painted headstock and it's been reportedly refinished in its original color. As for its pickups, this Stratocaster features a triple single coil set up, and Gary claims that he wishes to keep it the same way his lady got it for him.
Needless to say, this mainstay has seen some heavy action both live and in-studio, especially for the "funky and groovy songs of the record" as he told Premier Guitar."Sonny Boy Slim" saw a massive soulful side of Gary Clark, and this Stratocaster enabled him to explore this newfound sound in his craft, crediting Nile Rodgers as an inspiration for the mellow R&B tunes, with "Our Love" as a highlight.
Clark also used this model for the lead part recordings of "Hold On", "Down to Ride" and most of the rhythm parts of "Sonny Boy Slim", claiming these tones can undisputedly be achieved with a Stratocaster only.
Ibanez Blazer

| | |
| --- | --- |
| Finish | Sunburst |
| Years Used | 1996 to Present |
According to his mother, this is Clark's most endeared guitar. It was a present from Gary's parents when he was barely a youngster, and reportedly, he wouldn't go anywhere around the house without it. This Ibanez Blazer is more than a key instrument, it's what Gary often turns to at home when new ideas pop into mind, he claims that it keeps things organic and true to his roots, just like when he was a boy learning how to play.
Additionally, this guitar saw the very first time Clark jumped on stage at a local talent show in his hometown of Austin Texas, and ever since then, this six-string got a very special status with the slinger and he's kept it ever since. The Blazer is a rather simple model as well, it sports a Humbucker, P90, Humbucker setup on its body with a Gotoh tremolo system, according to his guitar tech, it cemented the idea on Gary that guitars should be simple.
This 80s Ibanez Blazer has also become somewhat of a family relic, with most of his endeared ones claiming that every time Clark's mother assists or watches a concert, she congratulates him on still keeping it in prime condition and his lineup.
Gibson Flying V GCJ Prototype
| | |
| --- | --- |
| Finish | Korina/ Yellow/Split Black |
| Years Used | 2019 to Present |
Around 2019, Gary Clark Jr started appearing with a Gibson Flying V equipped with three P90 pickups. He was touring with prototype Flying Vs, which thus far have not been made commercially available.
The materials and construction for this guitar are unclear, but its body is likely either Korina or mahogany. The distinctive red-brown hue of the natural-finish Flying V suggests a mahogany body. Its neck is rosewood, with fret inlays resembling those of Jimi Hendrix's Flying V.
Notably, like his signature SG, this Flying V features four control knobs. These are probably the same configuration as Clark's SG, three for volume and a master tone. Its three-way pickup selector is probably similar to that of the signature SG as well.
The Gary Clark Jr Flying V has its neck pickup flush against the fretboard, like the Gibson 330, and, notably, soap bar-style P90 pickups as opposed to the dogear pickups of his 330 and Casino guitars.
You can see Gary Clark Jr brandishing his unique Flying V in the below performance of "Pearl Cadillac" from Saturday Night Live.
Timetable Showing Each Guitar Gary Clark Jr. Has Played at Each Point in His Career
| Make | Model | Color/Finish | Years |
| --- | --- | --- | --- |
| Ibanez | Blazer | Sunburst | 1996 to Present |
| Gibson | ES-125 | Sunburst | 2009 to Present |
| Epiphone | Casino | Sunburst/Red/Natural | 2012 to Present |
| Gibson | 1967 ES-330 | Tobacco Burst | 2012 to Present |
| Fender | 1963 Custom Shop Stratocaster | Olympic White | 2013 to Present |
| Gibson | 1961 SG Les Paul Tribute | Cherry Red | 2013 to Present |
| Epiphone | Gary Clark Jr Signature Casino | Blak and Blu Sunburst | 2014 to Present |
| Gibson | SG Gary Clark Jr Signature Model | TV Yellow/ Cherry Red | 2017 to Present |
| Gibson | Flying V GCJ Prototype | Korina/ Yellow/Split Black | 2019 to Present |
Gary Clark Jr Amps Overview
Gary Clark Jr's choice of amplifiers, like his guitars, is informed largely by the storied history of vintage blues and rock and roll. For years, he was a dedicated user of vintage Fender amps, including one that once belonged to The Who axeman Pete Townshend. In recent times, however, he has expanded into other amplifiers, including a Cesar Diaz model. Generally speaking, Gary Clark Jr prefers reliable, hefty, old-school tube amps over anything too modern or overloaded with bells and whistles. Once, when asked about amp modeling and new software, he laughed, replying "Man, I wouldn't even know how to start doing that! I'm a simple man. That's how I like it."
Fender Vibro-King
As much a mainstay of Gary Clark Jr's tone as his ever-present P90 pickup and smooth, soulful voice is his Fender Vibro-King amplifier.
Clark's main live amp is a Fender Vibro-King combo loaded with three Jensen speakers. He bought his first Vibro-King while still in Austin, Texas, after a session with another guitar player who used one. "I was sitting in with this guitar player in Austin I knew—Alan Haynes—and he let me check out this Vibro-King he had just bought," Clark told Guitar World. "Before I got off the stage I knew I needed one. Zapata had one, and he really didn't like it, so I snagged it up from him quick. I love how it breaks up. It's really chunky and nasty, and it has very pretty-sounding reverb, too."
The Vibro-King is a hand-wired sixty-watt Fender combo, delivering rich clean tones thanks to its 6L6 Groove Tubes and Fender's classic 63 reverb unit. 12AX7 preamp tubes help push the amp into the thick, luscious overdrive for which Gary Clark Jr is famous. Unlike most Fender amplifiers, which prioritize a high-fidelity guitar tone at high volume, the Vibro-King breaks up into overdrive at relatively low volume, around three or four on the amplifier's volume dial. The Vibro-King provides the core of Clark's tone for much of his studio work, including on the debut albums Blak and Blu and This Land.
Live, Gary Clark Jr actually runs two Vibro-Kings simultaneously at all times. In addition to his Zapata Vibro-King, he uses one that used to belong to Pete Townshend of British rock gods The Who. When Clark was touring Europe he struggled to find a Vibro-King combo, but Pete Townshend had ten custom-made Vibro-King heads with matching 2×10 cabinets lying around. Live, he runs the Vibro-King combo and the head simultaneously, but during the recording of The Story of Sonny Boy Slim, Clark used the head and cabinet almost exclusively.
Fender Princeton Reverb
Sometimes, even genre-bending rock stars need to turn down. When he's playing smaller rooms or guesting at Austin's blues clubs, Gary Clark Jr prefers to use a 2013 Fender Princeton, which operates at a mere 12-15 watts, rather than the Vibro-King's whopping sixty watts of power. Clark's Princeton "Blueface" reissue, so named for the blue script on its silver faceplate boasts one 7025, two 12AX7, and one 12AT7 tube in the preamp and two fixed-bias 6V6GT tubes in the power amp. It also uses a 5U4GB rectifier, with a sole ten-inch Jensen speaker.
Cesar Diaz CD-100
Gary Clark Jr reserves his use of the Cesar Diaz 100-watt amplifier for the studio, but he used it extensively when recording This Land. He particularly liked the Diaz for recording solos, telling Premier Guitar that he "was using a César Diaz 100 watt and turned it all the way up". In the studio, he ran the Diaz through a Marshall 4×12 cab.
The Diaz amplifiers were built in the 1980s and 1990s by Cesar Diaz, a local musician in the Pennsylvania area. Very few of them still exist, but those that do are highly prized among amp collectors. The CD-100 is a single-channel tube amp with 6550 tubes, not unlike early Marshall Super Lead amplifiers.
Gary Clark Jr. Pedals and Effects Overview
Gary Clark Jr, like all great bluesmen, prefers the rough-and-ready sound of a cranked tube amp. However, necessity dictates the use of pedals to achieve some of his otherworldly tones. Clark once said of his pedalboard that he eschewed effects for years because "the traditional blues guys in Austin will raise their eyebrows if your pedalboard looks too busy."
Clark runs his pedals through the effects loop of his Vibro-King, and typically uses little more than fuzz, wah, overdrive, and a Strymon Flint to mimic the reverb and tremolo sounds of his Fender amps when he needs to tame their feedback.
Ibanez Tube Screamer
What self-respecting Stevie Ray Vaughan acolyte would be complete without this little green box from Japanese builders Ibanez?
Back in 2011, when Gary Clark Jr was just breaking into mainstream consciousness, he was loyally running an Ibanez Tube Screamer as his main source of overdrive. He described the Tube Screamer to MusicRadar as his "go-to pedal", bought in faithful imitation of fellow Texas bluesman Stevie Ray Vaughan. Clark used the Tube Screamer live and in the studio up until 2014 when he began experimenting with a variety of other overdrives.
The Tube Screamer has a characteristic spike in midrange frequencies, which helps the guitar's sound cut through the mix in larger ensembles. It achieves this through the use of silicon diodes and an op-amp circuit, which produces the soft symmetrical clipping sound of the Tube Screamer.
Gary Clark Jr used the TS9 variant, which has a brighter, more aggressive output than the original TS808.
Hermida Audio Zen Drive
This pedal replaced the Tube Screamer in Clark's rig around 2015 and remains a part of his live sound to this day. The Zen Drive was designed to deliver smooth, violin-like lead tones sensitive to player dynamics. For a conditioned bluesman like Gary Clark Jr, who happily manipulates his fingering and volume knob live, this is an ideal complement to his distinctive playing style.
Gary Clark Jr uses the Zen Drive live, and used it during the recording of This Land.
Fulltone Octafuzz
One of Clark's tonal mainstays ever since the Blak and Blu era has been the Fulltone Octafuzz. Supposedly, he landed on the Octafuzz after testing out around thirty fuzz pedals on tour during the Blak and Blu tour. He runs his Octafuzz with both the volume and boost knobs around 10 o'clock. The Octafuzz was designed to mimic the searing, otherworldly fuzz tones of Jimi Hendrix and Stevie Ray Vaughan.
Gary Clark Jr uses his fuzz pedal for a variety of tones, including leads, riffs, and even occasional rhythm playing.
Strymon Flint
Gary Clark Jr is a long-time adherent of the Strymon Flint, which he uses to mimic the tremolo and reverb sounds of his Fender amplifiers. Although he reportedly prefers the built-in tremolo and reverb of a vintage Fender amp, engaging these circuits at the volume at which he plays, and with his hollow-bodied P90-equipped guitars, can result in screeching unwanted feedback.
In order to tame the feedback and approximate the distinctive Fender reverb and tremolo sounds, he uses this versatile pedal from Strymon.
Dunlop Gary Clark Jr Cry Baby
The Dunlop Cry Baby is one of the most iconic guitar pedals in the world. It was a must-have tool in the arsenal of many of the instrument's greatest proponents, from Jimi Hendrix to Slash and even Metallica's Kirk Hammett. Initially, the Cry Baby was developed in order to emulate the "wah" sound of a muted trumpet. Guitarists in the 1960s, at the cutting edge of rock and roll innovation, quickly adopted the Cry Baby as a major tonal feature.
The Gary Clark Jr Cry Baby has a reduced frequency range compared to the classic Cry Baby, with a bright top end but not quite as deep a dive into low end in the heel position. Clark's guitar tech described his signature model Cry Baby as "as a dark pedal, almost like you were playing guitar underwater with a wah". This unique voicing is likely designed to work in conjunction with the bright, snappy tone of his Epiphone Casinos and P90-equipped SGs.
Before he played his signature Cry Baby, Gary Clark Jr tried as many wah pedals as he could, often rotating between Dunlop and Vox wahs in order to find the right sound for him. He used an ordinary Cry Baby in 2011 and seemed to settle on the Cry Baby until he developed his own model with Dunlop in 2015.
Wrap Up
Gary Clark Jr traces his humble beginnings to Austin, Texas, where legends like Jimmie Vaughan nurtured his talent from a young age. From there, he followed in the footsteps of America's greatest live musicians, touring and performing relentlessly. This drive, coupled with Clark's songwriting prowess, genre-bending music, and searing, white-hot guitar tone, led him to ever-increasing success.
Early, lazy comparisons to Jimi Hendrix may have been intended as insults or praise, some intended to mark Clark as yet another aspiring blues guitarist, while others deemed him to be the second coming of a guitar god. However, like Jimi Hendrix before him, Gary Clark Jr plans on taking his interpretation of the blues to as many corners of the music world as he can.
With his melodic, soulful approach to the guitar is as much informed by Anderson Paak as Stevie Ray Vaughan. As is fitting for a musician so committed to blurring the lines between the past and the future, Gary Clark Jr's choice of equipment combines vintage influences with a modern edge. And needless to say, his impact on music in the last few years has been nothing short of his ambitions.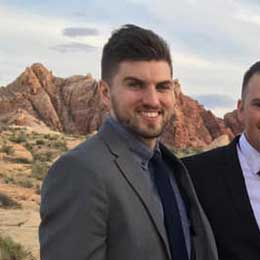 My name is Chris and I've had a passion for music and guitars for as long as I can remember. I started this website with some of my friends who are musicians, music teachers, gear heads, and music enthusiasts so we could provide high-quality guitar and music-related content.
I've been playing guitar since I was 13 years old and am an avid collector. Amps, pedals, guitars, bass, drums, microphones, studio, and recording gear, I love it all.
I was born and raised in Western Pennsylvania. My background is in Electrical Engineering, earning a Bachelor's degree from Youngstown State University. With my engineering experience, I've developed as a designer of guitar amplifiers and effects. A true passion of mine, I've designed, built, and repaired a wide range of guitar amps and electronics. Here at the Guitar Lobby, our aim is to share our passion for Music and gear with the rest of the music community.