Whether you're a musician or a music lover, you have to love how songs express the entire spectrum of human emotion! And as a musician, you have the power to evoke all kinds of feelings within your audience, which could be joy, energy, and sadness too. Today we'll be bringing you a list of sad guitar songs that stand out for many reasons.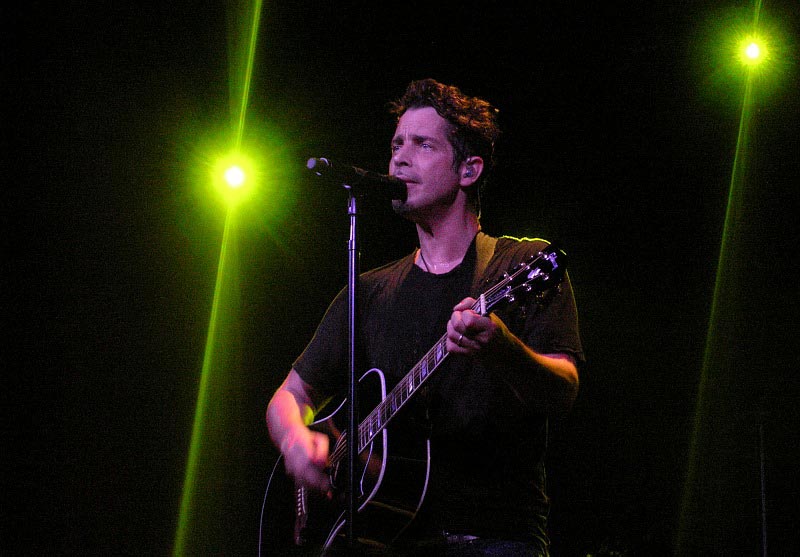 Whether you're a guitar beginner or an experienced veteran, there's something in here for everyone. From their lyrics, vocal style, composition, and overall feel, these songs can tug on anyone's heartstrings and bring emotional depth to your performance.
List of Easy Sad Guitar Songs
1. Wish You Were Here by Pink Floyd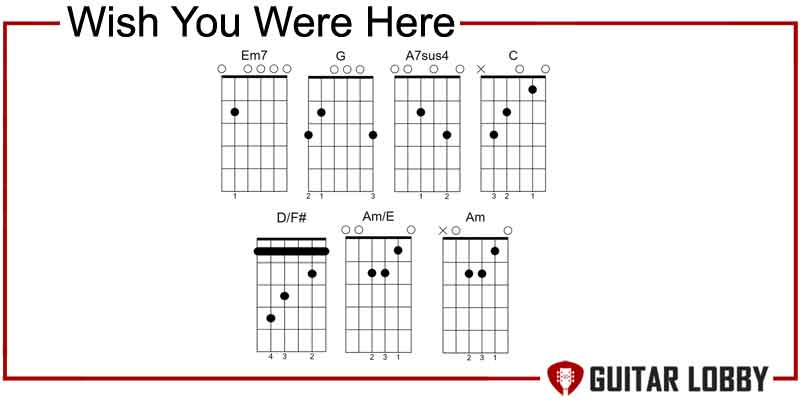 Often called the "saddest song" by Pink Floyd, "Wish You Were Here" is the kind of composition that can tug at the heartstrings of even those who have no clue about its lyrical origins. With lyrics centered around the rise and fall of a star, success, and absence, the band pays a solemn tribute to former frontman and co-founder Syd Barett who left the group due to declining physical and mental health owing to drug abuse.
"Wish You Were Here" begins as a smooth transition from the previous track akin to switching between radio stations. What you hear next is David Gilmour's tender and expressive 12-string acoustic intro. The chord progression in this song is steady and repetitive, something that can be easily attempted by beginners. The more experienced players can try their hand at the iconic intro and the deeply expressive solos that feature in this touching ballad.
2. Nude by Radiohead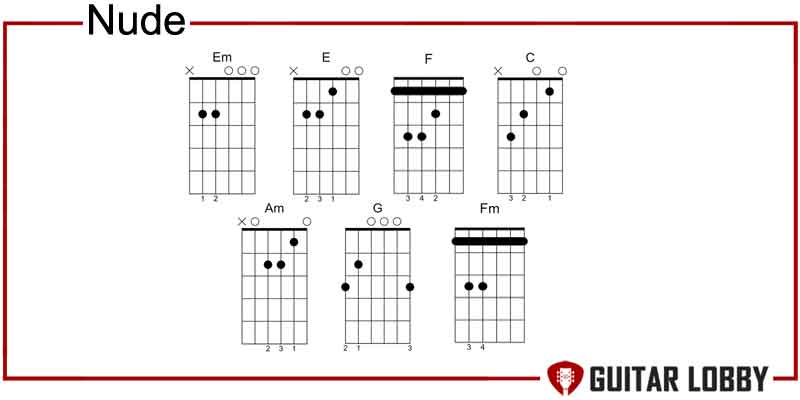 "Don't get any big ideas, they're not gonna happen" – goes the song's first line. Radiohead (specifically, Thom Yorke) has a funny way of getting inside your head and messing with it. There are so many songs in their discography with heavy, melancholic undertones that it was tough to pick only a few! And although one of their more underrated songs, 'Nude' is a masterclass in making a listener feel uneasy and unsettled, but in the most beautiful possible way.
Part of the band's seventh studio album 'In Rainbows' (one of my personal favorites), the song's minimal instrumentation and the contemplative guitar licks set the stage perfectly. And then, Yorke's signature haunting vocals just create such a strange emotional intensity that the song and its words linger on long after the song finishes.
3. Hurt by Johnny Cash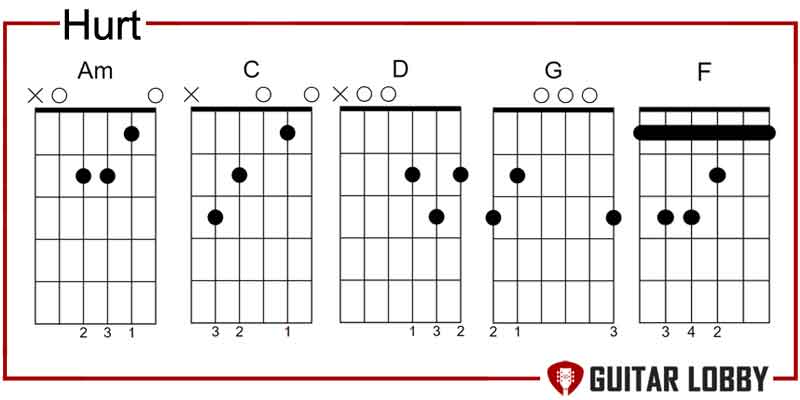 Country legend Johnny Cash's distinctive take on Nine Inch Nails' original prompted songwriter and band's frontman Trent Reznor into saying the song didn't feel like his anymore. Cash was 70 when he recorded "Hurt" as a part of his last studio album American IV: The Man Comes Around. He took Reznor's industrial rocker and turned it into a country gem using his signature baritone in sparse style and beautiful acoustic work. It's no wonder this tremendously moving ballad was voted as one of the greatest cover versions of all time in a poll conducted by the BBC.
You don't need advanced skills to play this one. Just four easy chords Am, C, D, G will get you through most of the song. There's an F chord, too, but that only shows up in chorus and outro—all in all, an easy song with a straightforward strum pattern. Hurt by Johnny Cash is one of my favorite sad acoustic guitar songs to play.
4. Tears In Heaven by Eric Clapton

While writing this blog, I saved this song for the last as it is not an easy one to write about, especially once you know about the tragedy that inspired it. An emotionally choking ballad, Eric Clapton's "Tears in Heaven," was written to heal from the unbearable loss of his four-year-old son, who died after falling from the window of a New York skyscraper. The song became one of Clapton's best-selling singles, winning three Grammy Awards, clocking millions in record sales around the globe.
Clapton employs chord inversions, non-diatonic intricate fingerpicking to lend a multi-textured, layered sound. As it is entirely in fingerstyle, familiarity with fingerpicking is a must to play this song. It'll be a good idea to learn all techniques and embellishments section by section at a slower tempo before playing along with the original. Good luck!
5. Like a Stone by Audioslave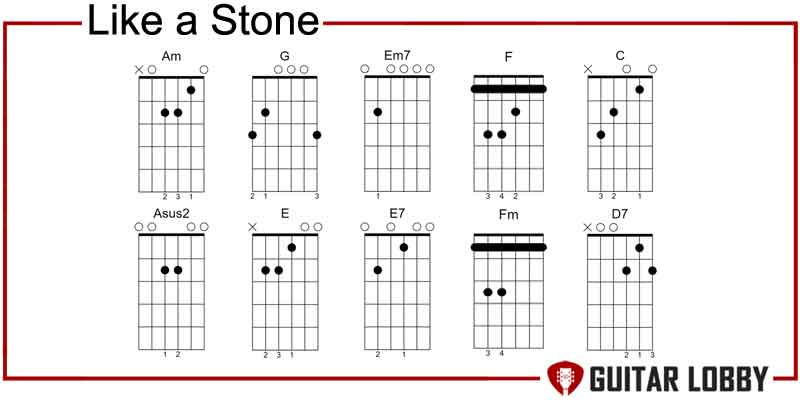 Formed with some of the most iconic figures of 21st rock, including Chris Cornell and Tom Morello, Audioslave lived up to the hype, enthralling fans with one masterpiece after another. One of their more somber works, "Like A Stone," unravels the mind of an aging man as he faces death. He sits in his house alone, thinking about the afterlife, waiting to be reunited with those who have passed on before him. Everything from the band's minimal arrangement to Cornell's tender than usual vocals plays their part in bringing out the profundity of the lyrics.
Treasured by fans and critics alike, "Like A Stone" topped Billboard Hot Mainstream Rock Charts, becoming the band's as well as Cornell's biggest career hit. After Cornell's untimely passing, the song was used by the remaining band members to pay tribute to him at their concerts. They play it instrumentally, banking on the crowd to take over Cornell's vocals. A befitting tribute to one of the greatest voices in rock.
6. While My Guitar Gently Weeps by The Beatles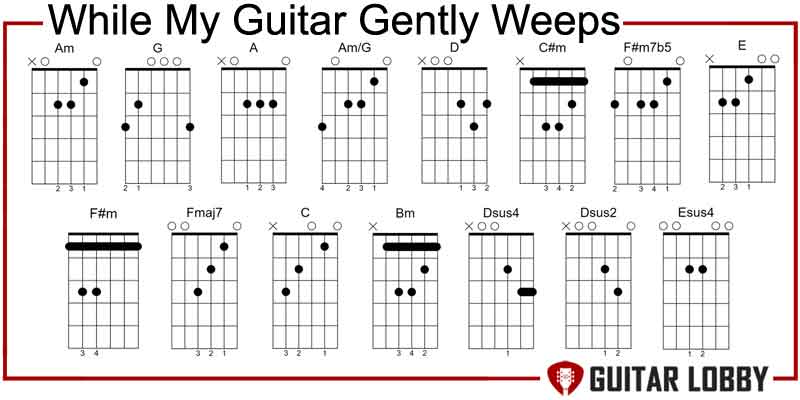 What started as a folk song by rock 'n' roll legends, the Beatles, ended up becoming one of the greatest songs in the history of rock and arguably George Harrison's best work. "While My Guitar Gently Weeps" came out when the band was going through a particularly difficult time. The song's deeply personal lyrics are reflective of the disharmony in the group. Cracks began to appear after the band's return from India in 1968, which is pretty evident when you listen to this melancholic composition.
"While My Guitar Gently Weeps" was initially recorded as soft acoustic by Harrison before being replaced by hard rock arrangement when the full band took over. For the guitar parts, Harrison turned to his friend, the legendary Eric Clapton, whose bluesy solo in unison with Harrison's expressive licks made this an ageless guitar masterpiece.
7. She Talks To Angels by The Black Crowes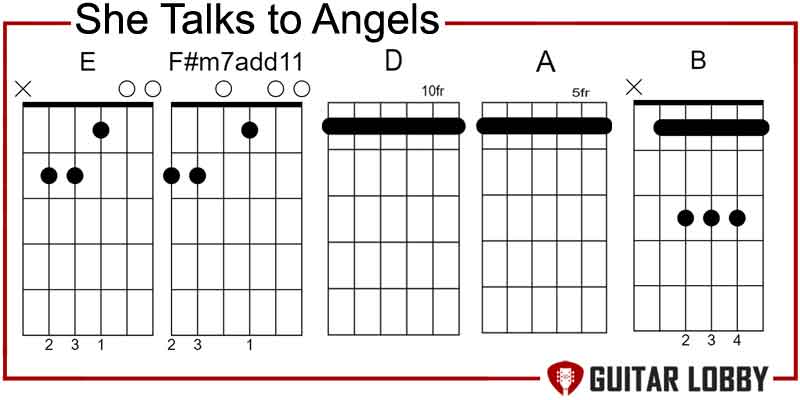 At a time when Robinson brothers of The Black Crowes were a part of the Atlanta club scene, they came across a girl whose personality and behavior inspired their megahit "She Talks to Angels."The dark acoustic rock ballad narrates the tale of a heroin-addicted goth girl who relied on drugs and heavy makeup to conceal excruciating pain and loneliness.
Released in 1990 as a part of the band's debut album Shake Your Money, not only did this track conquer the charts but also inspired many covers, including one by heavy metal giants Lamb of God. When you get down to playing it, be sure to tune to Open E like the original recording. To arrive at this tuning, raise the 5th string to B, the 4th string to E, and the 3rd string to G#. This track will give you plenty of practice in hammer-ons, slides, and pull-offs. So, check out the linked tabs and get started!
8. Knockin' on Heaven's Door by Bob Dylan
Bob Dylan's classic "Knockin' on Heaven's Door" is so ubiquitous that we all have heard it at least once in our lifetime. Written for the 1973 movie Patt Garett and Billy, the Kid, this song is as legendary as the man behind it. It's astonishing how Dylan used the simplest of musical elements to craft the immensely moving melody that's played during an emotional death scene of a frontier lawman in the movie.
The guitar work is built around three major chords G, C, D, and a minor chord Am. Since its release, the song has attracted countless covers, including Guns N' Roses' hugely popular rockier rendition. There are other awesome versions by Eric Clapton, Paul Simon, Bono, Neil Young, and Randy Crawford, worth checking out.
9. Fix You by Coldplay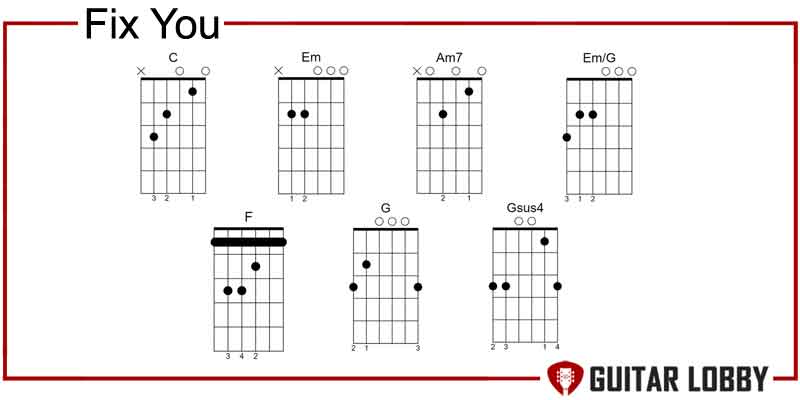 With undertones of grief and sorrow, "Fix You" is one of Coldplay's most sentimental songs. You simply cannot miss the pain in Chris Martin's voice, longing to comfort and console someone he loves who's going through a tremendous amount of emotional upheaval.
The first half of the song is powered by an organ accompanied by piano and guitar, becoming more uplifting in the remaining half with electric guitar, bass, and drums were thrown into the mix. The transition from a somber acoustic to an upbeat anthemic is a real tearjerker moment. It's amazing how poignantly the lyrics, vocals, and sonic arrangement trace a grief-stricken person's emotional journey from mourning to recovery.
10. Stop This Train by John Mayer
From the very first notes, "Stop This Train" digs up the strongest emotions, nostalgia, and vulnerability in the minds of the listeners. With his signature raspy voice, captivating finger-picked riffs, John Mayer takes you on a bittersweet ride where he uses the train as a metaphor for time. The relatable, thought-provoking lyrics talk about the anxiety we often experience when we feel our lives moving too fast, our parents aging, and how much ever we want to stop time, we need to learn it won't. We just need to embrace life as it unfolds. From Mayer's 2006 seminal album Continuum, "Stop This Train" is a song that'll stay with you long after it stops playing.
11. Landslide by Fleetwood Mac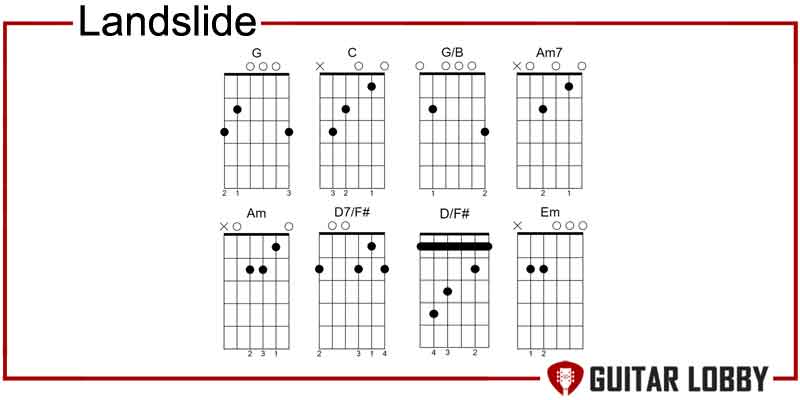 An emotional, soul-stirring ride, Fleetwood Mac's "Landslide" hits hard, leaving a lasting impact on the listeners. It also happens to be Stevie Nicks' most iconic work, with her goosebump-inducing vocals taking you through the challenges one faces in different stages of life and the overwhelming moment where one accepts that's just how it'll always be.
Nicks' haunting vocals are backed by a beautiful fingerstyle guitar that makes me run to my guitar and start playing. You'll need a capo on the 3rd fret for this one. Throughout the song, you'll be cycling through a bunch of chords in a steady chord progression. Not very challenging and something you should be able to pick up with little effort. We've linked up some tabs right here to get you started.
12. Back to Black by Amy Winehouse
In the title track off best-selling Black to Back album, soul and jazz trailblazer Amy Winehouse pours her heart out, hurt by her boyfriend who's left her for another girl. Notable for its old school sound, which is reminiscent of girl groups era from the '60s, "Back to Black," along with other tracks from the album, proved to be a gamechanger for Winehouse, catapulting her rise as a global music star.
The song opened to raving reviews for its modern take on girl-group classics and poignancy. Winehouse's stormy soul-laden vocals are a sonic delight for the listeners. The song has been built on the key of D minor with a distinctive swing vibe. Guitar-wise, it's a smooth ride, thanks to most chords being from the same scale.
13. Drive by Incubus
With a strong message about how some of us let fear occupy the driving seat in our lives and all that we could achieve in life if it weren't the case, "Drive" pretty much put prominent rockers, Incubus, on the map. Released as the third single from the band's third album, Make Yourself, the song topped charts, becoming their biggest hit to date.
An immersive ride, "Drive," kicks off with a soft, mellow acoustic melody that keeps you hooked. Evocative vocals do justice to the inspirational lyrics, and the incredibly catchy yet understated guitar solo should be packed into your arsenal right away. I wouldn't call "Drive" a sad song, but something that makes you pause, reflect and take charge of your life. If you're looking for sad acoustic guitar songs this one by Incubus is fun and easy to play.
14. Gravity by John Mayer
If there was ever a song that made you feel like smiling and crying at the same time, it's John Mayer's "Gravity." His Live in Los Angeles version of the single is fuelled by one of the most emotive guitar solos I've ever heard. Mayer's guitar is the hero here, surpassing the vocals in terms of emotional depth.
The phenomenal intro and solo, set against the backdrop of calming vocals and a lovely bass line, is nothing short of wizardly. Like most of Mayer's songs, the lyrics are super relatable and talk about making sure you love yourself and not let the odds in life pull you down. According to Mayer, this is the most important song he's ever written, which is pretty evident as it features in three of his albums.
15. With Or Without You by U2
When Bono wrote U2's enduring love ballad from the 1975 album Joshua Tree, he wanted to capture unsavory elements and dynamics that wreck even the strongest of relationships. "With or Without You" proved pretty challenging for the band to shape sonically. At one point, the group was so frustrated with the slow progress they just wanted to ditch it. After much rejigging and permutations, they finally nailed the sound. This reluctant composition ended up becoming one of their biggest hit. It was their first single on the Billboard Hot 100 charts and was named 132nd on Rolling Stone's "The 500 Greatest Songs of All Time."
From Bono's vocals to The Edge's wailing Infinite guitar, every element plays its part perfectly in mirroring the tormented lyrics. It's a bit challenging to play but not if you skip some of the embellishments. For the most simplified version, you'll need to know G, D, Em, and C chords. Don't forget to place a capo on the 7th fret before you start playing.
16. Blackbird by The Beatles
Their catalog is packed with unforgettable, alluring masterpieces that manage to evoke the strongest emotions among the listeners. It is impossible to narrow down favorites, but to me, Paul McCartney's spell-binding guitar and vocals work in Blackbird sits right on top of Beatles' stack of evocative gems. Lyrically, "Blackbird" might come across as a simple song about a bird, but on a closer listen, it's McCartney's veiled support for the American Civil Rights Movement, which was going on when he was working on The While Album.
To many, including me, "Blackbird" embodies freedom from discrimination, racism, and all the hardships that the African American community faced in the US. Even on a cursory listen, you'll realize the guitar parts are quite challenging. The rhythm pattern is straightforward, but getting the gentle flowing sound as well as McCartney's gorgeous fingerpicking and "one chord per word" chord switches will take some practice.
17. Wild Horses by The Rolling Stones
"Wild Horses" is Rolling Stones at their most romantically evocative. It was recorded as a country ballad over a span of three days and has attracted multiple interpretations ranging from Mick Jagger's split with Marianne Faithfull to drug addiction. Keith Richards did spell out this song was quite simply about not wanting to be away from your family, something he wrote while missing his newborn child.
Whatever the real meaning behind the words may be, it manages to shake you to your core. And it's not the lyrics alone that move you. Sonically, this classic transcends the band's usual sound with Jagger's restrained vocals and a stripped-down arrangement involving a beautiful interplay between Richards' electric and Mick Taylor's acoustic guitar. It'll be more fun to play this piece as a duet, so call your friend, click the tabs above and have a go at this masterpiece.
18. Side of a Bullet by Nickelback
In "Side of A Bullet," we hear an enraged fan's struggles in coping with the shocking murder of heavy metal guitar idol Dimebag Darell, an event that left the entire music community horrified and heartbroken. It's arguably one of the most emotionally raw songs out of Nickelback's vault, fuelled by hard-hitting riffs on down-tuned guitars, double bass drumming, and Chad Kroeger's powerful vocals that channel his inner angst.
The most heartwrenching part is when you hear the familiar genius of Dimebag in the form of an unreleased riff that was repurposed and used as a solo in the song. "Side of a Bullet" was released as the seventh and final single in the band's 2007 album All the Right Reasons, cracking the top ten on Billboard US Mainstream Rock.
19. Romeo and Juliet by Dire Straits
Every time I hear Mark Knopfler's instantly recognizable arpeggio on a resonator guitar from "Romeo and Juliet," I brace myself for what comes next- a gush of emotions! Immersive and touching, this song was written at a time when Knopfler was going through a heartbreak himself. It deals with how Juliet abandons her partner when she finds fame and success, leaving an anguished Romeo behind. They break up while still in love with one another.
Knopfler picked the alternate tuning of Open G for this song with a capo on the third fret. Interestingly, he came up with the opening arpeggio while exploring the Open G tuning. I love how beautifully the song transitions from its understated verses to a full-blown rockier chorus. Check out this classic if you haven't heard it before. It'll make for a great addition to your repertoire.
20. Skinny Love by Bon Iver
Instrumentally minimal with ethereal vocals, American indie folk band Bon Iver's 2008 hit "Skinny Love" is sure to open some wounds for anyone who's gone through a painful breakup. After parting ways with his girlfriend, band's frontman and Grammy-winning singer-songwriter Justin Vernon lodged himself in an isolated cabin. During his stay, he penned a gritty two-versed composition and recorded it in his signature falsetto voice with brilliant guitar hooks played in the tuning of open C.
Since its release, the song has become quite popular at singing competitions and has been featured in famous movies and TV shows. There's a stunning piano-driven rendition of "Skinny Love" by British artist Birdy, which became an internet sensation clocking over 195 million views over a short span of time.
21. We Just Disagree by Dave Mason
A prominent name from the classic rock era, Dave Mason, has produced many stellar records in his solo career and as a founding member for rock band Traffic. He's also worked with some of the most prominent musicians, including Jimi Hendrix, Eric Clapton, George Harrison, and the Rolling Stones.
From Mason's 1977 album Let it Flow, "We Just Disagree" is a deeply moving composition about a couple that's decided to call it quits but want to part ways without blaming each other. It was written by Jim Krueger, who used to play for Dave Mason's band in 1974. The song boosted Mason's popularity as an artist in his own right. For this song, Krueger tuned his 12-string to Open E to create the open, resonant sound and set the table for spell-binding vocal harmony, which he sang above Mason's soulful lead vocals.
22. Boulevard of Broken Dreams by Green Day
This highly relatable mid-tempo fare by punk icons Green Day is bound to trigger nostalgia for anyone who grew up in the 2000s. The second single off American Idiot, "Boulevard of Broken Dreams," chronicled frontman Billie Joe Armstrong's time in New York and how he tackled loneliness instead of succumbing to it. The song became quite a phenomenon thanks to its clever contrast of bleak lyrics, lush instrumentation, and memorable vocal harmonies.
Since its release, "Boulevard of Broken Dreams" has won a Grammy and clocked over 5 million in record sales. The song is as amazing to hear as it is easy to play thanks to its slower tempo. With a capo on the first fret and four basic chords- Em, G, D, and A, you can get through most of the song. Even the solo is pretty doable, but you'll need to spend some time to get the timing right. If you're looking for tabs, we've got you covered! Check out the link above and get started!
23. Your Guardian Angel by The Red Jumpsuit Apparatus
The Red Jumpsuit Apparatus' emo acoustic song about a man's unconditional love for a girl took on a whole new meaning when it was dedicated to eight children whose lives were cut short by a devastating tornado in Enterprise, Alabama. You can no longer isolate "Your Guardian Angel" from the tragedy and are reminded of those young souls every time you listen to it. It also became their school's theme song for prom that year. If you decide to take this one on, you'll first need to tune your guitar down to CGCFAD or drop C. The intro is the trickiest part, and the entire song is played in the time signature of 6/8.
24. Stay With Me by Sam Smith
Off his 2014 debut album, In the Lonely Hour, Sam Smith's"Stay With Me" is a gospel-influenced ballad where the protagonist doesn't want his one-night stand to go away for fear of loneliness. It's honest, raw, and manages to strike a chord with listeners. With a superb run at the charts, the song has become Smith's most commercially successful release to date. For guitar novices, this one is perhaps the simplest to play from this list. It has just one chord progression throughout. The rhythm is fairly easy, and so are the chords. All you need are Am, Am7, F, and C chords, and you are sorted!
25. I'm So Lonesome I Could Cry by Hank Williams
Accurately called the saddest song ever by Elvis Presley, "I'm So Lonesome I Could Cry," can melt even the coldest hearts. Originally recorded by Hank Williams back in 1949, the song captured lovelorn sentiments stemming from his disintegrating relationship with his wife. Interestingly, this song which now occupies no. 111 rank on Rolling Stone's list of 500 Greatest Songs of All Time, was not considered A-side fodder due to its melancholic vibe and was released on B-side instead.
An enduring classic, "I'm So Lonesome.." is alive in our collective memories even today thanks to its numerous cover versions, which kept popping up every now and then. From Elvis Presley, Johnny Cash, Dean Martin, to Del Shannon, so many icons have released their own rendition of the classic, each spectacular in its own way.
26. Everybody Hurts by R.E.M
The name says it all, R.E.M's "Everybody Hurts" makes its point directly without mincing words, chiefly because it was aimed at getting a life-affirming message out to teenagers or anyone battling depression. The popularity and universal appeal of the song have made it a frequent feature on many "Best of" lists, including no.31 on Q magazine's "1001 Best Songs Ever."
Beginners who are keen on getting started with fingerpicking- it cannot get easier than this! You should be able to nail down the riff, verses, and chorus without much trouble. There are a couple of sections that can be a little tricky, especially if you want to play along with the recording, but you can always park them for later.
27. Pictures of You by The Cure
The Cure's usual sound is an interesting mix of enigmatic punk and radio-ready pop. Catchy but intense pieces that really make you think. In fact, if you comb through their discography, you won't come across many upbeat tracks, and this one is no different. From the band's 1989 album Disintegration, "Pictures of You" is considered one of their finest works.
Inspired by a fire accident that led frontman Robert Smith to discover some pictures of his wife in his wallet, this is an emotionally heavy song that beautifully captures a range of moods. You'll love jamming to this one!
28. When the Party's Over by Billie Eilish
Here's another song that explores the moods and emotions that one experiences at the end of a relationship. In Bille Eilish's "When The Party's Over", she sings emphatically about all the emotions felt by her brother Finneas O' Connell after leaving his date's house upset over their breakup but thankful for not investing a lot into it emotionally. That's an interesting emotional situation to convey, and this power sibling duo has pulled it off brilliantly yet again with this track.
Eilish's powerful vocals shine through, accompanied by atmospheric harmonies in the form of hums and a minimal instrument arrangement. And even though it's a piano-driven ballad, you can easily replicate it on a guitar. We have tabs linked above to give you an idea of how to emulate this song on a guitar.
29. Yesterday by The Beatles
We did mention how the Beatles' catalog was packed with some pretty emotional, soul-stirring gems. "Yesterday" is another one of their unforgettable masterpiece that's packed with precisely this melancholic romanticism. It's not only one of their greatest hits but one of the most covered songs in history with over 2,200 versions. This heartbreaking ballad talking about a broken relationship and reminiscing the past was Paul McCartney's brainchild.
But here's something funny to lighten things up – in an interview, McCartney revealed that he had come up with the song's melody before he came up with the lyrics. And you know what lyrics he used as a placeholder in the meantime? Just sing 'Scrambled eggs, how I love to eat my scrambled eggs' to the tune of the first line. Yep, I am not kidding! So a song that had scrambled eggs as placeholder lyrics went onto become one of the most heart-wrenching songs in music history.
Getting it out proved to be a contentious battle, with most of the band members objecting to the song's release as a single. It was also the first time any of their members had composed and recorded a song solo. From a guitaring perspective, it's not very hard to play and can be attempted by players of any skill level. Even though McCartney tunes his guitar down one whole step to D G C F A D, you can very well start by sticking to standard tuning. We are adding tabs for both types of tuning above. Pick any you like and get started, this is a powerful sad guitar song!
30. Leaving on a Jet Plane by John Denver
"Cause I'm leaving on a jet plane, don't know when I'll be back again." It's hard not to be moved by the sad context of these iconic lyrics. John Denver's bittersweet love ballad about being constantly on the go and away from his beloved always manages to conjure up strong emotions among listeners. And I am not gonna lie – my high-school sweetheart made me a mixtape (yep kids, I am kinda old) back in the day right before I switched schools – and this was my favorite song on there. I can't tell you the number of time I played and re-played that song and drowned my sorrows.
"Leaving on a Jet Plane" was released by Denver at a time when he was not a famous figure himself, and it was the well-known folk trio Peter, Paul, and Mary that broadened its reach when they covered it. In some of our previous blogs, we've talked about how easily this highly playable guitar song can be added to your repertoire. You only need three beginner-friendly chords- G, C, D to play it. So grab your guitar and get going!
31. The Raven That Refused To Sing by Steven Wilson
A friend of mine sprang this song upon me during my college days – it was late evening and he put a bluetooth speaker in front of me and said "listen". What followed next was almost 8 minutes of unexplainable beauty, pain, heartache, and brilliance. I didn't even realize that I found myself holding my breath through many of the passages. That is how (literally) breath-taking I found the track. Steven Wilson has created a thing of eternal beauty with this song – the lyrics, the melody, and the video adds to the experience. The lyrics talk about a person who lost his sister Lily early on in his life, and has since then been afraid to open his heart and love freely. If you watch the video, you'll see how it shows a person scared to die and trying to fight his fate – trapping a raven in a cage when it's meant to soar high and free. Finally, it shows the man reuniting in the afterlife with his beloved sister. Somebody tell the ninjas to stop cutting onions around me!
There are so many layers to this song, and it can mean something different to each listener. The guitars enter later in the song, while the beginning is a gorgeous and simple piano riff. But the track translates beautifully on the guitar, and if you master the song, you'll take your audience on a surreal emotional trip unlike any other. Check out this amazing guitar and vocal cover of the song that Steven Wilson himself reported on his page!
32. I Will Always Love You by Dolly Parton
This gorgeous song just slices through your heart and leaves it open with all its feels! I Will Always Love You was catapulted to a godly status when it was sung by Whitney Housten as part of the movie "Bodyguard", but did you know that the original has been written and performed by none other than the living legend, Dolly Parton? The lyrics of this iconic track are a heartfelt goodbye to a loved one, wishing them well as you part ways – and boy, listening to this song can make a grown man cry like a little kid. While Dolly's original version will tug at your heart with her wispy, melancholic vocals, Housten takes the song into the operatic-diva space and overwhelms you with her powerfully emotional voice.
But here's a twist – Dolly Parton didn't write this track as a break-up song! In fact, Parton wrote it for her long-time professional colleague and co-host, Porter Wagoner. Wagoner and Parton were long-time collaborators on a TV show, but Parton's gigantic talent soon took her to bigger things. "I Will Always Love You" was a beautiful way for Parton to pay tribute to Wagoner and the years they spent together as colleagues.
While Whitney Housten's version depends on synth and is not guitar-heavy, the original Dolly Parton version of this song has tasteful, country-inspired acoustic guitars with emotive bends that you'll enjoy playing. We recommend learning the Dolly Parton version first, especially for beginners. That's because Parton's version doesn't have the dramatic key change like Housten's does. As a result, you have far fewer chords to learn – only your usual C, G Em, and D.
33. Time After Time by Cindy Lauper
Time After Time Was Cindy Lauper's second single from her chart-topping hit album "She's So Unusual," and it's one of my favorite melancholic songs for many reasons. The lyrics are quite complex – they're not about a straight-up break-up, but rather about how people drift away from each other while being in a relationship. This can be amply seen in lyrics such as "and you say, go slow, I fall behind." And yet, the chorus still shows that the couple still loves each other, even though they've grown apart over time.
So essentially, the song is about knowing that your relationship is going to end soon, but you both still deeply care for one another. Pretty heavy stuff, right? Add to that the pop-rock 80's sensibility and Cindy's unique vocals, and you have a song that sounds unlike any other sad song – precisely why it's unforgettable decades later.
Lauper wrote this song together with Rob Hymen of The Hooters, and both drew inspiration from their own personal lives to pen the lyrics. Rumor has it that Hymen was going through a breakup at the time, while Lauper herself was caught in the middle of a complicated relationship with her then-partner. But the song they made together in this difficult time will stay timeless forever. Want an even bigger punch in the gut? Listen to Eva Cassidy's version of the track. Cassidy reimages the song in her own style which is as beautiful as it is drenched in melancholy.
34. Black by Pearl Jam
Before we dive into what this song is all about, let's talk a bit about how it came to be. "Black" was originally written by Pearl Jam's guitarist Stone Gossard as an instrumental demo to find a singer and drummer for the band. As luck would have it, the demo reached Eddie Vedder, who worked at a gas station back then. Vedder decided to audition, recording vocals for three songs in the demo tape. He also wrote lyrics for Gossard's instrumental piece, which later became "Black."
"Black" is about yearning and heartbreak when you let go of your true love, a theme that's not alien and had been tackled in many love ballads. Though, what set this one apart is Vedder's heart-rending and passionate vocals. It almost makes you wonder if it's a slice of his own life that he's shared with the listeners while writing the song.
Whether your choice of weapon is electric or acoustic, this song will make a great addition to your arsenal. While beginners can play it using only open chords, more advanced players should explore adding push strumming technique to the rhythm and D shape barre chord for intro and verses.
35. No Surprises By Radiohead
As I said, it's impossible to just pick one song from Radiohead's repertoire when you're talking about sad songs on guitar! No Surprises is one of their most popular tracks, and boy, does this song make me feel things! Yorke sings about man's longing to escape the hyper-competitive, materialistic society of today. And the feeling of defeat, resignation, and sadness will cut through to your heart from the very first note. This is a brilliant song to play on the guitar and shouldn't be too tough for beginners to learn, either. It you're looking for sad guitar songs to play, this is one of our top recommendations.
36. The Long And Winding Road by The Beatles
"The Long and Winding Roads" by the Beatles is a song that will take you into a melancholic world. The slow tempo and the basic yet soothing guitar melody make you feel nostalgic and beautiful. The band broke up in 1970, and the song was released a month later as a single.
Featured in movies and TV shows like The Simpsons and The Shawshank Redemption, this song is a piece worth playing on guitar. The best part is once you learn the strumming pattern and chords of the first verse, the rest of the song is just a smooth sail as you can simply repeat them throughout the remaining song.
37. Wind of Change by The Scorpions
The Scorpions released a super hit song in the 1980s titled "Wind of Change." The name signifies the drastic political changes across Eastern Europe, referred to as the "winds of change" back in that period. Despite decades, this song's emotional and mellow chord progression on guitar makes it popular.
Playing it on guitar is simple if one knows how to use a fingerstyle technique in the intro riff. Go for the C, Dm, and F chords to play the chorus, while working on the Am, Dm, and F chords will help you with the verse. You'll play "Wind of Change" in two or three practice sessions like a pro.
38. Disarm by The Smashing Pumpkins
"Disarm" by The Smashing Pumpkins is an easy-to-learn and fun-to-play song on guitar. This signature song of the band received plenty of appreciation from critics. And that's mostly because of Corgan's (the lead singer) powerful and bold vocals. One can easily play and recreate the haunting yet mellow sound of this song as it uses open chords and is in a minor key.
The song connected with the audience with its lyrics, signifying the pain of childhood loss and trauma. Having practised with chords – D/F#, G, Cadd9, and Emin7 will help you play Disarm on guitar better. A sixteenth note-up strum is played at the last note of each bar. Otherwise, the strumming is all down.
39. Breathe Me by Sia
Need to learn a song with a simple chord progression? "Breathe Me" by Sia is a good choice, This melancholic ballad is a perfect song to play in a sad mood. The lyrics resemble grief, loss, and regret, making anyone feel emotional when they play the song on guitar.
Learn and practice these chords: Fm7, Fmaj7, C, and Am, to eventually excel in playing this song. Another useful tip is to follow a basic strumming pattern for these four chords in an up-down pattern. "Breathe Me" is featured in FIFA 14 video game and the TV series Six Feet Under.
So, feeling sad? Want to play some tunes and chords to bring such a vibe? Play Breathe Me!
40. Closer by King Of Leon
"Closer" is featured in the famous album from the 2000s named "Only By The Night" by the Kings of Leon. This alternate rock band released this song as the album's opening track and has been growing more popular ever since. The song is indeed a sad one.
The lyrics tell how someone in love, doing everything for her, ends up losing everything. The easy chord progression makes this song an easy-to-play version on guitar. There isn't much to learn here since the motif is repeated throughout the entire song!
Play a harmonious bend in the background using the Bm chord. Also, the music is performed at a steady tempo, so go for steady strumming.
41. Creep by Radiohead
"Creep" by Radiohead needs no introduction, as many listeners can recognize it just by the initial chord change. The lyrics directly address the subject of pathological sexual cravings. The song may not be in the same stylistic vein as other Radiohead hits, yet it still enjoyed tremendous financial success.
You'll start by establishing the song's classic and striking chord structure for the intro and verses using some very basic arpeggios. The chorus then begins with a few basic yet power chords, or you may opt to play an exceptionally simplistic lead melody playing over the top.
42. Cut My Lip by Twenty One Pilots
"Cut My Lip" is a track from Trench, Twenty-One Pilots' fifth studio album. Despite not being available as a promotional single, the album did exceptionally well overall, garnering favourable reviews and reaching platinum status in the US.
The song addresses the issue of misfortune and the capacity to move on despite having it. Since all of the chords in this song require some sort of barring over the 2nd fret, holding the chords will be much simpler when a capo is at your disposal.
The song is played using a highly basic strumming rhythm, and the chord sequence is just Em, D, A, and Bm, which will continue throughout the entire song. Each measure's first beat should be used to strum the chords twice. Play the chords while singing the song's lyrics. Enjoy!
43. Dancing On My Own by Calum Scott
Contrary to a few of the rest of the songs on this list, which are frequently promotional singles issued in conjunction with a studio album. This song was first performed by Swedish singer Robyn, which Calum then covered and uploaded on his YouTube account.
Later, he was urged to properly record the single, which was eventually released in 2016 to generally mixed reviews but positive fan reception. As a result of extensive streaming, the song peaked at number one in six separate countries.
With only two notes and a handful of bass notes tossed in a few places, this is a relatively easy finger-picked piece in which you will be leaping between them as they sketch the main chord progression. A capo is used to perform the song at the first fret.
44. Fire Escape by Foster The People
Foster The People made their debut back in 2008, amassing a huge following and earning the reputation of a leading Indie/Alternate rock band out there. It released the song "Fire Escape" on its second, follow-up album "Supermodel." Explore the darker aspects of Los Angeles' city life with the song's lyrics.
The dry and sparring use of the guitar throughout the song gives it an almost dreamy sorrow. This is beneficial since it makes it relatively simple to play, but it could also present a challenge because you'll need to use your playing dynamics to support the overall tone and mood of the song. A beautiful song to learn, sure!
45. Hey You by Pink Floyd
From Pink Floyd's 1979 album "The Wall," "Hey You" is undoubtedly a classic song. It has a haunting tone and extremely affecting chord shifts that add to the ambience. The Wall, as a whole, tells the tale of an aspiring rock star who withdraws from society out of a sense of estrangement.
The lead singer in "Hey You" soon realizes his mistakes. Subsequently, he made this song to make amends to those he hurt or did wrong. As the song continues, the young star's calls for assistance grow more frantic and anguished.
You'll play these chord voicings as open chords and arpeggios as the song proceeds. That's because they're really intriguing, vibrant, and emotive. But nothing very difficult!
46. How You Remind Me by Nickelback
For their conservative and "in the box" approach, Nickelback has faced a lot of criticism and derision over the years. The fact that their songs connect with people so strongly, however, cannot be denied, and this has led to their enormous economic success.
Fun Fact: Nickelback never planned to add "How You Remind Me" to their third album "Silver Side Up." It was a last-minute addition.  Speaking of playing this song, use a "Drop D" tune for this song by dropping your lowest string to D.
Since you can easily bar the initial two strings from creating a power chord, all the chords are considerably simpler to hold. Enabling you to maintain relatively similar hand postures throughout the entire song.
47. I'll Never Love Again by Lady Gaga
Lady Gaga, alongside Bradley Cooper, came up with a masterpiece song, "I'll Never Love Again." The song soon became a hit, topping the trending charts in Europe and the US. Learn to adjust the chords because this Lady Gaga song is quite slow.
For beginners, start by playing the chords alone and then add the strumming rhythm later. The strumming pattern is D-D-D-DU.  Although it's true that the piano drives the tune, the guitar version, if played after proper practice, can be equally good.
Learning the whole song on guitar will take no time once you excel in the strumming chord progression, as it can be repeated throughout the song.
48. Nutshell by Alice In Chains
Alice In Chains, the de facto kings of Seattle's alternative metal, have created a truly astounding and moving song. This song, which was included on their 1994 EP "Jar of Flies," is often belted out at acoustic performances, and singer Jerry Cantrell dedicates it to the late bandmates.
"Nutshell's" acoustic version, the one that premiered live on stage on MTV Unplugged, is, to date, one of the best live (on-stage) performances of all time. Although only a few open chords are used, the chord progression carries many feelings, so you may actually experiment with the strumming dynamics to truly give the song life.
Now, how to master this song on guitar? First, tune down a one-half step on your guitar. Place the capo on the second fret, and start practicing slowly with the strumming pattern.
49. Self Care by Mac Miller
Originally written and composed for Mac Miller's album "Swimming," "Self Care" is a parody of a scene from the movie Kill Bill: Vol. 2 and shows Miller interred six feet underground in a pine box casket. Synthesizer pads and electronic drums serve as the track's main musical sources.
The way you outline these chords on the guitar, whether by strumming or creating a finger-picked arrangement, is totally up to your creative thinking, but there is a readily discernible chord sequence that communicates quite well.
Also, try to imitate the guitar playing while listening to the original track. The more you feel the song, the faster you learn.
50. Somebody Else by The 1975
Listening to "Somebody Else" on a cold, rainy night can be as hard as breaking a rock. That's because the song awakens your senses and tells you that the one you love has moved on and you could not. It makes you realize the loneliness and emptiness in your heart and surrounding.
As "Somebody Else" heavily draws on synth-wave, pop, and 80s influences, one can consider it perfect for guitar. Simply playing according to the chord progression will let you play it on the guitar properly. Given that the song explores themes of solitude and isolation, there's no need for an overly complex strumming pattern. Instead, use "musical empty space" to deepen the meaning. This is easily one of the saddest guitar songs ever written
51. Mad World By Gary Jules
"Mad World" is an amazing gothic pop new wave song by Gary Jules. Released in 1982, this song premiered on Jules' then-hit album, "The Hurting." However, it was in 2001 when "Mad World" got its fame and rose to prominence, thanks to its feature in the classic film Donnie Darko.
Given the electric guitar's distortion and its plaintive piano accompaniment, the song's soundscape will appear sad and sparse. The song fosters a feeling of solitude and uneasiness. You need to play only four fundamental chords if you got a capo on the first fret. Although the original song's foundation is a piano, the guitar version works just as well.
52. The Scientist By Coldplay
"The Scientist" by The British rock band Coldplay is a soulful and emotional song. This song's lyrics discuss a man's need for love and mercy.
Chris Martin, the band's lead vocalist and frontman, tells that he wrote the song on an old "out-of-tune" piano after being inspired by George Harrison's album "All Things Must Pass."
The chords' timing deserves your attention. In accordance with the song's 4/4 time signature, each chord must be played for four beats. It is feasible to play The Scientist in the tuning of Dm with or without a capo at the third fret.
53. Roads By Portishead
"Roads" by Portishead is among the most popular depressing song from this pop music band. Released in 1994, this track's opening riff is an excerpt from the song "The Way I Feel Inside" by The Emotions. The guitar mostly plays a sparse mix of arpeggios and chords all over the tune. To get the desired musical effect, use plenty of reverb, echo, and distortion.
Listen to a backing track and get a sense of the arrangement when practicing the song. Once you've mastered the fundamental chords, begin incorporating frills like pull-offs and hammer-ons. It is only a matter of time before you and your guitar will successfully play this song on any occasion.
54. Feeling Whitney By Post Malone
"Feeling Whitney," one of Malone's saddest tunes, was put out in 2016 along with his Stoney album. The album garnered many platinum awards and topped the Billboard charts the same year. The original and initial version of the song was performed on an acoustic guitar.
There are a few arpeggio patterns and basic chords to learn. You can play without a capo because the song is in a mainstream tune. Given the song's lulling pace, it's best to take your time learning the chords and patterns. Master the guitar version of Post Malone's "Feeling Whitney" with some practice.
55. Past Life By Maggie Rogers
Past Life is a well-known sadistic song by the American pop musician Maggie Rogers. She released Heard It In A Past Life, her debut studio album, in January 2019. Her album and this song both got impressive and positive reviews. The song's lyrics emphasize about déjà vu and the possibility that we've lived before.
The rapid changes Maggie was going through in her life are all present within this song. It's an incredible tune to practice "timing" because of the song's moderate tempo. The guitar song Past Life, which is in the key of Am, is something every new guitarist can play.
56. Asleep By The Smiths
Another 80s band that is depressing is this one – The Smiths. This song, "Asleep," became available as a single in 1985. Only a few compilation CDs by the band have it. You must tune your guitar in accordance with the song's DADGBE pitch.
The pacing in the song can be challenging, so pay close attention to the actual recording and seek out the same mood. The song, which has been perceived as a suicide note, ranks as one of The Smiths' most depressing tunes. Playing this song requires intermediate musical skills.
Its foundation is a piano progression. The chords are simple to play and understand. The chord progression changes slightly in the bridge and outro, so focus on those sections.
57. Fiction By Avenged Sevenfold
The band Nightmare's 2010 album featured this song. This song was allegedly composed by the band's late drummer and was later recorded. Instead of him, Dream Theater's Mike Portnoy played the drums. Sullivan's demo vocals were kept on the song as a homage to the other musicians in Avenged Sevenfold.
In essence, the song features fantastic piano arpeggios and progressions. The chords are simple to understand, and the acoustic guitar version sounds fantastic. Consider this song whenever you are in the mood to play something sad yet connecting. Master the chords, strumming rhythm, and fingerpicking while using a capo on the third fret.
58. Parasite By Nick Drake
Nick is unquestionably the king of melancholy folk tunes, and this 1972 single is one of his more interesting songs. His music reflects the horror that was his life. If you enjoy this style of music, look through his repertoire; he has become a folk icon.
The song's guitar riff is genuinely simplistic but oddly compelling. It wonderfully reflects the lyrics' uneasy and solitary feeling.
To play "Parasite," put your guitar in DADGDF# tuning. With a capo on the first or third fret, the song's two primary arpeggio progressions can be done. Pick in the fingerstyle manner. See how incredible his acoustic guitar song sounds now!
59. Without Me By Mac DeMarco
Mac DeMarco, a multi-instrumentalist and producer from Canada, wrote the song "Without Me." The track was an aspect of Another One, his subsequent mini-LP, which he dropped in 2015. The most successful track by Mac DeMarco to date is Another One. This song is told from the viewpoint of the lead character, who wants her beloved to be content even if it isn't with him.
Pay close attention to the chords' timing. You can maintain the beat by using a metronome. Start out practicing slowly, then gradually pick up the pace. You will need a capo on the fourth fret for the song Without Me, which is in the key of Db. The chart does a great job of demonstrating both the rhythmic and open chord aspects of the guitar.
60. Elise By The Greeting Committee
Since 2014, this Kansas, Missouri-based indie rock group has been putting out lovely music. The song "Elise" was released in 2017 by Harvest Records. In her songs, Sartino speaks about the agony of heartbreak while still expressing her love and optimism for the future.
The song has become one of The Greeting Committee's greatest hits thanks to its authentic and truthful lyrics, which have connected with audiences of every generation. Place the capo at the fifth fret. To achieve the original tonality, only three strings are used to play the basic chords in this song. This tune sounds decent, and its overall modifications are simple to learn and follow.
61. I Hate That You're Happy By Tiny Little Houses
Ivy League Records published this song in 2016, and it quickly gained popularity in the underground community. The group plays indie rock in a distinctive way. The paradoxical nature of the song's title, which implies both wrath and joy, is evident.
This captures the range of feelings Carson was experiencing at the time. Because it was written in the key of Bb, this song is performed using a capo at the third fret. To be followed are two main chord progressions. The chorus is for one, and the verses are for the other.
Tip: For the first two chords, the strumming pattern is D-GB-D-GB, and for the remaining chords, it is D-GB-D-GB-D-GB.
62. Fade Into You By Mazzy Star
"Fade Into You" by Mazzy Star is a beautiful song about unrequited love. Thanks to the haunting vocals from Sandoval and atmospheric guitar work from Roback, this song is now a popular choice for weddings and other intimate occasions.
The slow, meditative tempo and the delicate vocals will make any audience feel lovely and relaxed. The repetitious rhythm of this song makes it a simple-to-learn song for beginners. You will benefit from developing your chord muscle memory by repeatedly switching between the same chords.
The Bm chord is the only element of "Fade Into You" that could be challenging. The fingers' extra force is needed to press down the many strings on this chord. The tempo is leisurely enough for musicians to take their time to form the chord.
63. Good Riddance By Green Day
This song is for all of the emotional youths out there. Green Day's "Good Riddance" is ageless and iconic because of its simplicity. Although each chord's bass note is struck before each strumming beat in the taped version, this method is easy to learn.
The song deviates from Green Day's typical punk rock style and has a more laid-back, acoustic rhythm. In addition to the strumming, "Good Riddance (Time of Your Life)" is a wonderful choice for new players since Green Day uses five chords in the song.
Although, at first, it might seem scary, the tempo is gentle enough for beginners. Players will have expanded their arsenal of chords once they have mastered the composition.
64. Free Fallin' By Tom Petty
Even though Tom Petty's "Free Fallin'" is composed in a major key, it nevertheless manages to feel nostalgic and depressing. Petty is an expert at maximizing the potential of simple chord structures, and "Free Fallin'" is a fantastic song for novices to learn how to make rapid chord alterations.
Players will need to place a capo on the eighth fret in order to play the song in the key of F as it is on the record. The frets get a little smaller as you move up the neck, making it challenging for guitarists with large fingers to play thus high on the neck.
The good news is that by simply shifting the capo, you may perform the song in any key. Given that Petty reaches several quite high notes at the end of the song, this modification can also be helpful for you.
65. Casimir Pulaski Day By Sufjan Stevens
The young adulthood story told by Sufjan Stevens about a young kid with cancer achieves a real sincerity that was frequently lacking in the teenage tragedy stories of the 1950s and 1960s. This song's strength is increased by the fact that it is simple to play and has a pure vocal performance.
Listeners will hear Stevens perform hammer-ons while he strums on the recordings. This easy method makes songs that sound unimpressive sound more spectacular. Hammer-ons are not necessary for the song's performance, though.
As players develop their skills, they have the option to go after hammer-ons. The song has a tempo of 90 beats every minute and is in the chord progression of A minor.
Final Thoughts
Let's face it, a great musical performance is often about the right balance of tension and release. When timed correctly, performing a melancholic track or two can have a powerful effect on your set, by changing the vibe of the room to an emotional one, before you ease the tension and bring the energy back up!
As you can see above, we've covered a whole host of thought-provoking and sad guitar songs from a wide variety of genres and musicians. We hope you enjoy learning and recreating these iconic tracks whether just to enjoy by yourself or to leave your audience with goosebumps! If you're looking for some inspiration, do check out our blogs on 23 easy love songs on guitar, most fun songs to play on the guitar, and great sing along guitar songs. We're sure you'll find plenty of awesome guitar songs here to play around with. Happy learning!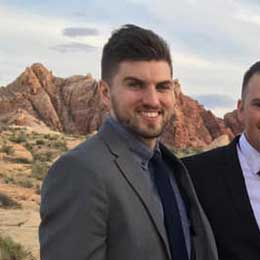 My name is Chris and I've had a passion for music and guitars for as long as I can remember. I started this website with some of my friends who are musicians, music teachers, gear heads, and music enthusiasts so we could provide high-quality guitar and music-related content.
I've been playing guitar since I was 13 years old and am an avid collector. Amps, pedals, guitars, bass, drums, microphones, studio, and recording gear, I love it all.
I was born and raised in Western Pennsylvania. My background is in Electrical Engineering, earning a Bachelor's degree from Youngstown State University. With my engineering experience, I've developed as a designer of guitar amplifiers and effects. A true passion of mine, I've designed, built, and repaired a wide range of guitar amps and electronics. Here at the Guitar Lobby, our aim is to share our passion for Music and gear with the rest of the music community.