Utilizing alternate tunings can add a whole new dimension to your guitar playing. For the characteristically growly and heavy tones, D-standard is simply "Standard tuning," aka "E Standard," but dropping each string one full step to D-G-C-F-A-D.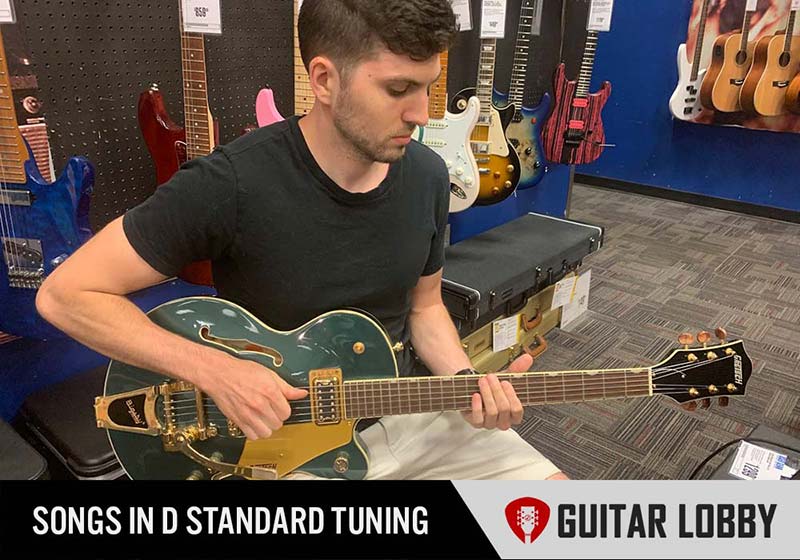 Although widely used in metal, D-standard has also found a place in several iconic grunge, pop, and folk tunes. Below, we'll share many of the most popular songs in D Standard.
List of Songs in D Standard
1. Yesterday by The Beatles
Kicking the list off with a famous tune with over 2200 cover versions to its name! From The Beatles' Help, "Yesterday" is a generation-spanning, timeless piece, the melody of which came to Paul McCartney in his dreams! In this acoustic and strings-led melancholic ballad, Macca croons of a romance that wasn't meant to be.
To play this song, he tuned his guitar a whole step down to DGCFAD. So while he was playing the chords in G, the actual key of the song was in F. However, in live gigs, the band re-arranged the song in the key of G using the standard tuning. Here's a tutorial that takes you through this tune in both arrangements.
2. Come as You Are by Nirvana
 Along with "Smells Like Teen Spirit" and "Lithium," "Come as You Are" from the same and wildly popular Nevermind firmly established Nirvana as the undisputed masters of grunge.
Even though most of their iconic works were in standard E tuning, this masterpiece was D-standard and an outlier in their discography. The killer opening riff is so awesome that it has become ingrained in pop culture. If you know your power chords, it won't take you long to master this infectious banger.
3. Budapest by George Ezra
If you thought D-standard was reserved exclusively for death metal, check out this beautiful pop tune by the magnificent George Ezra. As a debut single, it didn't take long for "Budapest" and Ezra's deep baritone to catch the mainstream spotlight.
Here's a fun fact for you. According to Ezra, he used the first three chords he learned on the guitar to compose this piece, making it the perfect D-standard tune for beginners. To play like Ezra, retune your guitar from E-A-D-G-B-E to D-G-C-F-A-D.
4. Voodoo Chile by Jimi Hendrix (Extended Epic Version)
A tune as iconic as the man himself, Jimi Hendrix's "Voodoo Chile" is the stuff of dreams for every aspiring guitarist. And yes, I know, the shorter and more popular "Slight Return" live version is in Eb Standard, but the 15-minute epic blues jam from Electric Ladyland is played with the guitar tuned to D-G-C-F-A-D. It's best to pick up parts of the jam and tackle them one by one to avoid getting too overwhelmed.
5. The Joker by The Steve Miller Band
The song that shot The Steve Miller Band into perpetual stardom is another example that D-standard can also sound uplifting and catchy. Released in 1974, "The Joker" was the psychedelic band's attempt to foray into classic rock and cast a wider net.
The fun lyrics and a wah wolf whistle after every line have made it an enduring classic, one that managed to conquer the charts even 16 years after its initial release. Check out the tutorial above to get the tune, especially the epic wah-wah guitar solo, under your belt. If you like this song, check out our full list of fun songs to play on the guitar here.
6. Blood and Thunder by Mastodon
It's no secret that this genre-defying modern metal band from Atlanta, Georgia, loves tuning their guitars to a D-standard to get the distinctively thick and heavy sound. While you'll find plenty of tracks in this tuning, "Blood and Thunder" from 2004 Leviathan is arguably the most iconic. Although the ferocious drumming takes center stage in this one, learning the killer riff that kicks off the track is a surefire way to impress your mates.
7. Silvera by Gojira
If heavy metal's your jam, head to Gojira's vault for jaw-dropping tracks in D-standard like "Silvera." In just three and a half minutes, "Silvera" delivers a powerful sonic punch with energetic vocals, melodic guitars, and riffs that gives the audience a taste of the French death metal band's technical sophistication. The song has an eerie vibe from their guitars tuned down to D-G-C-F-A-D.
8. Sad but True by Metallica
"Sad but True" is Metallica at one of their heaviest. The slow down-tuned riffs and James Hetfield's reverb-heavy rhythm guitar tone all sound deep, hypnotic, and radically different from the band's lightning-fast sound. You can get cracking at James Hetfield's sinister rhythm or Kirk Hammett's mindblowing solo to brush up on or learn useful lead guitar techniques, pentatonic licks, and double stops.
9. Downfall by Children of Bodom
Like Mastodon, Children of Bodom often rely on D-G-C-F-A-D for their doom-laden sound. And their 1999 Hatebreeder album has one of their finest works in this tuning. "Downfall" is keyboards-led with gothic-tinged guitars, a virtuosic solo by Alexi Laiho, soaring above a bedrock of fast and tight rhythm.
10. Adam's Song by Blink 182
Every other song on Blink 182's Enema of the State was in E, but for some strange reason, they decided to go with a D-standard in "Adam's Song." Perhaps it was to give this rather bleak song about depression with a fitting melodic backdrop. The song did stand out as uncharacteristically somber and sparse from their usual loud, brash, pop-punk style.
11. Between the Bars by Elliott Smith
"Between the Bars" is a hauntingly beautiful piece and Elliott Smith's most recognizable tune. It's one of Smith's two tracks to grace the soundtrack of the 1997 Oscar-winning Good Will Hunting. There's no denying that Smith had a knack for writing complex, soul-stirring masterpieces and a unique vocal delivery that sounded almost like he spoke directly to you. Smith loved experimenting with alternate tunings and tuned down to D-G-C-F-A-D in this song.
12. Endless Sacrifice by Dream Theater
Every member of the Dream Theater is a master of his craft. In terms of guitar, you'll come across highly melodic shredding in unorthodox tunings. If you're looking for a track in D-standard, give "Endless Sacrifice" from Train of Thought a go.
The song is John Petrucci's token of gratitude to his wife and all she had to give up to help him live his dream. The track begins with an acoustic intro and uses a keyboard to build momentum. The softer verses contrasting with the heavy, rousing chorus, keep the listeners hooked from start to finish.
13. Let It Go by James Bay
In "Let It Go," gentle guitar riffs, soft brush beats, and James Bay's enchanting vocals act like a balm for the heartbroken souls. The good news is that the fingerpicking pattern more or less stays the same throughout the track but with different chord shapes. You'll need to tune the guitar down to D-standard to play along with the original record. The tutorial will help you with the tuning as well as the guitar parts that make up this song.
14. If I Could Fly by One Direction
"If I Could Fly" is perhaps the only song in the massively popular boy band's catalog where they use this alternate tuning. It's an out-and-out love song with relatable lyrics about young love and the vulnerabilities and insecurities that accompany it. You could tune down a whole step to D-G-C-F-A-D or use a capo to play in standard tuning. To me, the D-standard tuning makes every word sound all the more poetic. This is one of my favorite songs in D standard, and I think it's a lot of fun to play.
15. Flying Whales by Gojira
Gojira isn't just one of the heaviest heavy metal bands around. They're also the most eco-conscious, infusing animal imagery in their songwriting. In the seven-minute-long "Flying Whales," frontman and songwriter John Duplantier encounters cosmic wonders and wants a whale to teach him how to fly.
It's incredible how the band can achieve a trippy, serene quality while keeping their ferocity intact. Every riff from the opening to the breakdown is a work of art – deep, crushingly heavy, and technically complex played on down-tuned guitars.
16. Kickstart My Heart by Motley Crue
The heavy and gritty element in metal music isn't only because of the songwriting but also the tuning. In fact, I don't think you'll find many tracks that are in standard E-tuning. And that's why much of Mötley Crüe's music is in D-standard, like this energetic, raucous, and heavy track from Dr. Feelgood.
To play "Kickstart My Heart," you'll need to tune every string down a whole step, and it simply won't sound as epic in standard tuning. It's a great track to practice power chords, chugging, and palm-muting in D-standard. Check out the tutorial above and get started!
17. Pull the Plug by Death
A list of songs in D standard would be incomplete without a track by Death in it. Pull out any song from their discography and chances are it'll be in DGCFAD. The fast, heavy, and timeless "Pull the Plug" from Leprosy featured one of their most iconic riffs. It's also the song that put the old-school death metal band and the great Chuck Schuldiner on the map.
18. Colors of the Wind by Vanessa Williams
You won't hear down-tuned guitars in Disney soundtracks, but "Colors of the Wind" from Pocahontas is a rare exception. It's not Judy Kung's Oscar-winning original I am talking abt but Vanessa William's equally inspiring pop. The flute and the imagery draw attention to the Native American culture and highlight that we're all connected through the elements of nature.
19. Iron Moon by Chelsea Wolfe
Chelsea Wolfe is hailed for her genre-bending music, where she fuses gothic rock, doom, and folk elements to create something pretty unique. In an interview with MusicRadar, Wolfe makes her affinity for D-standard tuning clear. In fact, it's the only tuning she's played in ever since she picked up her first guitar. If I had to pick just one track to give you an idea of her talent, it'd have to be "Iron Moon" from Abyss. A visceral blend of folk and doom metal that'll leave you craving for more.
20. My My, Hey Hey (Out of Blue) by Neil Young
Neil Young's "My My, Hey Hey" (not to be confused with the adrenaline-pumping "Hey Hey, My My" from the same album) carries more emotional depth than its three-chord hard rock counterpart. Both tunes are insanely catchy yet starkly different, and it's impossible to pick one over the other. But I had to get this tune on the list for those who want to expand their tuning repertoire with an acoustic-led DGCFAD track.
21. Cirice by Ghost
Swedish heavy metal group Ghost plays almost exclusively in DGCFAD. So, if you're up sample a fascinating blend of occult, psychedelia, and doom metal, be sure to look them up. Released in 2015 as the lead single off Meliora, "Cirice" is a nine-minute eerie instrumental with an opening riff so awesome that even the famous James Hetfield couldn't help himself from covering it. It also won the Grammy for Best Metal Performance in 2016. You can add that riff to your arsenal by checking out the lesson above.
22. Poisonous Shadows by Megadeth
While most of Megadeth's early works are in standard E, their later albums and live performances had them tuning down a whole step to make it comfortable for frontman Dave Mustaine to hit all the notes. In "Poisonous Shadows" from their Grammy-winning Dystopia, the band's lead guitarist Kiko Loureiro tunes his guitar down to DGCFAD to play a brooding acoustic intro and blitzing electric licks that follow.
23. If It Means a Lot to You by A Day to Remember
Here's what makes "If It Means a Lot to You" such a treat to the ears – the beautiful duet and heartbreaking lyrics about the singer's quest to fulfill his dreams and his longing to be reunited with his sweetheart back home. It's one of the softer songs by the band, known for combining pop-punk hooks with metalcore riffs and sealing it all with memorable choruses.
 24. Forest Whispers My Name by Cradle of Filth
Despite being uncharacteristically slow, "Forest Whispers My Name" is a high point in extreme metal band CoF's debut album, The Principle of Evil Made Flesh. The track opens with a melodic keyboard intro before going full black metal mode with growling vocals, distortion-fuelled riffs, and hyperactive drumming. The song features mystical, pagan imagery, which is typical of CoF. Listen closely to the track here and see if you can make out its D-standard tuning by ear.
25. Quintessence by Mastodon
It's hard to classify Mastodon's music into a particular genre, and that's one of the things fans love most about this band is their ability to float effortlessly from technically complex prog metal to rock 'n 'roll. Their idea is to make every album unique and fresh while also being faithful to their trademark ferocity. In "Quintessence" from the band's critically acclaimed "Crack the Skye" is chock full of riffs that showcase the virtuosity of Bill Kelliher and Brent Hinds.
26. Crystal Mountain by Death
"Crystal Mountain" is arguably the band's most recognizable song, and for a good reason. Its melodic quotient and technical sophistication made it way ahead of its time. Before Death came along, the genre lacked melodic hooks and dynamic elements. And this song, too, like most of their music, goes in D-standard tuning. I highly recommend checking out this band's discography to train your ear around the DGCFAD sound.
27. Hate by Design by Killswitch Engage
"Hate by Design" is another riff-roaring fest by the metalcore quintet where they play with their guitars tuned down to D-standard. It's powerful, jolting, and made all the more memorable with a phenomenal guitar solo. The band mainly relies on either D-standard or drop C tuning for their trademark sound.
28. Walk by Pantera
Pantera's "Walk" will shake you to the core. The D-standard riffs and blistering solo courtesy of Dimebag Darell's jaw-dropping genius are a joy to the senses. Plus, the 12/8 time signature gives the song a unique plodding rhythm. It is without question one of the best acts to come out of this band's jam room. Overall, I really like this song, and it's one of the most famous songs in D standard ever written. This is another one of my favorite D standard songs because I'm a huge Pantera fan.
29. At Wit's End by Dream Theater
"At Wit's End" may be over nine minutes long, but every second sounds better than the last. The song opens with a heavy, haunting riff before exploding into an uplifting melody. The vocals only kick in about a minute into the song. To learn the guitar parts, tune down your six-string a full step to D-G-C-F-A-D.
30. Scream Aim Fire by Bullet for My Valentine
"Scream Aim Fire" embodies its title to perfection with aggressive, hard-hitting riffs, frantic drumming, and energetic vocals – it's designed to drive the crowd into a frenzy. Check out the tutorial above to learn the deadly solo in D-standard tuning.
31. Garden Song by Phoebe Bridgers
Listening to Phoebe Bridgers' 2020 hit "Garden Song" indeed feels as if you're strolling around the garden – it's lush, dreamy, and bittersweet, like a fragrant garden with wet grass. Delicate synths and Bridgers' tender vocals drive the song, accompanied by guitars tuned to D-G-C-F-A-D.
32. Shockwave by Black Tide
For those unfamiliar with their trajectory, Black Tide is a Miami-based band known for amalgamating thrashcore with old-school heavy metal. Screeching riffs, speedy riffs, and explosive vocals fuel the band's opening track, "Shockwave," from their debut album, Light from Above. This track will do wonders for your setlist if you're into heavier jams.
33. Clouds over California by DevilDriver
Devildriver is a well-known name in the metal scene, and "Cloud over California" captures the band's essence and acts as a sneak peek into their technical and songwriting abilities. It's one exhilarating ride filled with reckless riffs, a driving drum beat, and an anthemic chorus to boot. Tuning? D-standard, of course!
34. The Bee by Amorphis
Unlike every great metal band with at least one lackluster album to their name, Amorphis has been on top of their game, releasing one masterpiece after another. And the eminently catchy and cataclysmic opener "The Bee" from their Queen of Time album captures the brilliance of these prog metal veterans. If you like what you hear, tune down one step to D-G-C-F-A-D and get started!
35. Arrow Flight by Boy & Bear
Let's take a little break from metal to explore songs from other genres in this tuning. Australian indie folk band Boy & Bear's body of work is heavily influenced by the '70s pop-folk sensibilities. "Arrow Flight," from the band's chart-topping (ARIA charts) second studio album Harlequin Dream is a well-written track that draws its sound from a blend of pop and folk, making it a jaunty and heart-warming.
36. Shout at the Devil by Motley Crue
Hair metal champs' fascination with the D-standard tuning, to a large extent, defined their sound. In "Shout at the Devil," Mötley Crüe was at their most theatrical. It's a fun and energetic fare but with a rather dark, foreboding solo courtesy of Mick Mars. The video lesson breaks down all the guitar parts for you.
37. I'm Broken by Pantera
Dimebag Darrell Abbott was a peg-twisting genius who often invented his own tunings. So while the jury is still out on what the actual tuning of "I'm Broken" is, many lessons and tabs teach a whole step-down arrangement of the song or DGCFAD.
38. This is Amazing Grace by Phil Wickham
If you thought straight-up pop and D-standard don't go well together, this classic by Phil Wickham would amaze you! Beautifully-layered vocals, radio-friendly electric guitar riffs, and lyrics that spread joy and love made this song Wickham's first chart-topping hit. It's one of those songs that sound as lovely on an acoustic as on an electric guitar.
39. I Sever by Sylosis
Since Sylosis arrived in 2008, they've been on top of their game, and their latest album is proof of their ability to consistently belt out one grand album after another. However, the band went on a hiatus for five long years following the departure of frontman Josh Middleton. "I Sever" from their 2020 critically-acclaimed Cycle of Suffering was hailed as a blistering comeback with its big, galloping riffs and an anthemic outro, all in D standard.
40. Sweater Weather by The Neighbourhood
American Indie rock band the Neighbourhood won our collective hearts with their swoon-worthy and sassy "Sweater Weather." The melody feels like a comfy throw blanket is wrapped around you – it feels as autumny as a steaming mug of pumpkin spice latte. Although the studio version uses standard tuning, the band usually goes for a D-standard tuning to add a haunting, poetic element to their acoustic performances.
41. Whiskey in the Jar by Metallica
"Whiskey in the Jar" is perhaps as easy as Metallica can get for guitarists. The easy to play metal song is a heavy take on a popular Irish folk tune made famous by the '70s rock band Thin Lizzy. The moment the opening riff kicks in, you know you're in for a treat, and the opening riff and Hetfield's catchy melody line confirms that thought. All guitars are tuned down a whole step for this track, and the key is F major.
42. Territory by Sepultura
Even those not familiar with metal and its subgenres would know about this glorious heavy metal band from Brazil. "Territory" from the band's 1993 Chaos A.D. is a commentary on world leaders achieving autocracy through propaganda and fear. Brutal riffs and compulsive drumming patterns do perfect justice to the track's intense lyrics. There are four guitars at play in this one, and all are tuned down to D-G-C-F-A-D.
43. Machine Gun by Jimi Hendrix
Jimi Hendrix's expansive electric guitar legacy includes another song in D standard alongside Voodoo Chile. As twelve and a half minutes long anti-war, "Machine Gun" captivates listeners with fluid riffs, soaring solos, and some percussion to mirror the pain and misery associated with armed conflicts. It's a long and challenging track best suited for advanced guitarists.
44. Drain You by Nirvana
Grunge heavyweights Nirvana make another appearance on the D-standard song list with "Drain You" off their seminal Nevermind. It was one of Kurt Cobain's favorite tracks and a regular part of the band's live performances. If you're familiar with power chords, learning this song will be one smooth ride.
45. Feet Don't Fail Me by Queens of the Stone Age
"Feet Don't Fail Me" opens with dark, ominous synths that build up for a while but transform into something entirely different once the drums and guitar riff kick in. From an icy, gothic intro to crunchy and catchy riffs and infectious drums, it almost sounds like you're listening to a Nirvana record. Check out the tutorial above and add this groovy banger to your song bank.
46. Sea of Lies by Symphony X
Prog metallers Symphony X's "Sea of Lies" packs earth-shattering riffs and solos powered by Michael Romeo's phenomenal tapping skill. Keyboards are prominent in this track, but Romeo's astonishing guitar prowess and arpeggiated harmonies unleashed with Michael Pinnella steal the show. The D-G-C-F-A-D does well in elevating the heaviness of the song.
47. Spanish Fly by Van Halen
Eddie Van Halen wrote this strikingly melodic instrumental after wooing the audience with his acoustic skills at a new years party. He decided it was time the world knew his talent went even further beyond his imaginative electric guitar skills. This glorious classical-tinged D-standard masterpiece was fuelled by Halen's inventive two-handed tapping. Check out the tutorial to learn how to play the tune à la Halen.
48. Sad Man's Tongue by Volbeat
Danish rock band Volbeat sings about a drifter who faces the consequences for his refusal to join the military. The anti-war song was Volbeat's tribute to Johnny Cash. It's hard to pinpoint the band's genre as they tend to swing from rock to country to rockabilly sprinkled with Metallica-like riffs. Listen to the original track above and see if you can make out the tuning the guitars are in (psst! it's DGCFAD).
49. Dogs by Pink Floyd
Yes, there's something for the fans of Pink Floyd as well. The "Dogs" runs over seventeen minutes without even a second of monotony creeping in. It's a snarky take on individuals who go to any extent for power and riches. The track stands out not only for its remarkably long length (it's still shorter by Echoes by a good 5 minutes) but also because of its unusual tuning of D-standard.
50. Stabwound by Necrophagist
"Stabwound" is hands down the best album opener and the biggest hit to date for these neoclassical technical death metal heavyweights from Germany. At just 2 minutes and 48 seconds in length, this track is a whirlwind of lightning-fast sweep picking, growling vocals, and hypnotic solos soaring above a steady drum beat. The band has plenty of tracks that go in D-standard, but I can't think of a better pick to introduce this band than "Stabwound."
Wrapping Up:
If you're branching out from standard tuning, this list of the 50 most popular D standard tracks is all you need. As opposed to drop D tuning, Standard D is still technically in "standard tuning" just one full step down. This means the frets and chord shapes will be the same as you play in standard tuning but everything will be lower, deeper, and have a darker vibe. Listen to these tracks to familiarize yourself with this alternate tuning, and add a few songs to your repertoire while you're at it.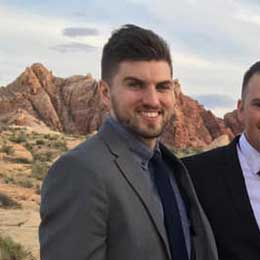 My name is Chris and I've had a passion for music and guitars for as long as I can remember. I started this website with some of my friends who are musicians, music teachers, gear heads, and music enthusiasts so we could provide high-quality guitar and music-related content.
I've been playing guitar since I was 13 years old and am an avid collector. Amps, pedals, guitars, bass, drums, microphones, studio, and recording gear, I love it all.
I was born and raised in Western Pennsylvania. My background is in Electrical Engineering, earning a Bachelor's degree from Youngstown State University. With my engineering experience, I've developed as a designer of guitar amplifiers and effects. A true passion of mine, I've designed, built, and repaired a wide range of guitar amps and electronics. Here at the Guitar Lobby, our aim is to share our passion for Music and gear with the rest of the music community.