Best-known as the lead guitarist from famous progressive band Genesis, Steve Hackett is one of those legendary guitarists that has helped shape rock as we know it. From the complexities of Progressive Rock to diverse and unforgettable sounds and techniques that carried over to future generations.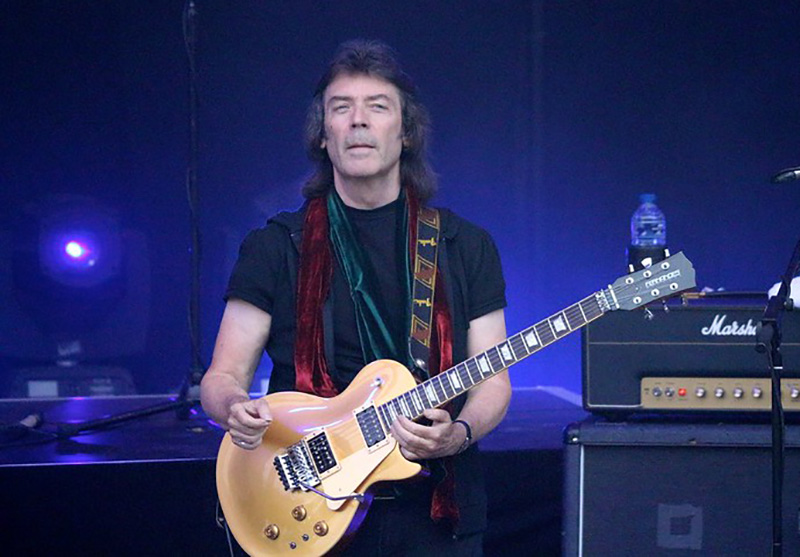 Although his tenure with Genesis was rather brief, he was a founding member and an essential piece of the magical puzzle the project was. He was the lead guitarist between 1971 and 1977, but that certainly wasn't the end of his career as a guitarist. Later he began his solo career and collaborations with the likes of Steve Howe which further cemented his image as an innovator and true guitar hero.
What Guitars Does Steve Hackett Play?
Steve Hackett primarily played Les Paul style guitars, most notably his 1957 Gibson Les Paul Goldtop. Most of his guitars were modified with Floyd Rose tremolo systems. He's know to have owned several Fernandes / Burney Les Paul copies as well as other custom guitars.
See the full Steve Hackett guitars and gear list below.
1957 Gibson Les Paul Goldtop

| | |
| --- | --- |
| Finish | Goldtop |
| Years Used | 1973 to Present |
This 1957 model is one of Steve's all-time favorites, bringing the classic Les Paul tone to life like never before. He bought it in the US after playing a show with Genesis for only $800 when a man approached him with two options, needless to say, this golden six-string was his choice. According to him, it's very easy to play, and do bends as well as vibrato, these were the reasons that made his decision.
Hackett even claims to have a sort of spiritual connection with this instrument, in an interview about this Les Paul he shared: "For me, Les Paul's tortured cry, but it's the strength as well, spoke to my heart and gave me the strength to carry on".
This piece came out at a time when the idea was to innovate the guitar industry. Les Paul Goldtops and Customs were actually the first solid-body electric guitars to have PAF humbuckers. In the late 50s, a black sticker with gold lettering was applied to each pickup's underside that read: "patent applied for." which was shortened to "PAF" it has been the nickname for these pickup variations ever since. US patent 2896491 was eventually issued on July 28, 1959. In 1958, the Goldtop was dropped from production, and the sunburst Standard replaced it as Gibson's state of art and flagship model.
With a solid mahogany body and neck, a maple top, with a rosewood fingerboard, Tune-O-Matic bridge, and twin humbucker pickups, this guitar was bound to pack a punch. This Goldtop was used on various studio albums but it was retired from live shows. Steve then discovered the wonders of sustain by using a Black Burny which was an upgrade of sorts of his current Gold Top replica made by Fernandes, who happens to also own Burny.
Steve owns two guitars by the signature of the Japan-based manufacturer, Fernandes – both of them made in the first original factory. Steve Hackett had fallen in love with the sustaining capabilities of the Fernandes and has had the self-sustaining pickup installed on his 'new' Gold Top allowing him to make the music he loves, just the way he wants.
Hackett remains faithful to this battled piece, it was most recently used on his 26th album, At The Edge Of Light, for both studio and live performances. That being said, he still rotates it with his Fernandes Goldtop to keep them both in prime condition.
1970s Fender Stratocaster

| | |
| --- | --- |
| Finish | Black |
| Years Used | 1976 to Unspecified |
This guitar was largely present during Hackett's early departure from his original band and his 1978 post-Genesis debut, "Please Don't Touch", he would often rotate his all-black Stratocaster with a similar setup fiesta red variation of it. These Strats marked his early solo tenures before he adopted his famed Fernandes Les Pauls. Much of Steve's early bloom as an ethereal player came through thanks to these classic modified pieces, and for a couple of years, they were, his main go-to's for experimental endeavors.
While nowadays this might be that last guitar that would come to mind when thinking of Steve Hackett, surprisingly, back in the late 70s it was either this or his Gibson Les Paul instead of his Fernandes Goldtop.
The special part about this born-in-the-70s Fender Stratocaster is a very peculiar effect which is called Gizmotron. The idea behind this strange effect is that it allows the guitar to sound like a violin. A few guitarists in the 70s were very fond of this idea, such as Jimmy Page and of course – the man himself, Steve Hackett.
But How Does the Gizmotron Work?
Thankfully it's not as complicated as it may sound, it is installed atop the bridge without the need for any special mods or screws. The mounting pads go into the existing pickguard holes and are easily removable. The hard part is to align and adjust the screws dial in the spacing. After that, it's very easy to operate, since you only need to fret the string and press down the Gizmotron levers.
The trick though is to master it and be able to create music with it. Because the Gizmotron is an electromechanical device, it offers endless input. This is where one's artistry comes in – you can control the attack, timbre, and sustain of each note or chord based on the nuance and touch sensitivity of the levers. And the Speed control allows fine-tuning volume and tone on the fly. In a way, he has managed to replicate some of the sounds that the gizmotron has with the Fernandes sustainer guitars.
Throughout his career, this Strat has increasingly become a rare sight in Hackett's hand, not because he has anything against Stratocasters, but rather he is simply a Les Paul player.
Fernandes Les Paul Black and Les Paul Gold (Burny)


| | |
| --- | --- |
| Finish | Glossed Black/Goldtop |
| Years Used | 1978 to Present |
As early as 1978, Hackett made his first appearance with a Fernandes Burny LP, and soon enough he'd get himself a goldtop that would become synonymous to his name. During the mid-80s, Hackett started delving deeper into his own sound, he had founded GTR, experimented with new boundaries along with his peers while making a name for himself as one of the most virtuosic players around. Nevertheless, he found the Gibson staple to be rather limited for certain things, and he went on to find something to better suit his tone and ambition.
There are a few things that make Steve such a great axeman, one of them is to completely master the possibilities of a sustainer, by allowing the note to ring free in a way few can. This says a lot about Hackett as a guitarist, who not only develops revolutionary techniques but also explores and surpasses the boundaries of the traditional tones and sounds of an electric guitar. Many of his trademarked skills were developed in these couple of Les Pauls, as they were heavily used in the recording sessions and lived performances of his fourth studio album "Defector". Ever since then, there hasn't been a studio installment under Hackett's name that hasn't featured the sounds of his Burny pair.
These guitars highlight some of the strongest aspects of Hackett's guitar skills. Having said that, it doesn't mean he has completely replaced the Gibson Les Paul. According to him, there are some things he can only achieve with the Gibson and others with the Fernandes, despite the latter one currently being his go-to guitar.
Custom Schecter Stratocaster

| | |
| --- | --- |
| Finish | Two-Tone Sunburst/Blue |
| Years Used | 1983 to Present |
Schecter is a brand that doesn't get the recognition it deserves, as it provides very high-quality instruments at a better price than other more popular brands such as Fender and Gibson.
While Schecter is sometimes associated with metal, the brand actually provides a wide range of styles and sound when it comes to their instruments, and it was in the 80s that Steve Hackett noticed these amazing guitars that came out of nowhere. Shecter had only been in the market a few years back then, already making an interesting reputation for themselves in very little time.
This specific Schecter guitar was modified to have a Kahler tremolo and the added controls to use a Roland G-300 synthesizer from the piece. According to Steve, this was the main guitar used in the GTR era, when he founded the supergroup with veteran Yes and Asia guitarist Steve Howe, who, reportedly, continuously encouraged Hackett to get a Shecter six-string for himself given the possibilities and his never quenched need to explore with sound.
1974 Gibson Les Paul Custom

| | |
| --- | --- |
| Finish | Gold |
| Years Used | 1981 to Present |
This is one of those guitars that is made special thanks to the player's specific ideas, making a few changes to the tremolo with a Floyd Rose, a Roland hex pickup, and installing controls for a Roland GR-700 guitar synth, this was no ordinary Gibson Les Paul.
Hackett first employed this six-string after getting it for his fifth studio tenure, 1981s "Cured". Reportedly, Steve needed a new lab subject to repeat what he had already done with his Fender Stratocaster in the past, and enhance a classical sound with the Steve Hackett touch in order to pursue some of his most abstract ideas. Steve ultimately went for a Les Paul Custom for its familiar feel, "A really fat sounding guitar with a warm tone plus the added facility of mixing the neck and bridge pick-ups together – creamy, bitey, nutty, crunchy!"
Ovation UKII

| | |
| --- | --- |
| Finish | Black |
| Years Used | Unspecified to Present |
This one used to be Steve Hackett's guitar of choice on Highly Strung, and according to him, this Ovation does really well when paired with a Marshall amp. Ovation guitars started developing electric guitars in the year 1968 but it wasn't until the mid-70s that their guitars really hit the nail.
When the UKII came along, the mindset was budget guitars, but instead, they ended up making a guitar that featured bolt-on mahogany neck, gold hardware, bound ebony fingerboard, and abalone inlays. It sported twin-blade humbuckers and very traditional controls.
Jones Electric Sitar

| | |
| --- | --- |
| Finish | Red Gator |
| Years Used | Unspecified |
Steve Hackett has experimented with a few unconventional instruments over the years, one of them was the Jerry Jones Electric Sitar which was modeled after the Vincent Bell Coral Sitar built by Danelectro in the 60s. It has a poplar wood frame between two pieces of Masonite with a hollow chamber with a rosewood fingerboard and an intonated "buzz" bridge.
Steve reportedly got this Sitar in order to make some samples to keep at his audio library. He became enthusiastic with the instrument after learning and mastering the mandolin. The exotic tones of this custom-made Jones sitar have made several appearances on Hackett's discography noticeably on "Waters of the Wild", and "Wading to Life", it was, according to the man himself, one of the most satisfying moments of his career.
Yairi Nylon Acoustic

| | |
| --- | --- |
| Finish | Natural |
| Years Used | 1974 to Present |
The Yairi is without a doubt one of Steve's favorite guitars, mostly because it's his go-to guitar when it comes to composition even if the song will eventually be played with an electric guitar, he begins working on it with his Yairi.
This is a Japanese classical guitar that was made in the early 70s by Sadao Yairi, a maker of classical steel-string acoustics from Nagoya. "An acoustic classical guitar I bought because of its projection". Almost pianistic in its sound especially in the bass strings. Heard to good effect on "Blood on the Rooftops" from Wind and Wuthering and on the Tribute album featuring six pieces of Bach amongst others
He also had a few other Yairi guitars with a key difference which consisted in adding piezo pickups to enable him to use them live and also in some recordings, with the combination of D'Addario strings for a snappier sound.
He bought this one in 1974, after trying a Kohno which was outside his price range. He thought the Yairi was not a cheap guitar, but it was definitely cheaper, and more importantly, it had great volume and quality to it.
Zemaitis 12 String-Acoustic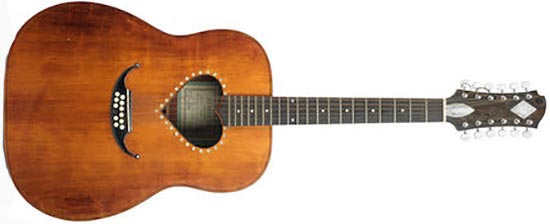 | | |
| --- | --- |
| Finish | Natural |
| Years Used | 1975 to Present |
Steve Hackett is particularly devoted to 12 string guitars. That seems to also be the case with his 12 string Tony Zemaitis which he shared with Mike Rutherford in the Genesis golden days. Tony Zemaitis built this one for Steve and asked him what design he wanted to which he responded: What will make it sound best?" "Just a plain finish" he answered, "so that's what I opted for…"
1950s Kay F- Cello Hole Guitar
| | |
| --- | --- |
| Finish | Unspecified |
| Years Used | Unspecified |
While there is not much information on this guitar, it is an interesting one to mention since it was Steve's first piece. In an interview, he says it was his father's guitar and that he brought it back from Canada around the late 50s.
The Kay Musical Instrument Company used to be one of the biggest guitar manufacturers in the American market and was known for making some of the best string instruments in the world.
This specific guitar was a country guitar and it provided Steve Hackett the possibility to give his first steps as a guitar player.
Timetable Showing Each Guitar Steve Hackett Has Played at Each Point of His Career
| Make | Model | Color/Finish | Years |
| --- | --- | --- | --- |
| Jones | Electric Sitar | Gator Red | Unspecified |
| Kay | F- Cello Hole Guitar | Unspecified | Unspecified |
| Ovation | UKII | Black | Unspecified to Present |
| Gibson | 1957 Les Paul Goldtop | Goldtop | 1973 to Present |
| Yairi | Nylon Acoustic | Natural Glossed | 1974 to Present |
| Zemaitis | 12 String-Acoustic | Natural | 1975 to Present |
| Fender | 1970s Stratocaster | Black | 1976 to Unspecified |
| Fernandes | Les Paul Black and Les Paul Gold (Burny) | Glossed Black/Goldtop | 1978 to Present |
| Gibson | 1974 Les Paul Custom | Gold | 1981 to Present |
| Shecter | Stratocaster Custom | Two-Tone Sunburst/Blue | 1983 to Present |
Steve Hackett Amps Overview
When you really know what you want, you don't need to go out there trying every single thing and explore it, right?
Hackett is known for having played Marshall amplifiers as his main power source for both live shows and studio work as well, he's praised the British staple for its reliability and claims to only have changed gear over their extensive and continuous wearing from the road.
That is the case with the small number of amps that Steve Hackett can call his own, but what is interesting is to understand why he chose these few amps over the course of his career as a prog-rock guitarist.
Marshall 1987
Steve Hackett loves the sound of the Marshall mixed with Les Paul magic so it's no surprise that most of his sounds come from, you guessed it, Marshall. This is a 50 Watt amp that shares the same front and rear panels as the 1959SLP, of course with its own twist that gives the special tone Hackett needs.
Marshall 1960A Cabinets
This is one of the best 4×12" cabinets in the world, so there is no doubt that they will deliver a great sound with a vintage tone that will certainly blow away the audience with its 300W of power.
The 1960A and 1960B are both very similar cabs, however, the A cabinets have a brighter tone that allows Hackett's guitar sounds to really shine.
HH Electronic IC 100-S Guitar Amp Head
He used this 70w amp between 1972 to 1975 and, to be fair it has turned into an important part of rock history, mainly due to bands such as Genesis who had a legendary guitarist like Steve Hacket using one of these. This amp has 2 channels with a bright and normal input for each one. It has a sustain channel with tremolo function and reverb. The other channel only features a reverb.
Peavey Classic 50 Tube Combo
Peavey started making amps in 1961 and eventually became the solid-state giants before expanding to instruments and more. That being said, they did make some interesting tube amps such as the Classic 50.
This one features a 2 channel preamp, 3-band passive EQ, a footswitch for selectable channel and reverb, external speaker capability, effects loop, and the usual controls such as reverb control, master volume, and gain controls. It can be really loud, but it also maintains a clean sound if that's what you need.
It makes sense since Steve seems like the kind of guitarist that prefers control over volume, so if he chose this amp, it probably delivers on that aspect which is not an easy quality to find in tube amps.
Steve Hackett Pedals and Effects Overview
Behind innovative guitarists and modern new sounds of rock, there is always a good pedalboard to back the creativity of amazing musicians such as Steve Hackett. There are a few pedals that he has carried with him his entire music career and a few that have taken the back seat. With that said, let's have a look at some of the most important pedals that achieve that classic Hackett sound.
MXR Phase Shifter
Hackett always has an MXR Phase in his pedalboard, however, he always changes the model as time passes by.
Some of the oldest MXR pedals he used were the Phase 90 and 100 which he actually explained how to use in an advert for Melody Maker in 1976. Phaser pedals were still very new, with the first one coming out in the early 70s, so Steve was one of the first to jump into this new effect that would later become one of the most popular effects in the history of rock.
Essentially, what it does is that it splits the audio signal into two and changes the relative phasing between them creating that original phaser sound. The latest Phaser he was seen using was the MXR EVH Phase 90 Pedal which was a collaboration between Eddie Van Halen and Dunlop, in order to make an updated version of the famous Phase 90.
Digitech Whammy (4th gen and 5th gen)
This is definitely one of the most fun pedals for guitarists out there, and like many other famous effects and techniques, Hackett was one of the first to get this pedal up to new heights.
The Whammy pedal has been around since the late 80s and now it's all over the rock scene with artists like Matt Bellamy, Jack White, and Johnny Greenwood.
Boss PS-6 Harmonist
This is one of the newer pedals in the Hackett pedalboard, it mostly mimics the original input signal and plays it back in a different pitch, creating harmony (this is similar to some of the functions of the Whammy pedal).
This pedal has a lot of little things to unpack, including four effect modes, harmony, pitch shifter, detune, and S-BEND.
With all of these effects combined, there is a good amount of freedom when it comes to achieving certain harmonies and pitch bending.
You can also control the pitch with an expression pedal which will give a lot more control and allow for rather unique things with the super bend which lets you go up to four octaves from the original signal.
Analog Man Beano Boost
He uses this pedal to get distortion but there is an interesting twist to it, this pedal lets him add the same kind of distortion that you'd get when adding more volume to a tube amp without the high volume.
This also helps with the style of playing that he adopted by letting the notes linger with that great overdriven tone while still controlling the volume, which is also a great mix with the Fernandes because it helps to achieve those great harmonics very easily.
"A real great pedal, the Beano Boost – it brings the sound alive."
Tech 21 SansAmp GT2 Tube Amp Emulator
This is definitely a one-of-a-kind pedal, not only does it give the sound of the guitar that great tube amp sound, but it also gives the freedom to create unique rigs by mixing and matching specific sounds in ways that few pedals allow.
If this pedal had to be described in just a few words it would be, a few tube amps inside a pedal box. It has a knob to control the highs and a knob for the lows, it also has a drive and a level knob.
Colorsound Supa Tonebender
What could this pedal possibly do? Well to put it simply, it's very similar to the Big Muff giving that great heavy fuzz that the Muff is known for but it is louder and maybe gives a little bit more bass.
Line 6 DL4 Delay Modeler
This was one of the first great-sounding guitar effects pedals to deliver quite a few options in a stompbox. It offers endless possibilities when it comes to delay and echo effects, which is an important part of Steve Hackett's sound.
Despite what some people may say about this pedal today, The DL4 Delay Modeler earned its place on Steve's pedalboard to this day. Some people prefer a more modern take on delay effects and such, however, the real vintage delay and echo sound are undeniably present in this pedal, offering a good amount of sounds, from a tube-driven, tape loop echo through 24-bit clean digital echo effect, to real-time reverse delay (one of Hackett's favorite effects). The player also has control over all the little things of the sound whether it is during recording sessions or live. The controls consist of an effect selector, delay time, repeats, tweak and mix.
Line 6 DM4 Distortion Modeler
There are so many distortion pedals that it's hard to choose which one is going to give you the sound you desire, and in a way, the Line 6 DM4 was a response to that.
This pedal was designed to give a very wide range of effects and tones in a programmable stompbox, with 16 models of distortions, overdrives, and fuzz, 4 programmable presets, and true bypass switching.
Vox Wah V847
Not to be confused with the Whammy pedal which he got later on, the Vox Wah which was developed by VOX in the 60s works as a way to control the tone, the whammy modifies the pitch.
The VOX wah is one of the best wah pedals out there, and it is essentially a tone filter, it alters the tone and the frequencies of the guitar's original signal in order to make the onomatopoeic sound that gives the name to the effect.
Roland GR-300 and Roland GR-700 Guitar Synthesizer
These are some of the big ones, not only because they serve a great purpose in the sound that Steve wants to achieve but because of the impact it had on music as a whole when it came to advancements in technology.
The GR-300 came out in the late 70s and it is to this day, the pinnacle of analog guitar synthesis, which is no small thing. This pedal creates a unique analog synth equivalent of a specific sound made by the guitar.
The initial atonal pick attack is converted into a sound very reminiscent of the "spit" sound heard at the beginning of a trumpet phrase. Impressed by the GR-300 Steve went on to acquire the GR-700 which came out in the mid-80s, this time incorporating the digital side of things to the already accurate analog synth.
Generally speaking, the GR-700 has not held up as well as its 24-pin brethren, like the GR-100 or GR-300. But for a guitar player in 1985, the GR-700 offered an astonishing range of sounds that could never have been triggered from a guitar: strings, basses, electronic effects, synths, and more. It was assumed that guitar players eventually would become fluent in GR-700 programming and that the great silver box could become as ubiquitous as the wah-wah pedal.
Wrap Up
Sometimes the best guitarists in the rock industry are not even rockstars, adopting a quieter personality and doing what they do best which is the case with Steve Hackett. He is a pioneer in many ways, an innovative and virtuoso guitarist that isn't afraid of trying new things and keeping that spark of creativity alive for as long as he can play.
This was shown earlier in the way he uses his tools as a guitarist and composer, which not only brought great music to our ears but quietly changed and influenced many louder and legendary guitarists who came after him.
From Genesis to his solo projects, he shows a unique talent by mastering the sustain effect, inventing the tapping technique, and perfecting feeling through the complexities of progressive rock. So if you want the full picture of rock history, you need to learn about Steve Hackett, as he earned his place among the pillars of rock guitarists of all time.
His main tool for creativity is the guitar of course, and in order to understand his impact in progressive rock – and music, it's almost necessary to know a little bit about his precious tools of creations. But If you need something more convincing on how big of a deal Steve Hackett is: he was the first guitarist to do finger tapping, even though Van Halen expanded the technique and popularized it.
Steve Hackett has kept his music alive by continuously releasing new material as the years go by. With all that experience on his back, he consistently delivers new material and a new boundary pushed within his music. Steve is a one-of-a-kind legend, as usually veteran musicians tend to stick to their glory days and avoid uncharted territory, but this just isn't the case with Hackett.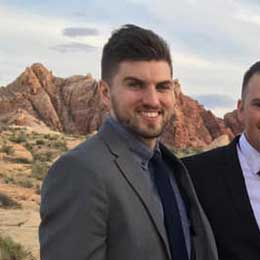 My name is Chris and I've had a passion for music and guitars for as long as I can remember. I started this website with some of my friends who are musicians, music teachers, gear heads, and music enthusiasts so we could provide high-quality guitar and music-related content.
I've been playing guitar since I was 13 years old and am an avid collector. Amps, pedals, guitars, bass, drums, microphones, studio, and recording gear, I love it all.
I was born and raised in Western Pennsylvania. My background is in Electrical Engineering, earning a Bachelor's degree from Youngstown State University. With my engineering experience, I've developed as a designer of guitar amplifiers and effects. A true passion of mine, I've designed, built, and repaired a wide range of guitar amps and electronics. Here at the Guitar Lobby, our aim is to share our passion for Music and gear with the rest of the music community.