Alternate tunings are a way to explore your melodic and songwriting capabilities, and DADGAD is a great one. This alternate tuning is easy for guitarists of all skill levels and is great fun to play and compose on. Not to mention, you will find some of the most iconic songs by bands like Led Zeppelin are in DADGAD. Need we say more?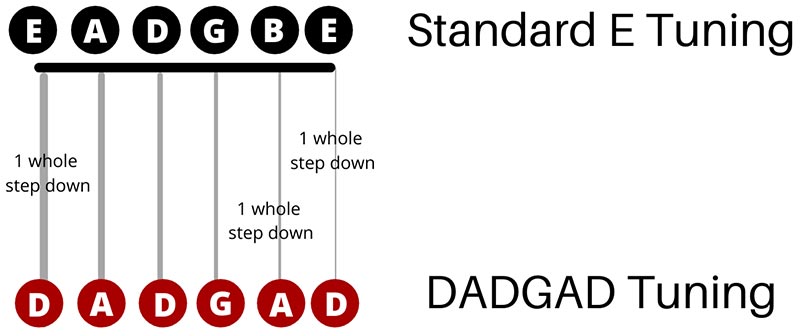 Scroll down to find out how to tune your guitar in DADGAD, interesting chords you can play in this tuning, and many songs in DADGAD tuning by some of the most popular musicians across the world. Let's get started!
What is DADGAD Tuning?
DADGAD is a pretty easy tuning to get started with a very versatile sound, in case you're thinking of playing around with alternate tunings. To put it simply, when you play all the open strings in DADGAD tuning, you are playing the Dsus4 chord.
This tuning was made popular by 1960s folk guitarists like Bert Jansch and Davey Graham, and it truly exploded into public consciousness when bands like Led Zeppelin and Pink Floyd began using it in their tracks.
The open-ended sound of DADGAD is brilliant for musicians to get inspired by – it allows you to let go of typically repetitive chord shapes, and create new voicings and progressions by experimenting with your very own chord shapes and patterns.
List of Popular Songs in DADGAD Tuning
1. Kashmir by Led Zeppelin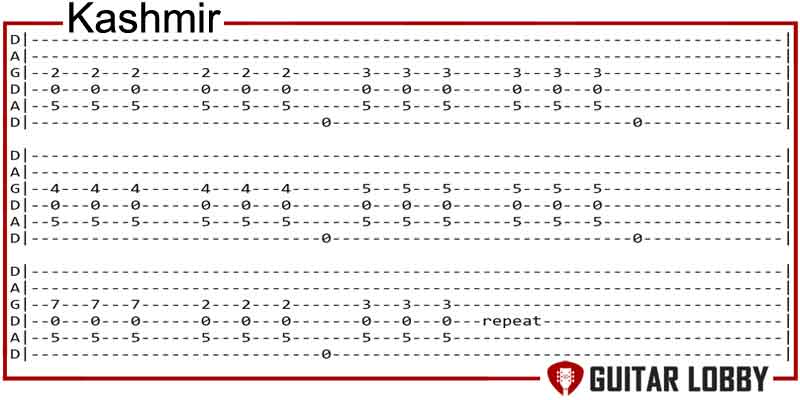 Tabs: See Kashmir Tabs on Ultimate Guitar here.
Let's kick off with one of the most iconic tracks to have ever been played in DADGAD tuning. Legendary rock band Led Zeppelin's "Kashmir" is one of those epic crowd-pleasers that must be a part of your repertoire! Its hypnotic riff, mesmerizing string melody, and intense lyrics showcase the phenomenally successful band's quintessential style. Despite its nearly eight and a half minute length, the track is pretty much made up of only four guitar riffs, including the signature opening riff. Apart from terrific riffs and superb singing, what works well are the varied rhythms going on. While the guitar is in triple meter, the vocals go in quadruple meter, with the drumming beautifully complimenting the two.
It's odd how the band zeroed in on the title, as none of the members had ever visited the place the track is named after. It was, in fact, a drive through a stretch of desolate Sahara desert in southern Morocco that inspired lead vocalist Robert Plant to pen down the lyrics in 1973. Recorded in 1974 and released in the band's sixth album Physical Graffiti in 1975, "Kashmir" became a live staple and featured in Rolling Stone Magazine's "The 500 Greatest Songs of All Time".
2. Photograph by Ed Sheeran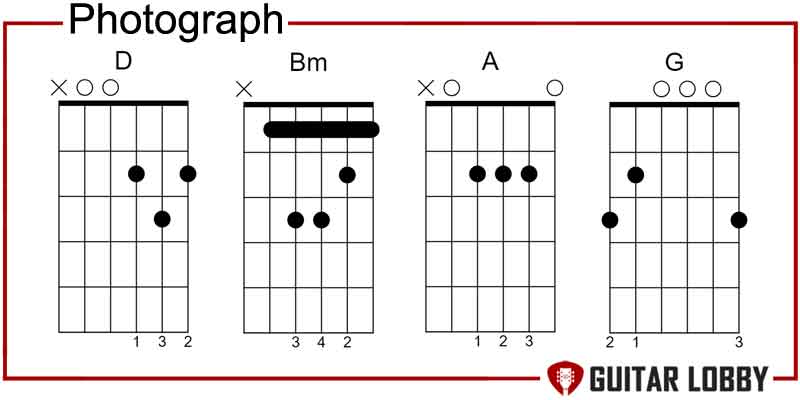 Chords: See Photograph Chords on Ultimate Guitar here.
A spell-binding composition crafted by the hugely popular singer-songwriter Ed Sheeran, "Photograph" is a beginner-friendly song that's played in DADGAD tuning. The track was originally played in standard tuning with the G string tuned down to E, but Sheeran chose to tune his guitar to DADGAD in the later live versions. We don't know why he made the switch, but whatever the reason may be, it sounded fantastic in the new tuning! This 2015 single charted well, reaching the top five in many countries and peaking at number ten on the US Billboard Hot 100.
Lyrically, this beautiful ballad describes the heartache of being apart from the beloved and was inspired by Sheeran's long-distance relationship with his then-girlfriend. With only four chords and a fairly straightforward chord progression, the song stays simple without getting monotonous. Sheeran's use of a lovely arpeggiated intro, some palm-muted strumming paired with his tender voice makes "Photograph" a real treat for the ears.
3. Circle by Slipknot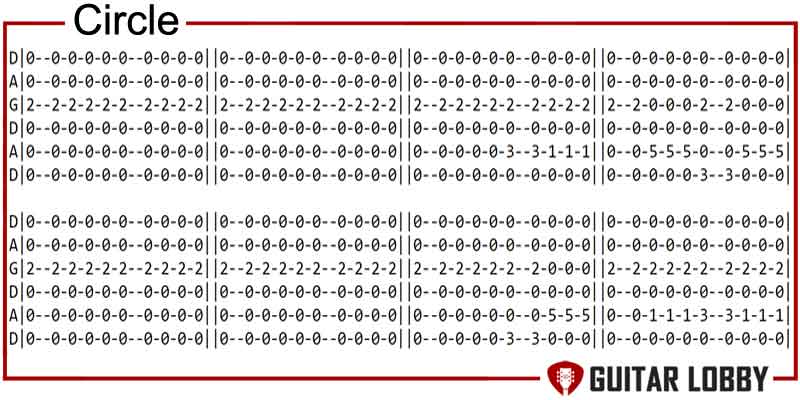 Tabs: See Circle Tabs on Ultimate Guitar here.
A classic folk tuning in a heavy metal song is a rather unconventional choice, but that's what Slipknot is all about- making music that stands out! With grunge meets folk and a foot-tapping vibe, "Circle" is way different from what we are used to hearing from American metal giants. "Circle" and "Vermilion Pt.2" from their third album is incidentally the first time that band plays in an acoustic-driven avatar instead of their typical electric fare.
In our opinion, this softer, more melodic track is an underrated gem by Slipknot that will undoubtedly boost your guitar repertoire. "Circle" is powered by solid melodic vocals, muted drums, and some amazing acoustic work that's played in the unusual D-A-D-G-A-D tuning with a capo on the second fret. So remember to tune it right whenever you are ready to learn this song.
4. Ain't No Grave by Johnny Cash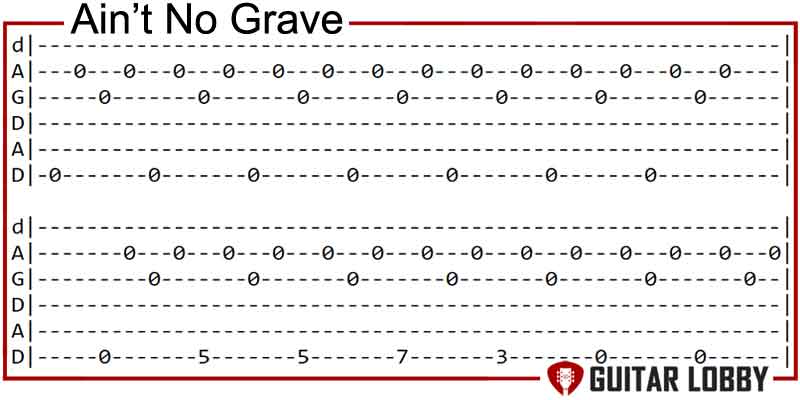 Tabs: See Ain't No Grave Tabs on Ultimate Guitar here.
Only a few rival the universal appeal and versatility of Johnny Cash! With a phenomenal career spread across genres ranging from country, folk, blues, and rock and roll and selling over 90 million records globally, Cash was America's national treasure. The title track of his posthumous album American VI: Ain't No Grave is a moving gospel originally written by Claude Ely when he was battling tuberculosis in 1934. Countless artists covered the song, but Cash's cover of the tear-jerker truly stands out.
By the time "Ain't No Grave" was recorded, the country legend's health and voice were rapidly deteriorating, and he was months away from his death. Despite being impacted by poor health, Cash's voice was as captivating as ever. This beautiful song was played in DADGAD tuning with two guitars. To play it, you'll need to retune your acoustic from standard tuning by adjusting the sixth, second and first strings. The three strings will go down by two semitones to arrive at DADGAD.
5. Dear Maria Count Me In by All Time Low

Tabs: See Dear Maria Count Me In Tabs on Ultimate Guitar here.
A pop-punk classic that became famous for its wicked chord progression, fantastic harmony, and quirky music video, "Dear Maria Count Me In" by All Time Low certainly deserves mention here! The emo anthem was released by the American rock band in 2008 and fetched them the recognition that paved the way for an even more successful album, Nothing Personal, in 2009.
"Dear Maria Count Me In's" success was revived in 2021 when it went viral on TikTok and made it to Spotify's "Viral Hits" playlist as well as number three on UK Rock & Metal Singles Chart. The electric guitar in the song is played in DADGAD alternate tuning (Some versions – like this tutorial – tune the guitar to a half step lower than DADGAD and put a capo on the 1st fret), but you can just as well try it out on your acoustic first. If you haven't heard this catchy track already, give it a listen, and we are certain you'll be reaching for your six-string before it even ends!
6. Black Mountainside by Led Zeppelin

Tabs: See Black Mountainside Tabs on Ultimate Guitar here.
Another pure gold by one of the greatest rock bands of all time, Led Zeppelin, "Black Mountainside," is a stunning piece of instrumental that uses DADGAD tuning. At just over 2 minutes, this is the shortest track on their self-titled debut album Led Zeppelin, which was released in 1969. The song was inspired by an Irish folk song and perhaps the first time the band recorded something in DADGAD tuning. During their live performances, "Black Mountainside" was often combined with another instrumental masterpiece," White Summer." Together the two compositions were eleven minutes of epic guitar playing that left the crowd enthralled.
Led Zeppelin's lead guitarist Jimmy Page was well known for experimenting with alternate tunings. For the tracks that had Celtic, Indian, or Arabic influence, Page would usually opt for DADGAD tuning. With the use of traditional Indian tabla, an overdubbed rapid guitar lick that sounds like a sitar, and Irish folk roots, "Black Mountainside" is an excellent example of East meets West. This is easily one of my favorite Led Zeppelin songs in DADGAD tuning.
7. That's When You Came In by Steel Panther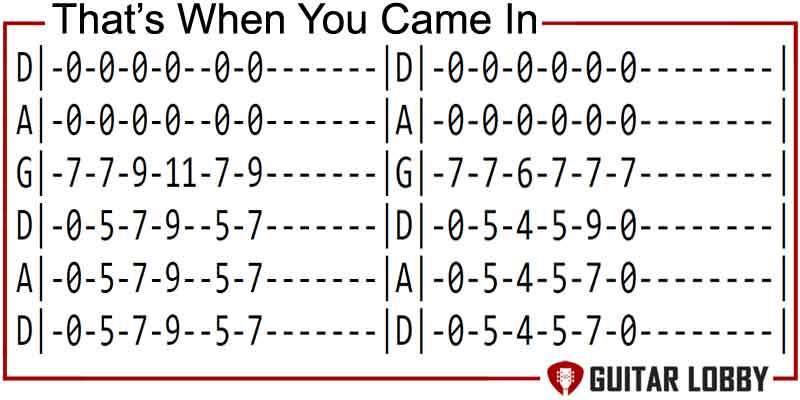 Tabs: See That's When You Came In Tabs on Ultimate Guitar here.
"That's When You Came In" by American rock band Steel Panther is one of the lesser-known tracks on this list that makes use of the unusual DADGAD tuning. Part of their 2016 live acoustic album From Lexxi's Mom's Garage, this song packs a sonic punch! Steel Panther's Michael Starr's powerful vocals and some fantastic acoustic work by Satchel make it thoroughly enjoyable from start to finish.
But what we loved the most about the track is that easy to play and has a great rhythm. The lyrics, though, are crude and profane with a touch of humor, which's pretty much in keeping with Steel Panther's style. All in all, it's a relatively simple composition with a straightforward chord progression, at least till the distortion bit begins. Check out this video tutorial to learn it from Satchel – Steel Panther's guitarist himself!
8. Sligo Creek by Al Petteway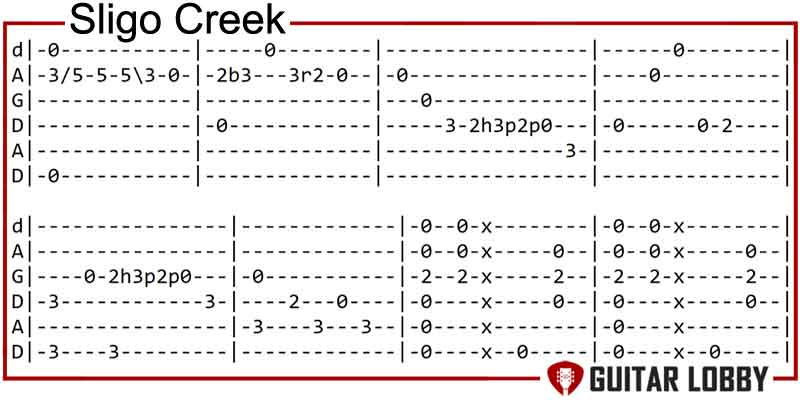 Tabs: See Sligo Creek Tabs on Ultimate Guitar here.
If you want to pick up some beautiful Celtic pieces in DADGAD tuning, be sure to check out Grammy-winner Al Petteway's fantastic repertoire. Petteway's revered fingerstyle playing is strongly influenced by the Celtic and Appalachian styles. You'll find him employing a host of traditional techniques in his compositions, such as strong syncopated rhythm to harp-like cross-string picking.
Released in 1997 as one of the tracks on Petteway's Caledon Wood album, "Sligo Creek," is a captivating melody with beautiful harmony. The song is propelled by Petteway's catchy rhythm work and famous folk artist and his wife Amy White's percussion. Other than "Sligo Creek," the American folk guitarist's notable compositions in the Celtic tuning include "Rise Up My Love," "Wayfaring Stranger," and "Chesapeake," among many others.
9. Dueling Ninjas by Trace Bundy

Tabs: See Dueling Ninjas Tabs on Ultimate Guitar here.
Next up is a percussive fingerstyle marvel by Trace Bundy, aka "The Acoustic Ninja." Released in 2004 as a part of Bundy's studio album Adapt, "Dueling Ninjas" is a brilliant instrumental piece that is teeming with hammer-ons, pull-offs, slides, harmonics, and other exciting techniques. "Dueling Ninjas" is without question a superb masterclass in percussive fingerstyle playing, and it is for this reason that we feel it is better suited to slightly more proficient players.
If you are in for a challenge, you should try picking up this song. In addition to the intricate acoustic skills we already mentioned, you'll also be trying your hand at finger-tapping and fast-paced arpeggios. Bundy plays "Dueling Ninjas" in DADGAD tuning with a capo on 4th Fret. To arrive at this tuning, you'll have to retune your guitar from standard tuning by tuning down the two "E" strings down one tone and the "D" and "B" string down one tone to "A."
10. White Summer by Led Zeppelin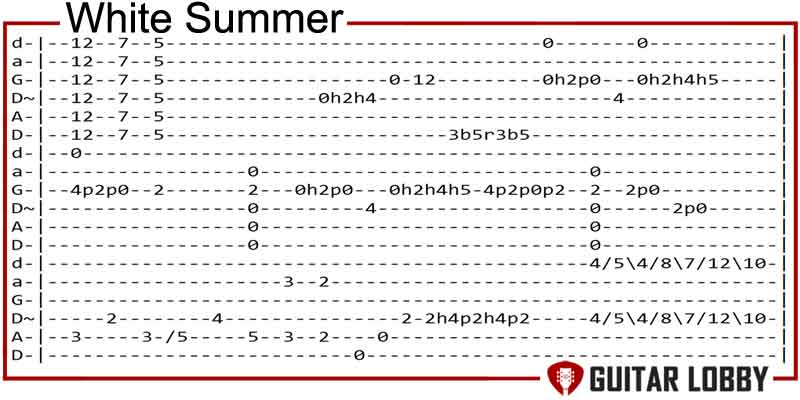 Tabs: See White Summer Tabs on Ultimate Guitar here.
We love how Led Zeppelin keeps popping up on our list! It's not surprising considering their iconic guitarist Jimmy Page's well-known penchant for unusual tunings. This composition shares many similarities with "Black Mountainside," and probably for that reason, the two were often paired together during live gigs. A mesmerizing instrumental piece that infuses an old Irish folk tune with Indian and Arabic musical styles, "White Summer" showcases just how brilliant and innovative a guitarist Page is!
Interestingly, the song was initially recorded in 1967 by Page when he used to be a part of the English rock band The Yardbirds and featured on their last album Little Games. Although frequently performed on most of the tours, the instrumental wonder did not become a part of Led Zeppelin's official repertoire until 1990 when "White Summer" was recorded and added to Led Zeppelin's Boxed Set as a medley with "Black Mountainside." For this track, Page picked DADGAD, which he also referred to as "C.I.A" tuning for its Celtic-Indian-Arabic appeal. Incidentally, this tuning was also used in the traditional Irish folk song "She Moved Through The Fair," which was the main inspiration for "White Summer."
11. Black And White by Niall Horan
Tabs: See Black And White Tabs on Ultimate Guitar here.
Released in 2020, "Black and White" by One Direction's former member Niall Horan is a pop-rock love ballad that's played with a guitar tuned to DADGAD. It's an upbeat, catchy single that showcases Horan's vocal prowess and is a part of Horan's second studio album Heartbreak Weather. The song's love theme and arena singalong style have made it popular, especially with One Direction fans.
In "Black and White," Horan's beautiful voice with a fast-paced acoustic guitar in the background brings out the urgency of his emotions really well. Playing the track is not very challenging with an easy chord progression and strumming pattern, making it a perfect pick for beginners. The entire song has been played with just four chords and two strumming patterns, one each for verse and chorus. You can use your index and middle finger to play the lovely arpeggiated intro on the 3rd and 4th strings. Check out the video to learn how to play this awesome track by Niall himself! This is one of my favorite DADGAD tuning songs.
12. Drifting by Andy McKee
Tabs: See Drifting by Andy McKee Tabs on Ultimate Guitar here.
Behold! Fans of fingerstyle for we have yet another master of the craft for you! Andy Mckee is an extraordinary guitarist with a fanbase in many countries thanks to his YouTube videos that have garnered over 100 million views! His 2001 instrumental piece "Drifting" is an absolute gem that focuses on the magic Mckee can spin with his renowned percussive fingerstyle.
Guitar enthusiasts who want to work on acing complex acoustic techniques like tapping, percussive slaps, harmonics, and partial capos should explore McKee's rich body of work. In "Drifting," you'll hear several of these fascinating techniques along with hammer-ons and pull-offs in DADGAD tuning. Before you get started, you'll have to tune the sixth string down to D, the second string down to A, and the first string down to D. Like other renowned fingerstyle players, Mckee too favors using alternate and open tunings in his work. He often does these tunings with a regular or a banjo capo.
13. Norwegian Wood (Acoustic) by Colin Hay
Chords: See Norwegian Wood Chords on Ultimate Guitar here.
Australian singer-songwriter Colin Hay's rendition of the Beatles' classic "Norwegian Wood" is a great song to learn in Celtic tuning. While the original was recorded in standard tuning with a capo on the 2nd fret, Hay tunes his guitar to DADGAD to play his version. The use of an alternate tuning combined with his signature ringing guitar and thick Scottish-Australian accent adds an interesting twist to the classic.
The cover was recorded at a live session with Rolling Stone magazine in 2011. You can check out the video where you'll hear Hay describing the song passionately at length before jumping on to the playing. Hay rose to prominence as the frontman of the famous Australian rock band Men at Work in the '80s. After the band broke up in 1986, Hay decided to carry on his musical journey as a solo artist.
14. Dia Libre by Pierre Bensusan
French-Algerian Guitarist Pierre Bensusan is arguably the master of fingerstyle playing in DADGAD tuning. Bensusan is so remarkably good at this alternate tuning that he now performs exclusively in it. Basically, any of Bensusan's compositions offer excellent insights into different ways of playing in the Celtic tuning, but for now, let's jump to one of his more recent releases, "Dia Libre."
The song features in Bensusan's 2020 album Azwan that is an alluring blend of Celtic, jazz, and world music. "Dia Libre" kicks off with a magical light ringing that has a melancholic vibe to it. Complex harmonies and breathtaking violin by Christophe Cravero follow along with Bensusan's signature jazz-inspired scat singing. It's one of the slower tracks on our list and if you haven't heard it already, check it out. You won't be disappointed!
15. Knock on Wood by Justin King
Tabs: See Justin King Tabs on Ultimate Guitar here.
While searching for some nice songs in DADGAD tuning, we chanced upon "Knock on Wood" by the American guitarist Justin King. Recorded and released in his 2001 album Le Bleu, the track is a charming piece of acoustic instrumental that'll make you sit up and take notice of King's brilliant percussive flair. Not associated with a music label, the album is only available on King's website. It'll give you a glimpse into his unique style, which is a beautiful blend of Flamenco, Jazz, Celtic, Classical, and African music. King is also known to play on a wide range of guitars, including seven-string, classical, steel-string, and flamenco.
True to its title, "Knock on Wood" is all about the incredible music that can be crafted using the acoustic guitar's body. Along with some fantastic fingerstyle playing, you'll hear how effortlessly King taps and slaps the guitar. If you aren't already familiar with tapping, this composition will inspire you to explore this fascinating technique. We recommend this track for more proficient players who already possess some degree of percussive acoustic know-how.
16. Given To Fly by Pearl Jam
Tabs: See Given To Fly by Pearl Jam Tabs on Ultimate Guitar here.
Make way for an awesome rock ballad in DADGAD tuning by the wildly popular rock band Pearl Jam! Recorded and released in 1997, "Given to Fly" went on to become one of their most loved compositions. Chart-wise, it did remarkably well in several countries around the globe, including number one on the Billboard Mainstream Rock Tracks chart.
Lyrically, it is a beautiful song that revolves around rising above negativity and giving away love. While the words were penned down by the frontman Eddie Vedder, the band's guitarist Mike McCready worked on the music part. He wrote the main riff in DADGAD while imagining the song as a wave in the ocean that starts off slowly, becomes larger and larger before crashing down. If you listen closely, you'll easily get the analogy. The opening riff is subtle and melodic, moves into a whirlwind of a chorus, and then goes back to the sublime riff you heard at the beginning. This is another one of the more popular rock songs in DADGAD tuning.
17. One Brown Mouse by Jethro Tull
Tabs: See One Brown Mouse Tabs on Ultimate Guitar here.
Legendary rock band Jethro Tull's "One Brown Mouse" is a quaint little tuning that deserves a spot here. Composed by frontman Ian Anderson, the bright and playful track was inspired by Scottish poet Robert Burns' "To a Mouse." On the face of it, "One Brown Mouse" seems like Anderson is in an animated conversation with a pet mouse that sleeps and runs about in a cage. Listen closely, and you will find that the poignant lyrics cleverly hint at the rampant and senseless encroachment of humans on nature and the wildlife.
The track is driven by John Evan's piano and a simple yet infectious rhythm that is played on a guitar tuned to DADGAD. The band has used Capo on 2nd fret in the original recording and Capo on 1st fret on some of the track's later versions. You can arrive at the tuning by dropping the 1st, 2nd, and 6th string down to a whole step.
18. Abacus by Fionn Regan
Tabs: See Abacus by Fionn Regan Tabs on Ultimate Guitar here.
Played in Celtic tuning with a Capo on the 4th fret, "Abacus" is a beautiful piece by Irish folk singer-songwriter Fionn Regan. It's easy on the ear and features his mesmerizing fingerpicking and calming vocals. The song was released in 2006 as the 11th track from Regan's debut album "The End of History."
"Abacus" is one of the easier fingerpicking songs that feature in this list. It does not have any complex techniques going on, only a couple of soulful fingerstyle patterns. The first pattern continues from the intro through to the verse and switches to a different one for the chorus.
19. Tell Her This by Del Amitri
Tabs: See Tell Her This by Del Amitri Tabs on Ultimate Guitar here.
Fans of the American medical sitcom Scrubs would have probably heard this track feature in one of the episodes. For the benefit of others, "Tell Her This" is a popular single by Scottish alt-rock band Del Amitri. It's one of those light yet moving songs that instantly tug at the heartstrings. And what's not to love? It's soulful, melodic, and incredibly easy to play. Despite being a four-chord melody and having no chorus, bridge, or solos, only five verses, the song never gets monotonous. With vocalist Justin Currie's emotive voice and some catchy guitar playing in unusual DADGAD, it sails through smoothly.
"Tell Her This" featured in Del Amitri's fourth studio album Twisted that released in 1995. The Overall chart performance of the entire album was pretty good, making its way to number three in the UK Albums Chart and getting ranked by Q Magazine in their top 10 albums of 1995 list. To play this composition, the band tuned to DADGAD with a capo on the 6th fret. The song's four chords and a beginner-friendly strumming pattern that goes D-DUD-D-DUD, make it a great pick for new learners.
20. The Only Boy Awake by Meadows
Chords: See The Only Boy Awake Chords on Ultimate Guitar here.
Featured in the Netflix series 13 Reasons Why, "The Only Boy Awake" is a touching love song by Swedish singer-songwriter Christopher Wadensten. If you are wondering who Meadows is, it's an alias used by the gifted musician to record and release his music. This sweet composition is the title track of Meadows' 2016 album The Only Boy Awake.
We found it to be a beginner-friendly track that can be played with two easy fingerstyle patterns and some basic open chords. However, to play in the same tuning as Wadensten, you'll first need to tune your guitar from low to high: D-A-D-G-A-D and place a capo on the third.
21. Treetop Flyer by Stephen Stills
Chords: See Treetop Flyer Chords on Ultimate Guitar here.
The last entry on the list is an outstanding composition by Grammy-winning singer-songwriter and multi-instrumentalist Stephen Stills. Released in Stills' seventh studio album, "Treetop Flyer" is an ode to a Vietnam war combat pilot who returned home with the ability to fly under the radar. With no help by his side or a job in hand, the veteran puts his skill to use by smuggling drugs and contraband. The depth of the lyrics almost makes you think that Stills knew someone with a similar life story. The entire album has Stills with minimal backing or unaccompanied, just his passionate voice and flawless guitar work.'Treetop Flyer" is no exception.
Played in DADGAD tuning, the track features Stills breezily fingerpicking through six verses without any chorus or bridge, creating a simple yet magical piece of music. Vastly talented with an imaginative and versatile style of playing and songwriting, Stills inspired the musical journeys of many artists, including Ray LaMontagne. In 2003, Stills was ranked 28th by Rolling Stone magazine in their list of "The 100 Greatest Guitarists of All Time".
22. Spencer the Rover by John Martyn
Iain David McGeachyohn Martyn, also known as John Martyn, made generous use of two tunings – CFCCGD and DADGAD. An acoustic guitarist extraordinaire, Martyn's signature style was a blend of blues, jazz, and folk, delivering an astonishingly textured modern sound by hooking up his acoustic to wah pedals, Echoplex, and fuzzbox.
You can sample some of his genius "Spencer the Rover," – a traditional English folk song that's one of Martyn's early works and a fan-favorite. He learned the tune from folk guitarist Robin Dransfield and transformed it with an inventive acoustic arrangement and his tender vocals.
23. The Blacksmith by Bert Jansch
If you want to experience the beauty of DADGAD tuning in all its glory, you need to check this song out. "Blacksmith" was written and recorded by Scottish folk musician Bert Jansch in 1974. The iconic acoustic guitarist is often credited for his role in the English folk revival of the '60s. From the '1960s to the early 21st century, Jansch created an impressive catalog of 28 albums. He's also collaborated with legends like Jimmy Page, Paul Simon, Donovan, and Nick Drake.
As a closing track to Jansch's L.A. Turnaround album, the Blacksmith ends the note on a high. Everything from the upbeat melody to pedal steel-infused instrumentation acts as a fitting tribute to Jansch's time in the U.S. You'll really enjoy learning this one!
24. Winona by Drop Nineteens
It all started with My Bloody Valentines' mega-hit album Loveless, and there was suddenly a barrage of college bands churning out acts with vocals buried under walls of effects pedals-laden guitars. The shoegaze movement started in the U.K. before it spread to the U.S. The Boston-based indie rockers Drop Nineteens shot to fame with their Delaware album 1992.
A standout track from that album, "Winona," hogged the college radio airwaves, featuring cleaner-than-usual vocals, a driving beat, catchy melodies, and thick-layered guitars. The tuning is in DADGAD, and you'll need a capo on the 2nd fret before getting started.
25. Wayfaring Stranger by Al Petteway
Another stunning piece by the Grammy-winning fingerstyle guitar virtuoso. In "Wayfaring Stranger," Al Petteway takes a traditional Appalachian folk tune and gives it his own little spin by playing it in the Celtic tuning and adding breathtaking vocals by his partner in music and life, Amy White. The famous folk song talks about surviving hardships and hoping for better times and has attracted many covers over the years, including by icons like Burl Ives, Johnny Cash, and more recently by Ed Sheeran.
Now, Petteway's version might not be as famous as these two, but it's certainly on the top of my list. I find it heartfelt and folksy, and I imagine this is what the gospel would've sounded like when it first originated in the highlands of North America. Here's a video tutorial of Petteway teaching his rendition in DADGAD tuning.
26. In Dreams by Ben Howard
Like others on this list, the award-winning British singer-songwriter is also a huge fan of alternate tunings. He's seen playing extensively with his guitar tuned to CGCGGC, CFCGGC, and DADGAD – it's the secret sauce to his distinctive sound. Among his DADGAD songs, "In Dreams" is my absolute favorite.
The folksy fingerstyle acoustic and strings piece stands out in the left-handed guitarist's I Forget Where We Were album. The upbeat melody, clocking a length of three and a half minutes, masks the deep, dark lyrics about life's mysteries and makes quite an impact on the listeners. You can learn to play it by checking out the tabs and the video tutorial above.
27. County Down by Phil Keaggy
In his career spanning close to six decades, Phil Keaggy has released 55 albums! And from the way things are going, it doesn't look like the phenomenally talented guitarist is unlikely to hang his boots any time soon. His formidable guitar prowess comes from his willingness to experiment with genres, techniques, and tunings.
His music is packed with super fast arpeggios, right-hand slaps, and harmonics. You'll find a lot of these techniques in his "County Down" off his Beyond Nature album. A challenging but extremely rewarding DADGAD tune where he teams up his fascinating fingerpicking with Stuart Duncan's amazing fiddle work.
28. Merrily Kissed the Quacker by Pierre Bensusan
If you're looking for fingerpicked Irish melodies in DADGAD, head to Pierre Bensusan's vault. You won't be disappointed. The American fingerstyle master is so fond of DADGAD that it's become his standard tuning. In one of his most loved melodies, "Merrily Kissed the Quacker," Bensusan reminds us why he is revered for his virtuosic acoustic guitar talent. Whether it's the eclectic chord voicings or the throbbing bassline, he is so effortless and organic that one forgets the enormous amounts of hard work poured into giving a Bensusan makeover to this famous Irish tune.
29. Ragamuffin by Michael Hedges
In his tragically cut short life, Michael Hedges left fans, critics, and fellow fingerstyle icons awestruck with his guitar prowess. The man knew how to make the most of his steel-string acoustic. Mindblowing bass lines, tapping, and slap harmonics are all played by the same pair of hands. His second album, Aerial Boundaries, is a collection of acoustic-led instrumentals that every serious guitarist should listen to at least once from cover to cover. It's solo acoustic guitar playing on a whole new level. My favorite track? It's got to be "Ragamuffin." Lucky for us, Hedges played it in the DADGAD tuning!
30. Seven Gypsies by Davy Graham
A list of songs in DADGAD without Davy Graham simply doesn't sound fair! After all, the man invented and popularized DADGAD by using it to transform several traditional folk pieces, such as "She Moves Through the Fair" and "Seven Gypsies." It was Graham's travels in Morocco, fascinated by the oud players there, that inspired the iconic tuning. He tried to emulate the sound of the 11-string fretless guitar-like lute with the help of DADGAD. Little did he know that what he was creating would change the face of folk guitaring forever.
One of my favorite tunes from the DADGAD pioneer's vault is "Seven Gypsies." Graham's take on the Scottish border ballad is an excellent example of folk baroque – a distinctive fingerstyle influenced by a potpourri of American folk, jazz, blues, and ragtime. The use of DADGAD is an essential ingredient to this style of acoustic playing.
31. Falling by The Civil Wars
Four-time Grammy-winning musical duo, The Civil Wars, enthralled the world by taking traditional folk tunes and giving them a country rock spin. The group comprised Joy Williams and John Paul White, whose career saw an upward trajectory soon after their 2011 debut album, Barton Hallow. Incidentally, this album is also home to "Falling," a beautiful love ballad that the two wrote together.
Lyrically, it puts the spotlight on a relationship where one is fully aware of its demise and wants some sort of go-ahead from the other before calling it quits. An understated waltz-y piece features Joy Williams' breathy and emotive vocals backed brilliantly by White's DADGAD-tuned guitar.
32. Below the Salt by Unwound
Unwound is, in my opinion, one of the most underrated bands of the '90s. For those unfamiliar with their work, the post-hardcore band was formed in 1991 and blended different styles and unusual guitar tones to give an intense, sharp, dark noise twist to rock. Their ten-year-long run ended with their seventh album, Leaves Turn Inside You, in 2001.
The album also features an epic track in DADGAD. "Below the Salt" is quintessentially Unwound and as unsettling as the rest of the album. The dubby effect, gentle piano, lots of reverb, and guitars unfold slowly to accompany hypnotic vocals. An underground classic that definitely deserved to rise to the top!
33. I Am a Man of Constant Sorrow by Soggy Bottom Boys
A classic Bluegrass jam has been covered many times since being composed by a Kentucky-based fiddler, Dick Burnett, way back in 1913. The Stanley Brothers released their rendition in the 1950s, the success of which set into motion the release of several more cover versions. From the 1960s all the way to the 2000s, the folk tune popped into the mainstream scene every now and then.
In 2000 a version was recorded by a fictional folk trio known as the Soggy Bottom Boys for a comedy-drama film O Brother, Where Art Thou? The song won a Grammy and peaked at the 35th spot on the Billboard Hot Country Songs Chart. Learn it to add a dose of old-timeyness to your repertoire. You can play this tune in drop D or DADGAD with a capo on the 3rd fret.
34. Call It Dreaming by Iron & Wine
My quest to build a repertoire of DADGAD songs led me to this gem. "Call It Dreaming" is a slow-building, emotional conjuring track on Indie-folk artist Samuel Ervin Beam's 6th studio album. Better known as Iron & Wine, Beam relies on his pristine voice, vivid imagery, and acoustic dynamics to build a collection of soul-stirring songs. In "Cell It Dreaming," Beam talks about leaving a love-filled legacy behind. He packs it with cello, soft percussion, piano, layered vocals, and rich acoustic strums in DADGAD tuning to create a lasting impact on the listeners.
35. Out of the Woods by Nickel Creek
With six carefully-crafted albums, Nickel Creek created a lasting impression on the progressive bluegrass scene before they disbanded in 2007. The talented trio teamed up again in 2014 to release an album and have been touring ever since. "Out of the Woods" features in the band's critically acclaimed and Grammy-nominated eponymous debut album and is seen as one of their definitive songs.
In this harmonies-loaded track, Sara Watkins plays the fiddle and takes the lead on vocals. Meanwhile, guitarist Sean Watkins and Mandolinist Chris Thile back her up on vocals and instruments splendidly. If you want to enjoy a modern take on bluegrass, Nickel Creek's music should be on your playlist. Check out the original recording and tabs above.
36. By the River by Stu Larsen
Aussie musician Stu Larsen is always on the move, armed with his guitar and endless wanderlust. And that's why almost everything he's ever written and recorded is heartfelt, honest with a story behind it. He penned "By the River" while spending time at a cottage on the Whanganui River in New Zealand. His acoustic guitar is tuned to DADGAD, and he strums gently a minor chord progression to create a mystifying vibe. If you're unfamiliar with this incredibly talented vagabond's work, I cannot recommend a better song that encapsulates all of Larsen's strengths.
37. All Cried Out by Fink
Remember that Mastercard advert from the mid-2000s where a family is on holiday? The gorgeous tune playing in the background, well, that's Fin Greenall. The English singer, songwriter, guitarist, D.J., and producer is better known by his stage name Fink. Phew! The man sure wears many hats! He's also known to tap into alternate tunings.
You can hear him make excellent use of DADGAD in "All Cried Out" off his Biscuits for Breakfast album. It's a folky cover of an out-and-out pop single by Alison Moyet. Using his soulful voice and captivating fingerpicked rhythm, he repurposed the 1984 pop classic into an emotionally layered folky treat.
38. Your Love is Enough by Jon Foreman
Alongside fronting a well-known Christian rock band Switchfoot, Jon Foreman has been building a successful solo career. He's an amazing songwriter who loves employing lavish instrumentation that goes well beyond his weapon of choice: a guitar. You'll find his kicking off a song with an acoustic guitar or piano and adding more and more instruments along the way.
In "Your Love is Enough," he sings powerfully about love and worship and plays an electric guitar with six accessible chords. It's a lovely soft rock ballad you'll certainly enjoy learning. Don't forget to tune in to D-A-D-G-A-D before getting started.
39. Xavii by Russian Circles
If you had to hear just one song today, let it be "Xavii" by the Russian Circles. It closes the post-metal band's Station, acting as a cool-down piece in an album packed with fast, exhilarating, and intense moments. Church organ shines in this slow, contemplative song, with smooth, textured, and ambient double-tracked guitar work.
It goes on for about four and a half minutes which is much shorter compared to the other tracks in the album yet packs quite the sonic punch. No prizes for guessing the guitar tuning in this song. Once you tune your guitar to DADGAD, you can try and get the relatively easier-to-play intro under your belt as the fingering gets more challenging as the song progresses.
40. Harris and the Mare by Stan Rogers
The incredibly talented Canadian folk singer-songwriter left the world with memorable masterpieces like "Harris and the Mare" before his untimely death in an airplane tragedy. It's a poignant piece featured in Rogers' 1979 album Between the Breaks…Live! with lyrics that tell the tale of a man dealing with the aftermath of a violent bar brawl.
This DADGAD tune is nothing short of a powerful work of art, powered by Rogers' unmistakable baritone and his jaw-droppingly agile fingerpicking. It turns out he loved the Celtic tuning and would often play in it. Some of his other notable songs in DADGAD worth exploring are "The Mary Ellen Carter," "The Idiot," and "The Witch of the Westmoreland."
Unlike other alternate tunings like Open C and Open G, the answer to how to tune to DADGAD is in the name itself – its name itself tells you exactly how you need to tune your guitar:
Let's first take a look at what the standard E tuning looks like:
6th (fattest) string: E
5th string: A
4th string: D
3rd string: G
2nd string: B
1st (thinnest) string: E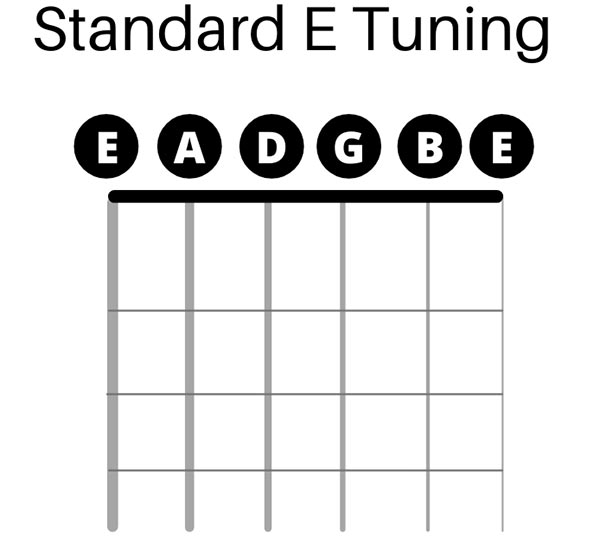 However, after you tune your guitar from standard E tuning to DADGAD tuning, the individual notes for each string will look like the following:
6th (fattest) string: D
5th string: A
4th string: D
3rd string: G
2nd string: A
1st (thinnest) string: D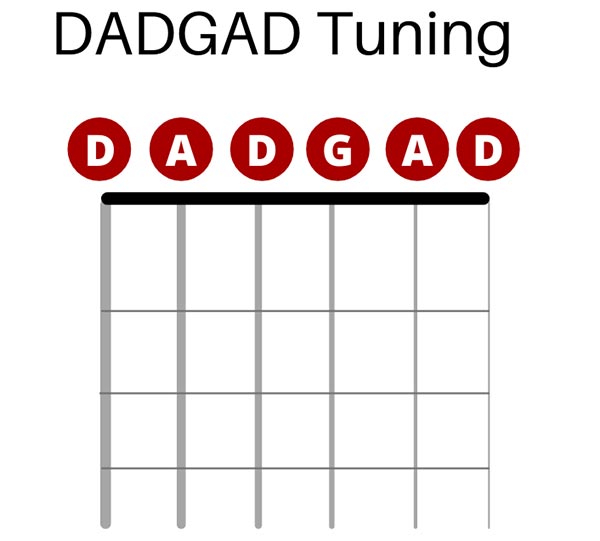 What Is DADGAD Tuning Used For?
DADGAD is also known as the Celtic tuning because it's heavily used in traditional Celtic music. But that's not all at all – this tuning is essentially a suspended chord – it is neither leaning towards the major or the minor key.
This is because while D and A major chords have A, D, and F# in them. However, in this tuning, the F# is replaced by the G note that gives it this open, broad suspended sound. This versatile sound is quite open-ended and allows you endless freedom to create your own chord voicings and sounds. This is a big reason why DADGAD is so popular amongst various genres of music.
How Do You Tune A Guitar To DADGAD?
To go from standard E tuning to DADGAD, you have to tune the 6th, 2nd and 1st string of your guitar – each by a whole step down. Check out the step by step guide below for detailed instructions:
6th (E) string: Pluck your 6th string, and tune the string by a whole step down (two semi-tones down) all the way from E to D.
5th (A) string: The 5th string (A) string stays as it is. No re-tuning needed.
4th (D) string: The 4th string (D) stays as it is. No change in tuning needed.
3rd (G) string: The 3rd string (G) stays as it is. No change in tuning needed.
2nd (B) string: Pluck the 2nd string, and tune it down all the way down by one whole step (two semi-tones down) all the way from B to A.
1st (E) string: Strike your 1st (E) string and tune it down by one whole step (two semi-tones down) from E to D.
Common Chord Shapes In DADGAD
Now that we know how to tune our guitars to DADGAD, let's get down to chords. You'll find that all the chord shapes you've learned so far on standard tuning will sound completely different when played on DADGAD – giving you a lot more creative juice to play around with.
Cool Chord Progressions On DADGAD
Knowing a couple of simple chord progressions is a great way to get started on any alternate tuning. Here are a couple for you to play around with on DADGAD:
Bm7 – Gadd2 – Add4 – D
Em7 – F#mdd – Gadd2 – D
D – Gadd2 – Add4 – D
Of course, this is barely scratching the surface. Once you spend a little time on this tuning, you'll find mind-blowing chord progressions yourself!
Is DADGAD Easier Than Other Alternate Tunings?
We'd argue it is – for many reasons. Firstly, the name of the tuning itself tells you exactly which notes you need to tune each of your strings to – taking the guesswork out of how to tune. Secondly, the open and evocative sound of DADGAD makes it very versatile – it can just as easily work with fingerstyle folk as it can with rock and even metal! The vibrant and diverse genres in the song list below are testimony to just how many genres DADGAD can effortlessly lend itself to.
Bottom Line
We hope this blog gave you everything to get started on your wonderful DADGAD journey. If our personal experience on this tuning is anything to go by, then trust us when we say that you'll be hooked to it!
To explore other awesome alternate guitar tunings, check out our end-to-end tuning resources on Open E, Open G, Open C, Drop C, and Open D tunings!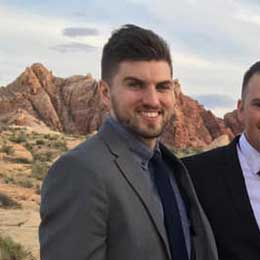 My name is Chris and I've had a passion for music and guitars for as long as I can remember. I started this website with some of my friends who are musicians, music teachers, gear heads, and music enthusiasts so we could provide high-quality guitar and music-related content.
I've been playing guitar since I was 13 years old and am an avid collector. Amps, pedals, guitars, bass, drums, microphones, studio, and recording gear, I love it all.
I was born and raised in Western Pennsylvania. My background is in Electrical Engineering, earning a Bachelor's degree from Youngstown State University. With my engineering experience, I've developed as a designer of guitar amplifiers and effects. A true passion of mine, I've designed, built, and repaired a wide range of guitar amps and electronics. Here at the Guitar Lobby, our aim is to share our passion for Music and gear with the rest of the music community.