Maybellene, a crafty song embellished with the springy, clock-like flicks of Chuck Berry's Gibson ES-350T guitar, is often referred to as the first authentic song in Rock & Roll history. As such, the creator of the tune is regarded as the founding father of the genre. While Elvis, The Beatles, Rolling Stones, Sonic Youth, Pink Floyd, and other incredible legends played invaluable roles to flesh out rock, Chuck set the groundwork for all these legendary acts with an impressive blend of original riffs, duck-walking energy, melodies, rhythm, and the Southern-boy attitude.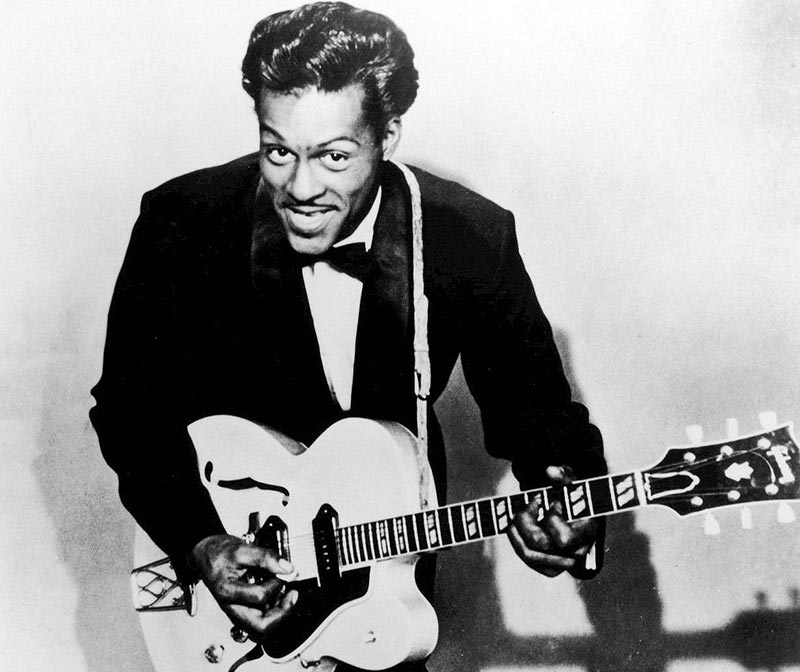 In the following years after Maybellene's debut, Chuck released more tunes and unwittingly broke out a whole new genre, with Roll Over Beethoven declaring his desire for RnB to replace Classical music, Johnny B. Goode proclaiming a surreal desire to play the guitar with easy flair and become a star, and Rock and Roll Music was written as Chuck's hearty declaration of the genre into existence.
What Guitar did Chuck Berry Play?
Chuck Berry played a Cherry Red 1958 Gibson ES-355TD model guitar. He was a well-known devoted player of Gibson Semi-Hollow bodied guitars and played several models throughout his career, but it was his ES-355TD that would accompany him throughout his entire career and literally, to his grave.
See the full list of Chuck Berry guitars and gear below.
Gibson ES-355TD

| | |
| --- | --- |
| Finish | Cherry Red |
| Years Used | 1958 to 2019 |
Chuck Berry's very first Semi-hollow bodied six-string, introduced in 1958 and the one that stole Berry's sight from Maybellene. Reportedly, he would try and split a fair use between these guitars, but ultimately, decided to commit to this first issue of the guitar that would cement his image as a timeless icon for Rock N' Roll. Alike his simpler ES-335 model, this guitar became inherently attached to his image, initially sharing the spotlight with Maybellene and its P90 variation, the 355 eventually became Berry's all-time undisputed favorite.
As for its use, Chuck used this high-end 355 throughout his entire career, so there are only so many iconic performances and memorable stage appearances with it to mention. The guitar also accompanied Berry during his first few TV appearances in glorious black and white as well as his first time abroad in the U.S in 1965 when he played along with John Lennon and the Plastic Ono band, and with Keith Richards in his Hail Rock N Roll concert back in 1987 just to mention a few.
As for the story of the 355TD, this was the very first time Gibson would spare no expenses in making a top-of-the-line model, the company had finally found a way to mix and match their solid and hollow-body sound. While it may seem to many as a 335 with an additional vibrato tailpiece, the only notable cosmetic difference between them could well be in the tonewood being the 355's ebony fingerboard instead of rosewood. However, this one included a Varitone switch, and a stereo output, known as 'SV', or Stereo Varitone.

The original ES-355 Berry played throughout the decades is not sitting away at some museum and was not auctioned off by his estate. To this day, it's still with him, as always, nailed to the lid of his coffin on his burial day.
Gibson B.B King Signature Lucille

| | |
| --- | --- |
| Finish | Cherry Red |
| Years Used | 1981 to 2019 |
The story behind The Lucille has many hilarious versions from the past decades, and there isn't a particular guitar that was Lucille. When B.B. King first tested out a guitar from the Gibson ES series, "the ones with the long necks", as he often described them, he was hooked and went on to use many variations of the models throughout his career. Lucille was several 335-345-355 models and King lovingly rocked each one.
"Fenders, Gretsches, Silvertones – you name them, I've probably had one," he told Guitar Player in 2007. "When I found that Gibson with the long neck, that did it. That's like finding your wife forever."
Chuck had loved B.B. King, and for most of his performances in the 1980s, he played a signature replica of King's Lucille, debuted by Gibson in 1980, this time Berry was issued a cherry red version of the guitar. Well into the 90s however, Chuck was amongst Rock N' Roll's royalty and was invited to play at the Hall of Fame Concert in Cleveland, Ohio in 1995 along with Bruce Springsteen and the E Streetband performing Johnny B. Goode. Needless to say, Berry chose his B.B King Signature to jump on stage and perform some of his most iconic moves with it.
The replica was modeled off the last ES guitar King had been playing at the time– a 355TD-SV model. This piece was a clean beat sound god with a TP-6 Fine Tune model tailpiece, stereo wiring, a 6-position, and a Varitone rotary control. The guitar was a beauty to behold with 'B.B. King' inlays highlighted in pearl, and golden plated hardware all over it.
B.B. King had named his guitar after a woman he knew nothing of. At the age of 24, in the winter of 1949, the young star had been playing in an Arkansas bar where the interior was heated with a kerosene drum. Two guys at the bar got into a brawl, knocked over the drum, and the place went up in flames. As the occupants scurried to safety, King noticed he'd left his guitar and ran back to retrieve it. He escaped just as the building came crashing down. Later, when he discovered the men had been fighting over a lady named Lucille, he named the guitar that almost sent him to his death… Lucille.
1955 Gibson "Maybellene" ES-350T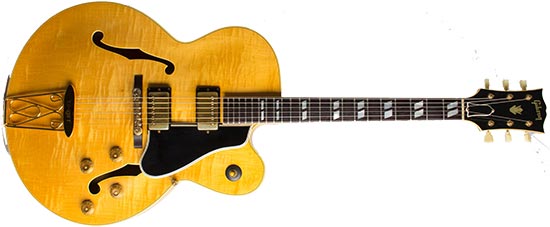 | | |
| --- | --- |
| Finish | Natural Lacquer Maple Top |
| Years Used | 1954 to Unspecified |
By all means, Maybellene was the very first six-string in Chuck Berry's catalog to become heavily attached to his image, not only it was used at the height of his career during his early years in the 1950s, but it was the guitar used to record his breakthrough singles and records. It is unclear how Chuck first got his hands on this 350T, some speculate he acquired it from the record company after working three jobs in St. Louis and earning some cash after his first few gigs Johnnie Johnson's Trio. Other sources however suggest that he paid for it after a long term with Johnson's Trio, who had access to high-end gear at the time, hence, being allowed to play in open bars during the early 50s.
Most of Chuck Berry's songs would have snarky guitar intros with riffs that are now used by modern-day guitarists as rock templates. All of his songs produced by Chess Records were played using his Gibson 1955 ES-350T. Many musical historians regard the ES-350T as the guitar that "established the bends and stops of rock n' roll music", and Chuck had a flair for double stops in his guitar solos that became iconic with this early version of the Gibson Byrdland as we know it.
The ES-350T was first produced by Gibson to feature their all-new patent-applied-for (PAF) humbucking pickups. The Custom dog-ear P90 neck and bridge pickups gave the Maybellene the unique effect of a winding antique clock – unapologetically and neatly springy. The dual humbuckers were had two coils producing currents in opposite directions, a mechanism that canceled out the annoying hum often heard in single-coil pickups in older models. The pickups had two 500K CTS volume and tone knobs and 3-way switchcraft selectors.
The Maybellene was used in the studio production and countless performances of Johnny B. Goode, Chuck Berry's 1957 song with one of the most influential riffs in guitar history.
The 23-inch-scale piece featured a signature '55 Medium C-Shape. The tailpiece was an engraved wire loop trapeze and the truss rod was 2-way adjustable. It had 22 narrow/tall frets with double parallelogram inlays, Kluson single line single ring tuners, and a Switchcraft output Jack. It was the guitar that shaped Chuck's career and formed the basal sound profile of Rock & Roll.
On October 18, 2019, Chuck's third posthumous birthday, Gibson released a limited-edition stunning replica of the ES-350, named "The Chuck Berry 1955 ES-350T", as a tribute to the Blues and rock legend. Currently priced at $10,000, the guitar was designed to the original specifications of the actual Maybellene, with hand-selected maple and a replica of the Zuni "Sun God" bolo tie Chuck had worn at the start of his career and throughout his 50s run.
"How is it that I'm now holding a brand-new, as authentic as it gets ES-350T?" explains Charles Berry Jr. (Chuck's son) in an interview. "The specs of this thing are dead on the money – the body's correct, the sides are beautiful, the parallelogram and the neck tapers are perfect. This maple top is superb. Gibson wanted to do a guitar with my Dad…the goal was to make them as authentic as possible. And this is as authentic as possible…absolutely perfect."
Gibson ES-335

| | |
| --- | --- |
| Finish | Cherry Red |
| Years Used | 1960 to 2019 |
Although Berry would retire Maybellene several times during his longevous career, this fine staple of the industry would become one of his most battled guitars despite its latter entry to the already consecrated artist's repertoire. Chuck heavily favored his cherry-red Gibson ES-335/355 models, distinguished by a split diamond inlay on the headstock and the traditional Gibson crown. This beautiful guitar is believed by musical historians to be the most versatile electric guitar for Blues, and of course, Chuck must have known this along with some of his contemporaries. Some of the greatest rock and roll hits from the founding fathers of the genre were played on 335s, and the smooth output of this guitar eventually came to be associated with rock music.
Since its debut in 1958, Chuck consistently appeared on stage with this guitar, although he would often leave the original piece behind when traveling. It is unclear whether this was out of caution for his main, or he'd just simply count on stock touring gear for his shows.
One of his most iconic performances with this particular six-string was in Belgium, 1965, where Chuck could be seen playing a 335 as he kicked off the show singing Maybellene. In his 1987 performance of "Nadine" with Keith Richards, Chuck shut the stage down with his lovely Cherry Red Gibson.
Gibson closed up the gap between traditional hollow-body archtops and the solid-tuned Les Paul models with this particular model. They described it as "the cornerstone of the Gibson line-up, setting an unmatched standard". The highlight of this guitar is the signature humbucking pickups paired with a hand-wired control assembly – unique conjunction of features to truly set the tone aside and purify the output of preceding ES guitars.
A 2010 review of Chuck Berry's musical prowess with his ES-335 aptly describes the amazing heights he attained in rock history with the instrument.
"The influence of the music written by Chuck Berry on his Gibson ES-335 has been noted as being 'profound and pervasive'. Cited as being one of the top ten most influential players of a Gibson guitar by the company', the music that he produced was called a "virtual Bible of six-string 'classics'." Overall, this is easily one of the most iconic Chuck Berry guitars of all time.
Gibson ES-330

| | |
| --- | --- |
| Finish | Natural |
| Years Used | 1960 to 1964 |
In a few appearances, Chuck could be seen grinding out high-volume tunes and duck-walking with joyous abandon as he played the Gibson ES-330 hollow-body electric guitar. This model wasn't one of his most-used or favored ones, and frankly, it wasn't one of the best Gibson ES guitars.
The ES-330 was released in 1959, a double-cutaway design with a Tune-o-matic-bridge and of course, P-90 pickups. However, it was more prone to unwanted noise, it didn't have the same dual PAF humbuckers as the 335 and it had a weirdly shorter neck – ES models were designed with abnormally long necks. Essentially, the ES-330 wasn't loved as much as its predecessors, but if Chuck used one, it deserves a solid place in Blues and rock history. One advantage of the design was that the thin line hollow-body electric archtop made it less prone to feedback than full-depth guitars.
"The 330 has the same body dimensions as the 335, but it was not anywhere near as popular and it was cheaper," says renowned guitar author, George Gruhn. "The shorter neck was less appealing. It joins the body at the 16th fret, rather than the 19th-fret join of the 335. Although the 330 went to a longer 19th-fret neck like the 335 in '68, the original shorter neck gave [players] less access to the upper registers. Frankly, I'm not sure why Gibson made a shorter neck for the 330, but they did. I think it would have been a more popular guitar if it had the same neck as a 335."
1956 Gibson ES-350TN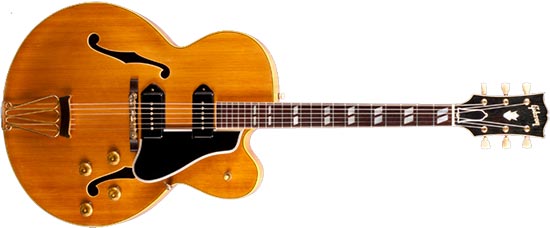 | | |
| --- | --- |
| Finish | Natural Maple Top Lacquer |
| Years Used | 1956 to 1963 |
Chuck's quintessential six-strings in his rise to stardom and often mistaken by his original one, this ES-350TN posed in Berry's memorable picture for Chess Records back in 1956, and it quickly became one of his rotatory pieces for through his early years as a consecrated musician, one could call it Maybellene's right hand. It was purchased as soon as it was issued, and by the time Berry's already chart-topping status gained him access to some of the highest valued guitars in the market.
This upgraded version of the ES-350T was introduced in 1956, and although they can easily be confused, this one sported a few enhancements that accommodated to the player's needs, for one it sported a thinner cut and lacquer layers. This extremely rare model is one of the few Gibson guitars ever made with a carved spruce top. Unlike Maybellene, the 350TN came with P-90 pickups with ultra-clean 7.56k and 7.70k outputs.
17 inches wide, 23.5 inches short-scale length, and weighing 6.3 pounds, the Venetian cutaway guitar wasn't really the highlight of Chuck's career but it sounded a lot like his beloved Maybellene. It had the same PAF humbuckers, ABR-1 Tune-O-Matic non-retainer bridge, and was one of those guitars with wear-resistant frets.
English guitarist Eric Clapton had loved Chuck Berry deeply. He bought the 1956 ES-350TN as a tribute to the legend whom he'd once played with on stage, but Chuck had been too busy duck-walking to notice him.
"If you want to play rock and roll, or any beat, and you want to play the guitar right, you would end up playing like Chuck or what you learn from Chuck because there are barely any other choices," Clapton said in an interview.
1959 Gretsch 6121

| | |
| --- | --- |
| Finish | Black |
| Years Used | Unspecified |
One of the most controversial pieces in Berry's catalog. Besides the Gibson ES guitars he'd loved and tour with for most of his career, Chuck is thought to have flirted with yet another notable Semi-Hollow manufacturer. He appeared once or twice on stage with a Gretsch 6121 and did a promotional shoot for the 1959 teen musical "Rock Rock Rock!", on another hand, there's a famous photograph of him holding a G6136DC White Falcon double cutaway. Nevertheless, some sources claim he only held the White Falcon as a prop and didn't really play the guitar.
Many believe, that he became a Gretsch champion after "Rock Rock Rock!" but this claim has been debunked over the fact that he only used it as a prop for his highlight scene, and the guitar didn't even belong to him. Later years on another hand, saw Berry duck walking on-stage with a black 6121.
This model had a vintage-style 3-ply laminate maple top and a cutaway chambered mahogany body. Although it's named "solid body", the G-6121 is considerably hollow and renowned for its ultra-clean bass response. With a three-position master tone switch, high-sensitive gold-covered Filtron pickups, and a Bigsby B3C vibrato tailpiece, it was one of the benchmarks of the Gretsch sound quality.
Although it is known that Chuck kept his 6121, there's not much information regarding it an its time with Berry or whether it was even used in the studio.
Timetable Showing Each Guitar Chuck Berry Played at Each Point of His Career
| Make | Model | Color/Finish | Years |
| --- | --- | --- | --- |
| Gretsch | 1959 6121 | Black | Unspecified |
| GIbson | 1955 "Maybellene" ES-350T | Natural Lacquer Maple Top | 1954 to Unspecified |
| Gibson | ES-350TN | Natural Maple Top Lacquer | 1956 to 1963 |
| Gibson | ES-355TD | Cherry Red | 1958 to 2019 |
| Gibson | ES-335 | Cherry Red | 1960 to 2019 |
| Gibson | ES-330 | Natural | 1960 to 1964 |
| Gibson | B.B King Signature Lucille | Cherry Red | 1981 to 2019 |
Chuck Berry Amps Overview
Fender Showman Reverb Amplifiers
Chuck Berry had a few unwavering rules for performing on any stage, one of which insisted that the show organizers must provide two Dual Showman Reverb Amps and Dual Showman 2×12 cabinets, straight from Fender and unaltered from factory specifications. If they couldn't provide this, an extra $5000 would be added to his payment.
The reverb amps were a solid part of Chuck Berry's career and gear list. Chuck wasn't a fan of Fender guitars; However, they did provide his amp plug line for most of his active career.
The dual reverb amp had no speakers and was an incredibly heavy piece of equipment – rumored to be the reason why Chuck didn't travel with a personal set. He always had promoters provide him with a set because they were an impossible pain to transport. With a dual-channel 80w amplifier head, onboard valve-driven vibrato effects, this amp produced remarkably clean and pure tones. It was quite unsuitable for small venues, but Chuck rarely ever played in tiny enclosures once he gain notoriety.
Wrap Up
Many modern-day guitarists often try to emulate how Chuck, duck-dancing with his hilarious facial expressions, would effortlessly flick his guitars, control his vocals, and still come through with sharp tunes and unmistakable signature riffs. He played mostly hollow-body guitars but for Chuck, controlling the purity of his sound at high volumes was a storm in a teacup.
Chuck was one of the few Blues legends of his time who appealed to both the Black and White youths with his music. He sang a lot about the allures of teen life, consumer culture, the evolving judicial system, and other social issues that reverberated more with the younger generation. Chuck had once said, "I made records for people who would buy them. No color, no ethnic, no political—I don't want that, never did."
In the 1950s, Chuck's many performances on American Bandstand were often played with a 1955 Gibson ES-350T guitar, an Antique-natural colored beauty named after his breakthrough song, Maybellene. In and out of the studio, Chuck developed his style of music borrowing guitar riffs from Aaron Thibeaux "T-Bone" Walker, another Blues legend that had thrived before Chuck's time and many others. Chuck had loved T-Bone so deeply that he'd performed on every stage using the legend's exact showmanship style.
It's an understatement to claim that Berry was a seminal figure in the birth of Rock N' Roll. Furthermore, he's responsible for introducing guitar solos as a standard to the rock formula and blending R&B to the genre Chuck simply laid the law when it came to the early stages of Rock N' Roll.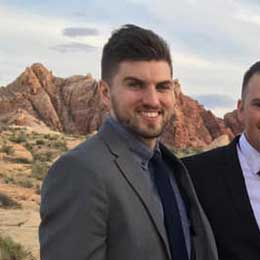 My name is Chris and I've had a passion for music and guitars for as long as I can remember. I started this website with some of my friends who are musicians, music teachers, gear heads, and music enthusiasts so we could provide high-quality guitar and music-related content.
I've been playing guitar since I was 13 years old and am an avid collector. Amps, pedals, guitars, bass, drums, microphones, studio, and recording gear, I love it all.
I was born and raised in Western Pennsylvania. My background is in Electrical Engineering, earning a Bachelor's degree from Youngstown State University. With my engineering experience, I've developed as a designer of guitar amplifiers and effects. A true passion of mine, I've designed, built, and repaired a wide range of guitar amps and electronics. Here at the Guitar Lobby, our aim is to share our passion for Music and gear with the rest of the music community.