Chris Stapleton wasn't always going to be a musician. Born into a family of coal miners in Kentucky, far from the bright lights of Nashville, Tennessee, he was a high school football player. Stapleton actually enrolled in Vanderbilt University to study engineering, when his prolific songwriting habit led him to leave for Nashville. Upon arriving in 2001, he quickly picked up a publishing deal for his songs and began fronting various bands. There was the SteelDrivers, and Southern rock-tinged group The Jompson Brothers. Regional success followed, but the chart-topping stardom that Chris Stapleton's talent warranted continued to elude him.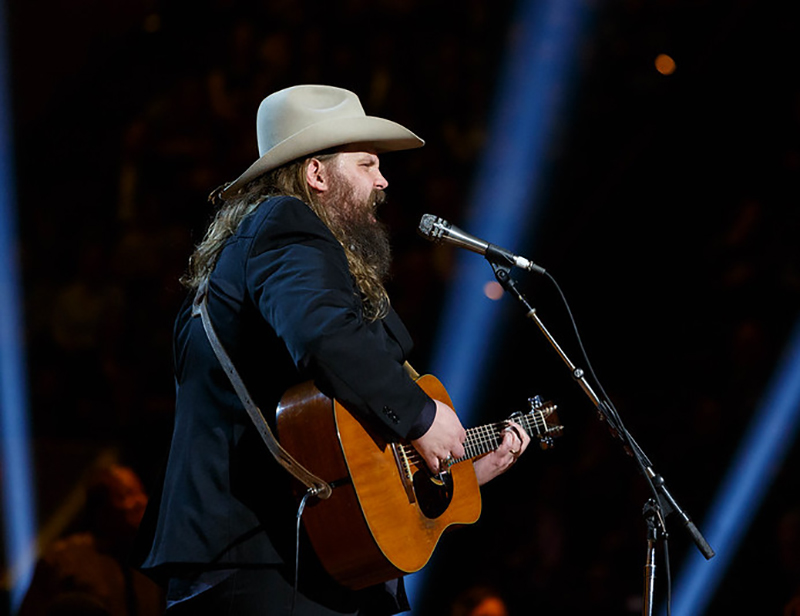 It was in 2015, with the release of his debut solo album "Traveller", that Stapleton ascended to country-rock superstardom. Awards and accolades praising Stapleton's lyrics, vocal performances, and guitar playing followed, as did a career-defining performance with Justin Timberlake. Stapleton's slow-burning booze ballad, "Tennessee Whiskey" became a massive hit, and radio stations across the world were singing the praises of the college dropout from Kentucky.
Since then, Chris has continued the massive success of his solo career and played alongside some of the biggest artists on the planet. Performances and songwriting sessions with John Mayer and Justin Timberlake are as familiar to Stapleton as the twang of a Telecaster or the sound of the Mississippi River. He made a feature on a Taylor Swift album and was even an extra on HBO's hit series Game of Thrones, which might just be the only time he appeared without a guitar around his neck.
What Guitar Does Chris Stapleton Play?
Chris Stapleton plays 1962 Fender Jazzmaster Reissue model guitars as his main electric guitar, both on stage and in studio. On another hand, he turns to his trusty Gibson J-45 when looking for a stripped-back and natural tone to enhance his acoustic and vocal performances.
See the full list of Chris Stapleton guitars and gear below.
Fender Jazzmaster 1962 Reissue


| | |
| --- | --- |
| Finish | Sunburst/Ocean Turquoise/White |
| Years Used | 2004 to Present |
Chris Stapleton's primary electric guitar for his solo career has been the Fender Jazzmaster. Unlike many country players, who are sworn to the twang and aggression of the Fender Telecaster, Chris has a real soft spot for this Fender timeless classic, telling Rolling Stone that he bought his first one in the mid-2000s. It was a 1962 Jazzmaster reissue in, of all colors, ocean turquoise, far from the elegant sunbursts and denim of most country guitarists. On the color, Stapleton said "It wasn't a color I looked at and was going, "Oh man, I need that surf guitar!" But I played it and, like with a car, you can meld with things: This is my guitar. That's how that happened. There is great comfort in knowing what your rig is and then you don't have to fool with it anymore."
And certainly, he didn't fool with it anymore. Ever since that time, when Chris Stapleton recorded the Jompson Brothers' album, he's rarely used a different electric guitar from the Jazzmaster. He is partial to 1962 reissues, having appeared playing 62 rendition versions of the model in both white and sunburst finishes.
Fender launched the Jazzmaster in 1958, intending it to be an upmarket version of the Stratocaster, not unlike Gibson's delineation of their Custom and Standard ranges around the same time. The Jazzmaster, as its name suggests, was marketed at jazz guitarists of the era. However, it was quickly adopted by surf rock guitar players in the early 1960s who highly valued its reduced sustain and unique resonance when compared to other Fender models.
The Jazzmaster sets itself apart from other Fender guitars in several ways. One is its distinctively large body, far bigger and heavier than those of the Stratocaster, Telecaster, or even the similar silhouette of the Jaguar. The Jazzmaster also boasts large, white "soapbar" pickups that bear a striking resemblance to the Gibson P90. This similarity is purely cosmetic, however, with magnetic pole pieces on the Fender soapbar pickup as opposed to the P90's magnets beneath the coil. The Jazzmaster coil is wound flat and wide, more so than that of the P90, and far more than any other Fender pickup.
This winding, often referred to as "pancake winding" (not to be confused with the "pancake bodies" of 1970s guitars), gives the Jazzmaster a thicker, warmer tone than that of other Fender guitars. Although the Jazzmaster's tone is denser than that of the Stratocaster, it retains the clarity and note definition for which Fender guitars are revered for.
The Fender Jazzmaster also features a "humbucking" effect unfamiliar to its siblings. This is thanks to its reverse-wound single-coil feature so that when the three-way selector is in the middle position, with both pickups on, the 60-cycle mains hum often associated with single-coil guitars is eliminated.
The 1962 Jazzmaster reissues that Chris Stapleton favors featured maple necks with rosewood fretboards, although midway through 1962 the rosewood used for the fretboard became far thinner, bearing more resemblance to a rosewood veneer than a slab of wood. Its fret inlays are pearloid dots. The Jazzmaster's body is alder, with a nitrocellulose lacquer finish and its neck is bolted on. The Jazzmaster features a floating vibrato bridge, further contributing to its unique tone.
1950s Gibson LG2/ J-45

| | |
| --- | --- |
| Finish | Sunburst |
| Years Used | 2003 to Present |
Chris Stapleton's go-to acoustic guitars and all-time favorite instruments. This battered old late-1950s Gibson LG-2 is his number one six-string for songwriting endeavors. Of this guitar, Stapleton told Rolling Stone "I have a late-Fifties LG2 that's just beaten to pieces and I've written a bunch of songs on it. If I had to get rid of everything else, I'd probably keep that. It's my desert island guitar."
On another hand, stage and recording duties tend to fall more often in his more modern yet similar acoustic, the J-45. Initially, Chris got this guitar given the similarities in terms of feel and sound to the original LG2, he claims that even though his vintage Gibson has a special place in his heart, his J-45 goes beyond exceptional boundaries when it comes to live performances.
In an interview with Howard Stern, Stapleton revealed that he'd bought the LG-2 secondhand for "it's been with me probably more than a decade, and I've written most of the songs that I've written on this. It's probably the most comfortable thing." Its body remains the original, but in Stern's interview, Stapleton mentioned that its neck was a replacement. When he bought it in the 2000s, he paid only three hundred dollars for the vintage Gibson.
The Gibson LG-2 was initially introduced to the market as a smaller-bodied student guitar. It resembles a classical guitar and features a smaller body than Gibson's higher-end acoustic guitars like the J-200. The L series was first introduced in the 1920s, but in the 1940s Gibson released the LG series, comprised of LG-1, LG-2, and LG-3. Although the 1 and 3 were almost immediately discontinued, the LG-2 persisted as a budget-friendly guitar for a few decades. Gibson prided themselves at the time on their solid-wood guitar construction, and the LG-2 was no exception. Chris Stapleton's LG-2, as a late 1950s model, sports solid mahogany back and sides, with a spruce top and X bracing.
Because the LG-2 is a true acoustic guitar, with no electronics built into it, Stapleton had an LR Baggs M1 soundhole pickup, installed across the soundhole. The LR Baggs M1 is designed to convey the acoustic tone of a guitar rather than enhance or obscure it. According to LR Baggs' website, the M1 is a stacked humbucker with a hum-canceling lower coil that is carefully tuned to capture higher frequencies. In turn, a "body signal" is created in the suspended coil to add a touch of realism and woodiness to the amplified sound. On another hand, his J-45 is more conveniently wired with LR Baggs VTC electronics.
The LG-2 lacks the boom or the sparkle of larger, higher-end guitars, but this relatively neutral voicing may be precisely why Chris Stapleton prefers it to other instruments. A dedicated singer who relies on lyricism and his broad vocal range to perform his songs, Chris Stapleton benefits from a guitar that is happy to sit back in the mix and let his voice do the work.
Gibson ES-335

| | |
| --- | --- |
| Finish | Natural Blonde |
| Years Used | 2016 to Present |
Chris Stapleton's most notable electric foray away from his trusted Jazzmaster is this distinctive blonde Gibson 335. Stapleton occasionally plays this big, hollow-bodied Gibson live. This 335 looks to be as roadworn and worldly as the man himself, with its natural wood finish fading to reveal the grain of the maple beneath.
Gibson's 335 was, upon its release in 1958, the world's first-ever semi-hollowbody electric guitar. A solid block of maple runs straight through the center of the guitar's body, with the "wings" on either side fully hollow but for the guitar's electronics and circuitry. Like a violin or a cello, the 335 has twin F-holes, one on either side of the center block.
During the 1950s, before the Gibson Les Paul and SG rocked the world, Gibson produced only hollow-bodied guitars and acoustic instruments. While the Les Paul was their first entry into the solid-bodied electric guitar market, Gibson wanted an instrument that would rival the Les Paul's reduced feedback and improve sustain with the warmer, more intimate tone of their true hollow-bodied instruments. The 335, its hollow wings, and the solid center block was their attempt to meet in the middle.
The 335 is built with a three-ply maple-poplar-maple body featuring the aforementioned maple center block. Chris Stapleton's 335, with its natural finish, clearly shows the rich blonde color of the maple top. Its neck is solid mahogany with a rosewood fretboard and mother-of-pearl dot inlays. Its twin Gibson humbuckers, in the 1950s, were PAFs, but in modern times these have been supplanted by PAF-style pickups such as the '57 classic or T-type. Chris Stapleton's 335 has a stop bar tailpiece and an ABR-1 bridge. These are likely to be aluminum if Stapleton's guitar were to be a modern model, although they may also be nickel as per the original vintage specifications.
Stapleton typically uses his 335's bridge pickup for lead lines live, taking advantage of the biting, treble-heavy tone and warm sustain to deliver his slinky, melodic solos and riffs.
Martin D-18

| | |
| --- | --- |
| Finish | Natural |
| Years Used | 2017 to Present |
Of course, like so many country pickers before him, Chris Stapleton was eventually seduced by the charms of Martin's all-American acoustic guitars. He took to using the D-18 on the tour in support of From the A Room.
The Martin D-18, designated D for Dreadnought, features a larger body than the Gibson LG-2. It's a full-sized guitar more suited to Stapleton's imposing frame, with a full, booming voice to match. This comes thanks to the D-18's solid Sitka spruce top and mahogany back and sides, with its scalloped forward-shifted X-brace as per Martin's traditional guitar building techniques.
The D-18 actually features two separate finishes to optimize the balance between tone and playability. Its body and top have a gloss finish, but the D-18's "select hardwood" neck has a satin one. Over years of playing a satin-finished neck, the neck becomes remarkably smooth and easy to play, making it a popular modification for working musicians putting in several hours a night most nights of the week.
The D-18's neck is topped with an ebony fretboard, inlaid with abalone fret markers, and joins its body at the 14th fret. Chris Stapleton won't be using his D-18 for any high-note guitar pyrotechnics, but he has relied on it extensively in recent years as an acoustic workhorse.
Chris played this D-18 during the early promotion tour of his album From A Room: Volume 2. Its distinctive Martin voice, which chimes and sings a little more than the more reserved LG-2, can be heard from the very beginning of the performance. Unlike his LG-2, Chris Stapleton does not need to use an aftermarket soundhole pickup to perform with this guitar live, so presumably, he was happy to use the D-18 with inbuilt preamp and pickup.
Timetable Showing Each Guitar Chris Stapleton Has Played Throughout His Career
| Make | Model | Color/Finish | Years |
| --- | --- | --- | --- |
| Gibson | 1950s LG2/ J-45 | Sunburst | 2002 to Present |
| Fender | 1962 Jazzmaster Reissue | Sunburst/Ocean Turquoise/White | 2004 to Present |
| Gibson | ES-335 | Natural Blonde | 2016 to Present |
| Martin | D-18 | Natural | 2017 to Present |
Chris Stapleton Amps Overview
Chris Stapleton, by his own confession, is a "guitar freak", and this affection for beaten-up, unique instruments extends to his taste in amplifiers. He has almost exclusively used Fender brownface amps over the years, preferring their vintage voicing and old-school cool to any boutique modern affair. It's no surprise that he was eventually awarded for his loyalty with a signature Fender Princeton in the same worn-looking brown finish as many of his own favorite amplifiers. Let's take a look at Chris Stapleton's amp stable.
Fender "80 Proof" Blues Junior
Chris Stapleton's affection for the Fender brand is not limited to his beloved '62 Jazzmasters. This unique-looking amp, with its uncovered wood enclosure and leathery appearance, has been a mainstay on Stapleton's live rig for years.
Fittingly for the man who wrote "Tennessee Whiskey", Fender's "80 Proof" Blues Junior is made from bourbon barrels. It was a limited edition amplifier handcrafted from the oak that once housed America's own whiskey, with stamps, dates, and markings from distilleries still visible on the enclosure.
It features a 12" 8-ohm Jensen® P12Q speaker powered by 12AX7 preamp tubes matched to dual EL84 power tubes. It also features Fender's classic spring reverb and FAT boost switch to provide a broader array of tones. This amp's brass knobs, leather handle, and hand-aged wood complete the appearance of a rugged, hard-working amplifier.
Chris Stapleton seems to use this amplifier in conjunction with a Fender Princeton, either a stock model or his own signature amp, for his electric guitar tones. It's entirely possible that one is dedicated to more distorted sounds and the other is for cleans, or that he runs both amplifiers to increase the volume and tonal variety of his playing.
Fender 62 Princeton Chris Stapleton Edition
Chris Stapleton had been using a '62 Princeton, matching numbers with his '62 Jazzmasters, for years before Fender came knocking and offered to build him a signature model.
He actually bought his first 1962 Princeton in Ohio during a writing session with Peter Frampton. Of the original Princeton, he said "I use that amp still. That amp was a studio amp of mine for many years before I got hold of another one because I thought I should probably buy another one".
The 1962 Princeton was initially marketed as a student amplifier, as its diminutive size and lower output would indicate. However, plenty of gigging musicians worked out that the Princeton's smaller frame meant it could attain saturation and overdrive at lower volumes than many of its competitors. Rock, blues, and country players were particularly enamored of its rich, saturated drive tone as well as the sparkling cleans for which Fender amps are famous.
Chris Stapleton's signature Princeton was built to the man's own specifications. The story of this amp's birth seems deceptively simple. Stapleton told Billboard that "this was borne out of me calling Fender up [and asking them] to build this amp for me. … I wanted a new amp that looked like the old amp and worked like the old amp, and that didn't exist. So we called Fender, and very quickly the conversation escalated to doing something like this".
The hand-wired Chris Stapleton signature amp is a twelve-watt combo with attractively simple controls, featuring Fender Vintage Blue tone caps, Schumacher transformers, and an output tube-biased tremolo circuit. Its cabinet is made from solid pine, covered with textured brown vinyl. Like the bourbon-barrel Blues Junior, its handle is brown leather, and its dark brown faceplate matches the darker brown control knobs. Two 12AX7 preamp tubes, two 6V6 power tubes, and a single 5Y3 rectifier tube power its Eminence 12" Special Design CS speaker. It also has a built-in tremolo effect.
Chris Stapleton Pedals and Effects Overview
Typically, Chris Stapleton avoids overcomplicating his playing with pedals. By his own admission, he is a "one-trick pony. At best, I'm a stylist. I'm not a technician in any way, shape or form."
However, like most touring musicians, Chris Stapleton relies on a few stompboxes to help coax the desired tones from his Fender amps. Typically, this means enhancing or supplementing the natural tones of his Fenders, rather than obscuring them with overbearing effects. An attenuator, a preamp, and a vintage-voiced phaser are all Chris Stapleton needs to play his songs.
Union Tube & Transistor MORE
The Union Tube & Transistor MORE is a preamp designed to add clean gain to a tube amplifier. These preamps are typically used in place of an overdrive pedal or similar preamp-based boost to add saturation or drive to a clean amp. Chris Stapleton uses his Union Tube & Transistor as a volume and gain boost for his melodic, sustaining lead breaks. This pedal also works to increase the output of an amplifier that already has all controls set to 10, although it's unlikely given Chris Stapleton's typically clean or edge-of-breakup tones that he uses this pedal for that purpose.
Brown Box
As can be seen in the above image, Chris Stapleton also uses the Brown Box attenuator. This isn't exactly an effects pedal, as it does little to change Stapleton's core tone. Instead, he uses it to attain tighter, more precise control over the output of his amplifiers, and maintain a consistent signal and sound across differently sized venues and stages.
The Brown Box attenuator, according to the manufacturer's website provides precise control over the supply voltage to the amp. It's intended to provide tube saturation at lower volume, a classic trick frequently deployed by working bar bands who want a roaring tube amp tone at a volume suitable for smaller venues. The Brown Box allows Chris Stapleton to dial in a specific voltage necessary to access the amplifier's tonal "sweet spot" regardless of the power requirements or size of the venue he's playing.
Electro-Harmonix Small Stone
In the above image of Chris Stapleton's live pedalboard, the EHX Small Stone is clearly visible. The EHX Small Stone is an analog phase shifter designed to reproduce the vintage phasing sounds of the 1970s. Typically, country players like Chris Stapleton will use a subtle, vintage-voiced phaser like the Small Stone to provide some flavor and dynamics during their chicken picking sections, so it's likely that Chris Stapleton uses it for a similar reason.
Wrap Up
Chris Stapleton is one of modern music's most prolific songwriters. His whiskey-soaked tenor range, blues-inflected country picking, and an unparalleled ear for hooks have made him into an undeniable star. Chris Stapleton's firm footing in the country and the blues are his bread and butter, but that hasn't stopped the Nashville-based musician from writing for the likes of Peter Frampton, Adele, and even Ed Sheeran.
While the ever-shifting nature of the music industry has perhaps prevented Stapleton's profile from massive ascension, this man has managed to perform brilliantly in his field, and become a household name in America. There's no room for doubt that Chris' act is one projected for the years to come.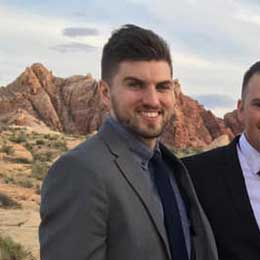 My name is Chris and I've had a passion for music and guitars for as long as I can remember. I started this website with some of my friends who are musicians, music teachers, gear heads, and music enthusiasts so we could provide high-quality guitar and music-related content.
I've been playing guitar since I was 13 years old and am an avid collector. Amps, pedals, guitars, bass, drums, microphones, studio, and recording gear, I love it all.
I was born and raised in Western Pennsylvania. My background is in Electrical Engineering, earning a Bachelor's degree from Youngstown State University. With my engineering experience, I've developed as a designer of guitar amplifiers and effects. A true passion of mine, I've designed, built, and repaired a wide range of guitar amps and electronics. Here at the Guitar Lobby, our aim is to share our passion for Music and gear with the rest of the music community.