A spearhead of fusion rock, Eric Johnson rose to fame in the late 80s, giving the world a never before seen concoction of Rock, Blues, Jazz, Soul, and even the ever so slight sprinkle of Country.
Having been born into a musically inclined family, Johnson ventured into the world of guitars at the young age of 11; taking inspiration from legends such as Mike Bloomfield, Chet Atkins, Jimi Hendrix, Wes Montgomery & Eric Clapton, he went onto join his first professional band, Mariani, at the age of 15.
Following nearly a decade of career turbulence in his post-high school year, the tides turned in Johnson's favor in 1984 when he landed a deal at Warner Bros.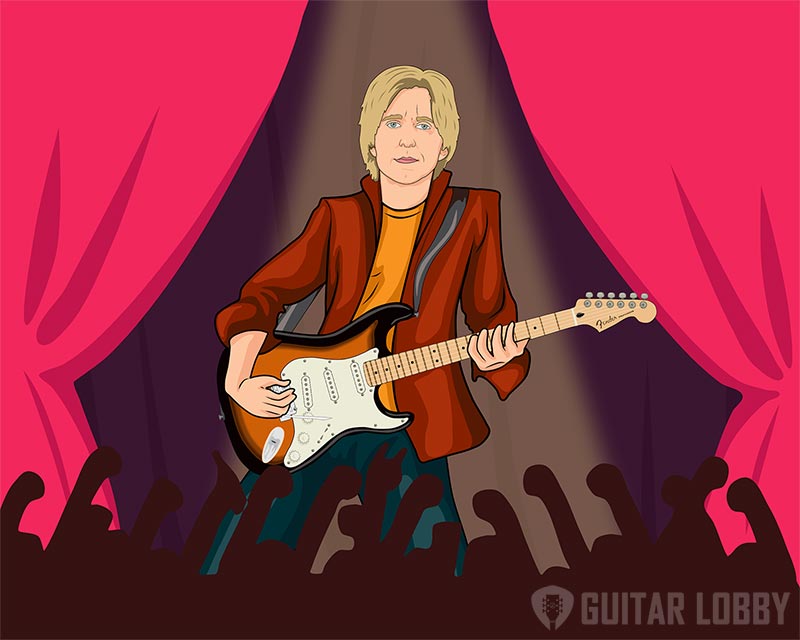 His 1986 solo album Tones established his hallmark style of Instrumental Rock, Blues & Jazz fusion, & Pop vocals. It was finally with the release of the 1990s 'Ah Via Musicom', that Johnson really reached new heights for his career, and the world got to experience the masterpiece that is "Cliffs of Dover".
This very track won Johnson his Grammy Award for Best Rock Instrumental in 1991. What followed is a highly successful career, and a pursuit of perfectionism so thorough, that it earned him an accolade of "one of the most respected guitarists on the planet." from Guitar Player magazine.
What Guitar Does Eric Johnson Play?
Eric Johnson plays Fender Stratocaster guitars, most notably his 1954 Strat, finished in three-tone sunburst, known as "Virginia" and his 1957 Strat which has a two-tone sunburst finish. He has played others as well including a few Gibson models such as the SG, ES-335, and Les Paul.
See the full list of Eric Johnson guitars and gear below.
1954 Fender Stratocaster "Virginia"

| | |
| --- | --- |
| Finish | Three Tone Sunburst |
| Years Used | 1983 to 1996/2020 to Present |
In his early twenties, Johnson needed to get a speaker fixed, and by word of mouth, he was sent over to JR Reed's Warehouse repairs in Austin Texas. According to Eric, as soon as he walked into the store he saw this Stratocaster sitting in the corner with no case, dusty and unclaimed, he would inquire about it to the manager who suggested that he should talk to the owner if he intended to buy it. When Johnson contacted the mysterious Strat owner, he suggested that in exchange for this 54 Strat he would need a Gibson model. Quickly enough, Eric purchased said Gibson and met up in a park in front of a pharmacy to acquire what would become his most iconic guitar.
The most recognizable guitar from Johnson's collection, this lightly customized 1954 Strat is a signature for the sound itself. Passionately nicknamed "Virginia" by Eric himself, after meddling with the wiring on it, inside the guitar's body he would find a manufacturing date and signature that read "Virginia, June something" as he told Fender in his Stories Collection interview. During the 50s, many of the factory workers on Fender would sign the inner parts of the guitar bodies rather than the headstock fit. It was during this decade that many of those ensembles were done by a workforce of typically three ladies, the one who put the neck and the body together, got to leave her signature. And so, a certain Miss Virginia went on to make some history, unintentionally.
From Virginia, we have come to learn that Johnson used original '57/'62 Single-Coil pickups in the neck and middle positions, with a DiMarzio HS-2 at the bridge, with only the top coil active, a modification that was famously his own. Beyond just the pickups, Eric worked extensively with Fender to truly bring out the sound of his very own "Virginia". From the fretboard radius, down to the volume knobs and bridge, Johnson was very committed to bringing out a personal touch to "Virginia". As a result, this guitar truly brings back the sounds of the 50s into a 21st-century guitar.
What's most interesting to know is that 'Virginia' is the very guitar that Johnson used while recording his iconic track, Cliffs of Dover. He plugged this '54 Strat into a Butler Tube Driver, an Echoplex EP-3, and ran it through a Marshall '59 Super Lead 100 Watt amp to get that legendary, silky smooth lead tone that we all know and adore.
1957 Fender Stratocaster

| | |
| --- | --- |
| Finish | Two-Tone Sunburst |
| Years Used | 2001 to Present |
One of Eric's absolute favorite guitars and the base upon which his signature line was modeled before his more recent custom-made "Virginia" came to action. At the time, Johnson was touring for Alien Love Child, mainly playing 1960 rosewood Stratocaster.
A story that had done some rounds before being heard from the horse's mouth itself was that while Eric was at a concert in Florida, a guy approached him with the same guitar that he currently holds on to. Johnson, having shown little interest, this guy just managed to convince him to "Just plug it in", and to behold, not only did Eric buy it, he sold off his 60′ rosewood model as soon as he got home. As is customary for Eric, he did modify this piece with a DiMarzio HS-2 pickup in the bridge.
This 57 Stratocaster became his main guitar for quite some time after purchasing it but nowadays is constantly rotated on stage with his Virginia Story Strat. It can be heard on his 21st-century tenures, from 2002s Souvenir, all the way to 2017s Collage, this is by excellence one of his most cherished pieces.
But the true golden era for Eric's 57 Strat came in 2005 when he started touring his release of the same year "Bloom", this particular guitar could be standalone the only piece Johnson would use for entire performances. It was immortalized when it made its recorded appearance in "Your Sweet Eyes".
1962 Fender Stratocaster

| | |
| --- | --- |
| Finish | Three Tone Sunburst |
| Years Used | 1982/ 2006 to Present |
Eric's 1962 Fender Stratocaster was famously one of the few guitars that got stolen from his house in 82', after having bought it the same year. A story that obviously seemed to end in tragedy for Johnson took quite an interesting turn 24 years later.
Fast forward to the year 2006, A woman walks into a Texas music store to sell some guitars and gear owned by her late husband. The owner of this fine establishment happened to know Eric since he lived nearby, and as fate would have it, he just happened to call him up, knowing that Eric was on the hunt for an Ibanez Tube Screamer.
Eric did soon come over to try out these strings, and it wasn't until he picked up the 62' Strat, that he realized these were in fact the same guitars that were stolen from him 24 years ago. His guitar had been modified, when noticing his original pickups had been changed for Mustang ones by Seymour Duncan, Johnson became hesitant, but he kept a record of his stolen serial number, and soon there was no room for doubt.
Once Eric got back his long-lost 62 Strat, he restored it to his preferred triple single-coil setup with '57 and '62 Fender originals in the neck and middle positions. As per usual he would add his go-to DiMarzio HS-2 on the bridge.
Not only did he obviously buy back his precious equipment, he actually went on to use this same guitar at his 2006 G3 Tour appearance, and his The Experience Hendrix Tour in 2014. Famously, Johnson performed All Along the Watchtower with Earl Thomas Bridgeman playing this pinpointable Stratocaster.
1958 Fender Stratocaster "Faye"

| | |
| --- | --- |
| Finish | Black |
| Years Used | 1970 to 1982/ 2006 to Present |
The first-ever Fender that Eric bought, at a time when he was still a kid, this guitar is probably somewhat responsible for the perfectionist we all admire today. Lovingly nicknamed "Faye", this guitar, like the 62′ Strat, was part of the equipment that was stolen from him in 1982. And, also like the 62′ Strat, he recovered this guitar into his collection in 2006.
Like other '50s Stratocasters, 'Faye' features a maple neck, sassafras body, Fender single-coil pickups, and a black lacquer finish with a standard pickguard. As expected, once Eric got Faye back again in 2006, he would add his mandatory DiMarzio single coil HS.
While Faye may not be Eric's most highlighted Stratocaster, it is one that has seen his growth throughout the decades. Reportedly this black Stratocaster along with a mysterious blue one was his main guitar during his early projects with the Electromagnets back in 1974, when the small-time band got a local record deal to produce two albums that would remain obscure up until two decades later.
Furthermore, some sources point out that "Faye" also saw some heavy studio and live-action when Johnson formed the Eric Johnson Trio, this was around the time that "Seven Worlds" was recorded, back in 1977 and 78. However, Eric's solo debut would have to wait due to some serious contract disputes, the material was forced to be pushed, and it wasn't up until 1998 that the guitarist along with Faye could hear their year-long work.
"Faye" and Eric also worked largely as session musicians over at Odyssey Studios in Austin for several years up until it was stolen from Johnson's apartment back in 1982, as previously mentioned. Nowadays this guitar mainly stays over at Eric's home, after a very long and road wearing journey in 2010 when Eric used it as a main u until 2011. It was last seen in 2020 when he decided to release a few guitar tutorials on youtube. This is one of the most iconic Eric Johnson guitars of all time.
Fender Stratocaster Eric Johnson Signature

| | |
| --- | --- |
| Finish | Sunburst/White |
| Years Used | 2010 to Present |
A homage to Eric Johnson and his love for vintage Fenders, this guitar from their Signature line is based upon Eric's battled 57′ Fender Strat that he picked up at a show in Florida. Fender designed this guitar in collaboration with him, and in the classic Eric Johnson fashion, this guitar is armed with 21 medium-jumbo frets and a 12-inch fingerboard radius. The real modifications come in the form of custom single-coil pickups that are designed to bring out the sound of the 50s.
The EJ Stratocaster's pickups sound both warm and hot, with tone control for the bridge pickup that lets you dial in just the right amount of vintage vibe. The sonic palette that results is distinctly classic, and there's exceptional clarity on offer too. This makes it ideal for rock rhythms, jangly riffs, sparkling cleans, and of course, Johnson's legendary chord voicings and arpeggios layered with reverb, dreamy effects installed on the guitar.
Although this Signature line was made available to the market in 2013-2014, Johnson received a few stock ones including the very first serial number as early as 2010, ever since then, this replica became one of his main highlights on stage and in-studio throughout the decade. This guitar's debut can be heard in Johnson's 2010 studio installment, "Up Close" while the white version of it was his main for the 2014 collaboration with Mike Stern "Eclectic".
Fender Eric Johnson Signature Thinline Stratocaster

| | |
| --- | --- |
| Finish | Vintage Cream White/Sunburst |
| Years Used | 2014 to Present |
The Fender Eric Johnson Signature Thinline Stratocaster was another collaboration between the Texas virtuoso and the guitar-manufacturing giant; this time with a bit more jazz to its design. This semi-hollow electric features an Alder body, a maple neck, and a fast-playing fingerboard with a 12" radius. The design of the neck is a familiar 'soft V', similar to his other signature models.
Eric also worked with Fender to develop custom single-coil pickups for this guitar that would replicate his classic bright 'chimey' tones with sparkle and yet deliver enough grit when boosted with a tube screamer. Johnson has long explained his reasons to partner up with Fender and bring this creation to life "When I'm writing, my go-to instrument is a Strat, because it's so universal and versatile – but I've always loved semi-hollow body guitars." he told Premier Guitar.
Eric has also shared that he envisioned the next step of the global Stratocaster, as his third signature model, this Thinline strat offers a broadened horizon in the style of Johnson. Being one of the most dynamic guitars in the market these days, it's the perfect fusion six-string, dynamic and suitable for all with one of the sharpest and cleanest sounds out there, this Thinline certainly rejuvenates curiosity and thirst for innovation.
1964 Gibson ES-335

| | |
| --- | --- |
| Finish | Cherry Red |
| Years Used | 1996 to Present |
Although some sources point out that Eric recorded and dubbed certain parts of Cliffs of Dover with an ES-335, it's hard to tell if it actually belonged to him or not. Nevertheless, there is an ES-335 model in his catalog one that has become rather precious to him after he bought it on tour with Blues legend B.B King. Johnson became inspired to acquire this model after personally experiencing The King's fixation for the model, and reportedly, a few trial runs with his iconic Gibson "Lucille" 335.
Although it was used on tour, it is a rare sight to see Johnson on-stage with this 335 or even his SG despite being the two guitars he goes to when looking for a bulkier Gibson tone. Either way, it is known that this is yet another collection piece for Johnson, he keeps it at home along with several other vintage pieces.
1964 Gibson SG

| | |
| --- | --- |
| Finish | Cherry Red |
| Years Used | 2007 to Present |
This guitar has been in Eric's personal collections ever since he bought it by trading off some old pinstripe Marshal cabinets that he had lying around. In classic Johnson fashion, he showed apprehension at first but got completely blown away by the sound once he tried it out. He's held onto it ever since and uses it whenever he needs to go for the Gibson Tone.
Johnson's main issue with the SG was that it wouldn't stay tuned "for more than five minutes" as he's shared, but this 64 model would prove different after noticing the original tune pegs and bridge had been swapped off and custom made for it.
Occasionally, Eric brings this guitar on tour and it's the strongest contender for bulkier tones along with his ES-335, but either way, these are just runners up for second place to his Strat selection.
1967 Gibson Flying V

| | |
| --- | --- |
| Finish | Natural Sunburst |
| Years Used | 1992 to Present |
As the story gets told by Eric himself, he was once at the Dallas Guitar Show and just so happened to come across the Flying V. He wasn't really looking for Flying but as fate would have it, he just so happened to try this one out, and it sounded beautiful. The part where the story gets weird is that the guy who had the Flying V wasn't interested in letting it go for anything other than a 30s Dobro, and so, as determined as Eric was, he managed to find a Dobro at that very show and actually bought it just to get his hands on this beauty.
Martin D-45

| | |
| --- | --- |
| Finish | Natural |
| Years Used | 1982 to Present |
A gift from his father, this Martin D-45 has some real sentimental value to him, and as such has remained in his collection ever since he got it. His dad bought this for him as a gift after Eric had quite a lot of guitars stolen from his apartment in 1982.
"It's a reissue of the pre-World War II D-45 with a snowflake inlay. When you try several instruments in the studio, it's the one that just works. It plays so well, and it has a real balanced sound." – Eric Johnson during an interview with Guitar Player magazine.
Martin Eric Johnson Signature MC-40
| | |
| --- | --- |
| Finish | Natural Glossed |
| Years Used | 2004 to Present |
An exclusive piece from their signature line, the Martin MC-40 Eric Johnson is based on the D-45 that Eric got in '82, and released in 2004. As an exclusive product, just 90 units of this guitar have ever been made. Having worked in close conjunction with Eric, Martin has modified the standard D-45 to include a Fishman combination pickup with a KK transducer that's run in stereo. More recently, Eric swapped out the pickups once again for Barbera Soloist saddle pickup, on the 2004 #0000, which was Johnson's own Signature MC-40.
Gibson Custom Shop '59 Les Paul

| | |
| --- | --- |
| Finish | Cherry Burst |
| Years Used | 1982 to Present |
Eric has also used several different Gibson Les Pauls straight from Gibson's shop, while they may not be as highlighted as his stage designated Stratocasters, Johnson has shared through his Youtube channel how much he enjoys playing these industry staples. The '59 Custom Shop Les Paul has always been one of his favorites, and he used it frequently during the '80s. In the early 2000s, when Gibson reissued this model as a throwback to the golden era, Eric bought it again and has been using it since, but recent years have retreated the 59 LP to the studio mostly.
The one he uses has a bright cherry burst finish, with a solid mahogany neck, a maple top, and Custombucker Alnico III humbucking pickups.
Timetable Showing Each Guitar Eric Johnson Has Played at Each Point of His Career
| Make | Model | Color/Finish | Years |
| --- | --- | --- | --- |
| Fender | 1958 Stratocaster "Faye" | Black | 1970 to 1982/ 2006 to Present |
| Fender | 1962 Stratocaster | Three Tone Sunburst | 1982/ 2006 to Present |
| Martin | D-45 | Natural | 1982 to Present |
| Fender | 1954 Stratocaster "Virginia" | Three Tone Sunburst | 1983 to 1996/2020 to Present |
| Gibson | 1967 Flying V | Natural Sunburst | 1992 to Present |
| Gibson | 1964 ES-335 | Cherry Red | 1996 to Present |
| Fender | 1957 Stratocaster | Two-Tone Sunburst | 2001 to Present |
| Martin | Eric Johnson Signature MC-40 | Natural Glossed | 2004 to Present |
| Gibson | 1954 SG | Cherry Red | 2007 to Present |
| Fender | Stratocaster Eric Johnson Signature | Sunburst/White | 2010 to Present |
| Fender | Eric Johnson Signature Thinline Stratocaster | Vintage Cream White/Sunburst | 2014 to Present |
Eric Johnson Amps Overview
1968 Marshall 100W Super Lead
Eric's go-to amplifier for his signature lead tones. The '68 Super Lead amp is a mainstay for the golden era of rock, and Eric tends to circle back to this amp for most of his playing. It was used while recording Cliffs of Dover, with bass and treble, rolled back to get that creaminess from the amp. He generally plugs these into a 4×12 cabinet.
Fender Twin Reverb
Another of Eric's favorites, he uses these alongside the Marshalls for his cleans and rhythm tones. Sometimes used in a 2x Twin Reverb combo with a 4×12 stereo cabinet, played through JBL speakers. This setup is his favorite for clean tones, and sometimes he rigs up two Fender Twins together with slightly different settings for a more varied tone.
Marshall 50W Plexi
The primary amp for his dirty rhythm tone, Eric played this through a single cabinet. Sometimes, he would also use a Fulton-Webb 100W head, or a 1968 Marshall Tremolo head in combination for that unique dirty rhythm, a sound best experienced during his performance on 'The Experience Hendrix' tour.
1969 Marshall Super Bass 100W
For that special lead tone, Eric plays either of these through a single Marshall 4×12 cabinet wired at 8 ohms. It offers a very creamy, rich tone with a powerful sound.
Fishman Loudbox Performer
This amp was used exclusively for Eric's acoustic sound. Eric ran these in stereo, with K&K Sound Pure transducers and Fishman Piezo pickups. Also added to the loop is an MXR Bass Compressor for more girth and warmth.
Eric Johnson Pedal Overview
Butler Tube Driver
This is one of Eric's absolute favorite pedals, and he has consistently used it throughout his career. It's a staple ingredient for his soaring lead tones and adds that much-needed grit without overpowering the sound. The original pedals are still available, and hand-built by B.K. Butler. This was also used during his recording of Cliffs of Dover.
Maestro Echoplex EP-3
The Echoplex EP-3 has been used by countless legends like David Gilmour, Jimmy Page, and of course, Eric Johnson. Though it's a tape delay effect, it adds a lot of bluesy warmth to the guitar sound, and also boosts it for a more overdriven sound. It adds to the thickness and creaminess of Johnson's tones, with a slight 'slapback' effect.
Ibanez Tube Screamer TS808
Another legendary pedal, the Tube Screamer is a favorite used by many iconic guitarists like Stevie Ray Vaughan. Johnson uses this pedal with the 'Drive' set to high and a low 'Volume' setting, with a rolled-back tone. He specifically prefers the TS808 version of this famed overdrive.
EHX Deluxe Memory Man
Eric uses the EHX Deluxe Memory Man for heavy delay effects and repeats, creating a 'stacked' effect alongside the EP-3. This results in some really dreamy tones, that are perfect for ambient tracks like Waterwheel.
Dallas-Arbiter Fuzz Face
For those dirty, fuzzy tones reminiscent of Jimi Hendrix, Eric uses the Dallas-Arbiter Fuzz Face. This pedal reaches new levels of gain and overdrive, which is perfect for punchy rock rhythms and psychedelic riffing, just like Hendrix used to. Dunlop even collaborated with Eric to release a signature version of this pedal!
MXR Flanger
To add to the psychedelia of some of his tracks, Eric used the MXR Flanger. This pedal creates a jetplane-like 'swoosh' sound that sounds heavenly when mixed with some fuzz and delay.
TC Electronic Stereo Chorus And Flanger
Combined with his other pedals, the TC Electronics Stereo Chorus And Flanger produces some otherworldly effects and contributes a lot to Eric's unique style. Sometimes, he uses it very subtly to add depth with the chorus effect, but other times he may crank it up and go wild too!
Dunlop Cry Baby
While not one of his most-used effects, Johnson does use the 'Wah-wah' effect from a Dunlop Cry Baby. Most notably on tracks like Trail of Tears, and on his live tours. It definitely adds a lot of flavor to his sound!
Eric Johnson Picks and Accessories
Picks
Having the right pick attack and technique is crucial to getting Eric's sound, as he himself has said several times. Eric uses Dunlop Jazz III picks, which offer the right amount of attack for his 'downward sloping' technique. Since they're small, they make string skipping and hybrid picking a lot easier too. But ultimately, picks are a major personal preference, and mostly affect playability more than the tone itself. But the tone is in the fingers, right?
Strings
Eric prefers using GHS Nickel Rockers with gauges of 010, .013, .017, .026, .036, .046. Your guitar strings definitely have a major impact on tone, and these pure nickel strings have that vintage warmth in them. Plus, they're flatwound so they offer a much smoother feel.
Wrap Up
Eric himself says, "always remember that tones come from your fingers. It's all about practice – gear is just half the equation". Johnson is certainly one of the most skilled guitarists we've seen, and we know he spent thousands of hours practicing to get there! So if you want, you definitely can too!
While Johnson may not be the most highlighted guitar hero there is, he certainly has something beyond the necessary talent to be one, he's got the feeling and one of the most distinguished pinpointable sounds out there.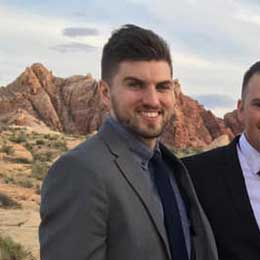 My name is Chris and I've had a passion for music and guitars for as long as I can remember. I started this website with some of my friends who are musicians, music teachers, gear heads, and music enthusiasts so we could provide high-quality guitar and music-related content.
I've been playing guitar since I was 13 years old and am an avid collector. Amps, pedals, guitars, bass, drums, microphones, studio, and recording gear, I love it all.
I was born and raised in Western Pennsylvania. My background is in Electrical Engineering, earning a Bachelor's degree from Youngstown State University. With my engineering experience, I've developed as a designer of guitar amplifiers and effects. A true passion of mine, I've designed, built, and repaired a wide range of guitar amps and electronics. Here at the Guitar Lobby, our aim is to share our passion for Music and gear with the rest of the music community.