A critical figure in the early days of the legendary rock band Pink Floyd, Syd Barrett co-founded the band and was its first real frontman, main songwriter, and lead guitar player. He's credited for introducing his bandmates to his trademarked psychedelic tones and essence as well as a futuristic notion of guitar effects.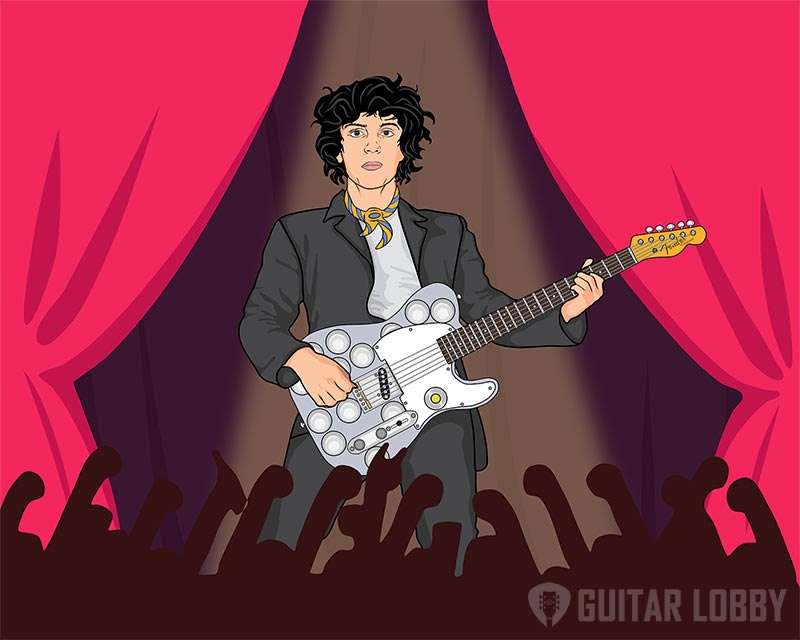 Following his departure from Pink Floyd, Barrett went on recording two solo albums, titled "The Madcap Laughs" and "Barrett", both in 1970 which were produced by David Gilmour himself. After these two solo albums, Syd continued to distance himself from virtually everybody, to the point where his self-imposed seclusion became permanent until his death in 2006, due to a diabetes-related pancreatic cancer. In his post-music life, he continued painting and became a dedicated gardener, nevermore to return to the public eye.
What Guitar Did Syd Barrett Play?
Syd Barrett played a 1962 Fender Esquire Telecaster as his main guitar. Barrett played several Fender Telecasters as well as various other guitar models, however, his Mirror Disc Esquire, the one that saw him debut on Britain's BBC, is easily the most iconic guitar associated with his name.
See the full list of Syd Barrett guitars and gear below.
1962 Fender Esquire "Mirror Disc Telecaster"

| | |
| --- | --- |
| Finish | Silver Film Wrapping with Mirror Discs |
| Years Used | 1965 to 1968 |
This Esquire is arguably the most associated guitar to Barrett's name, with a stunning body customized to fit his eccentric personality, this is a piece that's as legendary as the man itself. Syd bought this guitar in January of 1965 when Pink Floyd went to the West End and bought a load of music gear on hire-purchase.
A few weeks before that, Syd and Nick Mason went to the Jeff Beck and the Tridents gig, at the 100 Club in Oxford Street, where they had a Wednesday-night residency. And Syd was blown away with Jeff's playing and sound. "The best group in the world except for the Stones and the Beatles. They are called the Tridents and the lead guitarist looks a bit like Mick Jagger " Syd wrote to Jenny Spires, his girlfriend at the time, who still lived at Cambridge. Curiously enough, this impression on Beck was collective and it inspired the group years later to hire him as a replacement for Barrett, but that's another story.
With Beck in mind, Syd considered switching to a Fender guitar. And so he did, he disposed of his grant money to purchase a 1962 Fender Esquire, which was a half-inch thinner than a standard Telecaster and had only one pickup in the bridge. Syd had the guitar, which was originally white, shrink-wrapped in silver plastic film, and even at some point glued some polished metal disks on the body.
Apart from the visual enhancements, the only other modification done to Barrett's Esquire was a raised pickup, which fattened up the guitar's tone. An early pioneer of creativity over technique, Barrett's guitar work on Pink Floyd's early singles and debut album, "The Piper at the Gates of Dawn" was fairly basic, something the simplicity of the Esquire lent itself to nicely.
The Esquire's cosmetic modifications made it an important element of Pink Floyd's otherworldly stage show, the discs reflecting the bubbling, psychedelic lights and projections back at the audience made the psychedelic aura of Pink Floyd bloom. A lot of that had to do with a friend of the band called Mark Fisher, who studied architecture with Roger and was one of the first people ever to experiment with color light show devices, essentially projectors that would emit light effects during the band's live performance.
These psychedelic DIY events were the very first thesis of the Floyd when they first matured into recording artists. Furthermore In May of 1967 Pink Floyd performed at the BBC Television in London where you can see Syd using this guitar, the impression was nothing but a ramshackle lousy attempt of music for the host, but this was one of the most important moments for live British music.
These metal disks on the guitar eventually became worn and Syd for one reason or another slowly stopped using the Esquire, and traded it to a black Telecaster by the late 1967s. One time he allegedly left the guitar outside in the rain one night, and this resulted in some of the hardware becoming oxidized.
He's been quoted many times saying that this Esquire was his favorite, by far. It can be seen all over Pink Floyd's first LP "The Piper at the Gates of Dawn" and as well as in some tracks in the second. When Syd swapped this Esquire for a black Custom Telecaster, he immediately regretted that decision, as stated by some people close to him. The current whereabouts of this guitar are unknown, and it's safe to say whoever has this guitar might not even recognize its value and history. The Syd Barrett mirrored guitar is easily one of the most iconic of all time.
1968 Fender Telecaster Custom

| | |
| --- | --- |
| Finish | Black |
| Years Used | 1968 to 1977 |
This is the Telecaster that Syd traded his Esquire for in mid-1968, it is a black Fender Telecaster Custom that, until Syd withdrew himself completely from the outside world, was his last instrument. It was used extensively on the "Madcap Laughs" sessions, and it features the classic 60s style maple neck with the "CBS" logo, which indicates that the guitar was made after the CBS purchase of Fender, which happened in 1965. The "custom" on the name at the time only meant that it had a double-bound body but otherwise a standard configuration of a Telecaster. Also, it's safe to say that when Syd got his hands on this guitar, it was probably brand new since Fender only started making maple-neck Telecasters in the late sixties.
Barrett mostly used this guitar on both of his solo albums, probably by that time it was the only guitar he hadn't given or sold to somebody. After freeing himself completely from his EMI contract in 1972, Syd would stay in London until 1978, making a couple of appearances like in October of 1973, when he accompanied, with this Telecaster, Jack Bruce, and Pete Brown's informal poetry and jazz show.
In August of 1974, Pink Floyd manager, Peter Jenner persuaded Barrett to return to Abbey Road Studios in the hope of recording another album. According to John Leckie, who was the engineer at the session, Syd still looked like when he was younger, with long hair.
He, at this point, hadn't lost the creative spark in him, but in some way, it was evident that there was something about to go wrong. The sessions lasted three days and consisted of mostly blues jams and overdub attempts using only this Fender Telecaster. He recorded eleven tracks, but the only one that he titled was called "If You Go, Don't Be Slow". Needless to say, nothing came out of this record, and it would be his final musical tenure.
It is likely that he sold the guitar in the late 70s when he was living alone in London, slowly spending all of his remaining cash before eventually returning to Cambridge to live with his mother.
1964 Fender Telecaster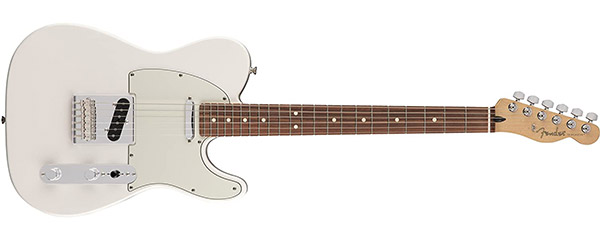 | | |
| --- | --- |
| Finish | Polar White |
| Years Used | 1967 to 1970 |
Syd bought this telecaster as an intended backup to his Esquire, as this was a more versatile version of the Esquire. He bought it in late 1967 but didn't end up giving much usage to the guitar, as his mental condition had already started deteriorating.
This 60's Telecaster featured a white body finish and a rosewood fretboard. Although this guitar looks a lot like the Esquire, it is at the same time alike but very different, soundwise. As it features an additional pickup in the neck position. The bridge pickup is the same as on the Telecaster but the wiring and the toggle switch serve a different purpose on each guitar.
Circa 1968 when David Gilmour had just replaced Syd as a touring member, Syd lent this guitar to Gilmour to use it as a spare to his own 60's Fender Telecaster, also in white finish, that his parents had given to him on his 21st birthday. Here you can see a picture of David playing one of them with the other in the background. David did give the guitar back to Syd after some time, during the recordings of "A Saucerful of Secrets" but just like all of his other guitars, it has vanished into the years.
1961 Selmer Futurama III

| | |
| --- | --- |
| Finish | Sunburst |
| Years Used | 1959 to 1964 |
During the time Syd was beginning to form his first band called "Geoff Mott and the Mottoes", around 1959, he bought his first electric guitar ever. A Selmer Futurama III, for about £25. He bought this six-string a year after his first one, which was an acoustic Hofner.
This low-budget Czechoslovakian Stratocaster copy was claimed at the time to be "The world's most advanced solid guitar", as you can see on this pamphlet Selmer did at the time. Really an easy claim to make, considering the number of competitors at the time. They were brought into the UK by Selmer as an alternative to their Hofner range in the late 1950s and 1960s, they were attractive, reasonable quality instruments by the standards of the day, they were priced at a level that could be afforded by UK aspiring guitarists. So it's easy to find many peers and contemporaries that have also played one of these entry-range guitars, among them, George Harrison and Dave Davies.
The Futurama III had a sunburst finish, a rosewood look-a-like fingerboard (generally a dark stained beech), and a body-edge mounted jack plug socket. The tremolo was a separate wood mounted into the bridge unit, and it had three single-coil pickups.
Syd sold this guitar before moving to London in the summer of 1964, to study painting at Camberwell College of Arts, where he met Roger Waters, Richard Wright, and Nick Mason.
1950's Hofner 500/5 Bass Guitar

| | |
| --- | --- |
| Finish | Natural Sunburst |
| Years Used | 1963 to 1965 |
During the summer of 1963, Syd was playing with a band called "Those Without" (the name was inspired by the title of Françoise Sagan's 1857 novel "Dans un mois, dans un an", which translates to"Those without Shadows", where he played this bass guitar. He was also seen playing it a year later, in the next summer, with the band "Hollerin' Blues", where he would constantly switch between this bass and a six-string Hofner Committee. But he wasn't really a permanent member of any of these bands.
As everything regarding Syd is very superficial and there aren't many photos, interviews, or researchable material related to him, especially about his gear, the only photo that seems to show him with this bass guitar appears at the beginning of the BBC omnibus documentary called "Syd Barrett: Crazy Diamond", released in 2003.
The 500/5 bass is often mistakenly called the President bass, to which it is closely related. But the President model was not developed until 1963 and then only for the British market. The 500/5 is a large hollow-bodied bass with no center block, it looks like those big archtop guitars that were extremely popular in the fifties. It has two pickups, one placed at the neck position, and the other just slightly further down in the middle position.
In early 1965, when Syd moved to London, he went back to playing just the electric guitar. As reported in the book "Syd Barrett & Pink Floyd: Dark Globe" by Julian Palacios, Syd said: "I had to buy another guitar because Roger played bass, and we didn't want a group with two bass players". So it's safe to say this bass stayed with Roger after that.
1960's Framus 5/59 Sorella

| | |
| --- | --- |
| Finish | Wine Red Sunburst |
| Years Used | 1964 to 1970 |
Framus was a company founded in 1946 by Fred Wilfer in Erlangen, Germany. It was one of the biggest guitar manufacturers in Europe until the late 1970's when it went bankrupt. Wilfer once said in an interview: "It's not only important to produce instruments, over a long period it's important to produce customers." And he really did produce some famous ones like the Beatles- John Lennon, George Harrison, and Paul McCartney played these. This specific Framus model had been built in the mid-'50s and it had a hollow body in maple, a single rounded cutaway, and single-ply binding.
What's especially interesting about Syd's Framus in particular, is that it seems to have featured a custom-fitted pickup that maybe Syd, or someone he knew to fit in there. Although it's more likely that Syd only used the bridge position because he would end up getting a Fender Squire later on in Pink Floyd. This unusual pickup configuration allowed an archtop guitar to be amplified, without damaging the instrument in any way.
1960's Hofner Committee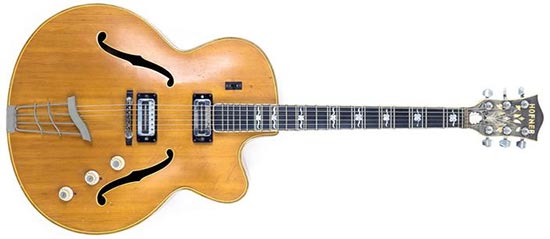 | | |
| --- | --- |
| Finish | Natural |
| Years Used | 1964 to 1965 |
This is the Hofner that Syd used to play with Those Without in 1964 and 1965, the Committee was top of the regular range of Hofner archtops, really one of the finer guitars available in the United Kingdom during the 1950s and 60s, designed to impress. It was introduced as a UK-only model around 1953/54. It sported the over-large "frondose" headstock up to 1963 when this was replaced by a President size headstock, but still retaining the impressive "tulip" style mother of pearl inlays in the facia. Syd had the "frondose" one, with the "Mickey Mouse ears" at the top of the headstock.
One distinguishing feature of the Committee is the ornate body back inlays. Its neck is a five-piece laminate, with the following order: maple/mahogany/maple/mahogany/maple. And its tuners are the individual open-gear type with plastic buttons. The fingerboard was ebony as well as the bridge, which was a two-piece, with individual string saddles made of fret wire.
Like most of Syd's guitars, the fate of this one is unknown after he started playing his trademarked Esquire and later a Telecaster.
1960's Danelectro 3021

| | |
| --- | --- |
| Finish | Black |
| Years Used | 1965 to 1970 |
Another guitar bought by Syd sometime in 1965, used in the early days as a spare guitar for his Esquire. Probably the most notable appearance of this guitar is the UFO Nightclub gig in 1966, where Syd goes crazy with the fuzz effect and his mantra-like playing.
Danelectro is an American brand of musical instruments and accessories, founded in New Jersey in 1947. The company is known primarily for its string instruments that employed unique designs and manufacturing processes. The Danelectro company was sold to the "Music Corporation of America"(MCA) in 1966.
This American-made guitar is probably the most famous model of the Danelectro range up until this day. It was made famous by the likes of Jimmy Page who would constantly use this same model. Its "lipstick-tube" pickups, designed by Nathan Daniel, the founder of Danelectro, have a very characteristic sound that in some way reminds the sound of the Esquire pickup. That could very well be a reason Syd liked this guitar. Its body featured a masonite top and bottom, and a frame made of poplar wood holding everything together, the neck was also built using masonite, with rosewood being used on the fingerboard itself.
As do all of Syd's guitars that weren't sold or given to someone, this one also has disappeared in the Barrett lore, but it is speculated he used it on his solo records.
1960's Fender Stratocaster

| | |
| --- | --- |
| Finish | White |
| Years Used | 1967 |
Syd was seen only one time playing a Stratocaster, in May of 1967, when Pink Floyd played at the Games for May show, at Queen Elizabeth Hall.
This guitar was probably owned by the band, as part of the equipment that they bought on hire-purchase at the West End. The guitar was an early to mid 60's Stratocaster with a white finish and a rosewood fretboard. Just like most of the Strats done in the '60s.
In 1959, Leo Fender introduced a new, thick Brazilian rosewood fretboard to the Stratocaster, called "Jacarandá" now colloquially referred to as a "slab-board". This thicker board lasted until 1962 when the fretboard was made with a thinner 'veneer' of Brazilan Rosewood. Nearly all of the 1960s models of the Stratocaster had a rosewood fretboard, and maple fretboards would not be reintroduced in large numbers until 1970. This Stratocaster was one of those rare pieces that featured a Jacarandá neck.
Not much else is known of the guitar, it probably stayed with Gilmour after Syd left, as David would go on playing a bunch of 60's starts like this one. One of the very first appearances of this White Strat would be when the Floyd played with Frank Zappa in 1969, you can clearly see Gilmour using this guitar, in fact, he is using the same rig Syd used one year before, the Selmer amps and pedal and the Binson Echo unit.
1960s Harmony Sovereign H1260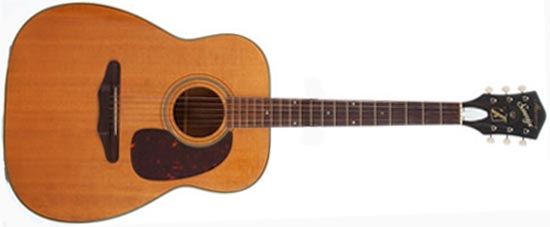 | | |
| --- | --- |
| Finish | Natural |
| Years Used | 1963 to 1967 |
According to the Hard Rock Cafe in Orlando, Florida, where this guitar currently is, this is "Syd's first quality guitar ever". Which is quite an understatement. By 1963 Syd had already gone through at least two different guitars, one being an acoustic Hoffner, and the second one being the electric Futurama which he played in his first band ever "Geoff Mott and The Mottoes" formed in mid-1961.
But talking about the Harmony acoustic itself, it was introduced in 1958 and was the flagship model of Harmony. It features a large, jumbo-sized body manufactured of a solid Spruce top and Solid Mahogany back and sides. It was a Jumbo guitar, but unlike other Jumbos, it has a smaller upper bout, so it doesn't feel quite as unwieldy and enormous as jumbos from other brands. While this template packs a ton of potential, these old Harmony guitars were never built to be functional, long-lasting instruments. Even though they were made out of the right materials, they were never built to tune and play properly. Because of that, many have fallen into disrepair.
Syd used it a lot in Floyd's first LP "The Piper at the Gates of Dawn", as it probably was the best sounding acoustic the band had at the time. But some people claim they used a Fender acoustic as well as a 12-string Yamaha acoustic, but nothing leads us to believe neither of those belonged to Syd.
Timetable Showing Each Guitar Syd Barrett Played at Each Point of His Career
| Make | Model | Color/Finish | Years |
| --- | --- | --- | --- |
| Selmer | 1961 Futurama III | Sunburst | 1959 to 1964 |
| Hofner | 1960s 500/5 Bass Guitar | Natural Sunburst | 1963 to 1965 |
| Harmony | Sovereign H1260 | Natural | 1963 to 1967 |
| Hofner | 1960s Committee | Natural | 1964 to 1965 |
| Framus | 5/59 Sorella | Wine Red Sunburst | 1964 to 1970 |
| Fender | 1962 Esquire "Mirror Disc Telecaster" | Silver Film Wrapping with Mirror Discs | 1965 to 1968 |
| Danelectro | 1960s 3021 | Black | 1965 to 1970 |
| Fender | 1960s Stratocaster | White | 1967 |
| Fender | 1964 Telecaster | Polar White | 1967 to 1970 |
| Fender | Telecaster Custom | Black | 1968 to 1977 |
Syd Barrett Guitar Amplifier Overview
In his early days, most of the amps used by Syd were Selmers, as did most of his guitars in the beginning as well. Needless to say, Barrett was a loud player, especially when he used feedback and fuzz sounds that demanded a lot of his amplifiers.
Vox AC30
It seems like the Vox AC30s and the Fender Esquires were sold in pairs back in the 1960s. Just like Jeff Beck, Syd also bought the two together back on that spending spree in London. Truly the classic British sound, the vox paved the way for a more serious rig, as Pink Floyd was in the very beginning of their career when Syd bought these.
The Vox AC30 was originally introduced in 1959 when Vox decided to make a "big brother" of the fifteen-watt AC15 model, Vox's original flagship amplifier. This is because the AC15 was not loud enough.
The original first-generation AC30 used a GZ34 tube rectifier, three ECC83s for the Normal channel, and the tremolo/vibrato oscillator/modulator circuits, one ECC81 (12AT7) phase inverter, and EL84 tubes in the power amplifier circuit.
Selmer Truvoice Treble 'n Bass
These amps were originally built between 1963 and 1965, used both as guitar and bass amps. The Treble and Bass 50 was more or less the standard Selmer guitar amp head for many years from the early sixties until the late seventies, used by many artists, such as "The Kaisers", "Eden Kane & The Downbeats", "The Rattles", "The BlackHawks", and of course, Pink Floyd.
By the end of 1966, Barrett used a 50-watt Selmer Truvoice Treble n' Bass 50 Mk II with matching 'All-Purpose 50' Speaker Cabinet with 2X12 speakers. Onstage, Pink Floyd used Selmer Goliath cabinets and Stereomaster guitar amplifier heads, with four Selmer TV/100 PA amplifier heads, for a tremendous roar. According to Julian Palacios in his book "Syd Barrett and Pink Floyd: Lost in the Woods".
Selmer Goliath
These Goliath amp cabinets were used by the whole band when playing live, As expected, the Goliath cabinet has a huge bottom end, but, unlike with most 18″ speakers, it still has plenty of snap and clarity. As far as specs go, the Dominator has three ECC83/12AX7 preamp tubes, two output El84 tubes, and an EZ81 rectifier. The controls are a volume and tone switch for the mic channel and a volume, tone, tremolo, speed, and depth switches for the guitar one. It has an output of approximately 17 watts and two 10" Elac Alnico-magnet drivers speakers.
Watkins' amps were generally rougher than their competition at the time, Vox, Selmer, and (soon) Marshall, but a look inside the Dominator reveals it's rather nicely put together.
Syd Barrett Effects Overview
As said before, Syd's use of guitar effects was rather impactful in the early Pink Floyd sound, as well as in the music scene in general, to this day people look up to his primitive experiences with fuzz, wah, delay, and so on. In fact, it even influenced David Gilmour, who continued using Syd's rig for some time after replacing him.
Binson Echorec
Produced in Milan, Italy, the Binson's had its peak in the 60s. Mostly because of Pink Floyd's Syd Barrett and David Gilmour. They were unique pedals in their construction, using a specially designed steel/alloy disc or drum, which carried a durable flat metal tape. The drum was driven by a powerful AC motor, in most cases, via a rubber jockey wheel. Record and playback heads were arranged around the drum periphery. In other words, it was basically a mechanical echo unit that was able to record sounds on an analog magnetic drum machine and play it back again with a slight delay to it.
Syd tweaked with the Binson volume input for an overdrive effect and ran the loop in parallel with a dry amp signal, boosting the Binson's maelstrom undertow as a signal.
This pedal really defined the Pink Floyd sound in the '70s, because after inheriting it from Syd Barrett, both David Gilmour and Richard Wright used it to create wonderful sounds that no doubt were quite innovative at the time.
Selmer Buzz-tone
This pedal is a low gain fuzz or high gain boost depending on how you look at it. Syd would put his Buzz-Tone on maximum setting then rolled the guitar volume knob down for some overdrive. Like David Gilmour, Jeff Beck, or Jimi Hendrix, Syd set the fuzz and volume at maximum level and used guitar volume to control gain and fuzz. This Fuzz pedal boosted and clipped the wave input from the guitar into a square waveform. Buzz-Tone's germanium transistors were notorious for a wonky tone in hot clubs, an interstellar overdose of flat sine waves.
Roger Mayer's OCTAVIA
The OCTAVIA produces a sound that is an octave higher than the note you're actually playing. This doubling effect is accomplished through electronic mirror imaging techniques that are program sensitive and also respond to the feedforward inputs of the player. The electronic circuitry is analog in design and will react faithfully to all the subtleties and harmonic overtones from the guitar. The effect produced is very unique but human in quality.
This pedal was really one of the first ones to do this kind of modulation, which really became a trend, especially for fusion improvising players, who nowadays use pedals like the "POG" to emulate this kind of sound.
Selmer Fuzz-Wah
This Selmer version made in 1968 copied the Vox Wah pedal but with a fuzz added to it, it's sound is tremendous. As you can see here, in the advertisement Selmer did for this pedal in 1968, in their words this wah-wah pedal was: "The only pedal which gives you all you need. Fuzz, Wah, Sustain, and combinations of each. All the effects you can possibly want. For guitar or organ."
Wrap up
Barrett was the creative driving force behind Pink Floyd's studio debut, 1967's "The Piper at The Gates of Dawn", but he didn't leave on good terms with the band. Initially described as friendly, joyful, and extroverted, he began to experience personality changes and reportedly states of catatonia. His mental instability and his on-and-off behavior started to become a liability to the band. Nevertheless, this would serve as inspiration for some tunes that would eventually catapult the Floyd into stardom, Syd's mark remains as key to their essence as it does for psychedelic music as a whole.
Barrett's involvement with Pink Floyd was limited. He fronted the band for The Tea Set, in 1965, and he was responsible for renaming the band "The Pink Floyd Sound", eventually it would only be known as "The Pink Floyd". Barrett barely made it to the group's second LP, 1968's "A Saucerful of Secrets", only two songs had his touch, "Set the Controls for the Heart of the Sun" and "Jugband Blues". However, he was ultimately replaced by the time the album was finished. While the band wanted to keep him as a touring member, it simply became impractical and he was soon fully replaced by long-time friend David Gilmour.
Although Syd's actual career didn't last more than seven years, what he was able to do in that time, most artists spend their whole life pursuing and failing. He truly sang his song, inspiring generations to come. He remains a total pop-culture icon, idolized and almost worshiped by people around the world.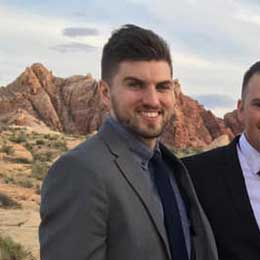 My name is Chris and I've had a passion for music and guitars for as long as I can remember. I started this website with some of my friends who are musicians, music teachers, gear heads, and music enthusiasts so we could provide high-quality guitar and music-related content.
I've been playing guitar since I was 13 years old and am an avid collector. Amps, pedals, guitars, bass, drums, microphones, studio, and recording gear, I love it all.
I was born and raised in Western Pennsylvania. My background is in Electrical Engineering, earning a Bachelor's degree from Youngstown State University. With my engineering experience, I've developed as a designer of guitar amplifiers and effects. A true passion of mine, I've designed, built, and repaired a wide range of guitar amps and electronics. Here at the Guitar Lobby, our aim is to share our passion for Music and gear with the rest of the music community.