Known as one of the purest, most Rock & Roll bands of the '70s, KISS, while controversial with critics, is often hailed as one of the most influential bands of the genre. Founded in 1973, the face-painted foursome remains at the top of American Rock to this day, shocking fans with adrenaline-infused spectacles and a whole lot of extravagance. At the helm for five decades, enduring changing trends and changing personnel, was the KISS Army's beloved Starchild, Paul Stanley.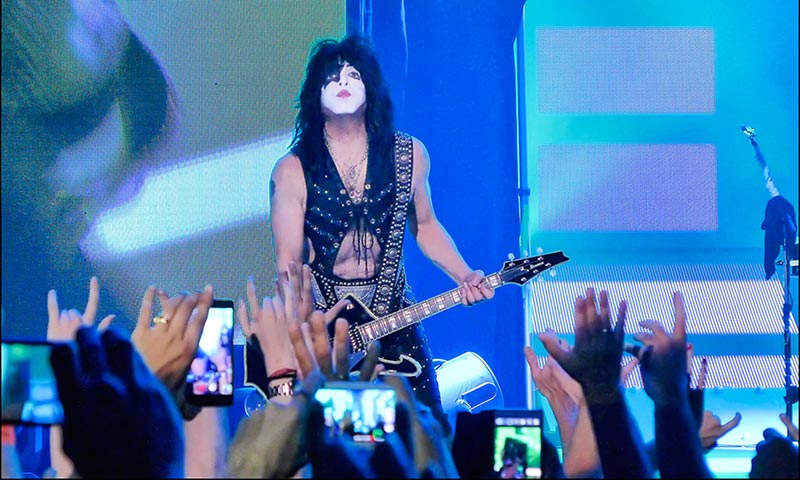 After a few wilderness years following high school, Stanley met a young Gene Simmons, and the two started a band unlike the world had seen before. Paul Stanley's songs, fueled by his powerful vocal range and Keith-Richards-on-steroids rhythm guitar playing, poured out of radios and into arenas all over the planet.
What Guitars Does Paul Stanley Use?
Paul Stanley is best known for playing his own Ibanez signature guitars. Stanley has played a wide range of guitars throughout his career, but since his endorsement with Washburn and Ibanez guitars, Stanley has remained almost exclusive to these two manufacturers.
See the full list of Paul Stanley guitars and gear below.
Ibanez Paul Stanley Signature


| | |
| --- | --- |
| Finish | Black/Broken Mirror/Red |
| Years Used | 1977 to Present |
When KISS visited Japan in 1977, they were greeted by absolute bedlam. The band's larger-than-life stage show, catchy songs, and kabuki-influenced makeup took Japan by storm. In fact, they were so deeply ingrained in Japan's culture of the time that they recorded their second live album, Alive II, at Tokyo's famed Budokan Hall. Sometime around this period, Japanese builders Ibanez approached Paul Stanley with the idea to collaborate on a signature guitar.
Unlike many artists, Paul Stanley was heavily involved in the development and design of his signature Ibanez. He called upon his design talent to contribute to just about every choice regarding this new guitar, from its fret inlays to the binding. The resulting guitar, the Ibanez PS10, has Paul Stanley's in every inch of its DNA.
The PS10 made its first appearance in late 1977, on KISS' American tour. He had three prototypes, which featured split block inlays of pearl and abalone, chrome Grover tuners, and chrome pickup covers. They had Ibanez humbucking pickups. The pickguards were either black or chrome, as was the distinctive Ibanez Quik-Change tailpiece. The control knobs on these guitars (two-volume, one tone) look like black Lucite speed knobs, a hangover from the old Midnight Special. These models featured a mahogany body, maple neck, and luxurious ebony fingerboard. These guitars had elaborate seven-layer binding on the body, with an abalone center. One of the prototypes featured Paul's name inlaid at the twelfth fret, just in case anybody watching the band forgot who exactly was jumping around in the Starchild's costume.
When KISS returned with a new album and tour in 1979, Paul, influenced by disco, wanted a mirror-ball guitar, so that when a spotlight hit the instrument, it would spill beams of light in all directions. The spiritual successor to his rhinestone V, he assigned Ibanez USA rep Jeff Hasselberger the task of creating this effect on his signature guitar.
After a few ill-fated attempts at literally shattering a mirror, he resorted to carving pieces of mirrored glass by hand and arranging them on a PS10-shaped piece of maple. He placed the individual pieces of this Rock and Roll jigsaw at varying angles between 5 and 15 degrees in order to spill light according to Paul's specifications. The edges of these pieces of glass were sanded smooth to avoid carving Paul's hand like a Christmas turkey, and the resulting instrument made its debut later that year. You can see it in all its glory in the video for KISS' smash hit "I Was Made for Lovin' You".
In 2015, Paul Stanley returned to the Ibanez fold, brandishing his Ibanez guitar once more. It's the signature guitar he plays on the current End of the Road tour, and it's the guitar he'll play at KISS' final ever show when it eventually happens. The modern Ibanez PS1, as played by Paul himself, is almost identical to the original 70s model, except with Seymour Duncan pickups rather than Ibanez's own.
The Ibanez Paul Stanley signature line was retired after 1980, as KISS weathered changing fashions and the departure of original drummer Peter Criss. It returned around 1990 for KISS' Revenge tour, and then again during KISS' reunion tour in the 90s, Ever since then, his Ibanez signature series has been a mainstay.
Washburn PS2000/Starfire Signature


| | |
| --- | --- |
| Finish | Black/Broken Mirror/Goldtop |
| Years Used | 1999 to 2002/ 2005 to Present |
Paul's relationship with Washburn guitars began way back in early 1998, when KISS was in the midst of the Psycho Circus era, and leading into their Farewell tour. Paul's initial Washburn signature models were based on his original Ibanez guitar, likely to maintain continuity with KISS's nostalgic return to their 70s makeup and songs. These had mahogany bodies and necks, the star tailpiece, a mirror pickguard, and chrome pickup covers. The pickups are unknown but may have been Seymour Duncans. Variations of this guitar included a black finish, a rhinestone-studded model, the classic shattered mirror, and an extremely limited "rose" finish.
When Paul wrapped up his solo touring in 2007, KISS promptly returned to action with the Alive 35 tour. KISS toured the world, performing their classic album Alive! in full, and this meant yet another line of signature Washburn guitars.
The Alive 35 tour lasted two years, and Paul played a variety of Washburn guitars at the time. Paul mostly stuck to the PS800, and his reissue PS2000. Both of these new Washburn guitars featured mahogany construction, and rosewood fretboards with the pearl/abalone split fret inlays. They had Paul's favored JB and 59 Seymour Duncan pickups in the neck and bridge, respectively.
Washburn released two more signature guitars for Paul Stanley in the 2010s to coincide with tours supporting their new album Monster. These were based on his early KISS guitars, the Firebird and the Flying V. The Firebird-like piece, named the Starfire, was played extensively from 2012 to 2015. The Flying V-type guitar, first produced in 2011, was a single-pickup model reminiscent of Paul's old Flying Vs from the 70s.
Both these guitars had Paul's usual combo of mahogany neck and body, with an ebony fretboard and mirror or chrome hardware and pickguard. However, Paul Stanley's Starfire used Seymour Duncan mini-humbuckers rather than the full-sized JB and 59 humbuckers in his other Washburn models. The PSV used a single Seymour Duncan JB humbucker in the bridge position. Paul played versions of these models in a variety of finishes but mostly preferred them in black, covered in rhinestones, or with the classic cracked mirror finish.
Washburn Paul Stanley Preacher

| | |
| --- | --- |
| Finish | Sunburst/Black/Goldtop/Alpine White |
| Years Used | 2003 to Present |
Stanley's solo career has a certain charm to it, you can see the man in his element, detached from the makeup and glam that defined his career. For such a tenure, Paul decided to do things in a more traditional way, nevertheless, he isn't the type of guy who would just get a traditional six-string and hit the stage. Paul released his Washburn Preacher to accompany him in most of his solo appearances, it's a guitar for him rather than for the KISS Army.
Paul returned to the Washburn fold during a rare break in KISS' hectic schedule. He emerged in 2006 with the album Live to Win, perhaps most famous for the lead single's appearance in South Park. With a full solo tour booked and an album to promote, Paul Stanley equipped himself with a striking Washburn guitar based on one of rock's most iconic instruments, the Gibson Les Paul.
Paul's Washburn Preacher series was based on the Les Paul, with a few Paul Stanley-approved modifications. The Preacher had sharper angles than the curvaceous Les Paul and a more aggressive pointed cutaway. The Preacher PS9200 was mostly used on the Live to Win solo tour through 2006 and 2007, with variations of the model including sunburst, gold top, and black and white all gracing the stage. These guitars featured mahogany necks with ebony (for the black and white models) or rosewood (for the sunburst models) fretboards, mahogany bodies, and Seymour Duncan humbucking pickups. They lacked the star tailpiece that often appeared on Paul's signature guitars.
1960s Gibson Firebird I


| | |
| --- | --- |
| Finish | Sunburst/Black |
| Years Used | 1974 to 1976 |
As seen on the cover of KISS' breakthrough album, Alive!, Paul Stanley was an early devotee of the radical Firebird shape. He first came across the Firebird thanks to a lucrative sponsorship deal KISS made with Gibson guitars, a relationship that was to last through the band's early years into the late 70s. Paul Stanley used this single-pickup guitar quite frequently both live and in the studio during the early KISS days, making its last appearance as Paul's number one guitar as Stanley became a household name, largely sought after by major manufacturers.
Paul acquired this guitar sometime before December 1974, as can be seen in this photo from their Detroit gig. When Paul Stanley picked up this Firebird, it was still in its natural sunburst finish, with the grain of the wood clearly visible beneath the paint. Additionally, the model had a big white pickguard with a Firebird decal and a single pickup in the bridge position. These features, plus its wraparound bridge and chrome pickup cover, mark this guitar as manufactured sometime between 1961 and 1963. The Firebird produced later, from '66 to '67, had the "non-reverse" body with P90 pickups.
Gibson's Firebird was part of their push into more radically shaped guitars, although with its soft curves it's nowhere near as striking as the Explorer or Flying V. Early Firebirds like Paul Stanleys had the guitar's neck going straight through the body (as opposed to a bolt-on neck, or the set neck of a Les Paul), onto which the two "wings" were attached. Both the neck and body were solid mahogany, and the Firebird I sported a rosewood fretboard.
As previously mentioned, Paul Stanley's Gibson Firebird was one of his star pieces and can be seen in all its glory at the Winterland 1975 gig, one of the last times this guitar appeared with its factory finish. By April of that year, the guitar was repainted black. In an interview in 1996, Paul remembered getting the guitar repainted: "I thought it would look cool black. My dad managed an office furniture store and I took it [the Firebird] down there, and one of his guys painted it black." He also changed its factory knobs out for clear Lucite knobs.
The Firebird can be heard all over KISS' classic albums, used regularly in the studio up until Destroyer. Sadly, it was during the recording of this landmark studio album in 1975 that Paul Stanley's beloved Firebird met an untimely end. The album's engineer accidentally snapped the Firebird's neck by yanking on a poorly placed headphone cable. The engineer stated "as it was falling, I leaped across the studio to save it, and just missed catching it. I heard a loud 'Boiiing!' and knew exactly what had happened: the guitar had fallen over and the neck snapped in half at the nut. That was Paul's favorite guitar."
Paul appeared on the following tour with a different Firebird, with a cream-colored pickup, but as Stanley himself put it, "at that point, Gibson made me a handmade replacement, which was really nice, but it was never the same". The replacement was promptly retired, and Paul promoted one of his other Gibson guitars to number one.
Silvertone Sovereign/Apocalypse Signature


| | |
| --- | --- |
| Finish | Black/Broken Mirror/Red Stripes on Black |
| Years Used | 2003 to 2004 |
When KISS completed their Farewell Tour in 2001, many believed the band when they said they were finished touring and recording for good. However, in 2003, KISS re-emerged, with the same costumes, but new members Tommy Thayer and Eric Singer in place of Ace Frehley and Peter Criss. A new version of KISS meant a new signature guitar deal for Paul Stanley. In this case, it led to his relationship with Silvertone.
Silvertone Guitars may be the smallest brand ever to work with Stanley. Originally a Sears catalog, Korean builders Samick bought the Silvertone name around the same time as KISS emerged from the Farewell era. They clearly made Paul Stanley a great offer, and he began playing distinctively shaped Silvertone guitars exclusively on subsequent tours. There were two Silvertone models that Paul played, the Sovereign and the Apocalypse.
The Silvertone Sovereign, was the more conservative of the two, shaped like an asymmetrical Gibson SG or Les Paul double cut. It featured Seymour Duncan pickups, which Paul Stanley began endorsing in the early 21st century. The guitars had cheaper Agathis bodies than the mahogany Paul usually preferred and came in black or a cracked mirror finish.
The Apocalypse, on the other hand, was a far more aggressively shaped guitar. Looking like a hybrid of the Gibson SG and Flying V, the Silvertone Apocalypse also featured a distinctive red stripe down the side of each wing. The Apocalypse had a mahogany body and mahogany set neck. Its rosewood fretboard featured diamond-cut Pearloid inlays, while the six-a-side headstock had Grover tuning machines. The guitar was powered by two high-output Seymour Duncan pickups. Like the Sovereign, this guitar also had a custom shattered mirror finish. Unique to these models was a special Paul Stanley signature tailpiece shaped like a star, variations of which would become features on his later signature guitars.
Paul used these guitars for not one but two KISS live video releases, 2004's Rock the Nation and KISS Alive IV, which featured the Melbourne Symphony Orchestra.
1974 Gibson L6 Midnight Special

| | |
| --- | --- |
| Finish | White/Silverburst |
| Years Used | 1974 to 1975 |
One perk of KISS's early endorsement deal with Gibson was access to bizarre unreleased instruments. Paul Stanley, aptly taking advantage of this, played this strange Gibson for much of KISS' early touring.
The Midnight Special was an ill-fated attempt on Gibson's part to compete with the bolt-on guitars Fender was producing at a lower cost than their top-of-the-line hollow and solid-bodied instruments. The Midnight Special was never advertised in the Gibson catalog, so Paul's guitar may very well have been a rare prototype. Paul remembers its finish as "this weird white sparkle metal-flake finish", although Gibson only ever described it as "white". The Midnight Special was heavily based on the Bill Lawrence-designed L6, with a Schaller Harmonica bridge and a similar pickguard. In a matter of few years before being made available to the public, its finish would later evolve into a silver-sparkle one. However, it boasted laminated maple construction and a bolt-on neck, like a Fender guitar.
Paul described this guitar as sounding "pretty good", which was clearly good enough for the Midnight Special to feature frequently on KISS' relentless touring schedule from '74 to '75. Paul's Firebird held the undisputed number one spot among the ranks, but the Midnight Special made scarce appearances live throughout these early years. It appeared, most notably, during KISS' performance on the Midnight Special TV program.
The L6 Midnight Special's time in Paul Stanley's hands was short-lived, and it always played second fiddle to his beloved Firebird. Following the release of Destroyer and the stratospheric level of fame KISS achieved in its wake, Paul Stanley's guitar collection became much more expansive and significantly more expensive. Chief among these new acquisitions was his iconic Flying V.
Popular Related Article: Lindsey Buckingham Rig Rundown
1975 Gibson Flying V

| | |
| --- | --- |
| Finish | Black |
| Years Used | 1975 to 1978 |
Yet another radically shaped Gibson guitar to suit KISS' radical stage show. Paul Stanley first appeared with a Flying V in his hands around the end of the Dressed to Kill tour, but his Firebird maintained number one status until its demise during the Destroyer recording sessions.
Paul Stanley, at this point, took a page out of bandmate Ace Frehley's book and started modifying his Gibson guitars. Although he appeared with a V endowed with a distinctive mirror pickguard around this time, that second V was quickly retired (unless it was a temporary pickguard on his main V) and the white-pickguard model emerged with some serious modifications. Paul severely altered this guitar into a no-frills rock machine. He took out the neck pickup, preferring only to use the bridge, and got rid of one of the guitar's control knobs. Its stock ABR-1 bridge was also replaced with a Schaller harmonica bridge, perhaps the only feature from the Midnight Special Paul carried over to another guitar. Paul's V was most likely a 1975 model. As the guitar was heavily customized, it's difficult to tell for sure, however, a few giveaways imply its age.
The headstock on Stanley's guitar is more reasonably sized, unlike previous models, so that takes the sixties reissues out of the running. That leaves either 1971 or 1975 as the year of production for Paul's severely modded V. Its lucite control knobs were non-stock, as both the '71 and '75 guitars came with witch's hat knobs. The most compelling argument for Paul's guitar as a 1975 model is availability. Gibson made only 250 "medallion" Vs in '71, while they produced over a thousand in '75. Paul eventually played two Flying Vs in high rotation, one being the aforementioned "mirror" V, and the other with a white pickguard. He eventually put a DiMarzio pickup in both, as was KISS' tonal preference at the time.
Sometime in 1976, Paul Stanley took to decorating his guitars backstage, and eventually settled on gluing rhinestones to his Flying V! This guitar appeared live several times in 1976 but was retired sometime before the Love Gun tour. It lived out the rest of its days in one of KISS' warehouses full of the band's old gear. Sadly, it was stolen in the '90s.
Paul briefly used a custom-built V from American builder Paul LoBue. This guitar was not long in Stanley's world, however, as it was promptly stolen from the studio in which KISS was recording their sophomore album, Hotter than Hell.
By 1978, Paul was still playing his Flying Vs, but they were relegated to second place in his rig lineup. The Gibson Flying V is one of my personal favorite Paul Stanley guitars ever.
Gibson Marauder

| | |
| --- | --- |
| Finish | Black/ Black with Cracked Mirror Pickguard |
| Years Used | 1976 to 1980 |
Many claim that Paul Stanley got his hands on this, more affordable, Gibson Marauder for one reason only… to ultimately smash it in one climatic and iconic live performance. In true KISS fashion, Paul needed to put on a show, and so, this six-string helped him in the process.
Perhaps to the chagrin of Gibson's luthiers (and to the delight of their accountants), Paul wanted to mimic The Who's Pete Townshend, and punctuate KISS' incendiary live performance with instrument smashing. Since all of the band members were still relatively broke back in the mid-70s, Paul opted to break Gibson's cheapest offering on stage every night, in this case, the low-end Marauder.
Gibson's Marauders were, like the Midnight Special, cheap, maple-bodied guitars with bolt-on necks and a single-coil pickup. Paul had no great affection for his catalog, telling Vintage Guitar in 1997 that "Truly, the Marauder was the guitar that I broke on stage every night, I never played one live! They were horrible."
Paul may have advertised the Marauder, but they appeared on no albums and were barely played live up until the end of the show when he needed to smash something.
Popular Related Article: What Guitar Does Kirk Hammett Play?
Steve Carr Paul Stanley Star

| | |
| --- | --- |
| Finish | Sparkling Silver |
| Years Used | 1980 to Unspecified |
Around 1980, guitar builder Steve Carr (who also made Gene Simmons' iconic Axe bass and Ace Frehley's mini Explorer) created an instrument for Paul Stanley to match his onstage persona. The resulting piece, a rhinestone-spangled guitar shaped like a star, appeared in promotional appearances for the band but was rarely played live. Nevertheless, it is one of the most iconic pieces on Paul's catalog, since his being drawn and recorded with it for every pop-culture-related event with KISS.
It made a notable appearance on Countdown, an Australian music TV show, in 1980, as seen in the video. The Carr star's final airing was during a Music from the Elder promotional tour in Mexico. Stanley was last seen with his Star guitar back in 1982, but ever since then, it's a tad of a mystery what happened to it. It's easy to speculate that it might just be in one of the legendary KISS vault's
Hamer Standard Custom

| | |
| --- | --- |
| Finish | Custom Tiger Stripes Artwork |
| Years Used | 1979 to 1983 |
The Hamer Standard Custom first appeared on the Return of KISS tour. In 1979, Paul's Ibanez PS10 remained his number one guitar, but he started branching out into other instruments for backup duty. Paul Hamer and Jol Dantzig founded Hamer guitars in 1973. They initially sought to replicate the classic Gibson guitars in the wake of Gibson's mid-70s identity crisis and became boutique guitar makers to the stars.
All of Paul Stanley's Hamer pieces were custom-built. His original Standard was customized with distinctive models and finishes, however, the most frequented unique Hamer model was the explorer. The Hamer Standard appeared, refinished with a tiger-stripe paint job, on the Creatures of the Night tour. It also featured split inlays in his pearl-and-abalone design, just like the PS10. The bridge was a Sustain Block in place of the more commonplace tune-o-matic, and the pickup selector was on the upper bout as it would be on a Les Paul. The Hamer Standard had a mahogany body and neck with an ebony fretboard.
Paul used the Custom Standard extensively until 1983, including during KISS' Unmasked tour and their trip to Australia.
Popular Related Article: What Kind Of Guitar Does Angus Young Play?
BC Rich Eagle

| | |
| --- | --- |
| Finish | Leopard Print |
| Years Used | 1982 to 1988 |
The BC Rich Eagle began its tenure in KISS as a backup to Paul Stanley's favored Gibson-style guitars, including the Hamer and the Ibanez. However, it remained a mainstay of KISS performances throughout the no-makeup era of the 1980s. It can be seen on the Creatures tour video.
Paul Stanley first played this distinctive BC Rich model around the Creatures of the Night era, with its animal-print finish matching the renewed aesthetic of the band at the time. Paul may first have been exposed to the BC Rich line of guitars through studio musician Bob Kulick, who contributed heavily to the Creatures of the Night sessions. Although BC Rich was founded in the late 60s, it was in the hair-metal heyday of the 1980s that their guitars really took off. The Mockingbird and Warlock particularly penetrated the heavy metal subculture, wielded by the likes of Motley Crue, Slash, Megadeth, and, as detailed here, Paul Stanley.
Paul's BC Rich Eagle featured neck-through-body construction, EMG pickups (which may have been replaced with a DiMarzio Super IIin the bridge at some point), and Grover Rotomatic Imperial tuners, later replaced with Schaller M6. Paul's Eagle had all-maple construction and what looks like a rosewood fretboard. Interestingly, it featured 24 frets, as opposed to the 21 or 22 more commonly seen on Paul Stanley's guitars.
The Eagle endured with KISS throughout the 80s, appearing on the Animalize live video, although it was relegated to backup duties with other BC Rich guitars occupying a prime position in Paul's arsenal.
BC Rich Mockingbird

| | |
| --- | --- |
| Finish | Zebra Striped/Red/Cracked Mirror |
| Years Used | 1983 to 1984 |
Another BC Rich guitar Paul Stanley liked to use, albeit sparingly, was the Mockingbird. Paul's original Mockingbird looked more like a classic KISS guitar, with a black finish studded with gemstones reminiscent of the rhinestone V Paul wielded in the 70s. The Mockingbird featured a maple body, EMG pickups, Rotomatic tuners, and the characteristic neck-through-body construction of Paul's other BC Rich guitars. While the Mockingbird enjoyed use through the Lick it Up era, it became an increasingly rare sight on the Animalize tour, eventually retiring around 1984.
BC Rich Assassin
| | |
| --- | --- |
| Finish | Custom Military Artwork |
| Years Used | 1988 to 1989 |
Rarely used, but captured on video in the late 80s, was Paul Stanley's BC Rich Assassin. Superstrat guitars were all the rage among metal bands in the 80s, and Paul Stanley was not immune to their charms. Although Paul Stanley usually preferred Gibson-style guitars, he dabbled in this Fender-influenced model from endorsees BC Rich during the Crazy Nights era.
The piece can be seen in the video while opening KISS' Tokyo concert on the Crazy Nights tour. Paul had a few BC Rich Strat-type guitars, including one with stars and stripes US flag finish.
Paul Stanley Amps Overview
Surprisingly, considering the sheer variety of Paul Stanley's guitars over the years, he has endorsed very few amp manufacturers, and Paul seems to have stuck to a roaring Marshall-type sound for virtually his entire career.
Table Showing Each Guitar Paul Stanley Played at Every Point of His Career
| Make | Model | Color/Finish | Years |
| --- | --- | --- | --- |
| Gibson | L6 Midnight Special | White/Silverburst | 1974 to 1975 |
| Gibson | 1960s Firebird I | Sunburst/Black | 1974 to 1976 |
| Gibson | Flying V | Black | 1975 to 1978 |
| Gibson | Marauder | Black/ Black with Cracked Mirror Pickguard | 1976 to 1980 |
| Ibanez | Paul Stanley Signature | Black/Broken Mirror/Red | 1977 to Present |
| Hamer | Standard Custom | Custom Tiger Stripes Artwork | 1979 to 1983 |
| Steve Carr | Paul Stanley Star | Sparkling Silver | 1980 to Unspecified |
| B.C Rich | Eagle | Leopard Print | 1982 to 1988 |
| BC Rich | Mockingbird | Zebra Striped/Red/Cracked Mirror | 1983 to 1984 |
| BC Rich | Assassin | Custom Military Artwork | 1988 to 1989 |
| Washburn | PS2000/Starfire Signature | Black/Broken Mirror/Goldtop | 1999 to 2002/ 2005 to Present |
| Washburn | Paul Stanley Preacher | Sunburst/Black/Goldtop/Alpine White | 2003 to Present |
| Silvertone | Sovereign/Apocalypse Signature | Black/Broken Mirror/Red Stripes on Black | 2003 to 2004 |
Marshall Super Lead
Paul Stanley told Vintage Guitar in 1997 that "The soul of my sound is Marshall. It always has been." When KISS first began touring, such as in this performance of "She" from 1976, they used the classic "wall" of Marshall stacks. This was most likely the Marshall Super Lead, as used by Paul's favorite British Invasion acts. In the Vintage Guitar interview, Paul discusses KISS using non-master volume Super Leads as early as 1973.
Marshall JCM900
As this advertisement indicates, KISS was playing Marshall JCM900 heads around the Reunion era, and likely beforehand. These high-gain amps came out in the early 90s, attempting to cater to distortion-hungry metal bands. KISS' JCM900s featured 12AX7 tubes and inbuilt gain staging.
Custom Fireball ENGL 100 watt head
Paul Stanley, since at least 2014, plays through this custom head from ENGL. Paul's custom head is supposedly based on the Ritchie Blackmore signature model, but he uses EL84 tubes to achieve a vintage-sounding crunch more reminiscent of KISS' early work. He uses this amp to this day.
Randall Colossus
Paul Stanley briefly endorsed Randall amps, a mid-90s amp builder catering to modern high-gain players. His signature model, the Randall Colossus, was a 300-watt solid-state amp (as opposed to the all-tube amps Paul is better known for using). Paul's relationship with Randall was short-lived, however, confined largely to the Psycho Circus and Farewell era, and he moved on to other amps shortly afterward.
Paul Stanley Pedals and Effects
Paul Stanley describes himself as a "guitar-and-Marshall man", and he rarely uses effects in his rig, if ever. The only effect he uses, as revealed by his guitar tech, is the Boss NS-2 Noise Suppressor. This is to minimize feedback and unwanted string noise live when Stanley stops playing guitar to concentrate on his singing.
Wrap Up
Paul Stanley wasn't always flying through stadiums in six-inch platforms and a full face of makeup. Once upon a time, before KISS took over the world, he was a quiet, Jewish kid from Upper Manhattan, spinning classic Soul and Rock and Roll records on his parents' turntable. A gifted singer and visual artist from an early age, Stanley initially attended the prestigious High School of Music & Art in New York City. Young Stanley's obsession with Rock N' Roll, however, began when he first landed upon the Beatles' and The Rolling Stones' sound, thus embarking on a musical career that would set the world on fire (or arenas – at the very least).
Stanley, ever the entertainer, needed bold guitars to match the screaming, flamboyant persona he adopted on stage with KISS. Early on, he, like many others inspired by the British Invasion bands of the late sixties, used dramatically shaped Gibson guitars, the cheaper the better. Having said that, once KISS had a few hits under their collective belts, Stanley took on endorsements with various companies, including Ibanez, Washburn, BC Rich, and Silvertone. Although a chameleon when it comes to brands, manufacturers, and the shapes of his guitars so frequently, the core of Paul Stanley's tone remained the same.
Despite being considered by many as more of a showman than anything else, KISS's axeman is one of the most bombastic players of his era. Knowing when to back down, and went to bolster the distortion for his mate, Ace Frehley, Stanley is an all-around guitarist.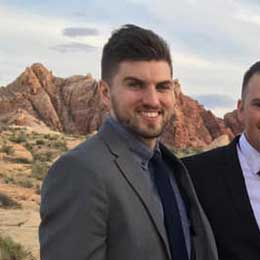 My name is Chris and I've had a passion for music and guitars for as long as I can remember. I started this website with some of my friends who are musicians, music teachers, gear heads, and music enthusiasts so we could provide high-quality guitar and music-related content.
I've been playing guitar since I was 13 years old and am an avid collector. Amps, pedals, guitars, bass, drums, microphones, studio, and recording gear, I love it all.
I was born and raised in Western Pennsylvania. My background is in Electrical Engineering, earning a Bachelor's degree from Youngstown State University. With my engineering experience, I've developed as a designer of guitar amplifiers and effects. A true passion of mine, I've designed, built, and repaired a wide range of guitar amps and electronics. Here at the Guitar Lobby, our aim is to share our passion for Music and gear with the rest of the music community.