From his eccentric guitar solo on Hotel California to 8 minutes of pure blues bliss on Life's Been Good, Joe Walsh is nothing short of an American rock icon. As The Eagles' lead guitarist, Joe has inspired millions of guitar players worldwide, including Jimmy Page, Eric Clapton, and Pete Townshend (all of whom are legends in their own right). Walsh is a classic Rock N' Roll guitarist, regarded as one of the genre's most distinguishing artists.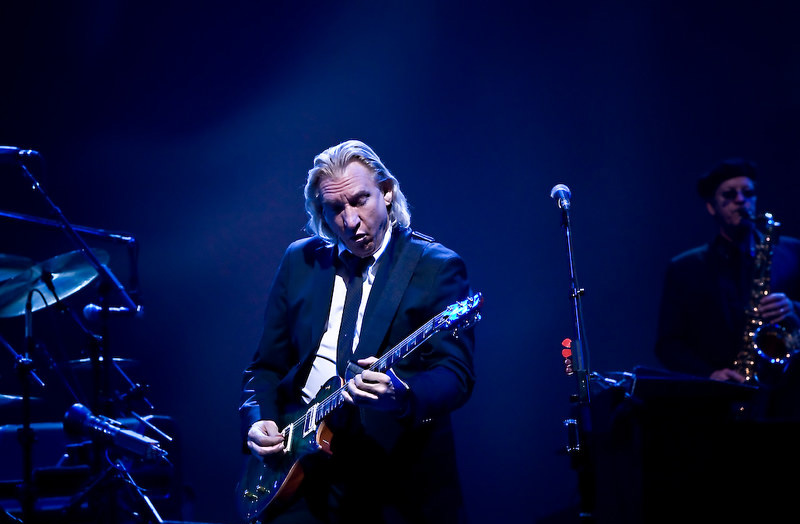 His rhythm playing has a jagged and syncopated brilliance with no competition. He's responsible for inventing a large portion of the '70s rock sounds that we know and love today.
What Guitar Does Joe Walsh Play?
Joe Walsh primarily plays Gibson Les Paul and Fender Stratocaster model guitars. He credits their all-time classical sound and easy dynamics as the main reason he loves these models. Joe also has signature models issued to his name with other manufacturers including Carvin, Duesenberg, and PRS.
See the full list of Joe Walsh guitars and gear below.
1958 Gibson Les Paul Goldtop

| | |
| --- | --- |
| Finish | Goldtop |
| Years Used | 1970 to Present |
While the story behind Walsh acquiring this stapled six-string might be unknown, some theories point out that Joe bought it just after selling his original 59 Les Paul to Pete Townshend. Joe's Goldtop LP made some appearances with The Eagles, however, it was a rare sight given Don Fedler's go-to EDS sound, which left little room for the humbucking sound of Walsh's Les Paul. Nevertheless, this guitar finally got a proper taste of the limelight in the mid-80s when Joe went solo.
Joe's Goldtop Gibson Les Paul is from the 1950s, known as Gibson's Golden Era, particularly 1957-1959. This is one of the final Les Pauls built before Gibson switched from gold to sunburst finish. It boasts a mahogany body and a neck with a maple top. These contribute to the weight and tone of the instrument. It has a Tune-O-Matic bridge that is easily adjustable and Kluson deluxe tuners, which add to the premium feel of this Goldtop Les Paul. A buttery smooth rosewood fretboard with Gibson's trademark trapezium inlays is also included.
The two PAF humbucker pickups in this guitar are legends in their own right, capable of producing a wide range of tones that have won hearts for decades. Joe has stated that the sound and design of this guitar are among the best, making this guitar one of his all-time favorite guitars. He regularly uses it to inspire creativity when writing new songs.
He also owns several versions of the Goldtop Lespaul, including the one with a Bigsby tremolo bridge with a removed pickguard that he used in his 1995 concert performance of 'Life's Been Good,' as well as the '58 reissue version received as a gift from his wife.
Fender Stratocaster Elite

| | |
| --- | --- |
| Finish | Cream White |
| Years Used | 1983 to 2012 |
Joe has often credited this particular enhanced Stratocaster for his eclectic fused solo sound. Some claim that Walsh got his guitars during the last leg of The Eagles first line-up in 1980, but it wasn't until 1983 that this Elite Fender Strat made an official appearance on stage with Joe, nevertheless, it's been a mainstay on his rig ever since then.
The Fender Elite Stratocaster is an attempt to incorporate active electronics into an improved Stratocaster design. While the Elite shares many features with a standard Stratocaster, it has a different tremolo bridge, called the 'Freeflyte' and individual push-pickup selections.
This guitar model has an alder body, a maple neck, and a maple fingerboard with 21 jumbo frets, which suits Joe's preferences. The 'Freeflyte' tremolo mechanism is an upgrade from the earlier versions of the Strats and allows Joe to be more creative with his whammy.
Other features include three unique Alnico 2 single-coil pickups covered in gold and an internal dummy coil for hum cancellation, which was unusual and ahead of its time. The pickups include the standard three push-button pickup selection controls and a master volume knob, TBX equalizer, and MDX booster.
These extras can make this Fender Elite Strat sound like a humbucker, making it far more versatile and distinct from its competitors. The Elite series is unquestionably a flagship example of Fender's innovative capabilities, and Joe is one of the fortunate owners of this beauty.
Fender Eric Clapton Signature Stratocaster

| | |
| --- | --- |
| Finish | Black |
| Years Used | 1988 to Present |
This Fender Signature Eric Clapton Stratocaster is essentially a reissue of a vintage 1957 Stratocaster. It has an alder body and a soft V-shaped rosewood neck from the '54 reissue that replaced the original maple neck because Joe prefers the tonal qualities of rosewood over maple.
Three Fender Vintage Noiseless pickups, powered by an active MDX mid-boost circuit with 25 dB of gain and TBX tone controls, are fitted on this guitar. These allow Joe to replicate Eric Clapton's tone precisely.
Joe has frequently been seen with this instrument during his tours with the Eagles. One of the most memorable appearances of this guitar was at the 'Strat Pack' concert at Wembley in 2004, which commemorated the 50th anniversary of the Stratocaster.
Rickenbacker 230 GF

| | |
| --- | --- |
| Finish | Jet Black |
| Years Used | 1992 to Unspecified |
Glenn Frey, a renowned solo recording artist and co-founder of the famed "Eagles," collaborated with Rickenbacker to produce the Rickenbacker 230 GF, his signature guitar.
He gave Joe one of these guitars as soon as he got his hands on them. Glenn's goal of returning to simplicity in a period of ever-increasing complexity inspired the design of the 230 GF. It boasts remarkable clarity, practicality, and longevity while renouncing austerity and ostentation.
It incorporates the shape of Rickenbacker's future Series 200/2000 solid-body guitars and refines it with additional contours for comfort. Solid maple makes up the body, neck, and fretboard, all finished in a high-gloss jet black lacquer. This finish gives the instrument a more majestic appearance.
The Rickenbacker 230 GF also has two high-output humbucking pickups that have been carefully voiced to give a broad spectrum of tones, from warm to loud. These guitars' sounds are refined by a pickup-selector, single volume knob, and other tone controls. Joe primarily employs this guitar for slide work. In the Netflix documentary 'History of the Eagles,' he can also be seen playing this guitar in his studio for the song "Hell Freezes Over".
1977 Fender Telecaster Custom

| | |
| --- | --- |
| Finish | Sunburst |
| Years Used | 1977 to Present |
This 1977 Fender Telecaster Custom is a stunning vintage beauty with a slim, contoured maple neck and black dot inlays. The neck is silky smooth and feels like a dream. It has a lovely 3-tone sunburst finish that contributes to the vintage feel.
This instrument has two original Fender Wide Range humbuckers with embossed covers and completely dominates the stage. The pickups are controlled by a three-way pickup switch and dual volume and tone control knobs embellished with black 'witch hat' knobs.
With all of these premium qualities and the intense tone that this Fender Telecaster provides, it is no wonder that a pro-guitarist like Joe, who is also from that era, has one of these beauties. Joe displayed this guitar during a live concert in 1977, when he sang songs like 'Hotel California,' 'One of These Nights,' and 'Take it Easy.'
1959 Gibson Les Paul Standard

| | |
| --- | --- |
| Finish | Cherry Sunburst |
| Years Used | 1959 to 1969 |
Joe Walsh has cited this particular guitar as one of the most important ones of his career. It was the instrument that helped him find a certain balance and sonic chemistry between him and fellow Mesles bandmate Larry Lewis. Whenever Lewis would go for his preferred single-coil axes, Joe would find a perfectly suitable tone with this legendary 59 Les Paul. Its fair to note that this was Walsh's main choice during his time with The Mesles, although there's two singles that hold that era as a part of his career, this LP would also be an important part of the James Gang.
Les Pauls from the '59s are considered the pinnacle of American electric guitar craftsmanship and are among the most collectible vintage guitars on the market. This flagship guitar is one of the best models of his generation. His '59s Gibson Les Paul has a stunning flamed maple top with a cherry sunburst finish that is only found on Les Pauls from this era.
It's also equipped with an original set of PAF humbuckers. These pickups have been used on almost every major rock album from the 1960s. Another benefit of this guitar is that it's one of the most adaptable you'll find in terms of appearance and sound. Joe often flaunted this rare beauty during his live performances.
Another guitar hero from Joe's time, Jimmy Page of Led Zeppelin, managed to get his hands on this guitar. Page bought this guitar from Joe for $500 in 1969. This guitar was his first Les Paul, and it went on to become his famed "number 1". Gibson Custom Shop meticulously inspected this rare original '59 Les Paul Standard, even down to the smallest details, and reproduced it with extraordinary precision in limited numbers.
Gretsch 6120

| | |
| --- | --- |
| Finish | Western Orange |
| Years Used | 1957 to 1970 |
The Gretsch 6120 is one of the most prestigious axes Joe has ever had the pleasure of handling. It is a hollow-body electric guitar that first appeared in the mid-1950s. The 6120 was the first in a series of Chet Atkins-signed Gretsch guitars. It has a laminated 16″ maple body with a bound ebony fretboard and the distinctive neoclassic fret inlays known as 'thumbnails.'
This Gretsch guitar has one of the cleanest tones globally, thanks to a pair of Gretsch's own 'Filtertron' humbucking pickups controlled by a master volume knob, a tone switch, and a pickup selector. It also included a premium Bigsby tremolo tailpiece, which is another premium piece that contributes to the overall beauty of this guitar.
Joe had this guitar in his arsenal until 1970 when he gave it as a gift to Pete Townshend of the famous band 'The Who,' who used it to record albums such as 'Who's Next' and 'Quadrophenia'. Many legendary guitarists, including Stray Cats' Brian Setzer and The Cramps' Poison Ivy Rorschach, loved and adored this Chet Atkins signature Gretsch model.
Duesenberg Joe Walsh Signature

| | |
| --- | --- |
| Finish | Gold Burst |
| Years Used | 2015 to Present |
Joe Walsh collaborated with Duesenberg to design a guitar that incorporated both of his favorite tones, the classic rock crunch that Joe is famous for, and the single-coil era of the 60s. The Joe Walsh Alliance Series includes several tidbits about Joe's style and personality.
Because of Joe's interest in radio, the fretboard inlays spell out his name in morse code, and the Tibetan Knot between each pickup is a symbol that has special significance to him that he also sports as a tattoo.
This guitar's top is composed of laminated spruce, while the body and neck are maples. It houses a LittleToaster mini-humbucker and a SingleTwin Mini noiseless single coil which provides delicious tones that are open, responsive, and transparent.
These pickups are an odd couple in the Duesenberg roster. In addition to its distinctive semi-hollow sound, this design gives the guitar a thinner solid-body feel. This guitar features a unique radiator vibrato based on the original Duesenberg Diamond Deluxe Vibrato, which provides a buttery smooth action, dependable tuning stability, and extraordinary string-changing ease. The vibrato even has golden accents to suit Joe's taste.
Joe is a passionate guitar nerd who enjoys tinkering with the hardware on his guitars. As a result, the hardware on this Joe Walsh signature is a combination of nickel and gold. Another exciting feature on this guitar is Joe's name spelled out in morse code on the fretboard. Overall this guitar is a result of beautiful craftsmanship and a great addition to Joe's arsenal.
Carvin Custom Shop CT6M/CS6 California


| | |
| --- | --- |
| Finish | Orange Burst/Deep Burst/Deep Black Burst |
| Years Used | 2004 to Present |
Joe first saw this instrument in an ad in the back of one of the magazines. He was familiar with Carvin from the 1960s and had already used Carvin amps before purchasing this guitar, which according to him, are delightful and reliable. So, when Joe's close friend Frank Zappa complimented Carvin and asked him to contact the guitar company, he opted to get a few Carvin custom models.
The Carvin CT6M has a 20mm flamed-maple top just like the Californian Cut CS6 sports a Deep Black and Brown Burst finish. It extends from the body's edge to the natural wood faux binding, giving it a genuinely premium appearance. These models feature a pair of Carvin Vintage Alnico humbuckers (C22B and C22N), along with a three-way pickup selector, a master volume knob. It also has a master tone control with a push/pull switch to separate the two pickups.
It boasts a dead-on straight neck with a flat U-profile and extremely low action. Joe also likes that the guitar's bridge is built into the body rather than atop screws. He even claims that no other guitar manufacturers, including Gibson, have agreed to do so before. The guitar's double-cut body design and the short neck heel are ideal for Joe's huge hands, allowing him easy access to even the highest fret.
Joe has multiple custom guitar models from several guitar makers. Still, he admits that no other manufacturer allowed him to get as involved with the design process as he could with Carvin. He received a lot of say in all the different aspects of this custom CT6M.
On another note recent years have seen Joe replacing some of his traditional Les Pauls with his Carvin CS6 signatures. The reason behind being the fact that the sound coming form the guitar was designed under Walsh's specifications, meaning that in his book, this is the enhanced sound of Gibson's staple with his trademark on it. Furthermore, these models have made several appearances both live and on studio, ever since Joe first got his hands on them back in the early 2000s.
Fender Custom Shop Gold Sparkle Telecaster

| | |
| --- | --- |
| Finish | Gold Sparkle |
| Years Used | Unspecified |
Fender released a limited edition run of Joe's Gold Sparkle Custom Shop Telecasters in the mid-1990s. It has the "Lucite" coating that Fender has used on their "Sparkle" finishes over the years.
This modified Telecaster's specs are almost identical to those of a 1965 Telecaster. It boasts a solid alder body with a rosewood veneer fingerboard and a bolt-on maple neck.
The one-piece neck/fretboard and the renowned "spaghetti" symbol are included on this Gold Sparkle custom Tele. Then there are the well-known Kluson tuners too. The pickup on this guitar sounds cutting, twangy, and snarly, just like the standard mid-60s Tele bridge pickup. Joe has been seen using this guitar in a 1995 performance of "The Girl From Yesterday."
Duesenberg Double Cat

| | |
| --- | --- |
| Finish | Black/ Sunburst |
| Years Used | Unspecified |
The Double Cat is another one of the Duesenberg guitars that Joe owns. It has a Cat Eye F-Soundhole and deep cutaways that give it a distinct personality. This guitar's body is built of solid alder with a flat maple top. The Double Cat's distinctive design of a robust but chambered alder body, a flat top, and a one-piece maple neck gives it the characteristic tone that performers like Joe admired.
The bridge is fitted with Duessenberg's traditionally wound GrandVintage humbucker, while the neck is equipped with the mouthwatering Domino P90 single-coil pickup. Both pickups have specific wiring in the middle position that separates certain low-end frequencies from the humbucker signal. Joe gets open, varied tones as a result of this. Perfect for crunchy blues.
The fretboard is also meticulously pleked (a special fret leveling technique) and finished by hand, resulting in exceptional playability and smoothness. The Duesenberg Diamond Deluxe Tremola featured in this guitar claims to be one of the best of its kind, with outstanding tuning stability. The Duesenberg Double Cat has all the makings of being one of Joe's favorite instruments, and he truly cherishes this particular model.
Gretsch Silver Sparkle Duo Jet

| | |
| --- | --- |
| Finish | Silver Sparkle |
| Years Used | Unspecified |
We already know that Joe is quite fond of Gretsch Guitars. This Gretsch Silver Sparkle Jet is another Gretsch family member in his collection. It's one of the guitars that's been responsible for some of rock's most iconic sounds.
This Gretsch Jet features a chambered mahogany body with a maple top that not only looks great but also offers a robust, controlled middle. It has a pair of High Sensitive 'FilterTron' pickups, which, unlike most humbuckers, provide Joe with a broad, balanced, and open tone with a single-coil bite that cuts through the mix.
Thanks to these pickups and the expressiveness of a Bigsby vibrato tailpiece, Joe can be more creative with his playing style. Overall, this guitar sounds as wonderful as it looks, and it has a distinct vintage flavor. Joe has only been seen with this guitar a few times on stage, but it is something he enjoys flaunting.
Timetable Showing Each Guitar Joe Walsh Has Played Throughout His Career
| Make | Model | Color/Finish | Years |
| --- | --- | --- | --- |
| Gretsch | Silver Sparkle Duo Jet | Silver Sparkle | Unspecified |
| Duesenberg | Double Cat | Black/ Sunburst | Unspecified |
| Fender | Custom Shop Gold Sparkle Telecaster | Gold Sparkle | Unspecified |
| Gretsch | 6120 | Western Orange | 1957 to 1970 |
| Gibson | 1959 Les Paul Standard | Cherry Sunburst | 1959 to 1969 |
| Gibson | 1958 Les Paul Goldtop | Goldtop | 1970 to Present |
| Fender | 1977 Telecaster Custom | Sunburst | 1977 to Present |
| Fender | Stratocaster Elite | Cream White | 1983 to 2012 |
| Fender | Eric Clapton Signature Stratocaster | Black | 1988 to Present |
| Rickenbacker | 230 GF | Jet Black | 1992 to Unspecified |
| Carvin | Custom Shop CT6M/CS6 California | Orange Burst/Deep Burst/Deep Black Burst | 2004 to Present |
| Duesenberg | Joe Walsh Signature | Gold Burst | 2015 to Present |
Joe Walsh Amplifier Overview
Fender Blackface Champ
Years Used: 1964 to 1970
In the '60s, Fender introduced the Blackface Champ, a 5-watt guitar combo amp. Powered by a single 6V6 tube, the 8″ speaker in this amp can be pushed to its limits, which is also one of the reasons it became one of the most popular guitar amps of the 1970s.
It is really loud and has a lot of depth, especially when miked close to the speakers. Thanks to this amp's innovative and straightforward circuit, it produces a delicious tone that is perfect for recording purposes. Joe used this amp and a Tele for recording 'Funk #49', a significant hit from the '70s.
Roland JC-120 Jazz Chorus
Years Used: 1975 to 1984
Joe's JC-120 Jazz Chorus is another classic guitar amp from the '70s that has remained popular ever since. It's one of Roland's most popular models, and it's been utilized by guitarists around the world as a standard for a long time.
The JC-120's Dimensional Space Chorus effect is as well-known as its distinct clean tone. This amplifier was the first to use the chorus effect, which is now as popular among guitarists as tea and bread. Joe was able to significantly improve the quality of his sound with the use of a natural stereo chorus effect.
Its chorus nevertheless delivers an unparalleled tonal experience, filling the stage with luscious, immersive sound, even when used in true stereo mode. The amp's sturdy construction makes it ideal for musicians like Joe, who frequently travel with their gear. In 1983, at the second US event, Joe used a pair of these on stage.
Vox AC30
Years Used: Unspecified
The Vox AC30 guitar amplifier made was first introduced in 1958 to the increasing demand for louder amplifiers. It has become well-known for its chimey high-ends, an essential requirement for rock musicians like Joe.
The AC30 Custom can produce both charming, clean tones and rowdy overdriven tones, a quality that all guitarists, including Joe, absolutely adore. This may be VOX's most renowned amplifier and the amplifier that powered the so-called 'British Invasion, including the legendary AC/DC. He likes this amp a lot because, according to him, it sounds phenomenal with Fender guitars.
Dr. Z Z-Master Joe Walsh Signature
Years Used: 2019 to Present
The Dr. Z Z-Master is Joe's signature guitar amplifier. This amp came into existence when Joe Walsh approached Dr. Z in 2018 to recreate one of his favorite amps- the '59 tweed Bandmaster amp, which he gave to Pete Townshend.
The Dr. Z Z-Master provides Joe with a gorgeous tube-soaked tone that is versatile enough to meet Joe's playing style and his extensive, one-of-a-kind guitar collection. It has two internally blended voices with independent volume knobs that can generate a fantastic range of audio textures.
There are also Bass, Treble, and Presence controls that Joe can utilize to fine-tune his tone. The sound of the Z-Master amp is as distinctive as the man whose autograph appears on its eye-catching, vintage-style grille.
Carvin Nomad
Joe has used this Carvin Amp on stage frequently, and he says it is a highly reliable Amp. It's a powerful guitar amp that can be loud on any stage. It contains 50 all-tube watts of power and a single GT12 speaker for a clear and distinct sound, all while weighing only forty pounds.
Joe can effortlessly dial in powerful lead tones and rhythm tones, as well as everything in between, using the Carvin Nomad 112's twin channels and different level settings. It also includes digital reverb to help him in creating luscious sound textures and atmospheres.
The Carvin Nomad also has a line output connection, which feeds a cabinet-voiced signal directly to the mixer. This is more appropriate for Joe's needs, as he primarily uses this amp on tours for live performances. This Carvin amp is an essential piece of gear in Joe's arsenal, and he even claimed that he couldn't blow up one of these despite numerous attempts.
Roland CUBE-60
With a 12″ speaker, the Roland CUBE-60 is one of the most powerful and flexible amplifiers. An independent Delay/Reverb processor is included in this amp along with some other Roland's world-class effects like Chorus, Flanger, Phaser, and Tremolo. A Footswitch control is also available to switch channels and turn delay/reverb and other effects on/off.
Despite being so capable, the CUBE 60 has a compact and lightweight design. This makes it more suited to Joe's requirements as he is on tours a lot. Joe has been seen using the Roland CUBE amp very frequently.
According to one of his interviews, Joe had used these cube amps a lot in early Eagles days when 'Hotel California' came out and also while recording 'Rocky Mountain Way' to drive the talkbox for that unique guitar tone.
Joe Walsh Pedals and Effects Overview
Boss OS-2 OverDrive/Distortion
Years Used: 1990 to present
The Boss OS-2 is one of Joe's regular go-to pedals that he carries almost always during tours. It combines distortion and overdrive effects in a single pedal. He can use the effects either individually or combine them to give a unique, flavorful tone.
Joe can further customize his tone with four onboard controls: Level, Tone, Drive, and Color. Even when the distortion dial is cranked up, the Boss OS-2 is known for retaining the subtle accents of single-coil guitar pickups. Overall, this is a great pedal that is simple to use and takes up little room on the pedalboard – perfect for Joe's blues solos.
Boss DD-3 Digital Delay
Years Used: 2012 to Present
The Boss DD-3 is a digital delay pedal with a wide range of applications. It is also one of Joe's favorite effects pedal that he always likes to keep around. Joe uses this delay pedal to produce everything from crystal-clear rippling repeats to glitchy, stuttery latch effects.
This delay pedal has an onboard tap tempo feature and can do mirror-image repeats for up to 800ms. Joe may easily access slapback repeats and chased delay ambient textures thanks to a complete delay time control. With all of these characteristics, the DD-3 is worthy of being one of Joe's favorites.
Boss PS-5 Super Shifter
This BOSS PS-5 is an extremely powerful pitch shifter that can execute harmonies, detuning effects, and a variety of tremolo techniques in addition to Joe's pitch-shifting demands.
Joe can adjust the pitch knob to choose the pitch shift up or down by two octaves and use the HR.KEY knob to change the effect's key, and another control knob to select the detune, tremolo, and flutter effects.
Joe may also use the balance knob to control the degree of effect and direct sound. Joe has this flexible and small piece of gear as a regular part of his pedal collection, which comes as no surprise. It adds a whole new flavor to some of his guitar solos.
BOSS PSM-5
Years Used: 1983 to Present

The BOSS PSM-5 was the first power supply pedal manufactured by BOSS, and it was introduced in January of 1983. It serves as the power supply for all of Joe's other pedals. It can power up to 5 9V effects pedals, which is just what Joe required. Joe has used it almost constantly since he added it to his collection.
Joe Walsh Accessories
Herco HE210P Flex 50
Dunlop guitar picks are a popular option among great guitarists worldwide, as we all know. They provide a broad range of gauges, forms, sizes, and materials, allowing players to choose the perfect pick that suits their unique playing style.
Joe is also among the growing list of artists who uses Dunlop picks. He uses the Herco HE210P Flex series picks composed of high-quality nylon with a raised distinctive logo that gives Joe an excellent grip.
Ernie Ball .10-.46 Regular Slinky
As early as the early 1960s, Ernie Ball strings have been a popular choice for guitar players across all styles of music because of their customizability and ease of use. Joe is a long-time user of Ernie ball strings and uses them on all his guitars.
He uses the Regular slinky string set, which is renowned for its flexibility. It is made from a nickel-plated steel wire wrapped around a tin-plated hex-shaped steel core wire which offers a great balanced sound that's neither bright nor too dark and is perfect for someone like Joe, a versatile guitarist who plays anything from clean to crunch.
Wrap Up
Joe's interest in music began when he was a child when he often heard music in his thoughts. According to one interview, Joe got tuition on numerous instruments as a child, but the guitar was the first instrument through which he could express himself. He also said that the guitar was the ideal vehicle for him in his childhood. It let Joe get the music out of his thoughts and into the ears of others. Joe's affinity with guitars solidified through the years, and he slowly became the legendary guitarist he is today.
Inspired by the Beatles' music and their success, he replaced Bruce Hoffman as the bassist of the Madison-based band, the 'Nomads', and began his career as a rock musician. When Walsh joined the band 'The James Gang' in 1969, he quickly rose to the top of the ranks. His inventive rhythm playing and creative guitar riffs drew a lot of applause from the audience. Joe went on to have numerous small singles with 'The James Gang' and was a pioneer of 'Album Oriented Rock' before leaving the group in 1971 to pursue a solo career.
With Barnstorm (1972) and its follow-up "The Smoker You Drink, the Player you Get," Walsh established himself as a creative rocker known for his comedy and reputation as a party animal. His album ' Rocky Mountain Way' has remained a classic rock hit even now. In 1976, Walsh was requested to join The Eagles as a replacement guitarist for Bernie Leadon, who had left the band. He gave the Eagles a harder-edged sound, contributing to their highly popular and legendary record – Hotel California.
Joe Walsh has made an enormous impact on the tone of electric rock guitars. Besides being a legendary guitarist, Joe also has a perfect, gritty voice for blues-rock. He has produced a slew of memorable solos and riffs that continue to influence guitarists to this day. Millions of global fans will always remember his contributions to rock music.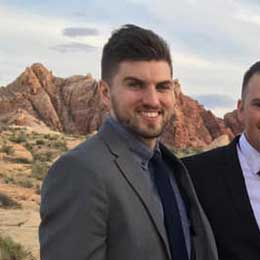 My name is Chris and I've had a passion for music and guitars for as long as I can remember. I started this website with some of my friends who are musicians, music teachers, gear heads, and music enthusiasts so we could provide high-quality guitar and music-related content.
I've been playing guitar since I was 13 years old and am an avid collector. Amps, pedals, guitars, bass, drums, microphones, studio, and recording gear, I love it all.
I was born and raised in Western Pennsylvania. My background is in Electrical Engineering, earning a Bachelor's degree from Youngstown State University. With my engineering experience, I've developed as a designer of guitar amplifiers and effects. A true passion of mine, I've designed, built, and repaired a wide range of guitar amps and electronics. Here at the Guitar Lobby, our aim is to share our passion for Music and gear with the rest of the music community.