Billy Gibbons needs no introduction. He's one of the most iconic and influential blues-rock guitarists of all time. He's rated #32 on Rolling Stone's 100 Greatest Guitarists list and was inducted into the Rock and Roll Hall of Fame in 2004. It doesn't matter if he's spinning his guitar on stage with ZZ Top or sitting for an interview, nobody can match Gibbons' suave coolness.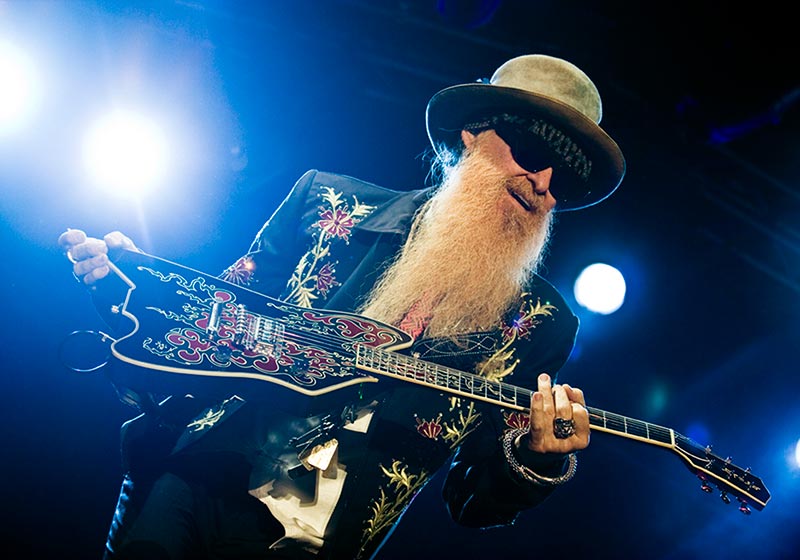 Over the decades, Gibbons has amassed a huge collection of guitars and gear. He's known for breaking all the boundaries both musically and stylistically with his wild custom creations. So, grab your beard oil because it's time to dive into the wide world of Billy Gibbons' guitars and gear.
What Guitars Does Billy Gibbons Play?
Billy Gibbons is most known for playing his 1959 Gibson Les Paul Standard, aka "Pearly Gates". Aside from his famed Les Paul, he is perhaps most associated with his set of 1959 Gretsch Jupiter Thunderbird guitars given to him by Bo Didley.
He's also well known for his "Fur" guitars, SG models, and many more. See the full list of Billy Gibbons guitars below.
1959 Gibson Les Paul Standard "Pearly Gates"

| | |
| --- | --- |
| Finish | Cherry Sunburst |
| Years Used | 1966 to Present |
Every player has that one special guitar that sounds better than all the rest. For Billy Gibbons, that guitar is none other than his iconic 1959 Gibson Les Paul Standard that has become known as "Pearly Gates."
Back in the late 1960s, Gibbons was listening to other blues players like Eric Clapton, who (at the time) was paying a Sunburst Gibson Les Paul. He just couldn't get over how cool he looked and how great he sounded with that model, so Gibbons just had to get one of his own. With this in mind, one fateful day, a friend of Gibbons told him that there was a rancher just outside of town that had the exact guitar he was looking for. The rancher used to play in a band but has since turned his attention toward wrangling cattle. Rumor has it that his '59 Gibson was just sitting in the house and might be available for purchase.
A few years prior, Gibbons lent a car to another friend who was an aspiring actress. She needed to get from Houston to Hollywood for a screen test, so Gibbons lent her his old 1939 Packard. They didn't think the car would make it past El Paso, but she made it all the way to California and even got the job! They figured the car must have had divine connections, so they named it "Pearly Gates." When the actress got the job, she sold the car and sent Gibbons $250 as payment. The day he got the money in the mail, he headed out to the rancher's house to see if he could pick up his dream guitar. Once the rancher pulled out the instrument, Gibbons gave him the $250 in his pocket, and the rest is history.
Since the car's luck must have rubbed off on Gibbons to allow such a deal, he named the guitar Pearly Gates in its memory. When he got the six-string, Pearly Gates still had the original flat-wound strings from the Gibson factory on it and a set of Black Diamond flat wounds in the case. It also had a love note from the original owner's girlfriend that said, "I like what you do. Meet me later. You might like what I can do." Some might argue that the note sounds like it could have been written by the guitar for Gibbons. Perhaps it's just another instance of those "divine connections."
Pearly Gates instantly became Gibbons' primary player and has been ever since. It has played a leading role in every ZZ Top album and has made countless stage appearances. Over the years, it's earned its fair share of bumps and bruises, including some serious "thrash rash" (as Gibbons calls it) on the back from where his belt buckle rubs against it.
Despite the years of use, Pearly Gates is 100% stock. Even the frets are original! For a guy like Billy Gibbons who loves custom equipment, he would never alter his most prized possession. She's perfect the way she is.
At one point, someone offered to buy Pearly Gates for $5 million, but Gibbons refused. He said he spent a lot of money collecting guitars and trying to find one that can replicate Pearly, but it just can't be done. Pearly Gates is a one-of-a-kind model, and no amount of money will separate Billy Gibbons from his love.
Although Pearly Gates doesn't make many live appearances anymore, it's still Gibbons' primary player at home and in the studio. He does use several Gibson Les Paul Pearly Gate guitars (his Gibson signature model) for live shows, but nothing can quite match the tone and feel of the original.
It's not hard to hear this iconic piece in action. He uses it on every ZZ Top album! There are also plenty of videos out there of Gibbons rocking away on the '59 Les Paul.
Gibson Les Paul Standard "Pearly Gates" Reissue

| | |
| --- | --- |
| Finish | Heritage Cherry Sunburst |
| Years Used | 2009 to Present |
In 2009, Billy Gibbons worked with the expert guitar-builders at Gibson to create a signature Gibson Les Paul Pearly Gates model. It was going to be a very limited production run that matched the original Pearly Gates as closely as possible. Gibson painstakingly recreated the specs of the original 1959 Les Paul, down to the finish and the wood pattern. The guitar featured Gibbons' Seymour Duncan Pearly Gates humbuckers, period-accurate all nickel hardware, vintage Kluson-style tulip tuners, gold top hat control knobs, and lightweight aluminum string-over stopbar.
The Gibson Les Paul Pearly Gates models also featured a rounded profile mahogany neck, just like the real vintage Gibson guitars, and even sports period-correct bumble bee capacitors and CTS potentiometers. Unless you have a time machine, the Les Paul Pearly Gates signature model is as close as you can possibly get to the real deal. Additionally, only 350 Gibson Les Paul Pearly Gates were ever produced, and 50 of them went to be aged and played by Gibbons himself.
Billy Gibbons brings two Gibson Les Paul Pearly Gates models on tour for live shows. The original Pearly Gates prototype is set up with higher action, heavier .08 gauge strings (heavier for Gibbons, at least), and tuned to Open-E for slide playing. You can hear this one in action on songs like "Just Got Paid."
One of Billy Gibbons' main touring guitars is another Gibson Les Paul Pearly Gates model that has endured quite a few alterations to suit his unique taste. First, the entire guitar has been hollowed out to decrease weight. Moreover, Billy added more changes to the piece, swapping out all the new hardware for old Gibson pickups, knobs, and tuners to create a true vintage feel. Finally, he removed the Gibson logo from the headstock and put "Gibbons" up there instead.
1959 Gretsch Jupiter Thunderbird


| | |
| --- | --- |
| Finish | White, Red, and Black |
| Years Used | 2002 to 2011 |
In 2002, fellow bluesman Bo Diddly gave Billy Gibbons a rare Gretsch Jupiter Thunderbird. While the Thunderbird had been a production model for several years, the guitar gifted to Gibbons was the real-deal original Thunderbird that Diddly helped build in 1959! Since the model is a legendary piece of rock history, Gibbons only used it in the studio where it wouldn't be subjected to the harsh conditions of a live performance. Of course, he still wanted to be able to use that style of instrument on stage. It just looked and sounded too good!
In 2005, Gibbons finally got his wish and teamed up with the builders at Gretsch to create the G6199 "Billy-Bo" Jupiter Thunderbird. The name Billy-Bo is a mix between Billy Gibbons and Bo Diddly.
Gibbons used the Gretsch Billy-Bo Jupiter Thunderbird as one of his primary players for the next few years. He carried three of them on tour with him in different finishes: red, white, and black. You can see it in countless live performances, including this rocking performance of "Fool for Your Stockings" in 2005.
Dean Z "Fur Guitar"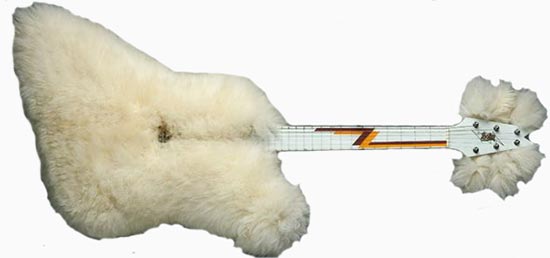 | | |
| --- | --- |
| Finish | White Fuzz |
| Years Used | 1983 to 2008 |
Back in the early 1980s, Billy Gibbons worked with Dean Zelinsky, the founder of Dean Guitars, to create a custom Dean ML just for him. After recording the Eliminator album, Zelinsky got a phone call one night at 3am. It was Gibbons, and he wanted another custom guitar. After a short talk, Gibbons finished the conversation with "I'm sending you some sheepskins I purchased while in Scotland. I want you to put them on some guitars." An odd request, for sure, but nothing out of the ordinary for someone like The Reverend Billy Gibbons! Once the sheepskins showed up at his workshop, Zelinsky got to work creating one of the most iconic guitars ever created: the Dean Z "Fur Guitar."
This highly customized Dean Z featured a completely white finish, including the fretboard, and had the Eliminator logo running down the neck. Since the fur would interfere with the vibration of the strings, he used electric horse shears to trim a path down the middle of the model for the strings, tailpiece, and pickups.
As if being furry wasn't strange enough, Gibbons wanted something a little extra to really make the six-string stand out. So, Zelinsky bored a hole in the back of the guitar with a balancing point and an electric rotary device that attaches to Gibbons' belt buckle. When the urge hit, Gibbons could give the guitar a complete 360-degree spin without losing any electrical signal to the amp!
While a spinning furry guitar might look amazing, you have to watch for that headstock. According to Gibbons, "You gotta lookout for that thing coming back around. Get your head and neck out of the way or else it'll say hello in an unfashionable fashion."
The day the Dean Z furry guitar showed up, Gibbons used it to shoot the music video for "Legs." And, what's better than one fuzzy spinning instrument? Two! ZZ Top bassist Dusty Hill also got a matching Dean Z fuzzy bass of his own.
Gretsch/Bolin Bo Diddley Custom "Fur Guitar"

| | |
| --- | --- |
| Finish | White Fuzz |
| Years Used | 2008 to Present |
Before the La Futura tour in 2011, Billy Gibbons was on the hunt for a few new guitars to fill out his rigs. He loved his white fur piece, and he likes super lightweight instruments. For this tour, he wanted to mix the two to create one lightweight, furry spectacle.
Gibbons divides his six-strings into two rigs. His A rig is for American tours and his B-rig is for European tours. Obviously, he needed a furry guitar for each rig. He turned to one of his favorite luthiers, John Bolin, to build two brand-new custom fur guitars (well, four if you count the matching basses for Dusty Hill). For the A-rig, Bolin built a custom fur guitar based on Gretsch Bo Diddly specs. It has a completely square body, one TV Jones pickup in the bridge position, solid white body (complete with New Zealand sheepskin, of course), and all gold hardware.
What makes this model unique (aside from the fur) is that it's completely chambered. Not only is the body chambered to reduce weight, but it's one of the first guitars to ever feature a chambered neck and headstock. Although the body is relatively large, this is a very lightweight guitar. Gibbons used the Bolin/Gretsch Bo Diddly fur guitar for the La Futura tour and still uses it when playing "Legs" live. This is one of my personal favorite Billy Gibbons guitars of all time.
1983 Gibson Explorer "Fur Guitar"
| | |
| --- | --- |
| Finish | White Fuzz |
| Years Used | 2008 to Present |
The "B-rig" counterpart to the Bolin/Bo Diddly fur guitar is a 1983 Gibson Explorer. Like the Bo Diddly version, the Explorer furry guitar was also made by John Bolin. It has the same hardware, pickup, specs, and, of course, fur as the other two furry guitars.
Gibbons uses this guitar primarily on European tours when his B rig comes out, but it does make occasional appearances on American tours.
John Bolin Billy-Bo Gibbons

| | |
| --- | --- |
| Finish | Black with Custom "Flip-Flop" Finish and Artwork |
| Years Used | 2011 to 2015 |
In 2011, Gibbons teamed up with his favorite luthier, John Bolin, once again to create another custom guitar. This time, it was modeled after the Gretsch Thunderbird that Gibbons loved so much. Named the Bolin Billy-Bo Pro, the body is about a half of an inch smaller all the way around compared to the standard Gretsch model, meaning it's both lighter and it fits into a standard Stratocaster-style case. As you should know by now, Gibbons likes his instruments lightweight.
The early Billy-Bo Pro models came with a tremolo tailpiece, but Gibbons' later models had the standard stop tailpiece. According to his guitar tech, the tremolo kept making Gibbons' light gauge strings go out of tune, so they just got rid of the tremolo. Plus, a big tailpiece would cover all that beautiful artwork. Like the John Bolin furry guitars, the Billy-Bo Pros come with a single TV Jones pickup and two control knobs for tone and volume.
Each Billy-Bo Pro that Gibbons uses has different artwork. In a rig rundown from 2011, you can see the different styles of art on his primary Billy-Bo with the psychedelic red graphics and the pinstriped backup.
You can see this guitar in action for many live performances between 2011 and 2015, including this performance of Brown Sugar. And yes, it sounds as good as it looks.
1961 Gibson Les Paul Standard "Lil Red"

| | |
| --- | --- |
| Finish | Cherry |
| Years Used | 1970 to 2014 |
Early in Billy Gibbons' career, he followed a local Houston band called The VanTels. One of the three guitarists played a 1961 Les Paul Standard that really caught Gibbons' eye. It was bright red, had a double-cutaway (the '61 Les Paul was a precursor to the SG), a sideways vibrola tailpiece, and dual humbuckers. As if all that wasn't cool enough, this special guitar featured custom pinstriping from none other than the pinstripe master himself, Von Dutch, along with the name "Lil Red" written on the horn. With all the red, chrome, and pinstriping, it looked just like a hotrod, and Billy Gibbons had to have it!
Luckily, a friend of Gibbons was able to track down the unique instrument after The VanTels stopped touring, and he was able to cut a deal. Gibbons played the guitar for a while, but he eventually sold it. A few years after selling it, he was able to find the person who owned the piece at the time and borrow it to make a replica with help from the pros at Gibson.
Since the Les Pauls no longer have double cutaways, the new "Lil Red" was a 1961 reissue Gibson SG. Although it looked identical to the original "Lil Red," the reissue had Gibbons' preferred pickups, the Seymour Duncan Pearly Gates, added to the bridge position. Gibbons left the neck pickup stock, but he ended up disconnecting it and opting for a simpler one-pickup setup. Since it has only one pickup, Gibbons also removed all the knobs except one volume.
Although it looked great, the new Lil Red also has a non-functional tremolo. According to Gibbons' guitar tech, the tremolo knocked the light-gauge strings out of tune too much, so he simply disabled it. They did, however, leave the tremolo on the instrument. Apparently, the weight of the tremolo added some tonality to the guitar. Plus, who doesn't love a little extra chrome?
This guitar became one of Gibbons' primary players for several years to follow. You can see Gibbons and Lil Red tear up "La Grange" live at Daryl's house back in 2014.
John Bolin "Peeler" Broadcaster

| | |
| --- | --- |
| Finish | "Peeler" Relic |
| Years Used | 2015 to Present |
In 2015, John Bolin created yet another batch of custom guitars for ZZ Top. This time, he modeled the body off a Fender Telecaster—which is a little different than what Billy Gibbons usually plays. Like the other six-strings Bolin made for Gibbons, the "Peeler" guitar, as it has become known, is completely chambered to give it that lightweight feel that Gibbons loves so much.
The Peeler guitar has one Cream T Billy Gibbons signature Banger and Mash pickup in the bridge position, a stop tailpiece, and two control knobs. What really makes this guitar stand out though, is its paint job. The finish was inspired by a 1956 Fender Precision bass that was damaged in a flood. All the paint was peeling away from water damage, and Bolin thought it would make a cool finish. So, that's exactly what he did. The Peeler piece has a red finish that looks like it's "peeling" away, showing the wood underneath. The entire look is finished off with a cream-colored pickguard.
As with most ZZ Top guitars, Bolin also made a matching bass for Dusty Hill, so the duo can hit the stage in style. The Peeler model has quickly become one of Gibbons' favorite guitars to use on stage. It was most noticeably used for La Grange at the Gruene Hall.
Dean Z Guitar

| | |
| --- | --- |
| Finish | Wine Red |
| Years Used | 1980 to 1983 |
Back in the 1970s, Billy Gibbons became close friends with Dean Zelinsky, the founder of Dean Guitars. One day, they were talking on the phone, and Zelinsky asked Gibbons if he could build him a guitar. Of course, being such a fan of custom pieces, Gibbons agreed.
Zelinsky made both Gibbons and ZZ Top bassist Dusty Hill matching Dean Z guitars in a never-before-seen bright Wine Red finish. Once he got the model, Gibbons sent Zelinsky a letter that said, "sure is a pretty little thing. Can't wait to give it a few whacks." And that he did. Gibbons used the Dean Z to record almost the entire Eliminator album! It even made dozens of appearances on stage throughout the early '80s.
Because Gibbons was such a fan of the Dean Z, he reached out to Zelinsky to create the very first "fur guitar" for the music video "Legs."
1962 Gibson Single Cutaway Melody Maker

| | |
| --- | --- |
| Finish | Two-Tone Sunburst |
| Years Used | 1962 to 1968 |
In 1962, at the ripe old age of 13, a young Billy Gibbons got his first six-string as a Christmas present. It was a brand-new 1962 Gibson Melody Maker. It had a two-tone sunburst finish, one humbucker pickup, and a single cutaway. To add a little something extra, he had some pinstriping done to give it more of a hotrod look (which is Gibbons' other love). Even back then, Gibbons loved custom things.
Gibbons played this model a lot because, as he said, "it was louder than my sister's screaming." It wasn't long before he stumbled upon his beloved Pearly Gates, but his original Melody Maker started Gibbons' life-long love of guitars and playing.
When Gibbons got a new guitar, he gave his original Melody Maker to a neighbor down the street. The neighbor ended up keeping the guitar and brought it to a ZZ Top show in 2012. Gibbons actually played his first guitar on stage for "Beer Drinkers and Hell Raisers."
John Bolin "Mojo Maker"
| | |
| --- | --- |
| Finish | Relic |
| Years Used | 2015 |
In 2015, John Bolin built Gibbons yet another custom guitar. This time, he modeled it after Gibbons' very first piece, his 1962 Gibson Melody Maker. To add a little BFG touch, he called it the "Mojo Maker." The Mojo Maker has the same sunburst finish and pinstriping as Gibbons' first guitar. Unlike the original Melody Maker, this model has a Seymour Duncan Hotrails pickup and—to meet Gibbons' need for lightweight instruments—it's completely chambered.
Billy Gibbons doesn't play this guitar live too often, but he does like to grab it occasionally whenever he gets the urge to play something different.
Gibson Billy Gibbons Ultimate SG

| | |
| --- | --- |
| Finish | Golden Plated |
| Years Used | 2015 to Present |
In 2015, Billy Gibbons teamed up with the experts at Gibson once again to create yet another unique guitar spectacle to release out into the world. This time, it was a Gibson SG—sort of.
The Gibson BGSG (Billy Gibbons SG), has an SG body with a Flying V neck and headstock. It has two Seymour Duncan Pearly Gates pickups connected to two volume knobs and one master tone knob. It also features the old-school sideways vibrato tailpiece, just like the "Lil Red" model. Just because it's Billy Gibbons, the back panel is also reflective gold and in the shape of Texas for a little extra touch of cool.
While all the hardware features are certainly impressive, the real draw to this piece is its finish. The top two-thirds of the guitar's top is actually raised with a curve right above the tailpiece. On the standard model, one side is painted a light green, and the other is pink. The gold edges and hardware finish out the full-on hotrod look. No matter how hard you search, you won't find a six-string that looks as good as this one.
The story behind it is as odd as this piece itself. Only 10 of these guitars were made, with Gibbons receiving the very first issue of it of course, the rest of them were marketed and sold solely by Neyman Marcus, as odd as this may sound, it was all part of a Texas team initiative that featured state born legends. To get one of these unique guitars, one would have to pay the staggering price of $30.000, then Neyman Marcus would write a $5.000 check in your name appointed to the Heart of Neyman Marcus Foundation, and subsequently, you'd receive two tickets to a ZZ Top concert. In this gig, Billy would play on stage the guitar before handing it over to you, making it one of the most beautiful guitar acquisitions of your life.
Teuffel Birdfish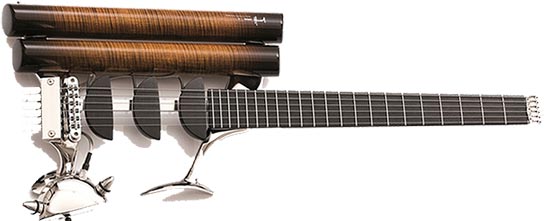 | | |
| --- | --- |
| Finish | Black, Plated |
| Years Used | 2003 |
One of the most unique guitars in Billy Gibbons' collection is the Teuffel Birdfish—and it's not just because of the name. This instrument is built in a way that the tonewood and the pickups are completely modular.
Its ultra-futuristic look gives players the ability to swap out the pickups and the tonewood whenever they want within minutes! That's right; if you don't like the sound of alder, you can swap it out for maple without changing guitars. How many other guitars can do that?
As a player who can't resist a funky instrument, Billy Gibbons picked up his own Teuffel Birdfish for the ZZ Top album Mescalero. He loved the guitar because it had such a dirty, raunchy tone. According to Gibbons, the Birdfish's tone was second only to Pearly Gates—which is quite the compliment. Although it sounded great on the album, Gibbons used the Birdfish for only a short time. It made very few live appearances and didn't appear on any other ZZ Top albums.
HeliumZZ
| | |
| --- | --- |
| Finish | Unspecified |
| Years Used | 2008 |
In an interview with Guitar World, Billy Gibbons was asked about the rarest and oddest six-strings in his collection. Without missing a beat, he said that the absolute weirdest piece is called the HeliumZZ. As we have stated, Gibbons certainly loves lightweight instruments- for him, the lighter, the better. In an effort to produce the lightest guitar ever created, he had a guitar built with a thin-skinned membrane for the body—instead of wood—and an inner bladder designed to hold helium!
As you can imagine, the results were an ultra-lightweight guitar that "had a tendency to want to float away." Unfortunately, you can't make a neck out of a flexible membrane, so the piece turned out quite neck-heavy, making it virtually unplayable. Gibbons never played the HeliumZZ live or on any albums. It might not be fun to play, but it's definitely one of the more interesting conversation pieces in Gibbons' collection.
Wild Custom Guitars Billy F. Gibbons Special
| | |
| --- | --- |
| Finish | Olive Metallic |
| Years Used | 2021 |
In 2021, Billy Gibbons partnered with guitar manufacturer Wild Custom Guitars. Sounds like a guitar company BFG can get behind, right? Together, the two came up with a "wild" "custom" piece called the Wild Custom Guitars Billy F. Gibbons Special.
The shape of the guitar is reminiscent of the Gibson Explorer, but a bit squarer. The unique finish is modeled after a 1934 Ford Coupe named "Whisky Runner." The outside of the six-string has an Olive Metallic finish that looks almost like worn steel, while the pickguard and pickup area is glossy black with purple accents. The pickup though, is what makes this piece stand out. This model features Wild Custom Guitars' newly designed Gyrock system, which allows the player to swap the pickup within seconds. Just rotate the pin, pull out the pickup, put another in, and rotate the pin back. Both the volume and tone knob are prewired, so the new pickup will work seamlessly without missing a beat.
Wild Custom Guitars has designed pickup barrels for most major pickups:
P90
Seymour Duncan Lipstick Tube
Antiquity Strat Texas Hot pickups
Seymour Duncan Pearly Gates (of course)
Seymour Duncan Red Devil
And more
To really meet Gibbons' specs, the alder guitar body has been chambered in a honeycomb pattern to reduce weight without hurting sustain or tone. What did Billy Gibbons have to say about this unique guitar? "WoooooooooWeeeeeeeeee…!" Look out for the Wild Custom Guitars Billy F. Gibbons Special to make some stage appearances at ZZ Top Concerts in the very near future.
Table Showing Each Guitar Billy Gibbons Has Played in Each Point of His Career
Here is a table with all of Billy Gibbons gear listed in chronological order. If you'd like you can also watch this video overview of all Billy Gibbons gear.
| Make | Model | Color/Finish | Years |
| --- | --- | --- | --- |
| Gibson | 1962 Single Cutaway Melody Maker | Two-Tone Sunburst | 1962 to 1968 |
| Gibson | 1959 Les Paul Standard "Pearly Gates" | Cherry Sunburst | 1966 to Present |
| Gibson | 1961 Les Paul Standard "Lil Red" | Cherry | 1970 to 2014 |
| Dean | ML | Wine Red | 1980 to 1983 |
| Dean | Z "Fur Guitar" | White Fuzz | 1983 to 2008 |
| Gretsch | 1959 Jupiter Thunderbird | White, Red, and Black | 2002 to 2011 |
| Teuffel | Birdfish | Black, Plated | 2003 |
| Gretsch/Bolin | Bo Diddley Custom "Fur Guitar" | White Fuzz | 2008 to Present |
| Gibson | 1983 Explorer "Fur Guitar" | White Fuzz | 2008 to Present |
| Helium | ZZ | Unspecified | 2008 |
| Gibson | Les Paul Standard "Pearly Gates" Reissue | Heritage Cherry Sunburst | 2009 to Present |
| John Bolin | Billy-Bo Gibbons | Black with Custom "Flip-Flop" Finish and Artwork | 2011 to 2015 |
| John Bolin | "Peeler" Broadcaster | "Peeler" Relic | 2015 to Present |
| John Bolin | Mojo Maker | Relic | 2015 |
| Gibons | Billy Gibbons Ultimate SG | Golden Plated | 2015 to Present |
| Wild Guitars | Custom Billy F. Gibbons Special | Olive Metallic | 2021 |
Billy Gibbons Amps Overview
To power such a diverse arsenal of guitars, you need some serious amps. Billy Gibbons has used a few different styles of amps over the years, but his two favorites are Marshall and Magnatone amps. Here's a rundown of the amps that drive Billy Gibbons' live sound.
Magnatone Super Fifty-Nine M-80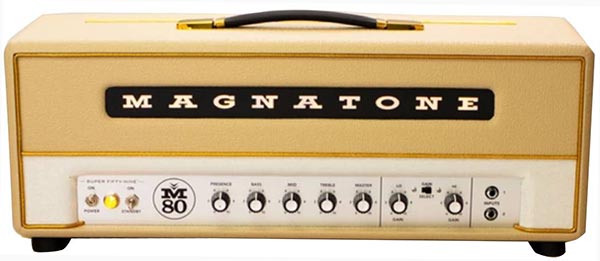 Years Used: 2014 to Present
Billy Gibbons was a big fan of early Magnatone amps from way back in the late 1930s. Of course, he wasn't around quite yet, so he never got his hands on one of the early amps. He just loved their sound. In an interview, Gibbons said he wouldn't call their tone "robust;" he'd call it "ferocious." Unfortunately, Magnatone stopped operations, and musicians everywhere were worried they'd never be able to get that wonderful sound. But after 40 years of silence, Magnatone was resurrected in 2014, and Billy Gibbons was one of the first in line for their new models of amps.
From 2014 on, both Billy Gibbons and Dusty Hill have used Magnatone as their primary amplifiers both on stage and in the studio. Specifically, Gibbons sends his hot blues riffs out into the audience using Magnatone Super Fifty-Nine M-80 heads and Super Fifteen 1×12 Combo cabinets.
Not only do the Magnatones produce outstanding tone, but they also hold up well to ZZ Top's rigorous tour schedule. Gibbons says that they've used the Magnatones for years on the road and have never experienced a single failure. They sound as good as they are tough—which is exactly what a band like ZZ Top needs.
1968 Marshall Super Lead 100W

Years Used: 1968 to Present
For the entirety of his career with ZZ Top, Billy Gibbons has used his 1968 Marshall Super Lead 100-watt amp. That amp coupled with his legendary 1959 Gibson Les Paul "Pearly Gates" is the cornerstone of ZZ Top's sound that has resonated for all these years. In addition to the Super Lead 100W, Gibbons has used several other Marshall amps to produce his live sound over the years:
JCM 900 Dual Reverb
Bluesbreaker
JTM45
Lead 12
8008 Power Amp
C5 "CLASS 5"
Valvestate 120
Although he has switched primarily to Magnatone amps in recent years, Gibbons still has a few Marshall amps on stage to help round out his sound.
Marshall JMP-1 Preamp with Voodoo Mod
Years Used: 2011 to Present
Before Gibbons' guitar signal even touches his amps, it runs through a Marshall JMP-1 preamp with a Voodoo Mod. The JMP-1 rack-mounted preamps add that bluesy Marshall sound to any rig configuration. The Voodoo Mod is a special alteration that reduces noise, increases touch response, and creates a more flexible EQ, among many, many other things. It's one of the most popular JMP-1 mods used by dozens of legendary guitarists.
Gibbons uses two JMP-1 preamps in his rig. One is used to create Billy's main dirty sound—which he uses for just about every song—and the other produces a clean sound that goes straight into a recorder. ZZ Top records every single show!
These are the JMP-1 settings Gibbons uses to create his tone:
Volume: 19
Gain: 18
Bass: 6 (max)
Mid: 2
Treble: 0
Billy Gibbons doesn't like to start treble! It's all about the bass for that bluesy tone.
Fender Champ Tweed Amp
Years Used: 1962 to 1964
When Gibbons was 13, jamming on his 1962 Gibson Melody Maker, he plugged his guitar into a Fender Champ Tweed Amp. It wasn't anything special, but it helped Gibbons learn the basics, so he could eventually make his way to guitar superstardom.
Gibbons played his Fender Champ Tweed Amp until he picked up his first real guitar and Marshall amp in 1964.
Fender Dual Professional
Years Used: mid-1960s
In addition to his Fender Champ Tweed Amp, Gibbons also used a Fender Dual Professional amp in the early years of his musical career. The Dual Professional was Fender's first amp to have two speakers. Of course, if it had more speakers, Gibbons just had to have it! Now, you might recognize the amp as the Fender Super. Although he doesn't use them live anymore, Gibbons still collects Fender Dual Professionals as a hobby when he's not customizing guitars or driving his hotrods.
Fender Tweed Deluxe
Years Used: 1970s
If you want to get that early ZZ Top sound, you have to get a Fender Tweed Deluxe. Billy Gibbons used the Fender Tweed Deluxe to create his signature sound throughout the 1970s. If you listen to any older recording, like this version of "Brown Sugar" from 1971, there's a very good chance that Gibbons is using a Tweed Deluxe to give him his crunchy blues sound.
Billy Gibbons Effects
Billy Gibbons is no stranger to using any means necessary to achieve the tone he wants. Because of that mentality, he has gone through countless pedals and rack effects over his 50-year career. Here are a few of the effects that Gibbons uses to create his signature tone.
Tech 21 MIDI Mouse
Billy Gibbons has gotten himself into quite a predicament. He loves to play different guitars with various styles, but he also can't go without his signature Pearly Gates tone. How can Gibbons play a bunch of different guitars but keep a consistent tone?
The Tech 21 MIDI Mouse is a MIDI controller that allows Gibbon's guitar tech to switch between programmed EQ settings based on which guitar Billy is playing. In Gibbons' case, his goal is to make any guitar sound like his 1959 Gibson Les Paul "Pearly Gates."
Before every show, Gibbon's tech takes Pearly Gates Les Paul and strums a G-chord. Using a rack-mounted scope, he can get generate a signal EQ curve of what the signal from his Pearly Gates looks like. This curve is the benchmark as he can then, with a different guitar Billy is planning to play, strum a G-chord with all the same settings that the Pearly Gates was strummed and see the differences in the curve of the second guitar compared to the Pearly Gates.  Using Billy's preferred Digitech rackmount EQ, each guitar's EQ is adjusted such that the output curve matches the Pearly Gate's curve and then each guitar's settings are saved in a channel of its own within the Digitech rack. The MIDI mouse controller is used to switch between EQ mixes based on which guitar Billy is playing, such that each guitar will have a consistent input signal to the rig, and thus consistent gain through Billy's amp.
Billy Gibbons Pedals Overview
Although he has burned through quite a few effects in his day, Gibbons' pedalboard isn't as expansive now as it once was. Since he really tries to keep the same tone no matter what guitar he plays, he doesn't need to alter the sound too much with effects pedals.
Typically, Gibbons will keep a few essential effects on stage with him:
MXR Bass Octave Deluxe for even more bass power
MXR Carbon Copy for slap delay
Peterson tuner
Jimi Hendrix Octavio Fuzz running through a Boss GE-7 on a separate channel
Digitech Rack Mount Midi Programmable Paragraphic EQ
MIDI Mouse Controller
Other than that, he doesn't really need much to maintain his tone. It's all about playing great guitars through a great amp.
Guitar Accessories
In addition to his guitar effects, Billy Gibbons is very particular with his guitar accessories. He knows what he likes, and that's what he has used for decades. Here are the guitar accessories Gibbons never goes on stage without:
Strings – Gibbons plays his signature Dunlop Rev. Willy's Lottery Extra Light Strings on every guitar he owns. They're super light gauge from .07-.38. Although they might be light, Gibbons hasn't broken a guitar string on stage in years, despite using heavy picks! He has an extremely light touch.
Picks – Extra heavy Dunlop Gel Picks in a custom clear orange are all that Gibbons picks with. And yes, they glow in the dark.
Slide – For songs that require slide guitar, Gibbons turns to the Dunlop Rev. Willy's Mojo Glass Slide, his own signature model, of course.
Straps – Only the finest leather graces Billy Gibbons' shoulder. That's why he uses only custom El Dorado straps on all his guitars.
Wrap Up
Gibbons was born in Houston, Texas in 1950. He started playing guitar around the age of 13 and hasn't stopped for almost 60 years. He was influenced by other major rock and blues performers like Elvis Pressley, BB King, and Jimi Hendrix. Gibbons even got to open for Hendrix on one of his tours, and the two became close friends.
Although he's now over 70 years old, Billy Gibbons is showing no signs of slowing down. To say he's busy is an understatement. He toured with the original members of ZZ Top after over 50 years of rocking up until the passing of Dusty Hill in 2021. The band is currently working their way through an action-packed 2021-2022 tour schedule with longtime guitar tech Elwood Francis in place of Hill on Bass.
In addition to full-time rocking with ZZ Top, Gibbons has been working on a side project with fellow rocker John Fogerty. In 2018, the duo released a new song called "Holy Grail," and are planning on going on tour.
Besides his hectic musical career, Gibbons is also an avid collector of vintage hotrods, many of which are featured in ZZ Top music videos, and started a company called BFG Brand sauces that makes Texas-inspired hot sauces and BBQ sauces.
No matter what Billy Gibbons is working on, he goes all-in. Despite entering his seventh decade, Billy Gibbons is still showing the world that he still has plenty of Mojo left!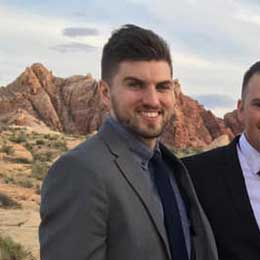 My name is Chris and I've had a passion for music and guitars for as long as I can remember. I started this website with some of my friends who are musicians, music teachers, gear heads, and music enthusiasts so we could provide high-quality guitar and music-related content.
I've been playing guitar since I was 13 years old and am an avid collector. Amps, pedals, guitars, bass, drums, microphones, studio, and recording gear, I love it all.
I was born and raised in Western Pennsylvania. My background is in Electrical Engineering, earning a Bachelor's degree from Youngstown State University. With my engineering experience, I've developed as a designer of guitar amplifiers and effects. A true passion of mine, I've designed, built, and repaired a wide range of guitar amps and electronics. Here at the Guitar Lobby, our aim is to share our passion for Music and gear with the rest of the music community.