Chris Cornell is one of the most recognized and influential singers and songwriters of all time. His unique style accompanied by powerful vocals that led his several bands, including Soundgarden and Audioslave, to mainstream success and even legendary status. He is often credited as one of the key figures of the grunge movement in the 1990s.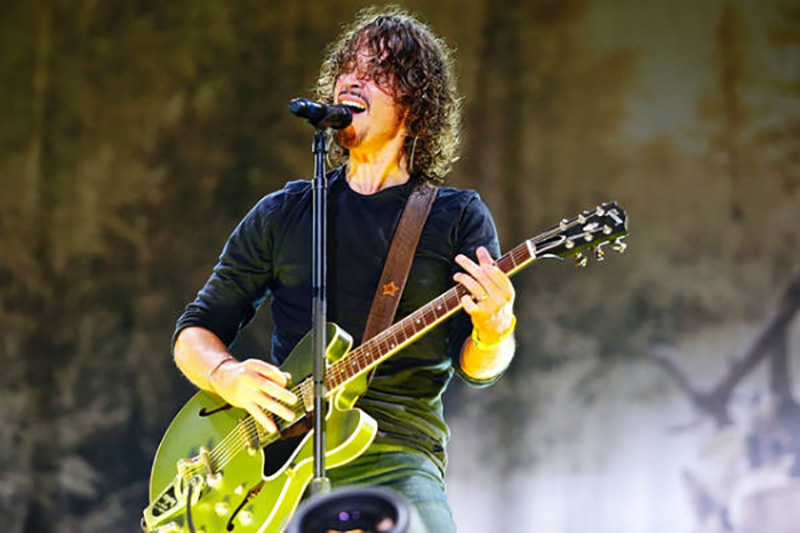 Cornell's incredible career spanned more than 30 years. Starting with his first band, The Shemps, in the early 1980s, a cover band that played locally around Seattle, the experience pushed the young Chris Cornell deeper into music. Surprisingly, Chris wasn't a guitar player first. When Soundgarden originally formed back in 1984, he was the lead singer and drummer. After a year of playing, the band decided to hire a permanent drummer, so Cornell could focus primarily on vocals. It didn't take long for Soundgarden's unique sound and powerful vocals to gain popularity. Their third album Superunknown blew up to immense success and earned the band worldwide acclaim.
What Guitars Did Chris Cornell Play?
Chris Cornell is best known for playing Gibson ES-335 model guitars, which became his signature guitar model produced by Gibson. His early days with Soundgarden also saw him heavily play Gretsch Duo Jet and Gibson Les Paul Custom guitars, among others.
See the full Chris Cornell Guitars and Gear list below.
Gibson Chris Cornell Signature ES-335

| | |
| --- | --- |
| Finish | Olive Drab/Satin Black |
| Years Used | 2013 to 2017 |
When Chris discovered the ES-335 on a Guitar Center in Seattle, he reached out to his friends at Gibson to build him a custom model that sounded just as good. After waiting a few months for the plans to come together, he decided to just go back to the store and get the original guitar he wanted.
But that didn't stop the discussion of building a custom ES-335 based on his specs. It didn't take long before the Gibson Chris Cornell Signature ES-335 came to fruition.
Cornell loves Lollar pickups, so it would only make sense that his signature guitar would have them. The Gibson Chris Signature ES-335 has custom-made Jason Lollar "Lollartron" pickups. They're similar to what you'd find in a Gretsch guitar, but they're PAF-sized, so they fit into guitars that typically take humbuckers, like 335s and Les Pauls.
Another Gretsch feature that Cornell loves is the Bigsby tremolo tailpiece. So, naturally, he had one installed on his signature ES-335, too.
This Signature ES-335 comes in two finishes: Olive Drab and Flat Black. The Olive Drab model is the only one that comes standard with a Bigsby tailpiece. The Flat Black finish features a typical Gibson-style stop tailpiece. No matter which finish you choose, Cornell's signature 335 comes with unique clear adjustment knobs, aged binding, and brushed nickel heads and hardware.
Cornell used the Olive Drab signature model with the Bigsby tailpiece most of the time, but it wasn't rare to see the Flat Black model make occasional stage appearances either. You can see Cornell's favorite Olive Drab signature ES-335 on stage as Soundgarden plays "Black Hole Sun" at Guitar Center in 2014.
In 2019, following Chris' death, Gibson released the Chris Cornell Tribute ES-335. The new guitar was modeled off the original signature model that Cornell loved so much, with a few slight changes. It featured the same Lollar pickups and styling, with Cornell's signature inlaid in Mother of Pearl on the headstock. Only 250 tribute models were made, making them highly sought-after by collectors.
Gretsch Duo Jet

| | |
| --- | --- |
| Finish | Gold Sparkle/Silver Sparkle/Black |
| Years Used | 1990 to 2017 |
Just before Soundgarden started recording their breakout album, Superunknown, Chris Cornell started getting into Gretsch guitars, specifically the Duo Jet line. They were semi-hollow guitars that could give Cornell the versatile tone he wanted. Furthermore, the record shows that once Chris got his hands on his first Duo Jet, he would keep them for the rest of his career as a regular live and studio staple along with his ES models and his Fender Jazzmaster.
The Duo-Jet features the standard Gretsch Filtertron pickups. They sound great, but they have a tendency to "squawk," as Cornell's guitar tech puts it, if they get too much drive. Cornell's Duo Jet guitars are all from the 1990s and were likely made in Japan. They don't have the zeroth fret like many of the vintage Gretsch models. They do, however, feature Chris's favorite Bigsby tremolo. Cornell "deburrs" the bridge for a smoother string sound.
Cornell owned a few Gretsch Duo Jet guitars in various finishes. The Gold Sparkle finish is probably the most iconic (and made an appearance in the "Black Hole Sun" music video, but Cornell also frequently used Silver Sparkle and Black Duo Jet guitars. It's not hard to find them on stage throughout most of Cornell's career.
1966 Fender Jazzmaster

| | |
| --- | --- |
| Finish | Candy Apple Red |
| Years Used | 1993 to 2004 |
If there was a single album that changed the world of grunge rock, it would be Soundgarden's Superunknown. Though it was the band's fourth album, it was the one that really put them on the map. It was met with massive critical and commercial success and included legendary songs like "Spoonman" and "Black Hole Sun."
When Soundgarden hit the studio to record, Cornell brought a 1966 Candy Apple Red Fender Jazzmaster into the booth with him. According to the band's producer, Cornell used only three guitars to record the entire album: two Gretsch guitars and his Fender Jazzmaster. These preferred lineups would remain pretty much the same up until his last years.
Cornell's Jazzmaster had a bright red finish and a tortoiseshell pickguard. He didn't make too many alterations to the instrument because he didn't have to! It sounded amazing the minute he picked it up. Cornell used this guitar to record the Superunknown album and took it on the subsequent tour, that's when this Jazzmaster would wear off some of its painting.
The Jazzmaster was typically tuned to EEBBBB for songs like "The Day I Tried to Live."
In 2004, Cornell was going through a divorce with his then-wife (and Soundgarden's former manager) Susan Silver. He gave his iconic Jazzmaster to a friend, Chris Bond to avoid it being taken during the legal dispute, he held on to it for almost 15 years. Following Cornell's death, Bond put the guitar up for auction, where it sold for $125,000. This is one of my person favorite Chris Cornell guitars of all time.
Gibson ES-335

| | |
| --- | --- |
| Finish | Red/Satin Black |
| Years Used | 2009 to 2013 |
Back in 2009, Chris' flight got delayed at the Seattle airport, and he had a few extra hours to kill. There was a Guitar Center nearby, so he decided to check out some new guitars. An ES-335 from the Gibson Custom Shop caught his eye. In an interview with Gibson, he said it was unlike anything he had ever seen before.
He grabbed the guitar off the wall and loved the way it sounded. According to Cornell, "the ES-335 is a versatile guitar. It's one of those guitars that sounds really good clean, with personality. It's not slick, but a little bit rattly and fun. As crazy as you want to get with it, it'll go there." The semi-hollow ES-335 is perfect for guitarists looking for a versatile sound.
From that moment, this guitar would become one of Chris' most frequented pieces in countless shows and recordings. For most of his career, he brought a red ES-335 on a tour that featured Lollar Imperial pickups and vintage machine heads. He also frequently used a 335 in black finish. Gotta have multiple guitars for all those tunings!
You can see Cornell's black ES-335 in action when Soundgarden took the stage at Lollapalooza in 2010. As one can see through the years, Cornell would eventually make some changes for these more standard models to pair them up to his eventual signature ES-335.
Popular Related Article: Eddie Vedder Rig Rundown
Duesenberg Starplayer TV

| | |
| --- | --- |
| Finish | Black / Two-Tone Sunburst |
| Years Used | 2009 to 2017 |
Although he didn't play guitar much during his Audioslave days, Cornell came back to the stage with Soundgarden in 2010, sporting a few new guitars. One of his favorites was the Duesenberg Starplayer TV. The Duesenberg Starplayer TV is a semi-hollow guitar, just like the Gibson ES-335. It gave Cornell that versatile tone he's always looking for, with a little extra style to boot. The Starplayer features a single rounded cutaway, arched one-piece maple top and back, and an Indian rosewood fingerboard.
For pickups, the Starplayer sports dual humbuckers. Cornell used a regular humbucker in the bridge position and a P90 in the neck for a more versatile tone. He also had Duesenberg Deluxe Tremolo tailpieces on both of his Starplayers—although his guitar tech admitted that they were looking for a model with a bonafide Bigsby.
Cornell regularly played two different Starplayer models: a 2-tone sunburst model and a black model. Both models have a gold sparkle pickguard to really add some flare.
These guitars became a staple in Chris's arsenal for the last several years of his career. You can hear his sunburst model in this video from the Download Festival in 2012 as Soundgarden plays "The Day I Tried to Live."
In 2016, Cornell worked personally with the builders at Duesenberg to develop a brand-new model: the Alliance Soundgarden. The Alliance has similar specs to the standard Starplayer TV, with a few exceptions. The most notable difference is the finish.
The Duesenberg Alliance Soundgarden featured a unique finish that Duesenberg named "Black Hole Sun." It was a PUR lacquer that made the top of the guitar look like it was covered in metallic blue tiles. The already-striking finish was finished off with a white pearl pickguard to complete the incredible appearance.
Unfortunately, Cornell never got to play the latter guitar live. He passed away shortly after its release.
Gibson Les Paul Custom

| | |
| --- | --- |
| Finish | Silverburst/Ebony |
| Years Used | 1991 to 2017 |
Gibson Les Pauls have been a staple of Cornell's sound for decades. He used a Cherry Burst Les Paul Deluxe to record Soundgarden's third album, Badmotorfinger, and continued to use the iconic solid-body guitar both on stage and in the studio for years to come.
The two Les Pauls that Cornell most frequently took on stage were a Silverburst Les Paul and a 1960s VOS Sunburst Les Paul. He uses LPs for several songs, so he carries a few of them on tour, all in different tunings. Some of his later Les Pauls (2010 and newer) have acoustic piezo pickups in the bridge to give them a more versatile and unique tone.
You can hear Cornell play his Cherry Burst Les Paul in this video from 2012 when Soundgarden played "4th of July" at Hyde Park.
One of the more unique Gibson Les Paul guitars played by Cornell is his black Les Paul Custom. It's loosely modeled after Neil Young's primary guitar, Old Black. It has the same Ebony finish and Bigsby tailpiece, just like Young's. Cornell also swapped out the pickups to put in a Seymour Duncan humbucker in the bridge position and a P90 in the neck.
Cornell used his Old Black replica for several years, and it sustained a few "work-related" injuries. In a rig rundown, Cornell's guitar tech said the headstock has been broken and repaired several times, but it's still hanging on! You can hear Cornell's Old Black still rocking away on this rendition of "Slaves and Bulldozers."
Popular Related Article: Adam Jones Gear Overview
Martin DCPA4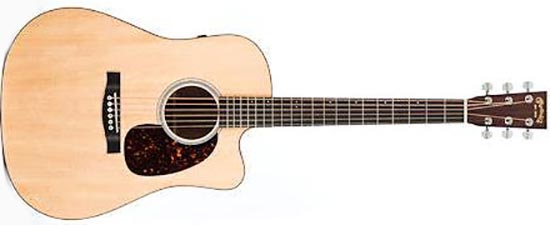 | | |
| --- | --- |
| Finish | Natural |
| Years Used | 2006 to 2017 |
By the end of the '90s, grunge was becoming mainstream. After touring with Soundgarden for six years, he admitted that he was getting a bit tired of hard rock. Turning it up to eleven every night can get tiring!
In an interview with Acoustic Guitar magazine, Cornell says "pretty much every band we toured with played super-loud, aggressive music. There were a lot of black sweatshirts and neck tattoos and dyed black hair and black fingernails, and it was all hard rock, all the time."
Going that hard all the time started to push Chris toward more minimalist, palate-cleansing music. As it turned out, it wasn't just a passing phase; he really started to enjoy the stripped-down sound of acoustic, folk-oriented music.
In 2006, Cornell was on a European tour with his supergroup Audioslave. Rage Against the Machine was doing a press conference, so Cornell had some time to kill while Audioslave (and RATM) guitarist Tom Morello was away. Someone asked if he'd be interested in doing a one-hour solo acoustic set to a small, intimate audience for a radio promotion. He said yes without even thinking about a setlist. Cornell was worried that the audience would get bored of listening to just him and a guitar for a full hour, but he wanted to do it anyway.
For his first real taste of what intimate solo acoustic shows felt like, Cornell used a Martin DCPA4. Martin guitars produce such a deep, rich, resonant, and boomy tone that they work flawlessly with Cornell's powerful vocals and dark sound.
The Martin DCPA4 is based on the vintage dreadnaught acoustics that has made Martin famous for over 180 years, with a few modern touches. While most dreadnaughts have rounded shoulders, the DCPA4 features a rounded cutaway for unmatched access to higher frets—especially for an acoustic.
The DCPA4 has a Sitka spruce top and walnut back and sides. The back has an Indian rosewood center wedge that merges the three-piece back.
All the outstanding acoustic sound produced by the tonewood and the hybrid X-bracing are sent to the amp through a Fishman Sonicore under-saddle pickup.
An outstanding guitar coupled with an incredible singer is bound to make an impact. Chris Cornell Unplugged in Sweden instantly reached legend status with the raw power of Cornell's voice and the minimalistic sound of the acoustic guitar. It all worked, and Cornell was hooked on acoustic for the rest of his life. Although Cornell uses several different acoustic models, the DCPA4 makes several more appearances over the years, including Prince's cover of "Nothing Compares to You."
Martin D-28 Marquis

| | |
| --- | --- |
| Finish | Natural |
| Years Used | 2011 to 2017 |
Once Cornell discovered that he truly enjoyed playing acoustic shows, he wanted to go all-in. Of course, he was still touring with Audioslave, so he had to wait for the right moment. In 2011, Cornell found himself between projects as Audioslave slowed down and Soundgarden was reforming. With all this going on, it was as good a time as any to go out on his first solo acoustic tour, Songbook.
For a new tour—and perhaps a leg of his career—Chris picked up a new guitar. Since he loved the sound of his Martin DCPA4, he decided to take it a step up and go with the iconic D-28 Marquis.
The Martin D-28 is the all-time standard for acoustic guitars. It began production way back in 1931 and has been the benchmark ever since. There's nothing out there that can beat its huge, booming sound and resonant bass. The D-28 Marquis takes the same dreadnaught styling of the classic D-28 and adds the best-of-the-best hardwoods. This incredible guitar features a solid Adirondack spruce top and East Indian rosewood back and sides. Like the HD-28, the Marquis also includes stunning herringbone binding.
To get the incredible acoustic sound to the amps, Cornell had a B-Band pickup installed in his D-28. Not surprisingly, this guitar instantly became his go-to for acoustic shows. You can see Cornell's Martin D-28 Marquis in action on almost every acoustic show he ever did, including this stripped-down rendition of "As Hope and Promise Fade."
Popular Related Article: Kurt Cobain Rig Rundown
Rickenbacker 360/12

| | |
| --- | --- |
| Finish | Fireglo |
| Years Used | 1998 |
One of the more unique guitars in Cornell's collection is a Rickenbacker 360/12 with a Fireglo finish (which is a red sunburst, if you don't speak Ric). Although he didn't play it on stage, this guitar has made countless appearances in shows all over the world, in the hands of Jeff Buckley!
The album Sketches for My Sweetheart the Drunk was the last Jeff Buckley ever worked on. Unfortunately, he passed away before he could finish the album, but that didn't mean it was never completed. Artists from all over came together to finish the record with parts that Buckley had already recorded. One of the artists that helped was Chris.
As a thank-you for working on the album, Jeff's mom gave the guitar to Cornell.
Jeff Buckley's Rickenbacker 360/12 is the 12-string variant of the 360/6. It's a semi-hollow guitar with a wide, round body, double cutaway, maple neck and fretboard, and adjustable bridge. It also has two high-gain single-coil pickups.
Fender Telecaster
| | |
| --- | --- |
| Finish | Blonde/Black/Red |
| Years Used | 1996 to 2017 |
After his success with the Fender Jazzmaster, Cornell found himself drawn to another Fender solid-body guitar, the Telecaster. Cornell loved Teles. He always thought they were perfect for that sixties garage rock sound that he found so interesting. They were always reliable and consistent, no matter what he was doing.
As an added bonus, the Telecaster sounded much different from the Guild guitars that Soundgarden lead guitarist Kim Thayil was using at the time. It helped add depth to the band's sound and differentiate the different parts that were going on.
He has owned several Fender Telecasters over the years. Early footage from the mid-90s shows him using black and red Telecasters primarily.
As Cornell's career progressed—and he could afford more expensive guitars—he picked up a blonde Telecaster straight from the Fender Custom Shop, which would accompany him on tours all the way through 2017.
At a show in Milwaukee, Wisconsin in 2013, the super cold temperatures actually caused the finish on his Custom Shop Tele to crackle. While many guitar players might get a little upset over such a thing, Cornell and his crew loved it! It just makes it that much more unique.
You can see Cornell's Custom Shop Tele in this solo rendition of "Mind Riot" from 2011.
Popular Related Article: Jerry Cantrell Guitar History
Gibson Hummingbird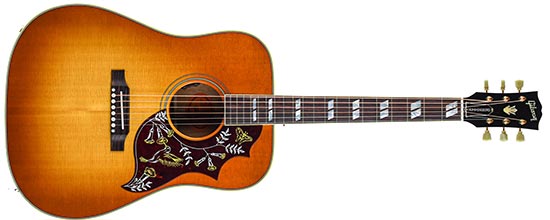 | | |
| --- | --- |
| Finish | Cherry Sunburst |
| Years Used | 2009 |
After his successful acoustic stint in Sweden, Chris really wanted to amp up (no pun intended) his acoustic performances. In 2009, while he was working on his solo career, Cornell made a few acoustic appearances using a Gibson Hummingbird.
The Hummingbird is Gibson's rebuttal to the Martin D-28. It's a large-body dreadnaught acoustic that features a high-quality Sitka spruce top and mahogany back and sides. With its Gotoh Keystone tuners, double antiqued binding, striking sunburst finish, and ornate pickguard, the Hummingbird is a legendary acoustic in its own right.
Although Cornell switched back to primarily Martin acoustic guitars for the remainder of his career, he did play a few shows with the Hummingbird, including this performance of "Fell on Black Days" on GO' Morgen.
Taylor 914CE

| | |
| --- | --- |
| Finish | Natural |
| Years Used | 2013 |
Despite his love for Martin acoustics, Cornell isn't afraid to switch manufacturers to find the tone he's looking for. For several acoustic performances in 2013, he was seen with a 914CE, Taylor's high-end professional acoustic/electric model.
The Taylor 914CE is the top-of-the-line when it comes to acoustic guitars. It features high-quality rosewood on the top and back and unique V-Class bracing that promotes sustainability and projects sound like never before. Supposedly, the new bracing style promotes low-end sound, which is exactly what Chris Cornell likes in his guitars.
You can see the impressive Taylor 914CE in action in this performance of "Burden in My Hand" from 2013 at the Performing Arts Center in Reading, PA. Although he still prefers Martin acoustics, the Taylor sure does pack a punch!
Table Showing Each Guitar Chris Cornell Played at Each Point of His Career
| Make | Model | Color/Finish | Years |
| --- | --- | --- | --- |
| Gretsch | Duo Jet | Gold Sparkle/Silver Sparkle/Black | 1990 to 2017 |
| Gibson | Les Paul Custom | Silverburst/Ebony | 1991 to 2017 |
| Fender | 1966 Jazzmaster | Candy Apple Red | 1993 to 2004 |
| Fender | Telecaster | Blonde/Black/Red | 1996 to 2017 |
| Rickenbacker | 360/12 | Fireglo | 1998 |
| Martin | DCPA4 | Natural | 2006 to 2017 |
| Gibson | ES-335 | Red/Satin Black | 2009 to 2013 |
| Duesenberg | Starplayer TV | Black/ Two-Tone Sunburst | 2009 to 2017 |
| Gibson | Hummingbird | Cherry Sunburst | 2009 |
| Martin | D-28 Marquis | Natural | 2011 to 2017 |
| Taylor | 914CE | Natural | 2013 |
| Gibson | Chris Cornell Signature ES-335 | Olive Drab/Satin Black | 2013 to 2017 |
Chris Cornell Amplifier Overview
Chris Cornell uses a lot of wonderful guitars, so he needs some powerful amps to blast all that tone out to the hoards of screaming fans. He likes amps that produce a good, distorted sound when turned up that was right on the verge of feedback with his semi-hollow guitars.
Throughout the course of his career, Cornell generally gravitated to Divided By 13 and Savage amps for both studio applications and live performances.
Divided By 13 FTR 37
For the majority of his career, Cornell used Divided By 13 amps, specifically the FTR 37. The Divided By 13 FTR 37 is a 30-watt tube head with impressive tonal versatility. At low volume, it can produce super clean tones that would make even jazz players jealous, but when you crank it up, it can produce tons of full-bodied overdrive—perfect for a high-octane Soundgarden show.
Cornell takes advantage of the FTR 37's half-power switch. This turns the head from 30-watt to 15-watt for even more overdrive power! He also uses the mid-gain boost to add more depth to his guitar sound.
Although the FTR 37 does have a matching 2×12 cabinet, he uses another manufacturer's combo amp as his speakers. The 37 is a head only in Cornell's rig.
Mesa-Boogie Dual Rectifier Solo
What's better than a Marshall 50-watt head? A Mesa-Boogie 100-watt head! In addition to the legendary JMP50, Cornell used a Mesa-Boogie Dual Rectifier Solo tube head in the studio when recording Superunknown as well.
The Dual Rectifier is 100-watts of raw, high-gain perfection. While the Marshall was pumping out all the bright tones, Cornell used the Mesa-Boogie to give himself a darker tone with much more body and bottom-end. Together, the two amps created a full-bodied, grunge sound that launched Soundgarden's career to new levels.
Fender Pro Junior
In the early days of his career, Cornell used a small 15-watt Fender Pro Junior for both in the studio and on stage. Since it was such a small amp, he set it up with a mic to project the sound a bit better.
Although the tone was incredible, Cornell eventually wanted something much, much louder. In an interview with Total Guitar, he stated, "I wanted something very loud in my proximity when I'm playing all the rhythm guitar parts so that I'm kind of fighting feedback the whole time. That's the point."
He replaced the Fender Pro Junior with the more powerful FTR 13 pushing dual Savage amps for the rock and roll power he was looking for.
Marshall JMP50
During the legendary recording of the album Superunknown, Chris was using a tried-and-true rock amp to get his distorted sound: the Marshall JMP50, otherwise known as "Plexi."
The Marshall JMP50 is iconic for a reason. There's just nothing like it! It puts out an iconic crunchy sound that musicians have been using for decades. This 50-watt tube head is capable of putting out some serious sound, which is perfect for hard-hitting songs like "Black Hole Sun."
In the studio, Chris used the JMP50 to give his guitar a brighter tone with a more defined string attack.
Savage Rohr 15 Combo Amp
For almost all his live shows, Cornell's FTR 37 head pushes dual (or sometimes triple) Savage Rohr 15 combo amps.
The Rohr 15 is a smaller 15-watt combo amp from Savage. They're all tube and hand-wired with all the highest-quality components for the ultimate rock sound. The tube heads power Mojotone BV-30V 12" and Celestion Vintage G-10 10" speakers, pushing all that tone out to the audience.
Cornell relies on his Savage Rohr 15s for his tone. He doesn't like relying on distortion pedals for his tone, so he literally turns his amps all the way up. He typically has two Rohr 15s on stage and blends them to create the perfect tone he's looking for. Sometimes he'll run three Rohrs, whether it's for extra power or just added tone.
Chris Cornell Pedals and Effects Overview
It might come as a surprise for many Chris Cornell fans—based on his unique tones—but he doesn't like to use many effects. He prefers to let the amps create the tone with a few effects and pedals for minor touches. Here are the few effect pedals that Chris brings on stage to create his live sound.
Amp Switcher
Since his amps are basically his effects pedals, Cornell kept a small amp switcher on his pedalboard, so he can adjust the amps in real-time while he's on stage.
Cornell's amp switcher has four switches that each control an amp: his three Savages and the FTR 37 head. It also has a mute button if he needs to shut everything down for a few minutes during a show, typically for guitar swaps.
Dr. No Drive-O-Matic CC-SG
Cornell's favorite pedals are Dr. No effects. He finds that they're not as overpowering as many other effects companies, which is perfect for his amp-driven tone. He can use them to add a little depth to his sound without making it sound like he's 100% effects-driven.
Cornell has two Dr. No Drive-O-Matic CC-SG pedals on his pedalboard. The "CC-SG" in the name stands for Chris Cornell Soundgarden. Yes, they're made especially for him! The two pedals are set at slightly different settings and either stacked or swapped to create his huge overdriven tones. The CC-SG features asymmetrical diode clipping, more low-end bass, and additional gain settings to give Chris the exact tone he needs to blow audiences away.
T-Rex Reptile
Every great guitarist needs a great delay pedal, and Chris Cornell is no exception. For his echoey tone, Cornell turns to the T-Rex Reptile.
The Reptile delay pedal gives players four ways to adjust their sound:
For even more control over the delay, the Reptile lets players actually tap out the tempo on a footswitch. You don't even have to bend over to adjust the knobs to fit your song. Just tap your foot on the pedal and your delay will perfectly match the song without missing a beat!
This pedal is great for creating a fully customized analog-sounding echo sound, and it has been responsible for Cornell's delay tone for years.
Electro-Harmonix Deluxe Memory Man
In addition to the T-Rex Reptile, Cornell also uses an Electro-Harmonix Deluxe Memory Man for additional delay power.
The Deluxe Memory Man is a super organic analog delay that features feedback, blend, and delays time controls of up to 550ms of incredible echoey goodness. To make the pedal even better, it can also add a chorus and vibrato for even better tonal control.
This is an incredibly versatile pedal that sounds great with any guitar/amp configuration.
Menatone King of the Britains
The Menatone King of the Britains is a distortion pedal that's based on the old 1968 Plexi circuit that was used in vintage Marshall amps—hence, King of the Britains (Marshalls are British). In other words, it creates a great distorted tone!
Cornell uses the five-knob version of the King of the Britains, which gives control over:
Gain
Bass
Mid
Treble
Master
These pedals are all handmade and made to order. They feature all-analog circuitry, true bypass switching, and carbon resisters that don't interfere with the signal path. Chris never turned his distortion pedals up too high. He just wanted them for a little extra oomph for his already-great amp tone.
Picks
For picks, Cornell uses the Dunlop Maxgrip in .60 gauge. He and his guitar tech call it the "cat tongue pick" because the grit feels a bit like sandpaper and won't release from your hand, no matter what.
Cornell started using them on his solo acoustic tour in 2011 and absolutely loved how they sounded and felt, so he started using them exclusively for all his shows.
Wrap Up
Cornell became interested in music at a young age. When he was around nine, he listened to the Beatles almost exclusively for about two years, before discovering Little Richard and moving his way into the harder Rock and Roll bands of the time, including XTC, Ultravox, Bauhaus, and Siouxsie and the Banshees.
From 2010 to 2017, Cornell reunited with his former bandmates from Soundgarden while continuing with his own solo career. It was a very busy and fruitful seven years. Over the course of his career, he earned 16 Grammy nominations and three wins, among countless other awards.
Unfortunately, Cornell struggled with substance abuse and depression for most of his life, starting at a very early age. The final straw came on May 18th, 2017. After a show in Detroit, Cornell's bodyguard found him unconscious in his hotel room, and paramedics weren't able to revive him. The cause of death was officially ruled a suicide by hanging.
Despite his struggles, Cornell will forever go down as one of the most legendary singers of all time and a major influence in the world of grunge rock. As the title of his posthumously published album states, "No one sings like you anymore"
Over his decades-long career at the forefront of the grunge movement, Cornell used tons of equipment to help create his unique sound. In this article, we look to run down the most notable guitars and gear Chris used throughout his life. Let us know your thoughts in the comments.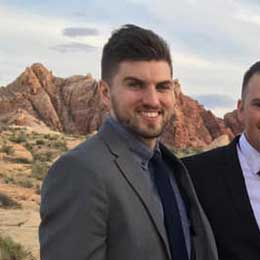 My name is Chris and I've had a passion for music and guitars for as long as I can remember. I started this website with some of my friends who are musicians, music teachers, gear heads, and music enthusiasts so we could provide high-quality guitar and music-related content.
I've been playing guitar since I was 13 years old and am an avid collector. Amps, pedals, guitars, bass, drums, microphones, studio, and recording gear, I love it all.
I was born and raised in Western Pennsylvania. My background is in Electrical Engineering, earning a Bachelor's degree from Youngstown State University. With my engineering experience, I've developed as a designer of guitar amplifiers and effects. A true passion of mine, I've designed, built, and repaired a wide range of guitar amps and electronics. Here at the Guitar Lobby, our aim is to share our passion for Music and gear with the rest of the music community.